A lot of us planning weddings right now have had to make a big decision – to hope for the best in 2021 or plan a smaller celebration with a little time to spare. I know a lot of brides are seizing the day and choosing to celebrate in intimate yet still totally stunning ways! If you haven't had a chance to book appointments at bridal boutiques, or can't wait for a made to order wedding dress to come in, there are amazing elopement dresses that you can order online!
With many made to order wedding dresses taking an average of 3-6 months just to make and ship, not to mention potential delays to the production process, it's good to have a back up dress option that you can find online. I'm sharing some of my favorite picks for dresses you can buy that are ready to ship!
Click for more stunning elopement style!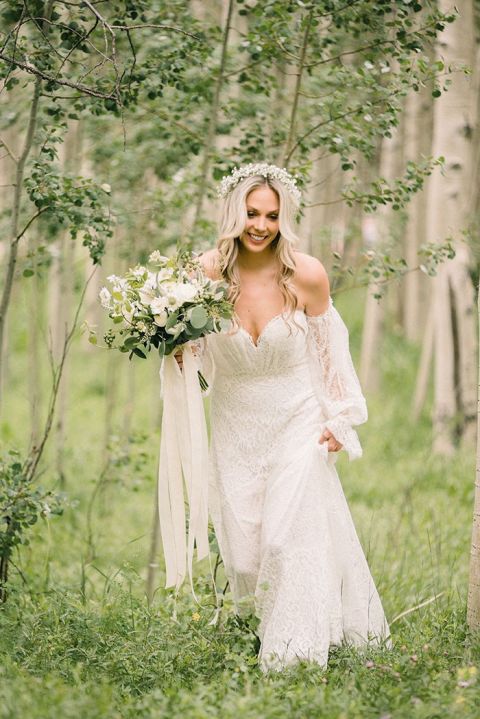 See more of this Rocky Mountain Adventure Elopement
Tap on any of the dresses shown below for availability, sizing, and shipping info! I recommend always checking the return policy if you're planning to buy more than one elopement dress to try on at home before you decide which one is 'The One'.
Online wedding dress shops like BHLDN and Lulu's typically offer a full refund if you return within 30 days. Make the most of a COVID safe bridal try on session by ordering a small range of dresses that fit your style! You can hold an intimate bridal fashion show for your bubble friends and family, or host it online via Zoom to get the best experience in a safe environment!
Part of the shopping experience at a bridal boutique is being measured for a made to order dress and discussing customization options that may be available. Ready to order dresses for weddings and elopements don't offer that step of the process, but each dress should have a size chart that shows the measurements for bust, waist, and hip. If you're unsure which size you fit into, the best option is to order a soft cloth measuring tape and double check loose measurements at those three points. If you have time for tailoring, ordering a size up is a great way to have room to perfect the fit!
My Favorite Places to Order Elopement Dresses Online –
Hey Wedding Lady uses affiliate shopping links to recommend products from trusted brands – I may receive a small commission from sales made by clicking on these links at no extra cost to you! This helps me keep the blog running!

The good news for anyone shopping for the perfect elopement dress online – a lot of online shops have a wider range of stunning wedding dress styles! If you're looking for a traditional princess dress or a glamorous ball gown, a lot of ready to ship dresses tend to be lighter and simpler than their made to order counterparts, but there are gorgeous styles that can be shipped with just a few weeks until the wedding day!
A lot of us rejoiced when it was announced that Hayley Paige dresses would be available to shop online and now some of her sweet Blush by Hayley Paige-esque dresses are now 'off the rack' wedding dress styles – perfect for an elopement with a short time to plan!
These are gorgeous options for relaxed, boho style brides! If your dream wedding dress is a simple, minimalist style like a silk slip dress, a halter neck crepe sheath a la Meghan Markle's reception dress, or even a slim fitted lace dress for the festival bride, these are great elopement dress styles to buy online!
If you're style leans more towards the non-traditional bride, there are so many stunning formal dresses or evening gowns that can be purchased online! Channel the Bachelorette's drop dead style with designers like Mac Duggal and Adrianna Papell with red carpet dresses that can be delivered in less than two weeks! From slinky beaded dresses that offer Old Hollywood style to vintage-style sequin gowns for a high-fashion elopement, these are a gorgeous glamorous option even for an intimate wedding day.
Minimalist brides will love the chic silhouettes and clean lines of The Reformation. They offer a focus on renewable textiles with a high quantity of natural, plant-based fibers for that perfect simple wedding dress!
No matter what your dream is for your elopement dress, there are gorgeous options that are ready to ship after you buy online!