Krista and Spencer had an elaborate wedding day all planned out, but like many couples planning COVID weddings, their plans had to change. With the help of Taryn Stark Wyant Event Planning and Design and SASs Photography, they pivoted to a micro wedding in paradise, planning an intimate celebration for four guests in Maui. The breathtaking Olowalu coast created the backdrop for their coral and gold tropical wedding, offering a stunning and serene place for them to exchange vows and celebrate with close friends.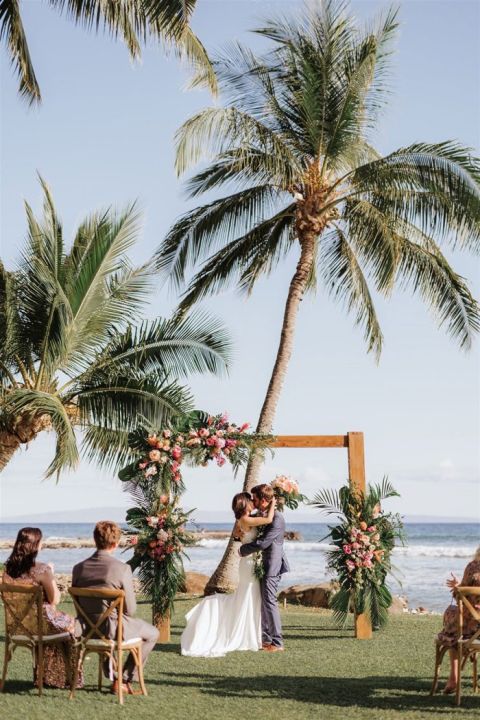 Welcome to paradise! Since COVID restrictions made it impossible for the bride's family to fly out from Korea for the wedding, the couple decided to pivot their plans for a big wedding at home and hold a micro paradise wedding in Olowalu in Maui. They exchanged vows in a stunning tropical coastal ceremony overlooking the ocean.
Find more inspiration to plan a Hawaii wedding!
Coral and Gold Hawaiian Paradise Wedding for Four Guests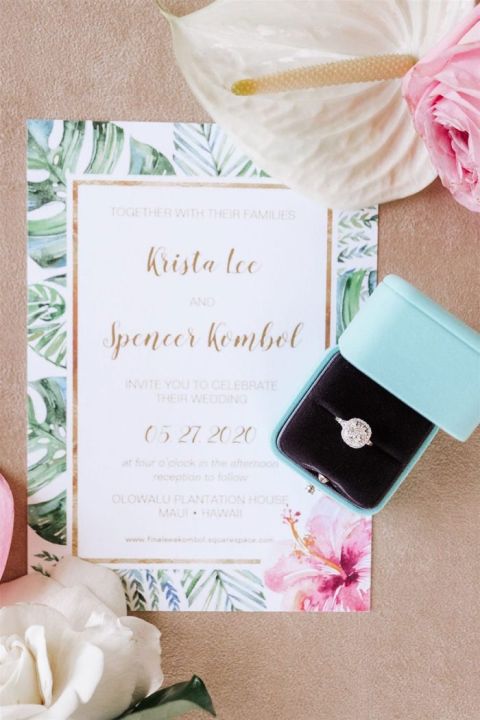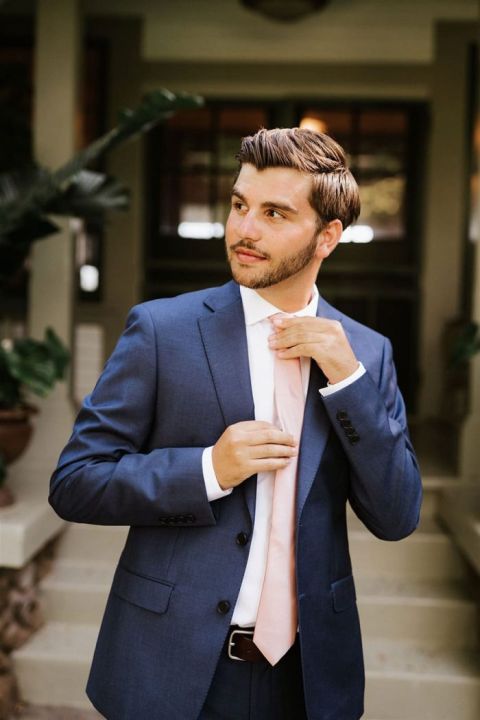 The groom got his attire from head to toe at Men's wear house. I got my dress from Daalarna Couture – a Hungarian wedding dress company. My dress got custom fitted and shipped from Europe. I got it at a wedding gown shop in Vancouver, Canada where I am from. I had a few outfit changes – my reception dress was from David's Bridal and others was a traditional Korean dress from Korea.
The bride envisioned light and breezy for her tropical paradise wedding and found the perfect dress with a low lace neckline trimmed in pearls with a fitted crepe skirt and long train. The combination was elegant and stylish, while creating the perfect silhouette for an intimate Hawaiian wedding.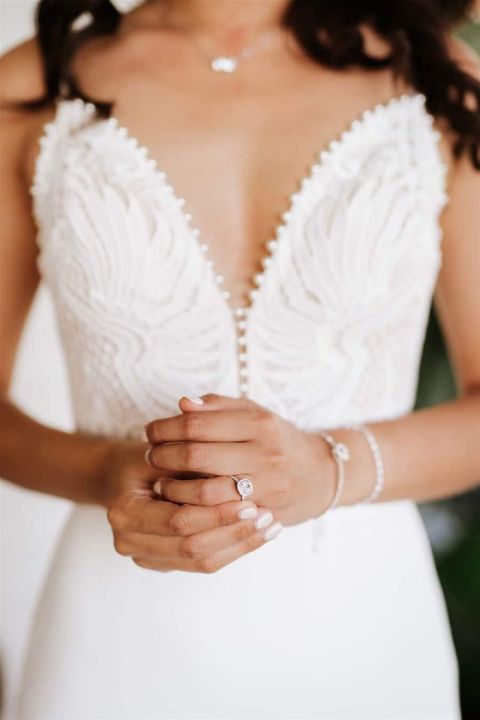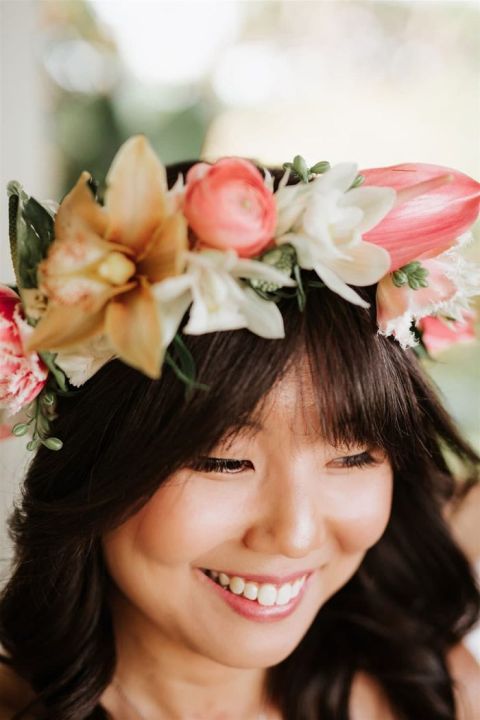 The Los Angeles-based couple chose Maui florist Dellables to create their perfect tropical flower vision. The bride carried a bouquet of coral and gold flowers that perfectly captured the island vibe for their paradise wedding. The bridal bouquet matched her flower crown of orchids, ginger flowers, ranunculus, anthurium, and coral charm peonies.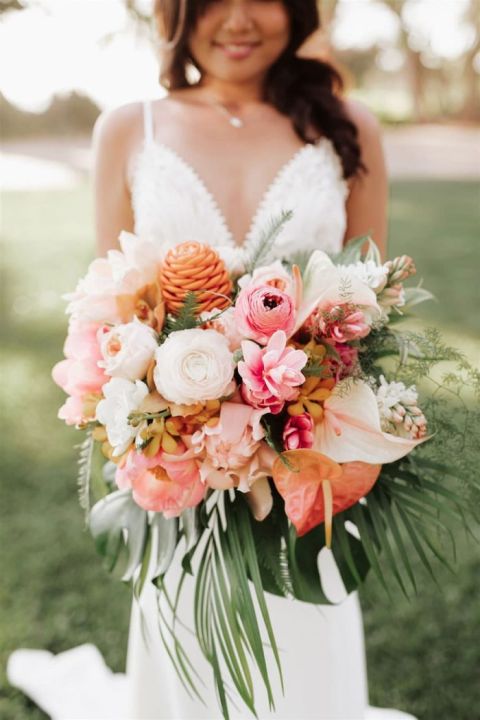 Vision was tropical, island vibe. Color was coral, yellow, lots of lush green. We've always wanted to get married in Hawaii and wanted to have the most tropical themed wedding so it was perfect! We wanted all the food and drinks to be all local and tropical themed as well.

Wedding flowers were our favorite parts! We loved the coral and tropical theme. The vibrant colors came out really well in all of our wedding photos. It was really important for us to have a whole tropical theme because that's what we've always dreamed of.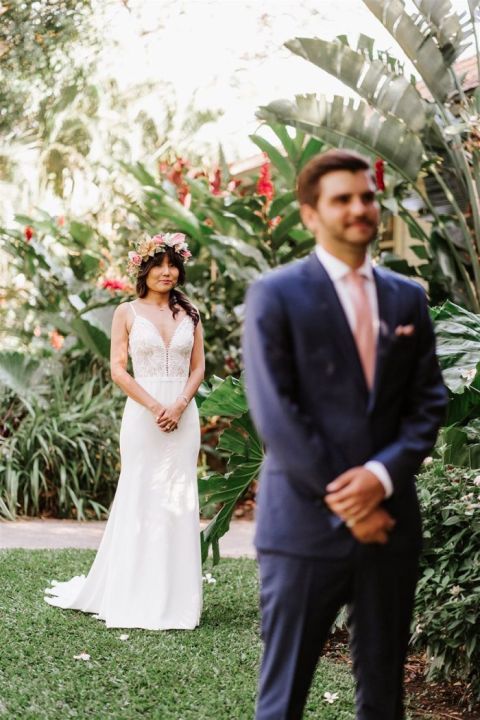 The couple had an intimate micro ceremony on the Western shore of Maui. Their planner, Taryn Stark Wyant Event Planning and Design, helped them plan the details from LA as they pulled together the plans for their pivoted wedding-turned-elopement. The breathtaking beach views created a gorgeous ceremony backdrop for their party of four, with a wooden arch framing the waves and palm trees behind the bride and groom.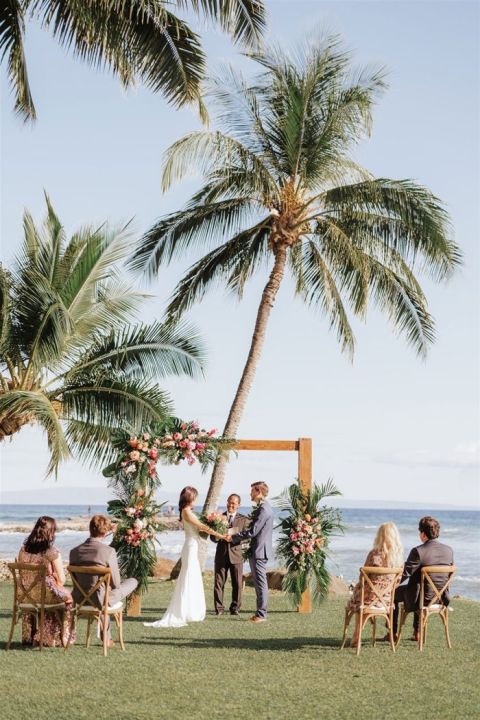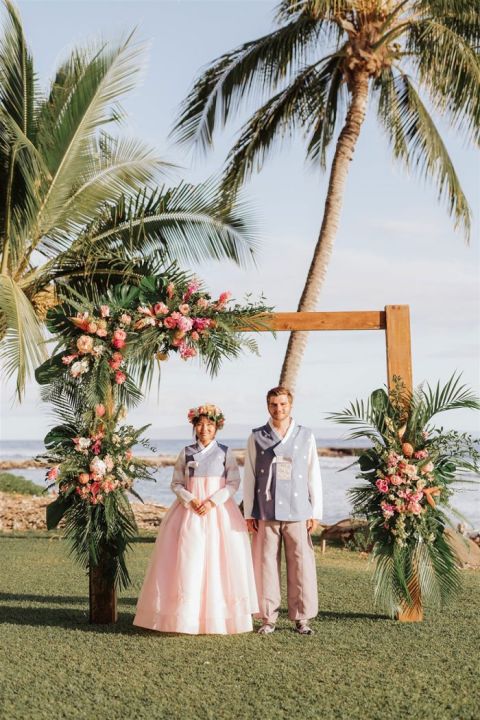 A family friend gifted the couple traditional Korean wedding outfits that they wore to honor to honor the bride's heritage.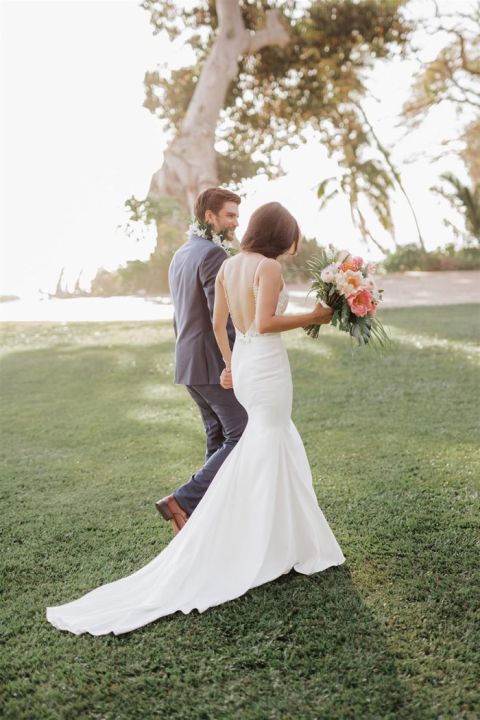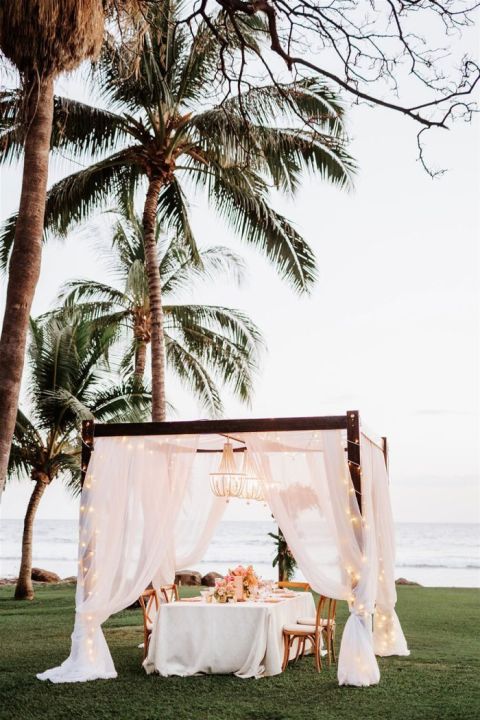 As the Hawaiian sunset started to paint the sky over the Maui coast, the tiny wedding party gathered under an outdoor pergola with airy drapery and warm white lights. Textured white tablecloths, rustic cross back chairs, and beaded chandeliers created a fabulous ambiance for this beautiful reception dinner.
My favorite part was probably all the colors I saw. The whole tropical scene, beach front view, and being with our friends. I almost call our wedding day "a really expensive dinner party" without parents. The wedding was super intimate with just 4 friends.
We definitely splurged on the hotel, the planning, definitely food and flowers, pretty much everything! For me, it was definitely the color scheme and flowers because that decides the whole wedding look pretty much. For my husband, it was the photos and videos since they last forever.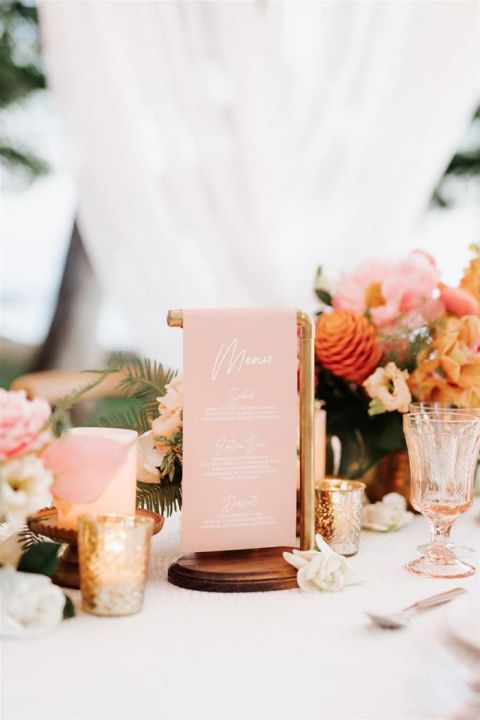 The gorgeous coral and gold tropical decor continued with their wedding cake! Sugar Beach Events used the palm frond motif from their venue and flower arrangements to create a hand-painted pattern on the lower tier of their cake design. The gold tier was adorned with ginger flowers, orchids, peonies and ranunculus to echo the beautiful decorations on the dining table.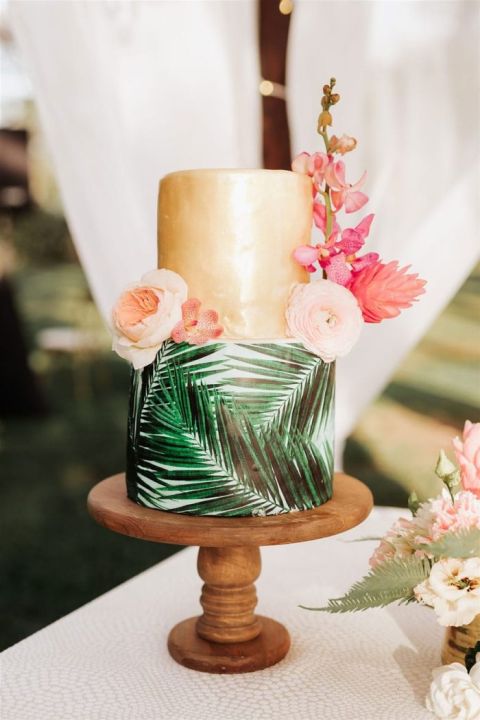 Our wedding cake was just what I imagined to be – super tropical with vibrant color flowers. We loved the mix of gold and green leaf pattern on the 1st tier. It was lilikoi flavor, which I absolutely loved. It was so hot on our wedding day, I didn't have much appetite. So I only had 2 bites and had to ship the whole cake back home to LA! Everything melted on its way back home. We still have it in our freezer but just don't have the heart to open it yet. I would have loved to eat it more.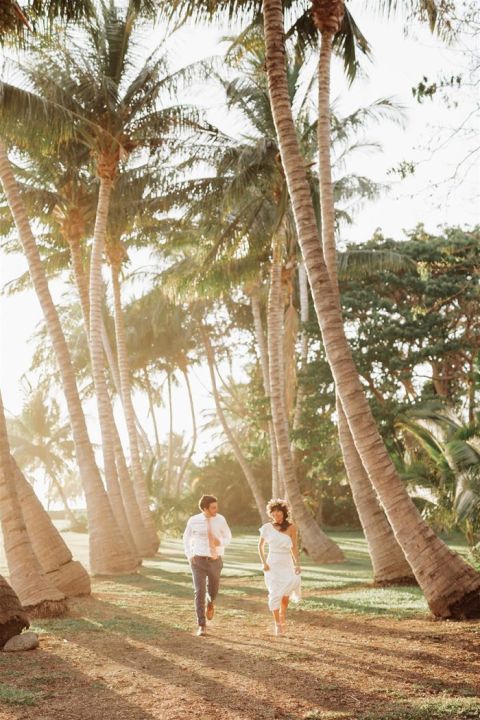 While their four guests enjoyed the gorgeous Hawaiian beach views and the intimate reception canopy, SASs Photography stole the bride and groom away for a couple's session on the coast. Krista changed into a one-shouldered dress for their golden hour photo session through the palm tree groves and along the water's edge. The photos captured the magic and intimacy of their paradise wedding to let them share the experience with friends and family around the world.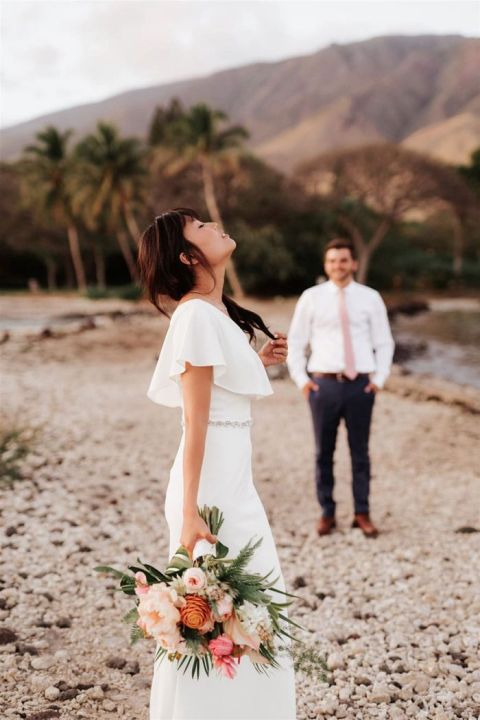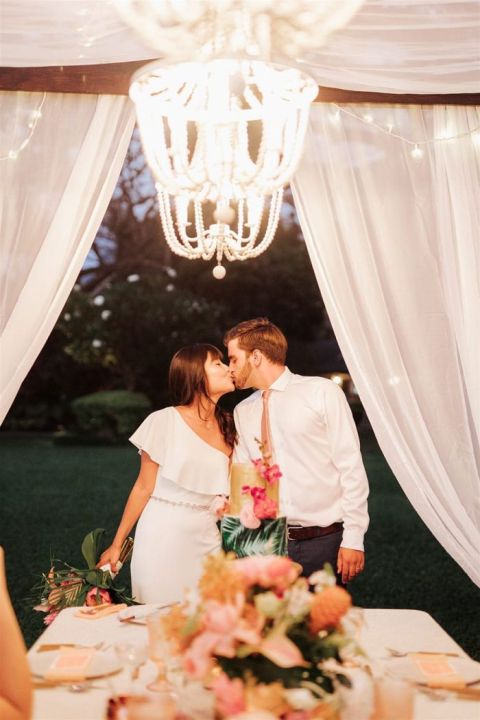 WEDDING VENDORS –
Photography: SASs Photography | Maui Wedding Venue: Olowalu House | Event Planning: Taryn Stark Wyant Event Planning and Design | Florist: Dellables | Wedding Cake: Sugar Beach Events | Wedding Dress: Daalarna | Groom's Attire: Men's Wearhouse | Bride's Shoes: ALDO | Hair Styling and Makeup: Love and Beauty Maui | Rentals: Accel Rentals | Rentals: Artisan Events Maui | Event Rentals: Set Maui | Tablecloth Rentals: Reve Maui | Tablecloth Rentals: La Tavola Fine Linen | Stationery: Miss B Calligraphy | Videography: Media Flow Productions | Submitted via: Matchology