Coastal breeze meets the South of France in this beautiful Nantucket spring wedding from Rebecca Love Photography and Handy Dallarie Events! This beautiful and classic Massachusetts wedding drew inspiration both from the island and Provence to create a dreamy day for Ashley and John and their closest loved ones. The bride, lead planner of Ashley Campbell Events, turned to a local team based in Nantucket and Boston to help her plan their cross-country wedding while dealing with pandemic planning stress and unpredictable military scheduling. Luckily their beautiful day on the seaside was a sweet triumph, celebrating their love of each other and Ashley's beloved childhood vacation spot!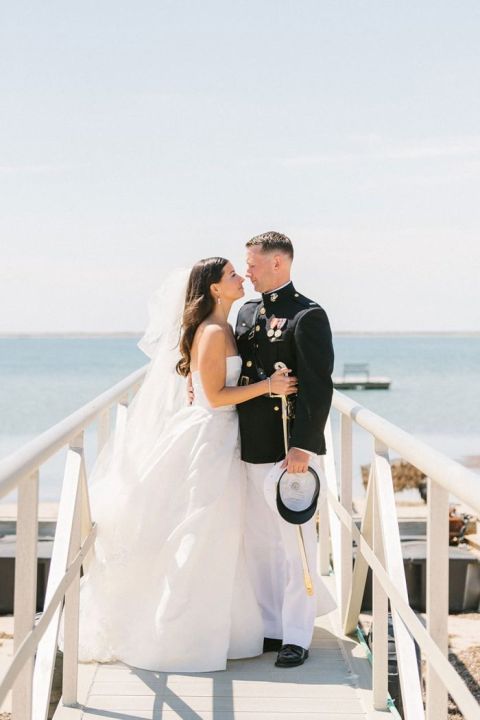 Purple and Yellow Nantucket Spring Wedding in a Tent on the Coast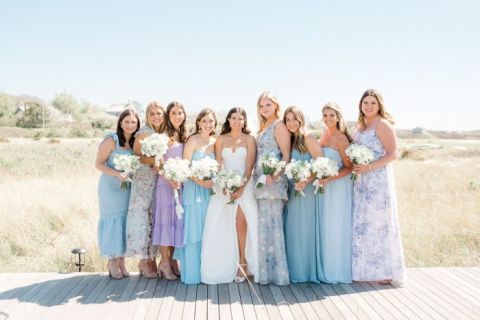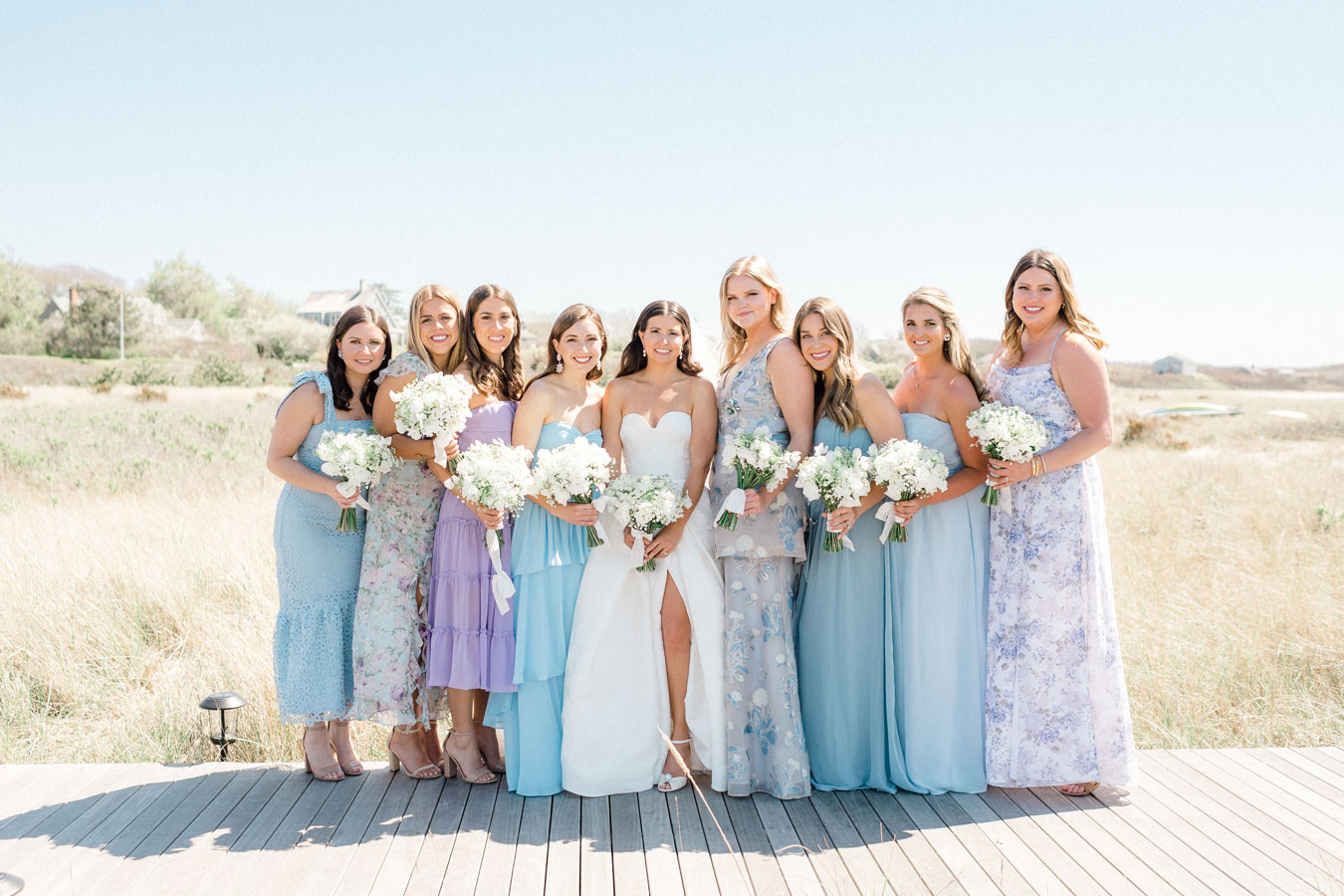 Ashley chose sea glass colors for the bridesmaids' dresses – she let them select long dresses in shades of blue, green, and purple to add pastels and watercolor prints to her Nantucket spring wedding.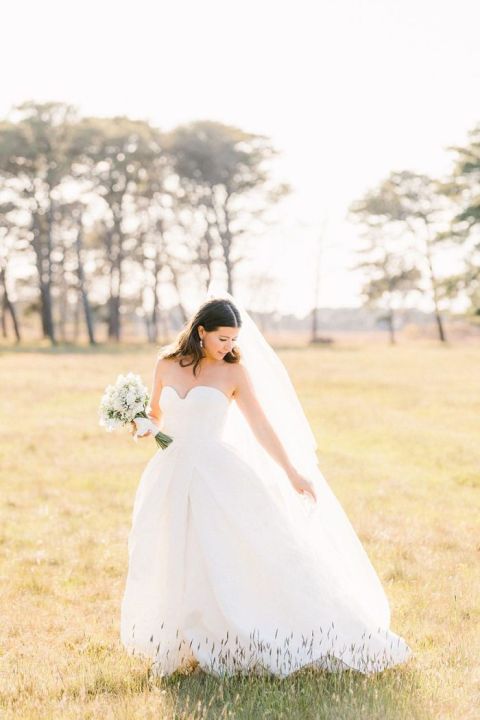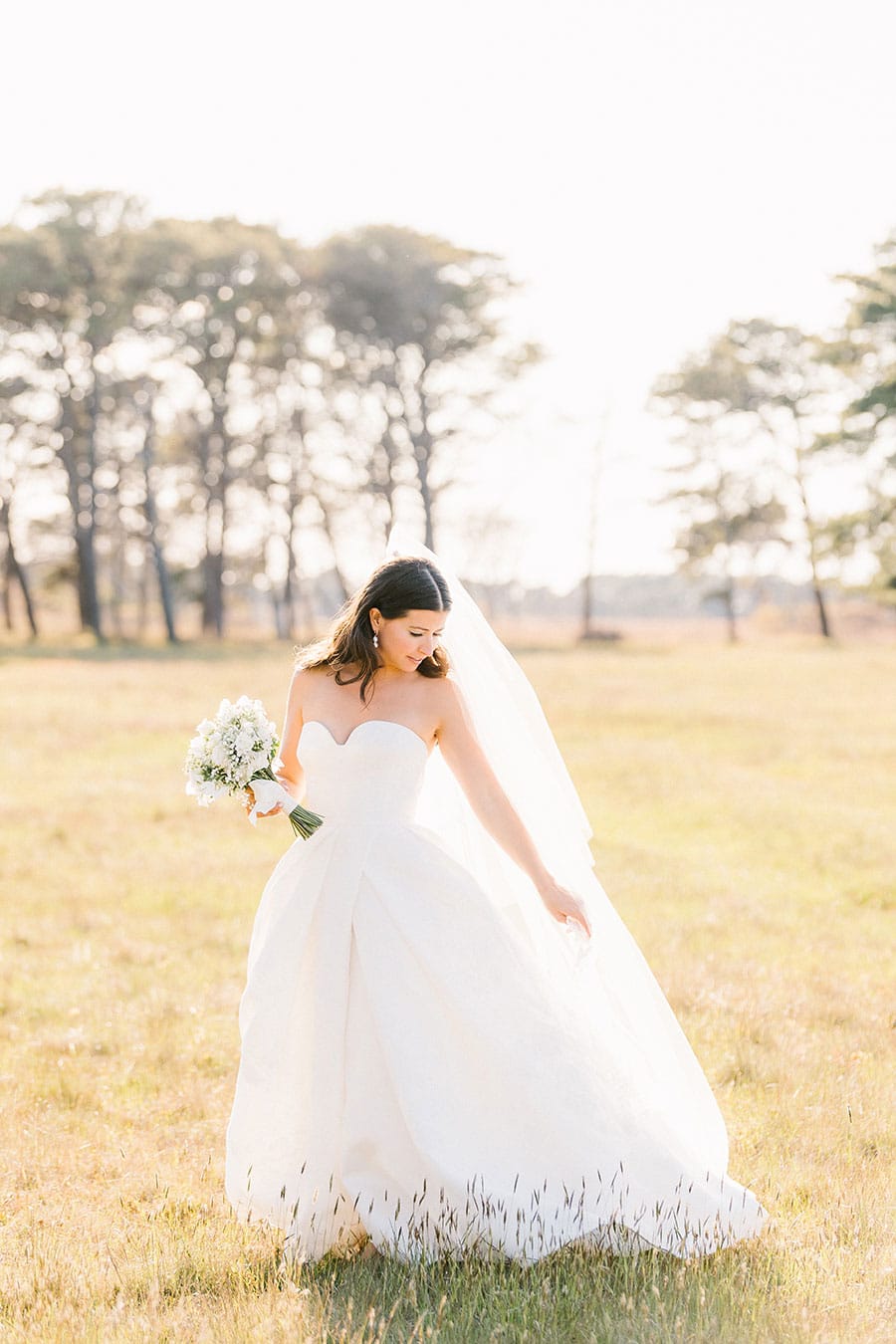 Our style is very traditional and classic so we knew we wanted black tie for our guests. It was very important to me that John wear his uniform at the ceremony, so that drove a lot of my styling choices. I wanted a gown that really complimented his dress blues but also was able to really hold it's own next to it. I pulled pretty much every style in the books- an all lace Monique Lhuillier, a very sleek Carolina Herrera, but in the end I went with the first dress I tried on, a Reem Acra I kept coming back to at Jessica Haley bridal. The material is so couture and unlike anything I have seen before, and I loved that it was formal but had the fun slit moment in the front.
The couple had a beautifully classic church wedding in the white chapel of the First Congregational Church, Nantucket. They exited the church as husband and wife to a rain of white flower petals tossed by their closest family and friends!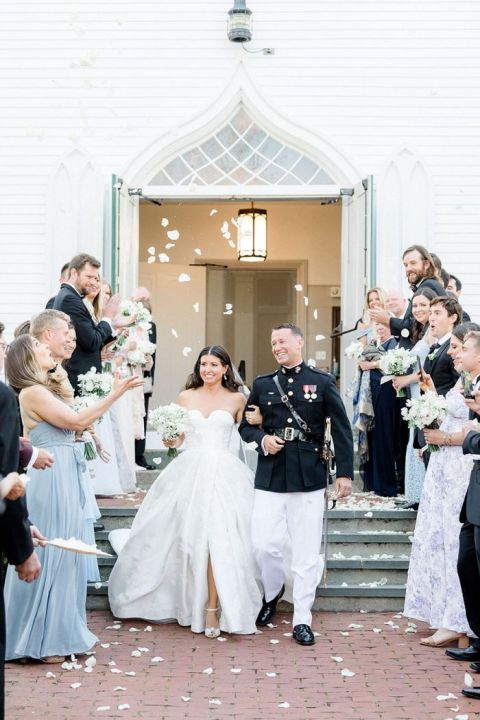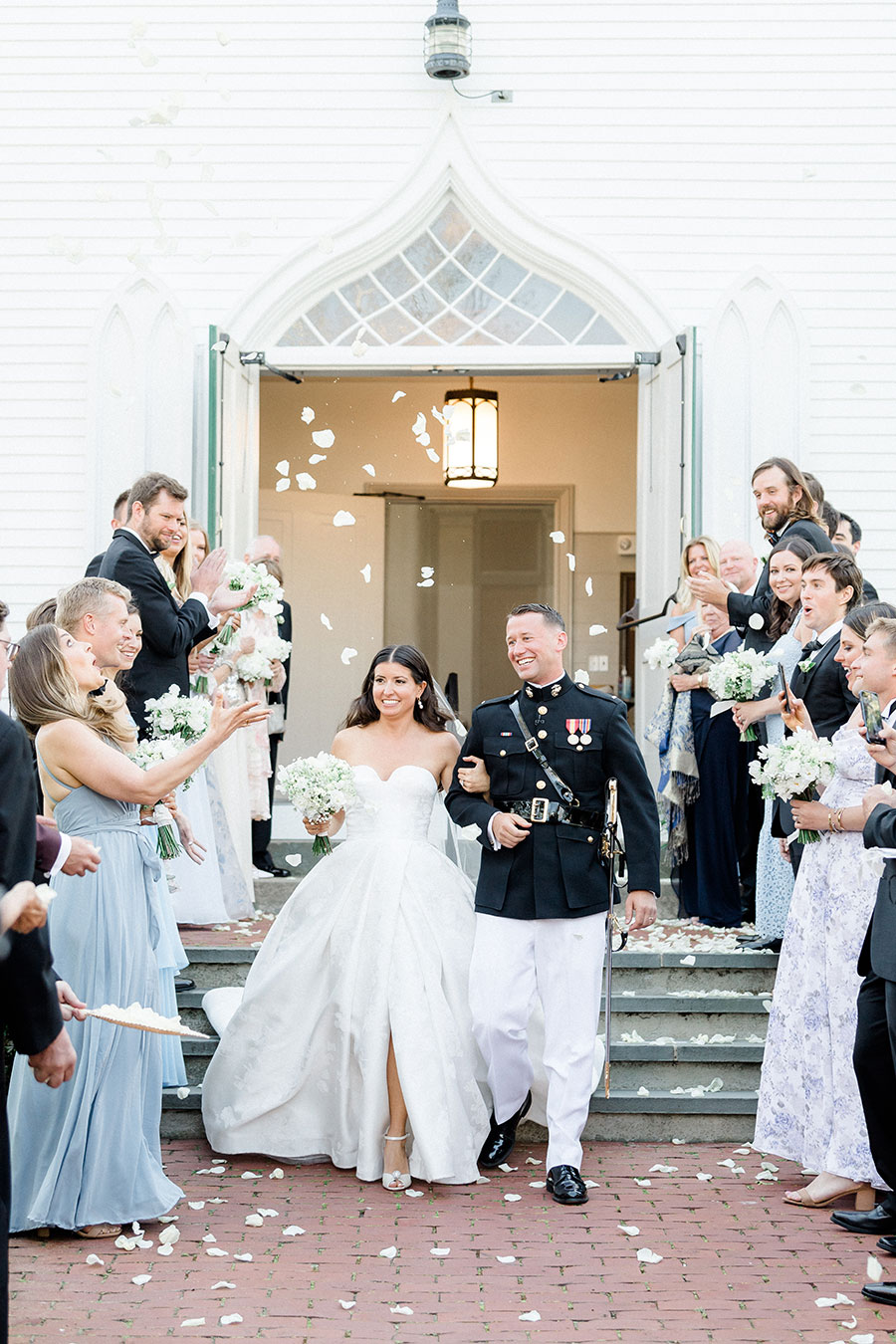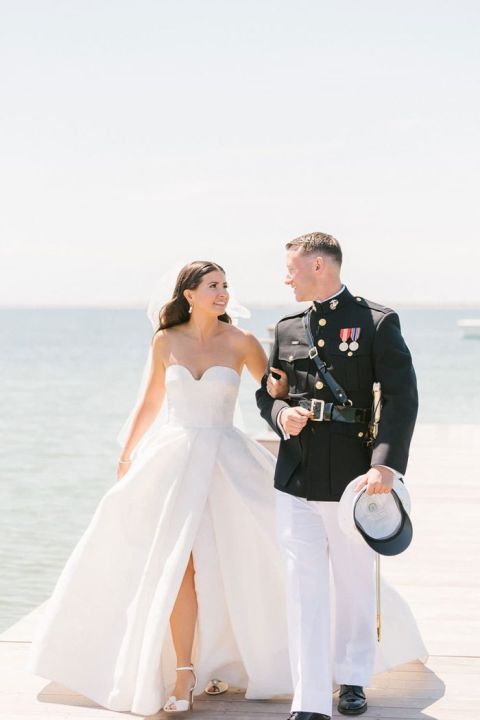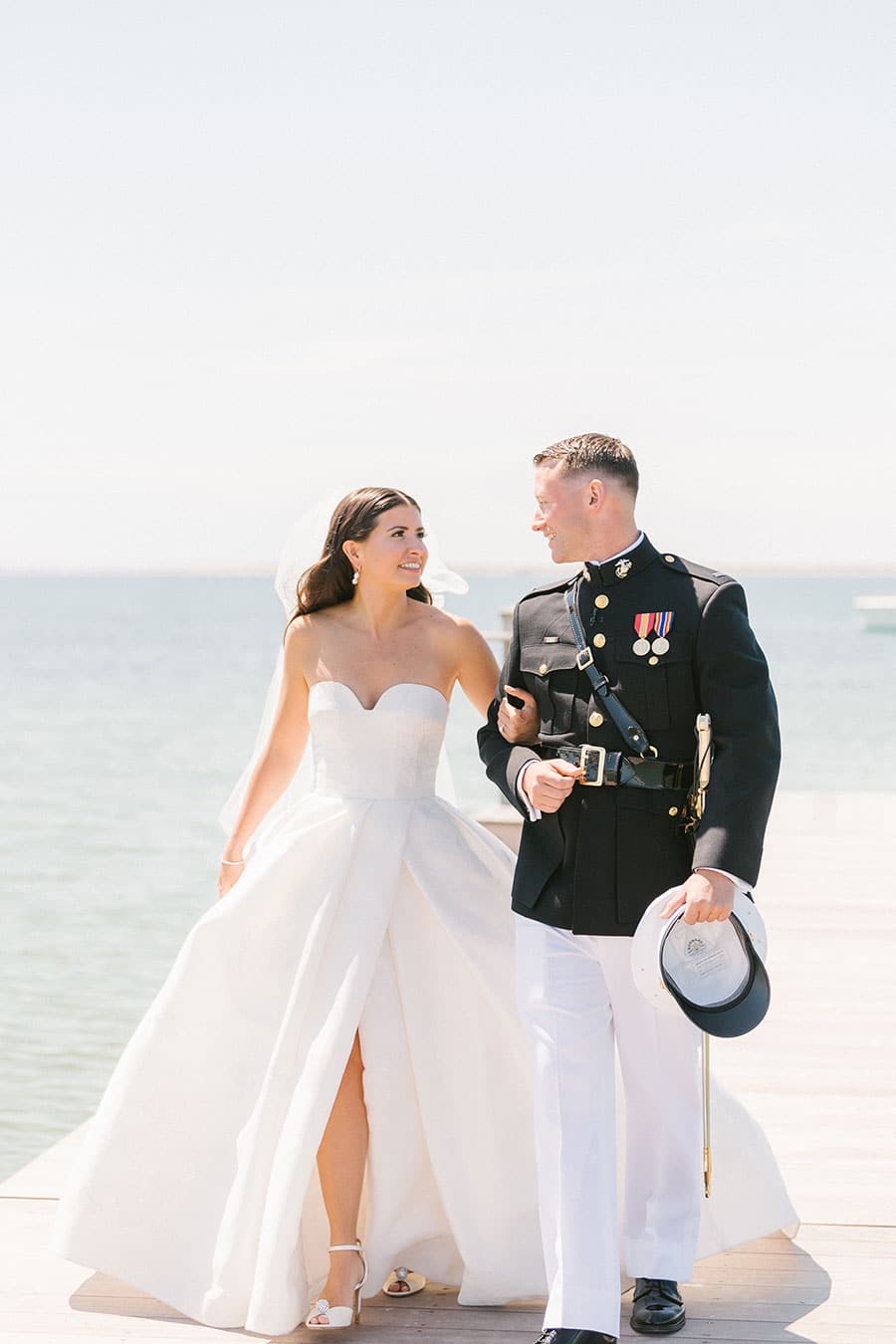 Ashley and John held their wedding reception at The Wauwinet, a historical coastal inn with a stunning view of Nantucket Sound.
I had always imagined getting married in Nantucket since I was little, as my family used to go every summer. It ended up being a very risky choice to say the least. The Wauwinet only takes weddings 4 months of the year, and between that, COVID, John's unpredictable military schedule, and it being a very challenging place to get to, it was a real nail biter. We considered moving the wedding to my parents backyard in Connecticut so many times, but something just kept telling me to hang tight.

We picked the Wauwinet because too often I think people travel to Nantucket and don't leave town. My experience growing up had so much to do with the magical landscape of the island, so I wanted a venue that showcased that. That, and they are a Relais & Chateaux property, so they just do an unparalleled job of five star service with things like greeting guests with champagne upon check in.
The couple knew holding a Nantucket spring wedding on the coast could be risky, weather-wise. They opted for a clear tent that would bring in the stunning coastal views while keeping their guests comfortable later into the evening. The beautiful tented reception was filled with greenery garlands and hanging rattan chandeliers to add an organic element to the outdoor venue. They chose a sweet wildflower motif, echoing their love of the South of France. Guests found their escort cards in window boxes blooming with lavender, astilbe and lisianthus to set the scene as they entered the tent.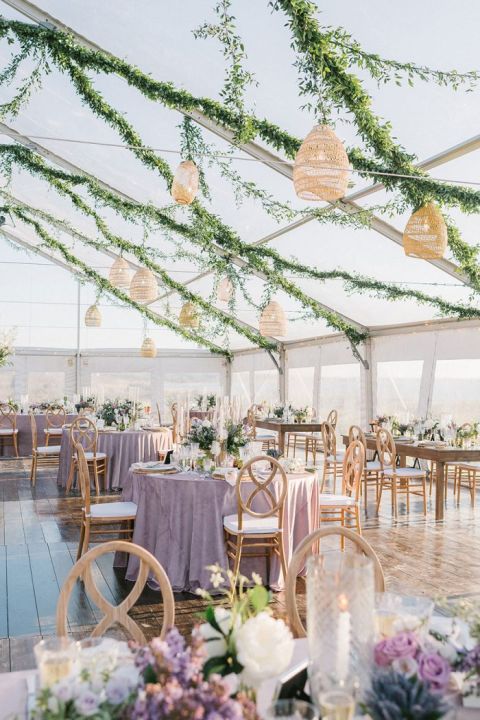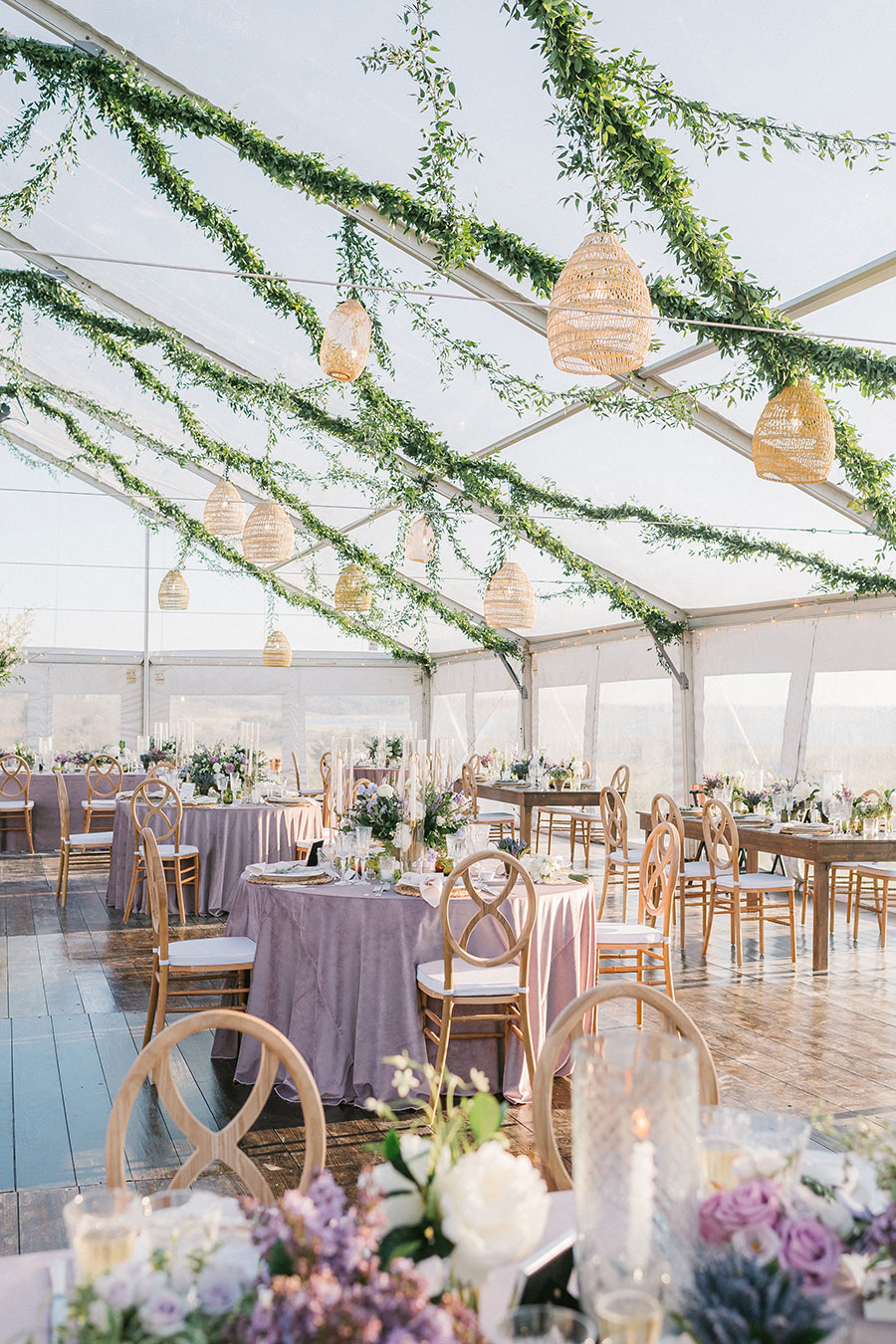 Winston Flowers continued the romantic Provence-inspired floral theme onto the tables. Lavender velvet tablecloths added rich texture to the rounding dining tables. Centerpieces of white peonies, lilacs, purple roses, and star-shaped daisies were nestled in terra cotta pots or clear bud vases to add to the romantic French country floral details.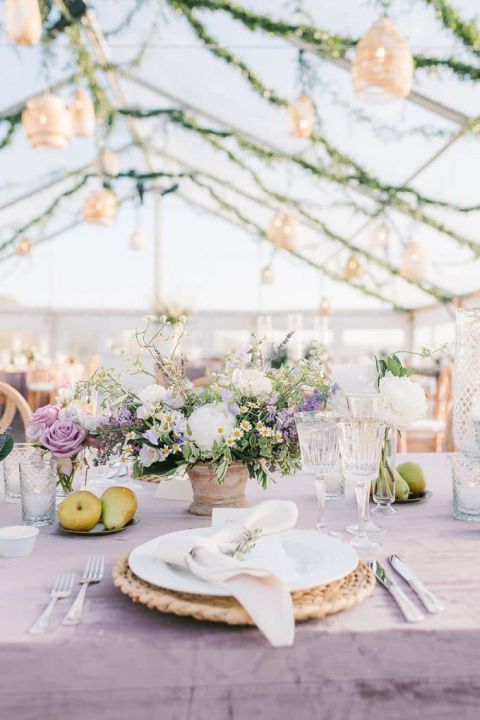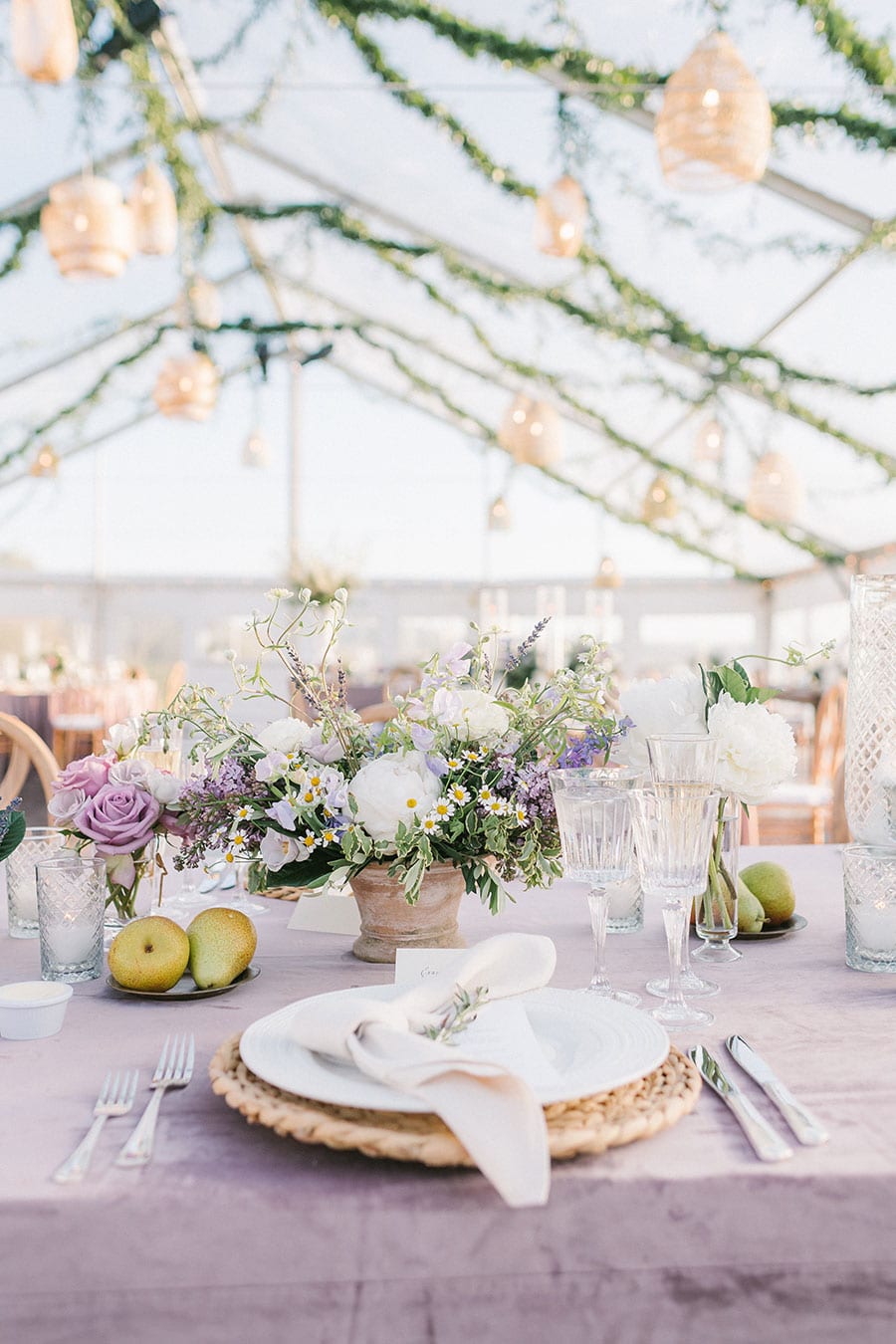 As an event planner, I have seen so many palettes and directions that I was a bit worried the choices would overwhelm me. I knew I wanted color and a lot of texture. When I really sat down to build it out, I decided to go with a very Provence look which was inspired by the honeymoon we were supposed to have (and may eventually reschedule). So we ended up with lots of dried lavender, weathered terra cotta paired with cut crystal, and rattans. My new last name means "pear tree", so we incorporated pears on the table and on the invitations.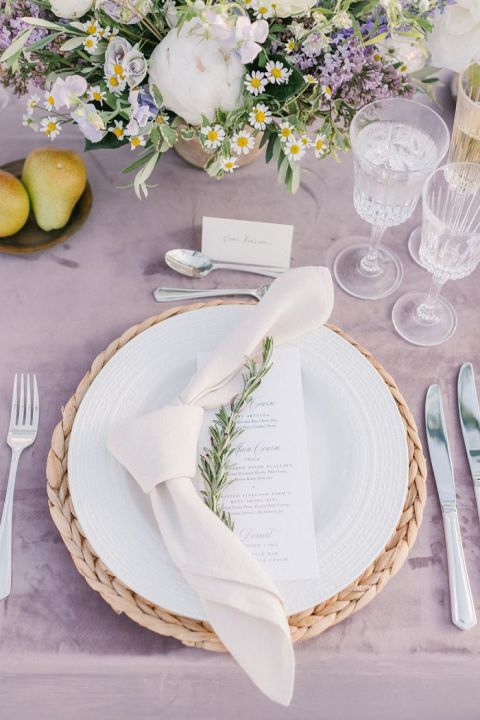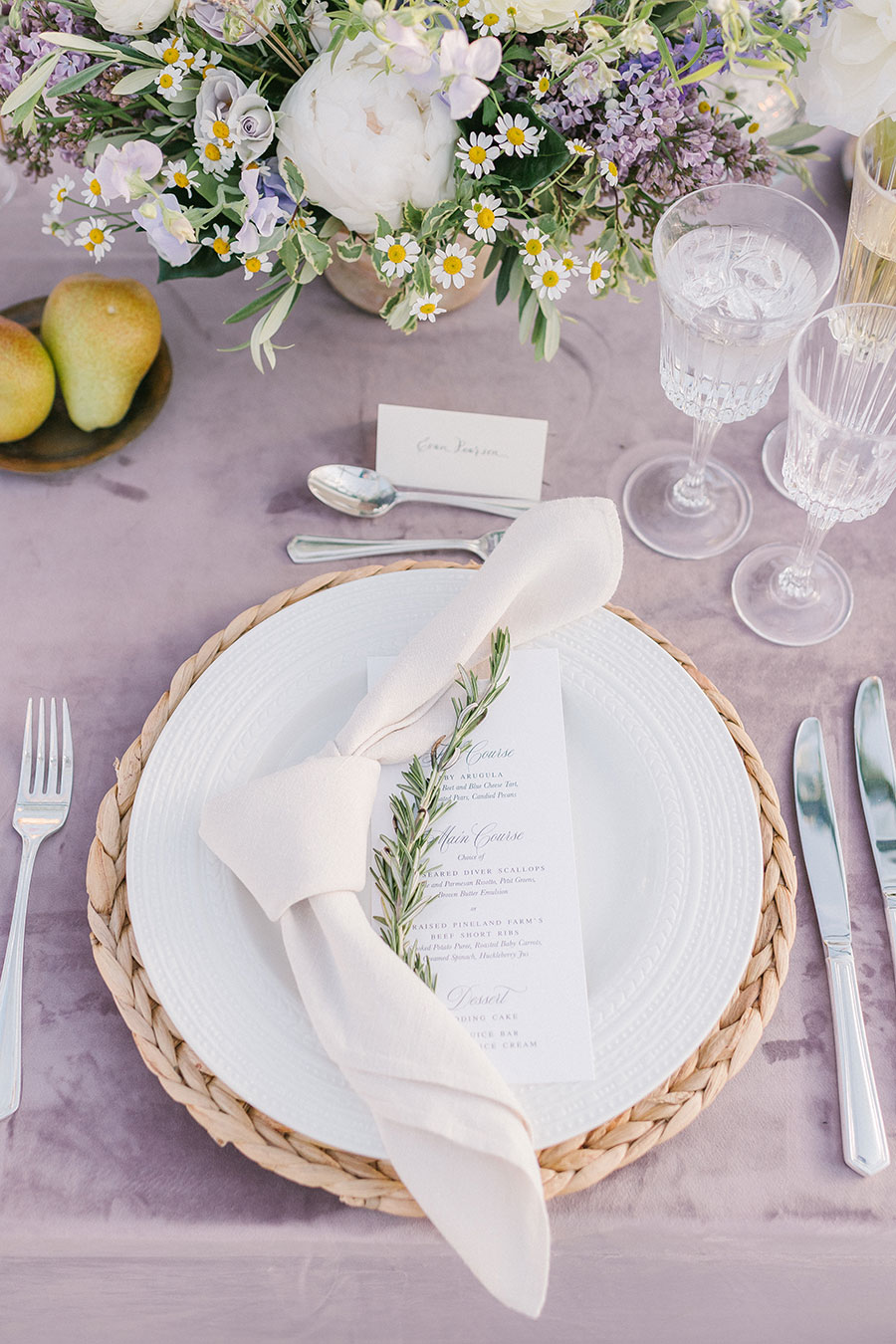 We wanted to write our own vows but didn't want to lose people's attentions at the church, so we opted to give a speech at the reception before opening up the dance floor. We thanked everyone for making the trek and then read a little something to each other.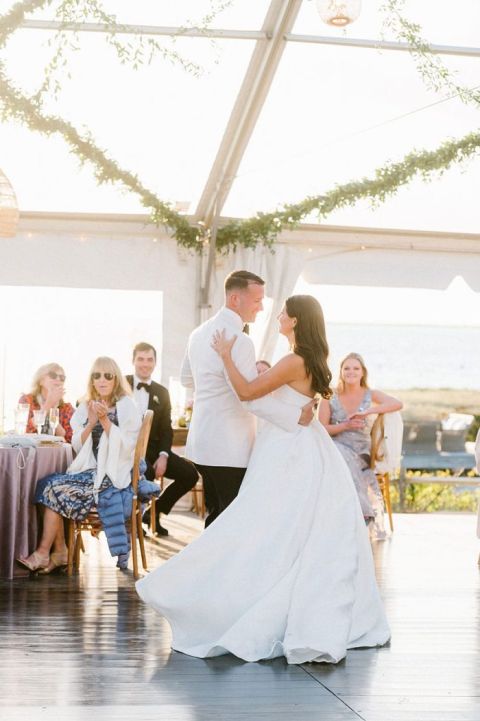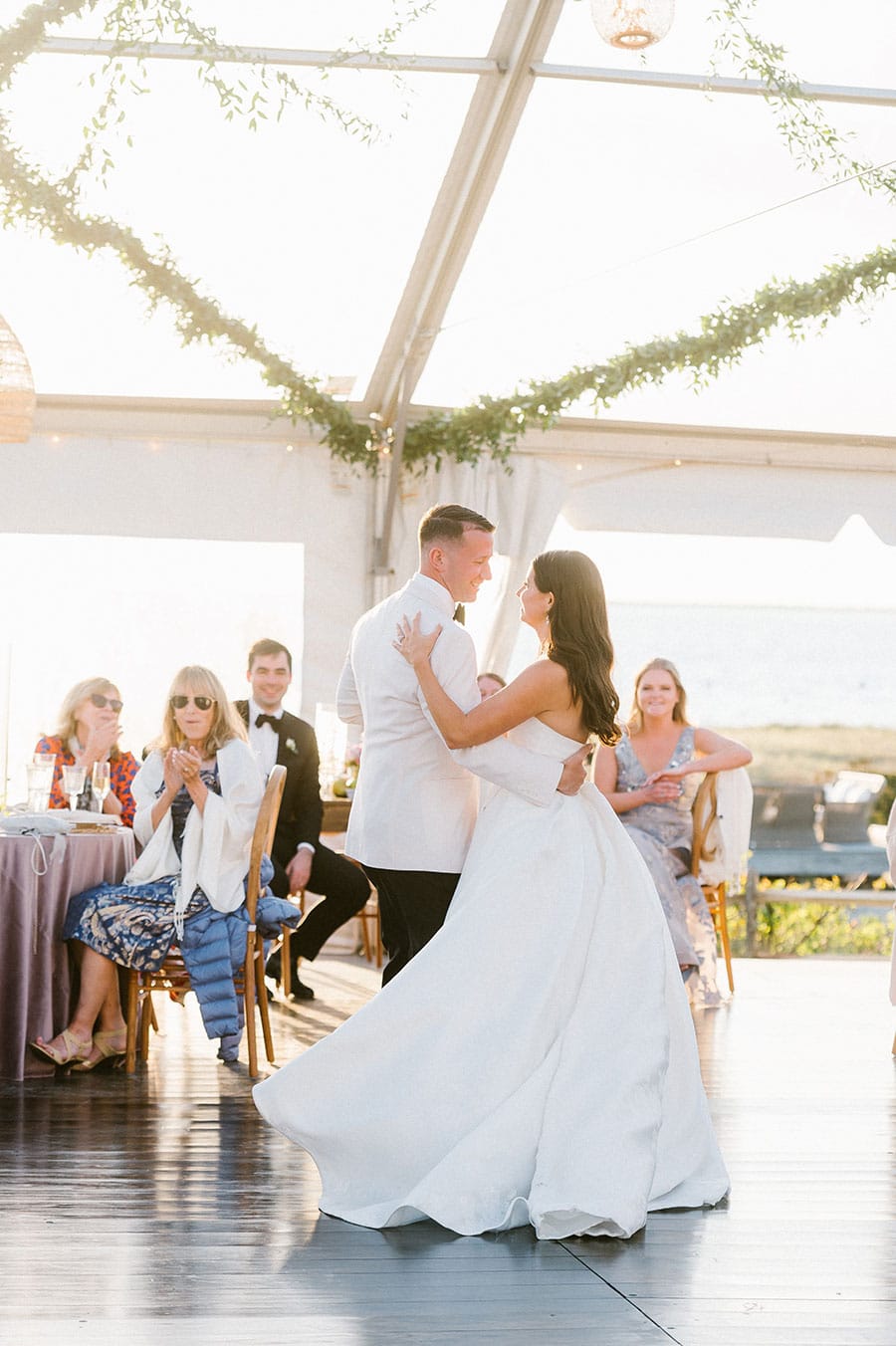 My favorite part of the day was our first dance. We danced to Funny Face by Fred Astaire. John had changed into his custom suit that he designed with Mark Pomerantz and looked so handsome. The song perfectly summed up the vibe of the wedding- classic and traditional, yet doesn't take itself too seriously. We took some ballroom dance classes and had so many times dancing in our kitchen to prepare. The sun was setting over the water and it just felt like magic. We were a bit concerned about the weather- May in Nantucket can easily be 40 degrees and rainy. When I tell you it was the most BEAUTIFUL 70 degree and sunny day, it just felt like the stars aligned. I think of it as my karma for having planned so many other events for others!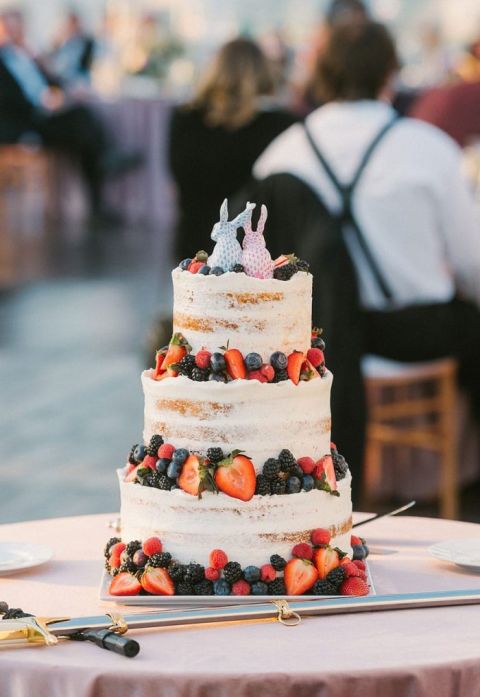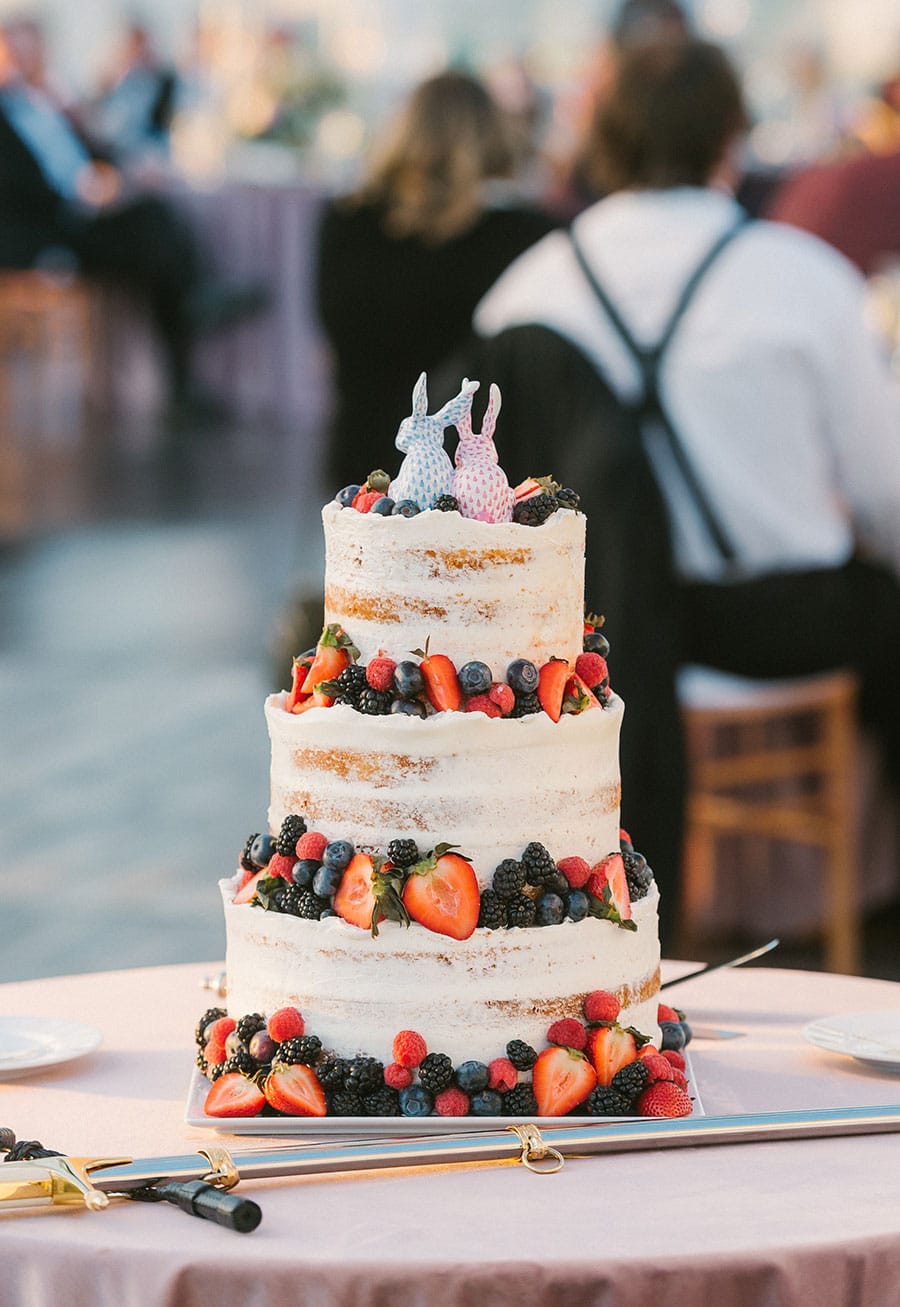 We topped our cake with Herend Bunnies that my grandmother gave us. The Wauwinet lawn is filled with wild bunnies and speaks to our many embarrassing pet names that we call each other. We cut the cake with John's Marine Corps sword. Still unclear how he was able to travel through airport security with it.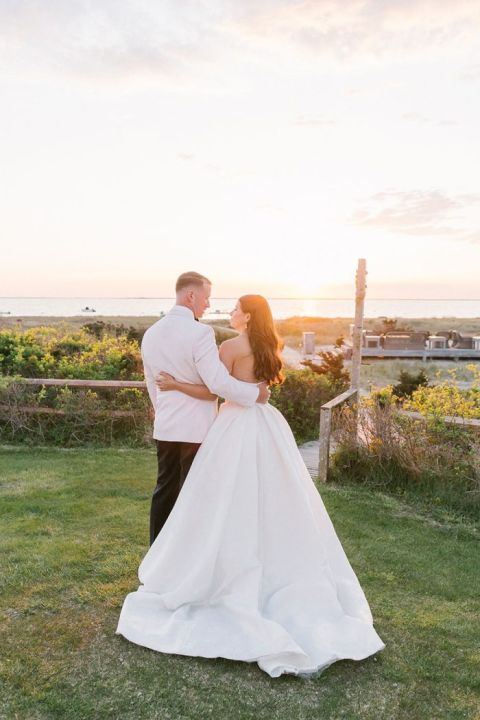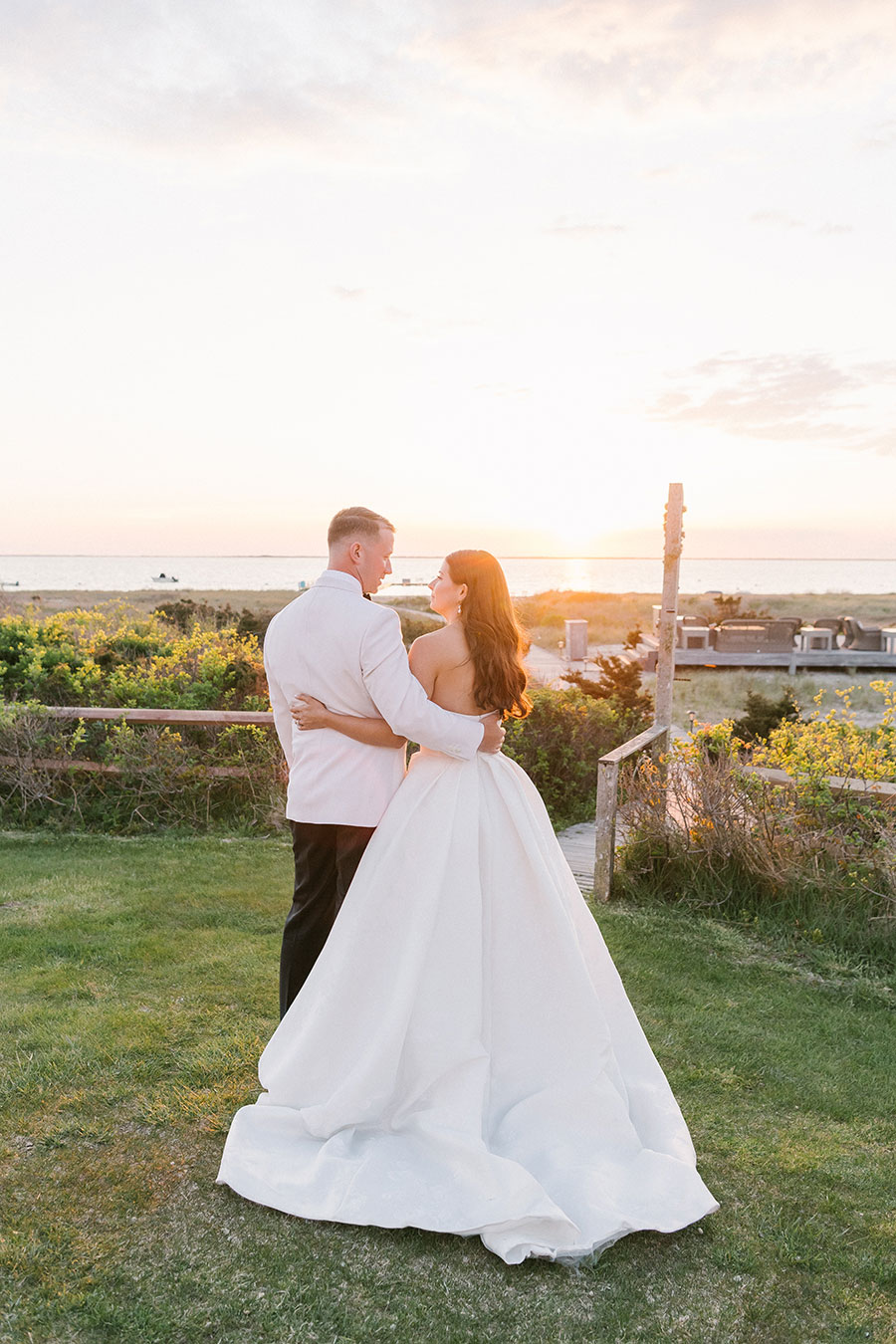 How they met –
We met when we were both living and working in New York City, where John actually grew up. We met out at a bar, and realized we were living just 5 blocks away from each other at the time. The relationship took off immediately and fast from there. Three months in, John told me he had to tell me something, and my mind went in a million different directions. Last thing on earth I expected him to say was that he was leaving Wall Street for the Marine Corps. I don't know how, but I never really questioned the direction of our relationship once, even then! We did long distance for a year before we moved in together in San Diego, where we now live.
How he proposed –
John was about to deploy so it was a bit of a hectic time gearing up for that. He is big into fishing- was a fly fishing guide in Wyoming for a couple of summers- and had said he wanted to sell some of his extra fishing gear. We were to meet "some guy" down at Point Loma in San Diego, a beautiful park on the water overlooking the city. He had a whole back story about this guy and it was a very believable story- he even had me fake texting this guy while he was driving! He pretended to look for him once we got there, but really was searching for the perfect spot to get down on one knee. He later surprised me with a stay at the Hotel Del Coronado and lots of champagne. It was just us two and perfect.
WEDDING VENDORS –
Photography: Rebecca Love Photography | Nantucket Wedding Venue: The Wauwinet Inn | Event Planning: Handy Dallarie | Florist: Winston Flowers | Wedding Dress: Reem Acra | Bride's Shoes: Jimmy Choo | Bridal Salon: Jessica Haley Bridal | Groom's Attire: Mark Pomerantz | Bridal Hair and Makeup: Darya Salon | Videography: Yellow Productions | Live Music: Wilson Stevens Band | Stationery Design: Wouldn't It Be Lovely | Submitted via: Matchology