By Meghan Ely, OFD Consulting
Creating a seating chart is often a daunting task for couples. While it helps organize guests, it also comes with challenges — like navigating complicated family dynamics or trying to squeeze your solo friends into a 'singles' table. Another tough seating choice? Deciding whether you'll sit at a sweetheart table or a head table.
A sweetheart table is a small table-for-two dedicated just for the newlyweds. It's an exclusive space for the couple to sit, eat, and enjoy toasts while guests stop by to say hello and take pictures. In contrast, a head table is a long banquet table where couples sit among their wedding party and, in some cases, immediate family members.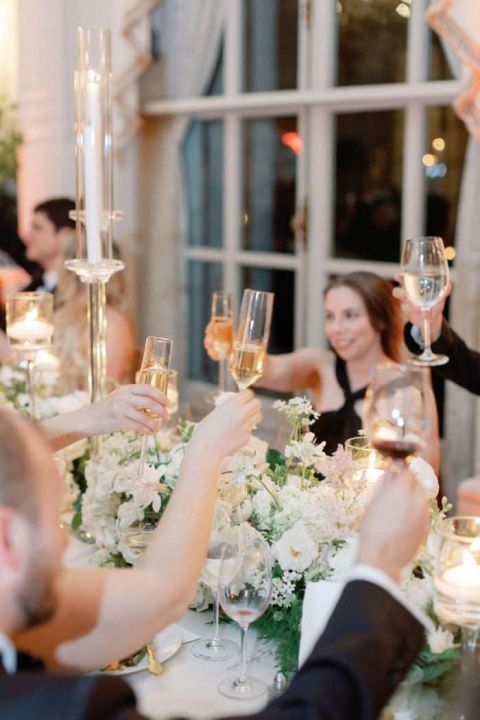 By Halie Photography
If you're wrestling between these two seating arrangements, it's important to note that there's no right or wrong choice! Both options are beautiful additions to a wedding, each providing unique benefits.
Wondering which is the right option for your big day? Keep reading to see what the experts say are key considerations when choosing your ideal newlywed seating arrangement.
If you prefer an intimate experience…
Beyond your first look, there aren't many private moments to soak in your celebration. However, a sweetheart table offers you and your partner a small retreat amidst the buzz.
"Sweetheart tables are the easiest way to ensure you get a little time together to take a breath," confirms Joan Wyndrum of Blooms by the Box.
Peter Mitsaelides of Brooklake Country Club & Events shares this sentiment, describing sweetheart tables as "an oasis where you can take a break and just enjoy one another." So rather than busying yourself with guests and festivities, this setup allows you to savor your significant other's company in close quarters.
In addition, Sarah Jobe of Twickenham House and Hall claims that "a head table may not be an ideal choice for a couple seeking quiet pockets of peace and connection during the reception."
So if you want to include more intimate moments throughout your day, it's worth considering a sweetheart table.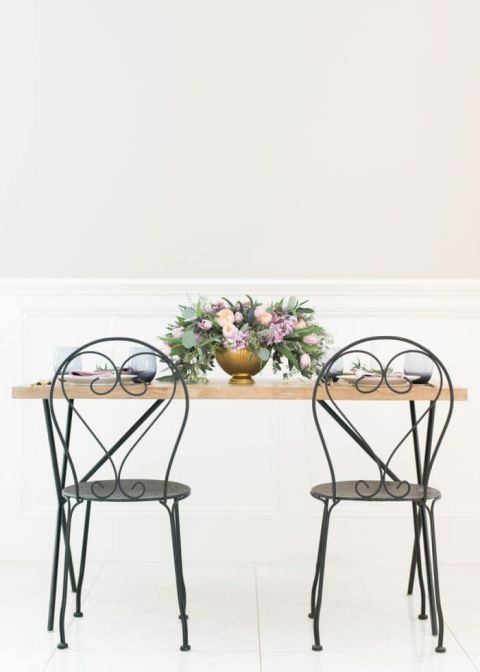 Jessica K Feiden Photography
If you don't want to feel isolated from the main event…
Although a sweetheart table is excellent for relishing the moment, some wedding pros admit it's not for everyone. Jacqueline Vizcaino of Tinted Events Design and Planning points out that it can "feel disconnected from the rest of the guests."
"Couples seem to spend less time with friends and more time with whoever approaches the table," explains wedding photographer Megan Breukelman of Megan & Kenneth.
Kevin Dennis of Fantasy Sound Event Services adds, "You're often pulled in a million different directions on your wedding day, catching up with people you haven't seen in years. Having this time at the head table with your closest group of friends ensures that you spend plenty of time with them before making your rounds with everyone."
Additionally, Michael Vernon of Conch Concierge Weddings asserts that couples "may miss out on conversations and special moments with friends and family." With a day dedicated to your love, you don't want to feel left out.   
You'll also want to ensure you connect with out-of-town guests – an opportunity that lends itself to a head table. "Many have traveled to celebrate you, and the day goes by in a flash, so enjoy them while you can," encourages Nora Sheils of Rock Paper Coin and Bridal Bliss.
Both seating options have plenty of unique experiences, so discuss your comfort levels with your partner as you decide on a preferred arrangement for your reception.
If you can't wait to celebrate your community…
In contrast to the sweetheart table's isolated experience, a head table allows couples to intermingle with their guests more. Mary Angelini of Key Moment Films notes that "a larger head table can symbolize the importance of community and togetherness rather than just focusing on the newlyweds."
This arrangement can also "bring a different vibe to the table, one that will create lasting memories," highlights Wyndrum. In addition, a head table allows you to honor those who have supported your journey.
Sheils perfectly sums up the welcoming ambiance: "Being surrounded by those you love the most is an overwhelmingly wonderful feeling, and there is no better way to celebrate your wedding."
Plus, it's inclusive. As Cathy O'Connell of COJ Events mentions, "you can seat lots of people at a head table, so you don't exclude anyone unless you really want to."
So if you want a tight-knit seating arrangement that allows you to connect with everyone, a head table may be a perfect choice.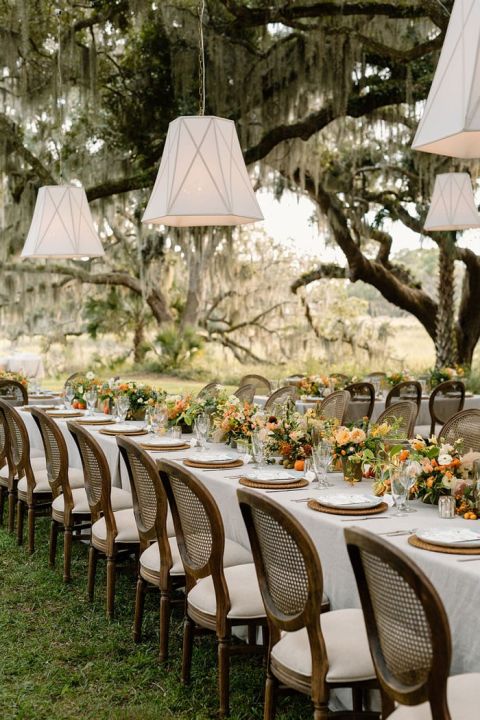 Julia Wade Photography
If you want to avoid feeling overwhelmed by crowds…
While a head table promotes togetherness, Vizcaino notes that it can also be "too overwhelming if it is not designed properly." She adds that "a head table can lead to clutter and distractions," which can take away from the magic of your big day.
Wyndrum confirms that things can get "a little hectic" when determining who will sit at the head table. If you're worried about hurting feelings, "you may end up having to sit some potential strangers at your table," she concludes.
While the head table is typically meant for your inner circle, Angelini reveals that it "can create awkward dynamics between the wedding party members." This is especially true if they're not close or don't get along.
That's where a sweetheart table may be beneficial. Even though you're separated from your guests, you won't have to worry about feeling overwhelmed, dealing with uncomfortable experiences, or hurting anyone unintentionally.
If table expenses are a priority…
As you weigh the pros and cons, revisit your wedding budget. Each option has a different price tag to consider. And "if you want to make your sweetheart table a statement piece, it's much less expensive to amp up a small table than a large head table," Sheils acknowledges.
Diane Kolanović-Šolaja of Dee Kay Events elaborates on Sheils' point, adding that "a dramatic head table means more flush florals, candlelight, and everything. As a focal point, you must consider how that affects your bottom line."   
Review your spending plan with your partner to help you select a solution that fits your budget.
If you want to make the most of your venue…
Your reception layout will depend on several factors, primarily your venue's floor plan. However, there are some additional aspects to consider as well.
For example, if you want to shine in the spotlight, Wendy Kidd of Each & Every Detail emphasizes how a sweetheart table offers a "great focal point," allowing you to "play with your design and make a feature of your wedding style."
Still, Angelini cautions that you "may need to sacrifice other important elements of the reception, such as a dance floor or additional seating, to accommodate the sweetheart table." Therefore, you'll want to assess your venue's size to avoid unnecessary sacrifices.
On the other hand, Mitsaelides supports a head table option because it allows you to "use your reception space more effectively." But he also warns that it "may limit the configuration for the rest of your table placement."
Discuss layout options with your venue's staff to determine whether a sweetheart or head table works best in the space. (If they say both, revisit the other considerations listed above!)
When deciding between a sweetheart table and a head table, remember it's your special day, and you can celebrate however you want. Christina Lovelace of Lovelace Design reminds couples to "do what feels most comfortable for you and what aligns with the reason you're having a wedding in the first place."
Set aside time to reflect on your values and create a dream wedding representing your love. Whether you opt for an intimate sweetheart table or a bustling head table, both options allow you to make unforgettable memories that will last a lifetime. So have fun, and don't sweat the small stuff!
Meghan Ely is the owner of wedding PR and wedding marketing firm OFD Consulting. Ely is a sought-after speaker, adjunct professor in the field of public relations, and a self-professed royal wedding enthusiast.