Want to turn your wedding morning into the perfect 'Get Ready with Me' moment? This breathtaking bridal shoot from Bailey Pianalto Photography and Truelove Coordinating and Design is the perfect inspiration for brides looking to add a glamorous moment to their wedding day prep. The stunning photo session takes the bride from waking up to a feminine moment at a vintage vanity, to putting on her fabulous wedding dress. Each step was an opportunity for amazing bridal fashion, from her getting ready lace robe to the exuberant Millia London tulle dress!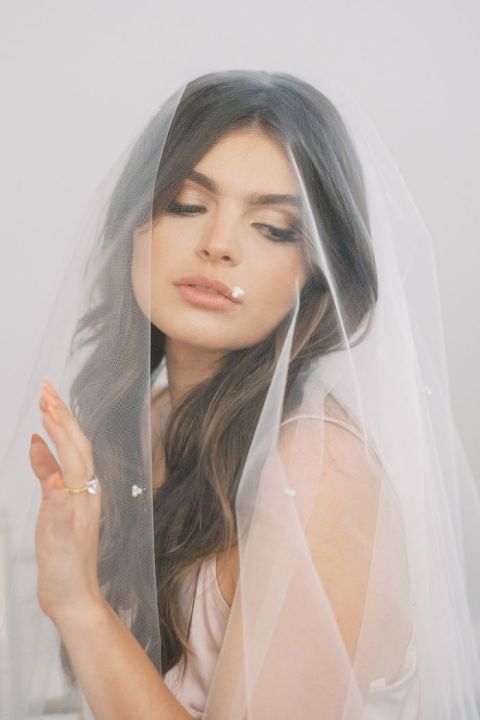 Click for more gorgeous getting ready ideas for your wedding morning!
The Ultimate 'Get Ready with Me' Inspiration for a gorgeous Wedding Morning Session
The peaches and cream color palette was a gorgeous nod to the ultra-feminine vibe of this bridal morning photo session. The early hours and bridal beauty part of the wedding day became the perfect time to embrace a moment that is just for the girls! Beautiful beige and white invitations and hand lettered vows by The Authentic Hand showcased some of the intimate promises coming later that day, while the bride and her girls had a moment to prepare and get ready surrounded by elegance and beauty.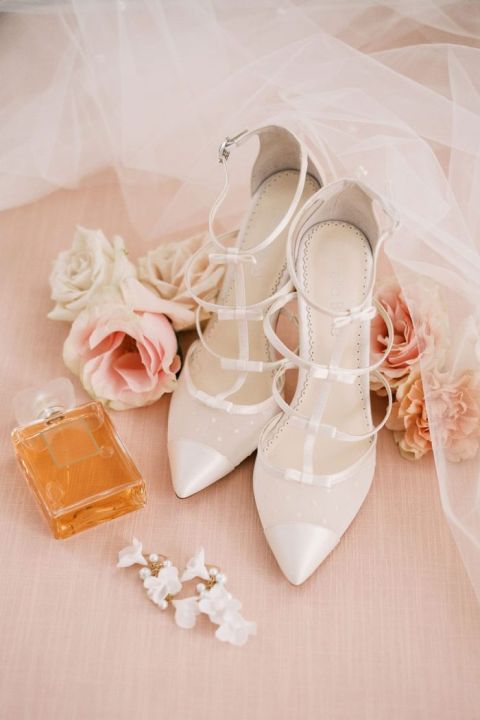 From the design team –
The perfect wedding day starts with a perfect wedding morning. These first hours of anticipation and pampering set the tone for the rest of the day.    Blending old world luxury with modern elegance these bridal portraits hint at the celebration to come. The understated classical style of the Historic Post Office in Ottawa, Kansas, provided the perfect backdrop for a relaxed-yet-extravagant wedding morning. Every detail of the 1913 building has been meticulously preserved. Today, the venue within still honors the building's historic roots.   This bride knows that every occasion, even every hour of the day, requires the perfect outfit and accessories.   The bride's floor-length lace Homebodii robe set an opulent tone as she sipped her morning tea, read a letter from her soon-to-be husband, and made her final touches in front of a vintage vanity by adorning herself in Anne-Marie jewelry.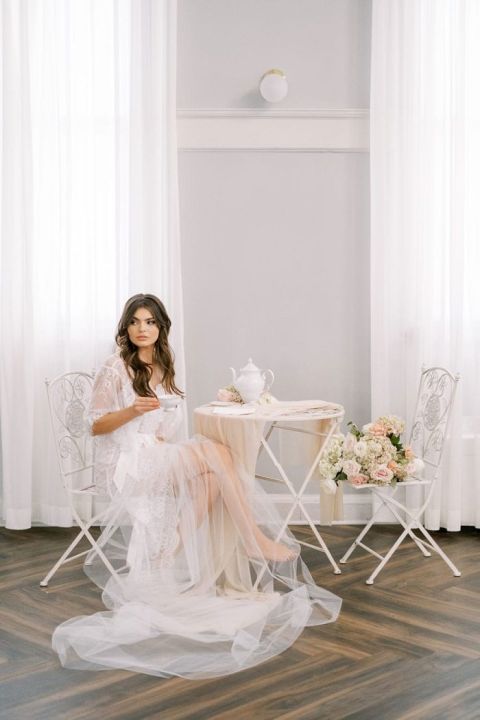 But first, tea. Good Stuff China set the table for a beautiful wedding day brunch with tea served in white and gold fine china. Kate Smith Soiree, a boutique bakery in Lenexa, Kansas, created vanilla chai macarons to complement the freshly brewed tea and start the bridal morning off with a little sweetness and spice.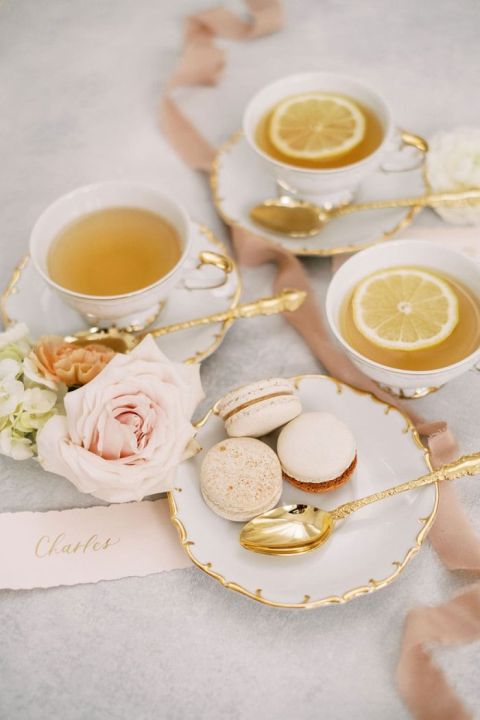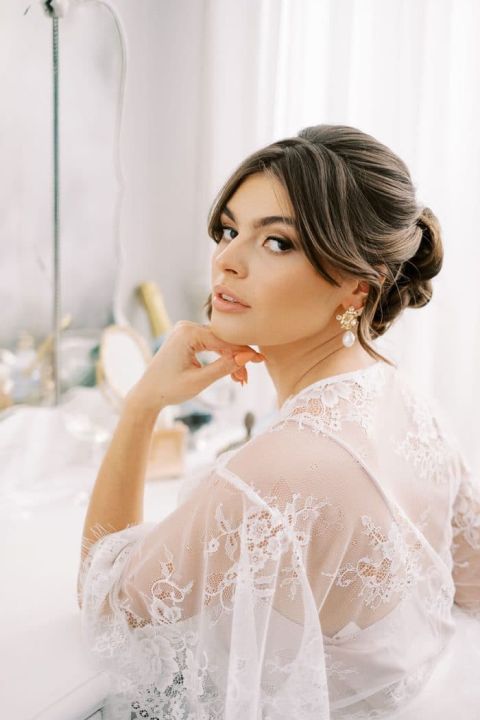 Good morning, gorgeous! Posh KC Blow Dry completed the bride's beauty prep, giving her a dewy and fresh look with a soft smoky eye. The romantic bridal updo was a perfect choice for the vintage glamour of the boudoir setting and the fabulous gown just waiting for her to put it on. The stunning wedding fashion wasn't limited to her gown, but included the bride's lace Homebodii robe for the perfect 'get ready with me' look.
This stunning bridal vanity is pretty much exactly what I dreamed of as a girl! It's the perfect place for a 'get ready with me' moment, embracing Old World feminine beauty.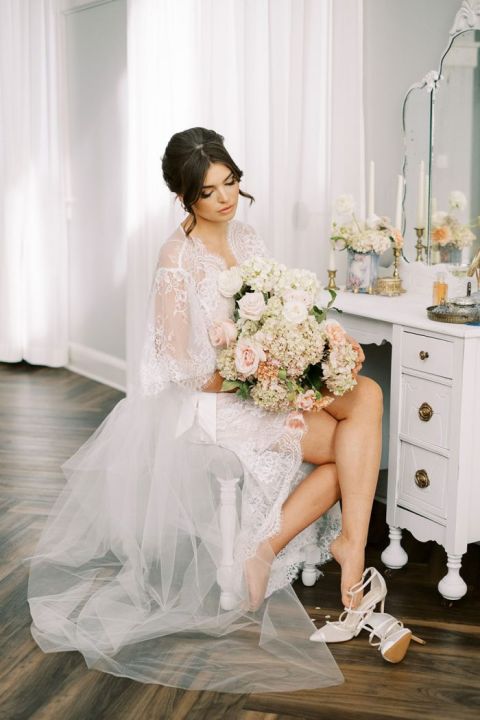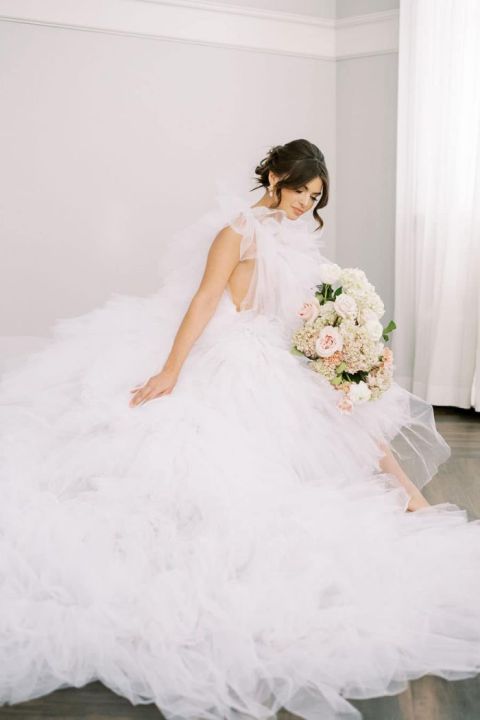 When it comes to exuberant tulle ball gowns, the romantic bride can always turn to Millia London! Their Penelope gown created the most stunning contrast by pairing an epic ruffled skirt and plunging neckline and low back.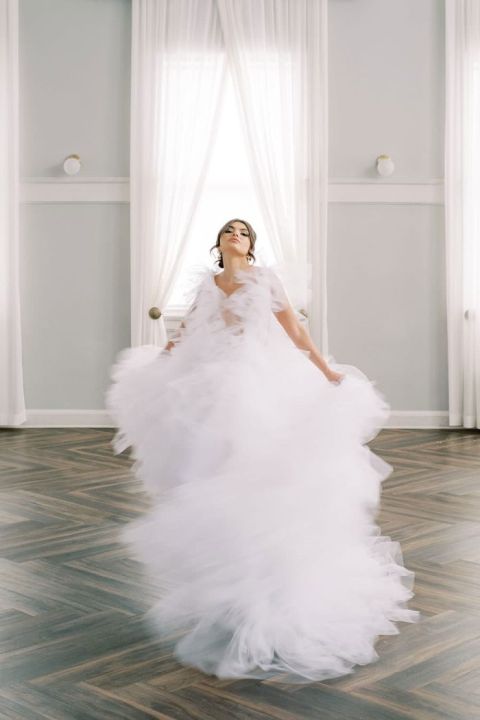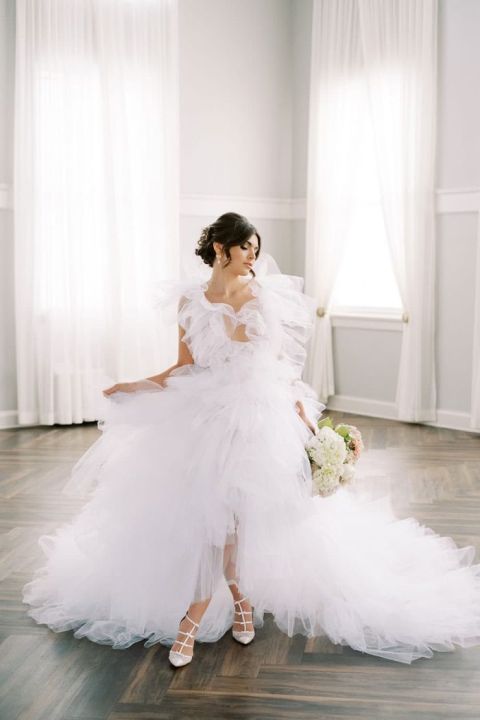 This dress is about as fabulously bridal as it gets – when else do you have a chance to wear a gown that looks like a pastry crossed with a cloud? The ruffled work of art was a stunning choice against the restored Historic Post Office, an Ottawa, Kansas, venue that transforms a historic building into a gorgeous and timeless place to get married.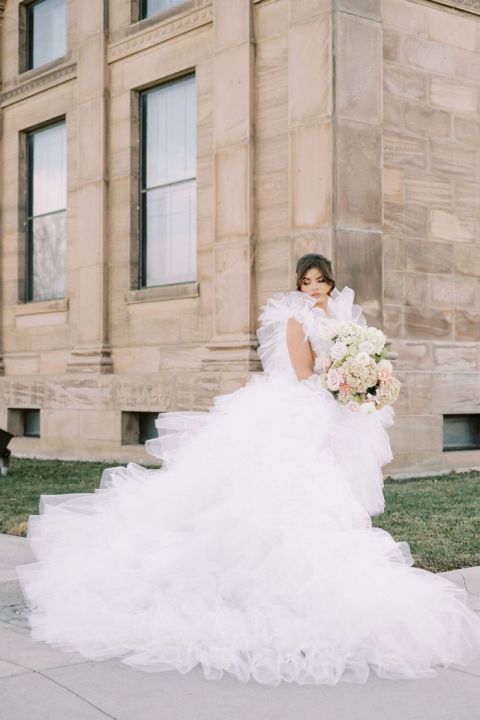 WEDDING VENDORS –
Photography: Bailey Pianalto Photography | Kansas Wedding Venue: Historic Post Office | Event Planning: Truelove Coordinating and Design | Florist: Solstice Floral Studio | Desserts: Kate Smith Soiree | Wedding Dress: Millia London | Bridal Robe: Homebodii | Veil: The One Bridal | Bridal Shoes: Bella Belle Shoes | Bridal Headpiece: Veronica's Couture Veils | Jewelry: Anne-Marie Designs | Hair Styling and Makeup: Posh KC Blow Dry | Rentals: Good Stuff China | Stationery Design: The Authentic Hand | Submitted via: Matchology