When the COVID pandemic put their destination wedding in Greece on hold, this couple planned a Rocky Mountain adventure elopement in weeks! Using #covidwedding hashtags on Instagram, they found Aspen wedding pros Jacie Marguerite,  Jadyn Alexa Films, and Aspen Branch who were also spinning from postponed events and pulled together a mountainside ceremony that is nothing short of magical! With a Western wear meets boho style, greenery and a flower crown for the bride, and a sparkler celebration with socially distanced cocktails, they created a day to remember in just a few short weeks!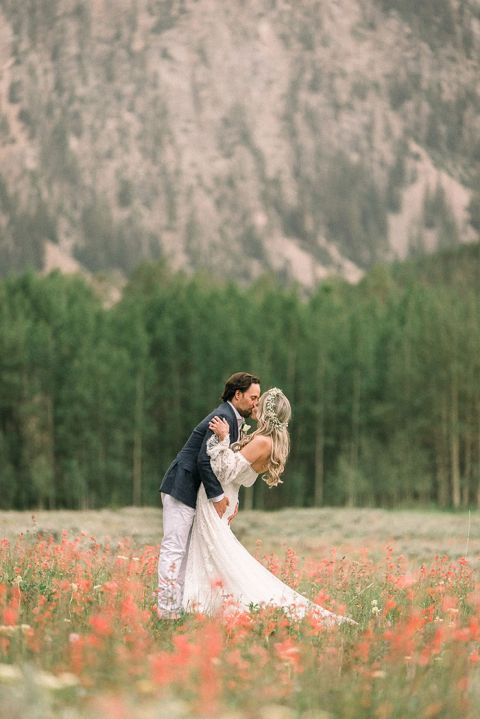 Adventure Elopement in the Rocky Mountains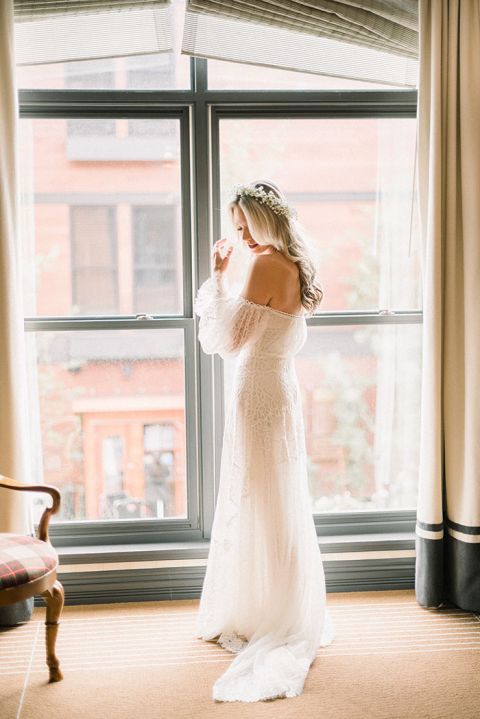 Pivoting to a Micro Wedding Plan? Check out more Elopement Inspiration!
It should come as no surprise that this bride had a stylish wedding day – after all, she's the founder of Eau Club and has been featured on Rachel Zoe's The Zoe Report, goop, Popsugar, VSCO, and more!
Her personal style was tested when the couple's plans for a destination wedding in Greece for July 5th, 2020, were halted thanks to the spread of the COVID pandemic. With 300 embossed invitations sitting in front of them, the couple made the difficult plan to postpone their international celebration and instead tie the knot in a micro-wedding and adventure elopement in the Rocky Mountains!
With just weeks to put together their pivoted elopement plans, finding the perfect elopement dress posed a unique challenge. Emily turned to the internet for inspiration, ordering a Jonathan Simkhai that perfectly fit the boho bride meets Western style that signified their Rocky Mountain minimony. The designer's summer offerings included an off the shoulder lace dress with bishop sleeves. The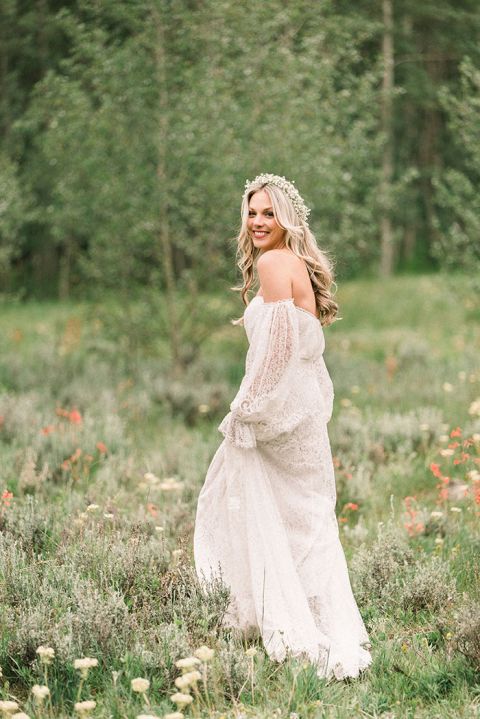 The couple used #covidwedding hashtags to find vendors in Aspen – they were quarantining in the mountain town and it had been their original choice for their wedding. With many friends and family coming from Australia, Europe, and the United States, they'd decided against Colorado for their big wedding, but it was perfect for an adventure elopement!
Among their Instagram discoveries was florist Aspen Branch. They created the bride's greenery and white blossom bouquet with roses, astilbe, scabiosa, seed pods, and eucalyptus. She also wore a delicate white flower crown to cap off the rustic bohemian bridal look!
With their 'big day' plans put on hold, every step of their wedding day felt slowed down, more intimate. Emily's bridal prep consisted of a makeup trial and a hair appointment in a mask, held outdoors
 The details I had once Pinned, saved, and planned for all became irrelevant during this time. In the end, this is not what marriage is about.

Bride Emily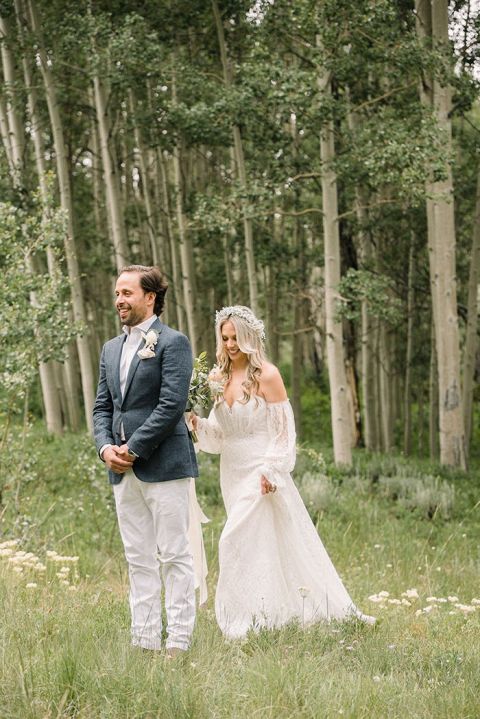 Instead of a flurry of activity on their wedding morning, the couple started the day quietly. Emily meditated and took a hike, spending some quiet solo time to focus on reflection.
They got ready in Aspen's Hotel Jerome – a favorite cocktail date spot for the couple! Instead of bridesmaids and bustle, the bride got ready with masked attendants Angela Andrade + Salon Tullio of Aspen Glam to do her makeup and give her long waves for her low hairstyle. She Facetimed loved ones, feeling steeped in their well wishes from afar.
When the time came, the couple drove thirty minutes outside of town, into the mountains to a meadow they had come across on a hike. Their pared down guest count allowed them to skip set up and details – just the two of them in the woods for a First Look that brought everything full circle.
Groom George's Ralph Lauren suit brought their Western wear meets boho style to life as a lucky find when the shop opened just days before their elopement date.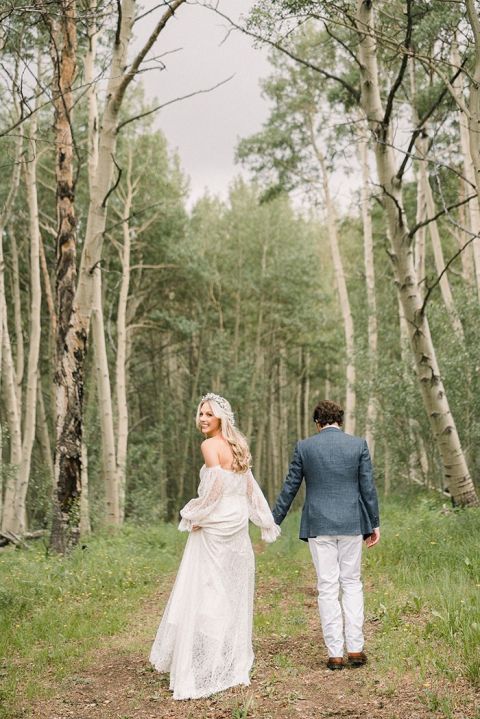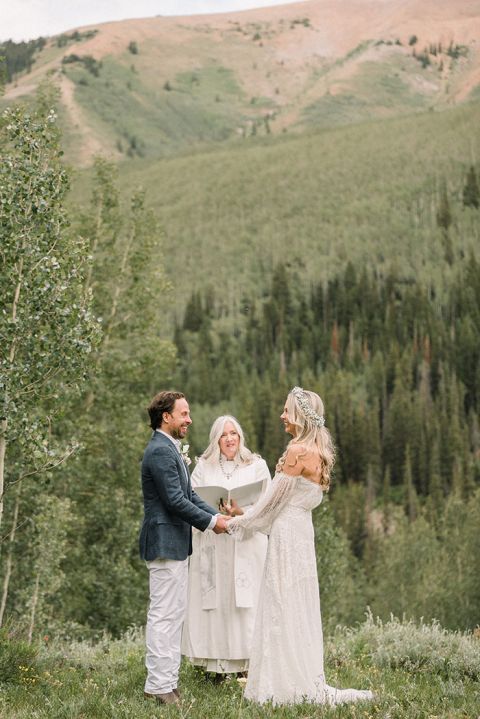 With friends and family unable to attend, the couple were joined by their officiant and their two witnesses – the bride's mother and sister. They chose readings, shared letters, and read their own vows in a personal ceremony that felt absolutely magical in the mountain meadow. Saxophone player Chris Harrison, an Aspen Music Festival find, played music from a distance.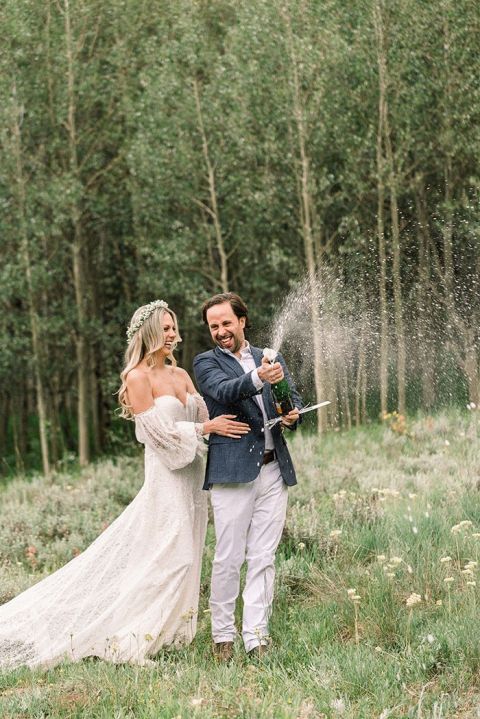 The couple popped a bottle of bubbly and cut into their petite wedding cake from d'Elissious Cake Studio to have the full experience and give them a chance to celebrate!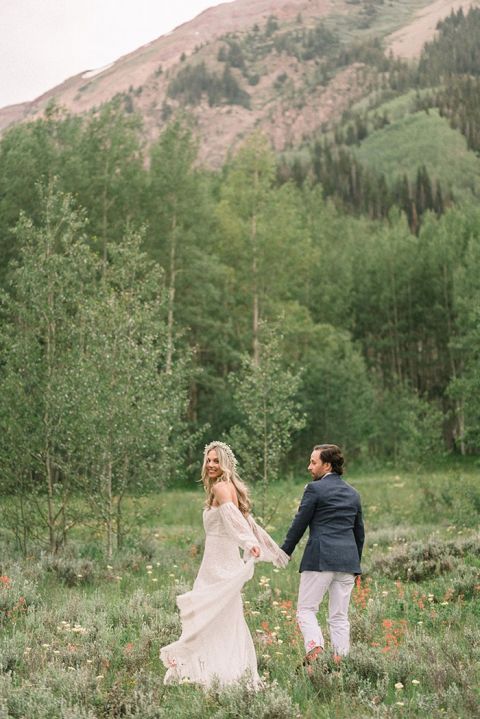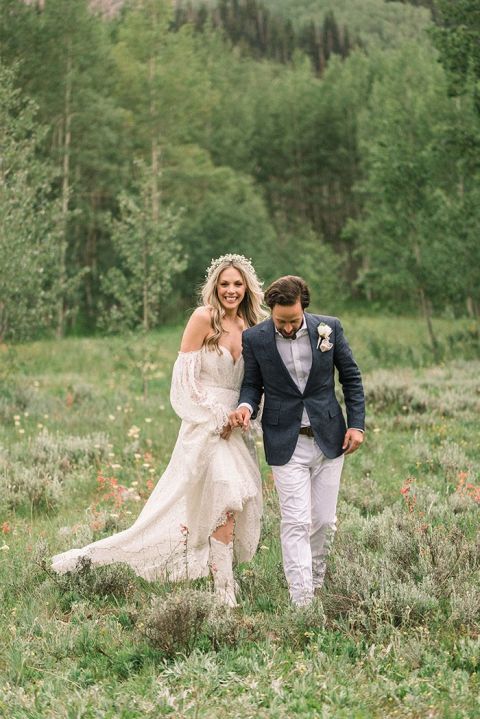 The bride wore cowboy boots! The pearl white boots from Ariat Equestrian were gifted to her after the finalized their postponement. They added to the boho meets Western style of this fashionable couple and referenced a joke the bride made when they realized they would have to postpone – she'd 'marry George in anything, even cowboy boots' – and she did!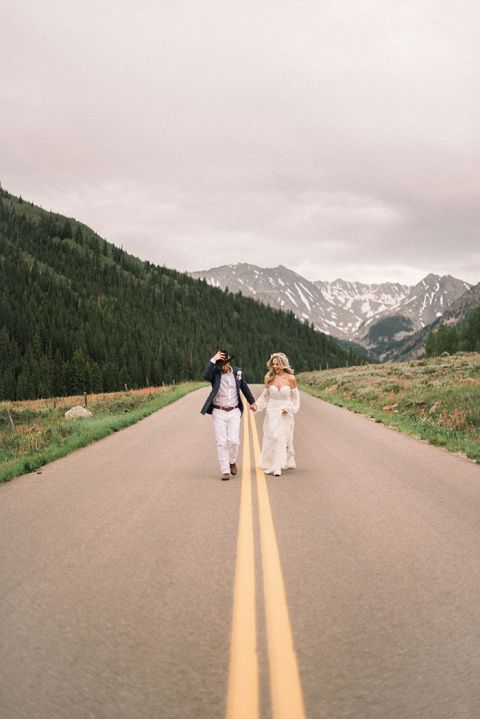 Their mountain portrait session with Jacie Marguerite truly captures what you gain from a smaller guest list and an adventure elopement mentality. How amazing are these photos!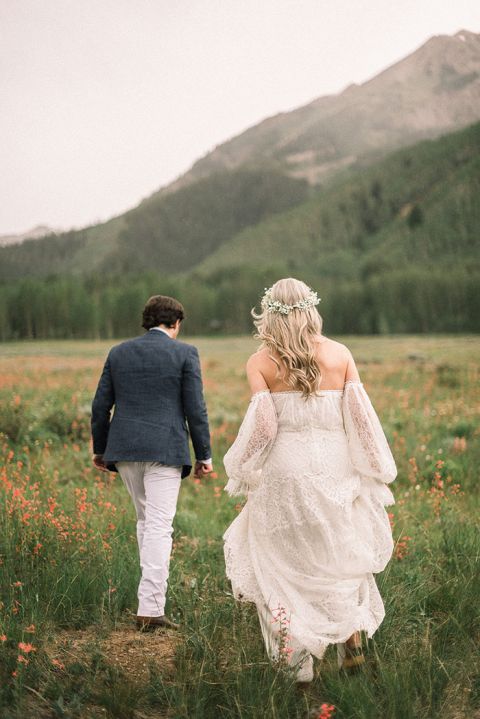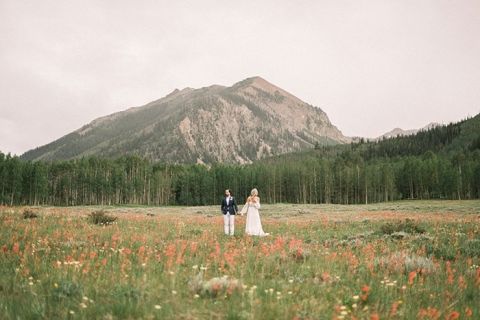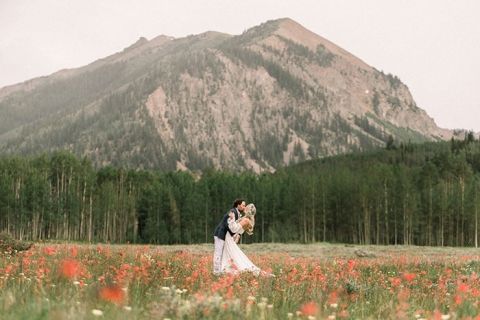 Gorgeous views of the Rocky Mountains and a meadow bursting with just-bloomed wildflowers gave them the most perfect backdrop for their celebration!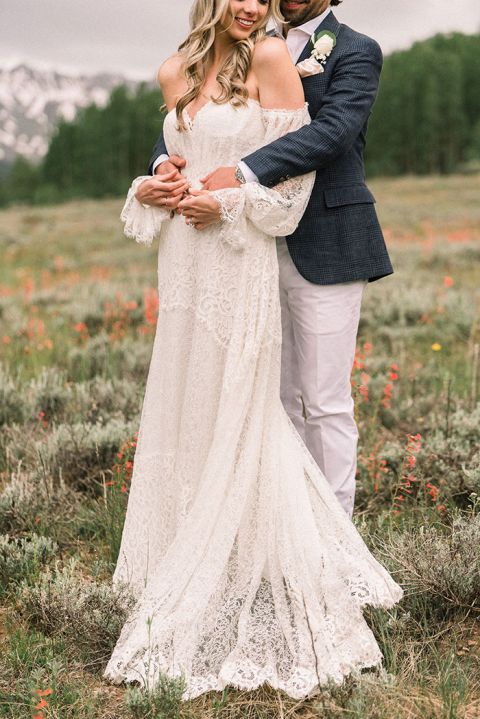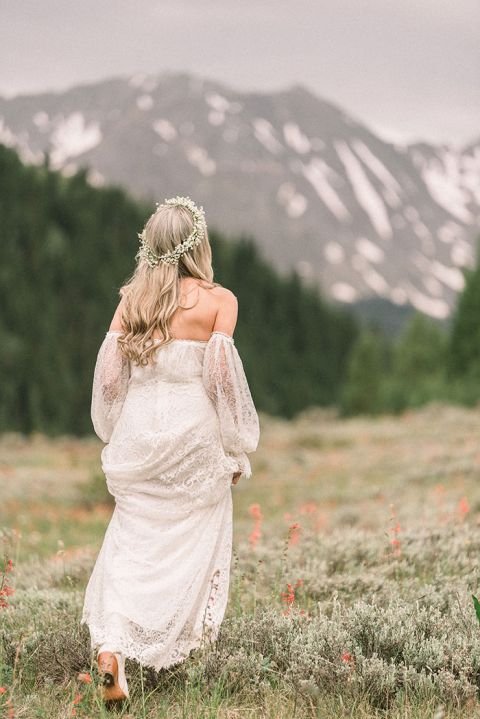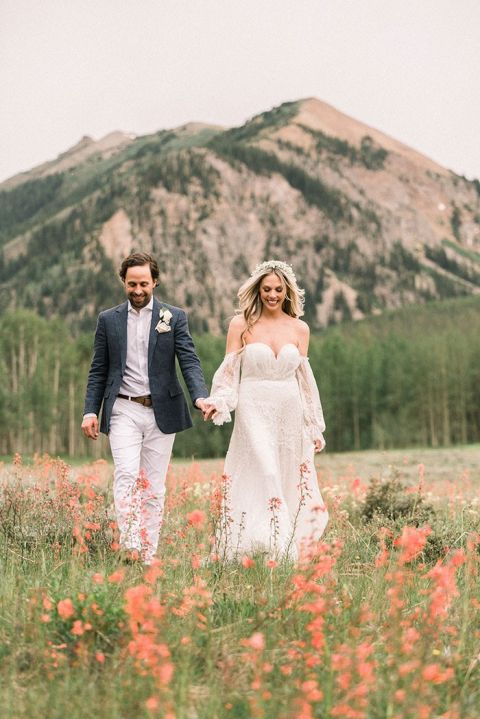 The couple wore His and Hers Stetson hats from Kemo Sabe that were personalized with their initials. After they returned to town as Husband and Wife, they had the hats personalize with their shared last initial as a fun Western twist on a monogram!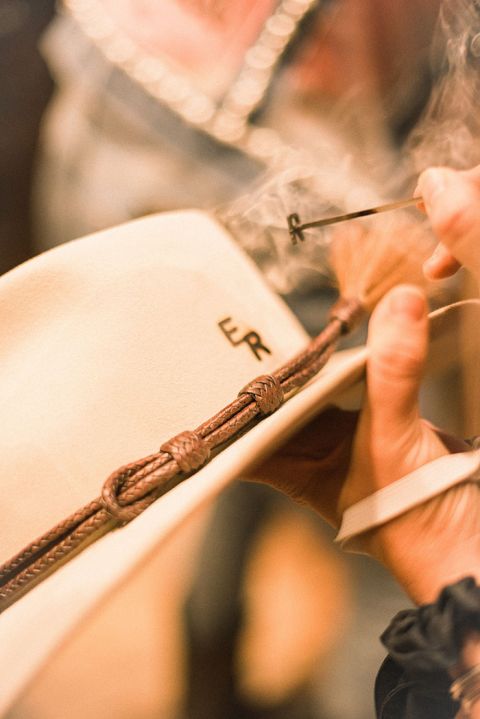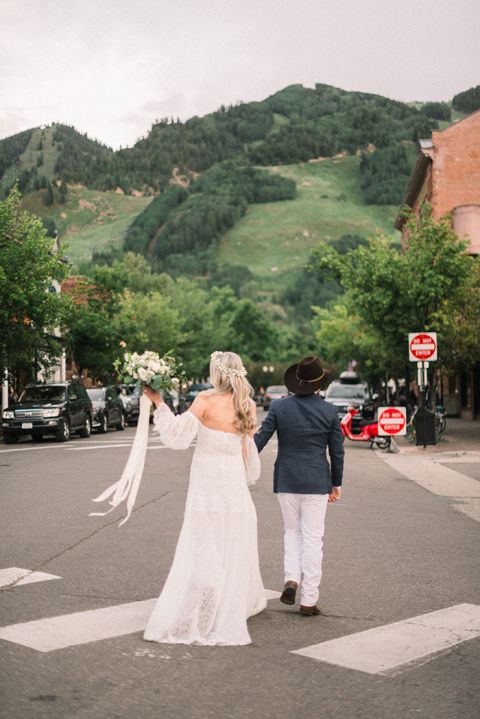 The couple closed out their Fourth of July celebration with a walk through Aspen – the town cheered them from a safe distance! Their close friends held a socially distanced celebration at an outdoor bar complete the sparklers and champagne!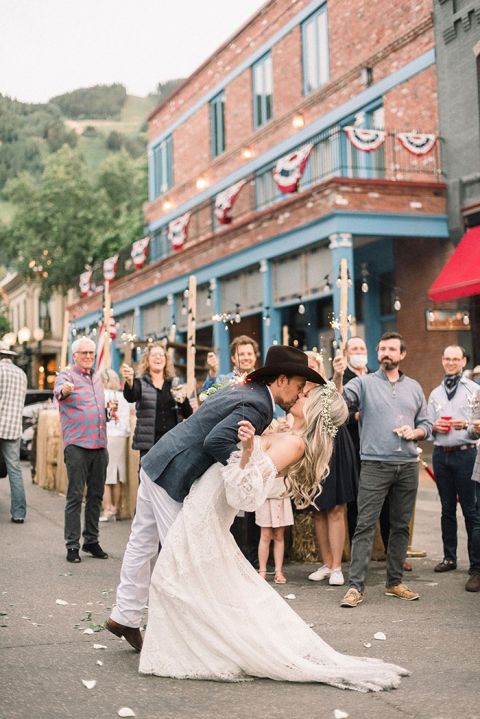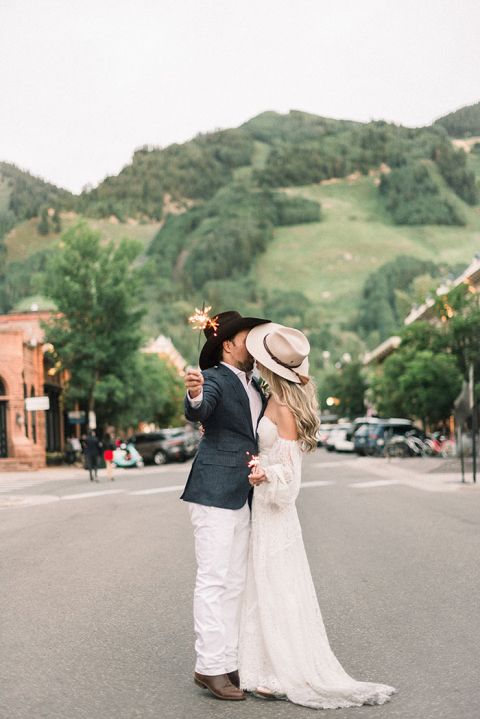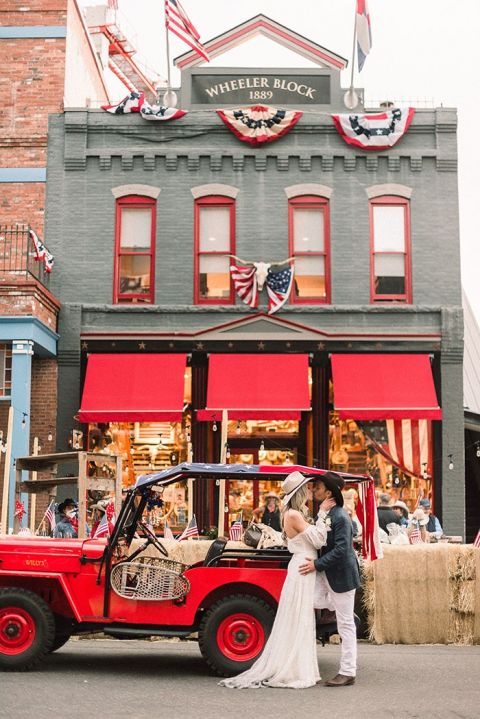 WEDDING VENDORS –
Photographer: Jacie Marguerite | Videographer:  Jadyn Alexa Films | Florist: Aspen Branch  | Elopement Cake: d'Elissious Cake Studio| Wedding Dress: Jonathan Simkhai | Bridal Boots: Ariat Equestrian | Hats: Kemo Sabe | Groom's Suit: Ralph Lauren | Hair Stylist and Makeup Artist: Angela Andrade + Salon Tullio of Aspen Glam | Rings: MB Custom Jewels | Saxophone Player: Chris Harrison