Planning a wedding is filled with challenges from day one, but planning the same wedding over and over due to the stress and unknowns of a global pandemic? Definitely ups the challenge factor! College sweethearts Anastasia and Zach had picked out their style, their flowers, and the feel of their wedding day while planning a grand ballroom wedding but things had to pivot to an outdoor tented wedding in order for them to celebrate safely with their loved ones. Their reimagined wedding day looks truly effortless and intentional, thanks to their planner and designer Ann Travis Events, and the gorgeous outdoor venue at Cushing Field House. Their artistic wedding photos by K R Moreno Photography captured every sweet moment and their beautiful jewel tone details to perfection!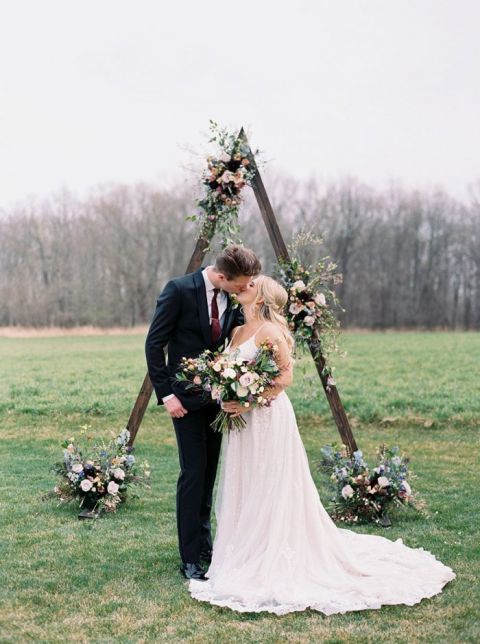 This couple transformed a tented wedding into the ballroom of their dreams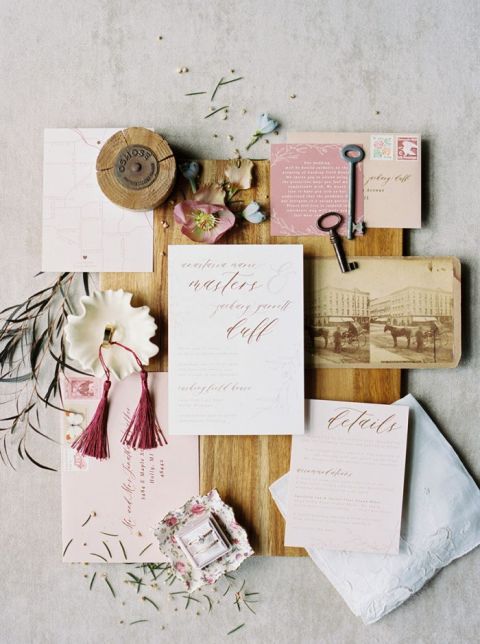 From the start, their wedding day album paid gorgeous attention to details and design! Wood cutting boards, vintage handkerchiefs, and antique ring dishes added stunning dimension to their invitation flatlay with artfully script lettered stationery by Invitations by Caitlin.
How the couple chose their wedding style:
I was inspired by creating a memory for us that was beautiful, whimsical, and was something that we would remember as classic for years to come. My biggest inspiration was looking back at family's weddings and thinking of the joy they experienced and working to channel that into my day.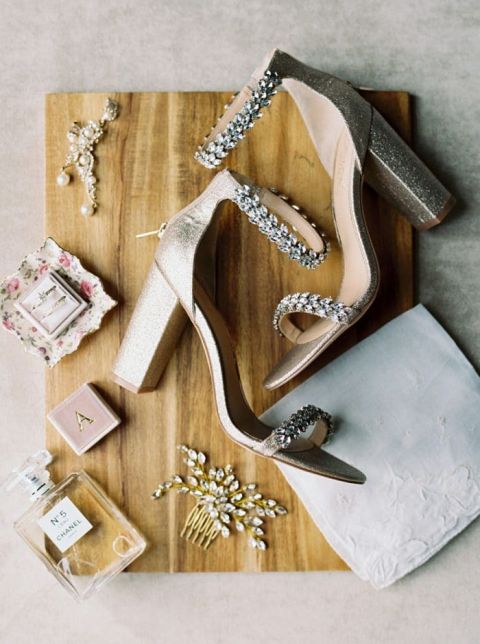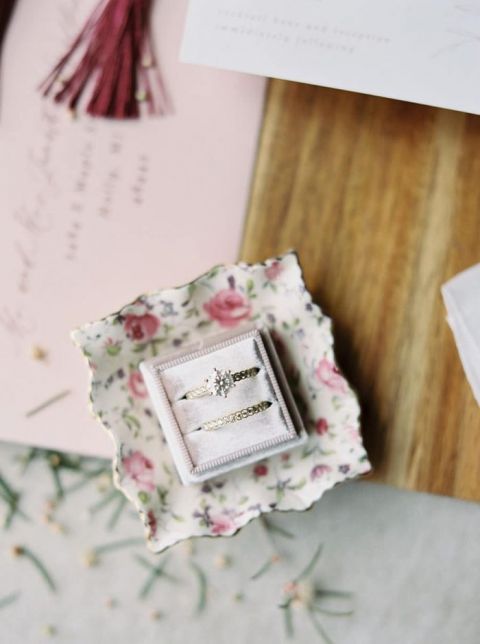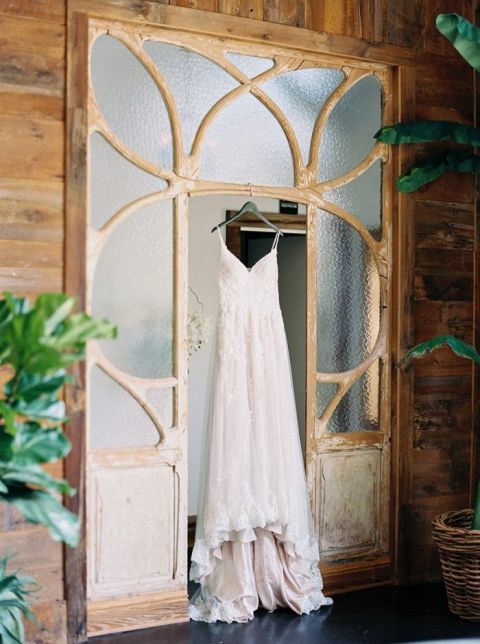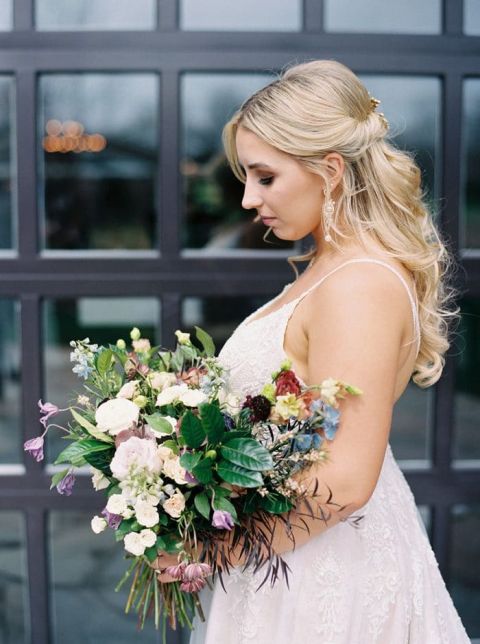 How the bride found her dream wedding dress:
I am lucky enough to not only have my grandma alive but also my great grandmother and I am very close to them. My mom wanted to go dress shopping with all four generations, so I brought along my maid of honor, Vanessa, and we went. I made an appointment at Beloved Bridal in Ann Arbor, a business I had passed many a times during my years as a student. I showed the woman my inspiration but told them I'd try on anything that they thought would look good. Not quite the first. dress, but the second dress I put on and knew that it was it. I found the one. My family all agreed. I tried on a few others but we all kept going to that second magic dress. It was sold. I purchased my dress in March of 2019 and had to keep it hidden away from Zach for a little over two years till he could see me in it for the first time.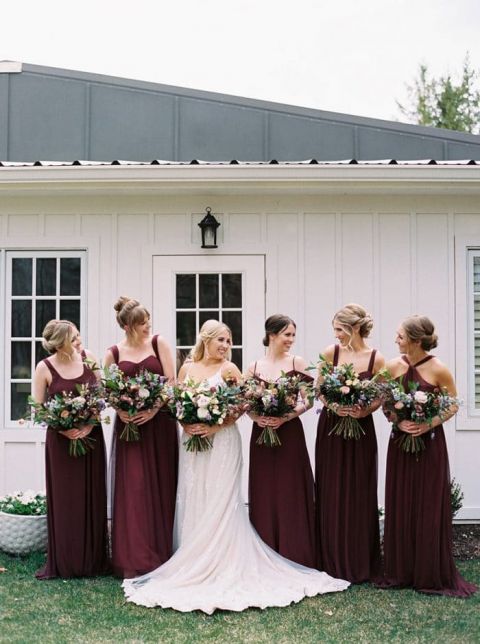 The couple's rich color palette of wine red, burgundy, lavender, royal purple, and touches of peach was a sophisticated surprise! The gorgeous bouquets by their planner and florist added stunning pops of stylish color that suited their moody fine art wedding photo style.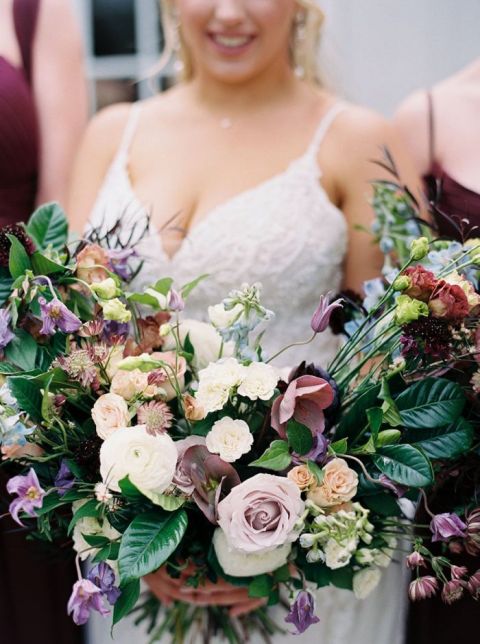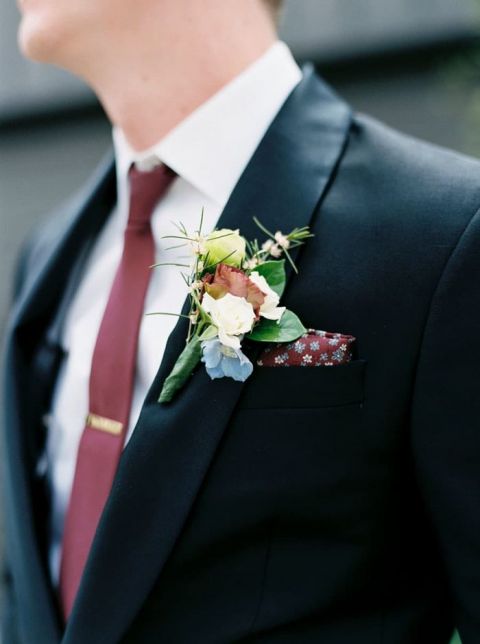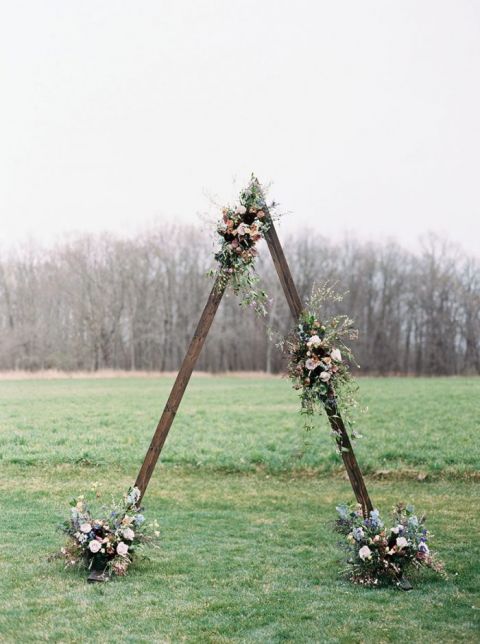 The reimagined outdoor wedding ceremony brought in the stunning winter woods as a backdrop, thanks to the open and airy triangle arch that served as their ceremony backdrop! Whimsical flower arrangements accented the rustic wood geometric arch to tie in their personal choices for flowers and colors.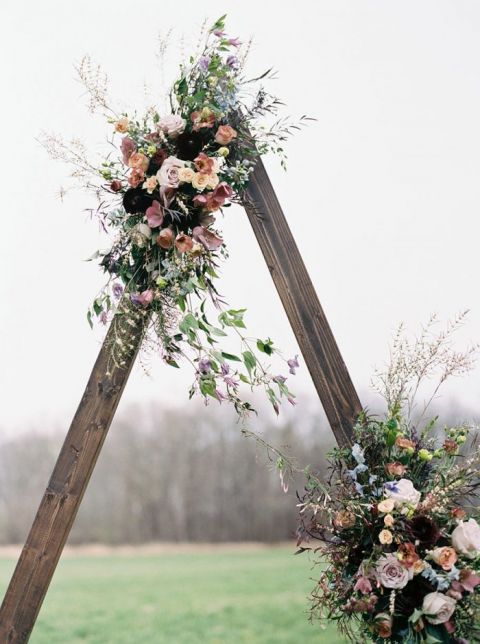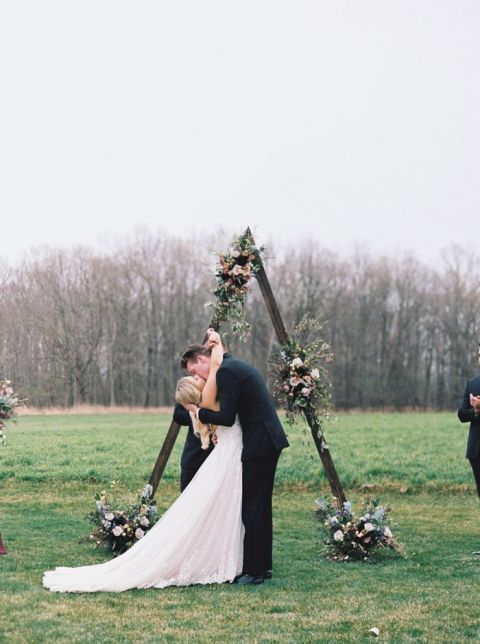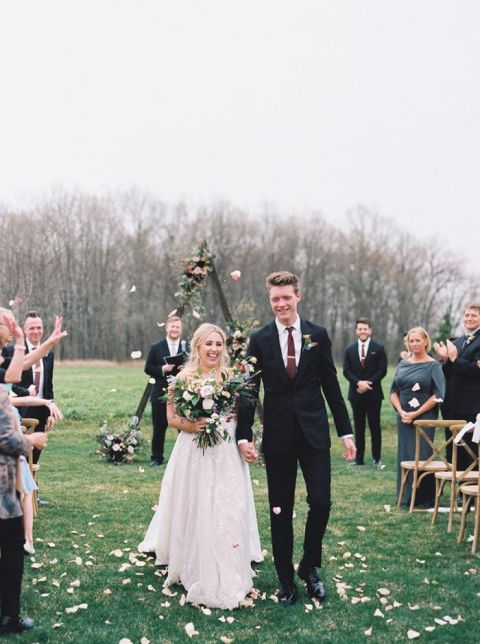 How the couple added intimate moments into their wedding day:
The first look was truly a special moment for me. Zach and I decided to do a first look for a variety of reasons, but I think a big one was because we were dying to spend more time together on our wedding day. I was so nervous the entire morning (although my bridesmaids will tell you that I claimed I wasn't), and seeing him put everything at ease. He looked absolutely fantastic and his reaction to seeing me was one of the most genuine and pure moments of our entire relationship. We took that moment to ourselves and really got to experience each other and love each other in that moment for who we truly were. And we were both SO excited to get married!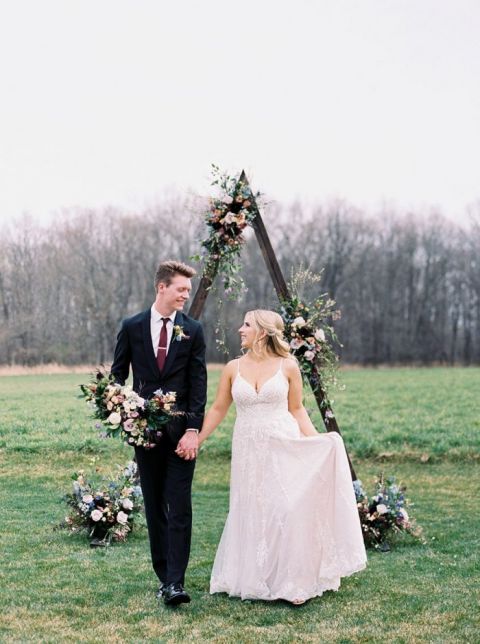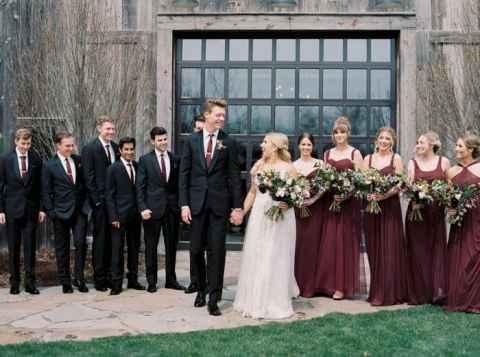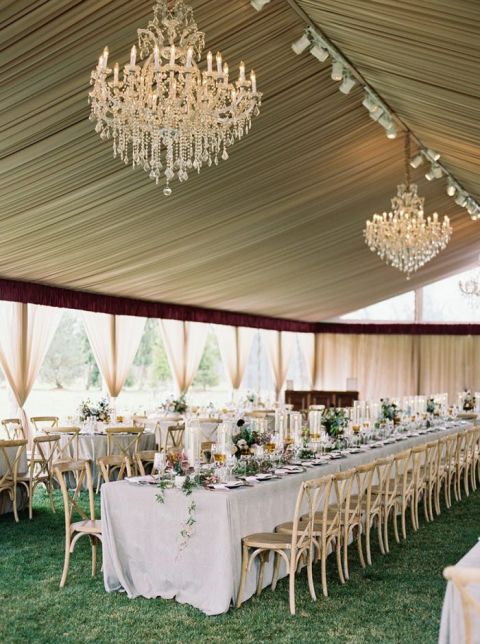 The couple's wedding style ended up being very different from the look they had originally envisioned. COVID made it necessary for them to plan and re-plan their wedding several times before they were able to have a safe celebration with their loved ones! The results were absolutely worth the wait – along with their phenomenal team, they were able to bring luxurious ballroom style into their wedding tent!
My favorite wedding day details were definitely our tent and table setups. Going from initially planning a wedding in a ballroom in downtown Detroit to an outdoor, tented wedding in Holly was a big transition. The details in the tent made our space magical. From the chandeliers on the ceiling, to the tent pleats, to the gorgeous flower selection, everything was individually selected and helped create a fantastic experience. Even if it poured during dinner, I felt a magic in the air that was created because of our wedding but was enhanced by how beautiful the space surrounding it was.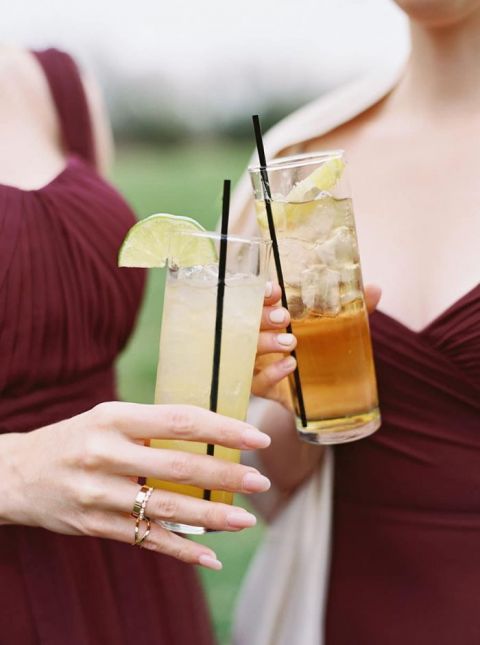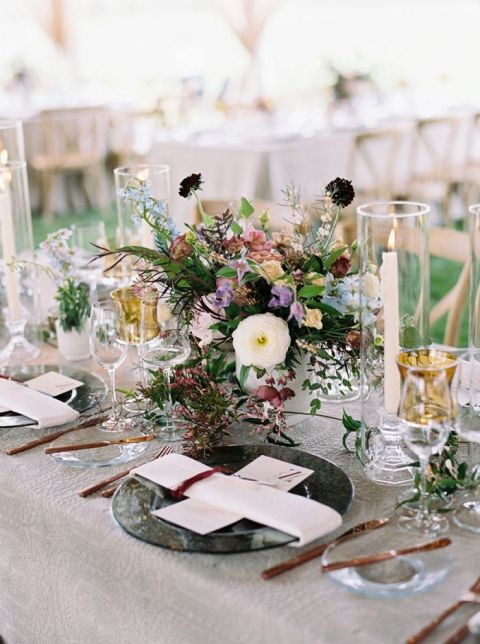 The couple's reception style was truly out of this world! They worked with Michigan rental company Event Theory to create an inviting open air wedding tent that felt as grand and luxurious as any ballroom! The elegant champagne drapery on the ceiling continued into romantic side-ties to hide the tent poles. Crystal chandeliers added gorgeous sparkle overhead, and helped turn the tented wedding reception into a gorgeous outdoor space to dine and dance!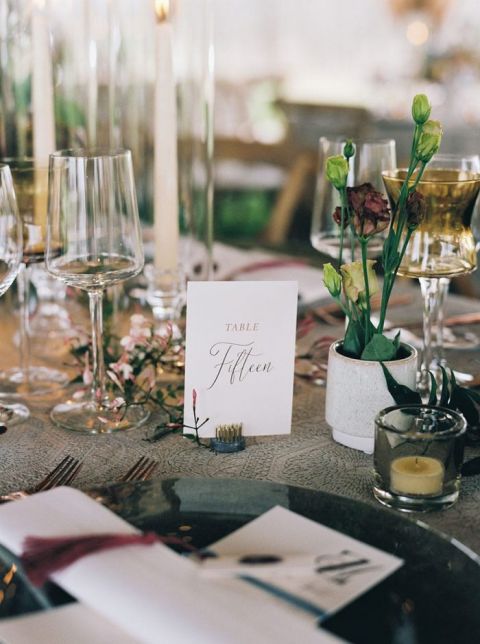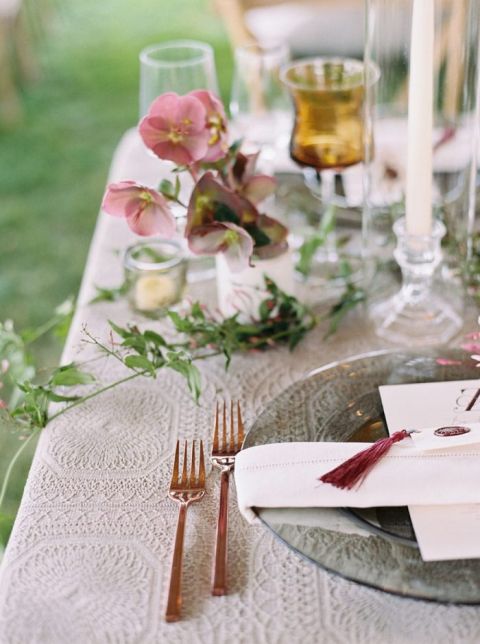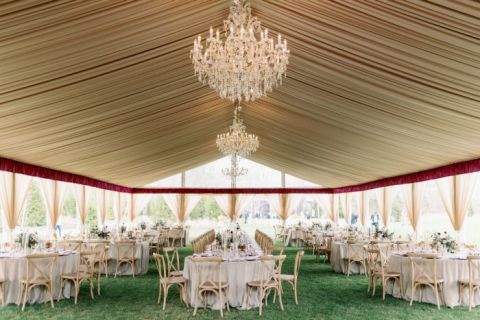 To let the gorgeous jewel-toned centerpieces draw the eye, the couple and their designer chose neutral base colors for the rustic whitewashed chairs and beige lace tablecloths. The embroidered linens from La Tavola added tone-on-tone depth to the table decor, with smoky quartz glass chargers, burgundy tassel accents on the menus, and rose gold flatware! Amber goblets added to the rich winter colors on display, with centerpieces of glossy emerald green leaves, trailing jasmine vines, deep burgundy scabiosa, and shades of purple and blue blossoms that hinted towards spring!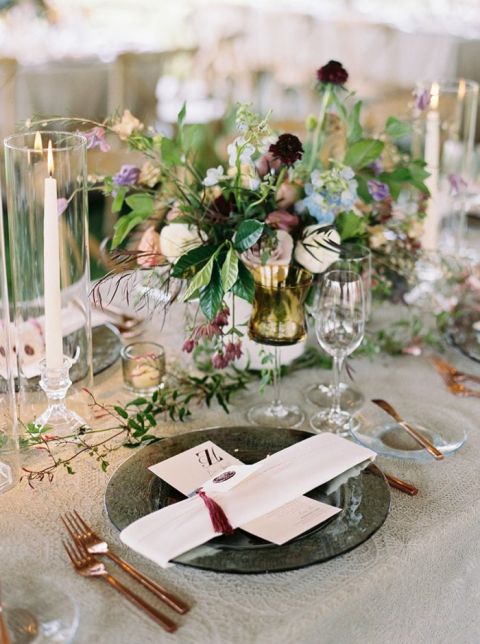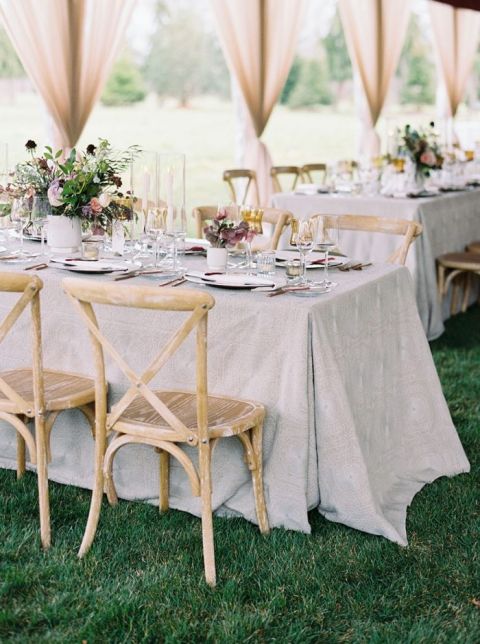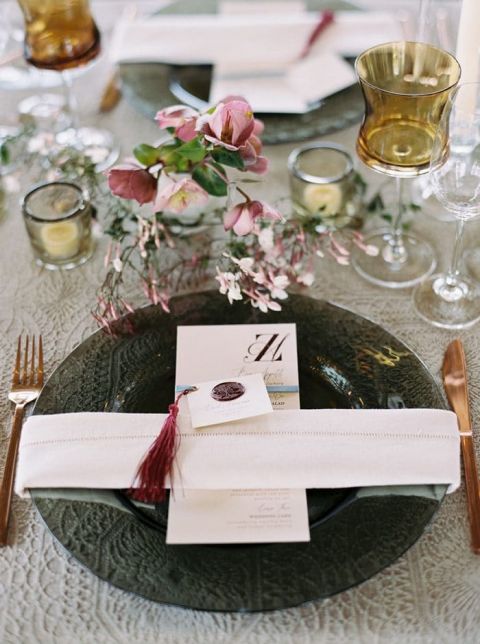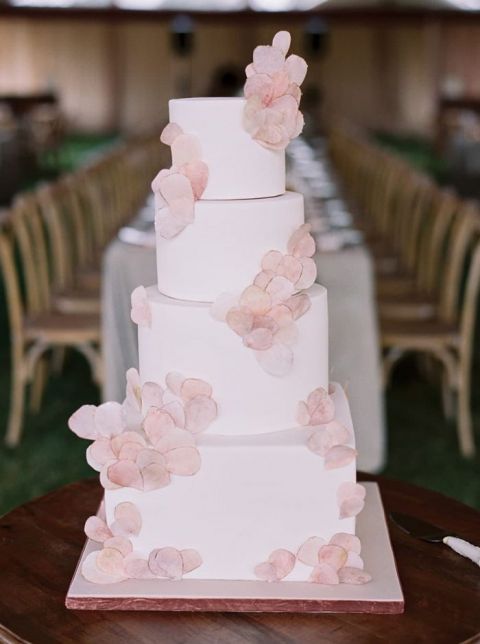 To finish off the night, I wanted 'Piano Man' to play. It was a song that reminded me of some of our college experiences and also a song that no matter the age you knew. We were lucky to have so many guests stay till the very end. I'm not sure who started it, but we all gathered in a circle with our arms around each other and started singing along with the song. As the song was ending, I grabbed Zach and we slow danced to finish the song with all of our friends and family circled around us. It was truly magical and ended the night in the most magical and fun way.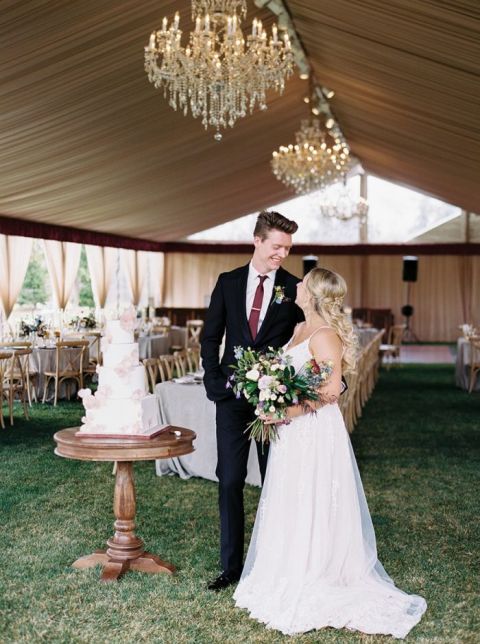 Newlywed advice to couples planning their wedding:
Be flexible and trust your gut. Being a covid bride and having three wedding dates, this is the biggest thing to take away from our entire wedding planning experience. We let our selves be sad about our two cancelled wedding dates for 24 hours and then we decided to pick up the pieces and change plans. Being a covid bride was less than ideal in a variety of ways, but I wouldn't change anything for the world.

Additionally, talk to your spouse and really get them to give their opinions during the wedding process. Knowing that Zach had such a large input in our day (from helping choose a wedding song to the rose gold silverware), I know the little details made it so much more special for him too. He had only been to a few weddings beforehand, so it was great to see him do research on lighting and table designs and help me in the process.

Hire vendors that you trust. I knew from the first call with Ann Travis (and even my first call with Kaylea Moreno) that they were the vendors that spoke to me. Ann understood all my thoughts and processes and made sure that I was on board for everything that we were doing. I never once questioned if we were in good hands- I knew that we were. Getting along with your vendors will make your day go all the much smoother.
WEDDING VENDORS –
Photography: K R Moreno Photography | Michigan Wedding Venue: Cushing Field House | Event Planning and Floral Design: Ann Travis Events | Wedding Cake: Sweet Heather Anne | Wedding Dress: Martina Liana | Bridal Salon: Beloved Bridal | Alterations: Ette the Wedding Tailor | Groom's Attire: The Black Tux | Hair Stylist and Makeup Artist: The Makeup Loft | Catering: Andiamo Catering | Event Rentals: Event Theory | Linen Rentals: La Tavola Linens | Wedding Invitations and Paper Goods: Invitations by Caitlin | Submitted via: Matchology