It all starts with a ring – and a question. I've written about
unique engagement rings
 before, but today I want to focus on the symbolism of an engagement ring. Rings have been used to seal engagements all the way back to Ancient Rome, although the tradition has been through a lot of changes since then! Why a ring? Rings are circles – symbols of unending love, while also standing for the renewal and rebirth of that devotion. Rings were given to the bride-to-be to seal a betrothal, and signify that she was 'taken' to other prospective suitors. For centuries, the opulence of an engagement ring was meant to be an indicator of the husband's wealth and ability to take care of a wife, since women typically weren't allowed to own property and had to rely on their husband for support. I'm glad to say that we've come a very long way since then, and modern couples are finding more and more ways to personalize and update engagement traditions in the 21st century! Read on to find out the significance of diamonds, the groom's ring, and my favorite jewelers for any style.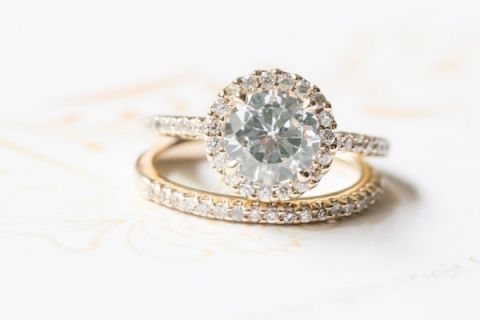 Ring by Tiffany & Co., Photography by Peter Lindbergh
Closest to the Heart
Romans are though to be the first culture to use rings to signify a betrothal, and they're are also credited with the practice of wearing the ring on their left ring finger, as it was thought to contain the 'vena amoris', a vein that connected straight to the heart. These days, brides wear their wedding band first on their ring finger, so that it will be closest to the heart! Since most brides prefer to wear their engagement ring on their wedding day – and why wouldn't they?! – they switch it to their right ring finger prior to the ceremony. Their spouse-t0-be places the wedding band during their vows, where it will stay, closest to their heart.

A Diamond is Forever
The first diamond engagement ring was commissioned by Archduke Maximillian of Austria, for his betrothed, Mary of Burgundy. Diamonds gained popularity for noble rings after that, but didn't become a common 'engagement' stone for several hundred years.  It wasn't until the discovery of diamond mines in Africa in the 1870's that they became available to anyone other than members of the aristocracy – even then, the fashion tended towards colored gems set in ornate settings, known as 'posey rings'. The DeBeers campaigns beginning in the 1930's popularized the concept that a 'diamond is forever', and they became the expected stone to seal an engagement after that. Their unmatched strength was thought to be a good omen for a marriage, while the clear color came to symbolize purity.

Photography by Jamie Vitale Photography via Wedding Chicks

Exchanging Rings
The concept of a 'double ring ceremony', where a couple exchange rings, rather than the ring only being worn by the bride, didn't become common until World War II. The exchange of rings has come to symbolize mutual fidelity and respect in a marriage, rather than ownership. It's becoming more and more common for men to wear engagement rings – yeah, that's right! – as a sign that they have made the commitment of a proposal. Luckily, us enlightened 21st Century people know that a woman can propose to a man, or to a woman, or a man can propose to a man, and the only thing that matters is that they love each other.

The Modern Ring
Now that we've covered roughly 600 years of engagement ring history, the evolution of women as people rather than capital, and the still-emerging familiarization of same-sex marriage and non-straight marriage, it's time to look at what modern couples are choosing. The wonderful thing is that there is no right or wrong when it comes to engagement rings these days – the important thing is finding the right ring for the individual! Colored gemstones, lab-made, vintage or traditional – everyone has their style. More and more modern couples are choosing to select rings together, or at least have conversations about their partner's preferences before dropping several thousand dollars on a ring they hope will be 'the one'. It goes hand in hand with our modern concept of marriage as a partnership, entered into by equals who are making an investment in their future together. Looking for just the right ring? I've shared some of my favorite jewelers below to give you an idea of where to start!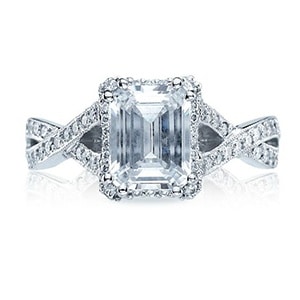 An amazing source for clean, classic diamond engagement rings,
Tacori
 also has a large selection of wedding bands and other dazzling pieces for the big day (or for big anniversaries)! This emerald-cut ring from the
Dantela Collection
 offers a modern twist on a traditional cut with a criss-crossing band set with pave diamonds.
      Would you rock a vintage band? Colored gems paired with diamonds, ornate settings, and beautiful craftsmanship – there are so many eras of gorgeous vintage styles to choose from! I love the elegant designs offered by The Three Graces, 
Georgian Jewelry
, like this 
Halo Ring
 combining early 20th Century stones in a modern, cluster setting with milgrain accents.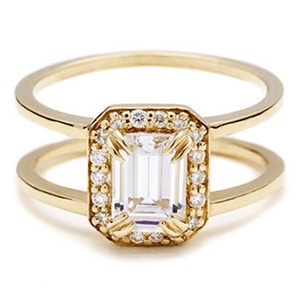 I've become obsessed with
Anna Sheffield's
 unique, modern designs! She takes an amazing twist on modern cuts and settings by adding unusual color pairings – yellow gold and black diamonds, anyone? – or double bands, like this Attelage emerald cut stacking set, for an unusual take on a wedding set. Her rings also use my current fave, rose gold, to amazing effect!
Brilliant Earth
has become the go-to design house for modern, conflict-free stones, a must for today's eco-conscious couples. This
Three Stone Princess Cut
ring in white gold is a gorgeously classic take on an ethical diamond ring, but they also have a large selection of gemstone rings, and the option to design your own!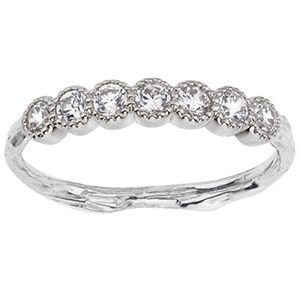 Barbara Michelle Jacobs
 is another personal favorite of mine for unique rings loaded with personality – many of her bands have a gorgeous, organic feeling from mixing metals, or bands elegantly shaped like twigs. I adore her gemstone and pearl combinations! Her
Lucky Seven
 ring creates a half eternity band with 7 five point diamonds in milgrain settings.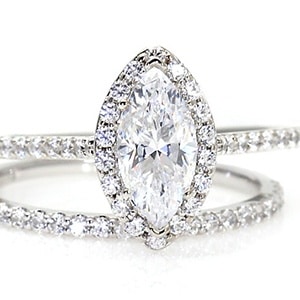 Rare Earth
is one of the finer custom jewelry shops to come out of Etsy – not only do they have some of the most amazing Morganite rings that I've seen, but many of their designs use moissanite or white sapphire stones as a diamond alternative. Would you ever guess that this exquisite
Marquise
 halo set was made in a lab? Etsy is also a great place to find one of a kind, custom-made jewelry. As with any online vendor, make sure you vet a jewelry designer and thoroughly read reviews prior to placing an order.