Over the past few years, the expansion of the internet and the sure-to-be-a-recognizable point in history creation of Pinterest have lead to a sort of wedding revolution. Couples everywhere are putting aside the old cookie-cutter wedding must-have's, blending their traditions with their new lives together, and crafting wedding concepts that let their own personalities truly shine. Brides are opting for donut bars instead of tiered cakes, pool plunging farewells instead of a driving off in car decorated with tin cans and tissue paper, and many of are involved with helping select the ring that will grace their hand for the next umpteen years.
My parents generation kept things simple when it came to wedding &  engagement rings – yellow gold ruled the day and diamonds were usually a solitare. These days, the rules have gone out the window. Vintage rings are desired for their gorgeous accents and pre-conflict stones, settings have gotten more and more unique to reflect the brides wearing them, and often ladies are involved in helping select their own bands. Why not take it one step further and let individuality truly shine with a brilliantly colored gemstone ring?
I've put together a round up of precious and semi-precious gemstones – from the delicately tinted to the bold. You may surprise yourself by falling in love with a colored stone – I certainly did! I've always thought I'd love to wear a Tanzanite ring, but you'll have to read on to find out which stone has changed my mind!
Moonstone:
As scintillating as any diamond, this gorgeous stone contains all the colors of an Aurora Borealis within its heart. Even the smooth, work cabochon form, like the ring on the left, retains a creamy glow unlike almost any other stone.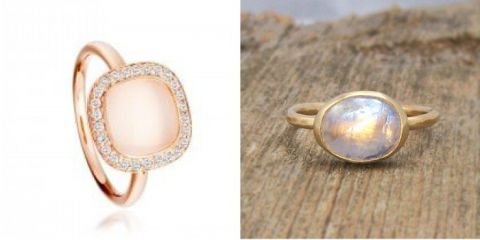 Morganite:
I think this blushing pink stone may hold the title of my new favorite! It is picture perfect in a setting of Rose Gold, or for those who may a less trendy band that will last the test of time, it looks gorgeous in sterling silver or white hold as well.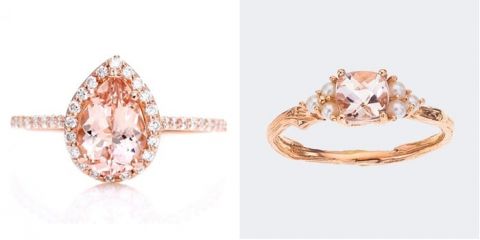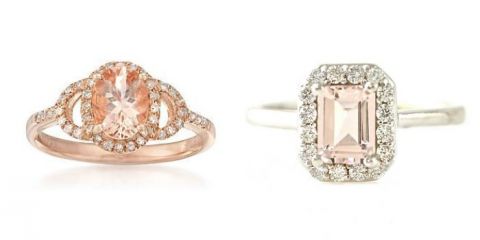 Rutilated Quartz:
An unusual name for a lovely stone – rutilated quartz is a clear rock quartz that appears to hold gold threads beneath its glassy surface. A classic gold setting will pair especially well, but the unique striations in any stone ensure that these rings will always be an eye catching design.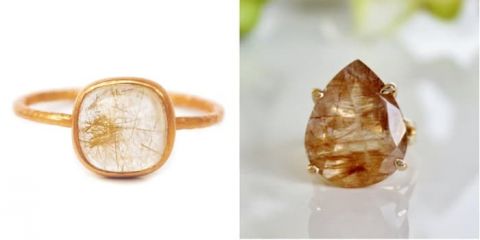 Aquamarine:
Depending on the color of the stone, well-cut aquamarines can resemble diamonds with just the faintest hint of robin's egg blue. Bolder brides – or March babies – might prefer stones with the deeper aqua hue that rings as true aquamarine. Diamond accents look stunning against these water colored stones, especially in a silver or white gold setting.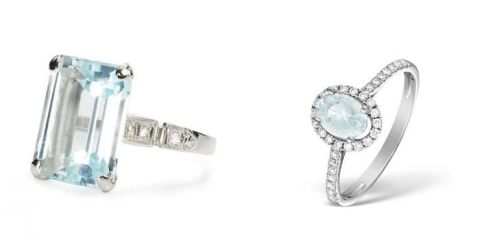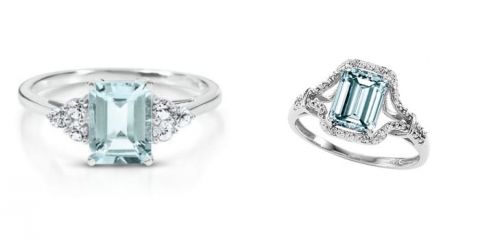 Ruby & Garnet:
Would it surprise you to learn the ring on the left is a Ruby? Like it's precious cousins, Sapphire and Emerald, Rubies can vary dramatically in color. The true scarlet stones are the most expensive, but a glamorous girly bride may fall head over heels for this hot pink stone. On the other hand, Garnets are a less pricey alternative for brides in love with a rich red, like the ring on the right.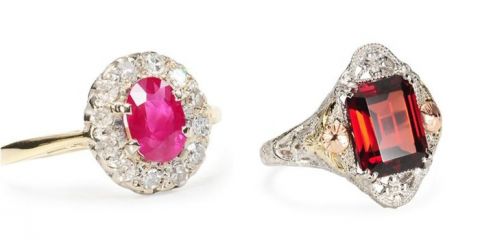 Citrine:
Canary diamonds caught your eye but out of your price range? Citrines offer the same sunny yellow in a more affordable range. Pair with a silver or white gold band – the contrast between stone and metal will make the gemstone pop even more.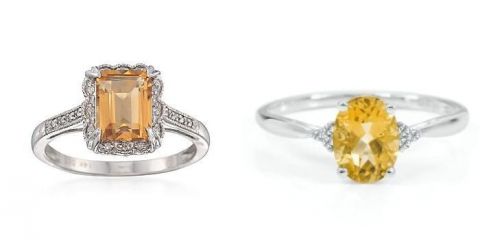 Emerald: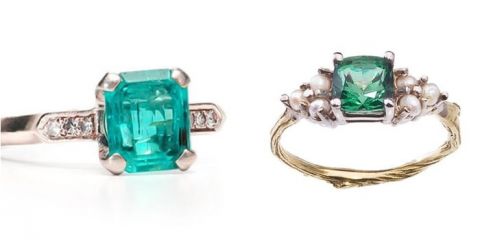 Tanzanite:
Found only in one place on earth, Tanzania, these rich violet-blue stones can sometimes eclipse diamonds when it comes to their price tag. Sadly for me, I can't resist that incredible color. Like many of the stones on this list, there is always a slight variation in hue from stone to stone, but most jewelry aficionados will always recognize that signature hint of violet. If you're as hooked on these gems as I am but availability is causing their price to soar, a less expensive but similar alternative is the semi-precious stone Iolite.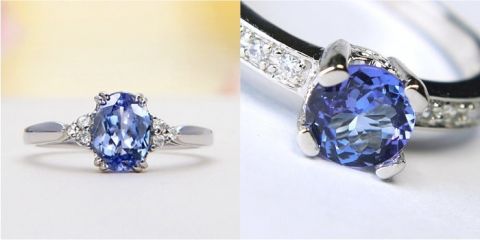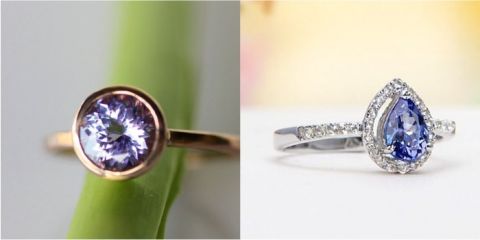 London Blue Topaz:
Topaz is a surprisingly versatile stone – there's the namesake gold stone, of course, then there are Blue Topazes that are similar in color to Aquamarines, just with less aqua. The London Blue Topaz, however, has a unique teal coloring that makes these rings absolute knockouts.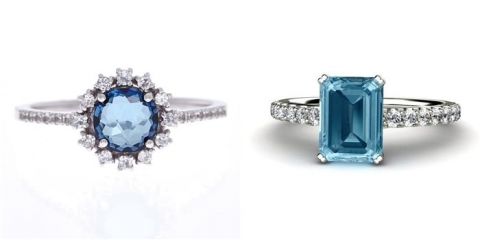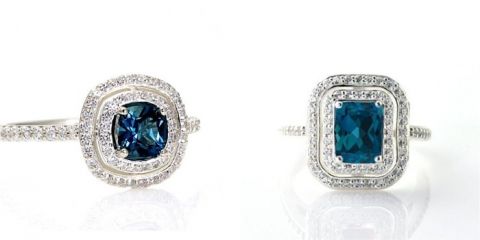 Amethyst:
No surprise that amethyst is on this life – that deep violet color is so luxe and feminine that it's been a perennial favorite with brides for everything from jewelry to bridesmaids dresses to flowers. Nothing can beat the real thing, though, like these richly colored stones that show how versatile Amethyst can be.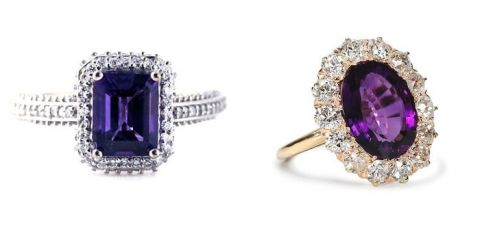 Sapphire:
Sapphires have been in vogue for the past few years, ever since Duchess Kate stepped out with Princess Diana's Sapphire engagement ring on her finger. Replicas of the royal ring abounded since their engagement was announced, but most brides prefer to set their own trends when it comes to their wedding or their style. If you're opting for a Sapphire stone, pick a different cut than the famous oval ring to stand out.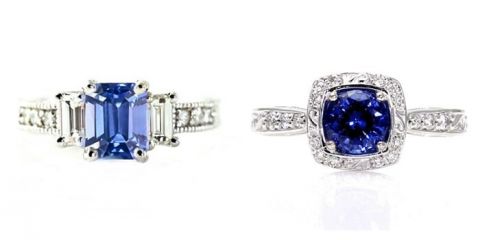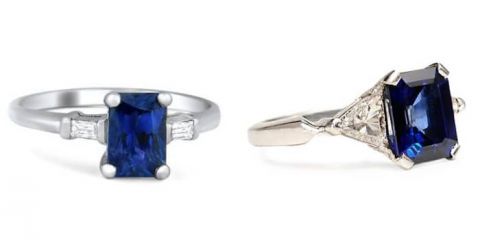 Labradorite:
The aurora effect is similar to its fair cousin, the Moonstone, but Labradorite is characterized by the wash of color over a deep black heart. Labradorite jewelry is never dull, thanks to the signature sheen on the stone, but the contrast between the shifting opalescent color and the dark surface gives a little edge to your bridal ensemble.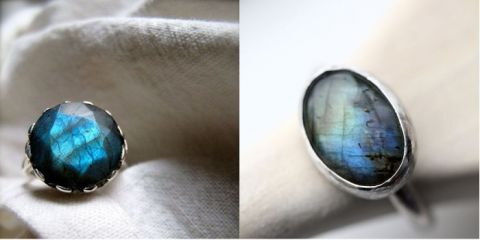 This feature contains affiliate links. Hey Wedding Lady receives a small commission for sales generated by this content, which helps support the blog and the Lady herself