Today's raw gem and geode wedding inspiration is the laid-back, slightly bohemian cousin to my modern, glamorous gemstone inspiration! They're both relatively minimal designs and both incorporate crystal elements, but today's inspiration focuses on a less polished version of a gem inspired wedding. As the daughter of a geologist, I grew up learning that stones carry meaning in them, and symbolize and elemental connection to the earth, so it makes sense to incorporate them in wedding styling and themes now that organic weddings have become such the rage.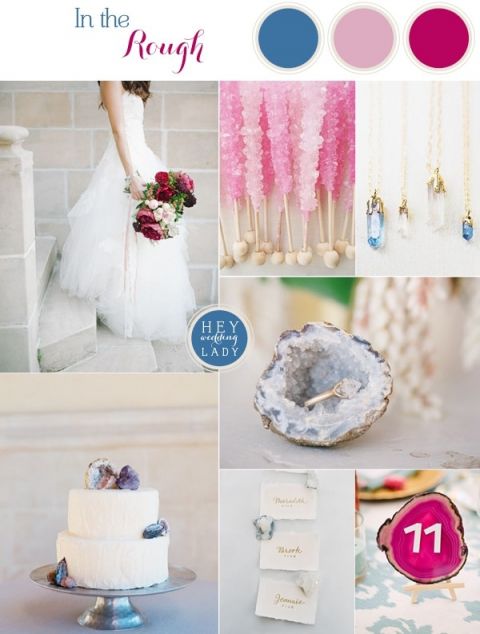 Crystal elements and gem details on their own make for a lovely wedding concept, but play around with adding lush, overblown floral arrangements and trailing vines to soften the clean edges and sharp lines. Keep complementing elements softer and more natural to play off of that geometry, while incorporating a palette of shifting iridescent hues. Pick colors that accent the crystals and gems in your design – in this case on the magenta of tourmaline, the soft blue of iolite, the deep purple of raw amethyst, and the pink of, well, rock candy. Chunks of quartz or clear crystal is perfect for a touch of glitter without adding another color into the mix!
PHOTO GALLERY –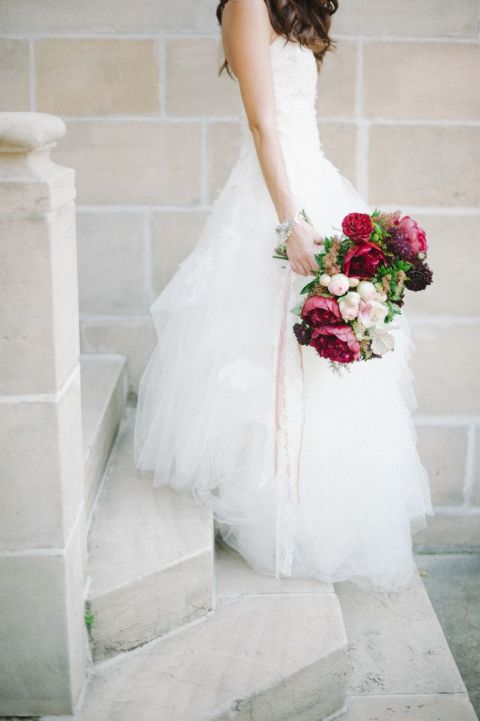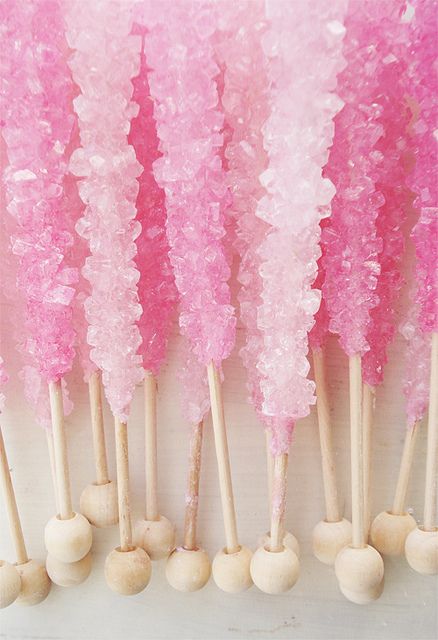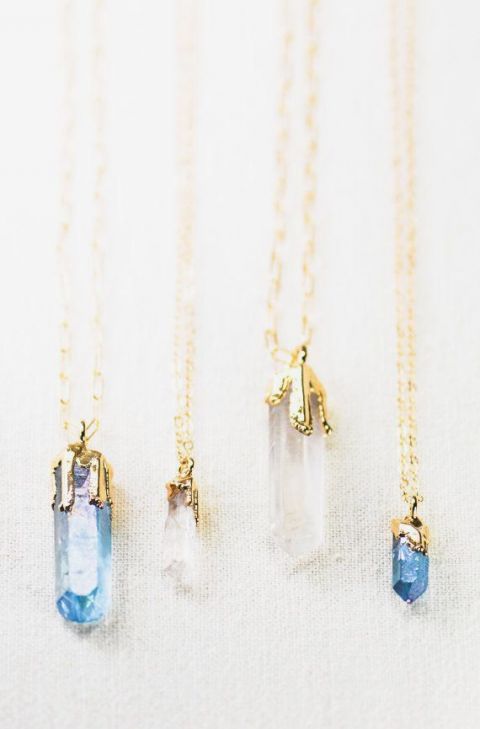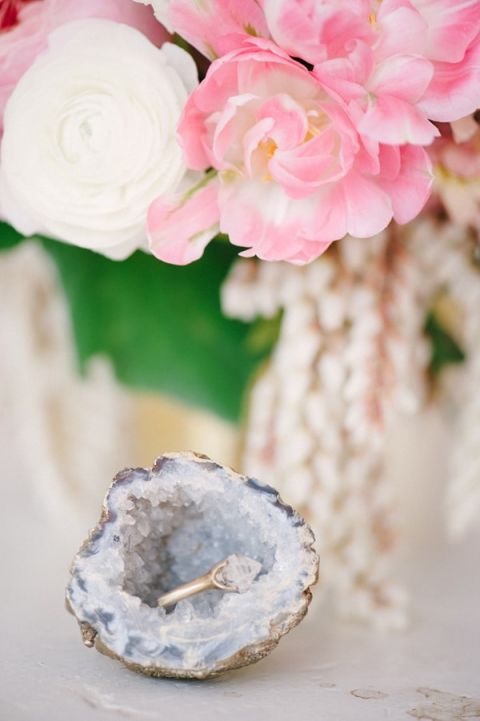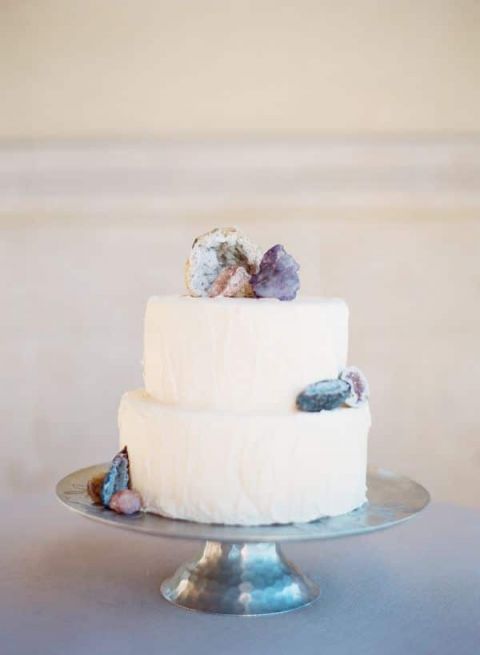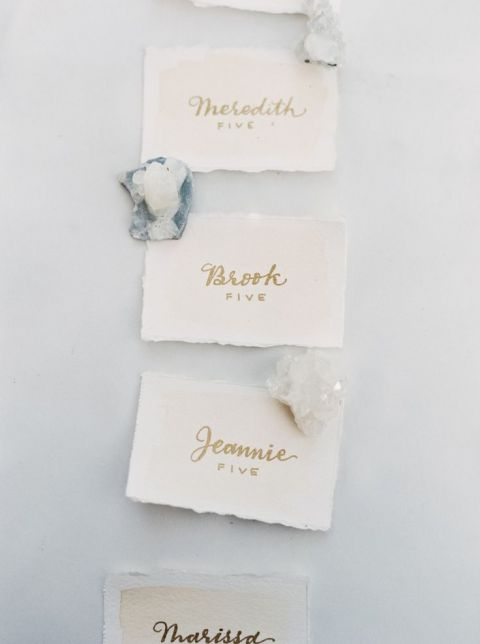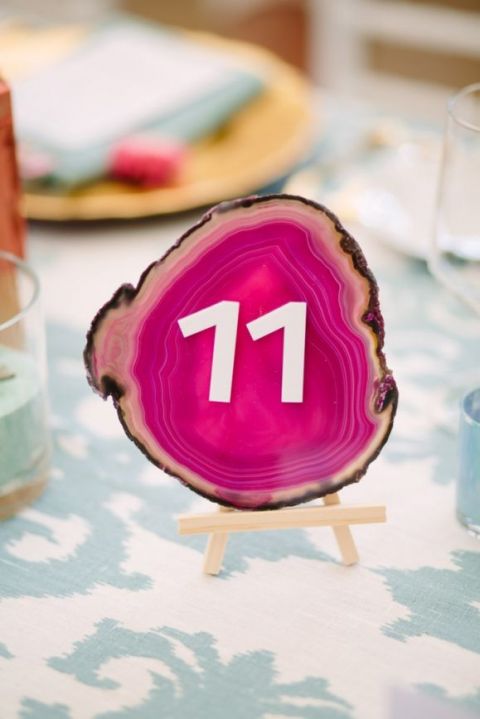 PHOTO CREDITS – 
Bride and Burgundy Bouquet – Photography by Shea Christine Photography, Florals by  Julia Rohde Designs via Style Me Pretty | Pink Rock Candy via Such Pretty Things | Rough Gemstone Necklaces via kealohajewelry | Geode and Engagement Ring – Photography by Blush Wedding Photography, Styling by Delovely Creative via Ruffled | Gem and Geode Wedding Cake – Photography by Taylor Lord Photography, Design by Lindsey Zamora via Ruffled | Crystal Cluster Escort Cards – Photography by Laura Gordon Photography via Style Me Pretty | Gem Slice Table Numbers – Photography by Joielala via Ruffled
Want More?
THE SYMBOLISM OF AN ENGAGEMENT RING
PRECIOUS GEMS – EMERALD AND ANTIQUE RUBY WEDDING INSPIRATION