Prepare for pink wedding ideas as you've never seen them before! This luxe rooftop wedding design by Blush by Brandee Gaar didn't rest on panoramic city views and gorgeous white and gold decor – they pushed the envelope with a pink pampas grass feature wall and stunning combination of burgundy and pink for the sophisticated ceremony decor. Florida wedding photographer Kristen Weaver was the perfect choice for the level of drama, whimsy, and romance in these amazing photos captured in downtown Orlando, with sweeping city vistas that couldn't compete with this gorgeous bride in two stunning Ines Di Santo dresses from The Bridal Finery!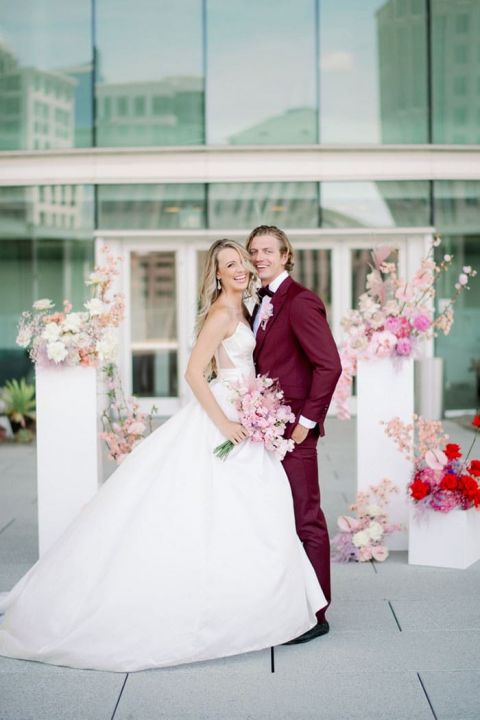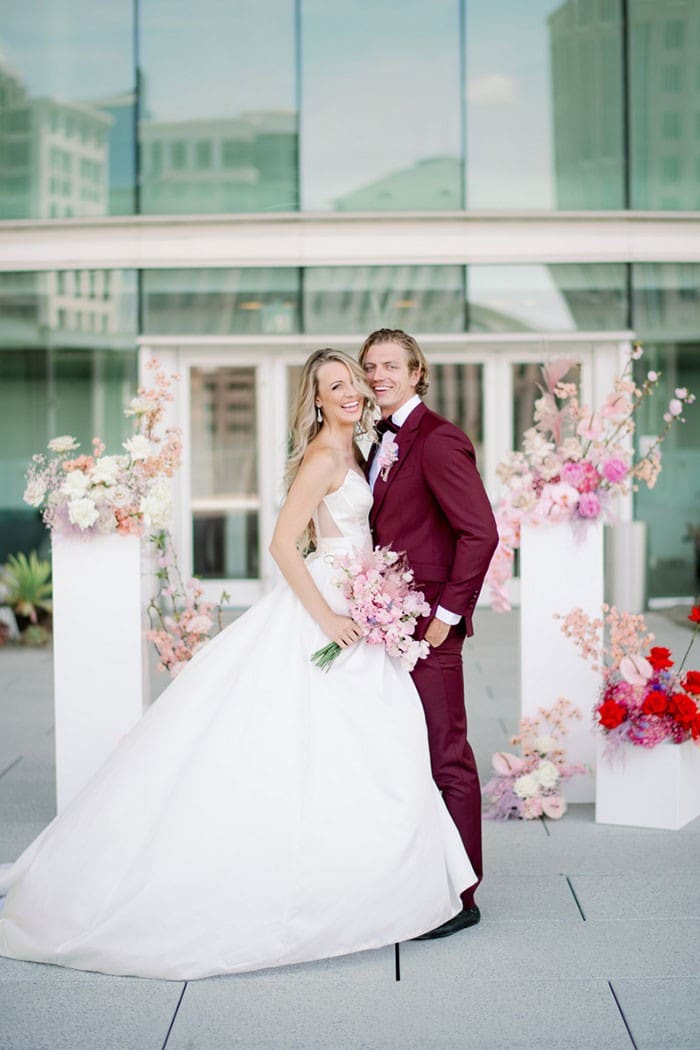 This Luxe Rooftop City Wedding Shoot has Blush and Burgundy Vibes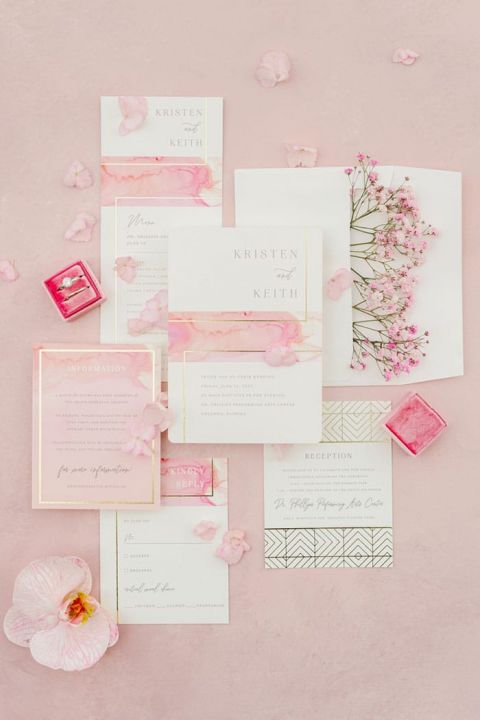 To set off the pink and white color scheme, this gorgeous invitation design flatlay included blush watercolor and gold foil invitations with a metallic geometric design. The gorgeous round engagement ring was shown off in a pink velvet ring box, with scattered blush blossoms to add the most romantic effect!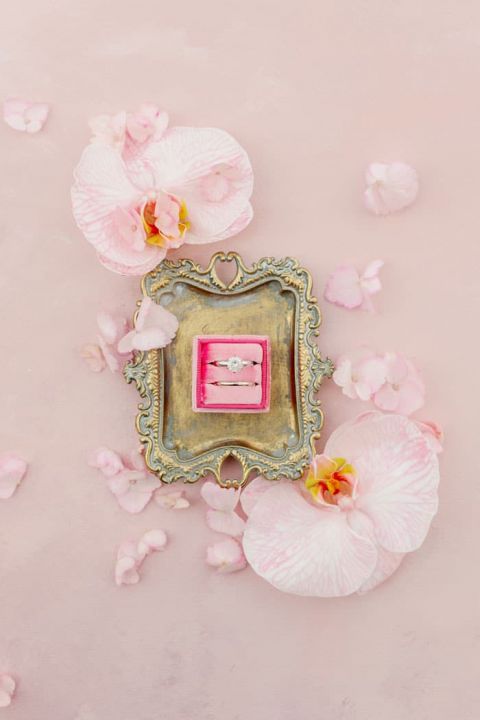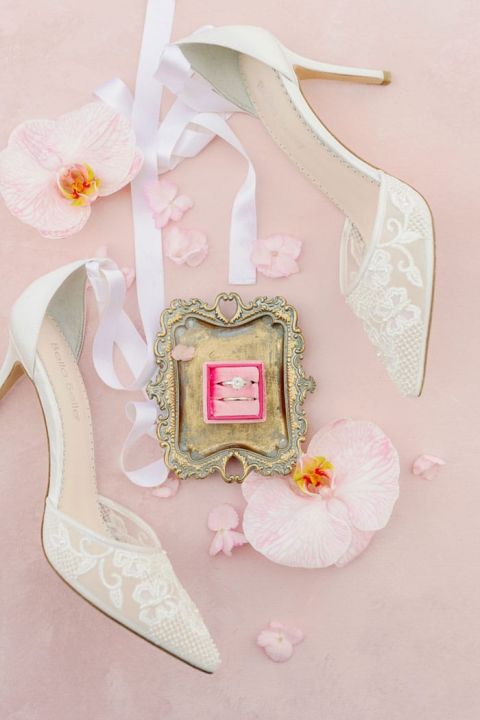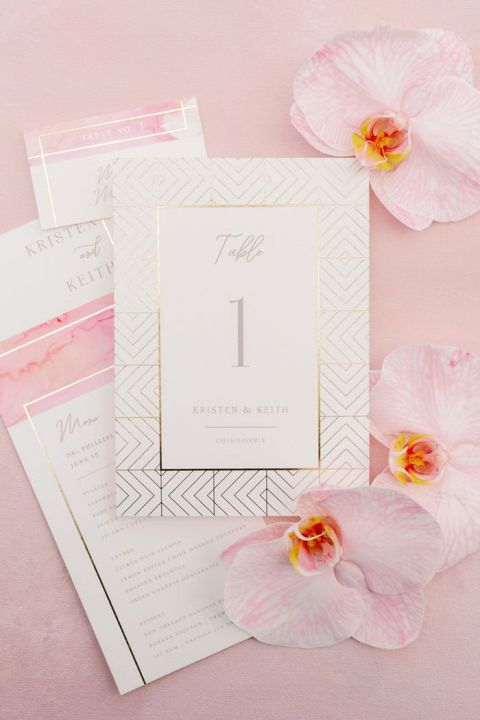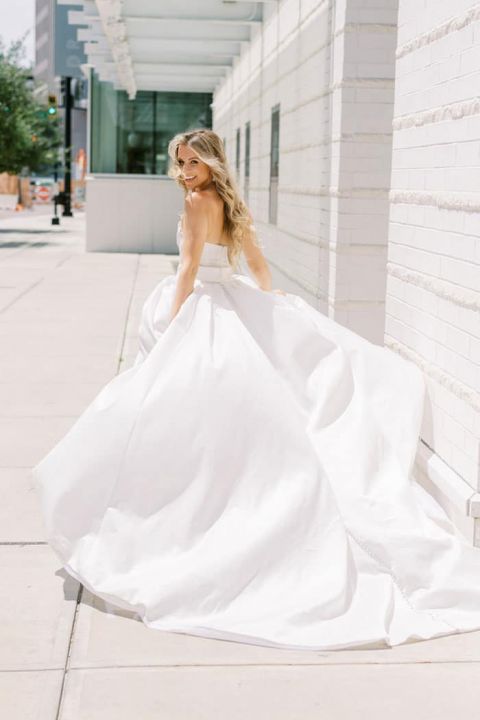 This spectacular crepe Ines Di Santo wedding dress from The Bridal Finery combines a minimalist gown with a full and flowing skirt to make the maximum impact! The stunning silhouette let the bride have some fun with other details, from the blush pink floral bouquet with pink pampas grass fronds for a unique texture, to the wavy hairstyle that LeJeune Artistry styled long and loose. The relatively simple wedding dress was a gorgeous canvas for more detailed designs, allowing each element of the bridal look to shine on its own!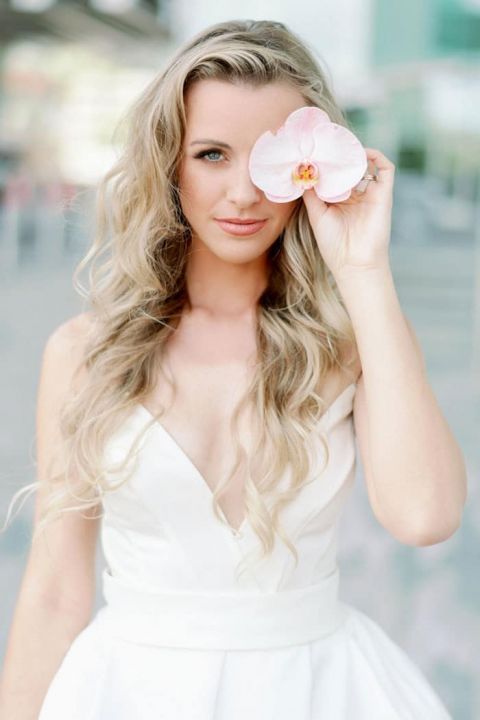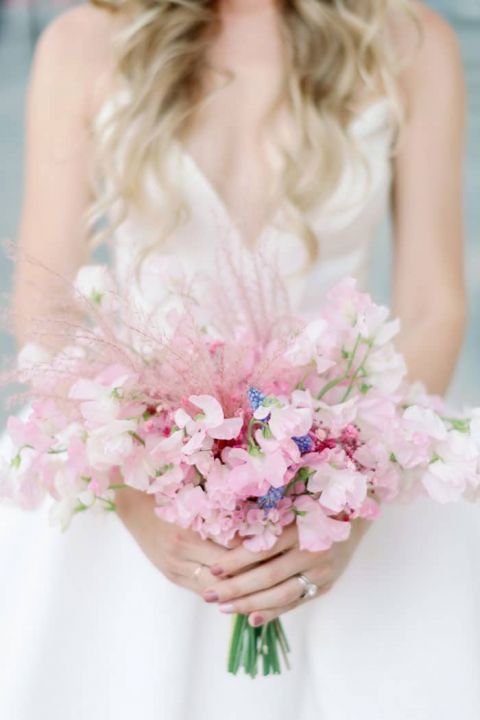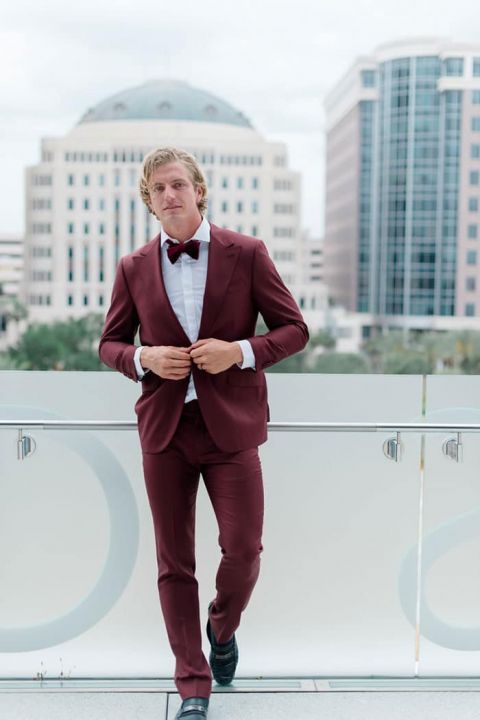 The groom opted for a fresh take on menswear to suit the luxe rooftop wedding with stunning city views! His sharp burgundy suit from Leonardo Fifth Avenue was a gorgeous fit for this romantic color scheme!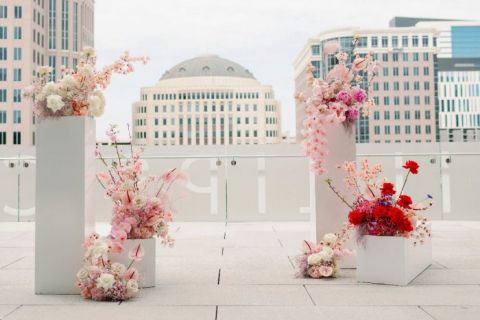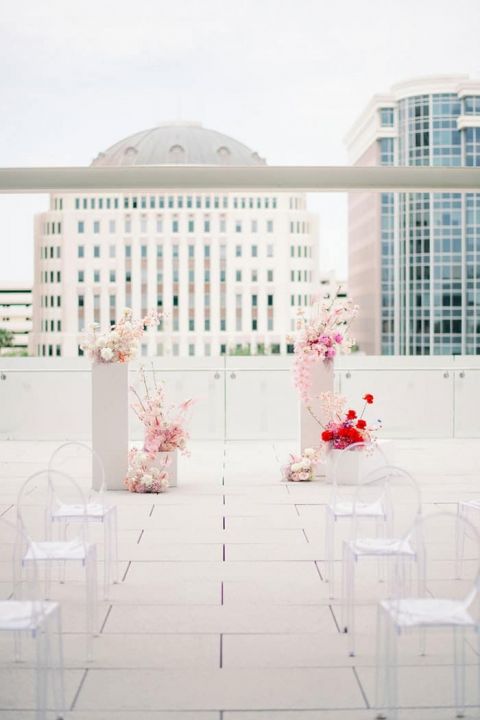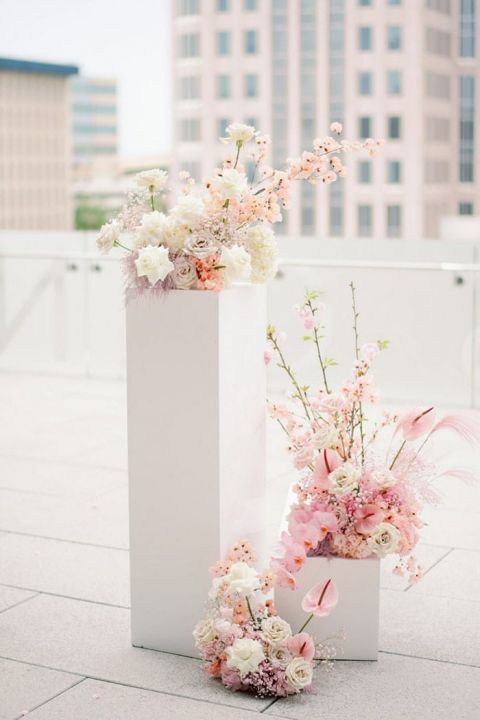 To create an epic rooftop ceremony, Blush by Brandee Gaar and In Bloom Florist transformed the open terrace space of the Dr. Phillips Center for the Performing Arts in downtown Orlando. Simple white columns boasted ombre flower arrangements, ranging from delicate blush to bold pink to ruby red. Flowering branches and pink pampas grass added stunning texture to these modern flower arrangements!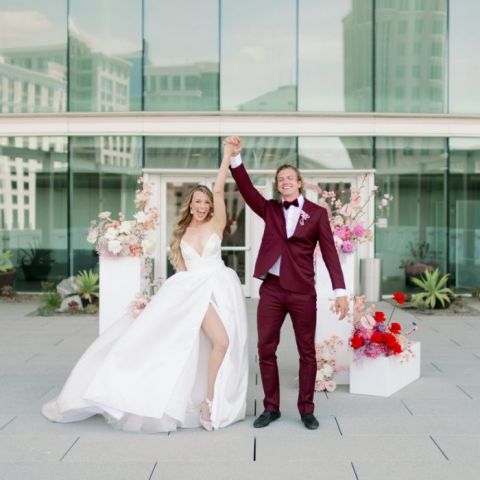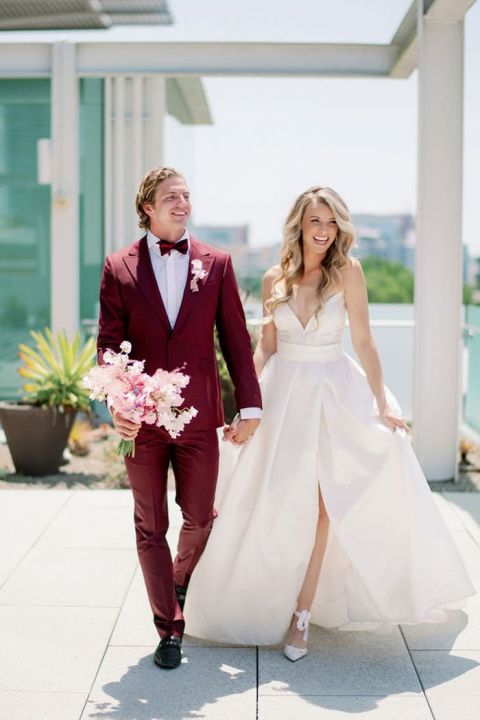 This steel and glass skyscraper wedding site created a gorgeous backdrop for Kristen Weaver Photography's amazing photos! The indoor-outdoor venue allowed them to capture the most gorgeous natural light for every step of this luxe rooftop wedding.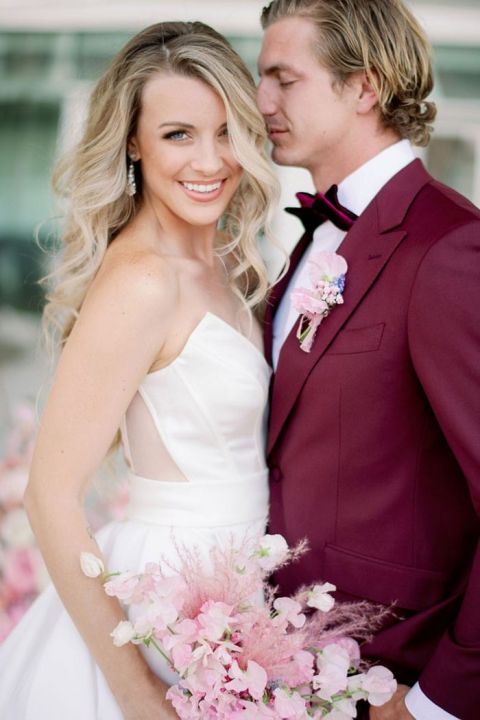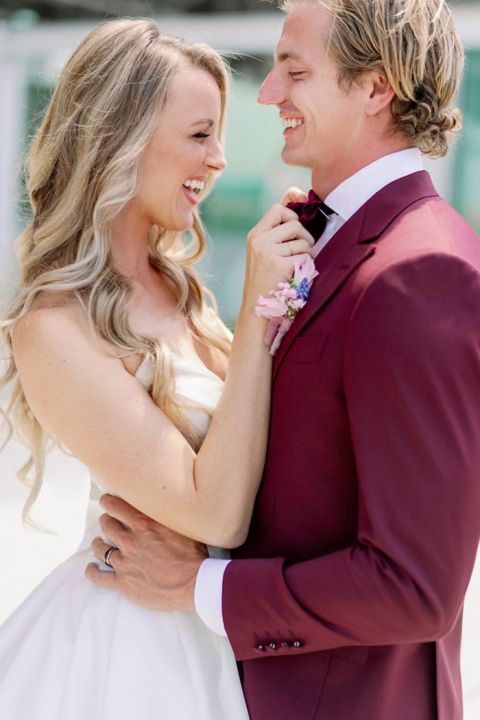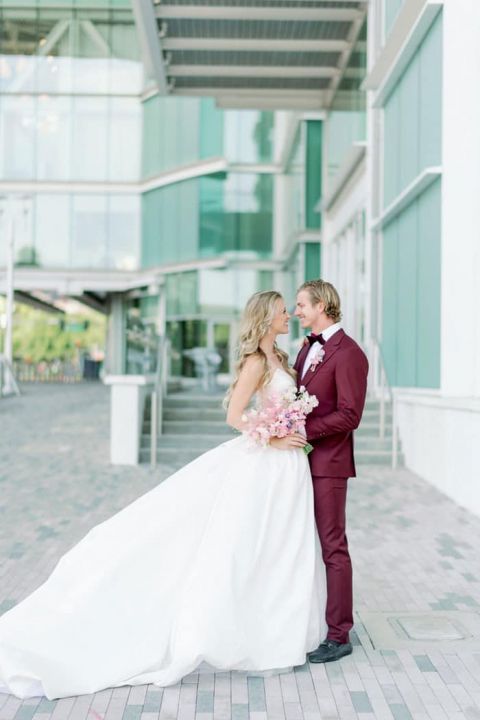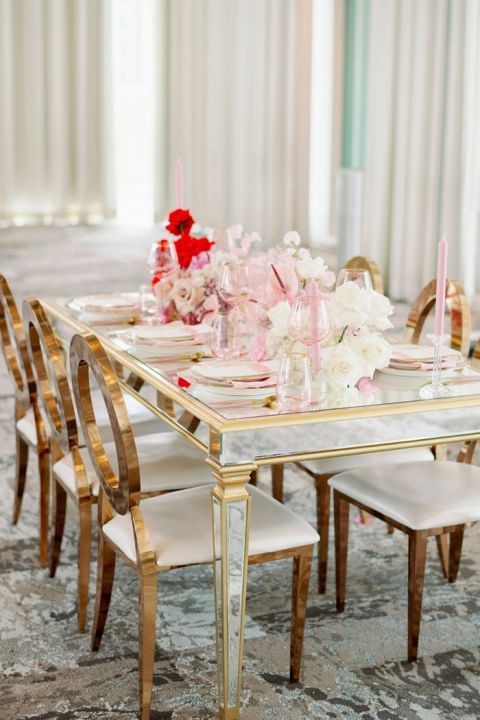 Indoors, the panoramic windows brought in the sky-high city views, along with beautiful light to illuminate the reception. Orlando Wedding and Party Rentals kept to the white and gold color scheme with glamorous Z Gallery-inspired mirrored tables and metallic gold dining chairs.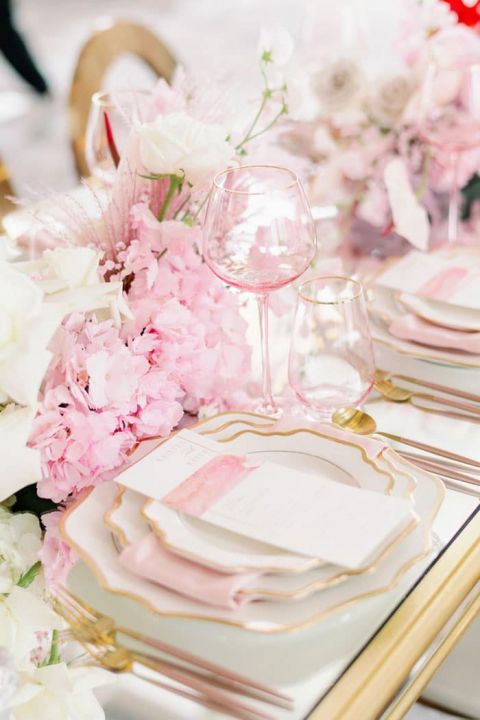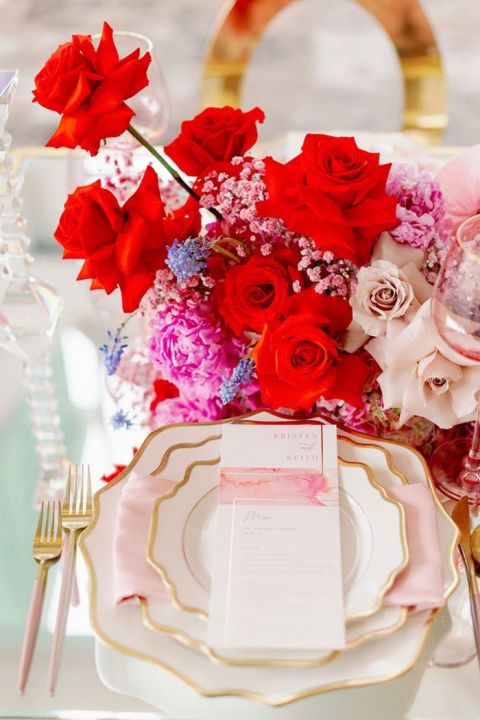 The florist repurposed the ceremony flower arrangements for the reception, creating an ombre effect down the center of the long dining table. The blush flowers, pink pampas grass fronds, and bolds of vivid red added gorgeous color to the blush and gold glassware and white bone china with a scalloped edge with matte gold trim from Treasury Rentals.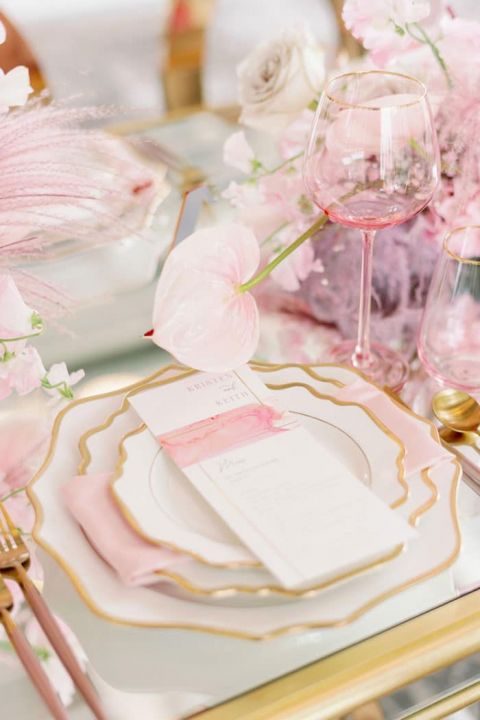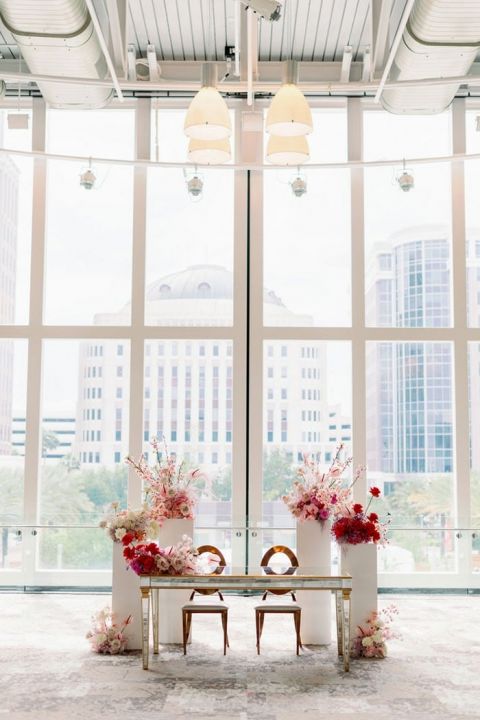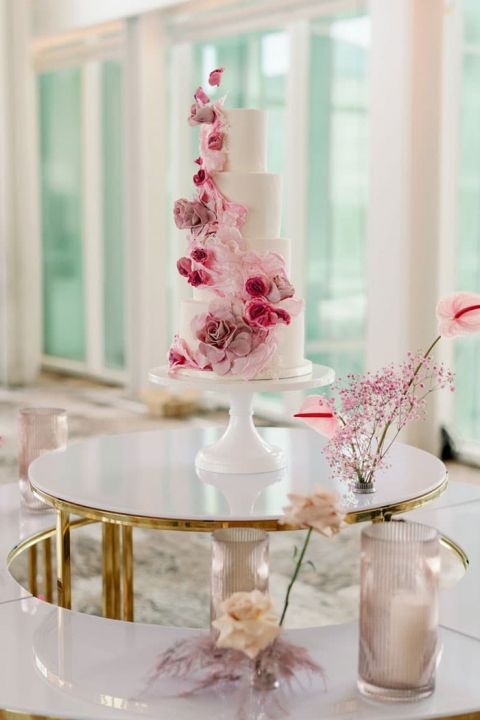 White and gold nesting tables turned the cake display into a spectacular feature at the reception, with Bakers Cottage Cakes design in every shade of pink as the centerpiece! The edible sugar flowers added a cascade of pink and blush down the white tiered cake to play into the main wedding colors in the most gorgeous way!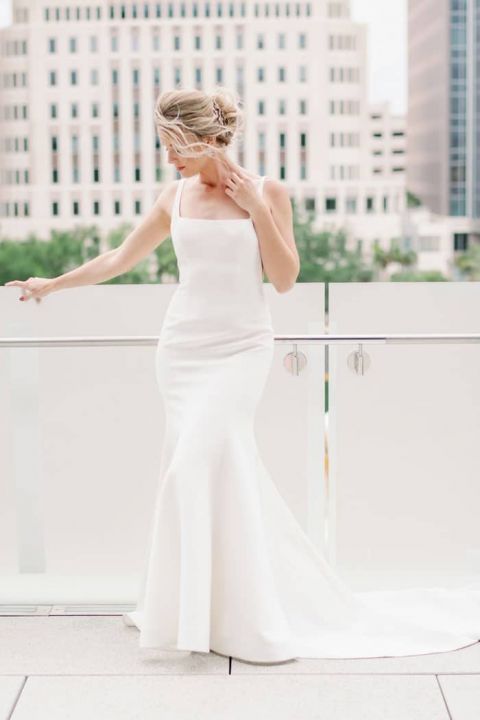 A reception dress that is truly worthy of the change! This slim fitted crepe trumpet dress featured an on-trend square neckline balanced out by an open back. The deep back and illusion net allowed the bride to put her hair up and get ready to dance! The romantically messy chignon was offset by a beaded headpiece to add sparkle and detail to the minimalist bridal gown.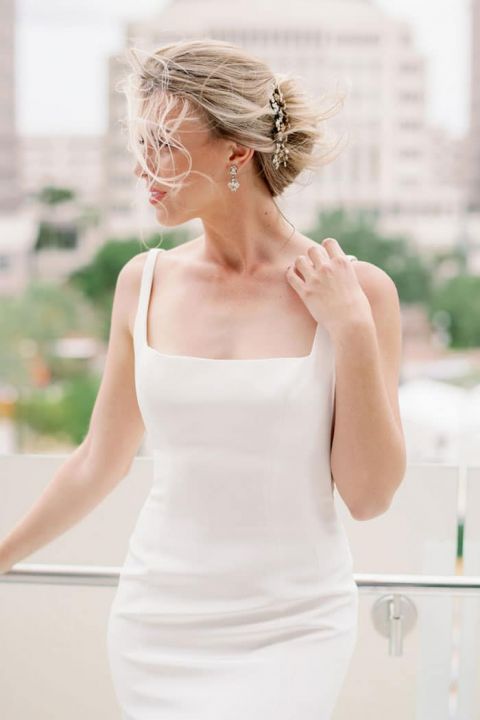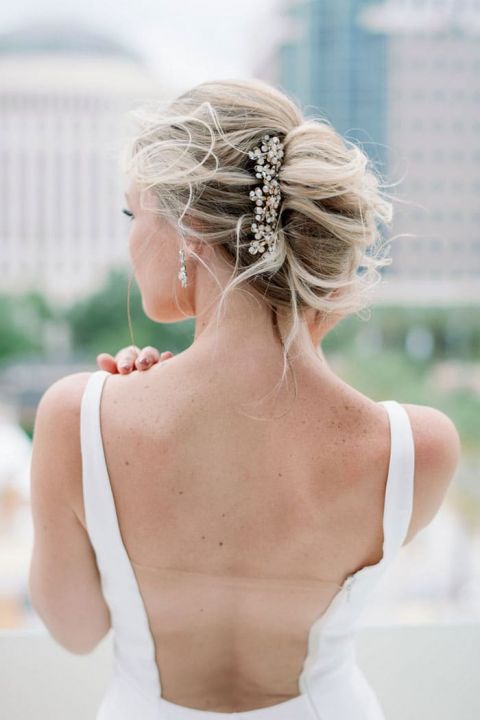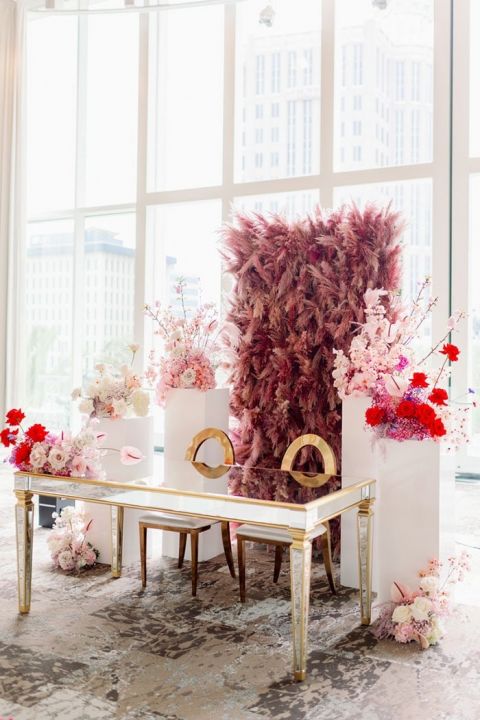 Talk about making a statement (wall)! In Bloom Florist created a gorgeous Sweetheart Table backdrop with a wall of dyed pink pampas grass! The amazing texture and blush color added a creative detail to the reception design.
A Pink Pampas Grass Backdrop Creates a Stunning Reception Feature Wall!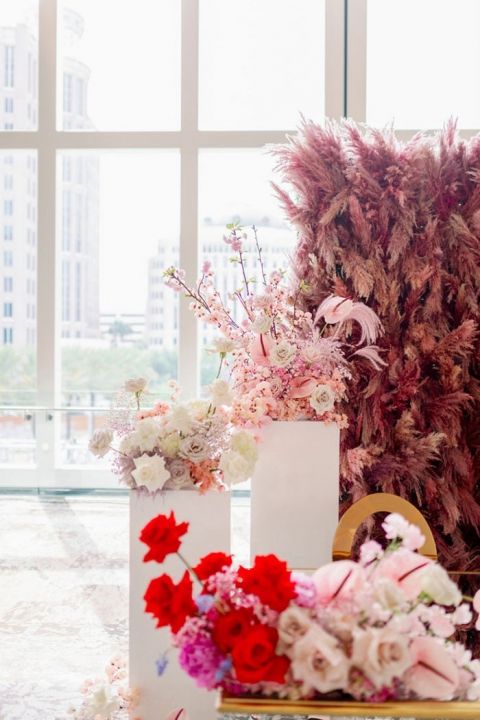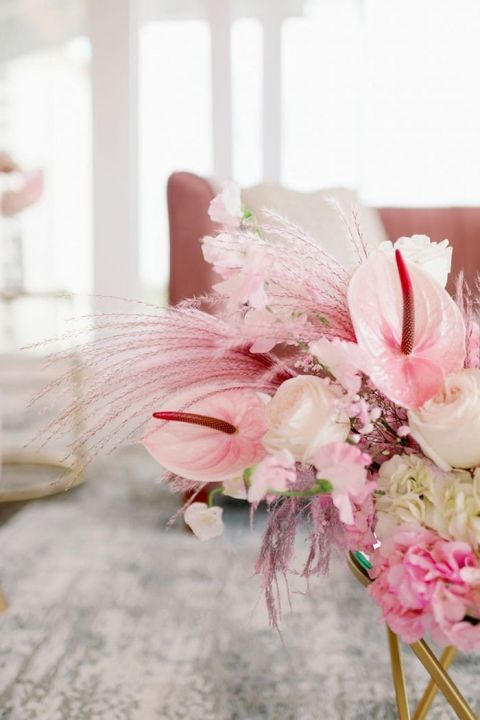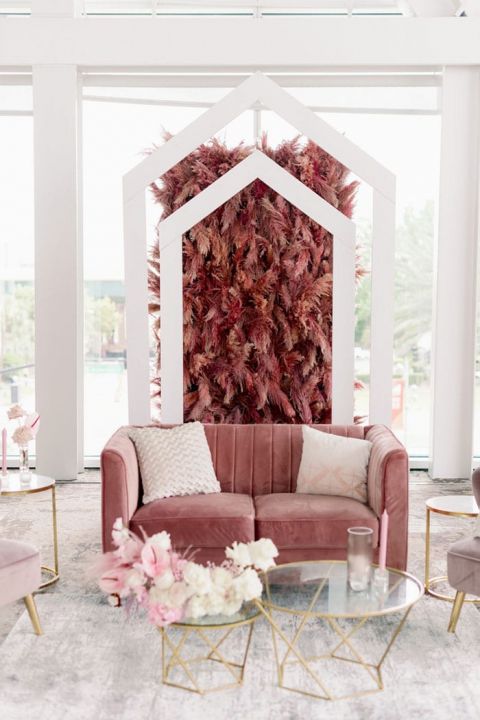 You can't just use a pink pampas grass wall for one moment! The repurposed wedding decor also made a splash behind the pointed arch backdrop from Ocean Hawk's Rentals.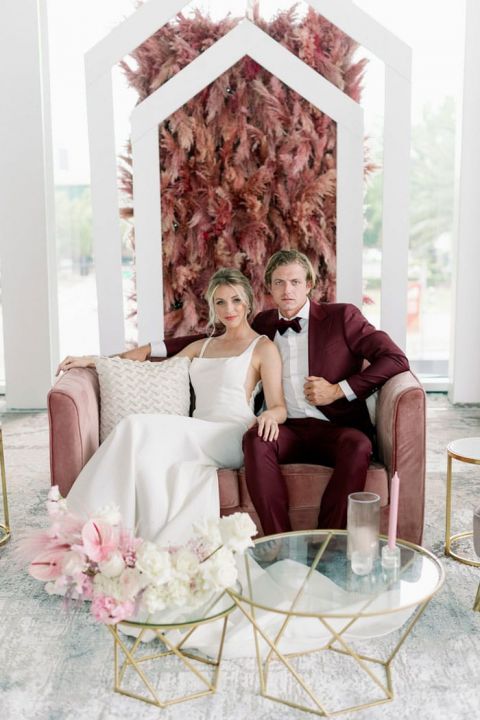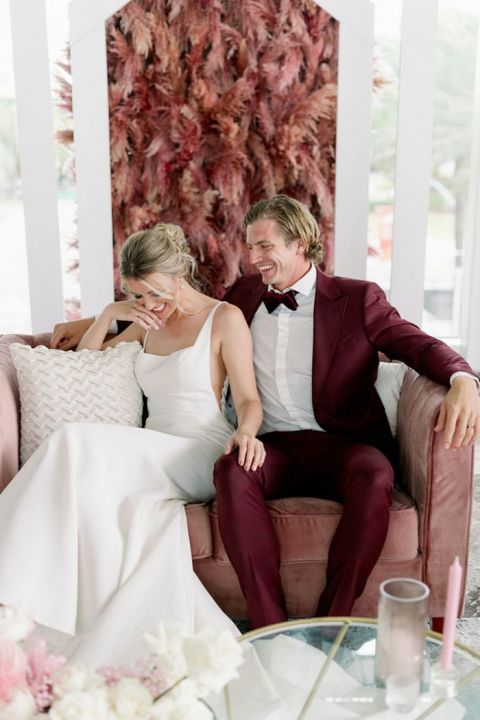 The gorgeous lounge arrangement brought muted blush and mauve colors into the reception design, with the pink pampas grass wall and velvet couch adding warmth to the chic gold and white geometric furniture!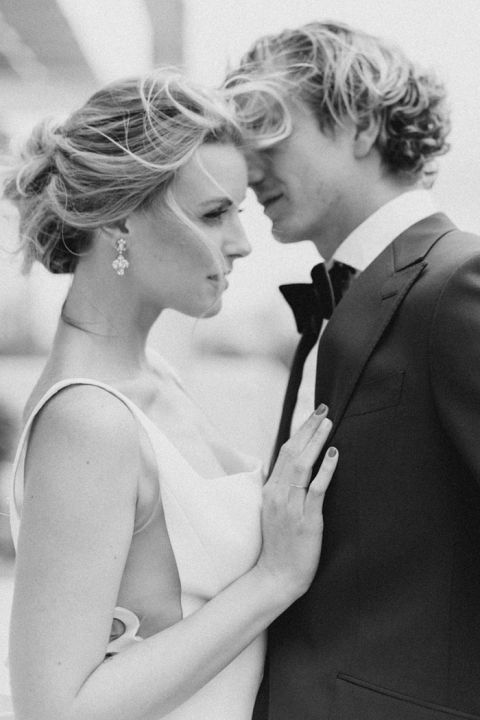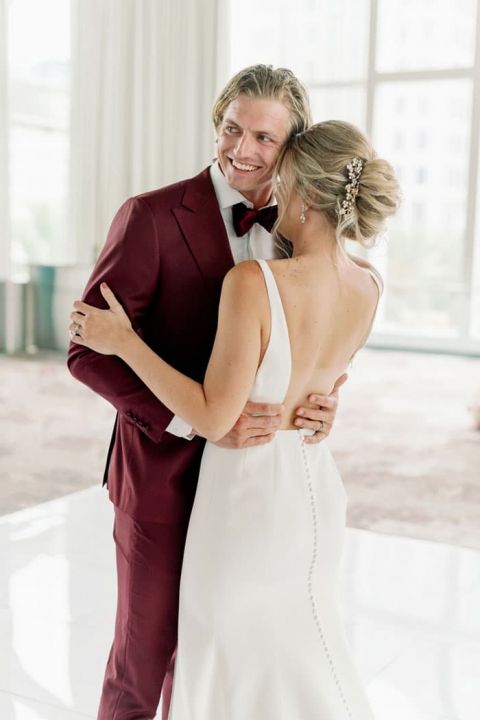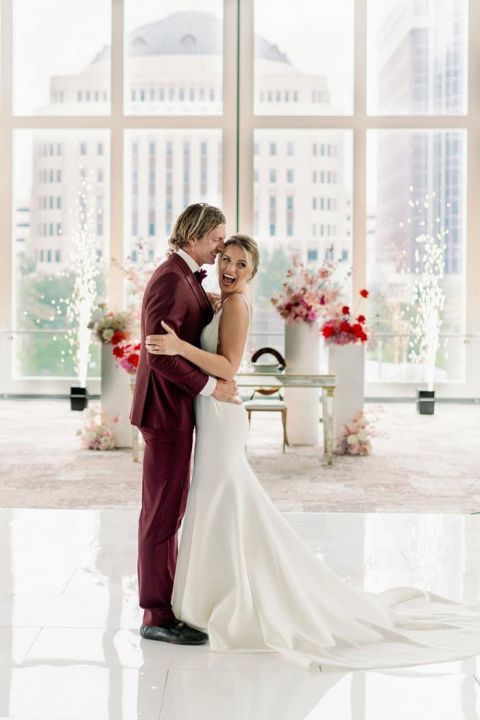 WEDDING VENDORS –
Photography: Kristen Weaver Photography | Orlando Wedding Venue: Dr. Phillips Center for the Performing Arts | Event Planning: Blush by Brandee Gaar | Florist: In Bloom Florist | Wedding Cake: Bakers Cottage Cakes | Wedding Dresses: Ines Di Santo | Bridal Salon: The Bridal Finery | Bride's Shoes: Bella Belle Shoes | Bridal Headpiece: Maria Elena headpieces | Groom's Attire: Leonardos Fifth Avenue | Hair Styling and Makeup: LeJeune Artistry | Lounge Rentals: Ocean Hawk's Rentals | Event Rentals: Orlando Wedding and Party Rentals | Tableware: Treasury Rentals | Lighting: Kaleidoscope Event Lighting | Videography: Jeffrey Stoner Video | Submitted via: Matchology