Dreaming of something other than a white wedding dress? This gorgeous bridal shoot showcases the power of unique wedding colors, with a dusky lavender dress, berry pink bouquet, and playful iridescent details that add a sprinkle of fairy dust over the whole thing! This portrait session may appear minimal on the surface, but the depth of color and detail adds loads of personality to every shot! Photo and video team Purity Weddings and stylist School Of Decor waited for Malibu magic hour to capture the dance of light across the stunning iridescent angel wing backdrop, the shimmer across the glitter tulle of the bride's dress, and the gorgeous glow for this absolutely magical portrait session!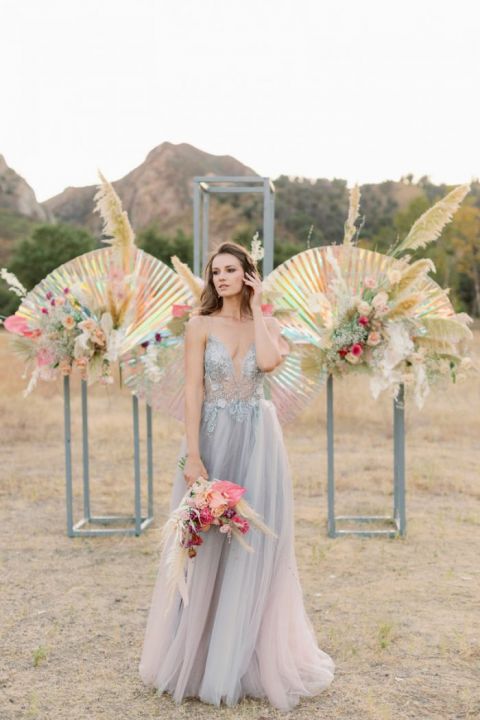 Dusky Lavender and Berry Pink for Unique Wedding Colors
See more creative wedding color scheme ideas!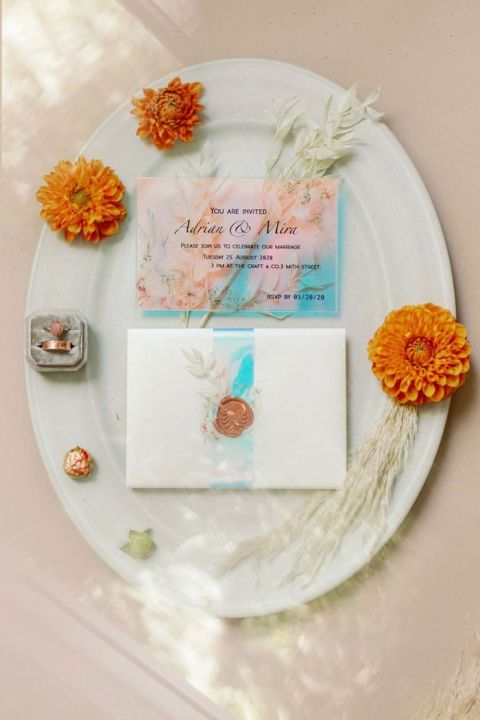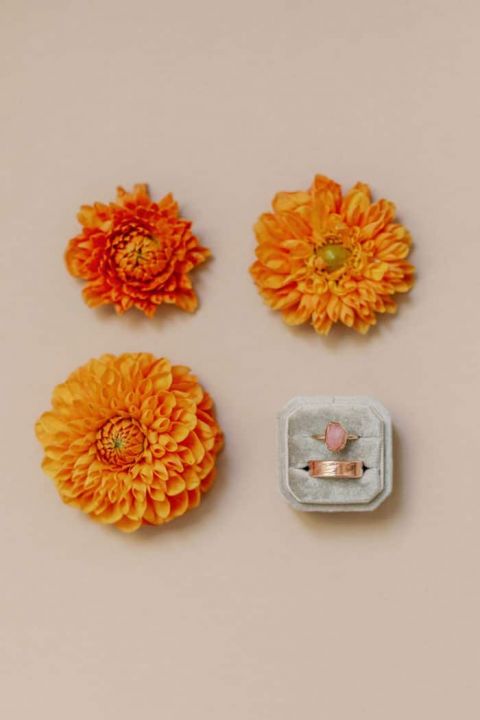 This bridal shoot took a focus on unique wedding colors from the get-go, with turquoise and orange combined in the invitation suite and the stunning floral flatlay. The diamond alternative engagement ring by Raw by Olivia Mar featured a rose quartz stone set in yellow gold, adding a pop of color to the bride's jewelry.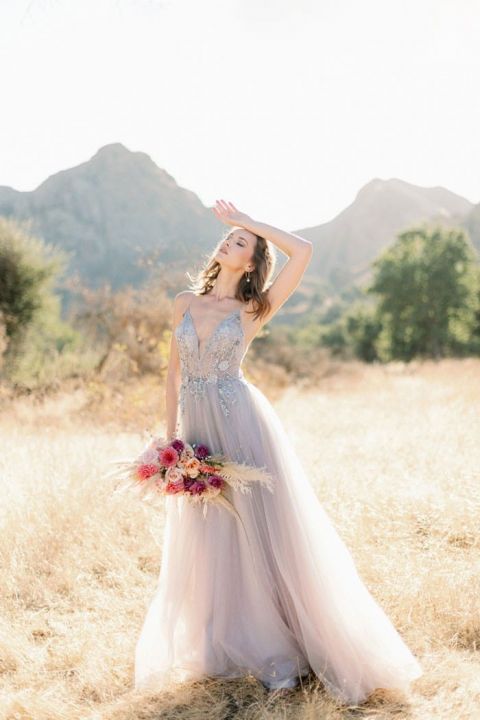 Would you go for a colorful wedding dress? This stunning tulle A-line dress by Andrea & Leo is versatile not just in color but in style! Originally showcased as a prom dress, it's a gorgeous pick for adventurous brides! The 3D floral and beaded v-neck bodice is stunningly detailed, and the sparkling tulle skirt adds a subtle ombre effect. The gorgeous alternative to a white wedding dress adds colorful charm, and simply glows in the Southern California sunset!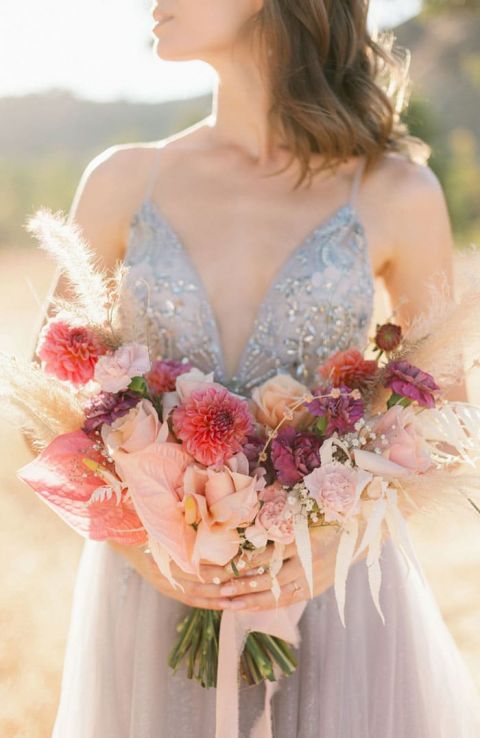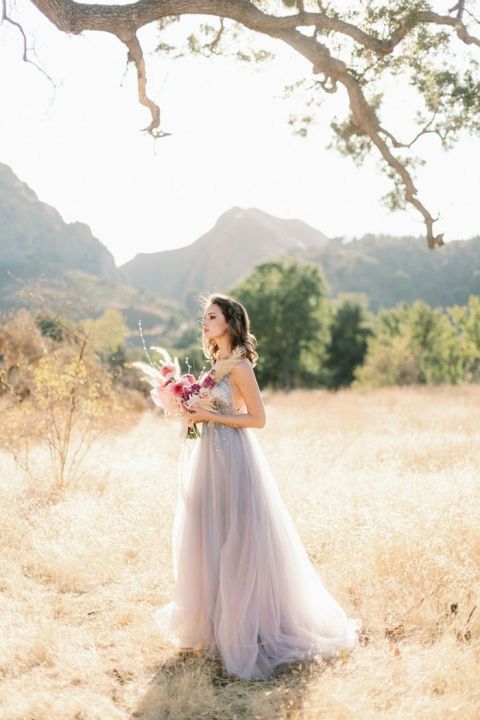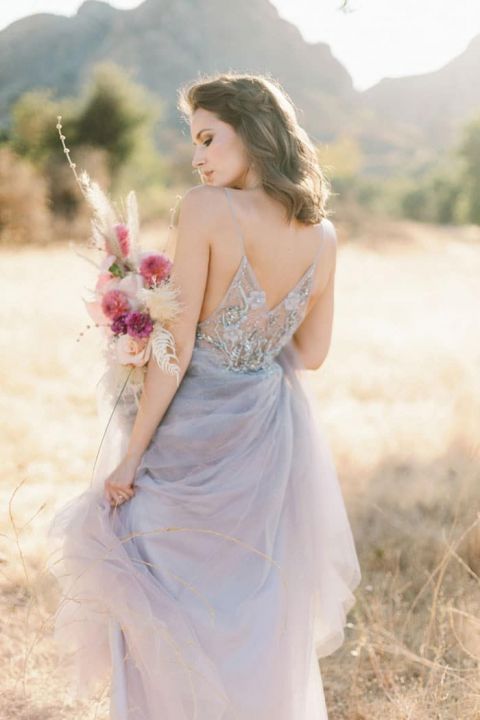 Rather than stick with a traditional color scheme, this team opted for unique wedding colors at every turn! This dusk purple dress pairs perfectly with a berry pink bouquet! Floraln5 combined fresh and preserved flowers for the bride's bouquet, with classic roses, tender baby's breath, carnations, anthuriums, orchids, and pampas grass for the wild and heart boho vibe!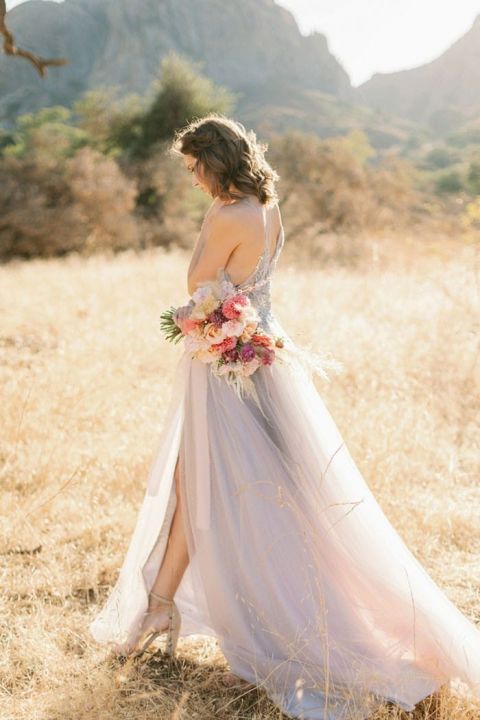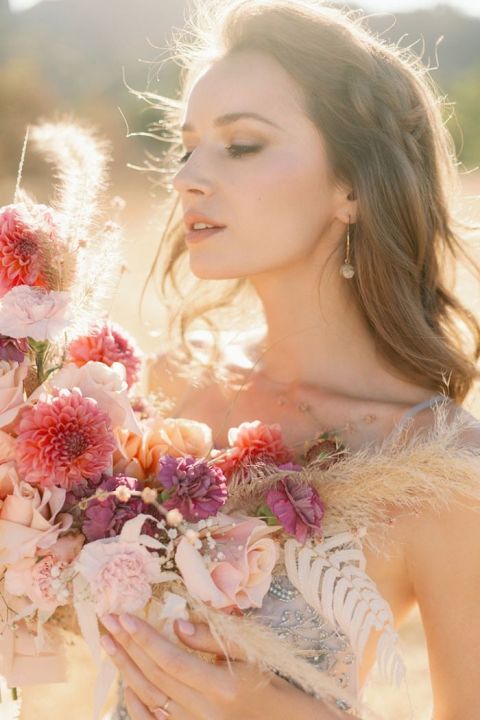 How magical are these unique wedding colors? Rather than picking two to three colors and creating a contrasting palette, this team layered in warm shades the complement each other ad build a stunning design. Shades of berry pink, fuchsia, blush, cream, and coral all come together to play off the stunning shade of the bride's non-white wedding dress.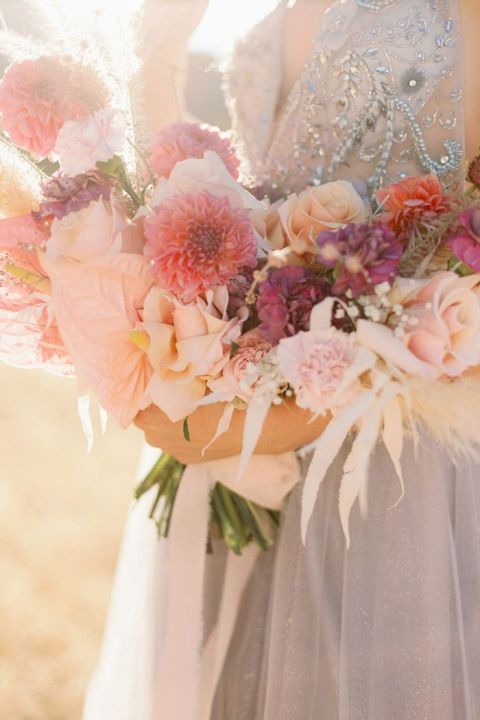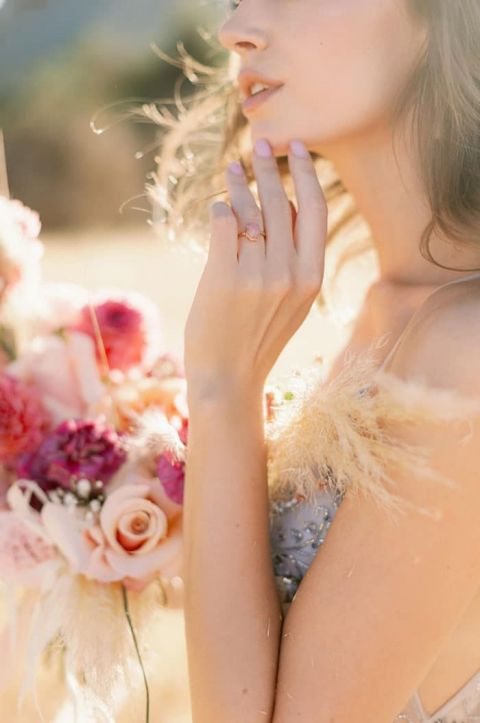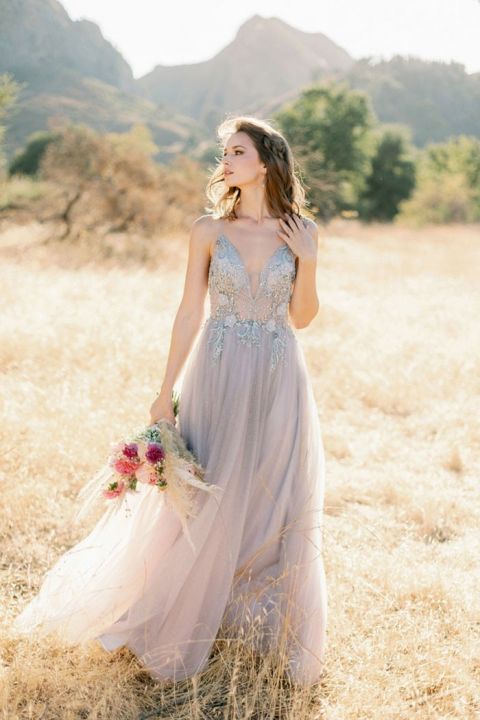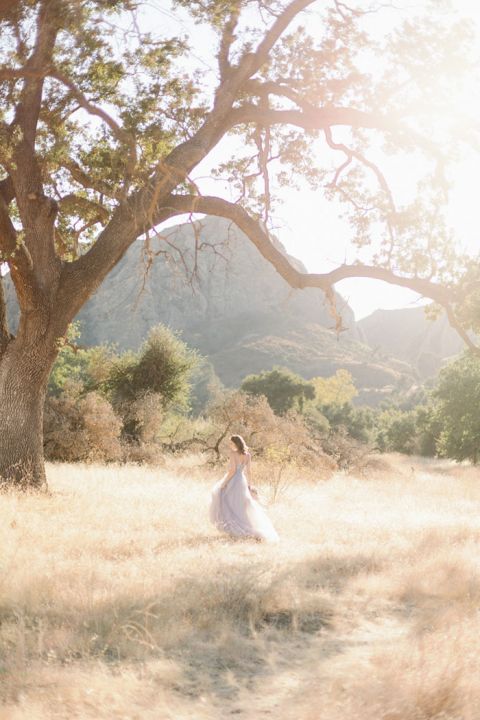 Magic hour under the oaks is a signature of Southern California photo sessions. The light was specially chosen to bounce off the iridescent fans in the stunning ceremony backdrop! The dazzling rainbow colors created an angel wing photo backdrop effect, turning our bride into a fairy princess in her pastel wedding dress.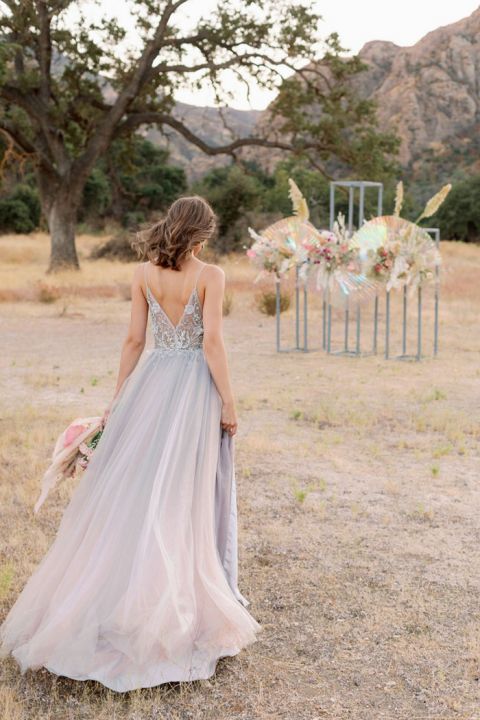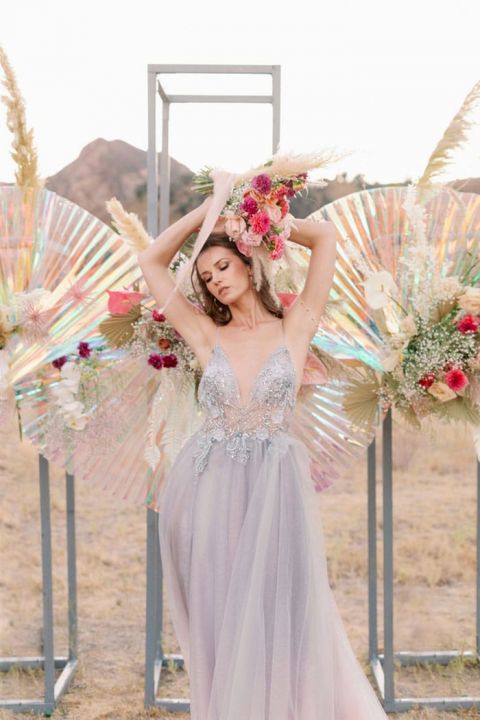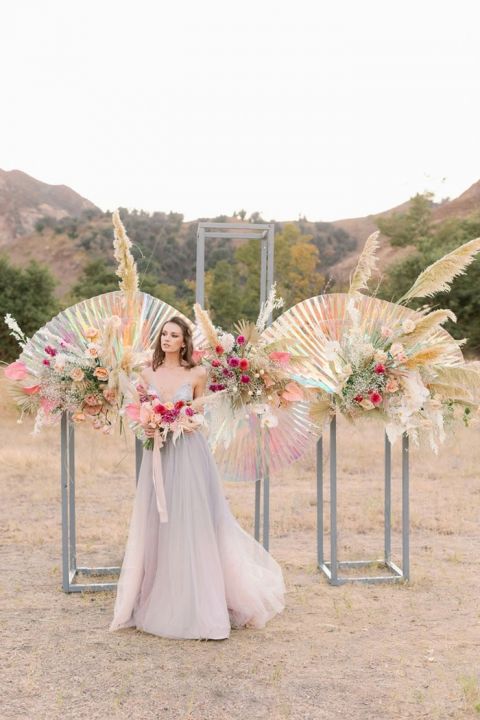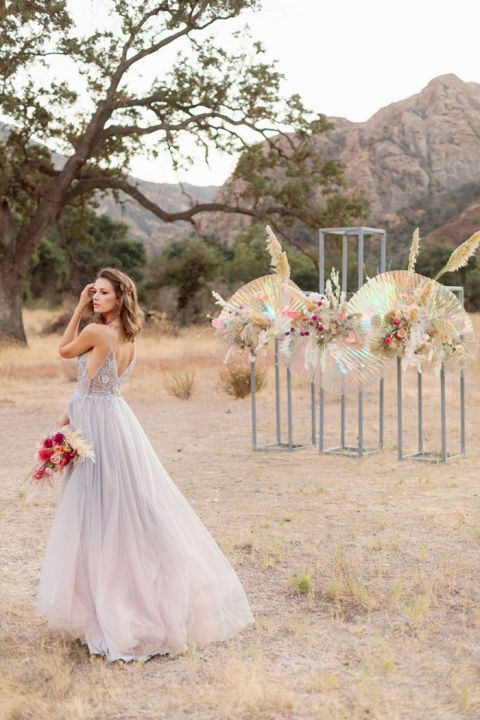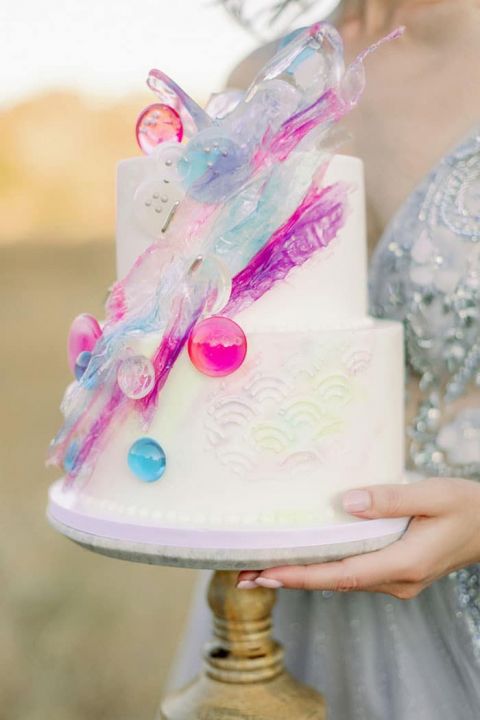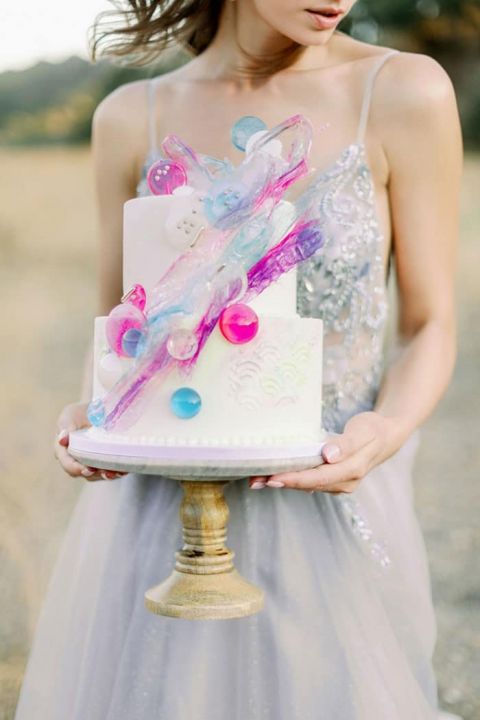 A little Wicked Cakery played with iridescent details for this colorful cake! Sugar fans and globes added a playful fairyland effect to the layers of white buttercream, with stamped designs and subtle watercolor brushstrokes to add even more color to the pulled sugar cake topper. Shades of blue, pink, and purple echoed primary versions of the dreamy colors in the bride's dress and bouquet.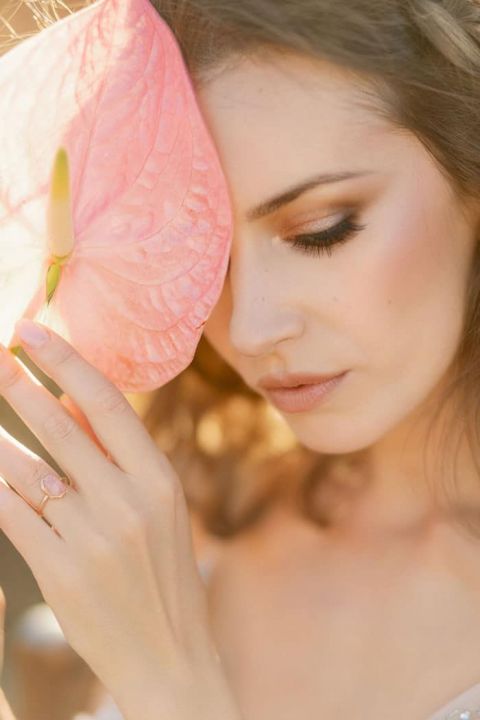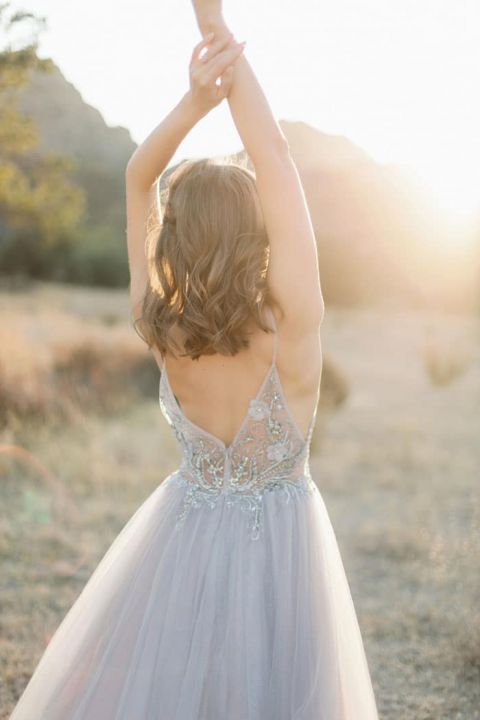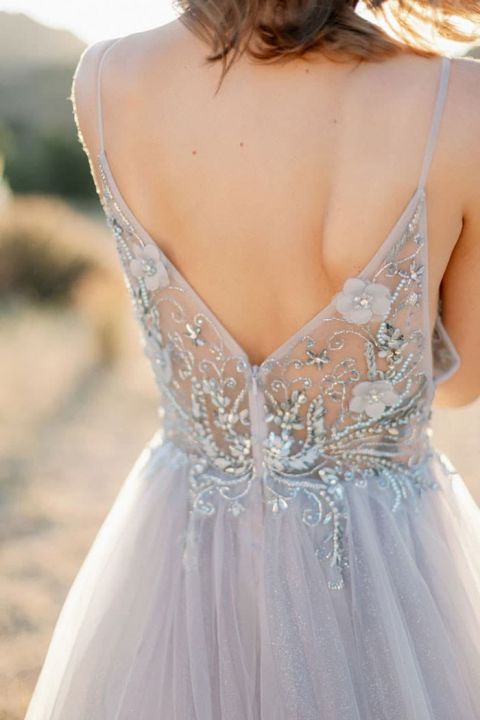 A focus on the beading and 3D flower details on the gorgeous low back wedding dress shows off the intricate design and sparkling details in this stunning purple gown!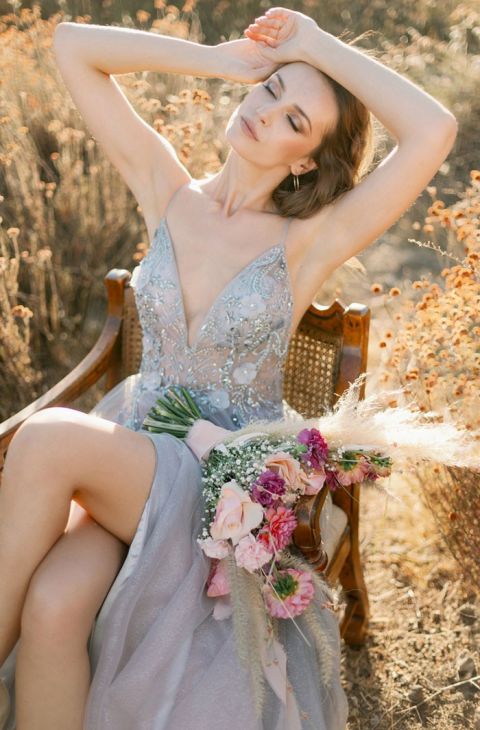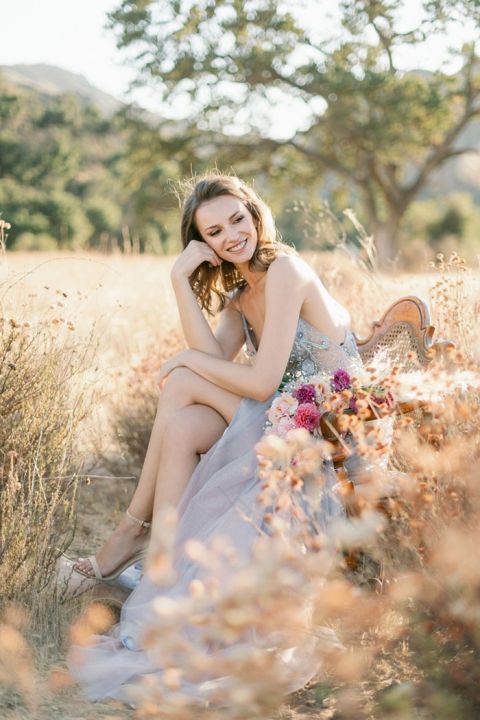 How incredible is this light! While all you need for truly spectacular bridal photos is a woman about to be married and a photographer who knows what they're doing, this team turned a simple portrait session into a Vogue-worthy shoot thanks to the perfect timing of magic hour, and select details that embraced their theme and told the story they wanted to tell through color and detail!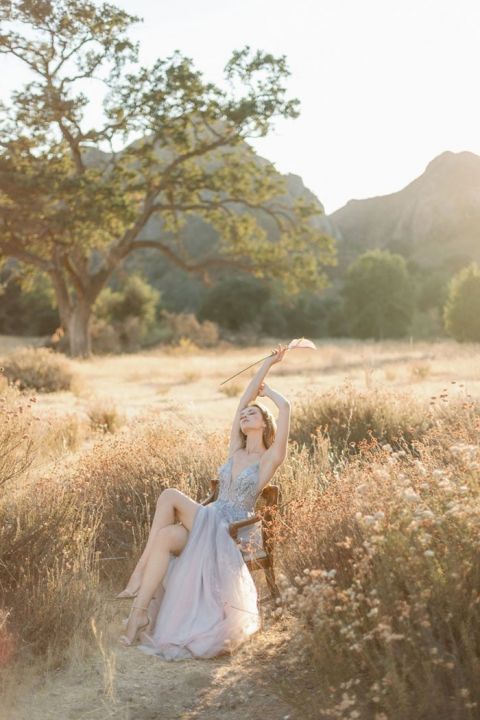 WEDDING VIDEO –
WEDDING VENDORS –
Photography and Videography: Purity Weddings | Event Planning: School Of Decor | Florist: Floraln5 | Wedding Cake: A little Wicked Cakery | Wedding Dress: Daphne by Andrea & Leo | Engagement Ring: Raw by Olivia Mar | Hair Styling and Makeup: Lisa Bublii | Stationery: School Of Decor | Model: Polina Boyd | Submitted via: Matchology