I'm keeping Sara Bareilles week rolling with this love letter board inspired by her song, 'I Choose You'! Finding the perfect wedding song inspiration that can double as your wedding design is perfect for a music inspired wedding!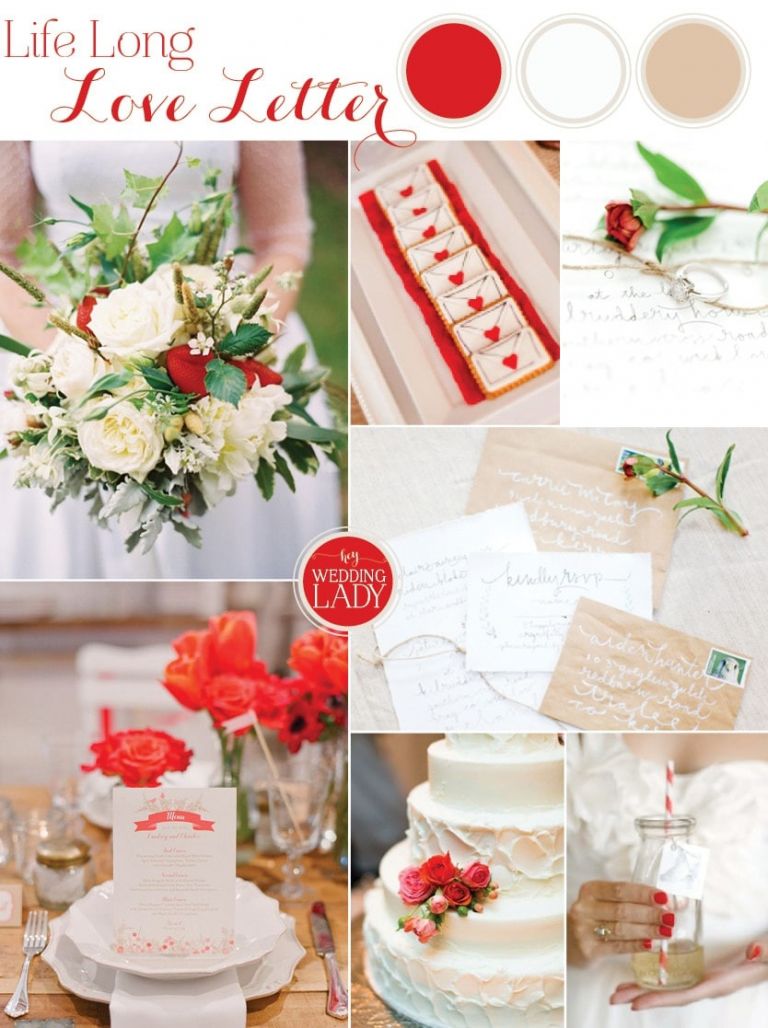 The sweet tune will provide the perfect backdrop to your day, but the lyrics are the real star here.
"I'll unfold before you
What I've strung together
The very first words
Of a lifelong love letter
Tell the world that we finally got it all right
I choose you
I will become yours and you will become mine
I choose you"
So how do you base a very visual design off of a song? Like Sara's song, the palette should be flirty and fun, so I went with rich strawberry red, paired with cream and the warm fawn of barn wood. Keep the mood sweet and light, just like the tempo of the song, and add in playful touches and pops of color.
To carry the Love Letter theme, pick a fabulous font that can be used throughout your paper crafts – menus and invites, of course, but bring words of love into other aspects of the day as well. Wrap lyrics from a beloved tune around the tiers of your wedding cake, fly them on banners down the sides of your aisle, and stamp them on kraft paper bags to hold the favor of your choice. Most of all, relax, enjoy, and dance!
PHOTO GALLERY –

PHOTO CREDITS –
Strawberry and Flower Bouquet – Photography by S Leishman Photography, Floral Design by The Bouquets of Ascha Jolie via Ruffled | Love Letter Cookies – Photography by Amara Ritchie Photography, Cookies by Little Wish Cakes via Kara's Party Ideas | Engagement Ring and Wedding Invitations – Photography and Paper Goods by Brumley and Wells via Once Wed | Place Setting –  Photography by Lisa Lefkowitz, Event and Floral Design by Jubilee Lau Events & Gloria Wong Design via Style Me Pretty | Rosebud Wedding Cake – Photography by Todd France Photography via Style Me Pretty | Champagne with Striped Straw – Photography by Lauren Michelle via Erin Ever After
SEE MORE WEDDINGS LIKE THIS –