Ready for epic wedding dress inspiration? This gorgeous downtown Portland wedding shoot at Everett West combines some of the most unique bridal style options with an unexpected color combination in a dynamic and creative way to celebrate your wedding day! The incredible palette are perfectly captured by Chantal Sokhorn Photography, along with every stunning detail dreamed up by Amore Coordination. With trio of gorgeous bridal looks to choose from – including a simple silk ceremony dress, a bold yellow tulle gown, and a dramatic black wedding dress – boozy popsicles, fresh local catering, and the most dynamic plum, yellow, and black palette, this shoot truly lives up to the unique style of Portland!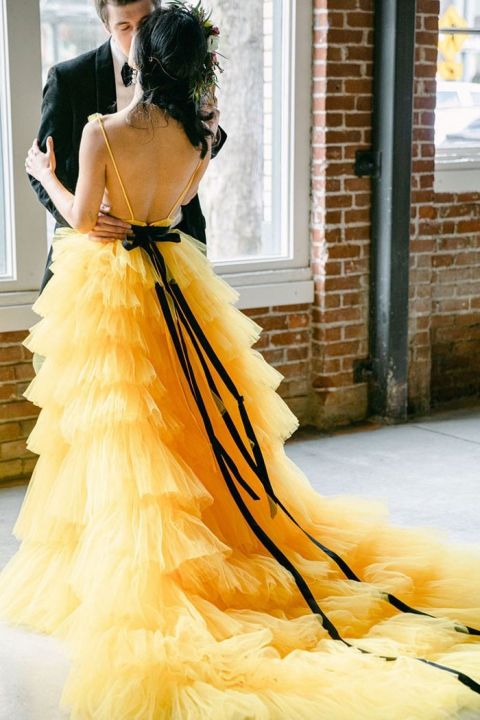 This Epic Wedding Dress is just One of the Unexpected Colorful Details in this Wedding Shoot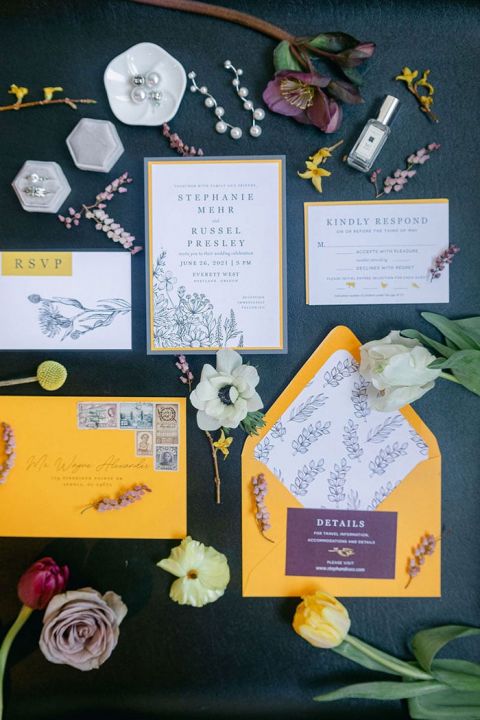 The inspiration from this styled shoot started with a voluminous yellow gown, Zania from Mode Moviani set in Portland's Everett West, an open industrial venue featuring cool tones, flexible indoor space with natural lighting, and a lovely outdoor patio in the heart of the Pearl District. The color palette featured a unique combination of blackberry, plum, and cool gray tones contrasted with pops of vibrant yellow. Real couple Margaret and Clarke brought everything to life with their joyfully and flirtatious chemistry.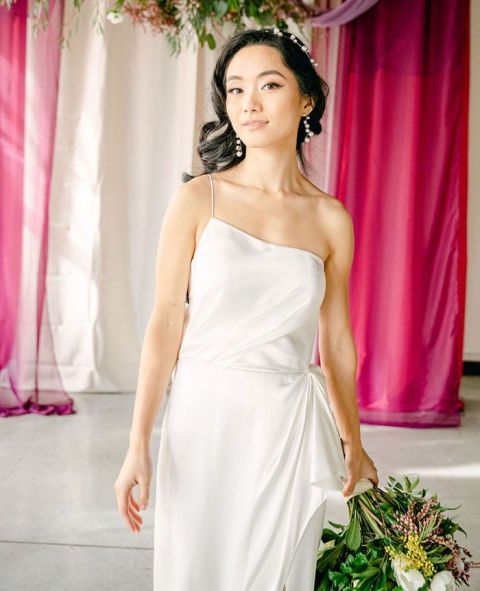 This simple ceremony dress is anything but boring – the asymmetric silk gown by Alon Livne White is the perfect blend of elegant minimalism. The luminous silk dress glowed against the unexpected color combination of plum purple, marigold yellow, and black that created this vibrant and unique backdrop!
See more Oregon weddings!
The downtown Portland wedding venue Everett West created a stunning industrial canvas for this creative shoot – Amore Coordination and Songbird Floristry enhanced the polished concrete floors and tall windows with a draped ceremony backdrop in shades of purple and added an ombre floral chandelier to hang over the altar for this stunning real couple!
Floral design featured an abundance of Oregon and California grown flowers like hellebore, tulip, wax flower, craspedia, butterfly ranunculus, anemone, and willow eucalyptus. The bridal bouquet mirrored the subtle asymmetry of Alon Livne's single-strap gown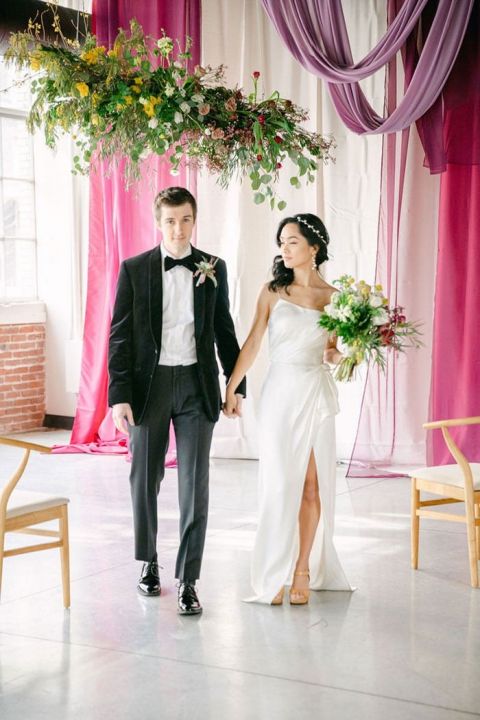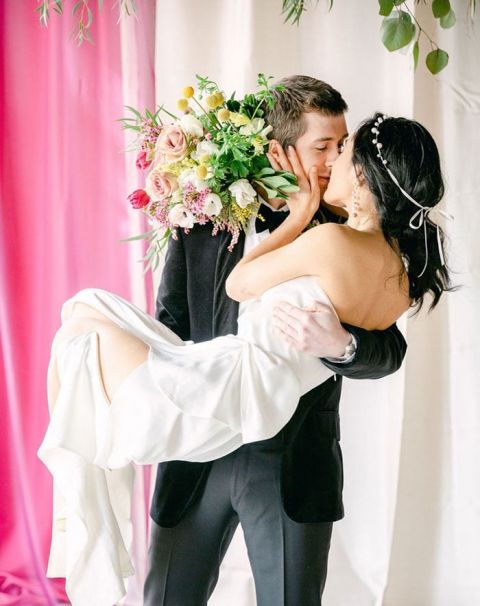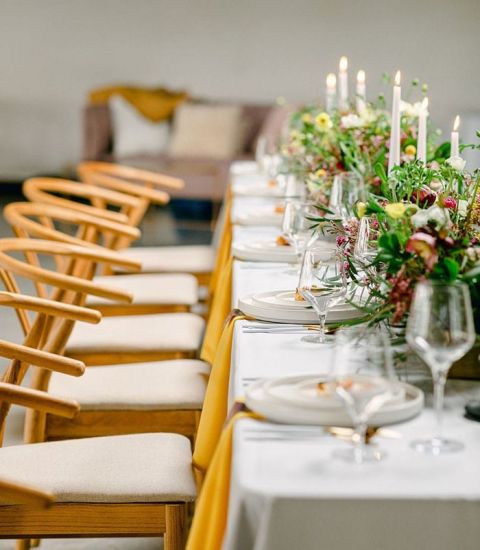 The reception tables were decorated with Mid-Century Modern style, with curved back wooden chairs and vibrant yellow napkins to add a 70's spin. The gorgeous white stoneware china created a geometric place setting with concentric circles, including the personalized menu in Pantone's Color of the Year, Illuminating Gray. The subtle pop of gray accented the gorgeous Illuminating yellow details throughout the event, tying in stronger accents from the coral, burgundy and orange centerpiece flowers set in long gold trays down the center of the dining table.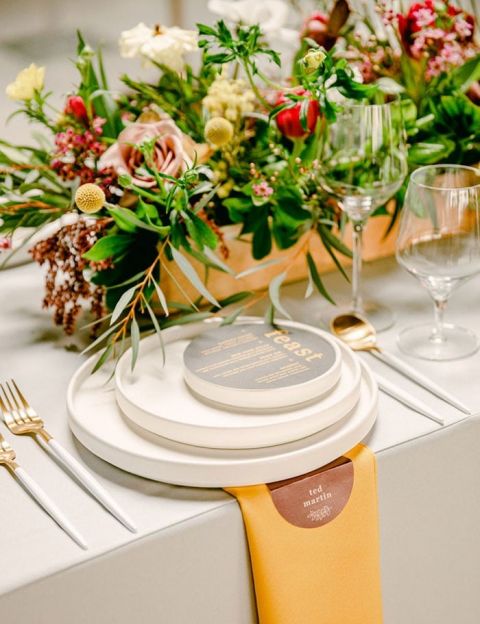 Each seat featured a personalized leather place card to guide guests to take their place! The earth tone detail was a gorgeous complement to the vibrant and unexpected color combination used in this creative wedding shoot!
Artemis Foods, Everett West's in-house caterer prepared beautiful dishes featuring locally sourced treasures from the appetizer and cocktails through the spectacular beef entrée.
Even the bride got in on the illuminating color scheme with a gorgeous yellow gown! The ruffled tulle Zania dress by Mode Moviana made for an epic wedding dress with cascading ruffles into a chapel train.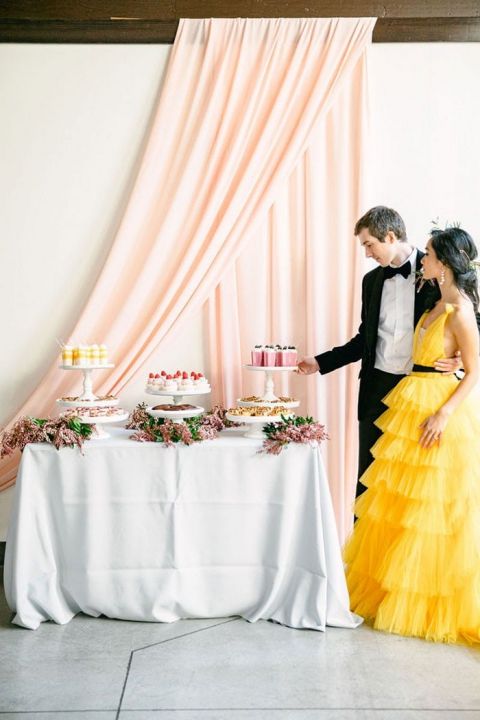 The colorful and epic wedding dessert display by Tres Belle Desserts managed to incorporate the unexpected color combo in the most stunning ways! From the buttercream stencil wedding cake in marbled purple and white to the array of citrus-yellow, raspberry, and caramel desserts, the bakery team created an array of summer flavors. Mini treats included blueberry shortcake, key lime mousse, lemon tarts and raspberry parfaits, with a Klondike bar and caramel cheese cake to add richer flavors and balance out the tartness.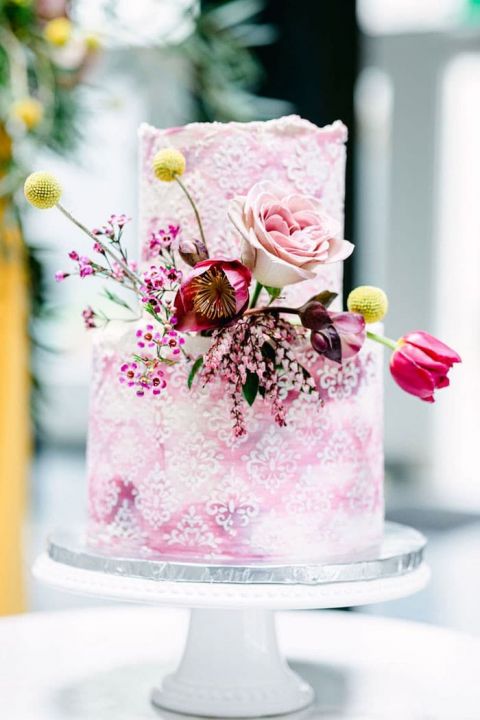 Looking for a sweet treat for this summer wedding? How about cocktail popsicles! Sloshy Pops created a playful bar with lemon pina colada and black berry rum flavored popsicles. The tipsy popsicles are made with locally sourced ingredients and contain real booze for a delicious summer bar alternative!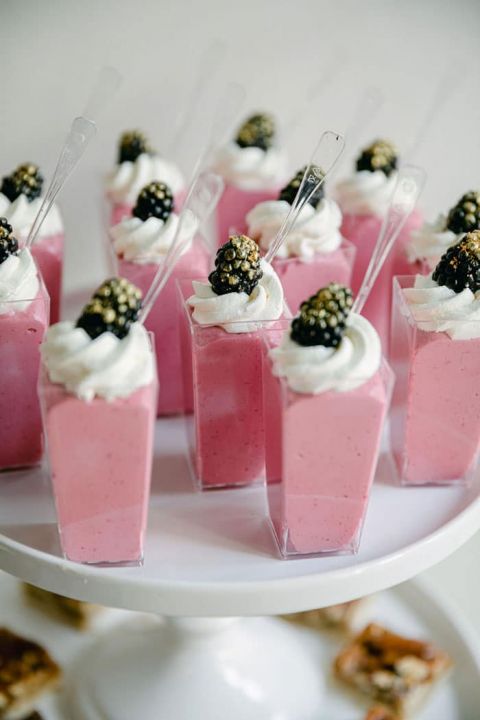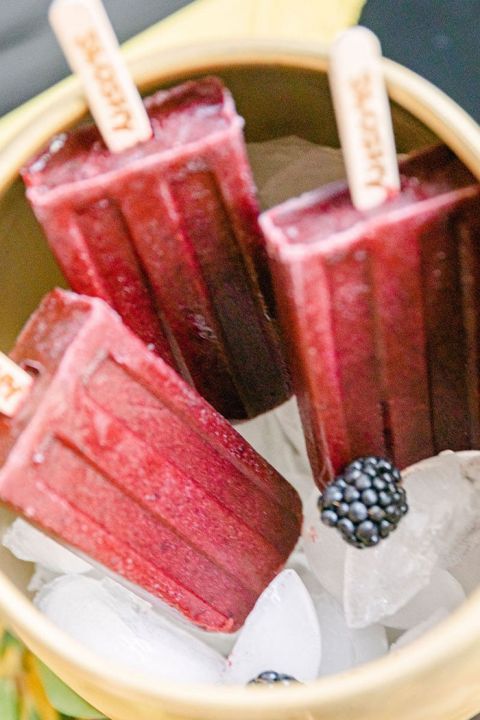 This is an epic wedding dress, no matter which angle you see! How stunning is that plunging back with the ruffled train? The couple posed for downtown wedding photos with the backdrop of Portland to capture the essence of their unique hometown.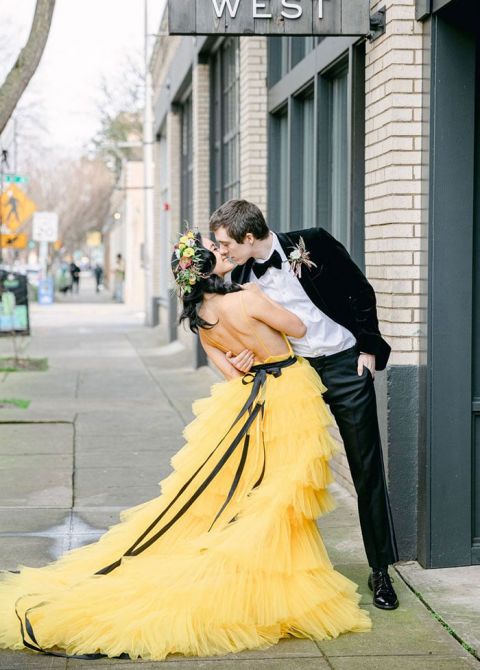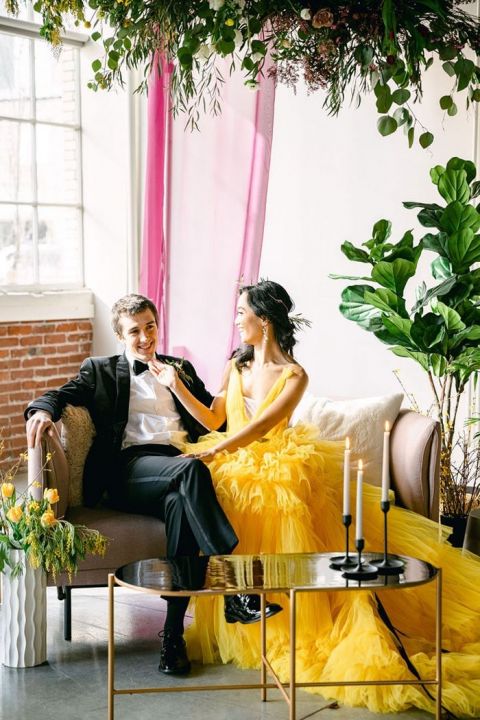 Time for color, color, and more color! The plum draped backdrop and chic vintage lounge provided another stunning portrait opportunity to show off this epic wedding dress.
See more Colored Wedding Dress ideas!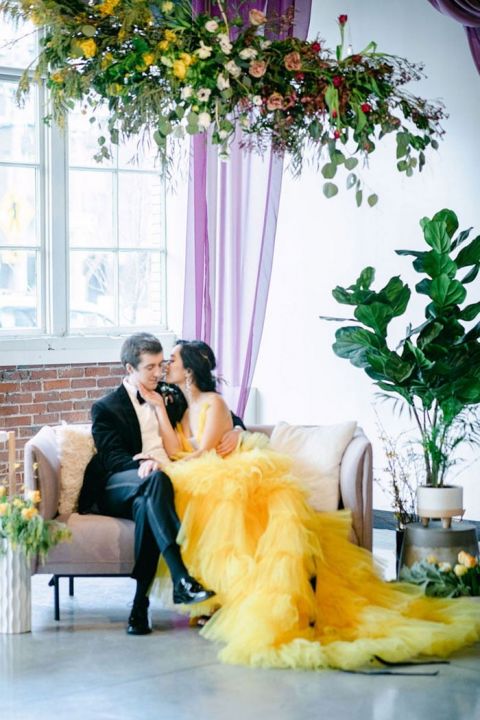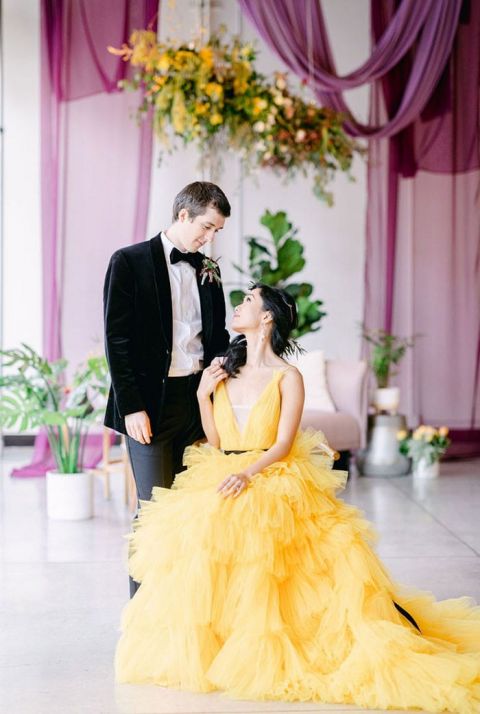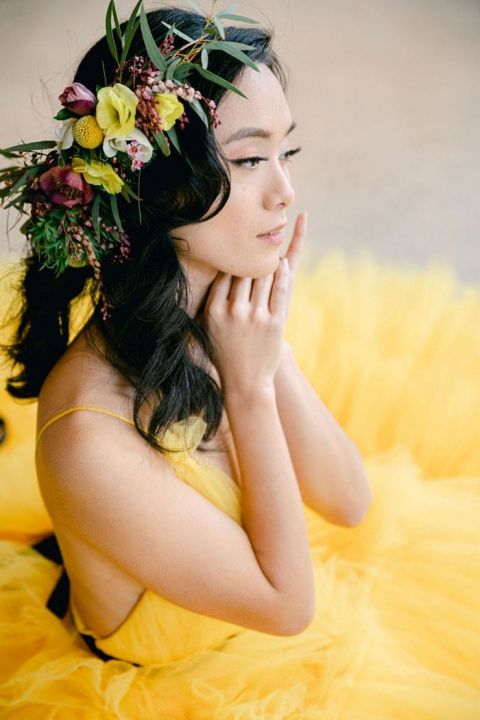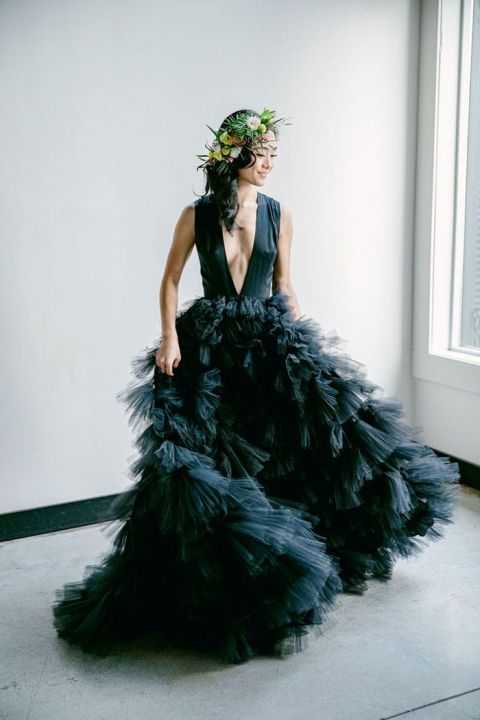 As if one epic wedding dress wasn't enough – it's time for another! This black wedding gown by Leanne Marshall balances a plunging neckline with a full ruffled skirt to create maximum volume and drama! The bride's soft sideswept curled hairstyle and flower halo added the most gorgeous finishing detail to her stunning gown.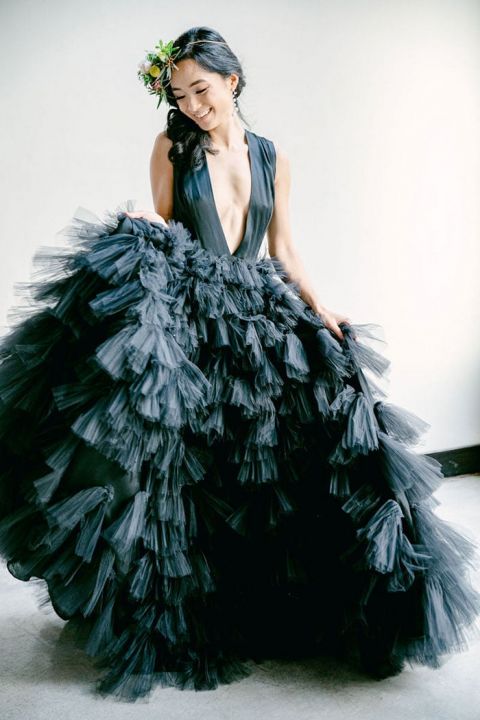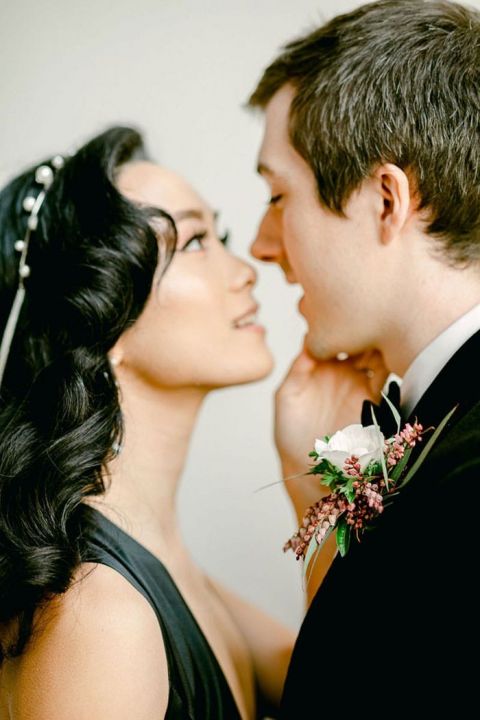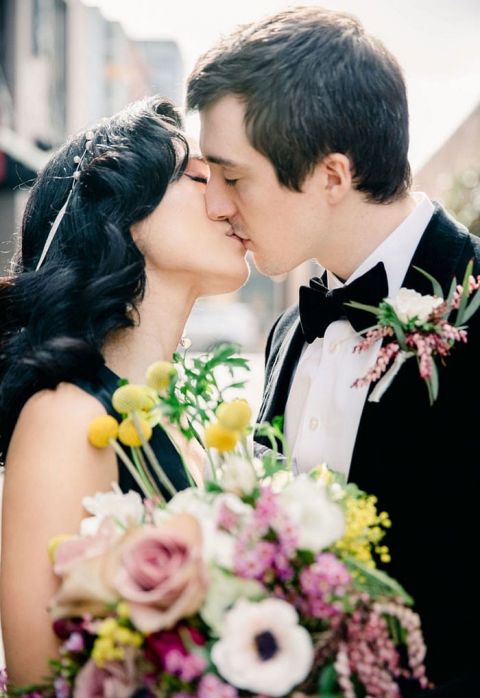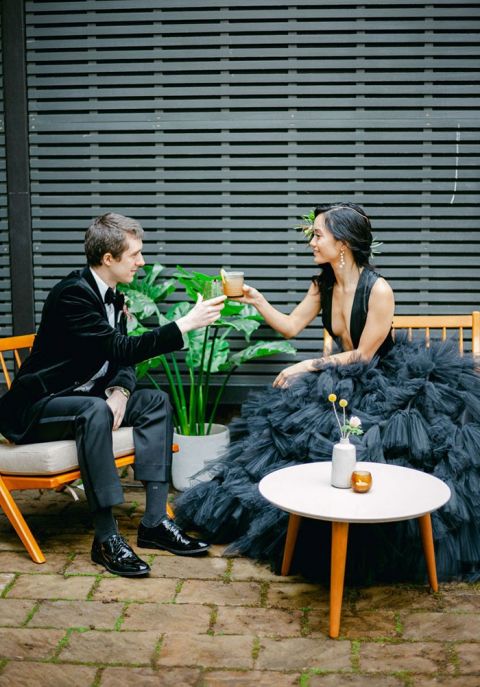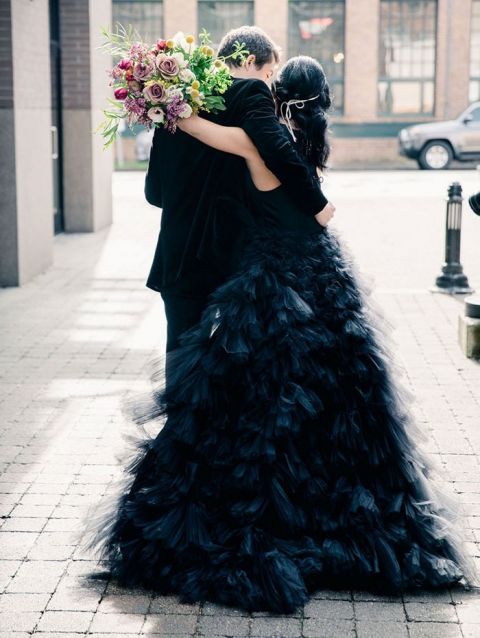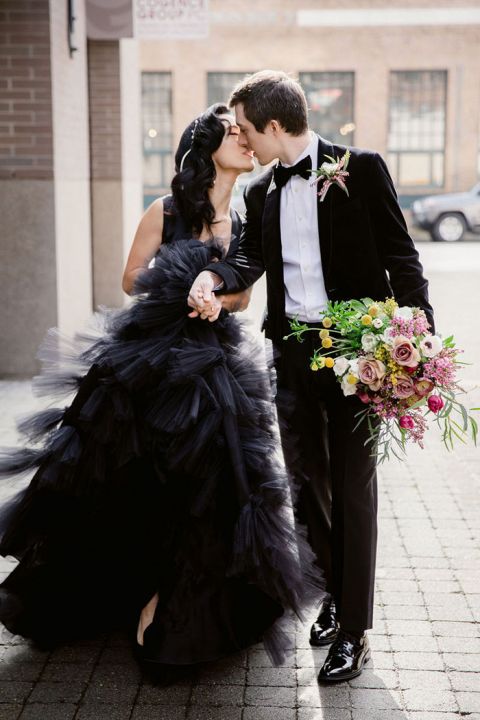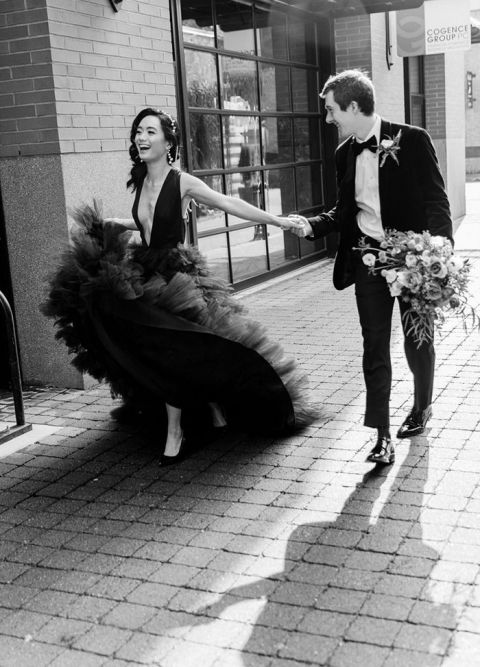 WEDDING VENDORS –
Photography: Chantal Sokhorn Photography | Videographer: Lovebug Pictures |Event Planner: Amore Coordination | Portland Wedding Venue: Everett West | Florist: Songbird Floristry | Cake and Desserts: Tres Belle Desserts | Yellow Tulle Dress: Zania by Mode Moviana | Asymmetric White Dress: Ocean by Alon Livne White | Black Tulle Dress: Leanne Marshall | Jewelry: Elizabeth Bower | Bridal Shoes: Bella Belle Shoes | Groom's Suit: The Black Tux | Hair Stylist and Makeup Artist: Vio Stana Blossom and Beauty | Caterer: Artemis Foods | Popsicles: Sloshy Pops | Event Lounge: Vintage Meets Modern | Event Rentals: Bridgewood Events | Stationery Design: Crave Design | Models: Margaret Alba and Clark