One of the things I love the most about the evolution of wedding style is the ability to make it as personal as possible! Whether you're in love with colorful gowns, watercolor flowers, or other unique details, this stunning bridal shoot from Rebekah & Grace Photography at the Julie Paisley workshop showcases some of the best wedding dress styles for 2021 and 2022 brides who want something totally unique! Designers Millia London and Claire La Faye showcase some of their gorgeous signature bridal styles, including colorful ruffled tulle dresses and artistic painted dresses that are one of a kind!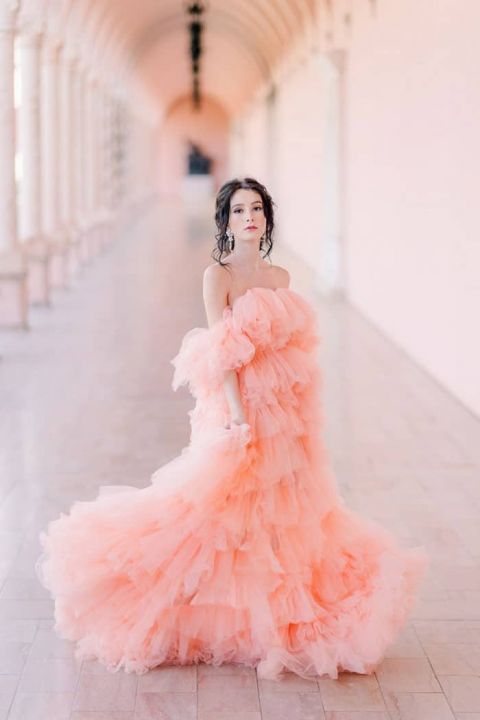 This Ruffled Beauty is one of the Best Wedding Dress Styles of 2021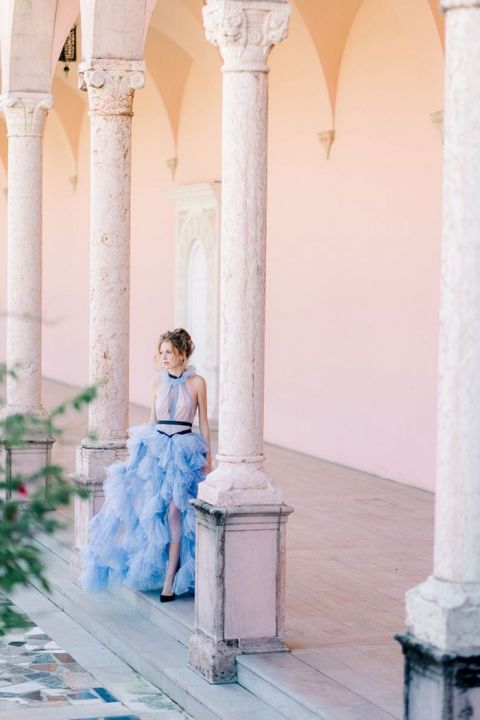 See more Bridal Style Inspiration!
Dress designer Millia London has made a name in 2021 for eye-catching, unique, and stunning colored wedding dress styles! Their airy dresses look like colorful clouds with layer up on layer of ruffled tulle. While they offer stunning ruffled white dresses for a playful spin on a traditional bridal gown, their colorful offerings include colors from vibrant yellow, fuchsia, lavender, coral, and blue!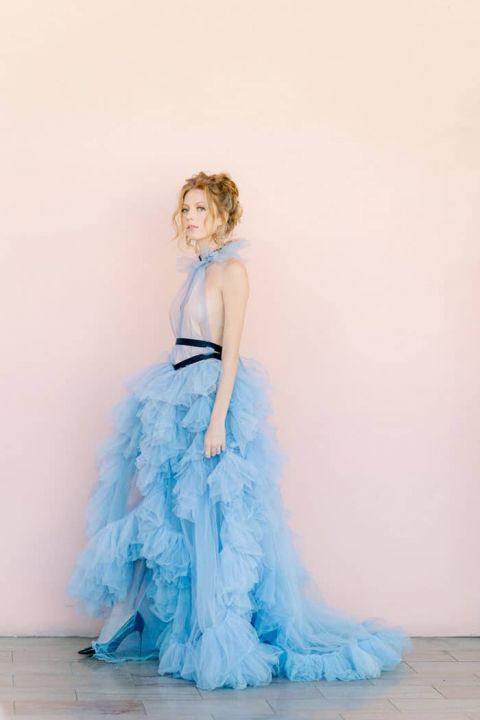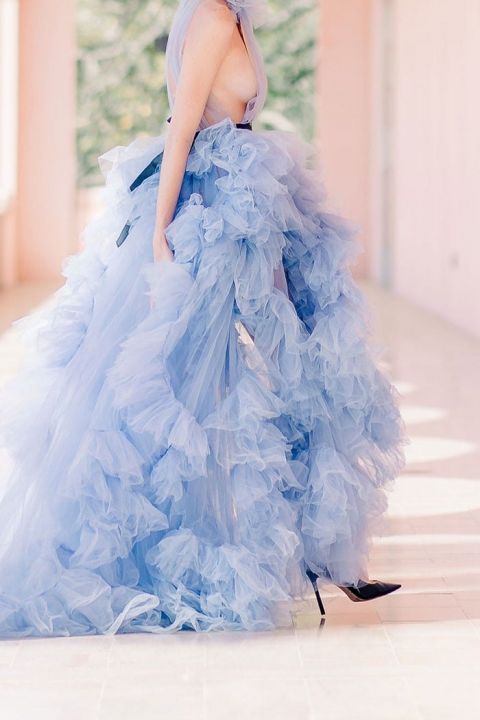 Love something less traditional? Check out more alternative wedding dress ideas!
This cloud blue tulle dress showcases a cascade of petticoat ruffles to add volume in an effortlessly fluffy dress. The halter neckline and black sash add a dramatic counterpoint to the full silhouette and layered skirt. Local hair stylist and makeup artist brushed and blushed let the sheer open back and high neck take center stage, with a curled updo that is a sophisticated wedding take on a messy bun. Face-framing tendrils show off the neckline detail and the jeweled flower hoop earrings by Lindsay Marie Designs.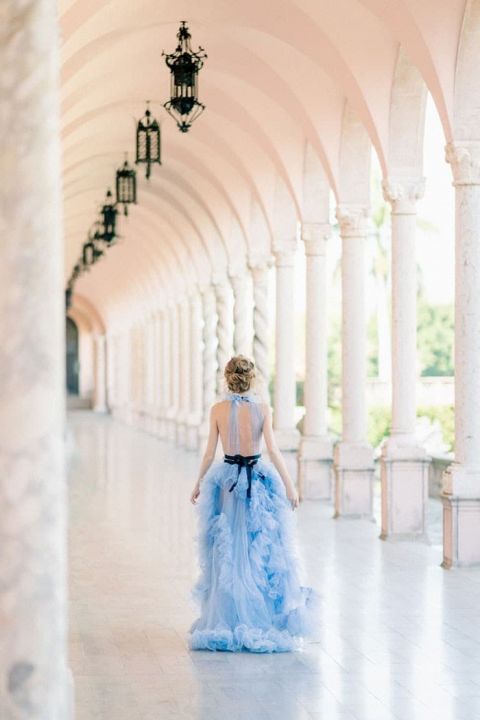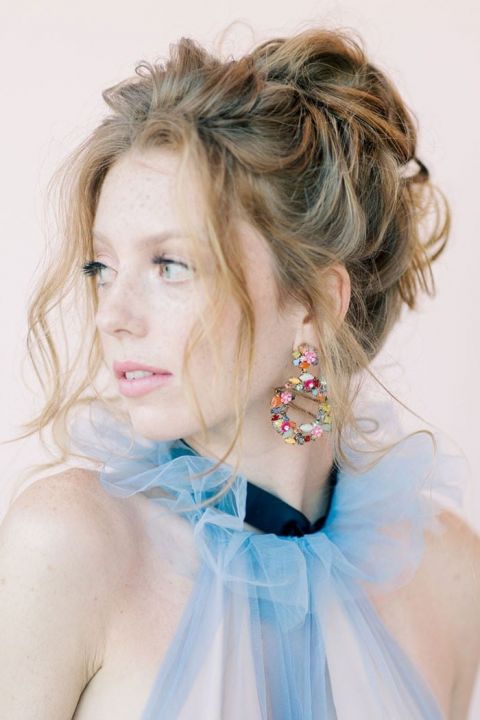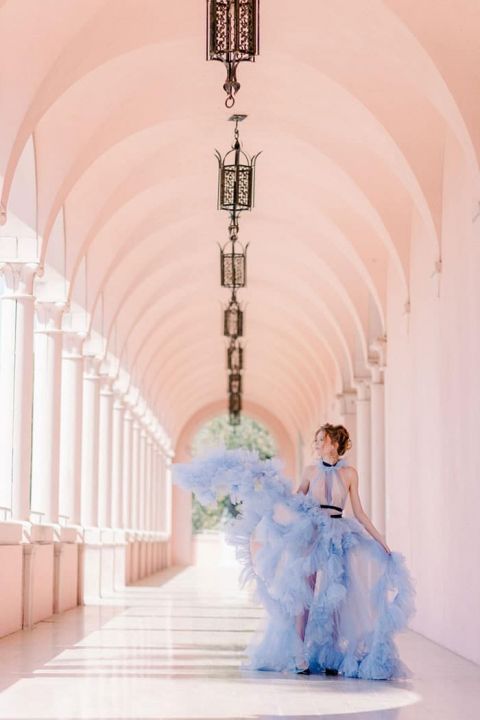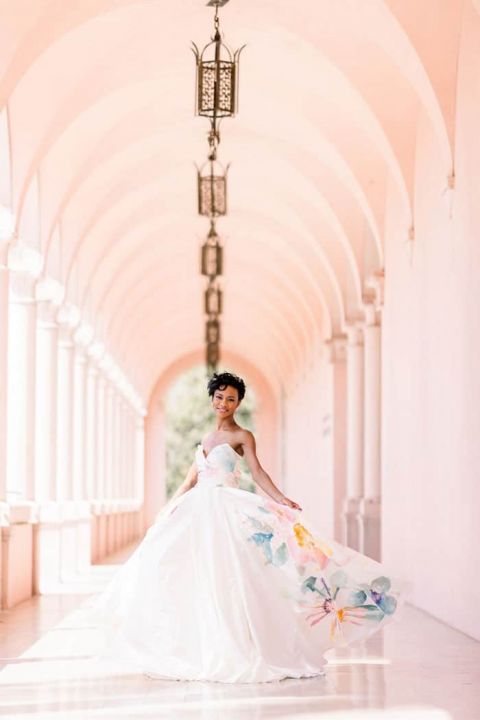 If a colorful spin on a white wedding dress is more your style, this stunning Claire La Faye gown combines a classic silhouette with hand painted watercolor flowers! The silk ruched bodice and full skirt are a stunning canvas for dreamy Impressionist painted designs that add soft floral patterns with oversized blooms to this signature style. The bride's short hairstyle let her gorgeous natural makeup take center stage, with a playful pair of flower earrings to cap off the look.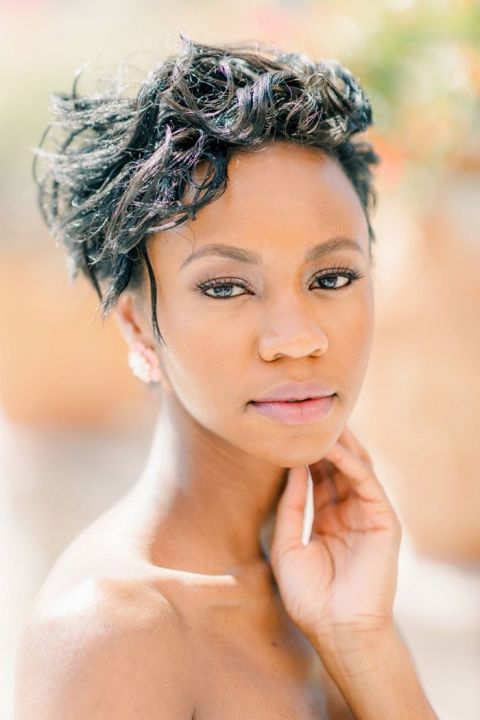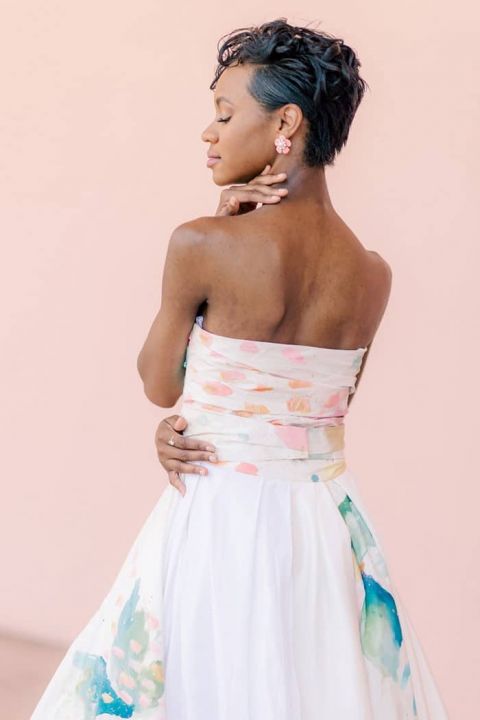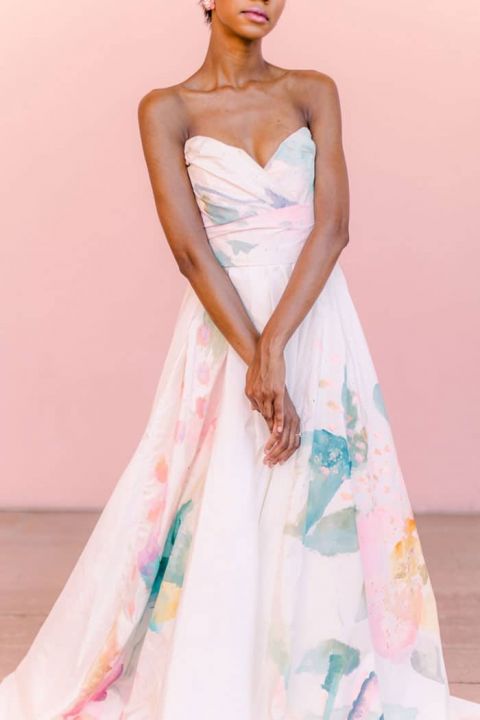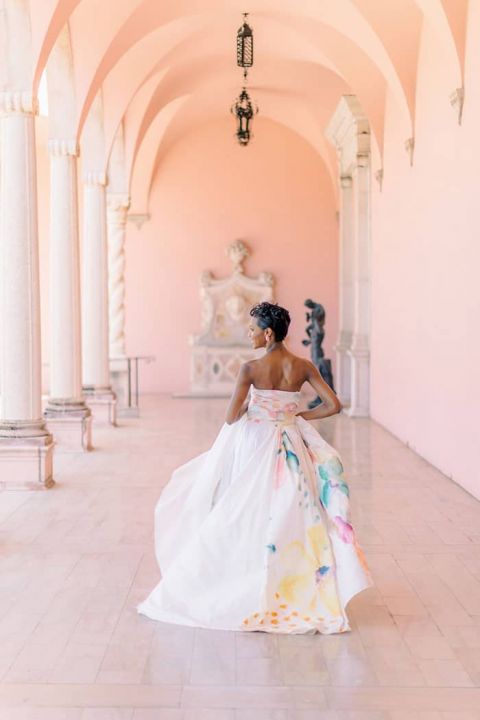 The gorgeous terrace of The Ringling Museum in Sarasota, Florida, created a beautiful Venetian villa setting that provided the gorgeous brides with a space to let their dresses twirl!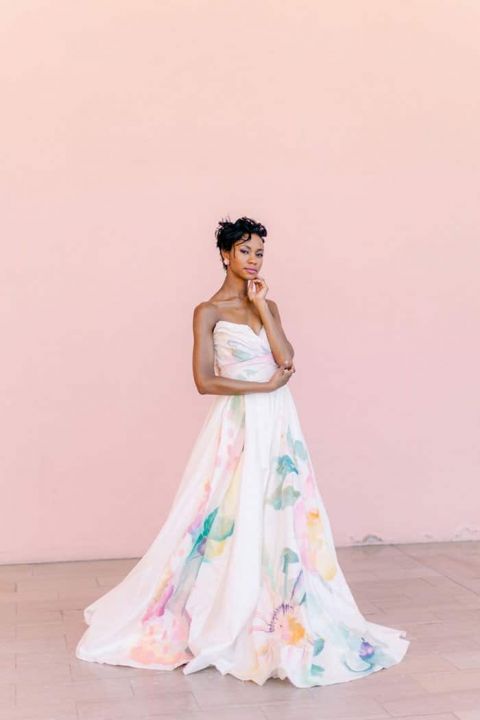 Bluegrass Chic was inspired by the shades of aqua, peach, pink, and yellow in the watercolor wedding dress to create the bouquets of romantic garden flowers! Ruffled white flowers, lavender tulips, and blush lisianthus created a lovely arrangement that complemented the elegant bridal gown style to perfection.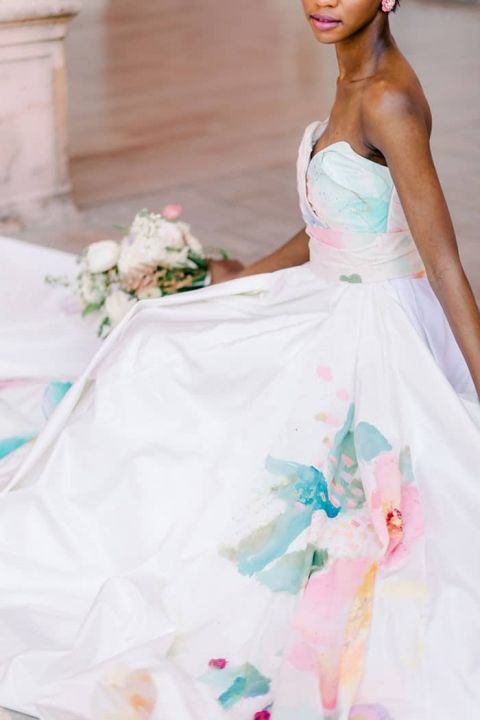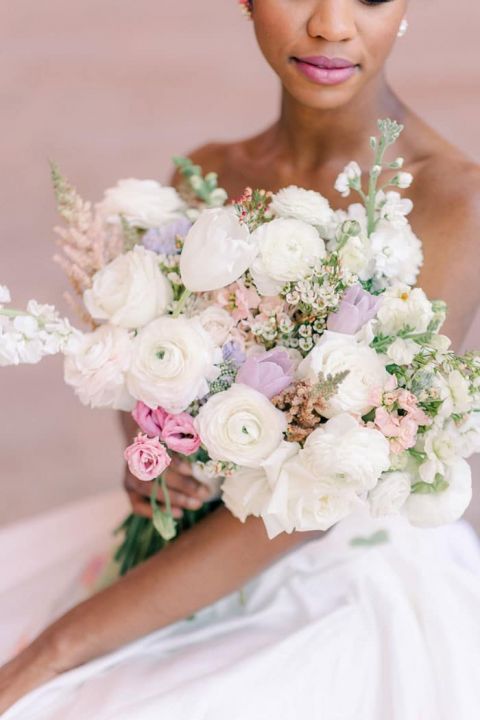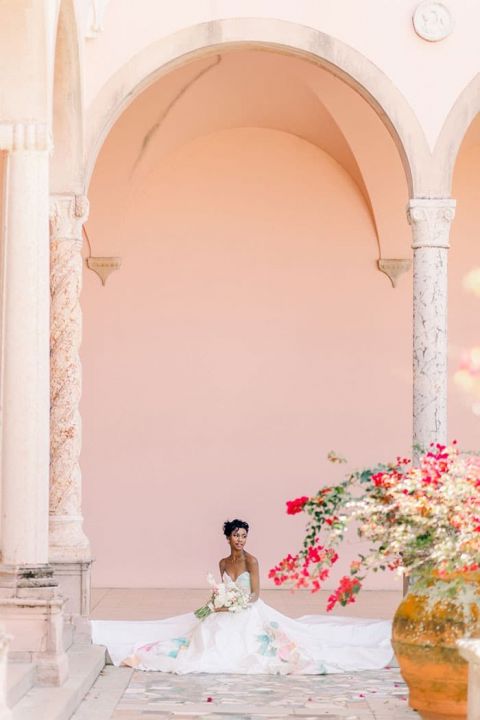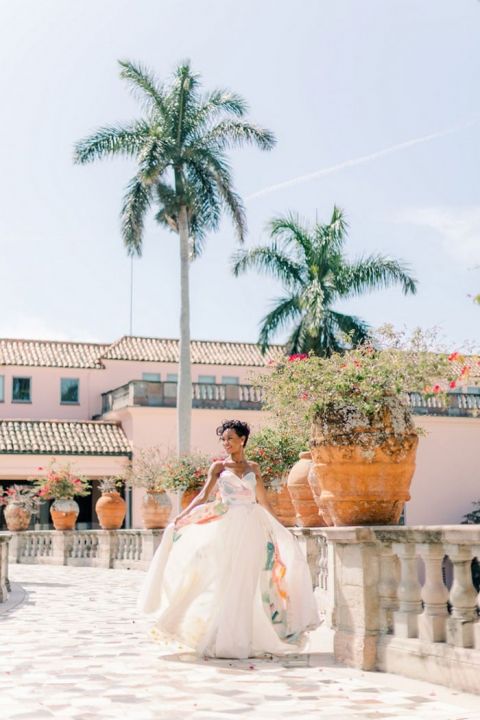 Maybe a pink ruffled wedding dress is more your thing! This gorgeous pastel wedding dress by Millia London combines off the shoulder ruffles in layer upon layer of peach tulle with a corset bustier that adds support and structure underneath the airy flounces. The nude stretch bodysuit is creatively hidden with every twirl thanks to the shifting layers that add weightless volume.
Thinking of something other than a white wedding dress? See these colored wedding dress designs!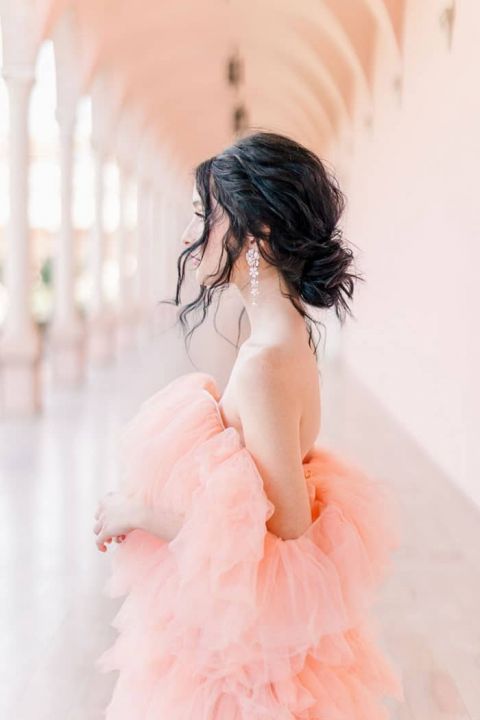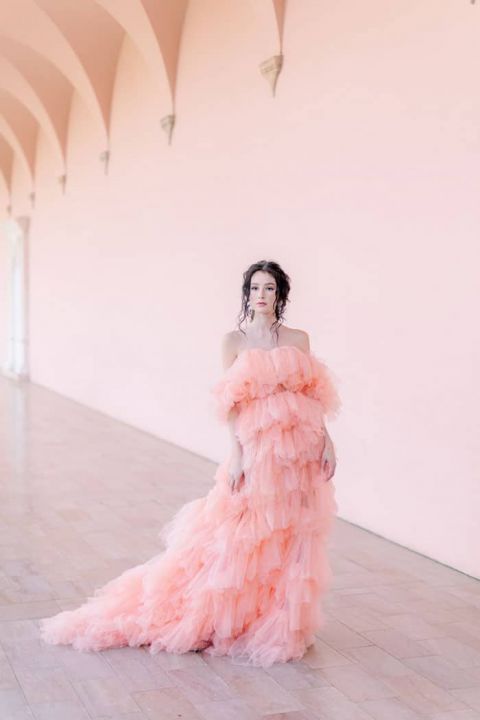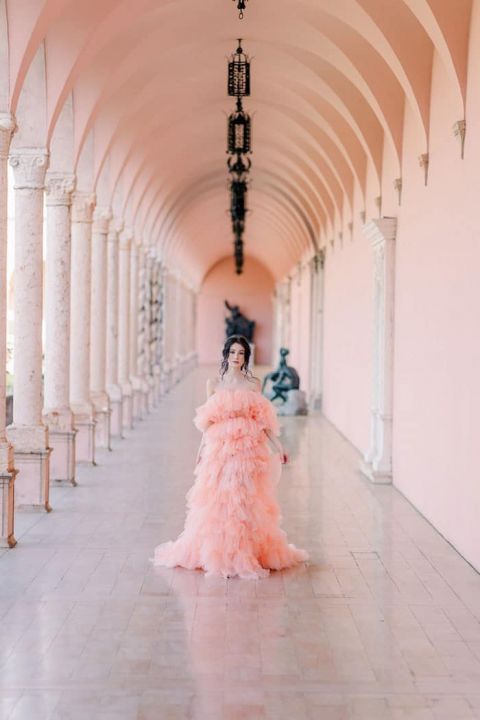 The hand dyed peach tulle adds a gorgeously unique detail to this stunning pastel wedding dress that makes it one of the Best Wedding Dress Styles for 2021!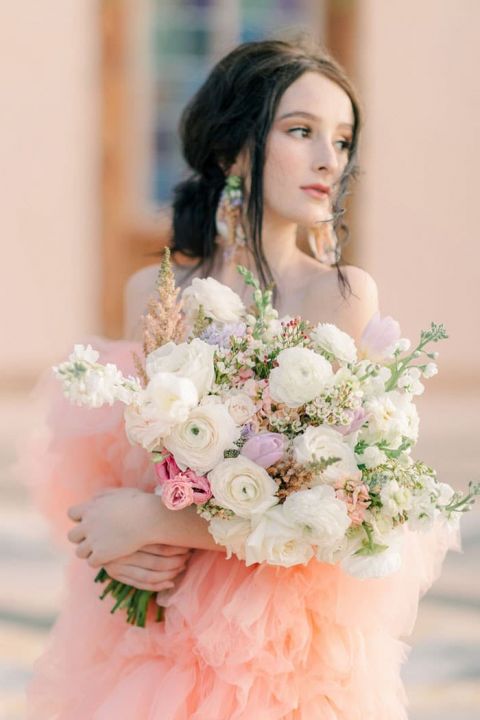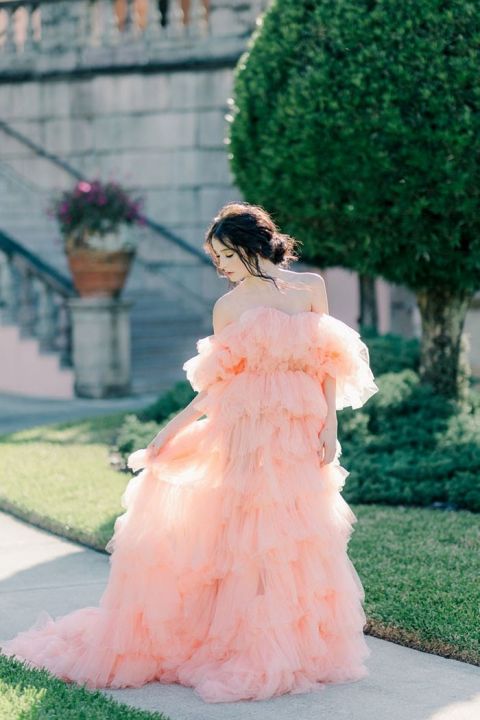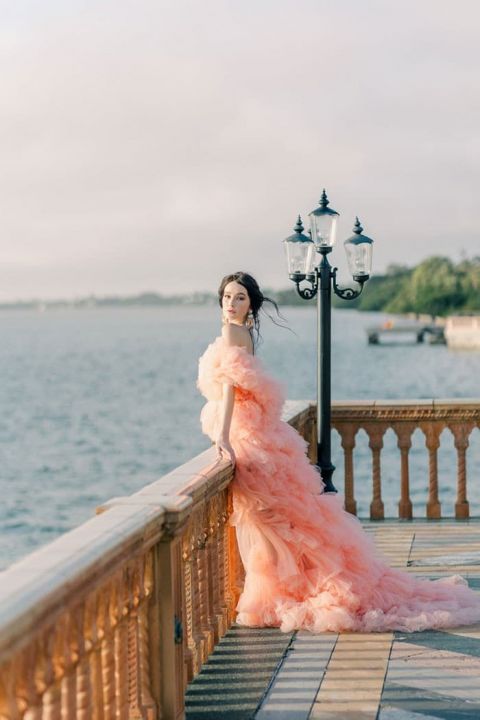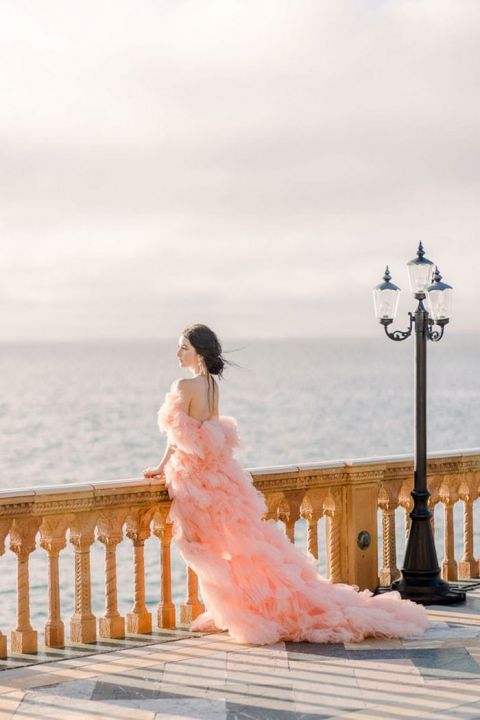 The Venice canals feel a lot closer with this breathtaking seaside terrace designed in traditional Palazzo style that creates ethereal Old World wedding portraits on the Florida Coast.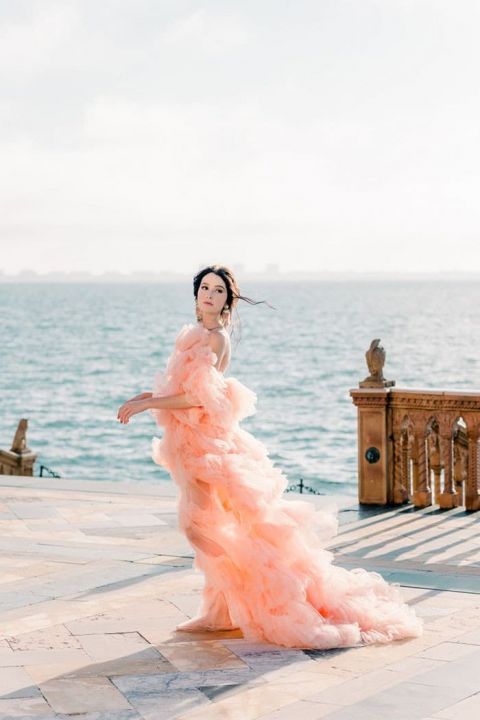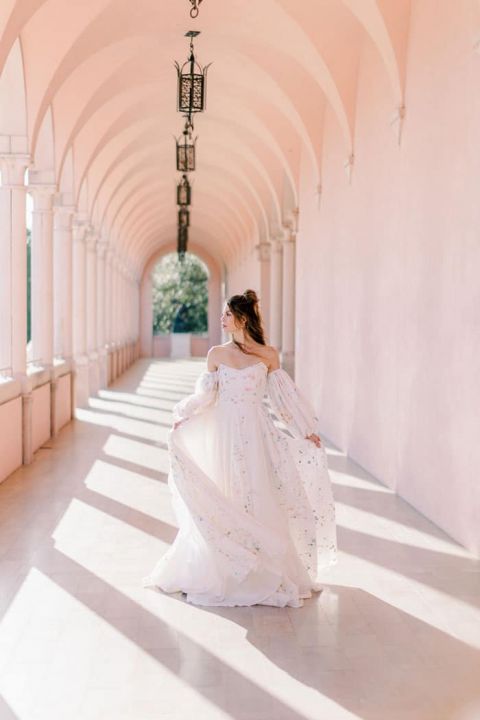 Another Claire La Faye wedding dress masterpiece – this hand painted wedding dress is a collaboration with artist Kate Towers. The speckled style is unique to each gown, adding a pastel splatter and painterly design to the structured strapless ball gown with puffed off the shoulder detached sleeves!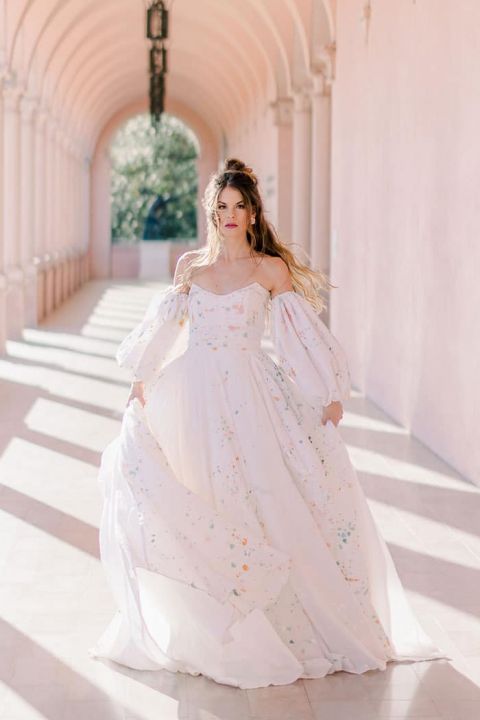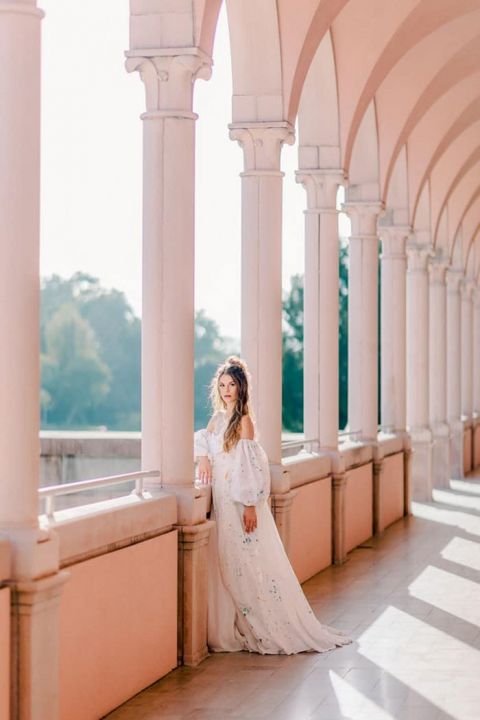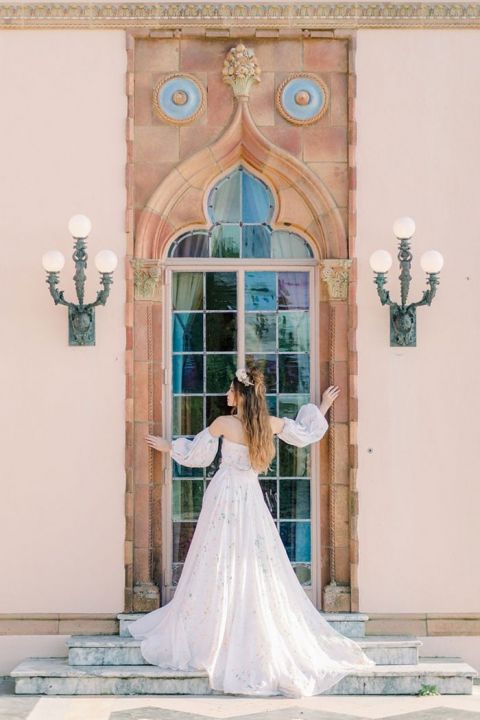 How beautifully does that hand painted skirt move! The structured detached sleeves add a beautiful counterpoint to the flowing skirt that rippled in the coastal breeze.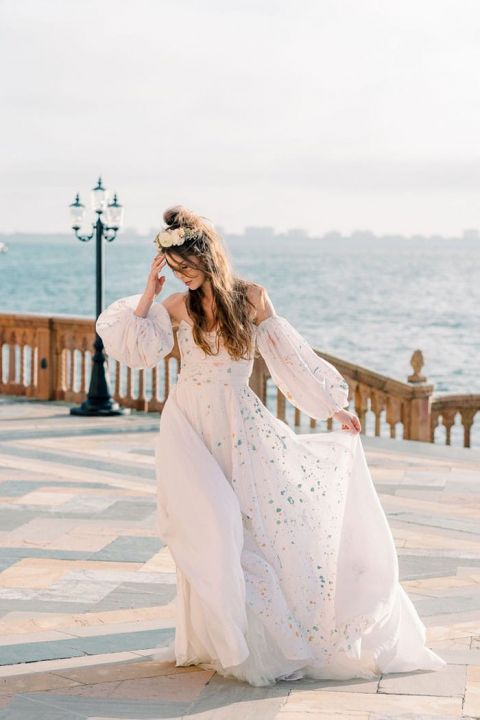 WEDDING VENDORS –
Photography: Rebekah & Grace Photography | Florida Event Venue: The Ringling Museum | Event Design: Julie Paisley Photography | Event Planning: Heather Benge Events | Florist: Bluegrass Chic | Ruffled Wedding Dresses: Millia London | Patterned Wedding Dresses: Claire La Faye | Jewelry: Lindsay Marie Designs | Hair Styling and Makeup: brushed and blushed | Model Agency: bmg orlando | Submitted via: Matchology