Exquisite color, artistic details, and the most stunning wedding brand await in this gorgeous Italian fall shoot! Carolina Serafini Photographer and With Love, Wedding were inspired by the changing seasons in the foothills of the Italian Alps, channeling shades of cinnamon, amber, and plum purple into this vibrant and creative wedding shoot! A minimalist botanical flower motif added lovely detailing to the wedding suite, from the custom paper goods to the gorgeous handcrafted dessert display!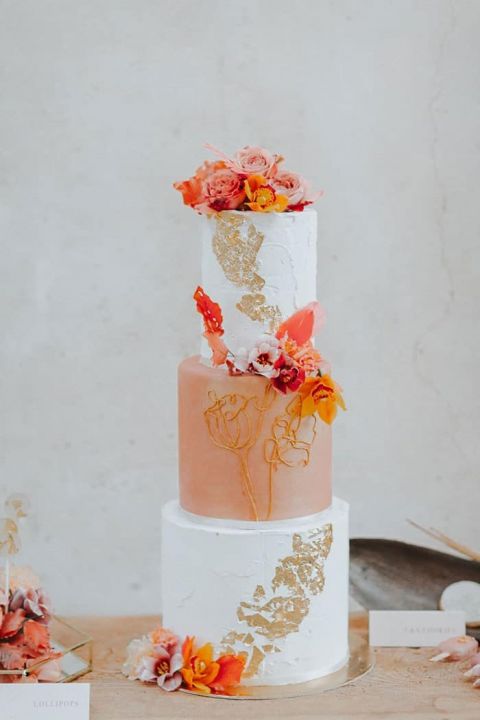 This Italian Wedding designed with Vibrant Shades of Fall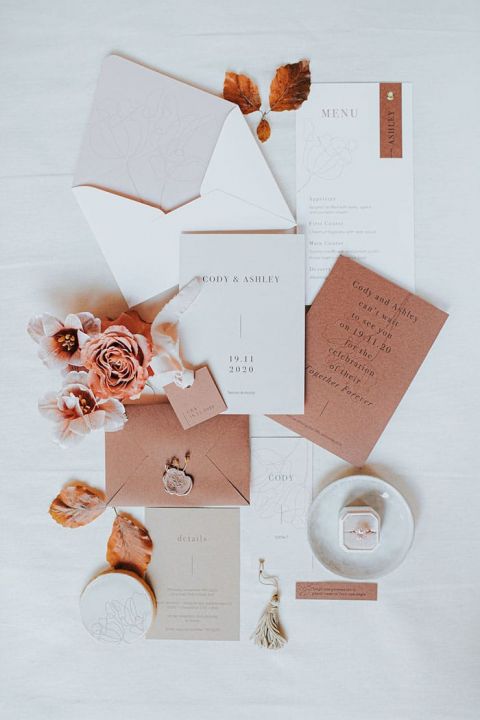 Stationery designer Papries channeled fall sunset colors for these stunning invitations! The shades of taupe and tan in the handmade paper were layered with handmade pottery, silk tassels, and a custom minimalist flower motif that was used on the paper goods, cake, and custom cookies.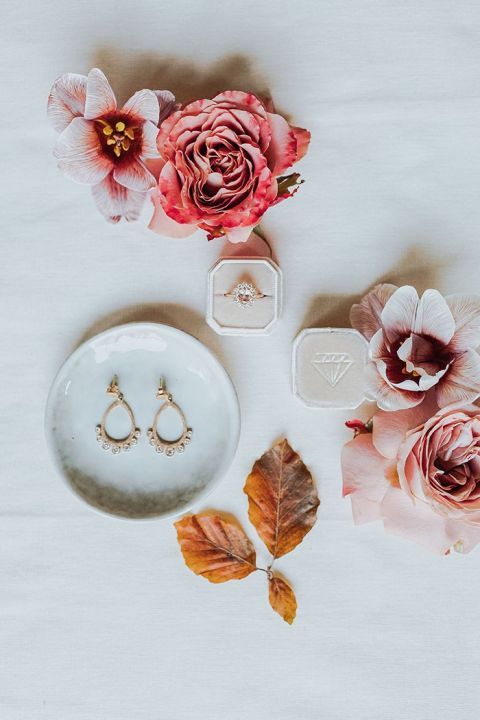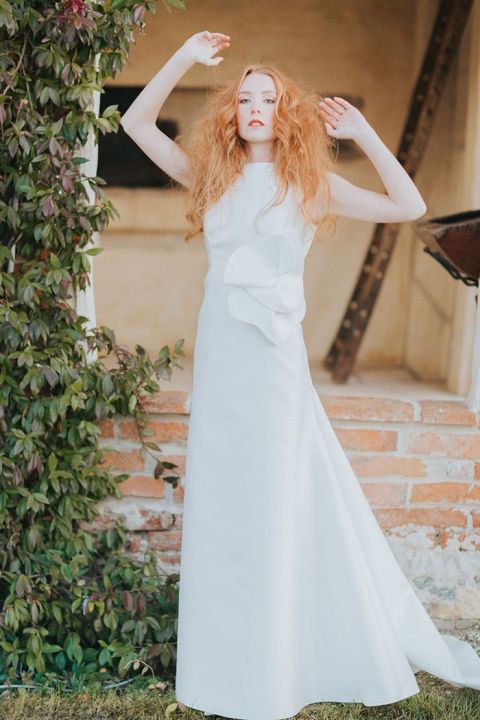 The couple had a stylish Italian twist on their wedding attire, with a plum purple suit from bespoke designer Sanvenero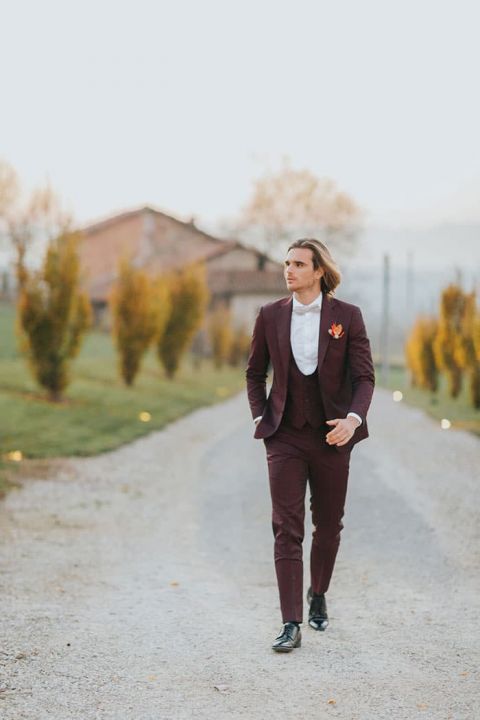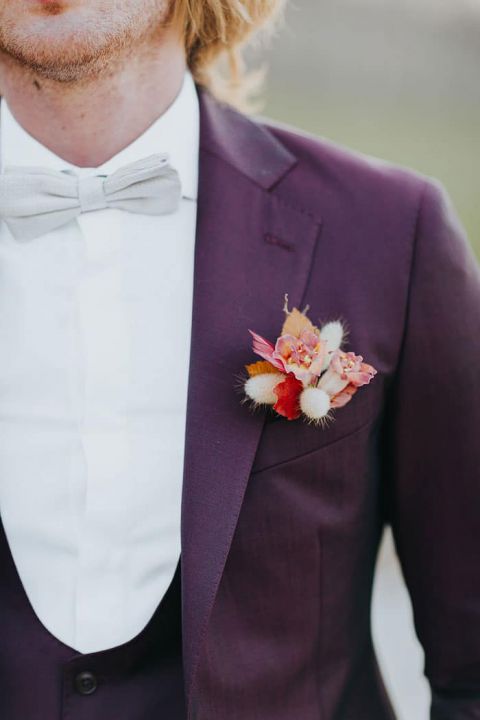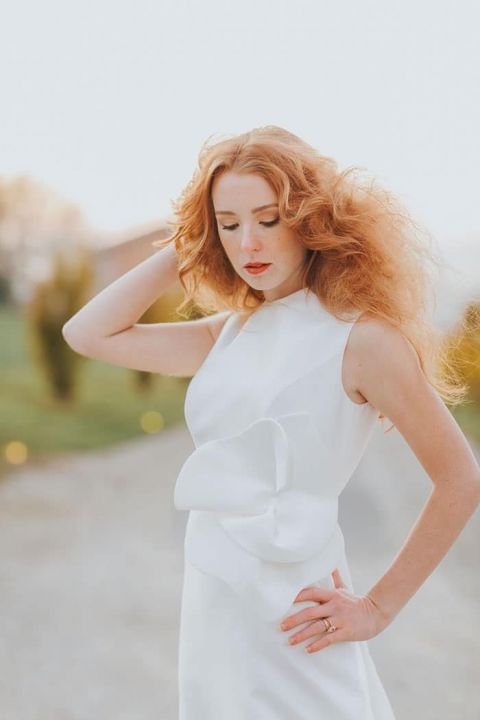 Shades of fire in the bride's red hair and in the setting sun inspired the gorgeous colors of burnt orange, sienna, amber, coral, and yellow in the creative bouquet designed by Fior Déco. The dramatic arrangement and vibrant colors made a splash against the structured silk wedding dress by Giuliani Couture.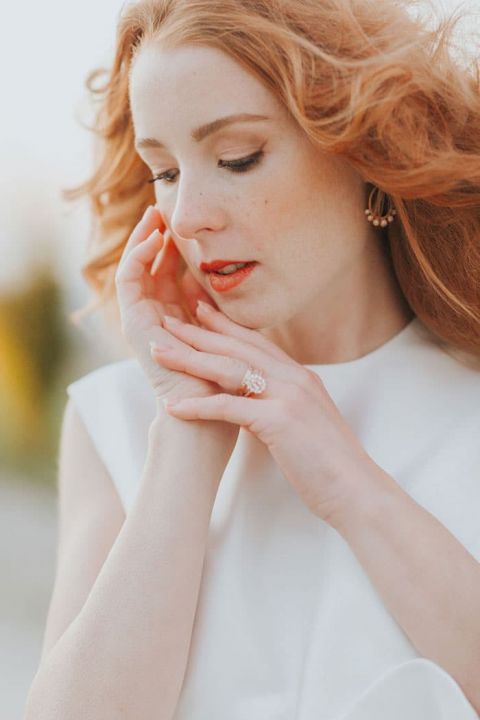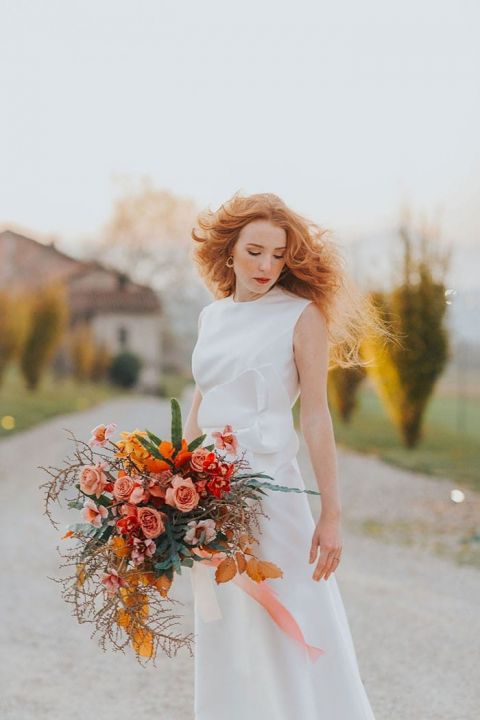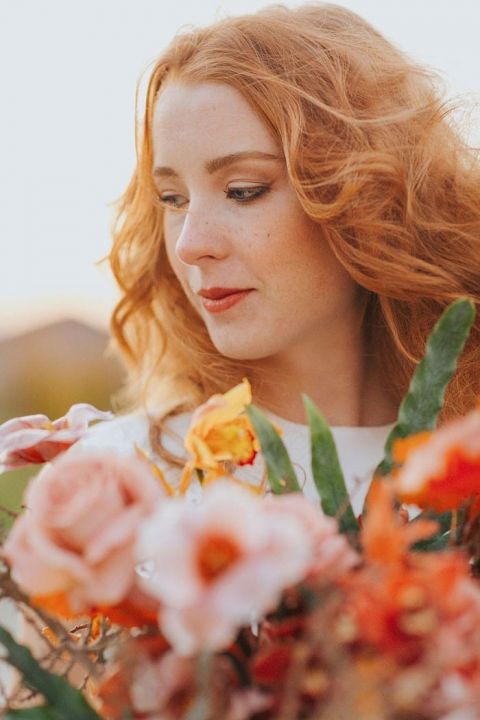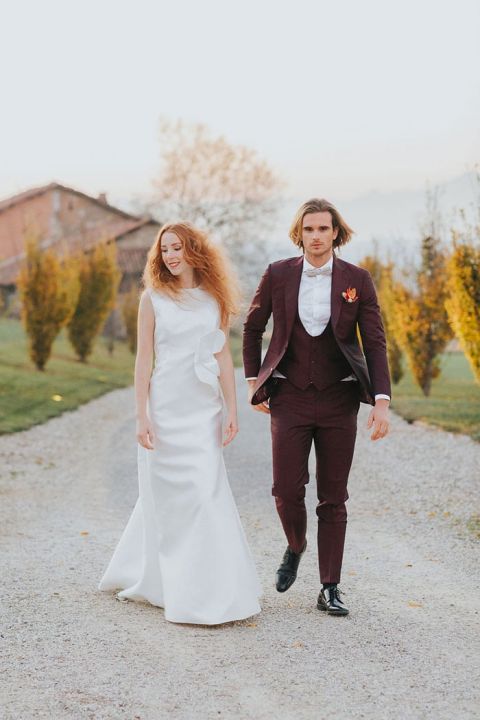 The former convent and noble estate at Tenuta Armonia in Northern Italy offered a beautiful escape with a romantic, historic setting.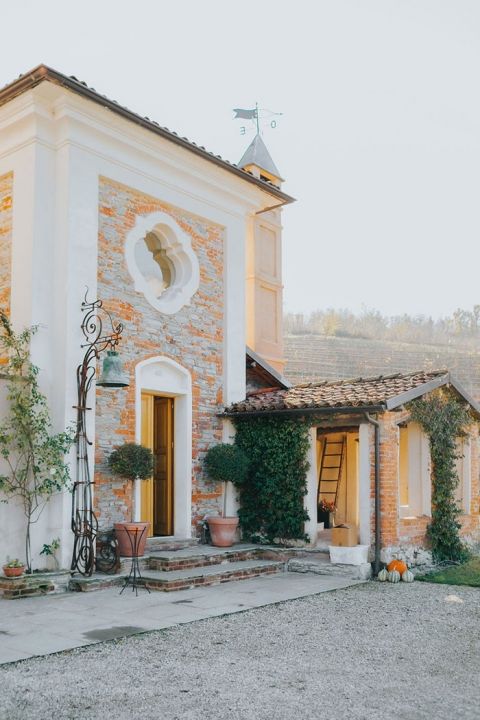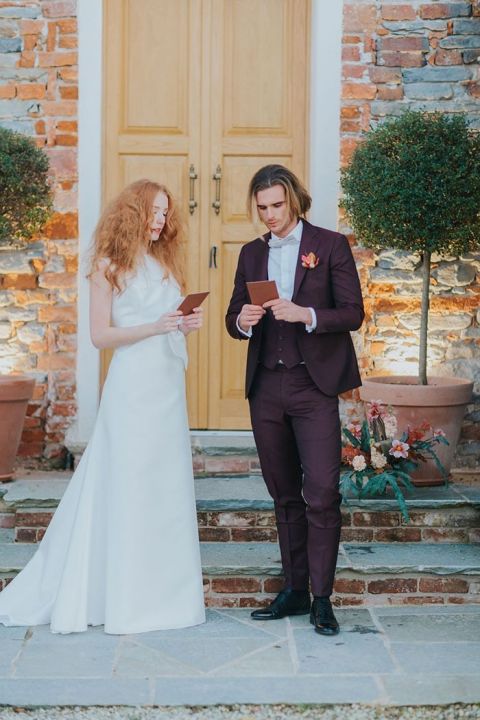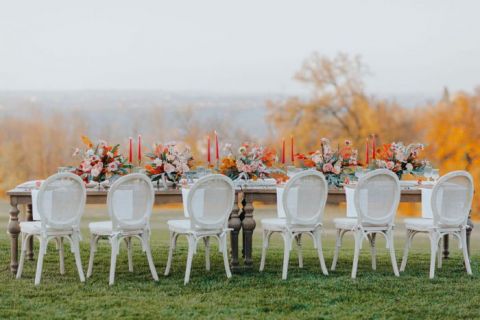 Looking for gorgeous outdoor wedding reception ideas? This stunning estate table set for an intimate gathering outside combined elegant long farm dining tables with cane and linen chairs for a chic neutral wedding design, with bold pops of color in the candles and flower arrangements!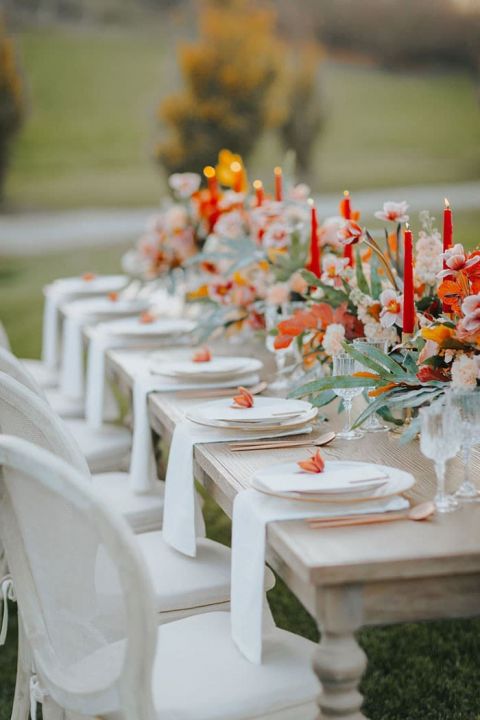 Brilliant fall leaves, orchids, and brick red taper candles added a gorgeous autumn flow to the long tables, with warm copper accents from the chic modern flatware.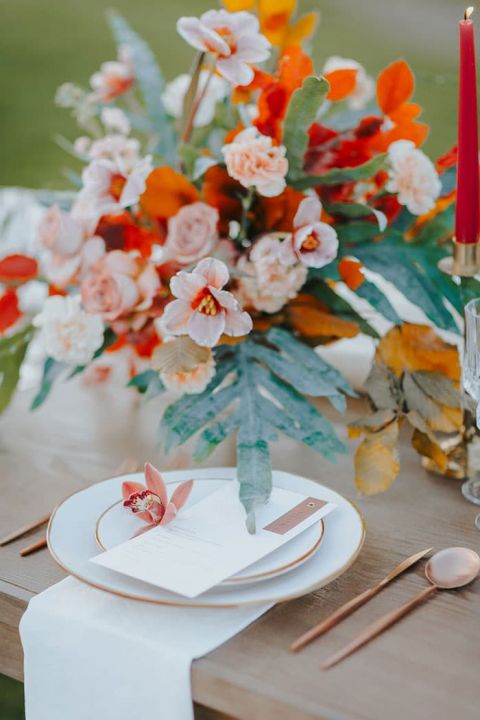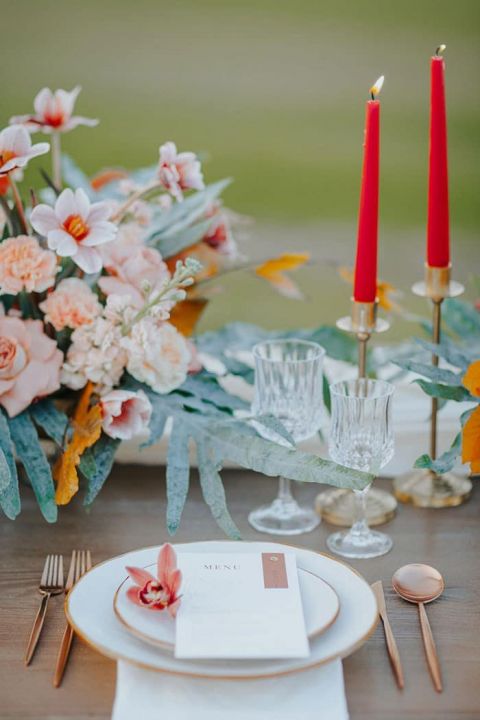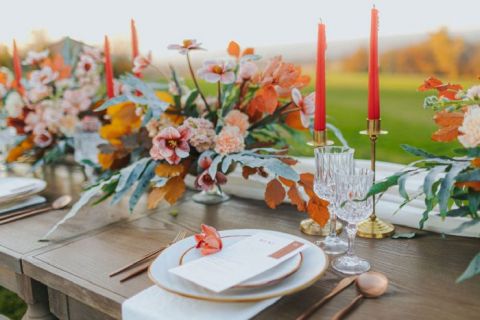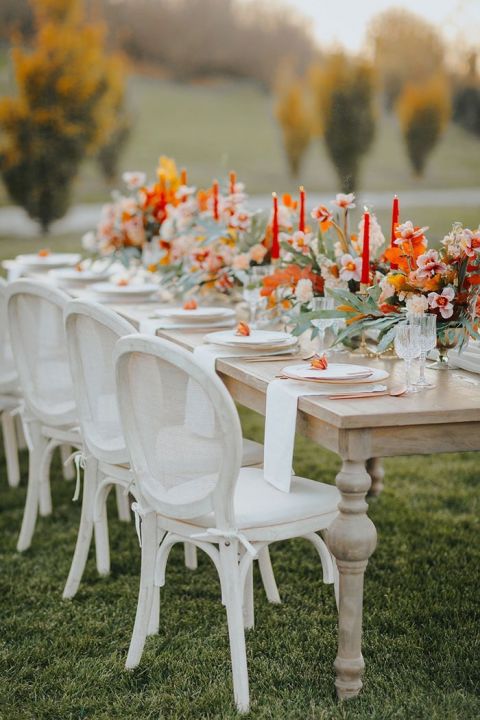 This dessert display by Basta un Poco di Zucchero is a feast for the eyes! The buttercream and edible gold tiered cake mimicked Italian stucco architecture, with a piped floral motif that took inspiration from modern art and minimalist botanical prints. The gorgeous dessert was surrounded by colorful marbled cake pops, artistic cookies adorned with a floral pattern, and even custom lollipops with gold flake!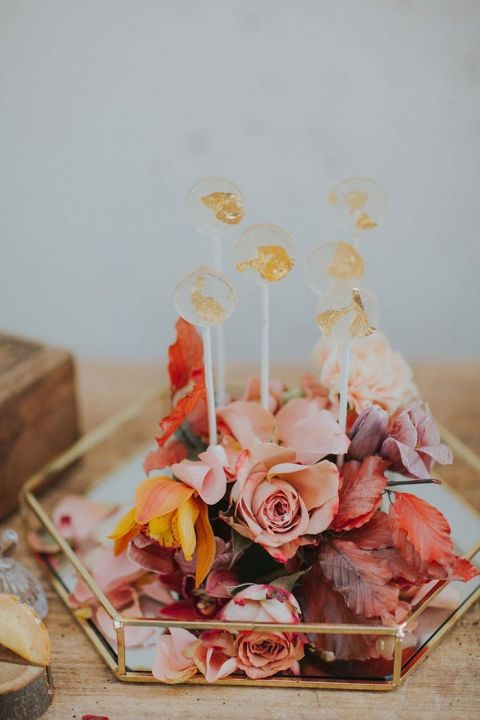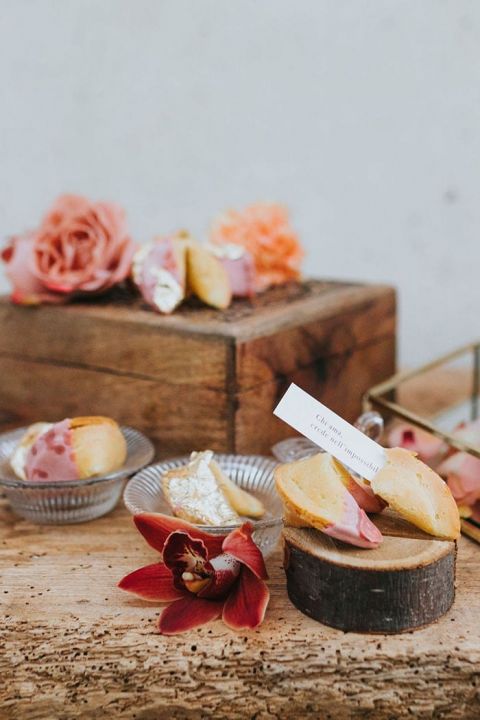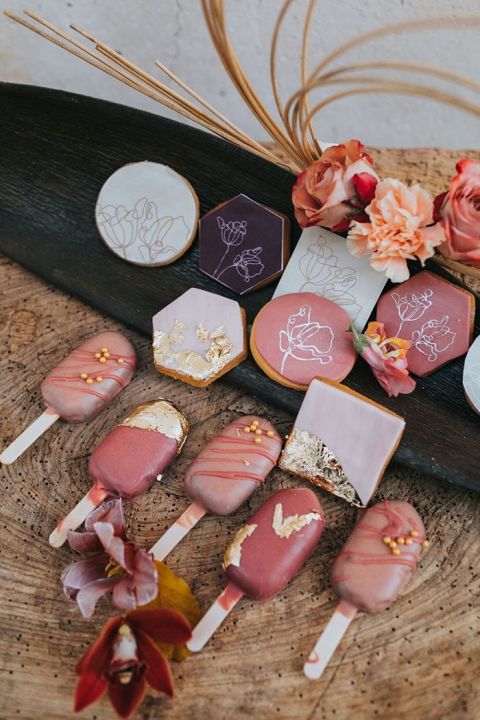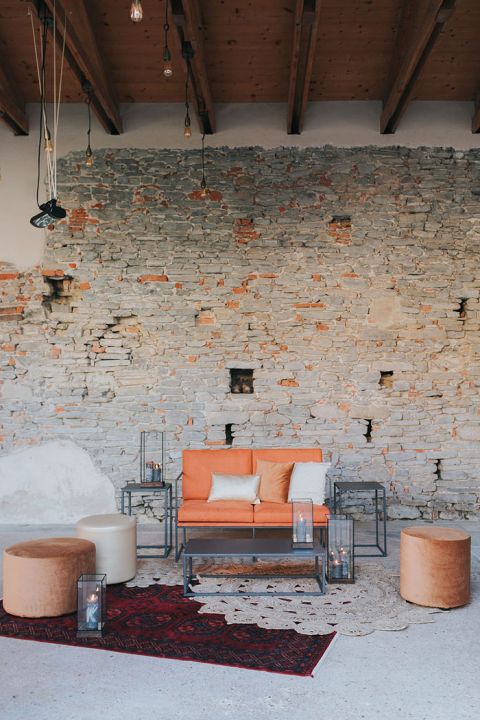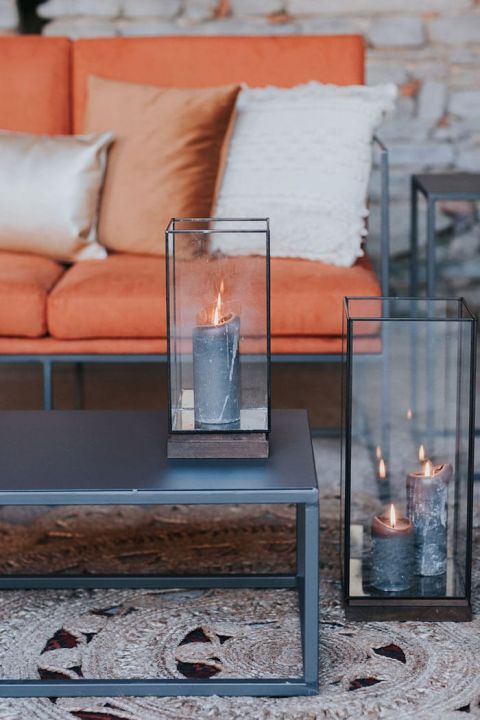 The modern burnt orange and black lounge added drama and warmth to the historic building's façade, with black iron candle lanterns to add a flickering glow as the sun set.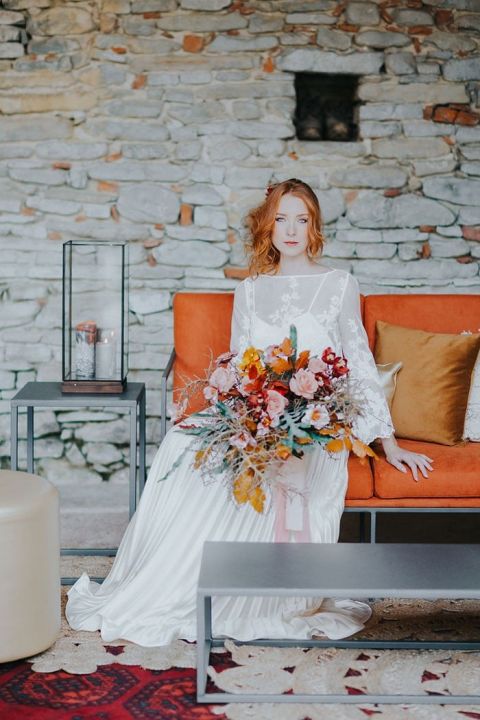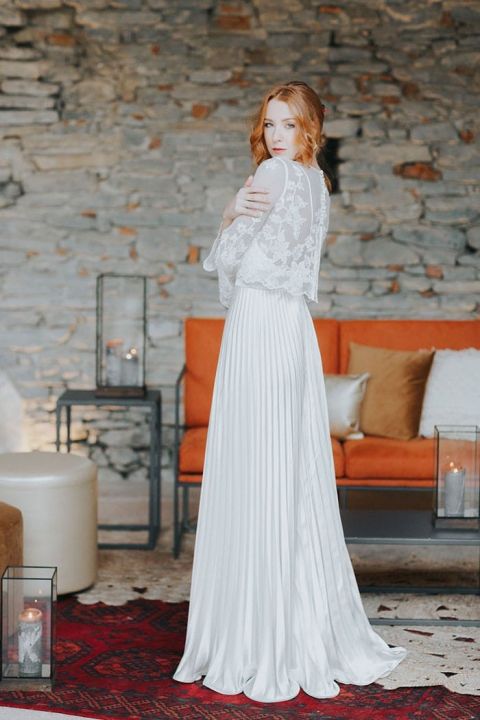 This stunning bridal separates look is everything! A chic pleated silk skirt and draped lace top adds the perfect bohemian bridal vibe to this romantic Italian wedding inspiration!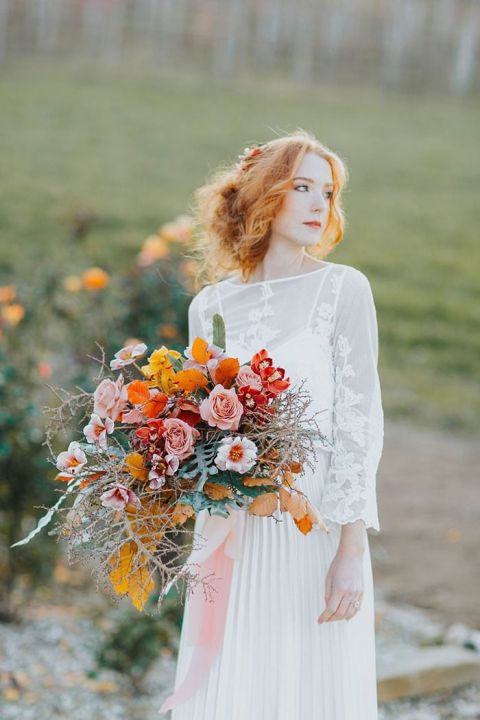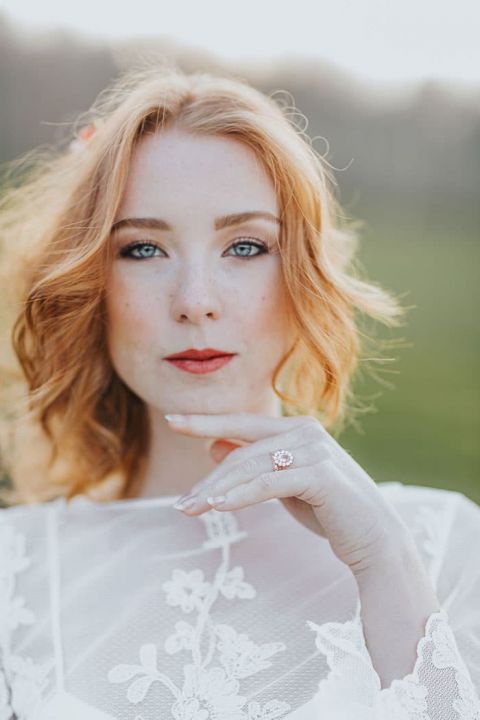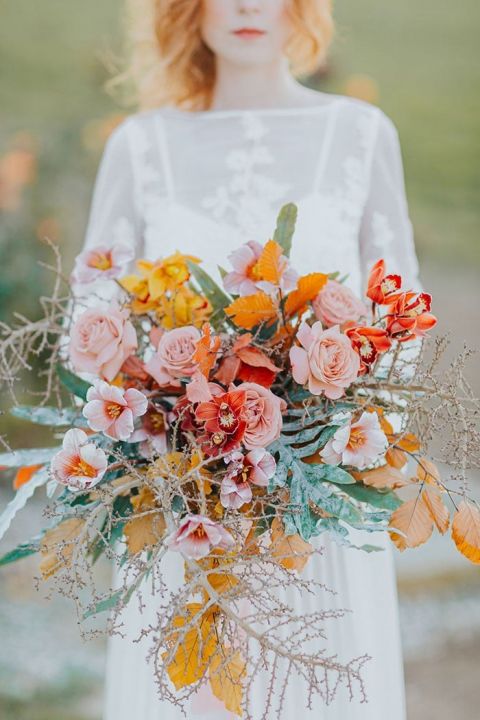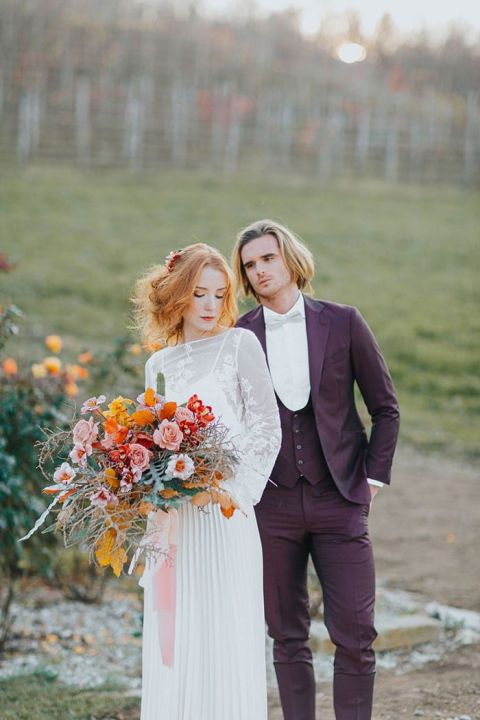 WEDDING VENDORS –
Photography: Carolina Serafini Photographer | Wedding Venue: Tenuta Armonia | Event Planning: With Love, Wedding | Florist: Fior Déco | Wedding Cake: Basta un Poco di Zucchero | Wedding Dress: Giuliani Couture | Jewelry: My Golden Age | Bridal Headpiece: Cristina Signorina | Groom's Attire: Sanvenero | Hair Styling and Makeup: Alessandra Pipino Parrucchieri & Estetica | Event Rentals: Sofi Design | Tableware: Tableset Luxury RentalsS | Stationery: Papries | Submitted via: Matchology