We've seen a lot of dream weddings get put on hold this year, but Troy and Zach managed to make the best of their adjusted plans with a backyard ceremony, the perfect little white dress, and gorgeously colorful flowers! Although their big California wedding day is put on hold, they had a stunning intimate wedding in Missouri, with Rochelle Maples Photography and An Affair to Remember and the perfect custom monogram to give them a joyful day with a close and safe group of their loved ones!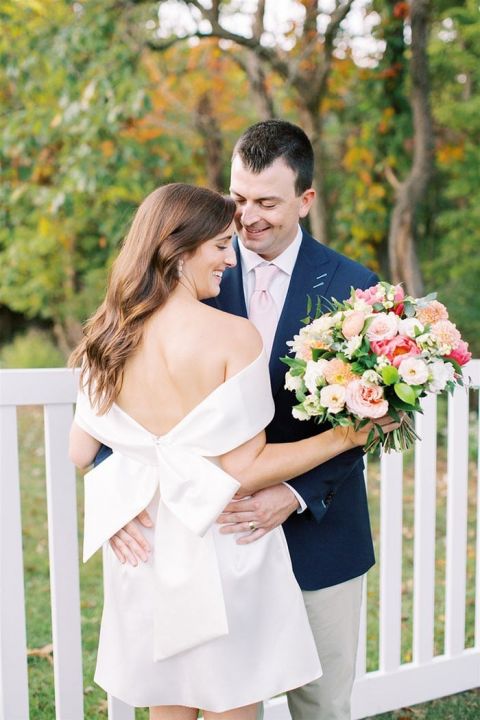 This Backyard Wedding had the Perfect Little White Dress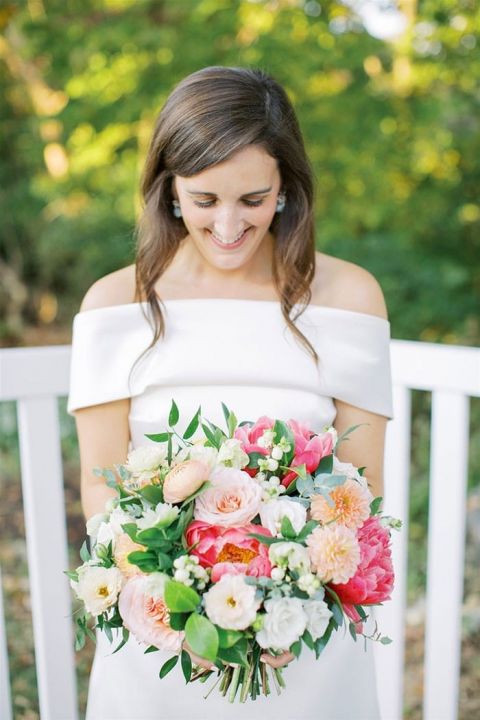 How they chose their colorful peach and coral color scheme and vibrant flowers –
When planning my "first" wedding, I had found some inspirational photos featuring really bright beautiful flowers, and loved how they contrasted against a white dress. I should also note that I am a sucker for anything pink, so anything in that color family would have made me happy. For our microwedding, I still wanted a bright and bolder bridal bouquet.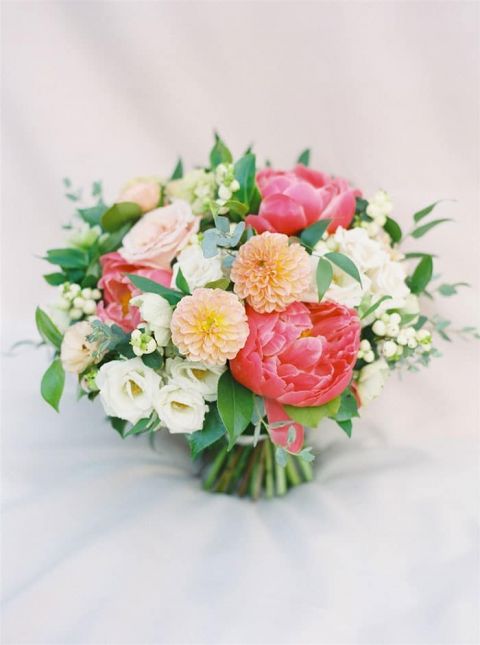 How she chose the perfect little white dress for their backyard ceremony –
I opted to go with a "little white dress" for our backyard wedding and saving "the dress" for our big one next August. That being said, little white dresses in fall are tough to come by, and I was on a time crunch. My dress arrived 10 days before my wedding, and I absolutely loved it. It was subtle yet classic and elegant, and I felt so "me" while wearing it. I wanted something that felt special, but I didn't want to feel like I was trying to replace my original wedding dress.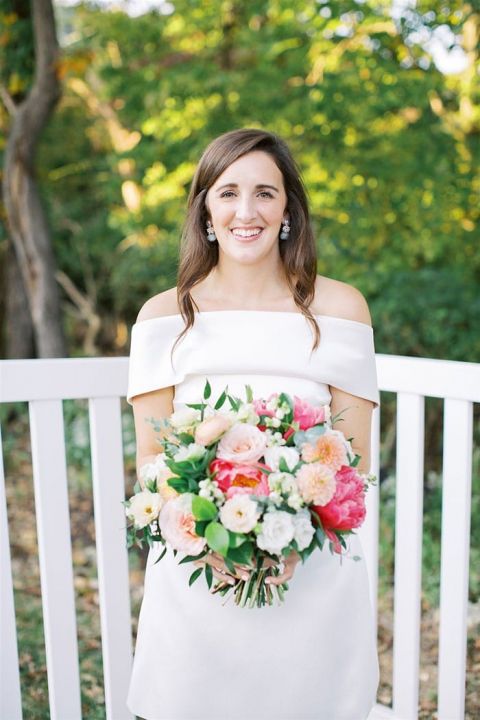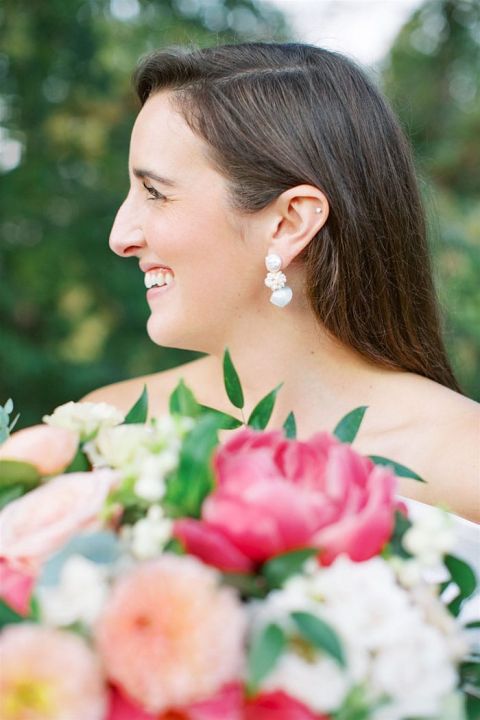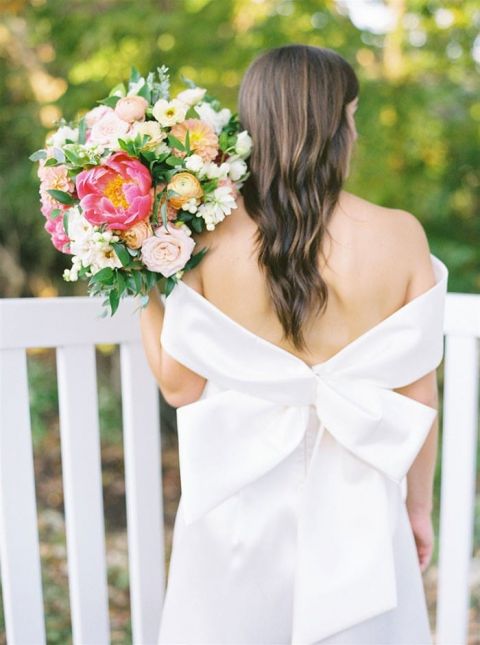 How she made a statement with her chic little white dress –
It was also important to me to be able to look back on the pictures from this day in 10 years and still love the dress, not cringe at how on-trend it was for that year. The back bow detail was so chic and perfectly understated, and I still get compliments on it to this day. I actually plan to wear it next year for our rehearsal dinner!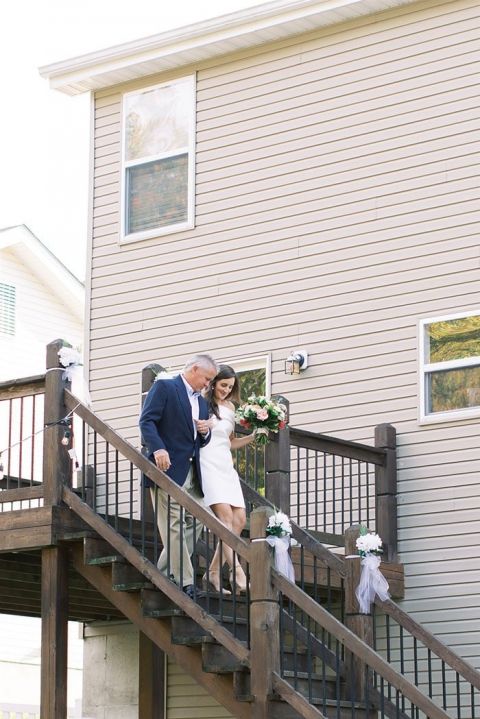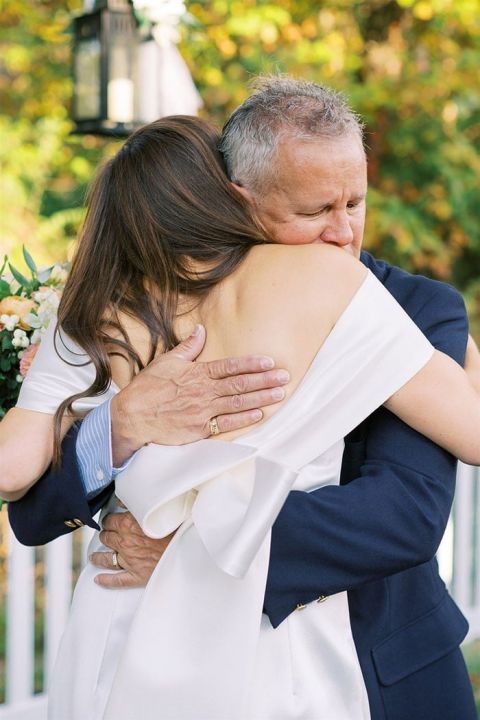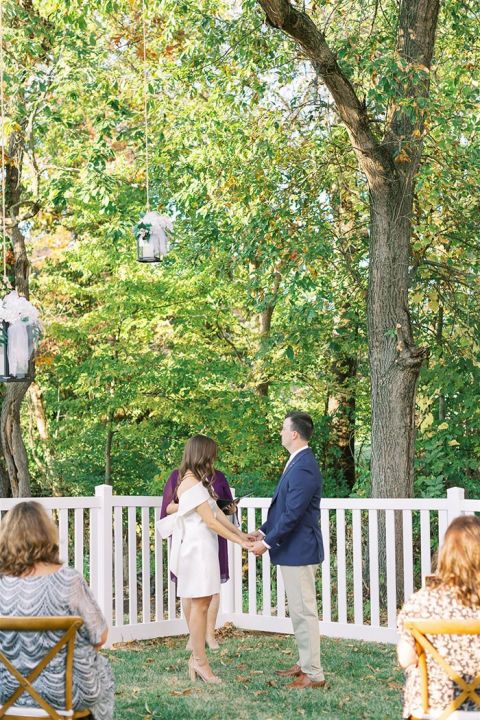 The couple held an intimate backyard ceremony in Missouri, with a close group of quarantined friends and family attending the outdoor wedding.
The most special part (because it was more than just one moment) of our day was my sister officiating our ceremony. She is my older and only sibling, and she was the obvious choice when thinking of someone to marry us. We were never very close growing up (truthfully, we fought like cats and dogs), but her and Zach bonded instantly. She is funny, well-spoken, and knows both of us so well, I just had a feeling she would make the best officiant…I also knew she had zero interest in being a Maid of Honor. Her speech throughout the ceremony was exactly what we wanted: light-hearted, hilarious, and a great testament to who Zach and I are as a couple. I am so appreciative of all of the work she did for our wedding, all I kept saying afterwards was, "she nailed it!" She made our wedding exactly what I had hoped it to be. I actually often find myself re-watching the videos of our ceremony just to hear the jokes again.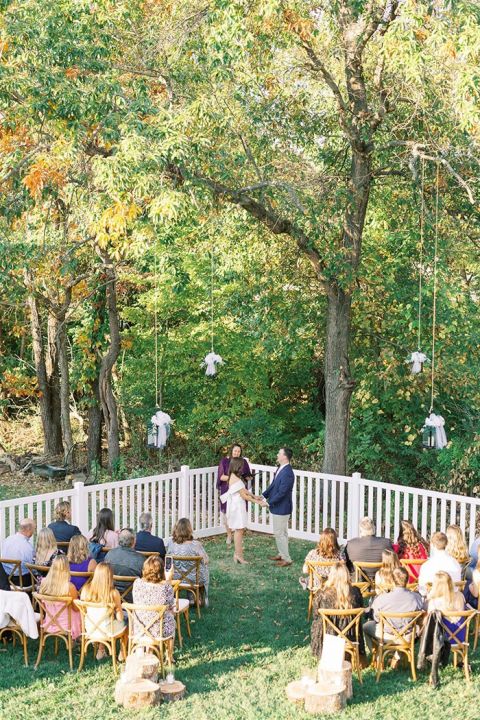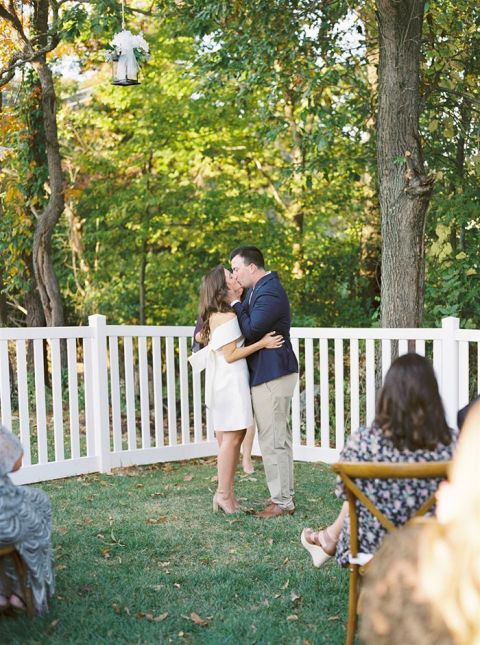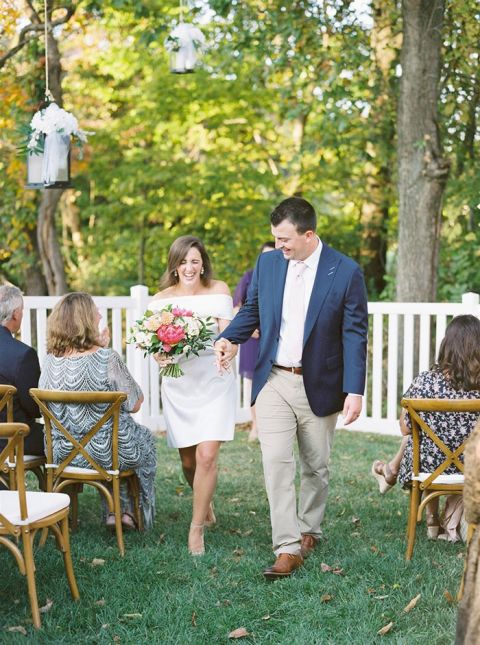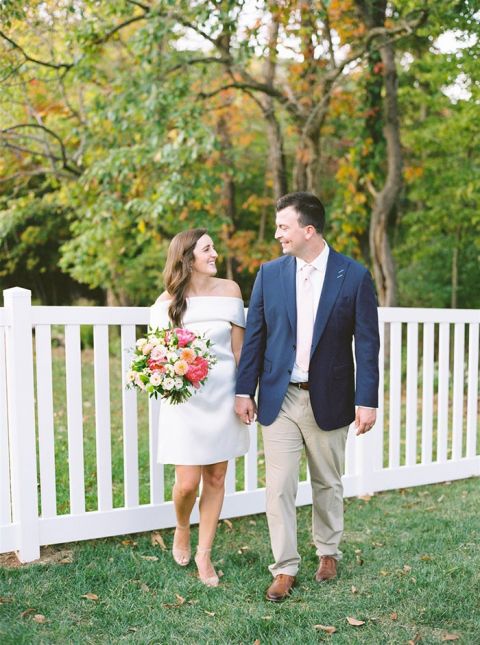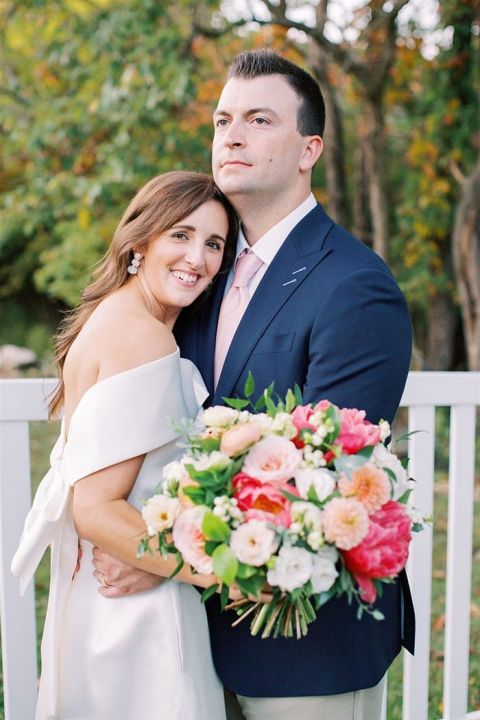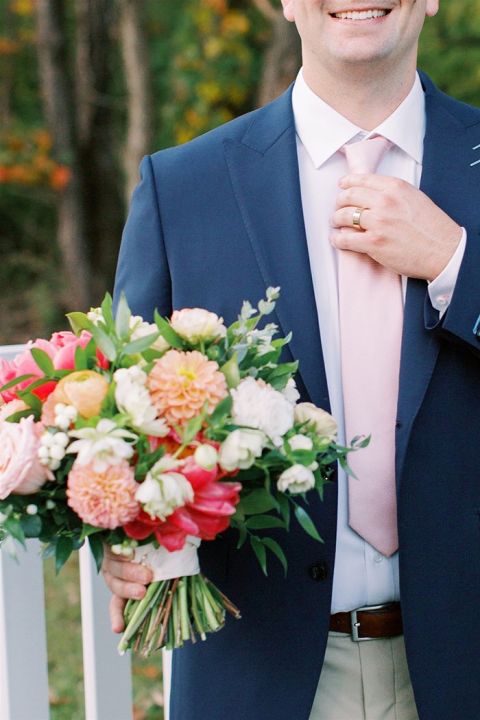 How the groom found the perfect attire for an outdoor backyard ceremony –
For Zach's attire, he always knew he wanted to wear a navy suit, so he had one custom made several months before the wedding. As a little surprise for me, he even had our wedding date embroidered on the collar. Since we were going with a more casual setting, he opted to only wear the suit jacket, and paired it with khakis to dress it down.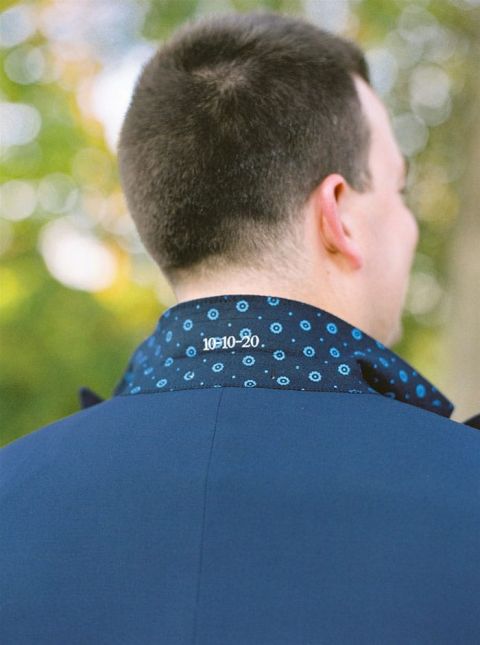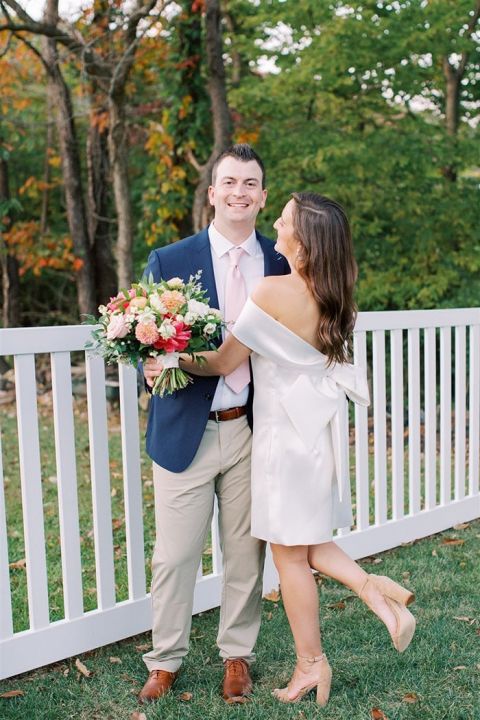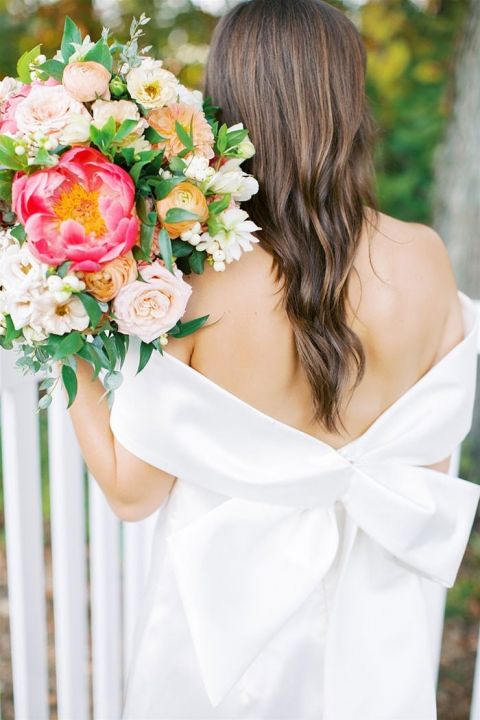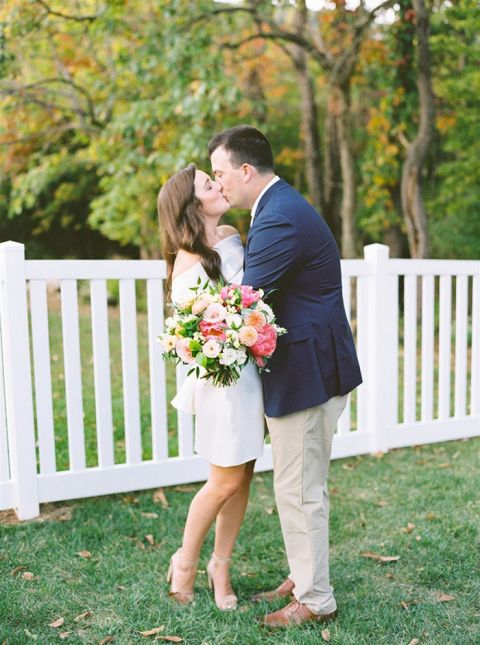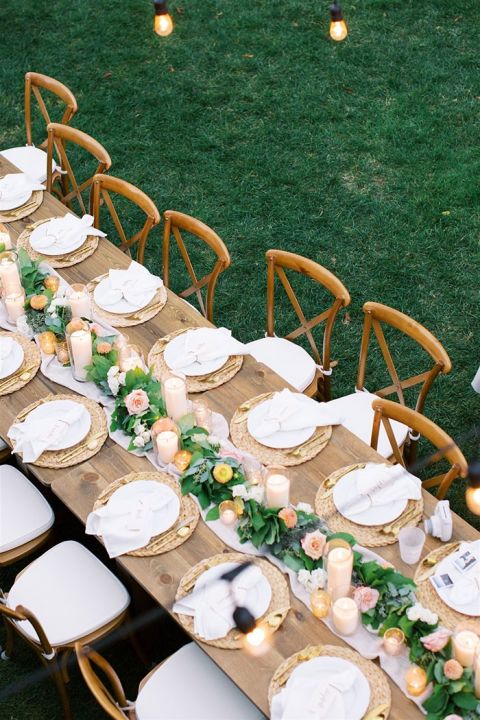 The couple set one long dining table in the backyard for their intimate outdoor reception. They dressed the table in a gorgeous greenery garlands with peach and ivory flowers set among hurricane lanterns and gold mercury votives. Their woven rattan chargers and gold flatware added the perfect detailed touch to an outdoor summer backyard celebration!
We opted for more subtle hues when it came to our table. Since we were having garland down the table, I wanted a small pop of color, but nothing too distracting. I loved how the colors contributed to the overall laidback vibe of the evening, and really took the tablescape over the top.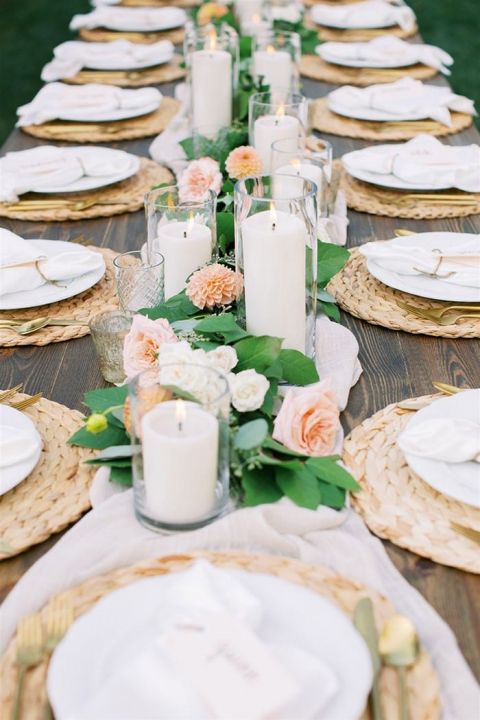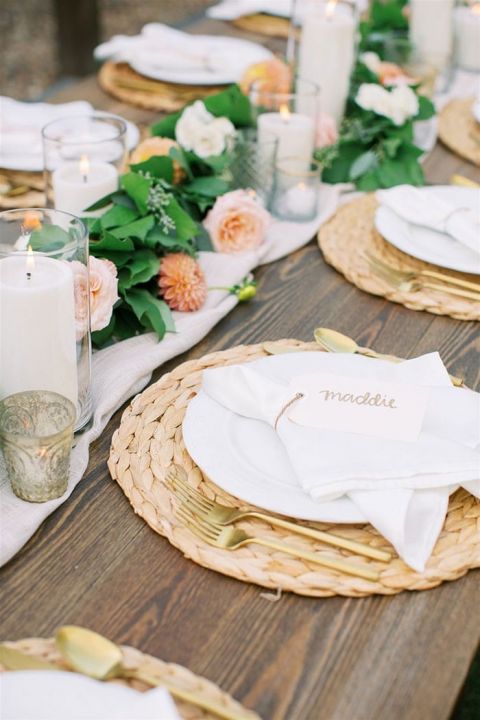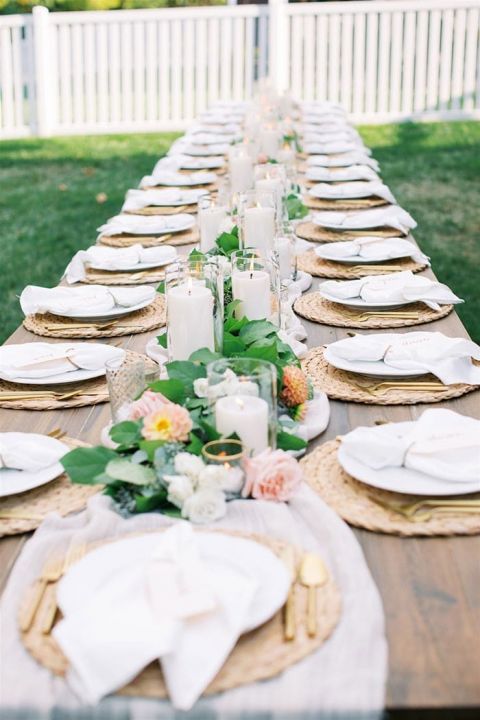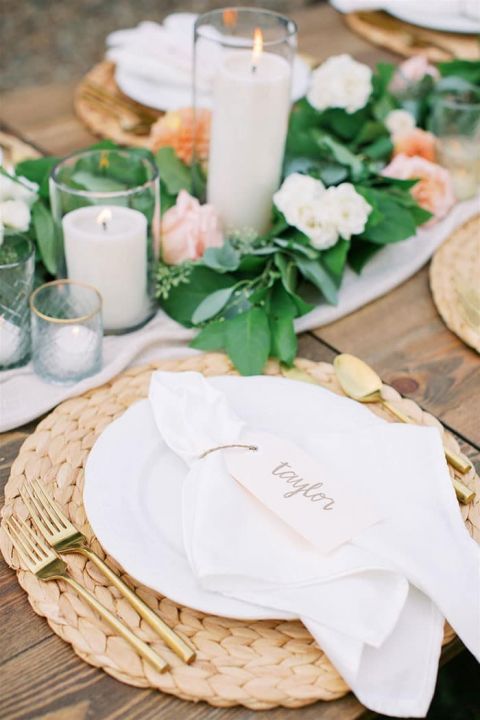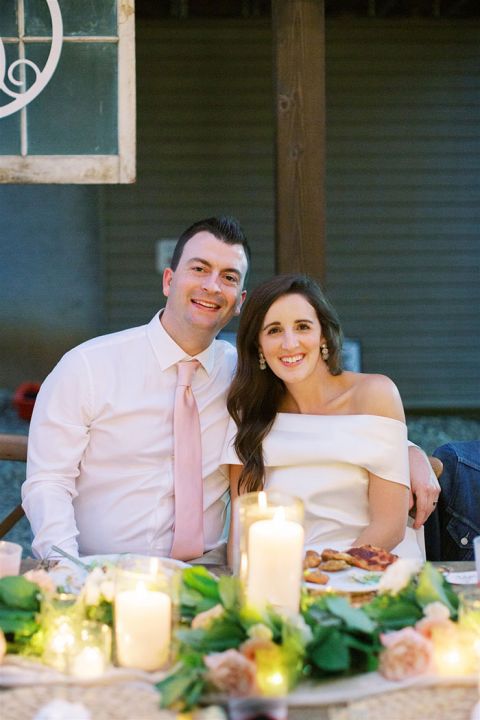 One of the must-have's for my wedding (that I knew prior to even being engaged), was having a custom monogram made to incorporate throughout the day. It was one of the first design elements that I worked on for wedding planning, and is probably my favorite detail. I have always loved monogramming items to add that extra touch, so getting a custom one with my fiancé's and my initials was a no-brainer. We were able to use it all throughout the wedding, from desserts, to invitations, to the cups we used at the reception. I couldn't be happier with how it turned out, and am so excited to use it throughout our home in the years to come.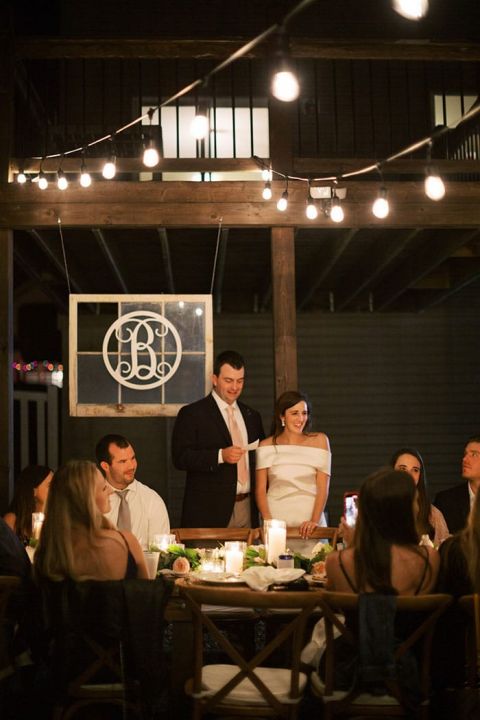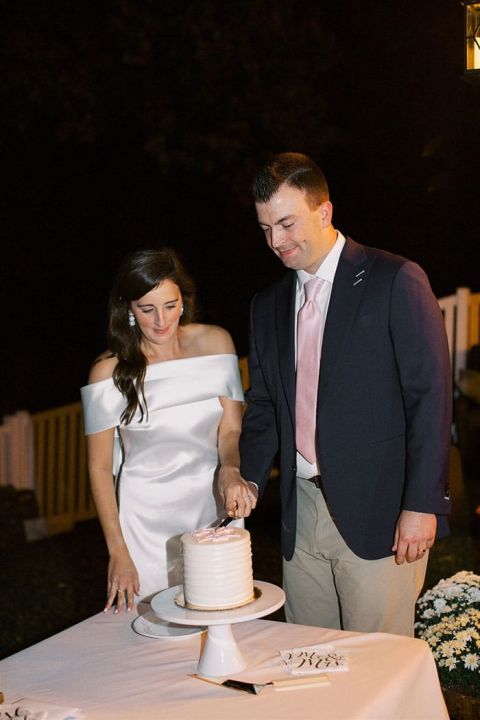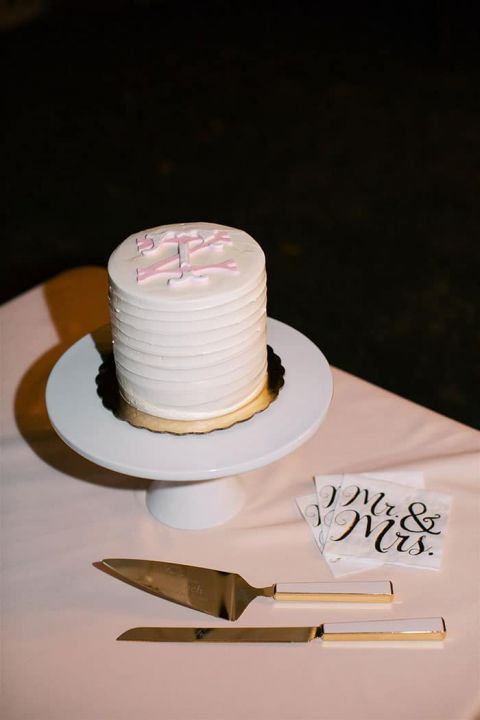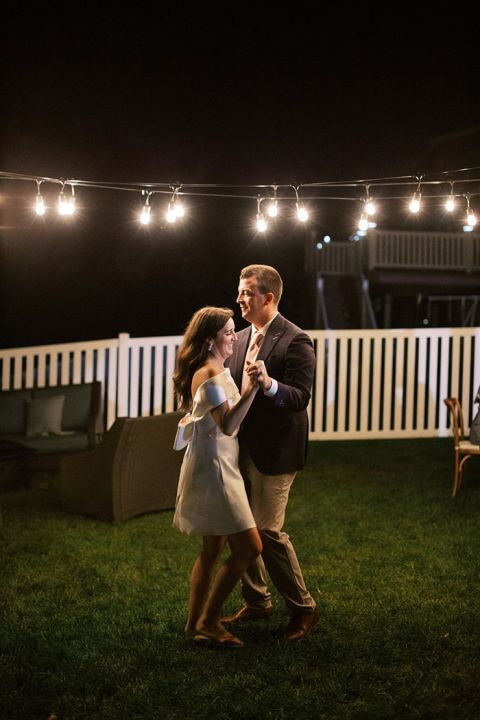 How they met –
Zach and I met back in college at UC Davis. He played football there, and I was on the lacrosse team. We eventually met through mutual friends, and he asked me out on a date while I was on a bus ride home after a game at Oregon. Zach's family has a house in Morro Bay, California, and it has always been our special spot. We love spending the weekends down there, whether it's going to the beach, wine tasting, or just enjoying the nice weather, if we have a free weekend, we're usually driving down to the coast. There is a little winery in the San Luis Obispo area that we fell in love with 2 years ago; it's a pink-themed tasting room run out an Airstream that serves all different types of roses. On one of our countless trips there last year, Zach and Ducky (our 1.5 year-old golden retriever), pulled off the ultimate proposal. He even got one of the employees in on the surprise to film/photograph the whole thing. We still frequent the winery, and are hosting are rehearsal dinner there next year!
WEDDING VENDORS –
Photography: Rochelle Maples Photography | Event Rentals and Floral Design: An Affair to Remember | Little White Dress: Amsale | Earrings: SJ Spence Designs | Catering: Helen Fitzgeralds | Desserts and Cake: Celebrating Life Cake Boutique | Custom Monogram: Shuler Studio