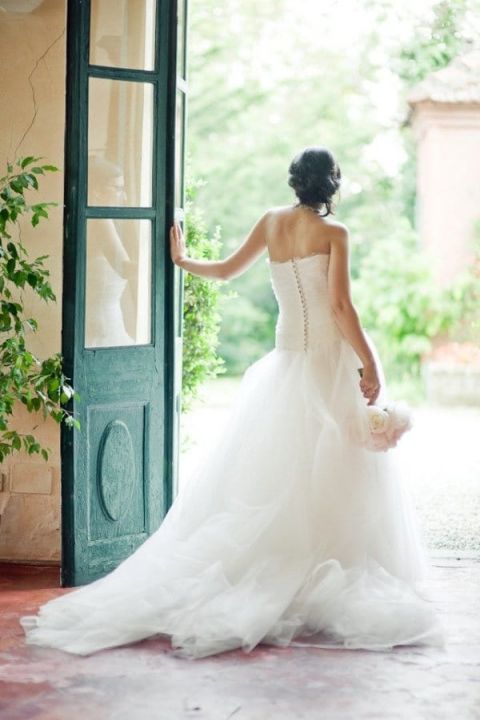 Today's guide to planning a stress-free – and gorgeous! – private estate or backyard wedding was inspired by a number of the weddings I coordinated this past season. I like to say that I learn something new from every wedding – vintage typewriter repair, elephant rental policies, what drinks not to serve in compostable cups  – but this year may have taken the cake. From private estates, brand-new venues, and personal homes, I saw it all this year as I was brought in as a last minute Fix It Coordinator for a number of weddings. Read on to find out what I wish my brides had know when they got started!
Get to know your venue
Choose your venue for a reason – the sentiment of a childhood home, the history of a local landmark, the gracious gesture of a friend loaning out their house. Maybe the location carries personal meaning or maybe it's the right fit for your budget – whatever the purpose, your venue will play an enormous role in the tone and feeling of your wedding day.
To make the most of it, incorporate the features of the location into your wedding in as organic a way as possible: turn the largest tree in the yard into your ceremony backdrop, station the bar on a flagstone patio, and position the dance floor near existing power outlets to accommodate your band or DJ. The more you are able to work elements of the location into your planning, the more seamless your wedding will feel. Schedule a walk through with your vendors to go over the logistics of turning a home into a reception space to ensure that everyone is familiar with the site and its limits.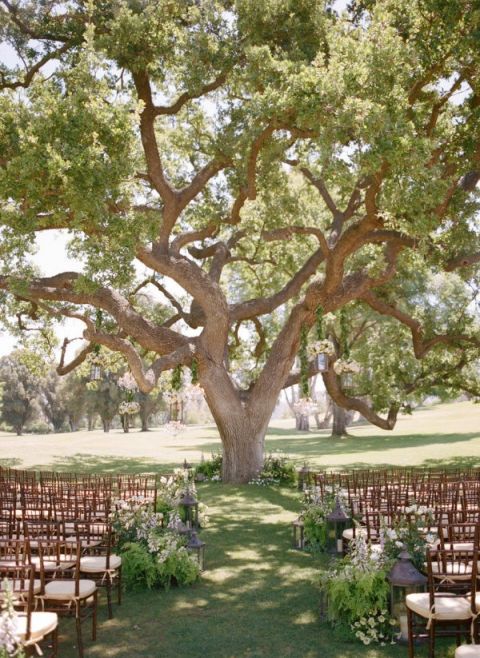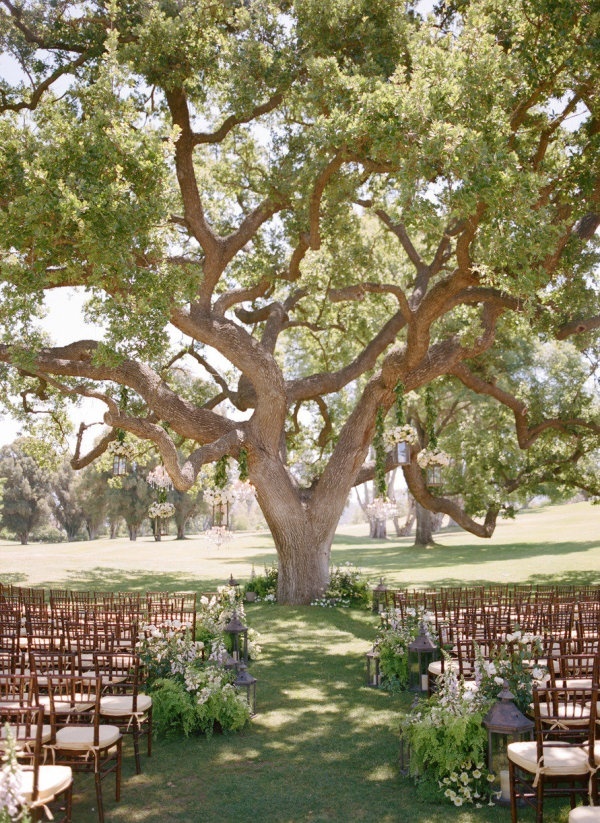 Photography by Aaron Delesie via Style Me Pretty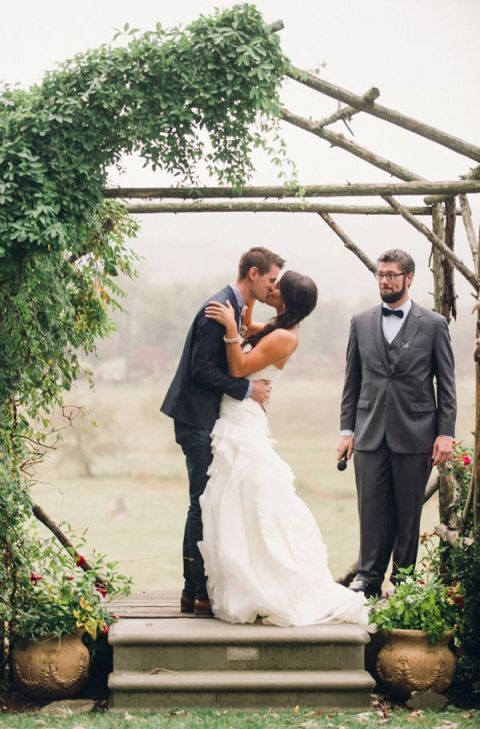 Photography by Justin & Mary Photography via Southern Weddings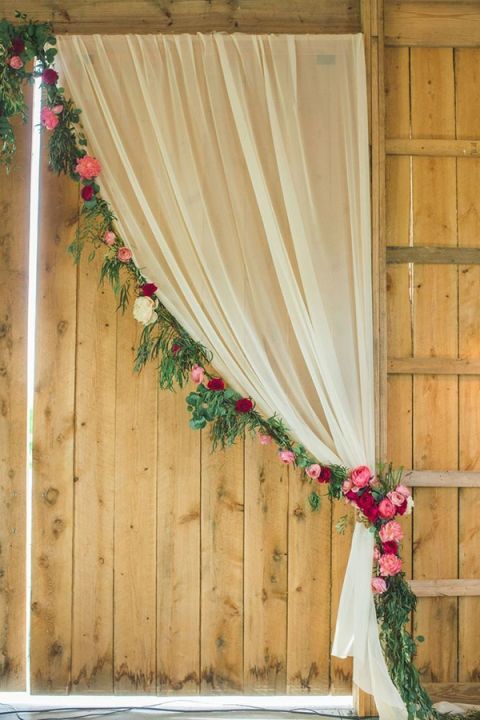 Photography by Amy Campbell Photography via Style Me Pretty
Cutting Corners can Cost Money
One of the most common misconceptions about having a backyard wedding is that it will be cheaper than getting married at an established event venue. Sure, you're cutting out a site fee by having it at home, but that money can easily get eaten up by the amenities needed to host all of your family and friends in one place. Parking services, restroom rentals, ice, tables and chairs, even additional power usage add up quickly when not already provided by the venue, so be sure to plan for those less than exciting line items when it comes to your budget.
A private venue won't carry the same kind of permits and insurance that a dedicated event space will. Check your county or city's requirements for hosting large gatherings – noise restrictions, liability requirements, even alcohol permits – to avoid paying penalties. A Wedding Insurance policy is a must for a private wedding locale, with added Host Liquor Liability if you plan on serving alcohol.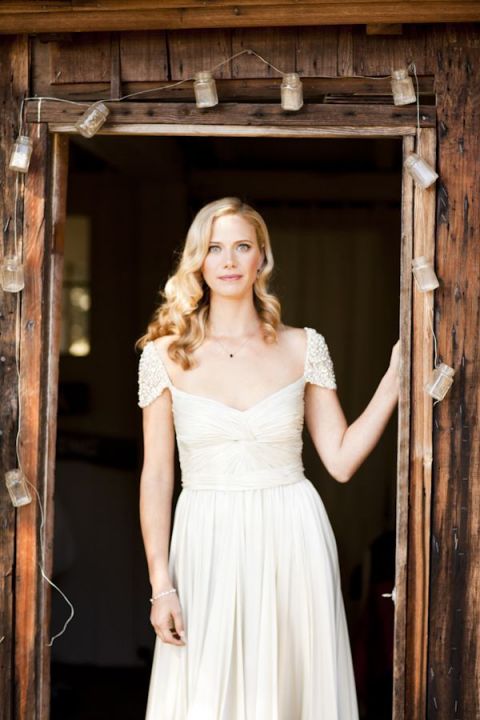 Photography by Allyson Magda via Once Wed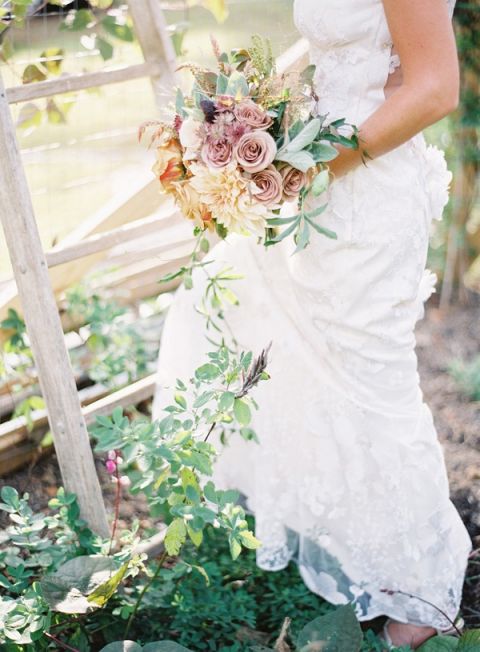 Photography by Anne Robert Photography via her Blog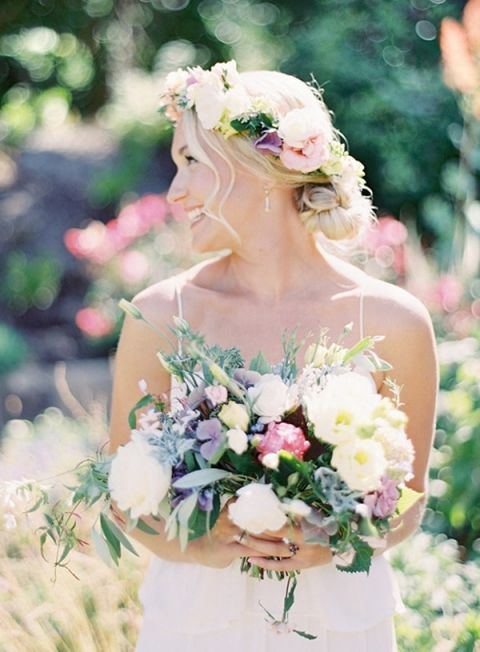 Photography by ÉLAN KLEIN PHOTOGRAPHY via Magnolia Rouge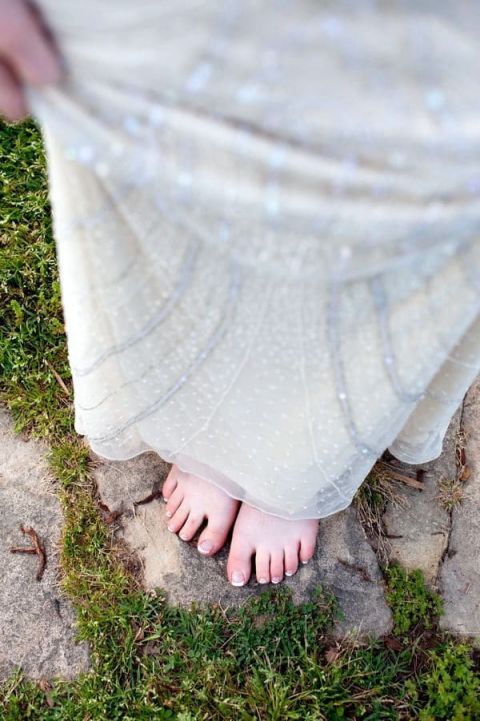 Photography by Lucia Belle Photography via Bridal Musings
Yes to full service!
The best advice I can give when it comes to planning a backyard wedding is to go full service whenever possible! This summer I worked with a bride who had tried to save money by using a different vendor for every service – catering, rentals, serving staff, parking, alcohol, and bartenders. While she may have contracted with vendors who gave her the lowest initial bid, she paid individual delivery and service fees for each one, not to mention ballooning costs as the final bill reflected hidden fees not included in the bare bones estimate.
When the wedding day came, she had paid nearly double the original quoted amounts, and I had 1,000 moving parts to juggle. Had she hired me before signing their umpteen contracts, I would have recommended a full-service company for her private estate wedding. Working with a caterer who can provide not only food but serving staff, equipment rentals, bartenders, ice, coffee – right down to stir sticks and cocktail napkins – cuts down on hidden fees, not to mention communication time. Hire a band or DJ who can provide sound equipment for the ceremony as well as the reception – bonus points if they can do your lighting as well!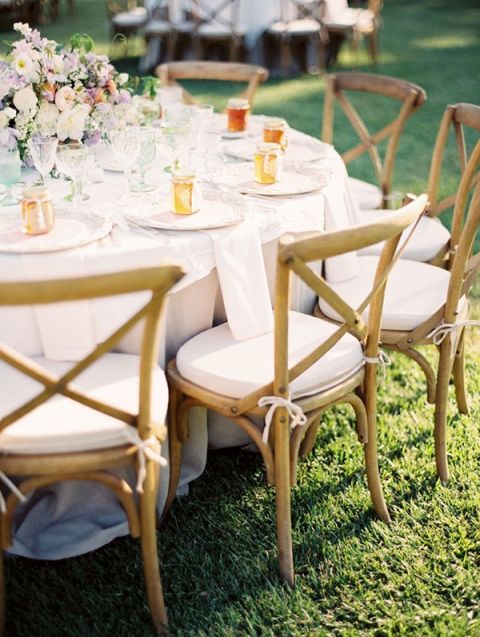 Photography by Erich McVey Photography via Style Me Pretty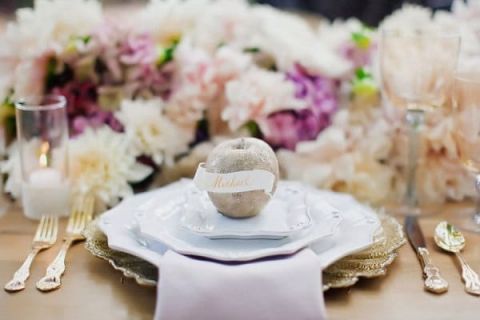 Photography by Milou and Olin Photography via Style Me Pretty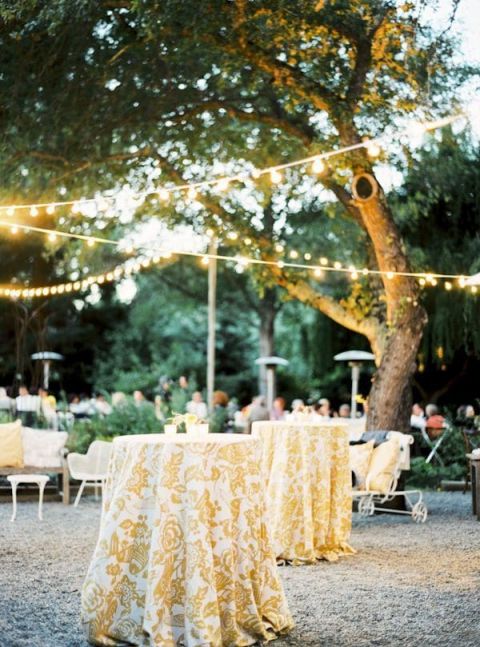 Photography by Gia Canali Photography via Style Me Pretty
Personalize Your Wedding
Now that the nitty-gritty planning details are out of the way, it's time to focus on making your wedding day personal and beautiful! The first section went over the practical aspects of incorporating your location into your planning, but it's equally important to incorporate into your decor.
Let the style of your venue set the tone for your wedding theme to keep visual elements unified, whether that means adding rustic elements for a ranch house or streamlined, graphic decor to complement a sleek modern home. Use key decor elements to spotlight areas that you love – the cake table in front of a garden arbor, the dance floor under the eaves of the porch – or to hide areas you'd rather not see – a simple streamer backdrop can transform a utility shed, or string lighting can brighten up a shadowy corner.
If you followed my advice above, you're sourcing from a few vendors rather than several dozen, but that doesn't rule out the possibility of upgrading their services. If their packages only include basic linens, ask if they offer an upgrade to a specialty selection, or if they carry additional tabletop items so you have options for your place settings.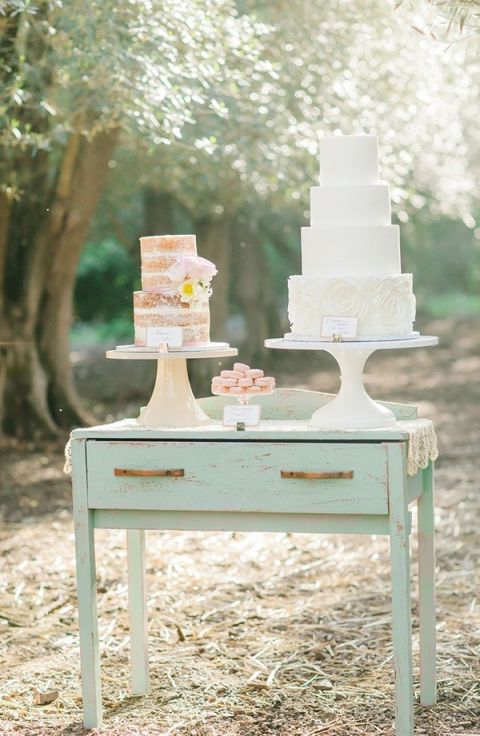 Photography by Avec L'amour Photography via Style Me Pretty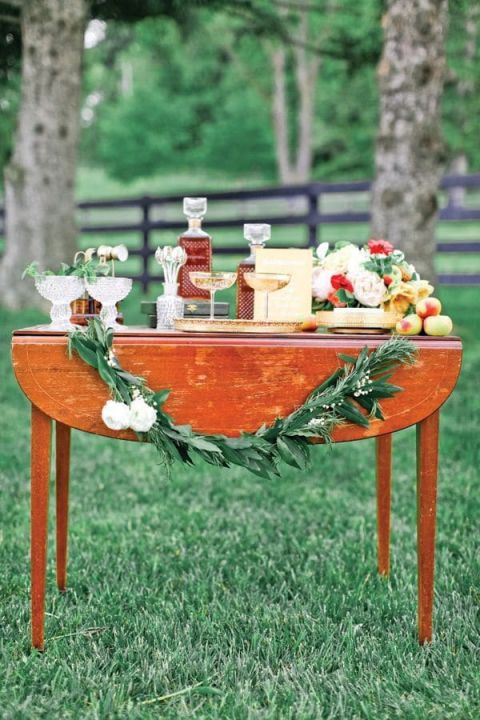 Photography by Jen Huang Photography via Southern Weddings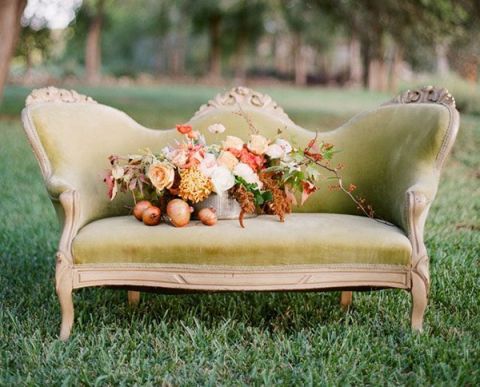 Photography by Loft Photographie via Green Wedding Shoes