The City of Love has never looked quite so romantic as in these fine art Paris wedding photos from Krista and Kyle's destination elopement! Cassi Claire Photography joined them for an intimate sunrise ceremony that made it feel as though they were the only ones in the city, before exploring the Louvre Museum courtyard and the Jardin des Tuileries in this stunning wedding for two!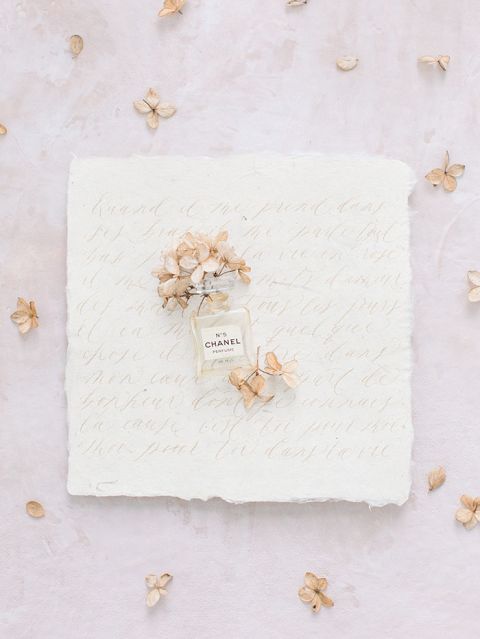 Traditional invitations may not play a role in an intimate destination elopement, but Barely Blush Ink added an elegant calligraphy element to this micro wedding by hand lettering the bride and groom's vows as a wonderful keepsake of their wedding day!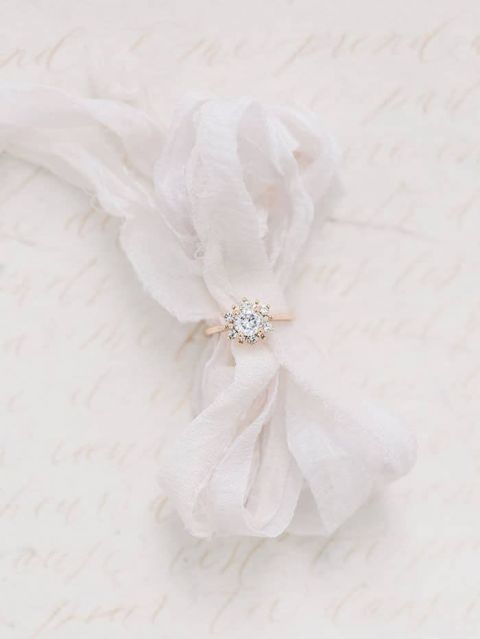 Each piece of Krista's wedding day attire fit the romance and elegance of Paris, from her gold starburst engagement ring to the peep toe cage booties with blush pink lace.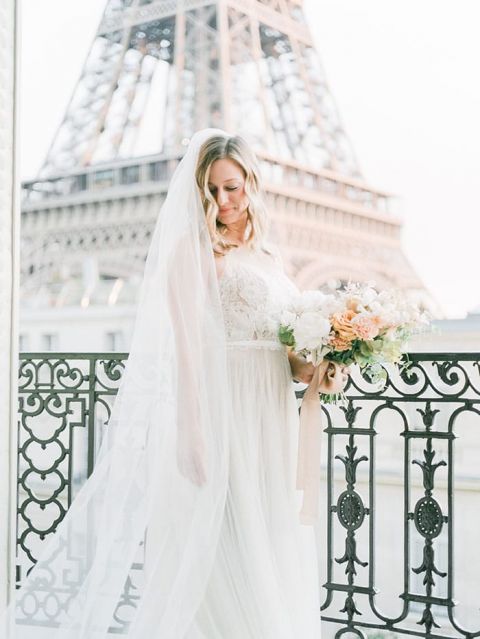 The couple began their wedding morning before dawn at the Residence Charles Floquet. The balconies of their private apartment offered a spectacular view of the iconic Eiffel Tower just outside the front doors!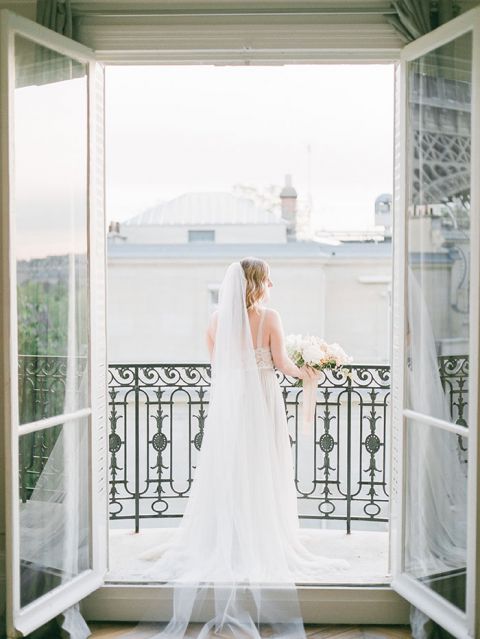 The bride chose a romantic and flowing tulle dress from BHLDN with a lace bodice, adding a cathedral length veil because – when in Paris, why not! Floraison Paris created her dreamy peach bouquet that captured the beauty blooming around them of the city in spring.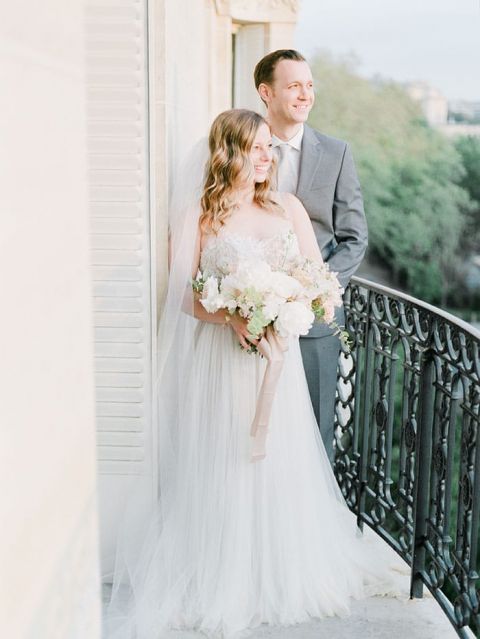 The couple held a first look on the balcony overlooking the Eiffel Tower as the city began to wake up around them, filling the air with the smell of baking croissants and cherry blossoms.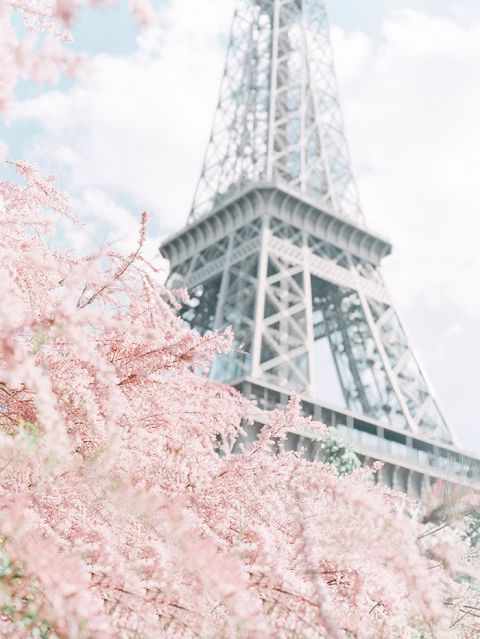 The couple took intimate Paris wedding photos that made it seem the city was only for them in the quiet moment just after sunrise.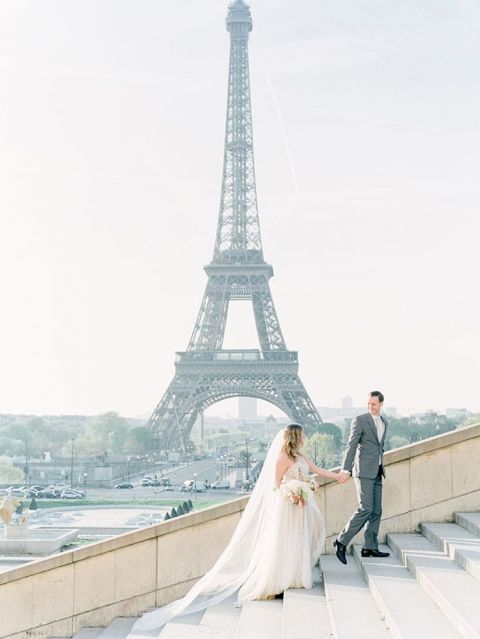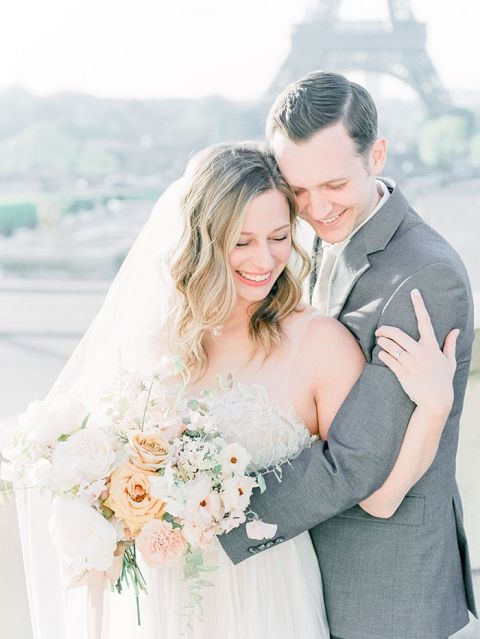 This lovely bride captured the beauty and magic of Paris with her romantic wedding day style and couture floral bouquet!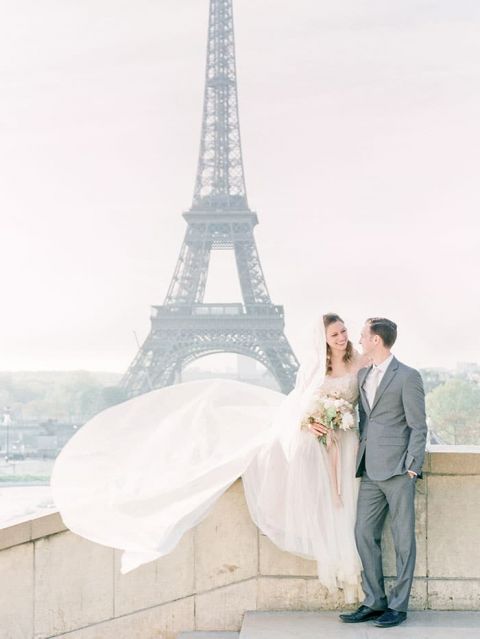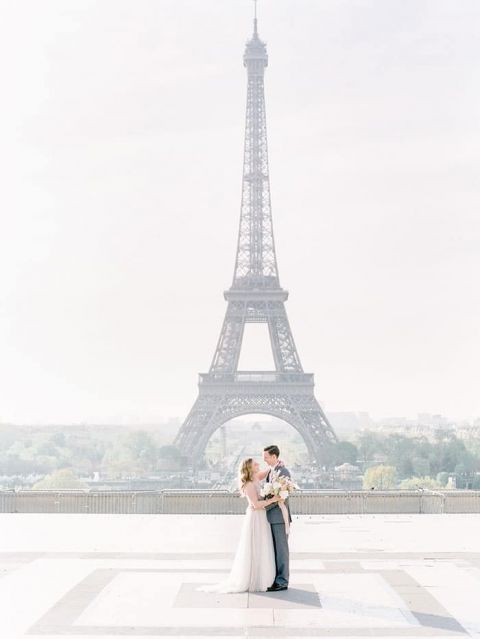 The couple exchanged vows on the Trocadero, with the spectacular view of the Eiffel Tower behind them for the most iconic of Paris wedding photos!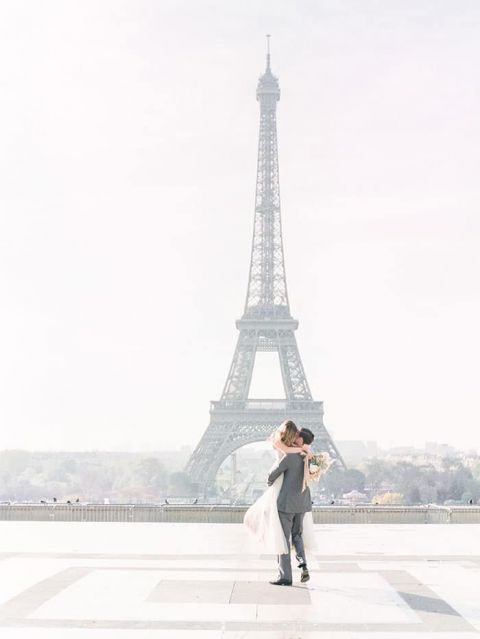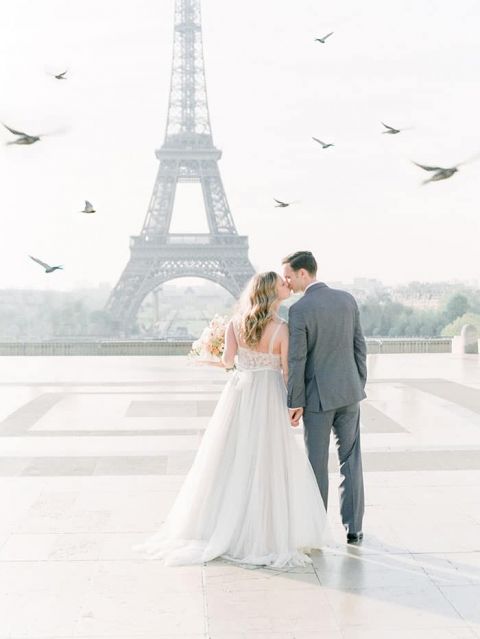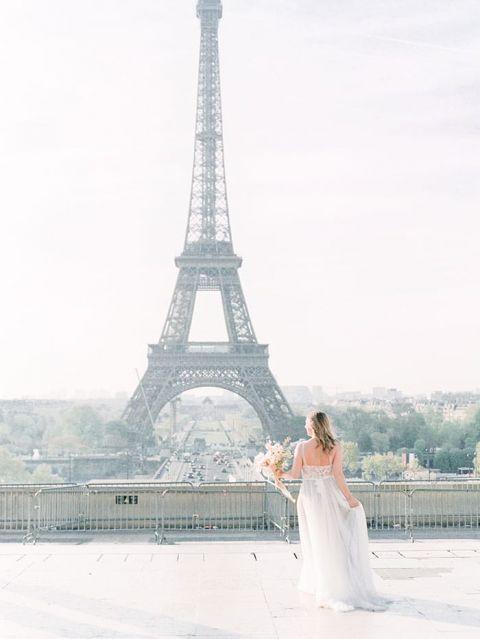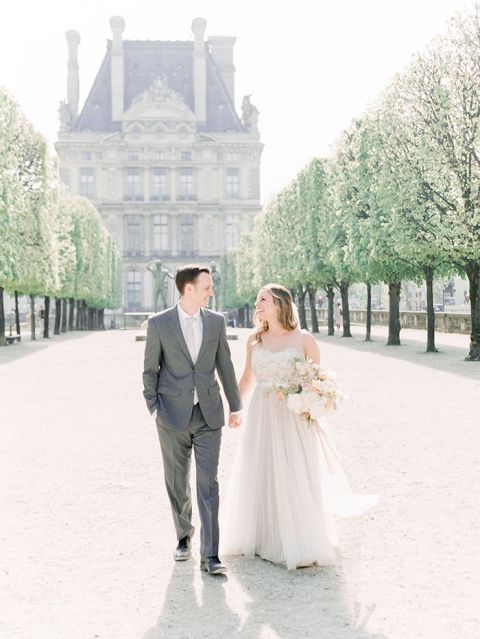 The couple wandered through the Jardin des Tuileries with their wonderful photographer to capture these beautiful moments together as the city continued to wake up.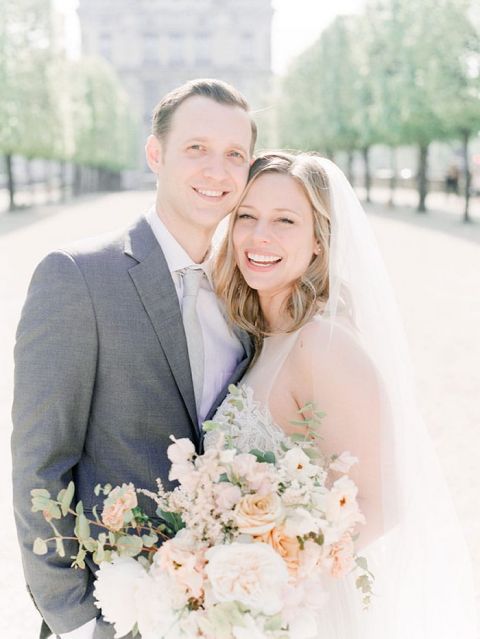 Spring blooms capture the essence of Paris during the most enchanting season!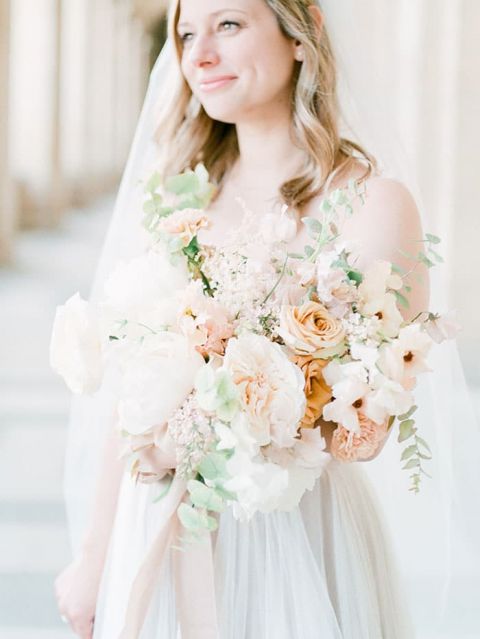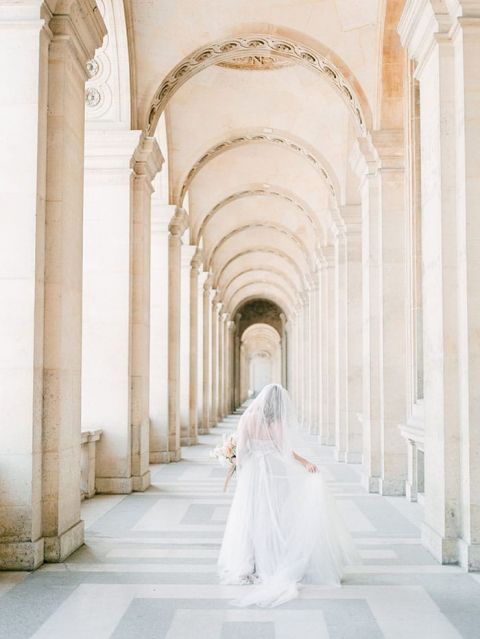 A wander through the Louvre Museum courtyard created this stunning backdrop of some of the most beautiful architecture in Paris!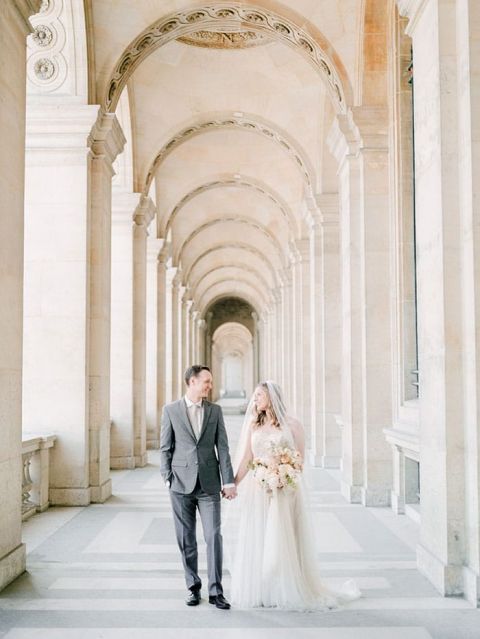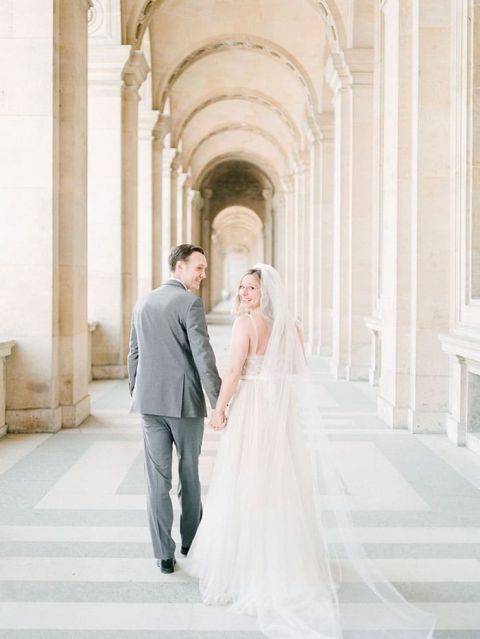 WEDDING VENDORS –
Photography: Cassi Claire Photography | Floral Design: Floraison Paris | Dress: BHLDN | Calligraphy: Barely Blush Ink | Getting Ready Hotel: Residence Charles Floquet | Film Lab: The FIND Lab
Fine Art Film Paris Wedding Photos