Blooming lavender season is here and I can think of no place more romantic than a flower farm in spring! Simply Sweet Photography and Deborah Lee Designs clearly agree, with this stunning bridal photo session and elopement shoot at a lavender farm! The stunning fine art portraits capture the beauty and intimacy of a micro-wedding in the most gorgeous way, with a dreamy vintage inspired wedding dress and airy pastel colors to delight!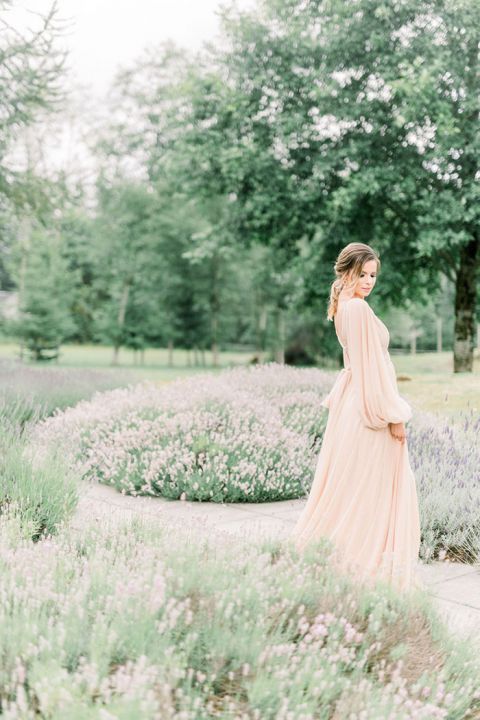 Blooming lavender fields inspired the pastel palette of purple, peach, and blush pink for this lovely bridal session! A dreamy dress from Little Pink Dress Design added romantic color with the bride wearing a long-sleeved gown with just the right vintage vibes.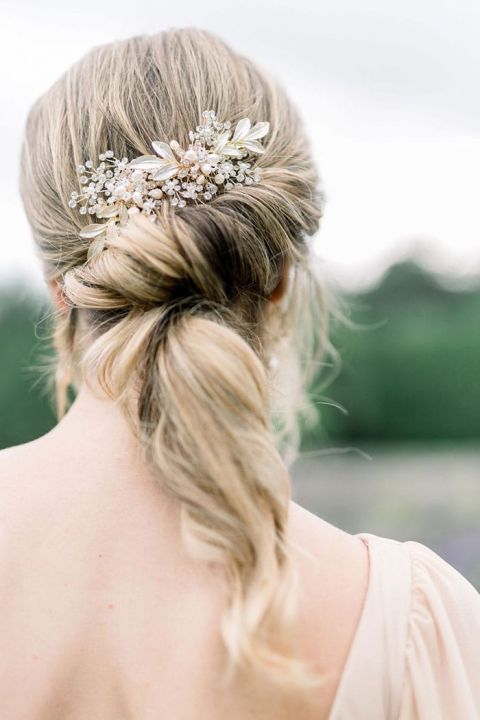 A crystal flower hairpin from Powder Blue Bijoux added sparkle and detail to this beautiful bridal updo by Glam by Sarrah, with the headpiece tucked into the low twist and curls left free to frame the bride's face.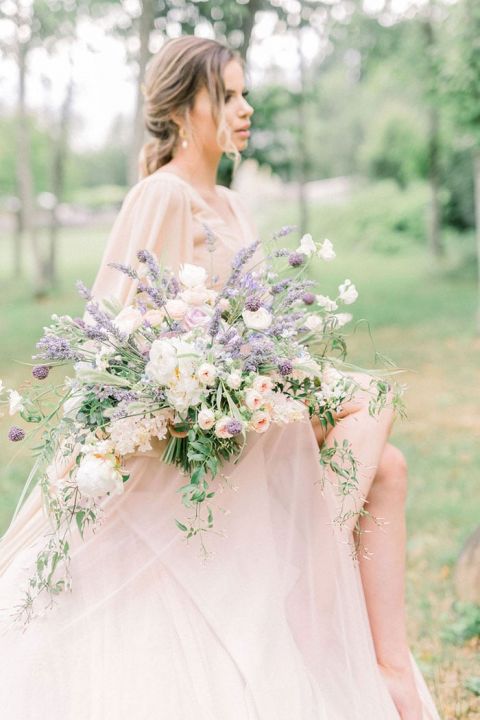 Deborah Lee Designs designed the bride's bouquet with – what else! – lavender! Stalks of the flower in full bloom added whimsical shape to an open and wild flower farm bouquet, with peonies, roses, ranunculus, and jasmine adding to the romantic garden flowers.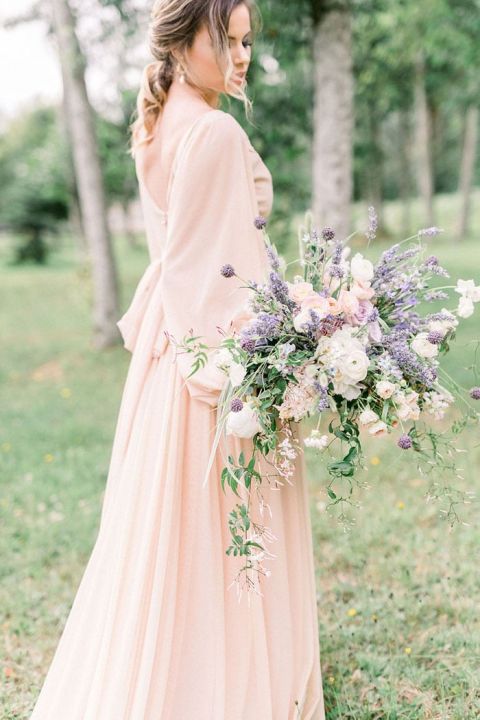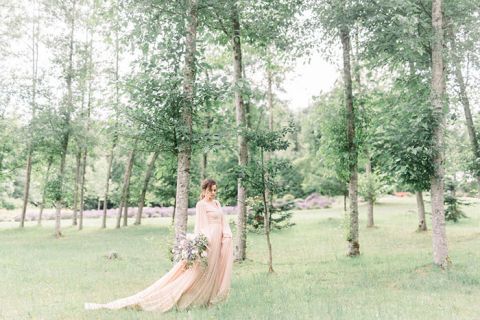 Makeup Artist Jasmine Hoffman added a smokey lavender eye to the bride's light and dreamy style to give her luminous look a glamorous edge.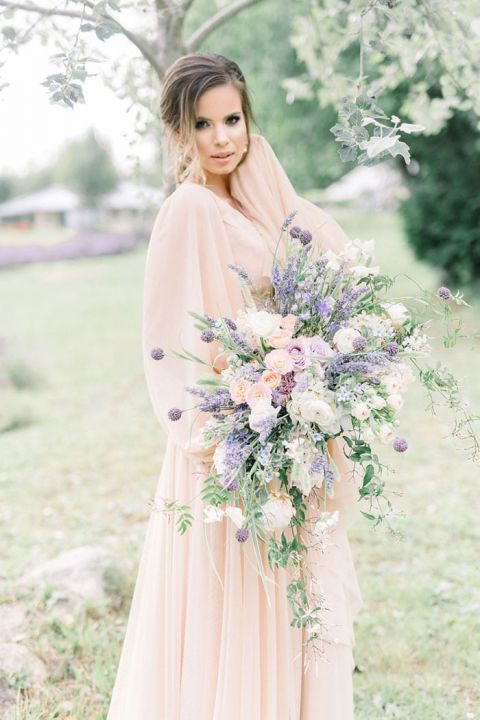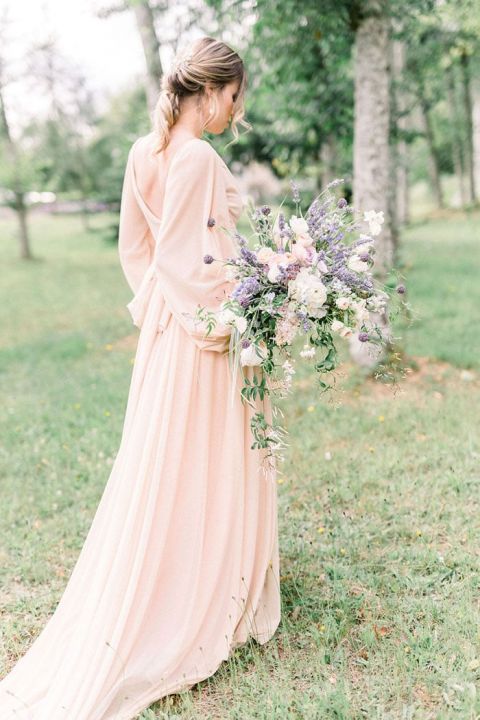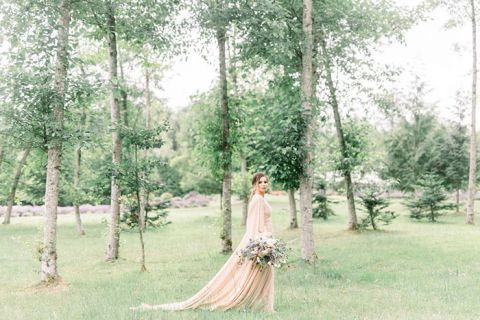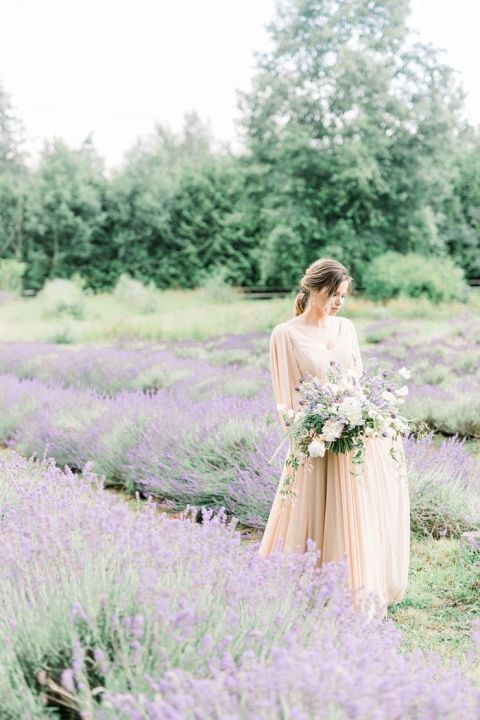 Fields of lavender in full bloom created the perfect setting for an intimate wedding reception! A vintage table set for two brought romantic farmhouse style to the cozy elopement decor.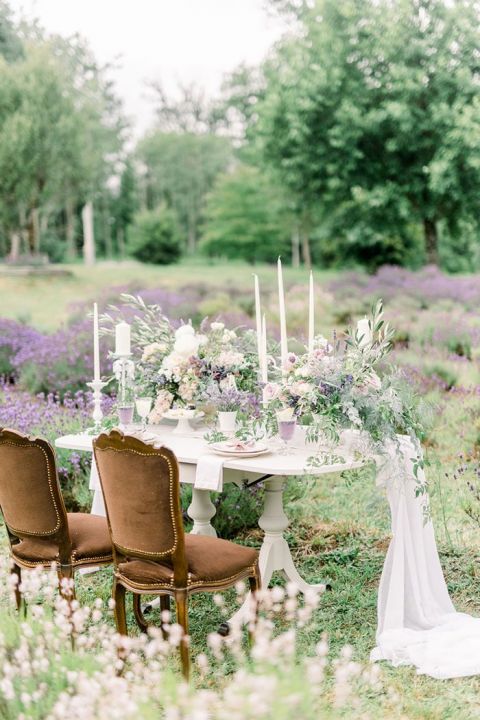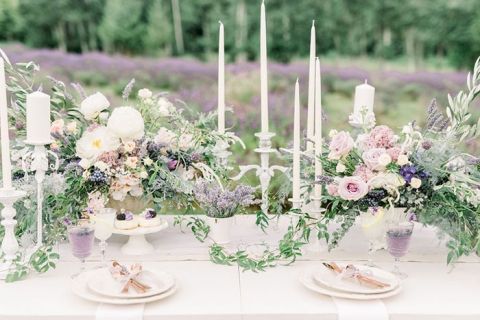 Vintage white candleholders and pedestal vases added to the rustic farmhouse decor and kept the color scheme airy and light.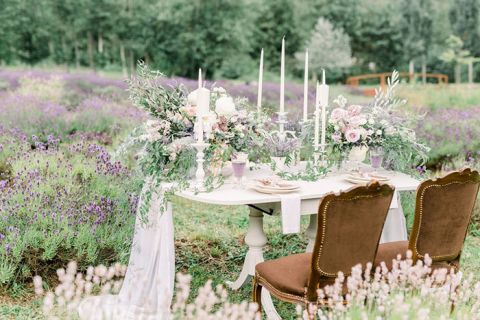 The focal colors on the romantic Sweetheart Table were rose gold and lavender, with a pop of fresh greenery from the garden flower arrangements.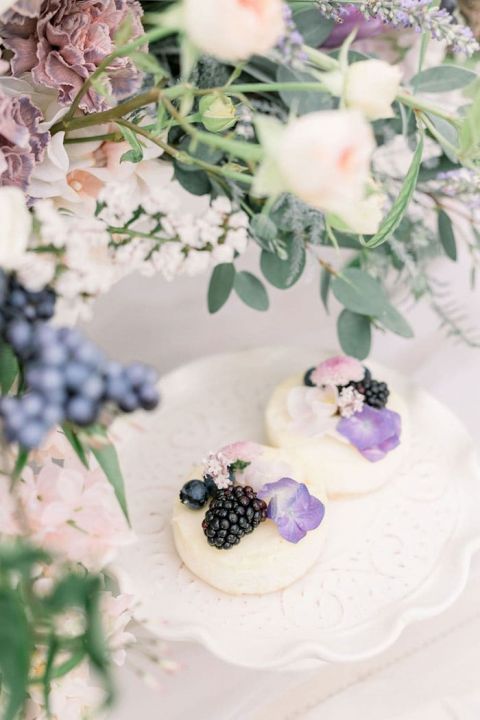 Mini cheesecakes with fresh fruit and berries were the perfect intimate wedding cake, and a decadent charcuterie platter of with fresh fruit, cheese, and candied nuts set the scene for a cozy dinner for two!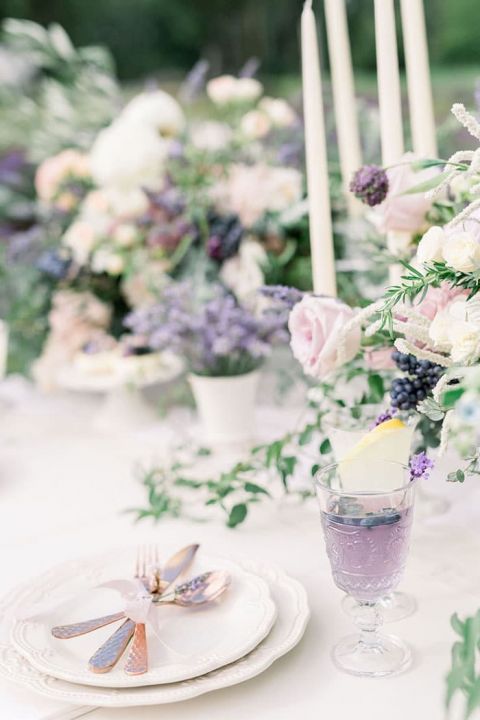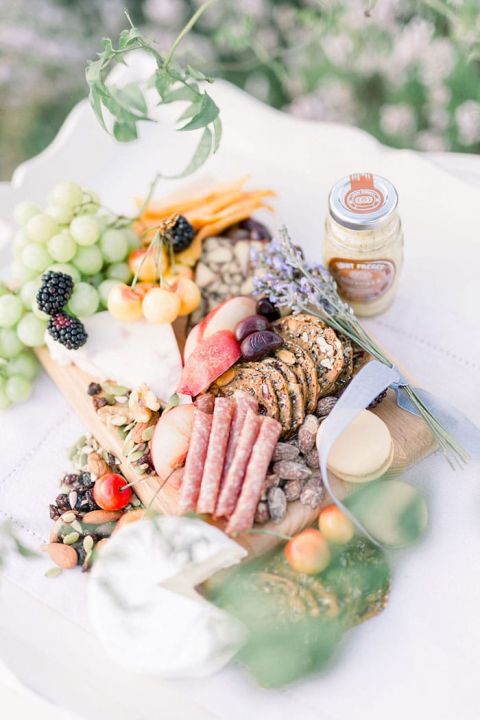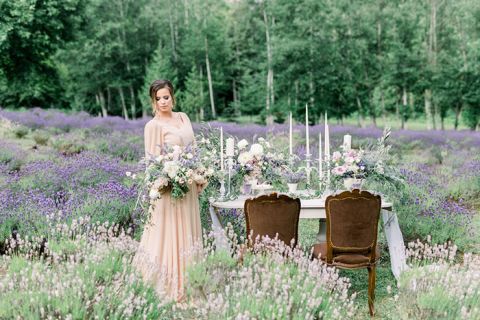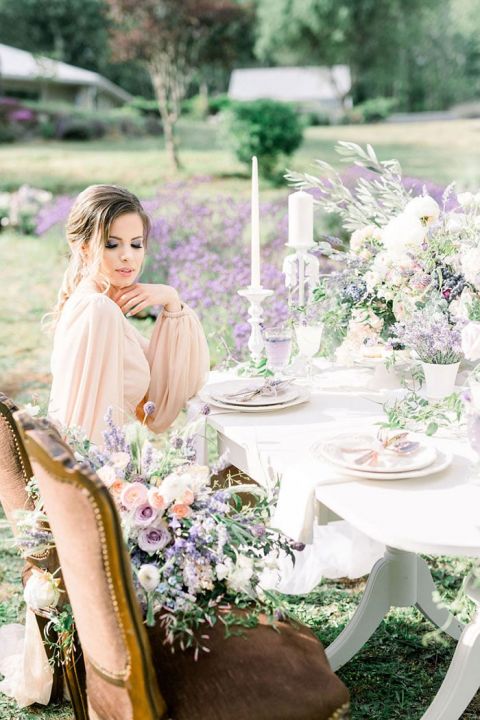 This is vintage garden glamour at its finest!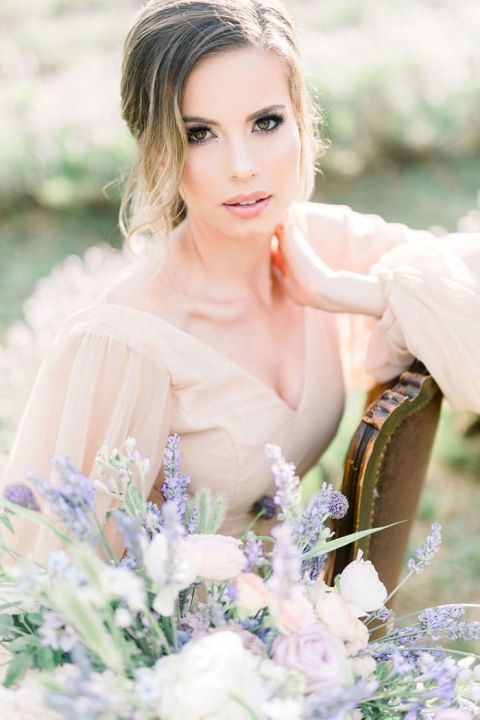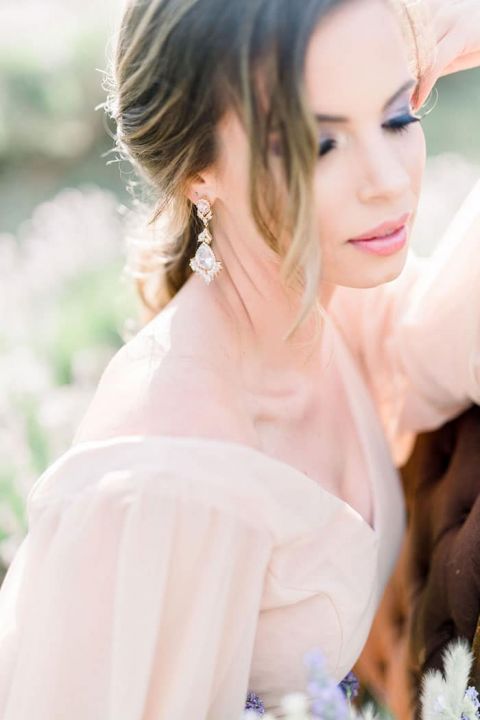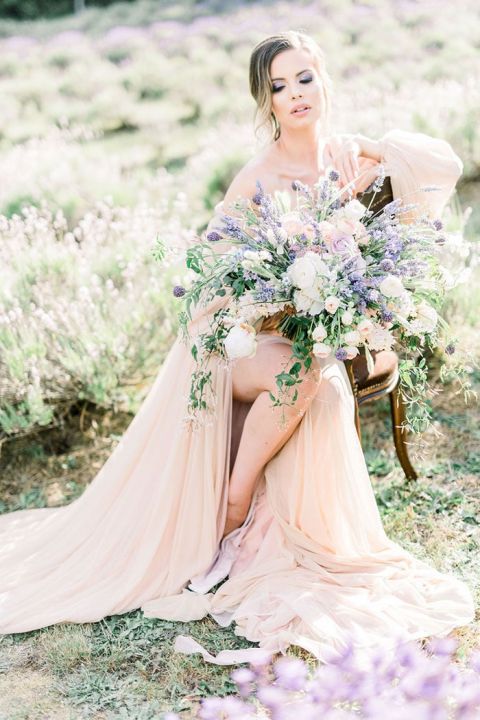 WEDDING VENDORS –
Photography: Simply Sweet Photography | Styling and Floral Design: Deborah Lee Designs | Dress: Little Pink Dress Design | Jewelry: Powder Blue Bijoux | Makeup Artist: Jasmine Hoffman | Hair Styling: Glam by Sarrah | Model: Stephanie Twarog
Lavender Blooming Season is the Best Time for Bridal Photos