Coming up with the perfect nude wedding palette is like a personal mission of mine, and I think this pairing with salmon pink and crimson red is a great step in the right direction! Although it appears bold and modern, the combination has a gorgeously timeless appearance that is perfect for a chic al fresco wedding or a glamorous ballroom! Read on to find out how I'd style neutrals with a bolder red and elegant blush pink for an utterly perfect wedding color palette!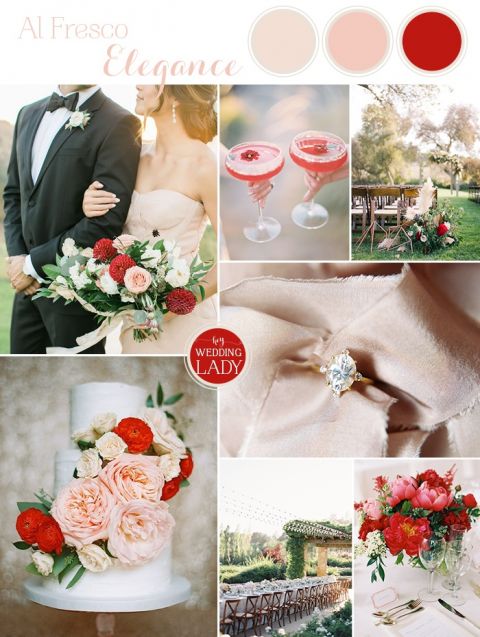 A Nude Wedding Palette with a Splash of Color
I love the recent trend away from white wedding dresses, and a nude or blush gown is perfect fit for many bride's skin tones. In this case, a warmer wedding dress pairs perfectly with a bold bouquet of red, pink, and blush to create a picture perfect combination. The colors carry into elegant arrangements for the ceremony aisle, wedding cake, and reception tables, and I loved envisioning this look under the luminous wine country sun. Hanging bistro lights, bright summer flowers, and a splash of sequins help finish this  colorful combination!
PHOTO GALLERY – 
A Nude Wedding Palette with a Splash of Color