All right, it's time for another music inspired post! Today's feature comes with a soundtrack – go ahead and click play on Sara Bareilles' new song, 'Little Black Dress'! I've had a great time coming up with inspiration based on Sara's songs and this track was the perfect inspiration for a little style inspiration. The LBD is a classic for good reason – the perfect fit for a gorgeous bridal party or the bride's look for the engagement, shower, or bachelorette!
The perks of bridesmaids in little black dresses? There's simply no end – black goes with everything, your friends are more likely to be able to wear a black dress again than one in your 'colors', and styling becomes a ball! The key to being the best bride ever? Let your ladies pick a dress in your chosen style, and style it with the perfect accessories as your gift to them. Here are four style guides to help suit the little black dress to any wedding! For more bridesmaid style ideas – check out my Bridal Besties board on Pinterest!
The Chic Little Black Dress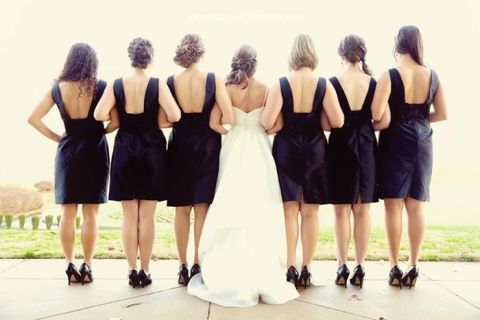 I know, I know – an LBD is inherently chic all by itself! To amplify the chic factor, guide your 'maids towards sleek silhouettes. A dress that isn't afraid to play with design elements is the perfect fit for an unexpected venue like a museum or antique shop. Fun textures – lace, chiffon, brocade – add depth to the flat black palette, and leaves you plenty of room to play with accessories. I love the addition of matte gold and gem accents against the simple canvas of the dress!
The Classic Little Black Dress
Kate Spade makes quite a few appearances in this post, but can you blame me? What other designer has created such an intrinsic link to the classic LBD style? Pearls and stripes are the perfect pairing for a bride leaning towards a classic style. Think A-line skirts and boatneck collars to really bring the Audrey look to your wedding day! Keep things elegant with a reception at a country club or a manor house, with pastel florals in sweet bunches of peonies, roses, or baby's breath.
The Glam Little Black Dress
When it comes to hands-down glamour, what could be a better fit than a little black dress? Sequins and sparkle come out to play with a glam wedding – whether you lean towards dramatic accents, metallics, or full on glitter, a glamorous wedding is sure to make an impact! Bouquets in jewel tones or classic white will make the most impact against a glam dress, while textured blooms or unexpected foliage can add to the drama.
The Sweet Little Black Dress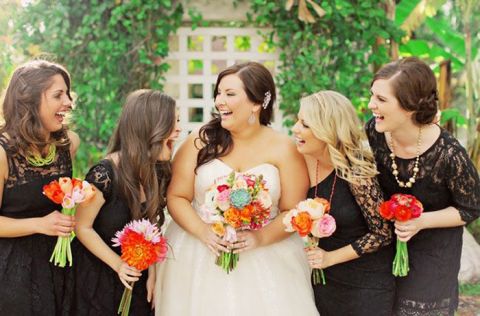 Black lace dresses have been all the rage this season, and they're certainly here to stay. Lace, flowing skirts, and baby-doll silhouettes are the perfect fit for a rustic celebration or DIY party! Bright colors pop against black, so feel free to have fun when it comes to your floral pairings, while keeping accessories fun and flirty.