I'm very excited to debut the hottest color for Fall 2014 along with my Color Theory series with lots of merlot wedding inspiration! Burgundy, berry, crimson, garnet – you name it – rich wine hues have been a favorite of mine for a long time and the warmth and sophistication is perfect for an autumn wedding! Check out today's four Color Theory boards with gorgeous palette inspiration for a merlot wedding!  
Merlot & Gold
The luster of gold is a nature pairing with merlot when it comes to autumn – the combination calls to mind changing leaves, crisp air, and deepening light. The combination manages to add a luxe sophistication to rustic wedding details – gold vessels holding rich burgundy blooms on long tables of silver wood in an autumn vineyard would be ideal. Adding raw edged silk ribbon or fringed streamers in cream and gold adds a fun touch to an elegant palette.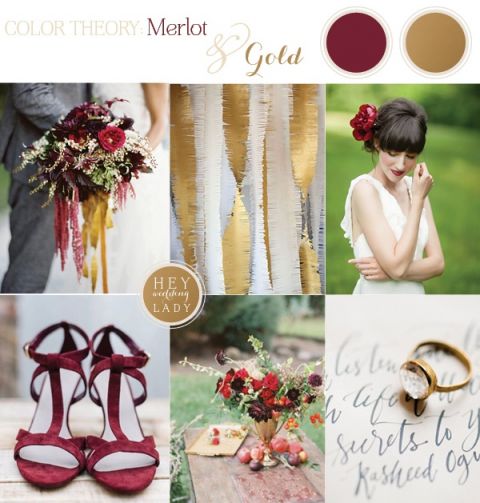 Merlot & Blush
Quite possibly my favorite color combination these days, pairing blush with merlot adds whimsy and romance to an already lovely palette. Soft feminine details highlight the sweet combination with an undeniable touch of glamour. Adding abundant foraged greenery is a gorgeous way to loosen things up!

Merlot & Cream
Soft cream and ivory shades let garnet details take center stage against a warm backdrop, making this pairing inherently elegant. Textured details – silk ribbon, unbleached paper, raw ruffles – add depth to a neutral palette. The shimmer of crystal certainly doesn't hurt!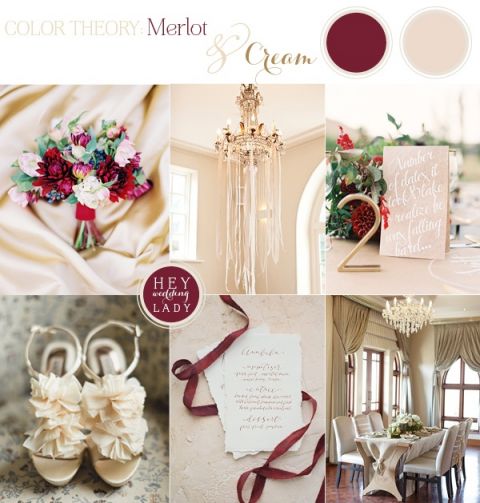 Merlot & Indigo
There's nothing wrong with pairing two dark colors, especially during autumn, and indigo makes a beautiful complement to merlot. Together the two create a jewel toned palette that suggest a Dutch still life. Contrast them with warm neutrals to make your focus colors pop – any one of the previous accent colors would work beautifully!

Want more?
THE PEACH KEEPER – SOUTHERN PEACH AND BURGUNDY INSPIRATION
RICH AND WILD SUMMER BERRY WEDDING INSPIRATION
FARM TO TABLE – LUXE ORGANIC WEDDING INSPIRATION