You're in for a dose of summer sunshine with this colorful pool party bachelorette inspiration from Aisle Society for David's Bridal! Love Inc. gave each bridesmaid a chic and unique look with vibrantly colored 'bride squad' tank tops and fun DIY swimsuits! The bride treated her besties with a fun favor bar of poolside essentials, from must-haves like chapstick and sunscreen to personalized tote bags and champagne gummy bears!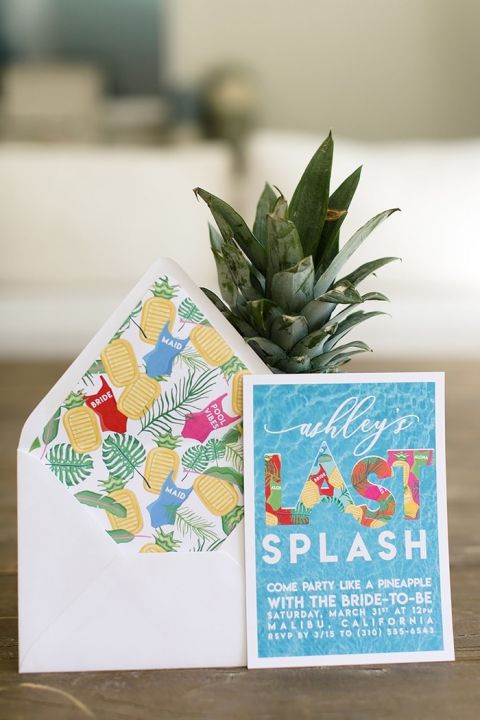 Colorful Pool Party Bachelorette
The Malibu sunshine was the perfect inspiration for the fun tropical details in this pool party bash! The girls indulged in a guilt-free burger and fries picnic from SoCal essential, In 'N Out Burger, before popping the champagne and hopping in the pool! Bold and colorful acrylic details matched the fruity sodas they paired with their bubbly, and perfectly echoed the fabulous DIY swimsuits for each bridesmaid. The bride herself dazzled in a white Bride tank top and sequin sun hat!
PHOTO CREDITS – 
Production by Love Inc. for Aisle Society | Bachelorette Details, Gifts & Accessories from David's Bridal | Bridal Party Swimsuits were DIY | Event Planning & Design by Roey Mizrahi Events | Photography by Jacqueline Patton Photography | Videography by Storytime Motions | Floral Design by XO Bloom | Calligraphy by Fawn Lettering | Stationery Design by Matinae Studio Design | Venue: Retreat Malibu | Beauty Concierge Service by Elwynn + Cass | Models: Taylor Rae, Elena Tretyakova, Brooke Lacey for Bella Agency LA, Heather Ruiz, Mandi Williams | Tableware by L'entramise | Event Rentals from La Piñata Party and Soiree8 | Waffle Desserts from The Dolly Llama | Pool Floats from Big Mouth Inc.
This Post was Sponsored by David's Bridal for Aisle Society. All opinions are my own and are not endorsed by David's Bridal, Aisle Society, or their affiliates
Colorful Pool Party Bachelorette