The modern Southern style in this Texan barn wedding shoot is a breath of fresh air! This beautiful editorial celebrates the blend of heritage in the American Southwest, with hints of Southern tradition and Mexican influence. The Happy Bloom, Tristan Needham Design and Bows and Arrows Flowers told their story where a rustic white barn meets stucco and citrus, colliding to make a beauty that no other location can duplicate. While some wedding trends are leaning further and further into the neutral color palette of greens and creams, these two cultures still embrace color, vitality and life… no matter the trend or season!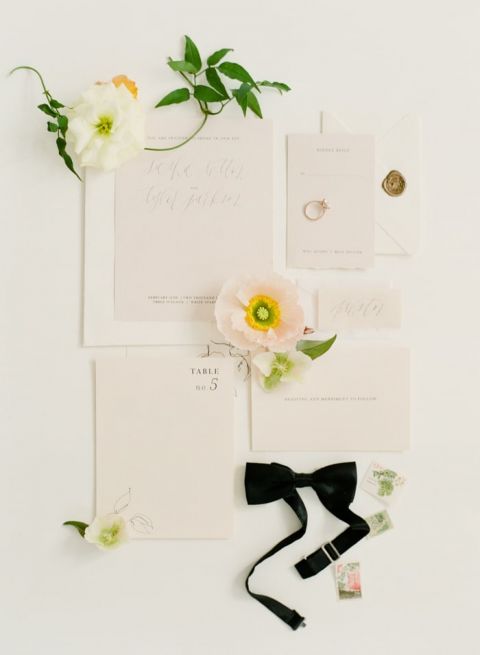 Modern Southern Style with Citrus and Poppy
This gorgeous wedding inspiration is the ultimate celebration of light and color! The fresh styling for this chic modern wedding leant itself to the bride's two piece crop top wedding dress with off the shoulder sleeves, and the groom's elegantly casual suit and open collar. Bows and Arrows Flowers complemented the crisp white walls and simple wedding dress with a seasonal spring bouquet of poppy, ranunculus, tulips, and jasmine vines.
The citrus color palette of peach, yellow, and pink was echoed on the farm table in a lush flower arrangement that accented the clean white linens. Delicately patterned china plates, neutral napkins, and modern black flatware accented the decor of flowers, fruits, and candles. Bella Acento styled a rustic chic dessert display with rose gold and ruffled 2 Tarts Bakery cakes for a glamorous touch!
PHOTO CREDITS –
Modern Southern Style with Citrus and Poppy