Who couldn't use a little color and kindness in their life right now? The colorful nostalgic style in this Pittsburg wedding shoot drew on none other than the icon of kindness himself, Mister Rogers, to create a whimsical day filled with mid-century design elements, reminders to be good to one another, and playful details! Kaitlin Powell Photography and Functions Pittsburgh embraced the lighter side of things with this unbelievably fun wedding idea at Museumlab that features iconic elements of Mister Rogers' Neighborhood!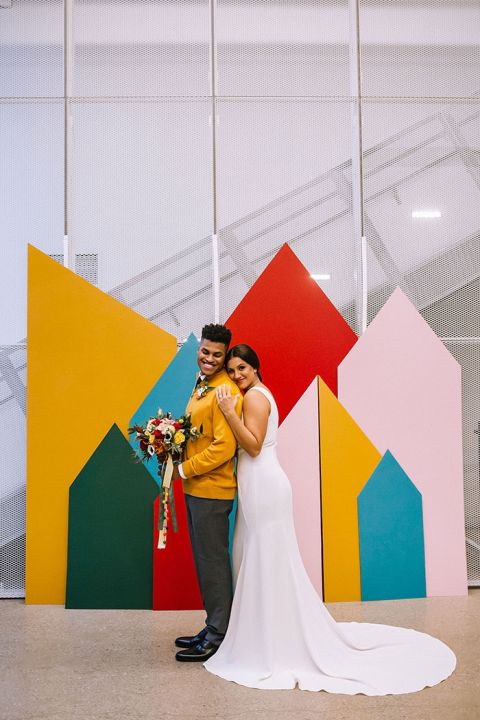 A Colorful Nostalgic Wedding Inspired by Kindness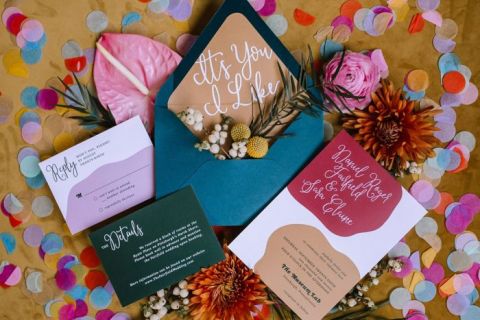 Ready for the perfect trip down memory lane? This shoot was designed to bring back the sweetest memories of childhood combined with creative wedding ideas! The colorful nostalgic details start with With Love Daily Stationery's lovely invitation design! Rainbow confetti and a retro mid-century design added fun details, while hand-lettered lyrics from Mister Rogers' song – 'It's You I Like' added the perfect whimsical touch.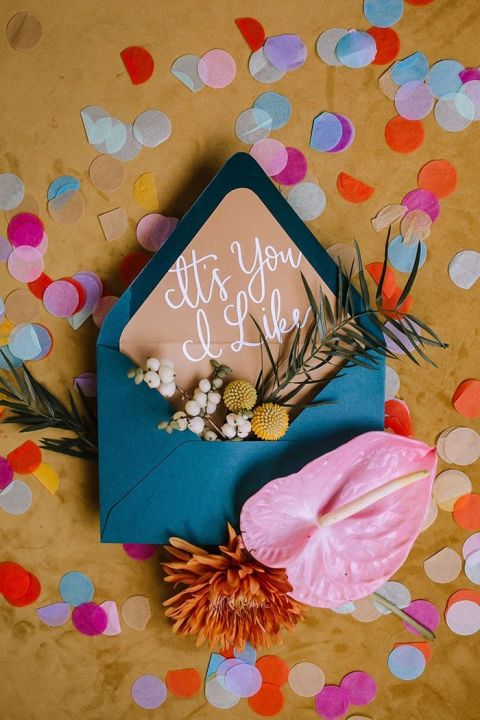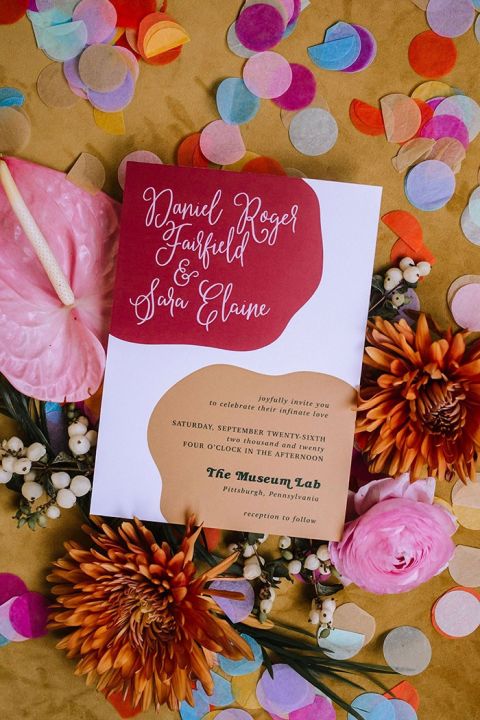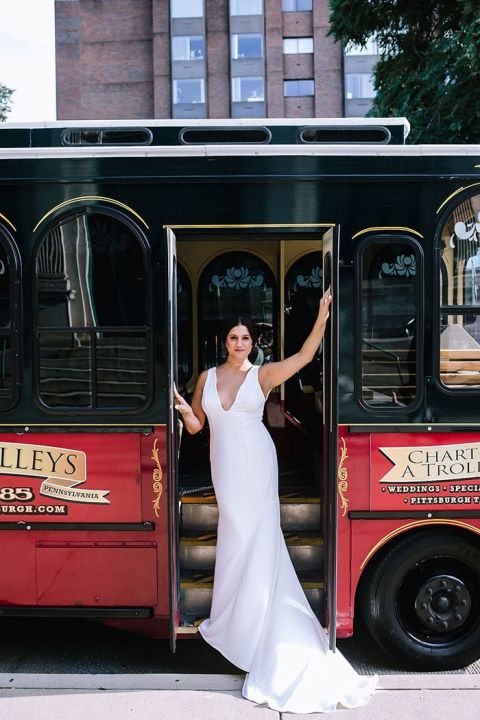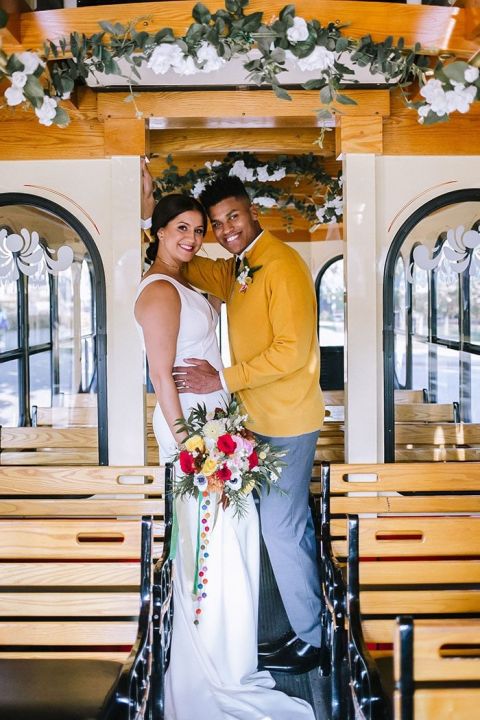 It wouldn't be a ride through Mister Rogers' Neighborhood without the trolley! The 1920's ride from Molly's Trolleys was the perfect way to arrive in style at this retro celebration! The groom wore a yellow 5sweater in a nod to the colorful nostalgic style of Mister Roger's iconic attire!
See more Pennsylvania Wedding Inspiration!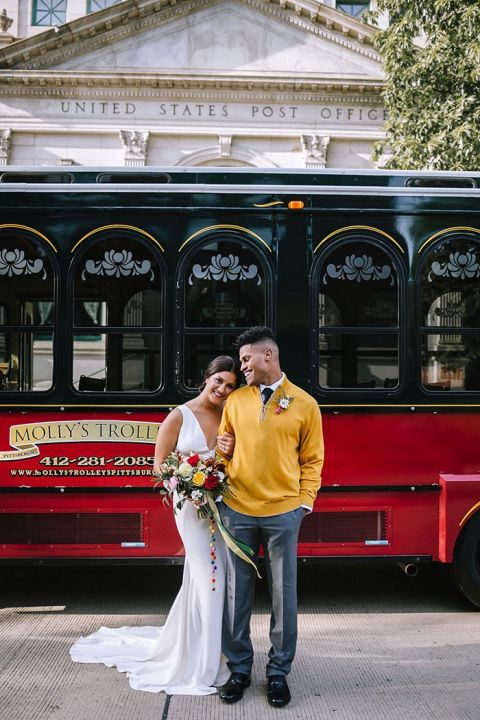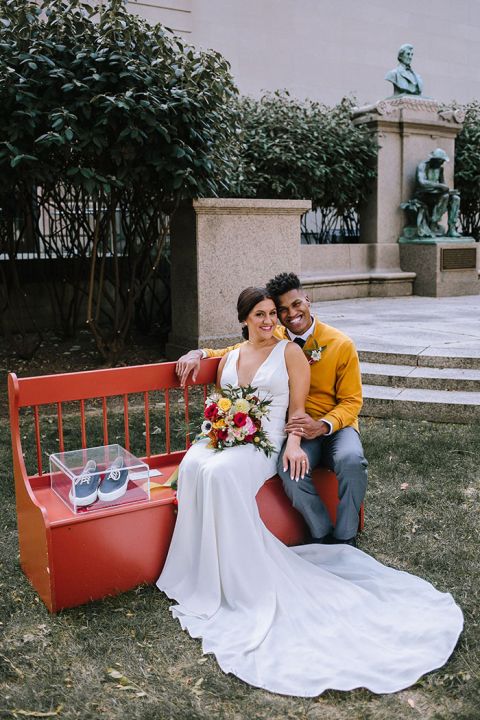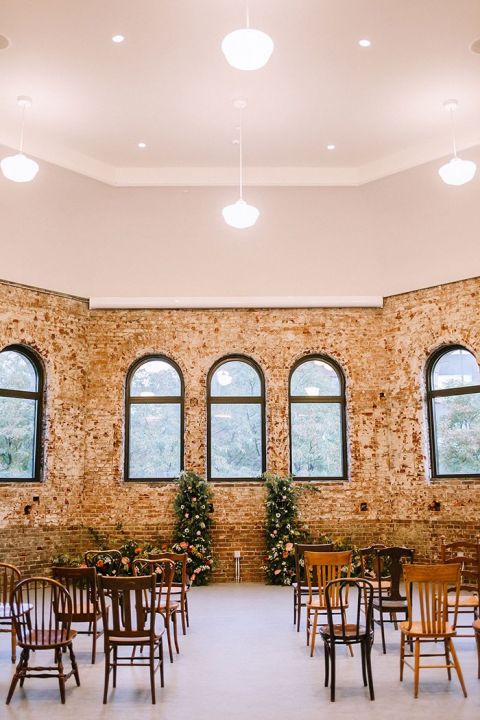 The exposed brick walls and octagonal shape of the Gathering Space at the museum added the perfect whimsical setting to this colorful nostalgic wedding day! Julie James Design embraced vibrant colors for the freestanding flower installations, with glossy green leaves adorned in flowers of bright primary colors. Red, yellow, and pink made the main color palette, bringing in a bright and happy vibe! Even the groom was in on the color scheme, with a red velvet suit jacket from Heinz Healey's!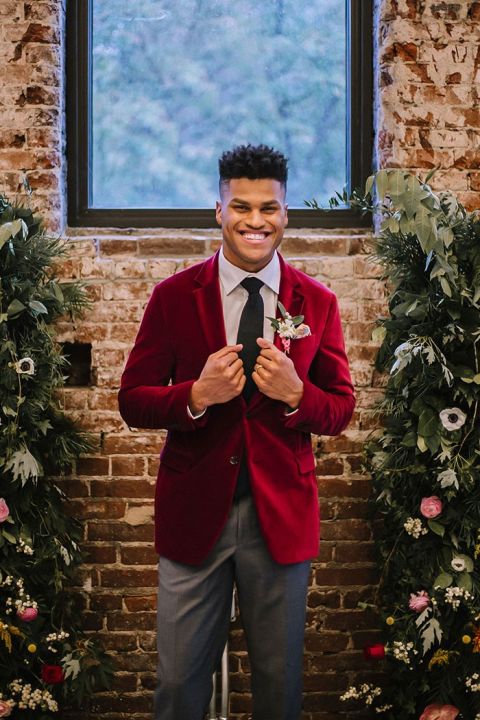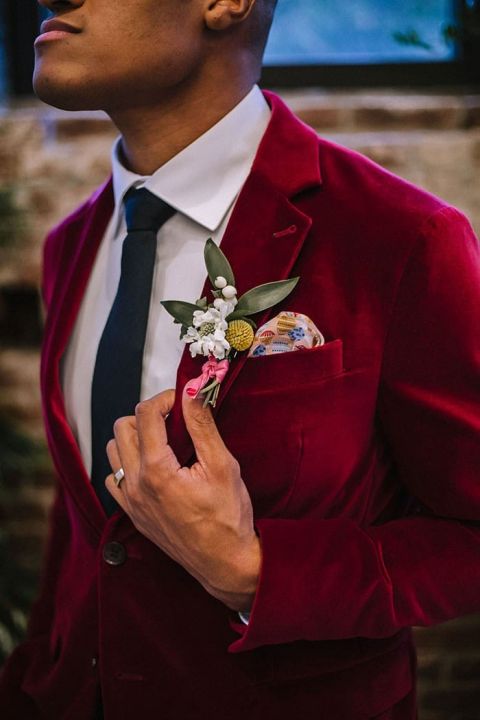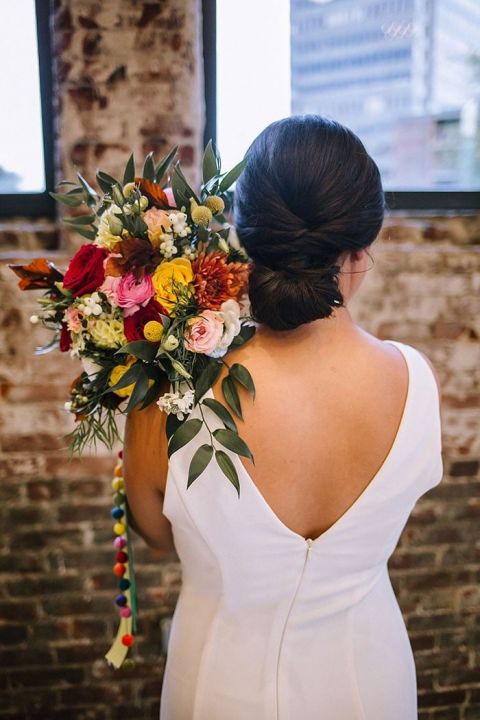 The simple wedding dress from One White Lane was chosen to create a fitted silhouette for the bride. Keeping the dress minimal made sure she stood out against the exposed brick ceremony backdrop and the colorful flowers! Her playful bouquet of vibrant red, yellow, and orange was trimmed in rainbow ribbons and felt tassels to give it the perfect whimsical touch!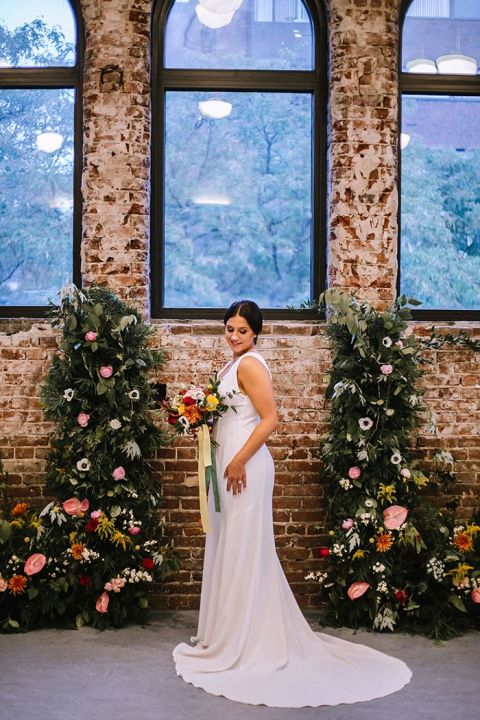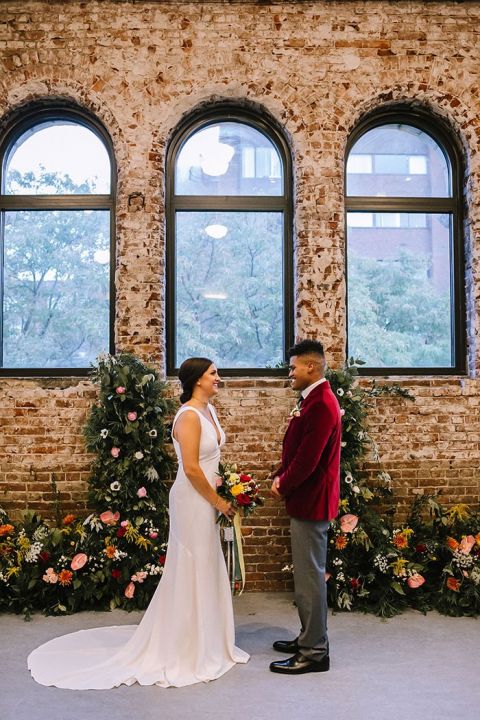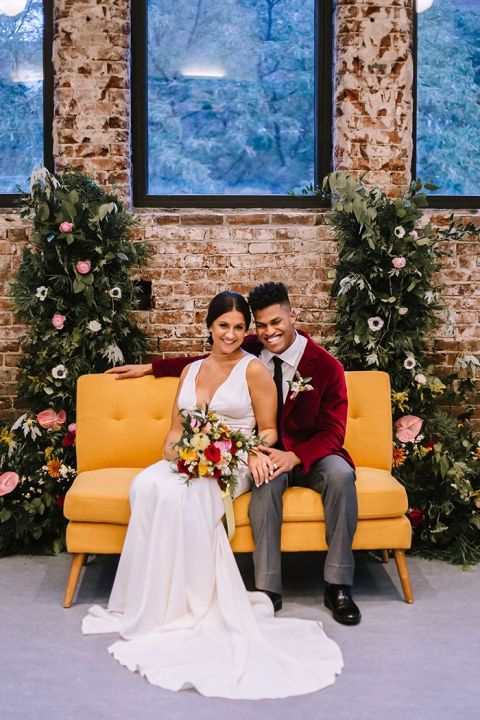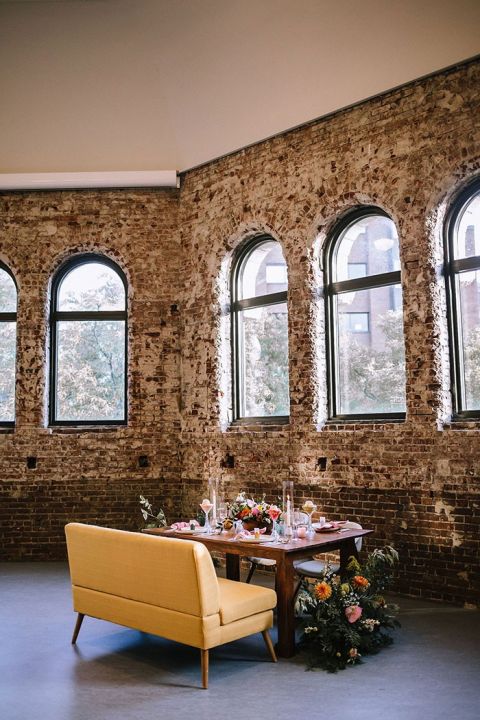 The retro yellow love seat from Old Souls Vintage Rentals could have been straight out of Mister Rogers' living room! It was the perfect choice for a retro Sweetheart Table.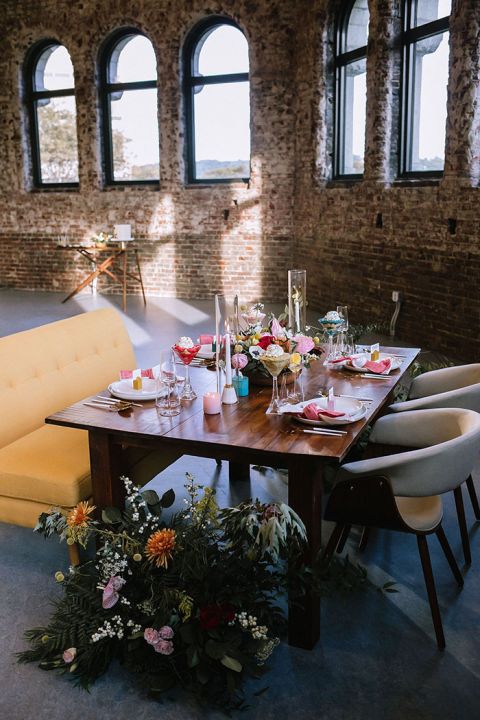 Mid Century details, colorful parfaits, and wooden peg dolls modeled after Mister Rogers' iconic puppets added to the nostalgic décor of this retro wedding table! The DIY details were modeled after some of the memorable characters that Mister Rogers would visit, like King Friday XIII and Daniel the Tiger!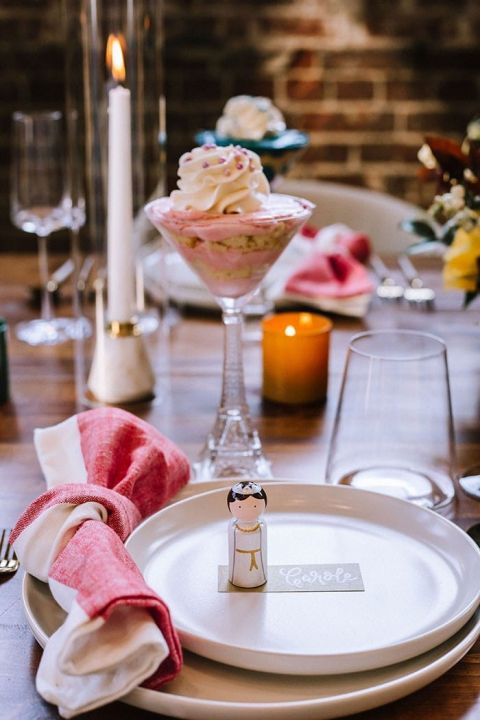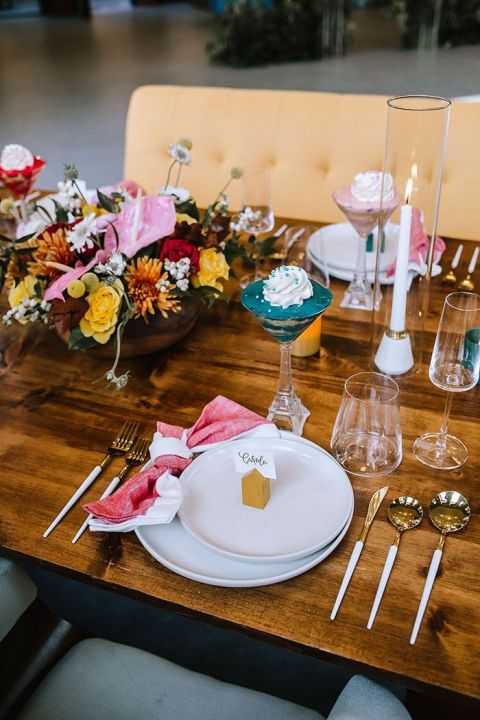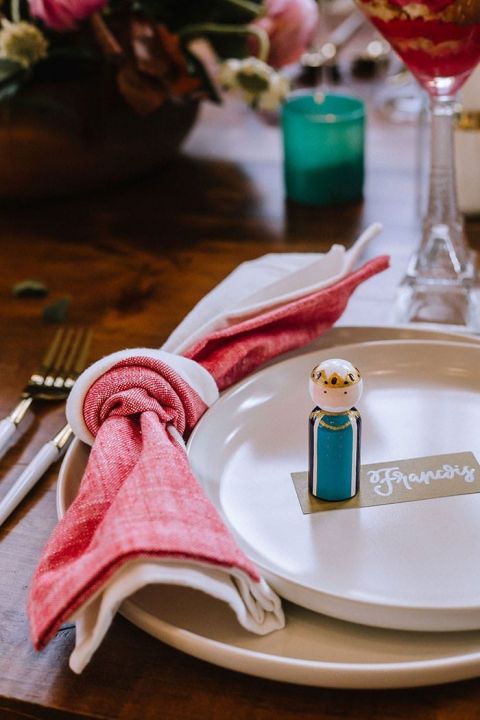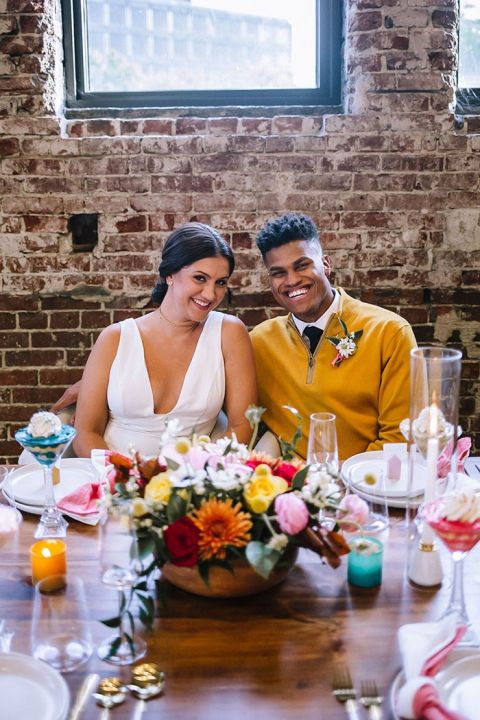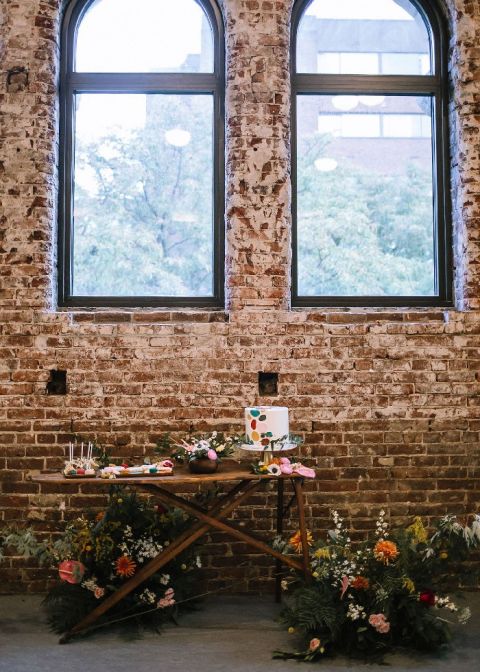 Looking for the perfect way to marry colorful details and minimalist décor? This amazing cake by Bella Christie and Lil Z's Sweet Boutique's managed find that sweet spot with a colorful cobblestone pattern that echoed the road in the Neighborhood of Make Believe! The single tier white cake had a colorful design in retro colors of turquoise, marigold yellow, pink, and brick red and the cake topper of wooden peg dolls looked like the beloved King and Lady puppets! Cookies by Nice to be Iced featured some of the lyrics from Mister Rogers' famous song!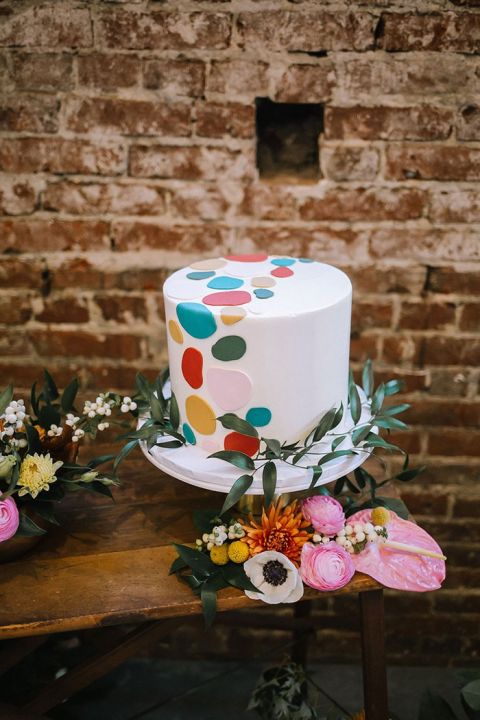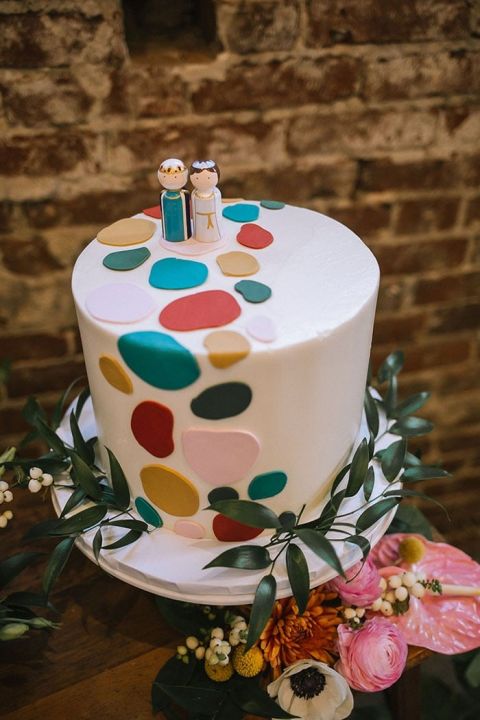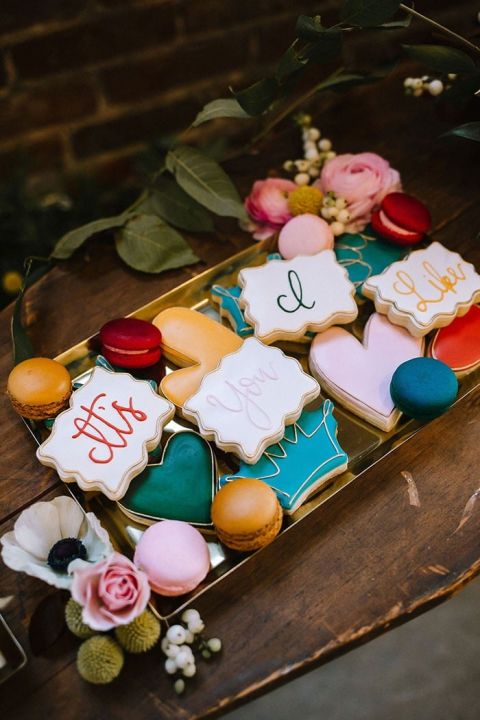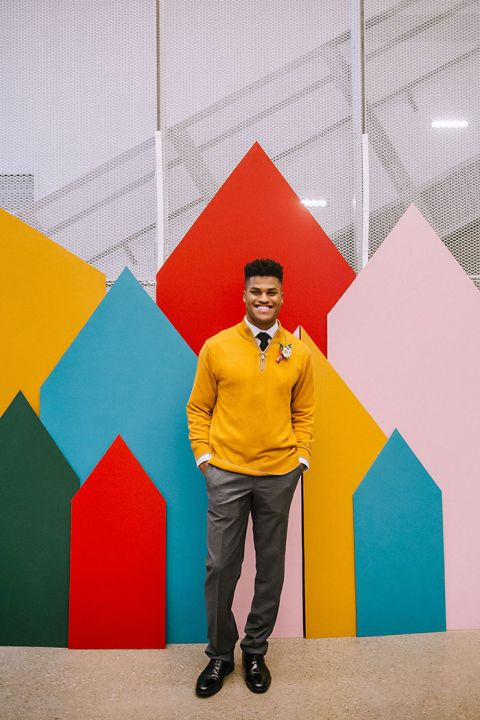 This colorful DIY backdrop was inspired by the houses in the Neighborhood of Make Believe! Functions Pittsburgh cut and painted these vibrant backdrop panels to create an eye-catching design element for the colorful nostalgic style of the land of imagination!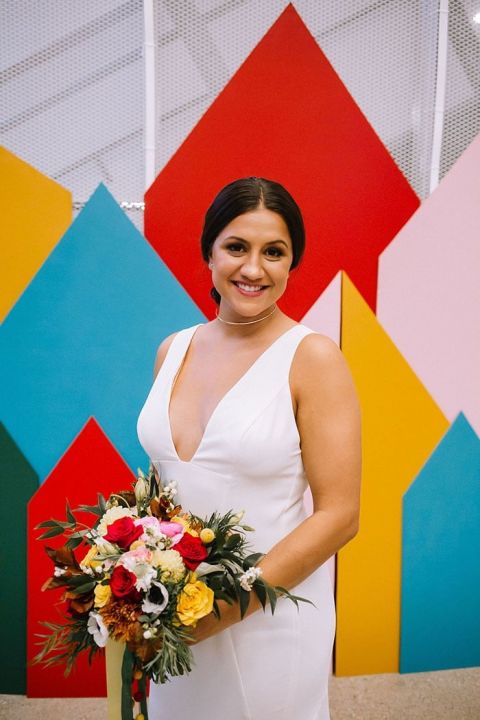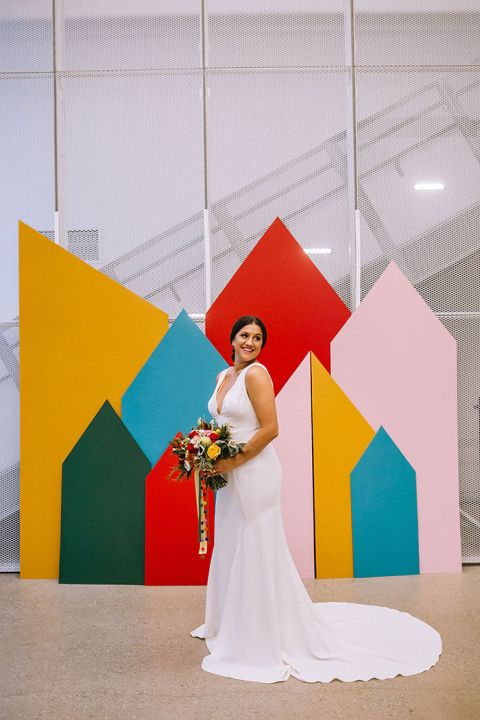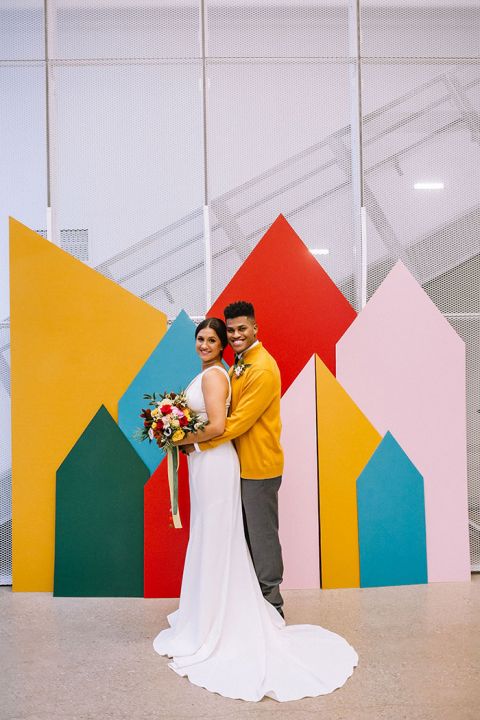 WEDDING VENDORS –
Photography: Kaitlin Powell Photography | Pittsburgh Venue: Museumlab | Event Planning: Functions Pittsburgh | Florist: Julie James Design | Wedding Cake: Bella Christie and Lil Z's Sweet Boutique | Wedding Dress: One White Lane | Bride's Shoes: ModCloth | Jewelry: Henne Jewelers | Groom's Attire: Heinz Healey's | Hair Styling: Bloom Beauty Parlor | Makeup Artist: Michelle Falcone | Event Rentals: Old Souls Vintage Rentals | Transportation: Molly's Trolleys | Cookies: Nice to be Iced | Stationery: With Love Daily Stationery | Models: Jordan Mccrae and Michele Tabaka | Submitted via: Matchology