This white farmhouse wedding in Montgomery, Texas, is a celebration of Ben and Andrea's love and their gorgeous eye for detail! Andrea had always dreamed of her wedding day, and she got the chance to make her dreams reality in February 2020. The couple met at University of Houston and got engaged during the fireworks at Disney World – it makes perfect sense they would create a magical wedding day! With the powerhouse Texas wedding team of Beat Box Portraits and Chancey Charm Dallas at their side, they found the perfect venue at The Farmhouse and brought in dreamy color, personal details, and their family heritage to create a beautifully memorable day!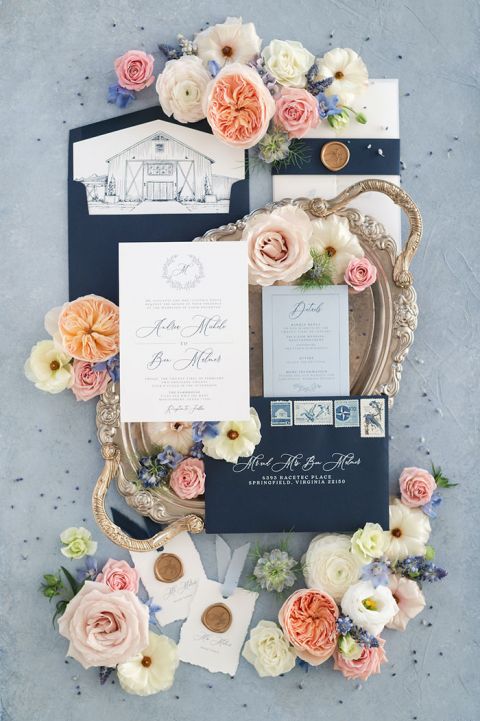 Blue and White farmhouse wedding
Leave it to the Chancey Charm Dallas team to create the most stunning wedding flatlays! The gorgeous navy and white invitations with a custom crest by Brown Fox Creative were surrounded by the handmade paper and wax seal escort cards that guests would receive, along with some of the heirloom details that the couple incorporated in their wedding tradtions and the bride's gorgeous glittery heels!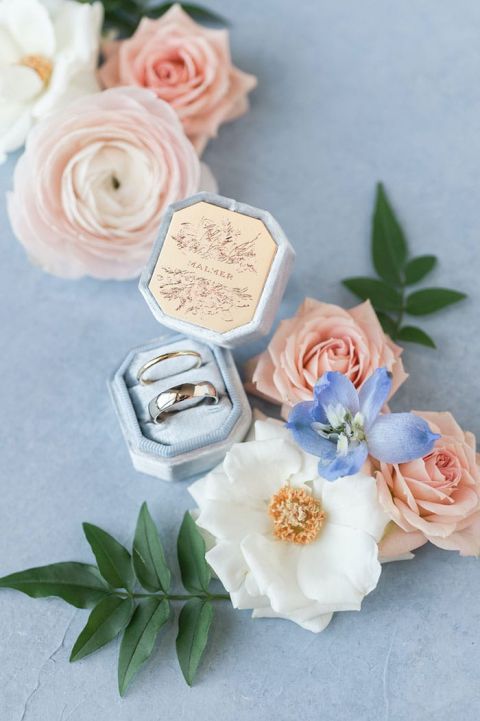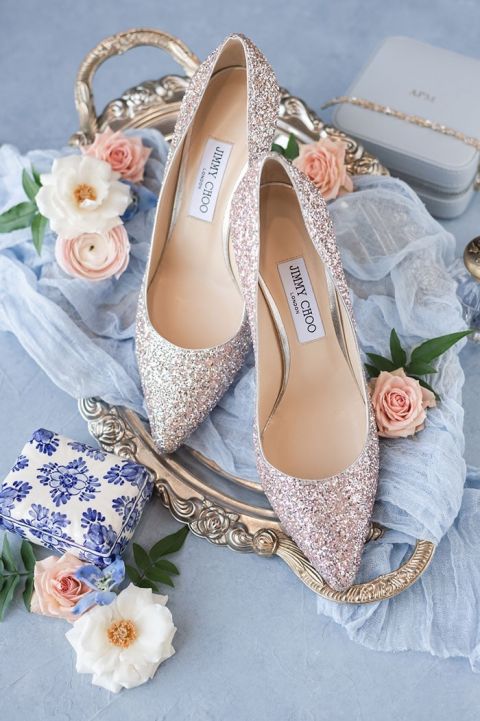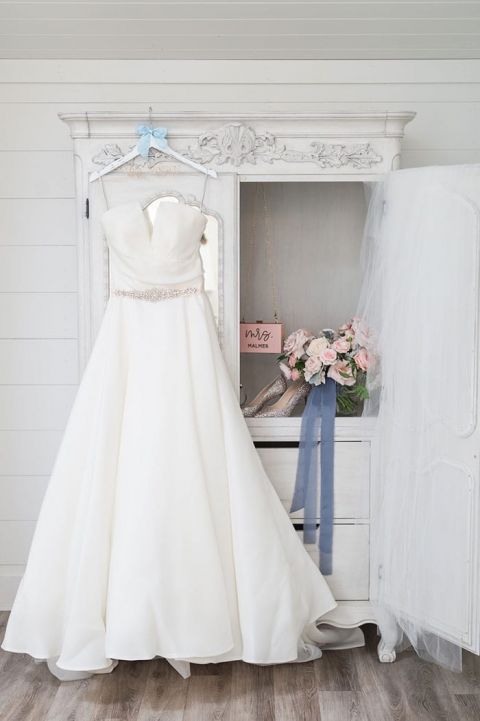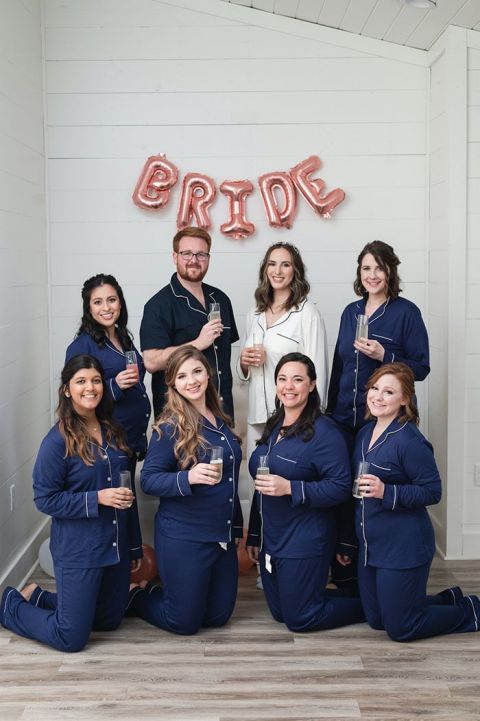 How they decided on their wedding style –
I envisioned something classic with a touch of modernity to it. Something light but with a pop of color! I knew blue would be one of my colors for a very long time, but the overall palette was solidified when we chose February as our date. Not quite spring, but not quite winter, I think the palette was a perfect choice. I wanted the wedding to feel timeless. Liz did an incredible job of matching textures and colors to create that feel for me. With regards to the location, I don't even remember how I came across the Farmhouse, but I knew once I saw it that was where we were supposed to be married. It was everything; timeless, romantic, rustic, classic.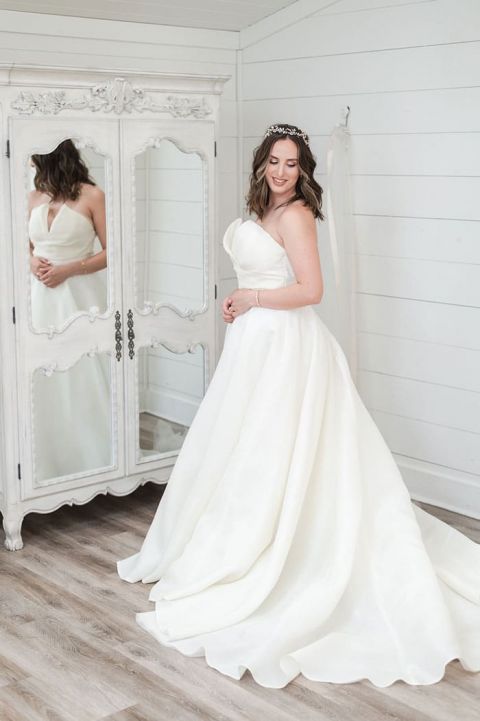 How she chose her timeless Monique Lhuillier wedding dress –
I originally had my eye on another Monique Lhuillier dress from a few seasons back. Carine's Bridal Atelier happened to be having an upcoming Monique Lhuillier trunk show, so I called ML and they offered to ship the exact dress I wanted to try at the trunk show. Lo and behold, that wasn't the dress I ended up choosing. Do any brides actually buy the first dress they think is "it"? While perusing the atelier, I came across the Emerson dress and was floored. I knew before I even put it on that it was my dress. From there, the pieces just fell into place. I knew that a plain cathedral length veil would be perfect, as well as the headpiece I happened upon in BHLDN. I ended up finding a stunning beaded peach sash on Etsy as well! The shoes are the best part of the story though. While shopping with my mom, we went into Jimmy Choo just to see if they had any styles that were matching the vision in my head of what I wanted. I ended up finding a gorgeous sparkling pair of Romys that were just captivating… and HALF OFF. I couldn't believe it. They also only had one pair left in my size! One of those "meant to be" moments.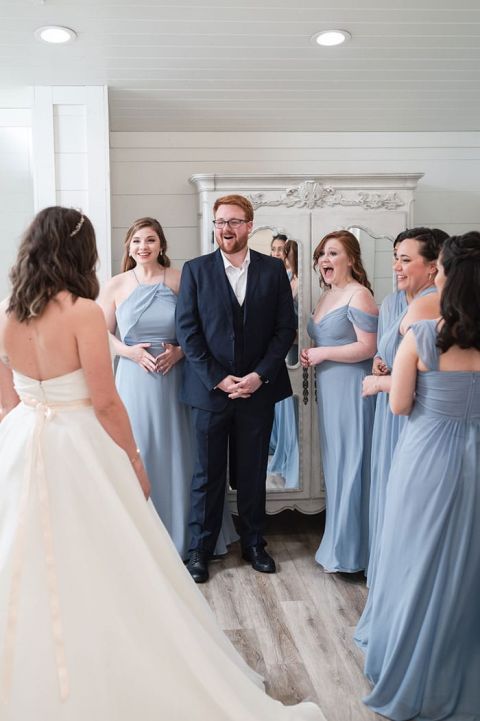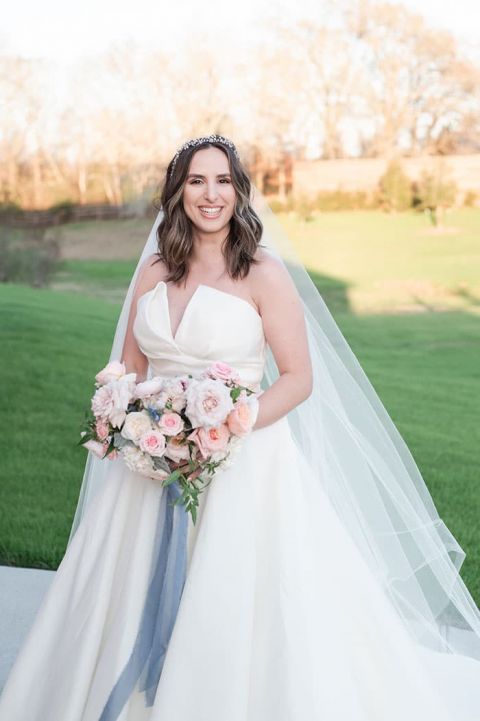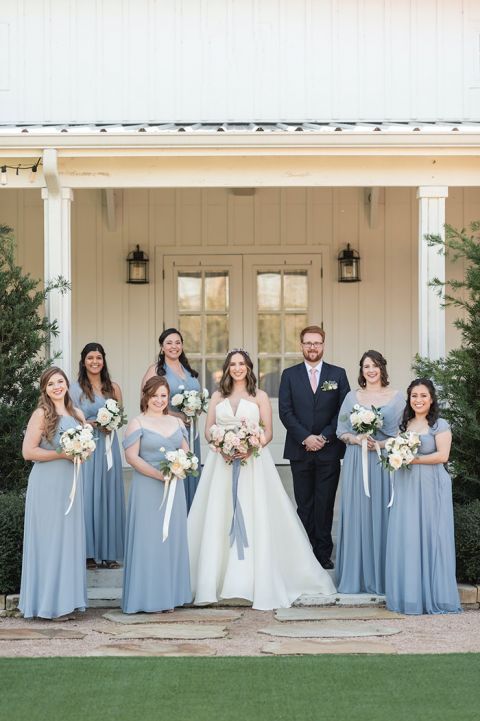 Their signature dusty blue wedding color made an appearance in the bridesmaid dresses from Birdy Grey – each attendant chose her own dress style in the color scheme, and the bridesman wore a navy blue suit!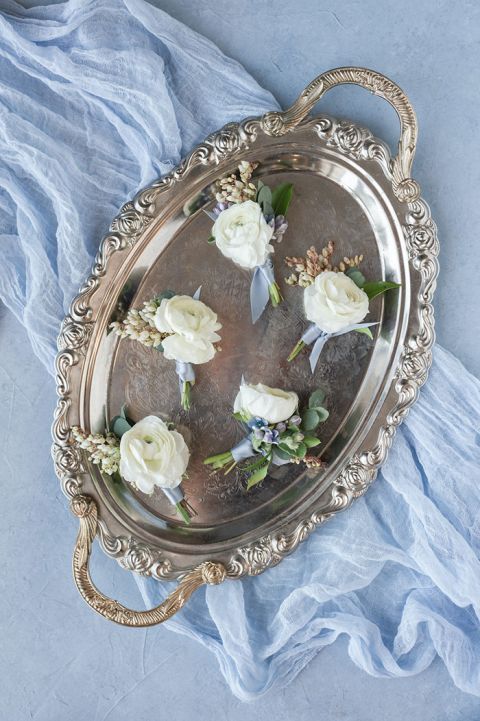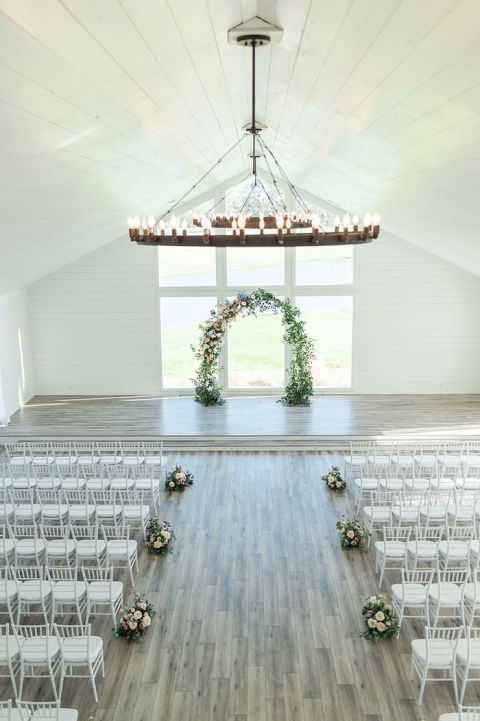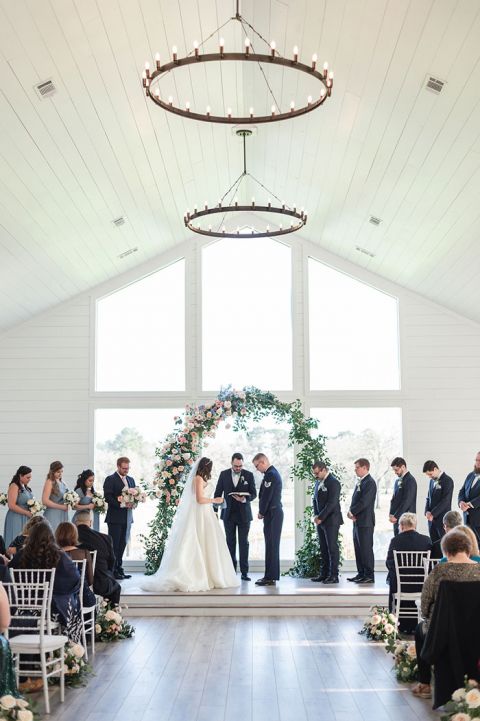 The couple held their ceremony in the white chapel on the grounds at their venue. The airy shiplap space created the perfect white farmhouse wedding ceremony backdrop!
On their wedding traditions –
We decided to do the tradition of Las Arras, which was also performed at my parent's wedding ceremony. 13 coins are blessed by the officiant and given to the bride from the groom to symbolize his ability to provide for the family and the bride's trust in him to do so. The coins were presented in a lovely vintage blue and white china box and currently sit on our dresser.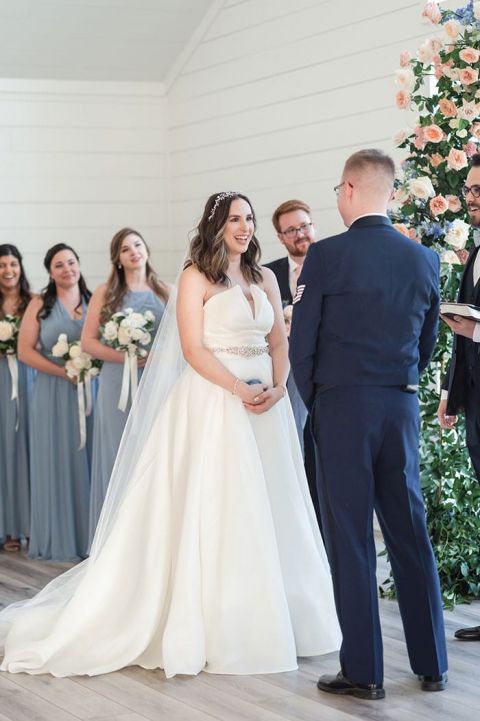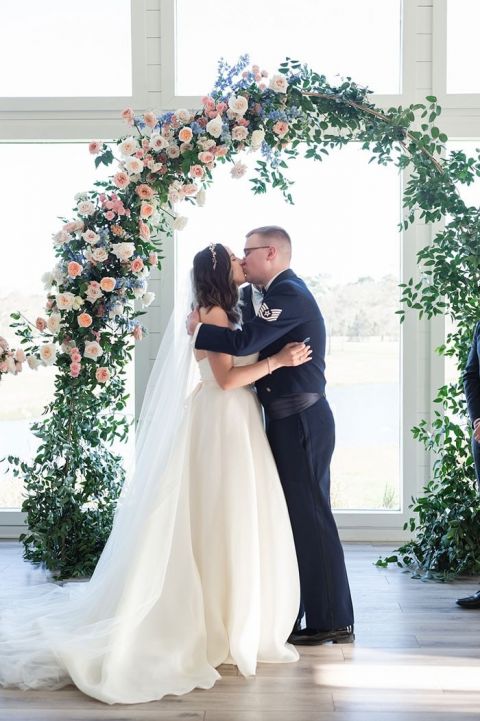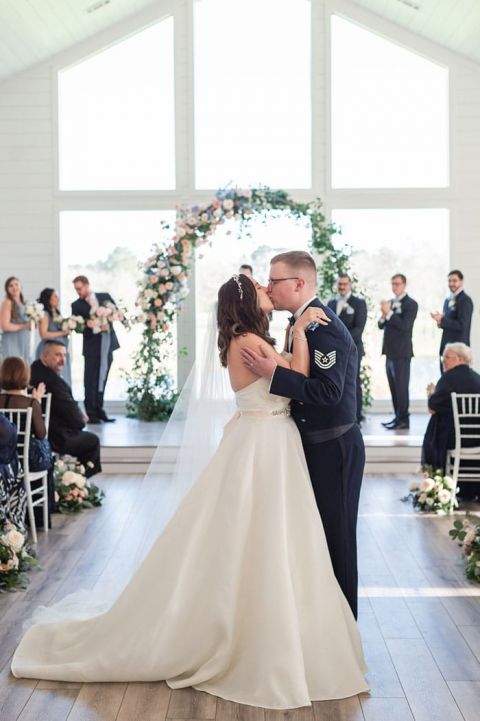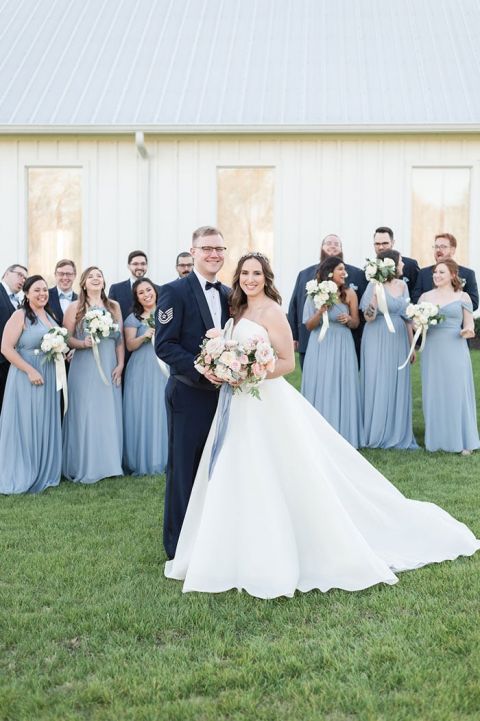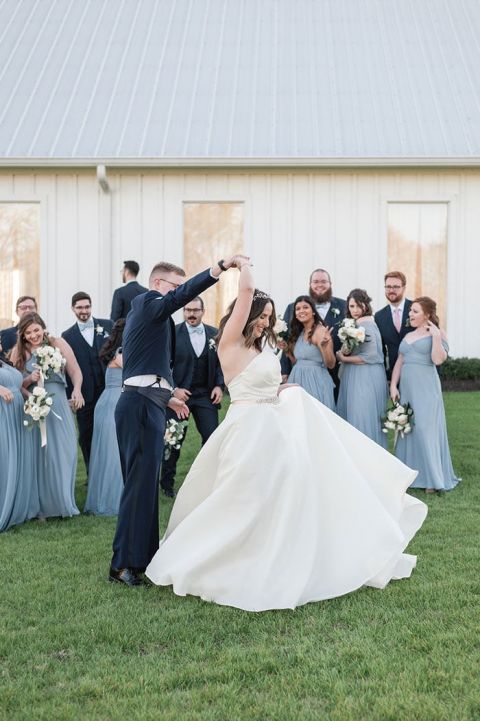 Ben wore his Air Force dress uniform instead of a tux so their wedding would honor his military service. They snapped photos in front of the venue to capture the perfect white farmhouse wedding backdrop!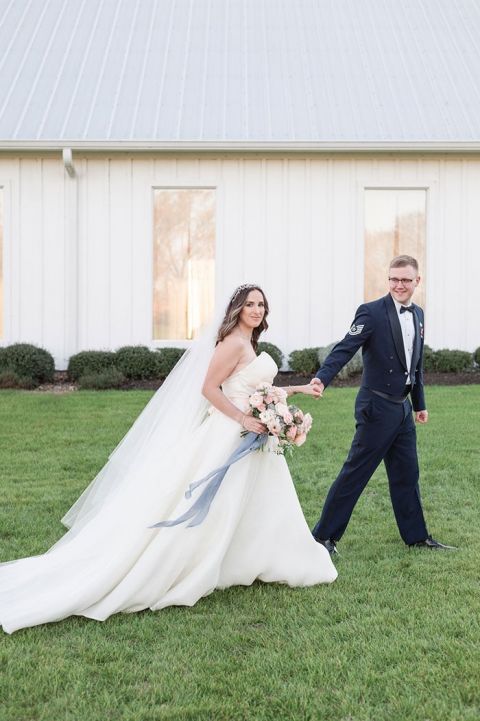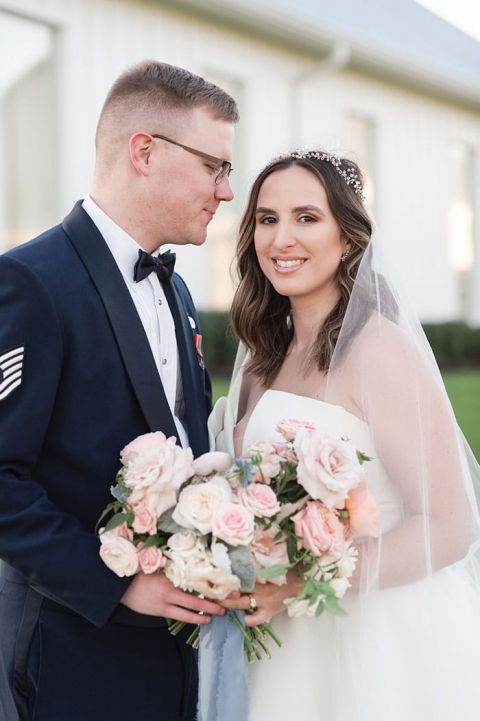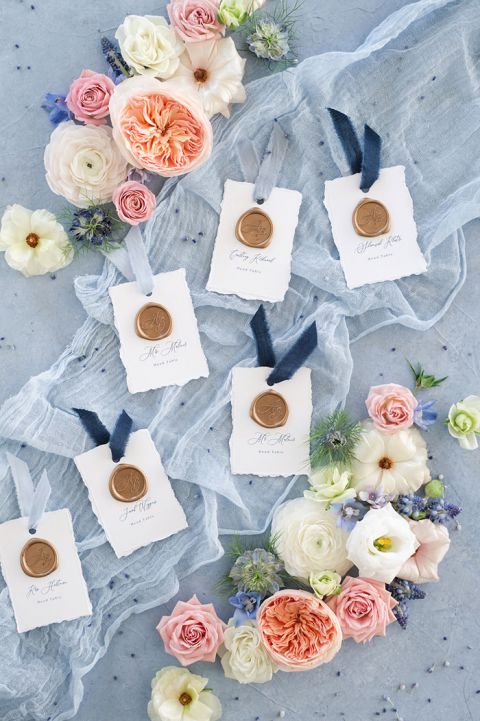 The couple used the white farmhouse wedding venue as a jumping off point for gorgeous reception design! Maxit Flower Design created the beautiful floral arch that was used for their ceremony, and ensured it was placed behind the Head Table for the reception to repurpose their wedding décor and add color to the white barn wall.
On how they chose their wedding flowers –
I wanted to feel as if we were surrounded by a lush garden, and definitely wanted the color aesthetics reflected in the floral arrangements. Lots of big blooms in various shades of white and peach with blue thrown into the mix. I very much love all things flowers, so I suppose that was something that was a bit of a splurge for us. I was so excited at the fact that they could hang these beautiful blue delphiniums from the chandeliers as well.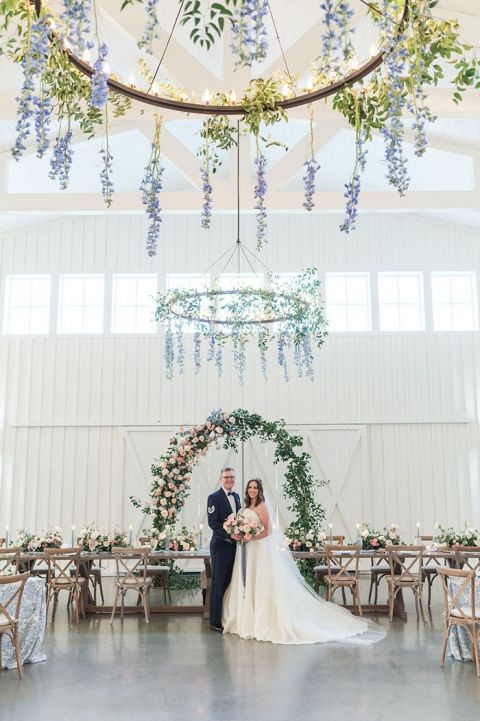 Long dining tables with patterned tablecloths from BBJ Linen added a French Country feel to the farmhouse style, and rustic farm tables from Swift + Company Rentals showcased the custom cheesecloth table runners dyed by the Mother of the Bride!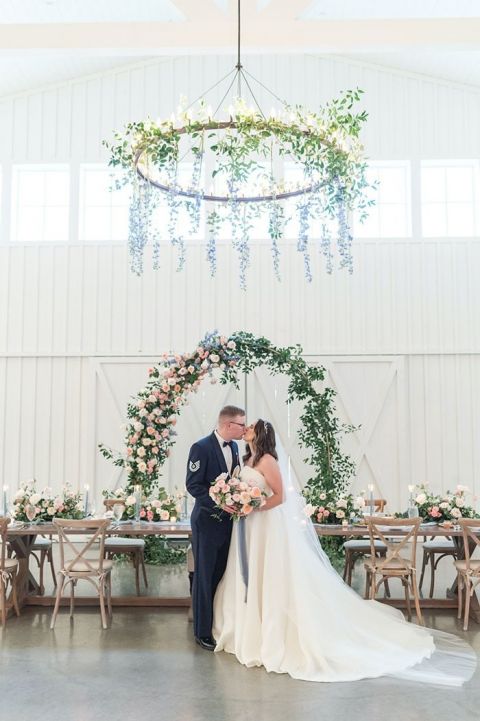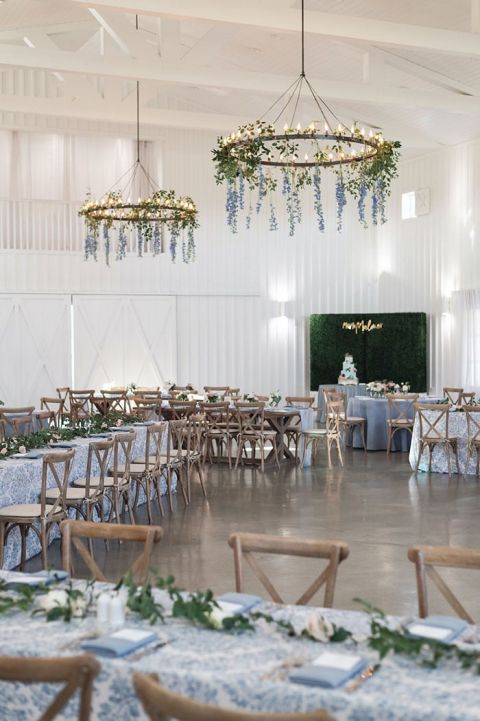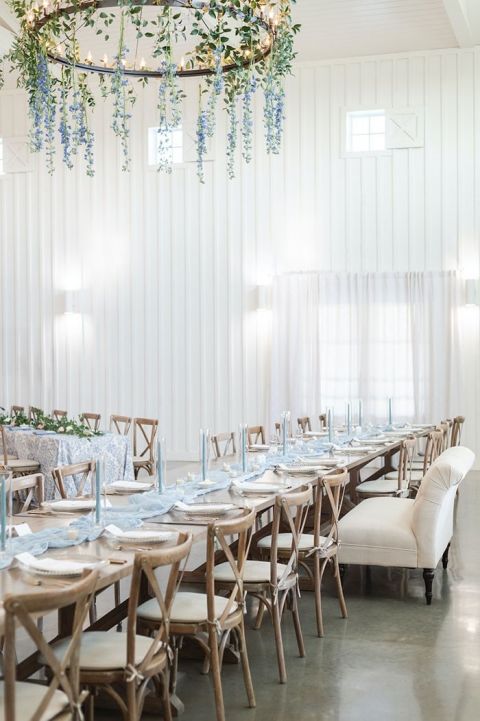 Dusty blue taper candles, vine table runners, and acyclic calligraphy table numbers added to the beautiful décor at their reception. The patterned linens allowed them to keep the table arrangements simple and create a gorgeous look for their romantic white farmhouse wedding reception!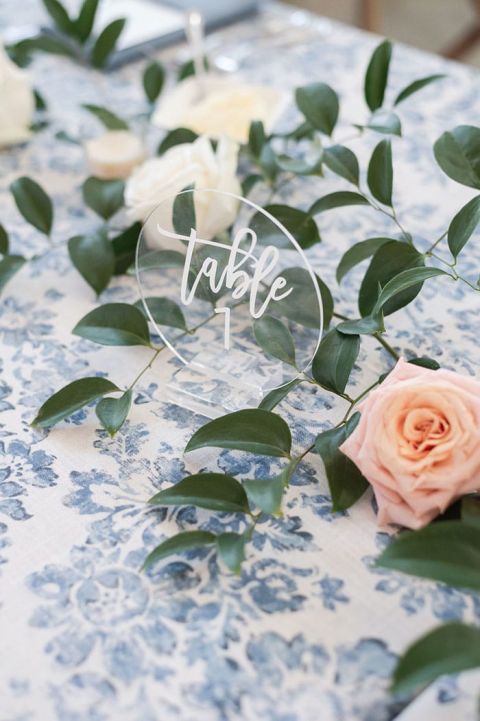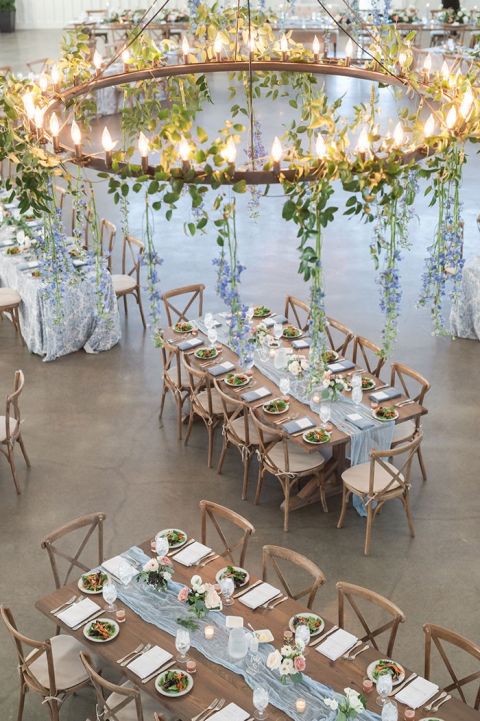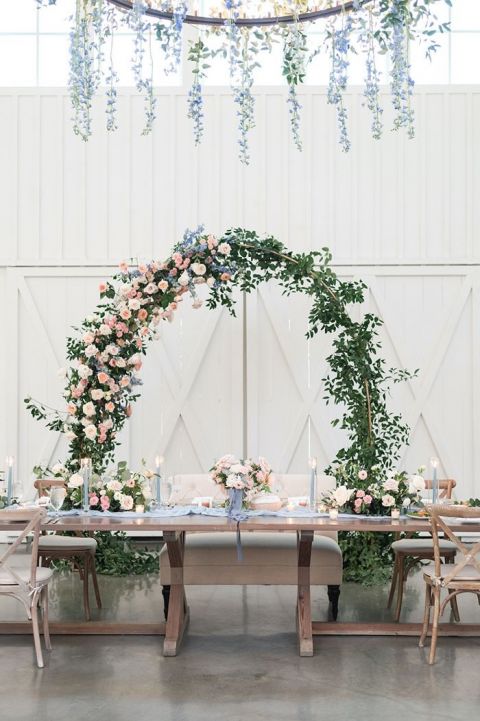 A pro-tip from their florist – the ceremony aisle arrangements were another way to repurpose wedding decor and made an appearance as the centerpieces for the head table!
On their wedding menu –
The most important thing to the both of us was absolutely the food. We love food just as much as we love each other (maybe more? lol), and knew that we wanted to give our guests and experience of things that we love, or might even make at home. We both were repeatedly told by friends and family that we'd be lucky if we got to eat anything at our wedding because apparently no one eats at their own wedding. I was very adamant that we were, in fact, going to have the opportunity to sit down and eat this incredible meal that we hand picked. We did, and I ate every single bite.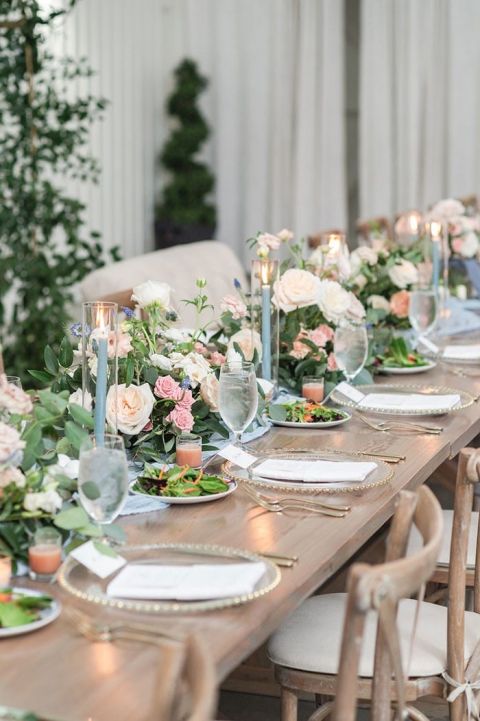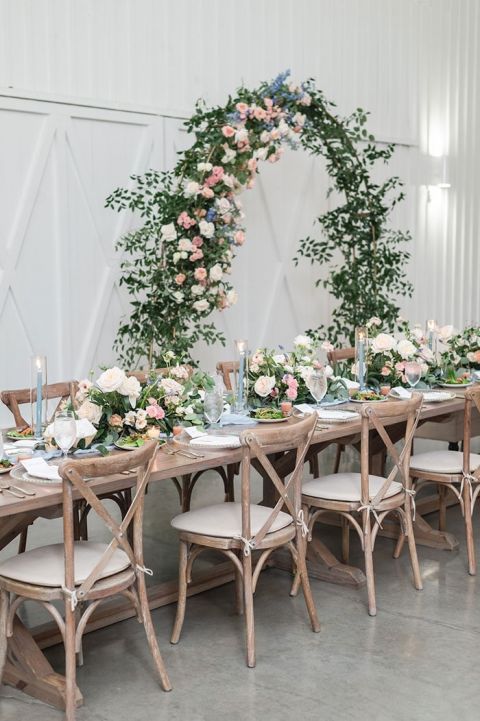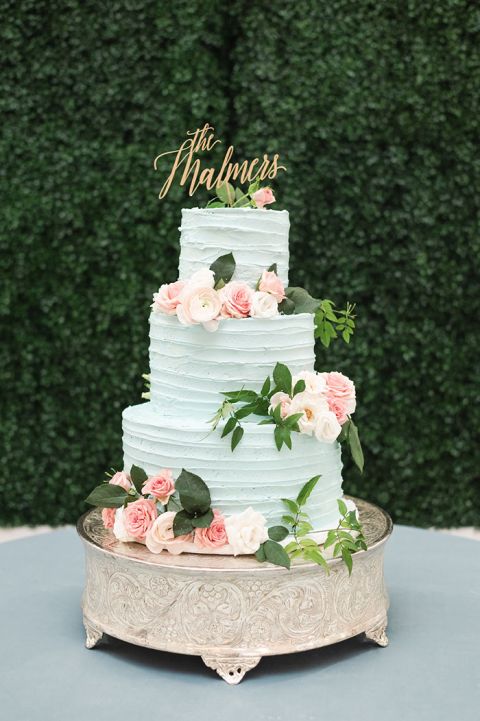 The gorgeous dusty blue buttercream cake by Mary Allison Cakes and Confections was the bride's favorite flavor – chocolate! The three-layer dessert was frosted with vanilla buttercream in a delicate blue, with fresh pink and white flowers and a custom gold cake topper with their last name. The greenery box hedge wall that served as their dessert table backdrop also introduced the new Mr and Mrs with a gold acrylic sign!

Now for the showstopper — the Groom's cake. We had the idea of a Whataburger themed Groom's cake for a very long time, even way before we were engaged. What we didn't know was the insanely high level that an idea like that could be executed. We gave Allison a very vague idea of "Whataburger themed, do whatever you'd like!", and she went above and beyond. The entire cake was a complete surprise to us, as she didn't let on at all to the masterpiece she was creating. She went so far as to get an actual Whataburger tray, cup, fry wrappers, and table tent order numbers for the cake. The fries were actually scrumptious little cookies as well! The cake itself was a delicious vanilla cake with salted caramel buttercream; the groom's favorite flavor. The best part? We took the cinnamon roll, burger, and shake with us to our hotel because they were each individual cakes! What more could you ask for?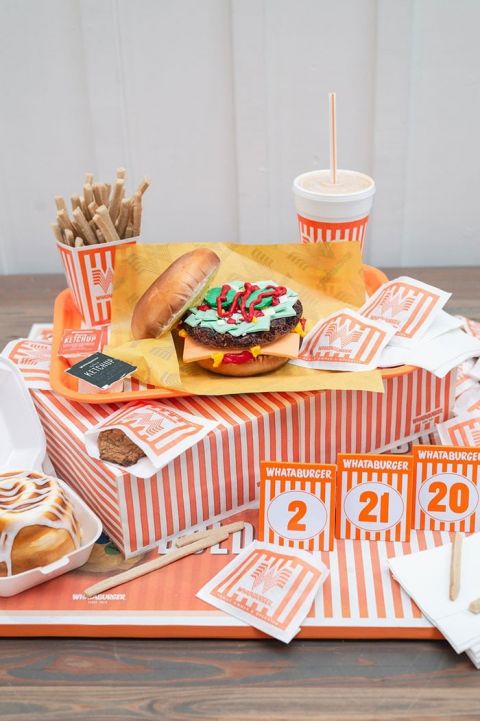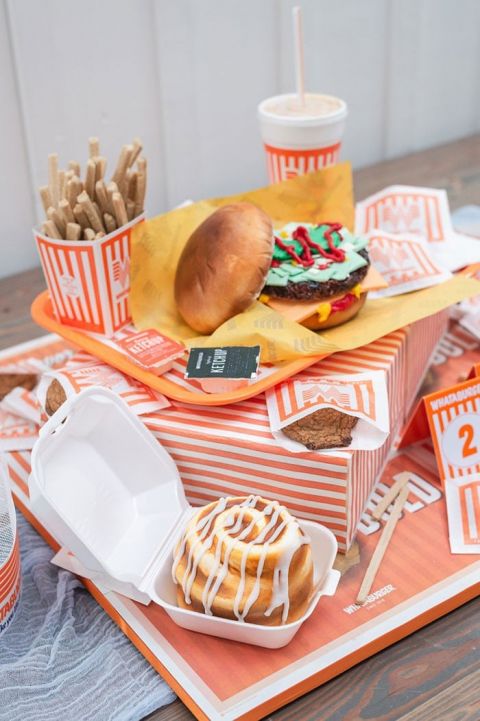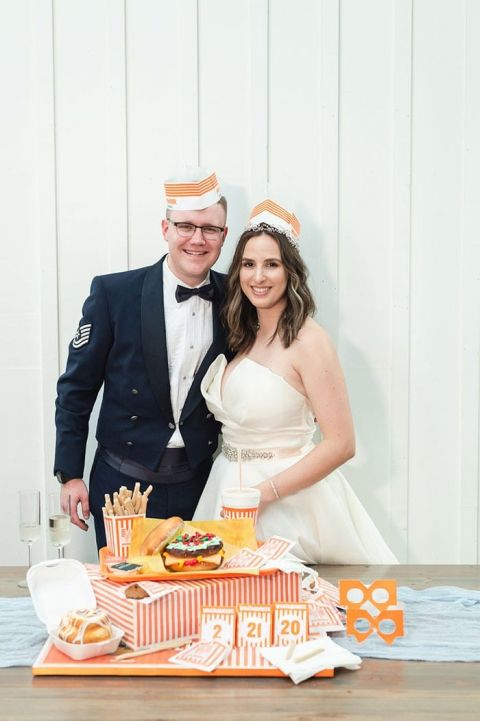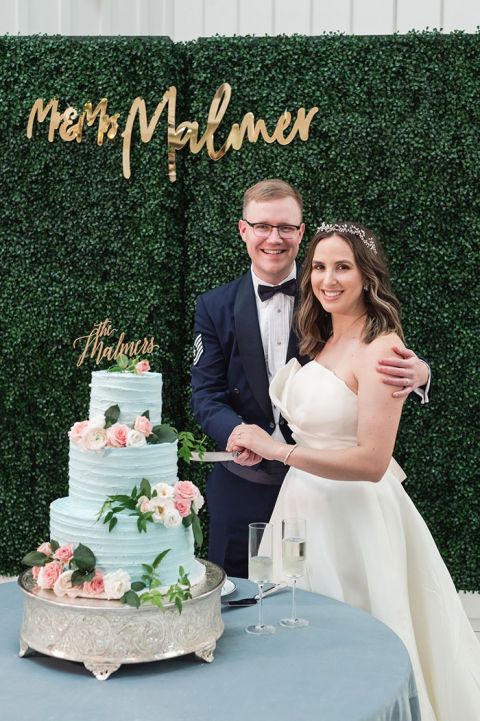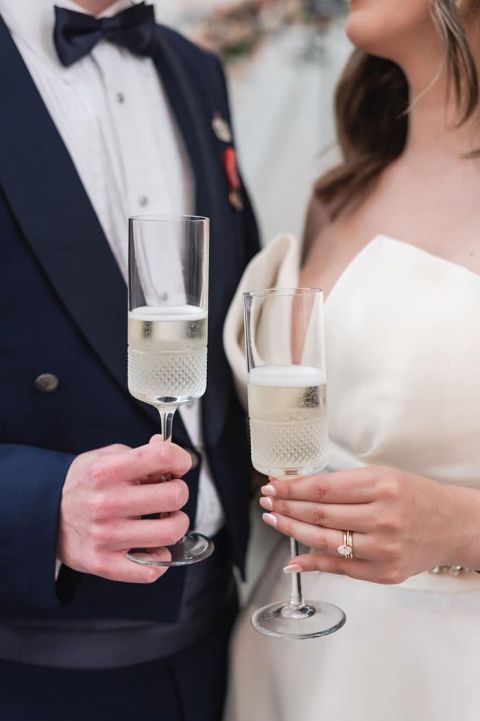 The couple shared their favorite memories of the day, including a special moment at the reception. They kept things personal by asking their Best Man to serve as the reception DJ and emcee, and the groom added another personal touch –
My favorite memory from the night though was when Ben serenaded me at our reception with "To Make You Feel My Love". It's something he does fairly regularly when we are at home together, so it was really special for him to show all of our friends and family that intimate glimpse into our personal lives.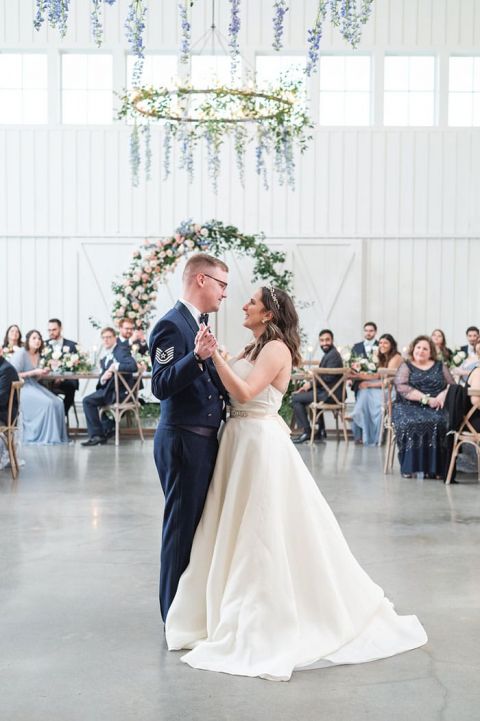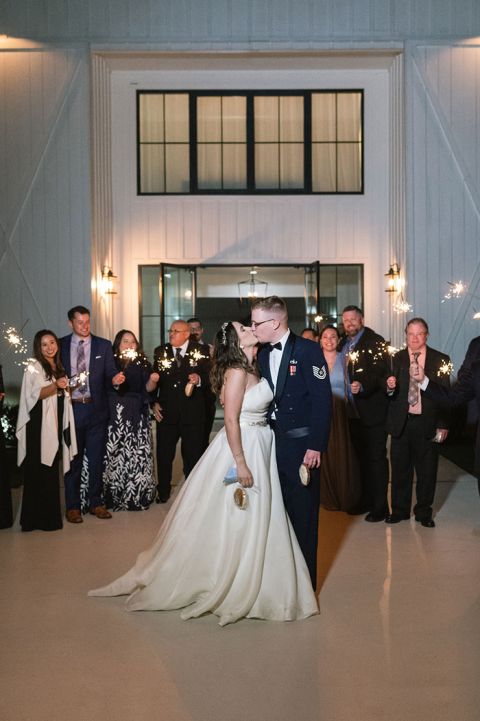 WEDDING VENDORS –
Photography: Beat Box Portraits | Texas Venue: The Farmhouse |PR Services: Published + Pretty | Event Planning: Liz Ise for Chancey Charm Dallas | Florist: Maxit Flower Design | Wedding Cake: Mary Allison Cakes and Confections | Catering: Cafe Natalie | Wedding Dress: Emerson by Monique Lhuillier | Bride's Shoes: Jimmy Choo | Bridesmaid Dresses: Birdy Grey | Bridal Accessories and Jewelry: BHLDN | Hair Styling: Tease HTX | Event Rentals: Swift + Company Rentals | Linen Rentals: BBJ Linen | Videography: Mia Videos | Calligraphy: Rachel Nieman Art and Calligraphy | Guest Book Alternative: RoosterPOP | Stationery: Brown Fox Creative | Submitted via: Matchology