You know you're in for a creative and personal wedding day when the couple pulled their inspiration as much from the 1920's as the current century! Jolene and Ross planned a wedding day that showcased their love for swing dancing, cocktail parties, Gatsby-glam, and creating their own traditions – with a little twist, they pulled each of these 1920's features into the 2020's to give their wedding day a vintage feel while staying deeply personal. Photography was a major priority for both, with Mandy Ford Photography's beautiful fine art photos there to capture every detail that planner Ivory and Grace Weddings helped them pull together!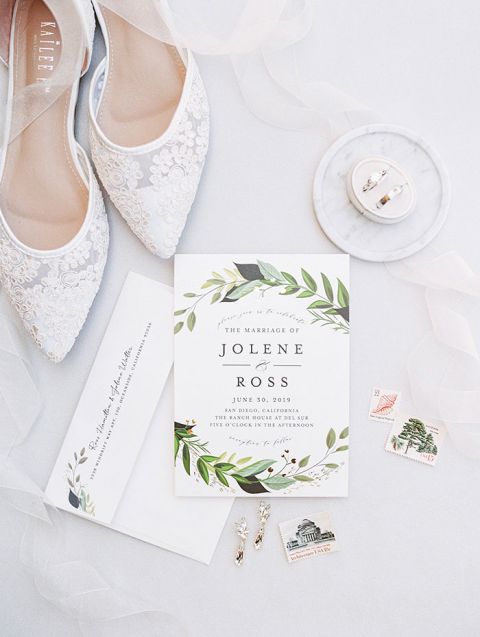 How they met and how they got engaged –
We met in 2008, the day Jolene was moving boxes into her freshman dorm at Carleton College. Ross was a junior living across the hall, and he helped Jolene move into her dorm room. We became great friends, walking in the arboretum, hanging out in the dorms, learning studio art, climbing together at the rock wall, and visiting Disneyland together. When we finally started dating three years later our first adventure as a couple was a two-week backpacking trip along the Appalachian Trail. We have always bonded over our shared love of travel, adventure, art, and music.

We had just uprooted our lives in upstate New York to get ready to move back to Jolene's hometown of San Diego, where Ross would start a new position at a naval hospital. We were spending a few days on vacation in North Carolina with Ross' family before Ross went to naval officer training and Jolene flew to Fiji to lead a high school summer program abroad. On our last night in North Carolina, Ross gave Jolene a book he had made (literally! We both learned bookbinding in college) with photos of us from over the seven years we had been dating. When Jolene reached the end of the book, Ross got down on one knee and proposed. The next day at the airport we said goodbye for six weeks and reunited when it was time to move into our new home in San Diego!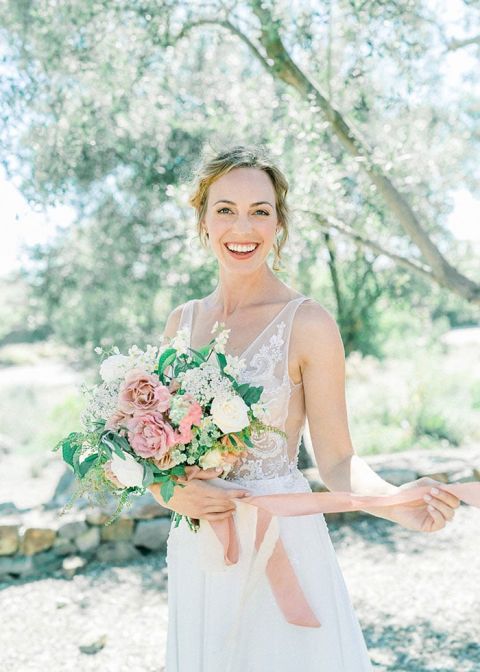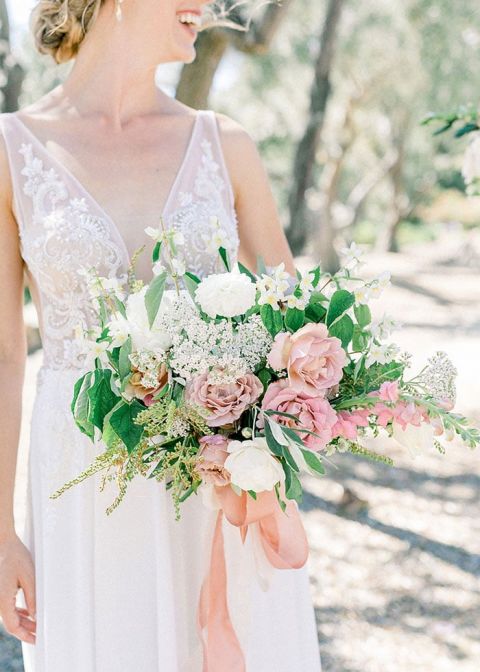 On the Bride's Dress and Styling –
Jolene wanted a flowy dress that had an ethereal feel. She fell in love with the bodice of this dress and its Gatsby-esque vibes as soon as she saw it. She had it fitted and the train shortened to make sure she would be able to swing dance in it! She had two pairs of shoes: for the ceremony, a pair of elegant flats she found on Etsy and a pair of glitter Kate Spade Keds for swing dancing. She also knew she wanted to wear her hair in a romantic, loose bun with flowers in it.
Photographer Mandy Ford gave the groom's accessories love with these sweet flatlays showing the couple's wedding day accessories! To accent his blue suit from The Black Tux, he wore brown leather shoes that were already in his closet and gold cufflinks that he had been given as a gift.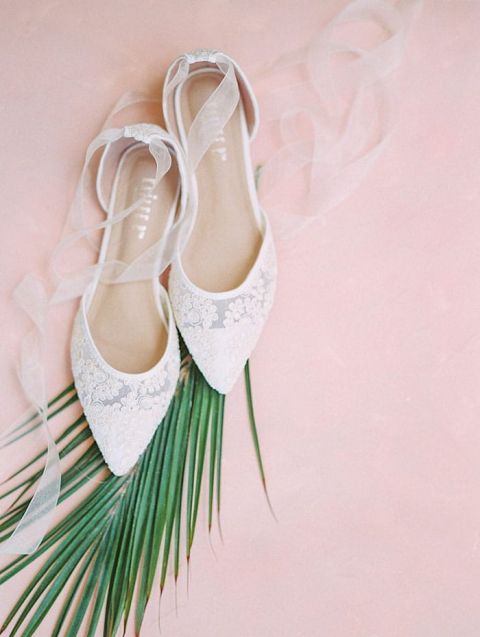 Bride Jolene found her white lace shoes from Kaileep and added sparkling touches with jewelry from BHLDN.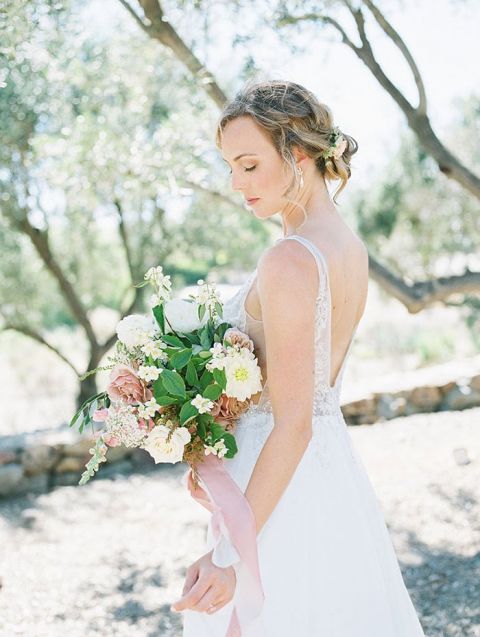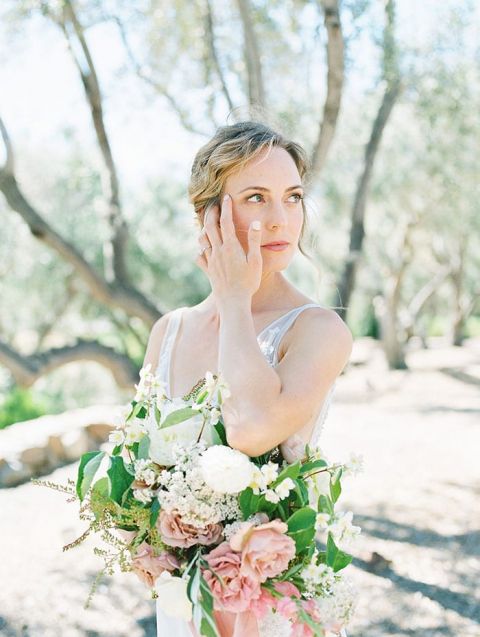 On their wedding flowers –
While at the Modern Love Event in San Diego, Jolene saw a floral table arrangement that caught her attention. She wasn't even looking for a florist, but to her it felt like a sign – and so she spent the next hour tracking down the person who created it! That's how she met Maggie from Honeysuckle Floral. Maggie's work has the perfect blend of artistry and elegance for what we wanted. Our wedding florals were simple – mainly just bouquets for bridesmaids and a few table arrangements around the venue – but Maggie also helped bring our vision of a romantic dinner party to life with lots of greenery and garlands and candles on the dinner tables.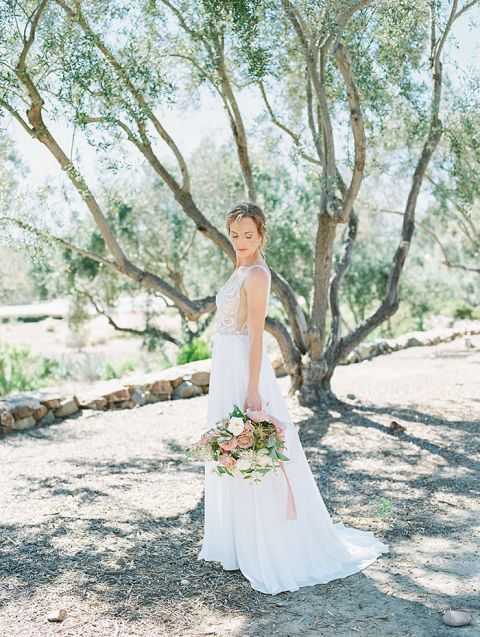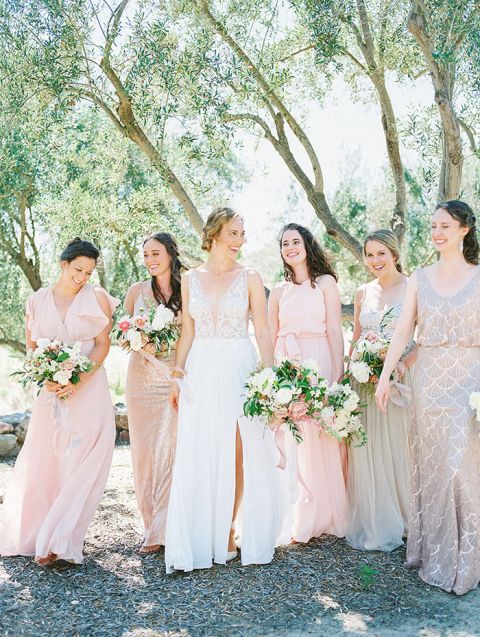 With blush pink as their primary color, Jolene's bridesmaids selected mismatched floor-length dresses in her preferred shade! Sequins, sparkle, and scalloped details added to the 1920's flair.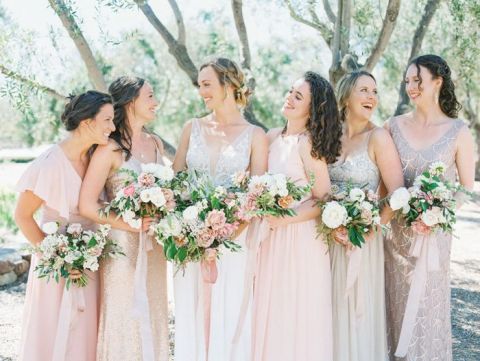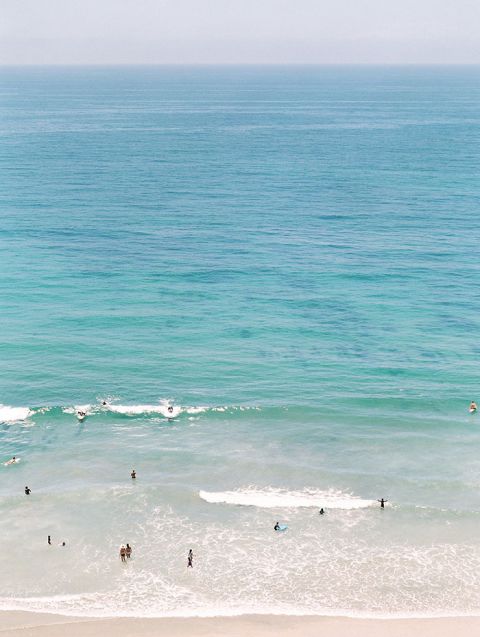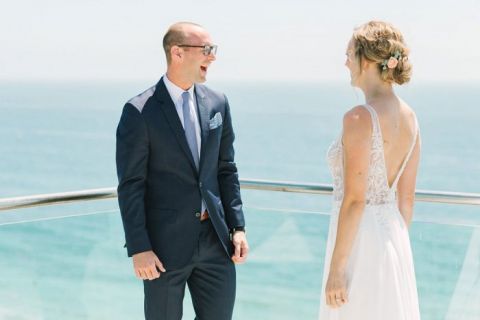 The couple held their First Look on a balcony overlooking the San Diego bay – how perfect are these portraits from the first moment they saw each other!
We rented a big beach house to stay in with our wedding party for the extended wedding weekend. Waking up in the beach house the morning of our wedding to the sound of the surf was magical. The two of us had our first look on the rooftop of the house overlooking the ocean and enjoyed a few quiet moments together.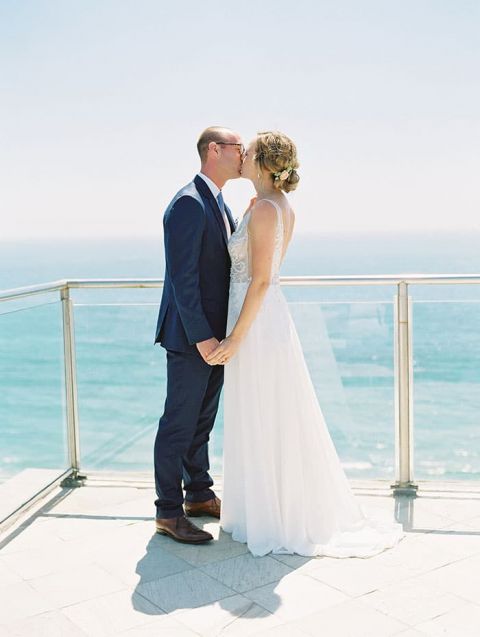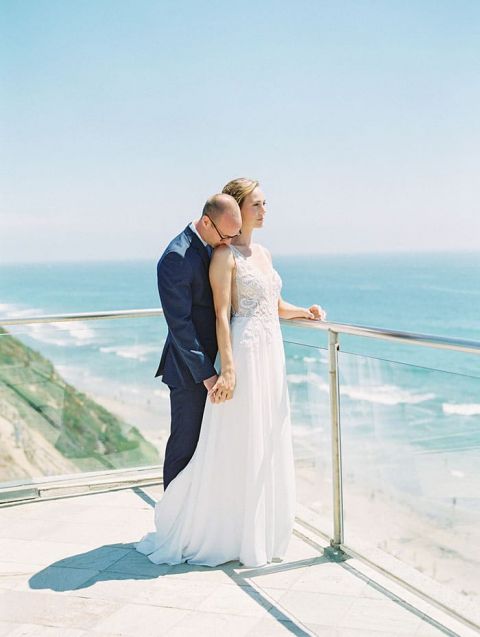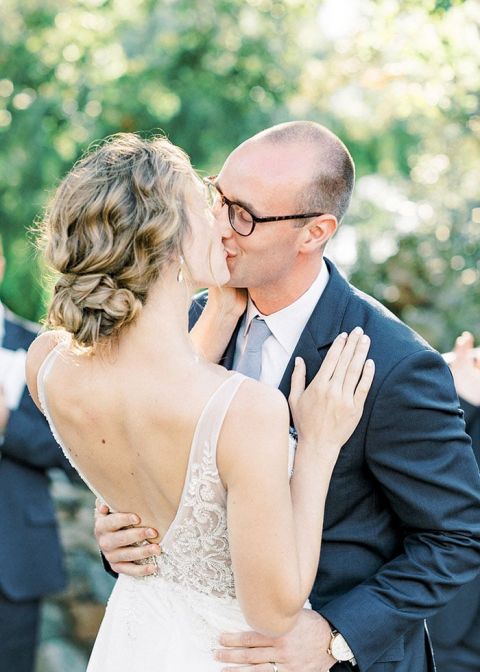 On their unconventional wedding day timeline –
We dreamed of a wedding that combined our love of nature with our fondness of Gatsby-era elegance. We feel fortunate that our wedding planner Annie had a connection with this private venue that gave us the outdoor space we wanted along with the beautiful grove of olive trees for photos! We wanted the evening to feel elegant and romantic but also relaxed at the same time. With a close-knit group of only about 80 of our closest friends and family, we started the evening with a cocktail party and live swing music from the Holly Street Stompers .

Then we paused to ask guests to gather around, drinks in hand, for a short standing ceremony (officiated by Ross' childhood friend) and went right back to the party afterwards.

We asked our parents to participate in the marriage ceremony by praying the blessing over our marriage at the end.

Our officiant, Tim, was one of Ross' oldest friends from childhood. They grew up playing soccer together since they were 5 years old (awwwww).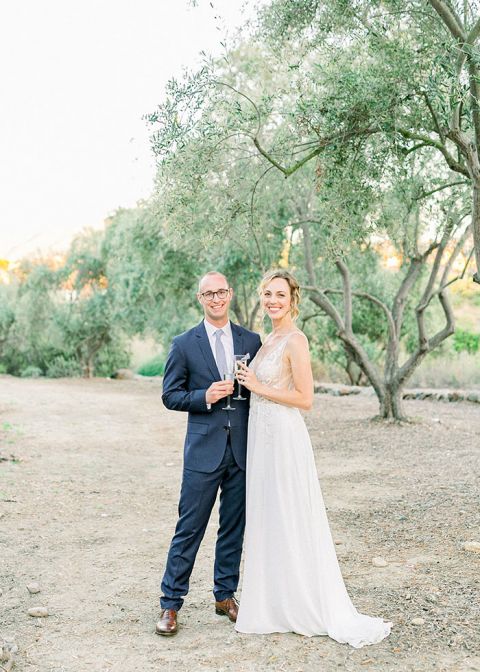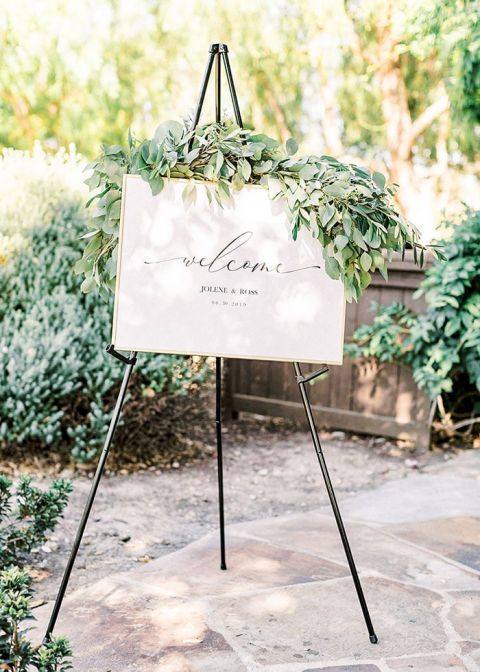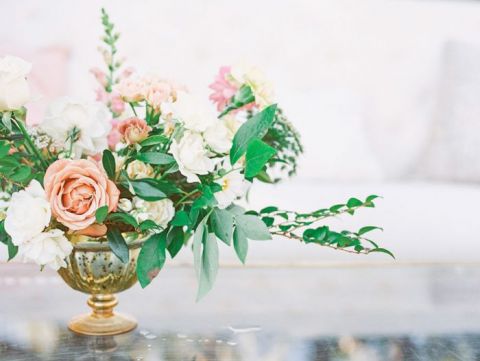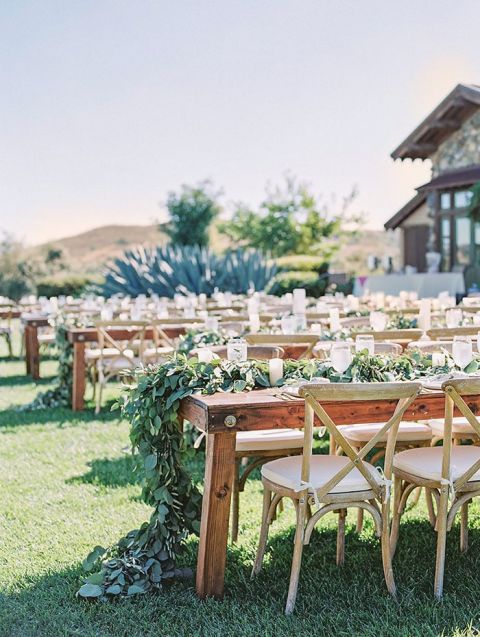 On their reception decor –
For dinner we chose to put long farmhouse tables together to give it a more intimate, dinner-party feel. Our florist did a wonderful job adding romantic touches with greenery and candles on the tables. We wanted each part of our wedding to feel personal and meaningful, so we skipped a lot of cheesy wedding traditions and included only the elements of the day that were most important to us.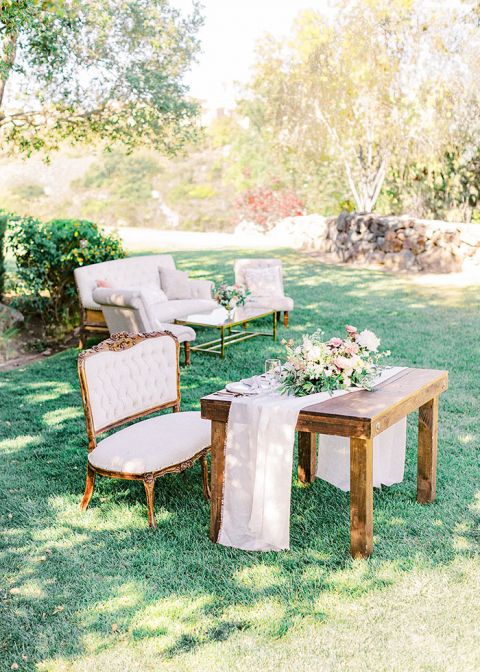 On their wedding priorities –
For us, photography was a big priority since we knew that was what would help shape our memories of the day for years to come. We both have a background in art (and Jolene in photography) and we knew we wanted a photographer who embraced a romantic, fine art look.

Since we are swing dancers, we also had a dream that we would have a live swing band at our wedding. We feel so lucky that we stumbled upon the Holly Street Stompers, who were so much fun to work with and absolutely perfect for our vision!

We also love to host cocktail parties and to dress up and explore new cocktail bars together, so we knew we wanted fun craft cocktails to be part of the day. A full bar wasn't important to us, but serving signature drinks that we got to pick out with Snake Oil Cocktail added such a fun element.

We had a down-to-earth BBQ buffet and with desserts from a local donut shop that we like, and we skipped the wedding favors entirely. We wanted the focus to be more on everyone enjoying each other's company and making memories.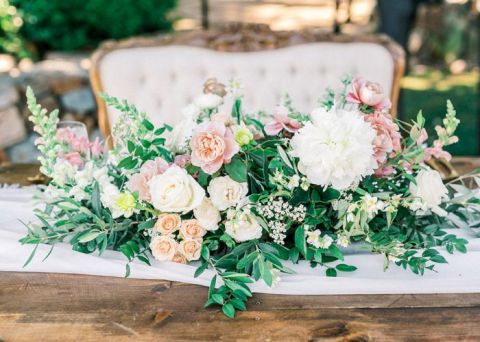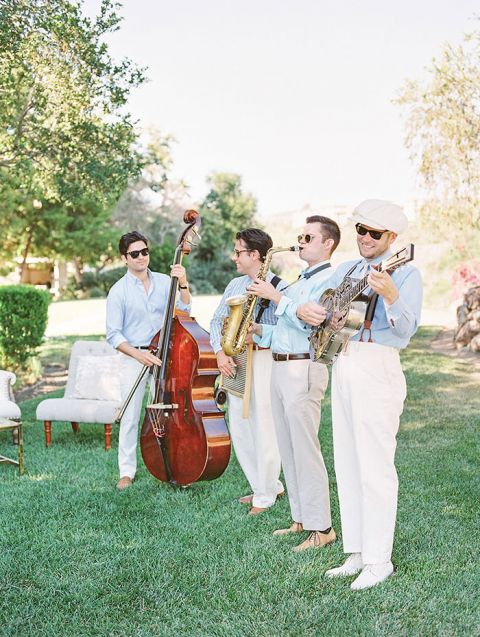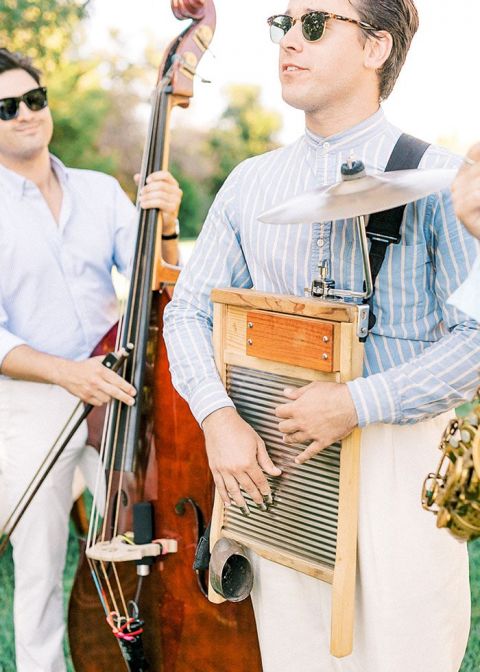 One of the biggest highlights of the day for both of us was our first dance. We have been swing dancing for years (Ross got Jolene into it) and so of course our first dance had to be a swing dance. We danced to "My Blue Heaven" while the band played and sang. It was so much fun. Some of our closest friends and family have never gotten to see us dance together, so it was also special.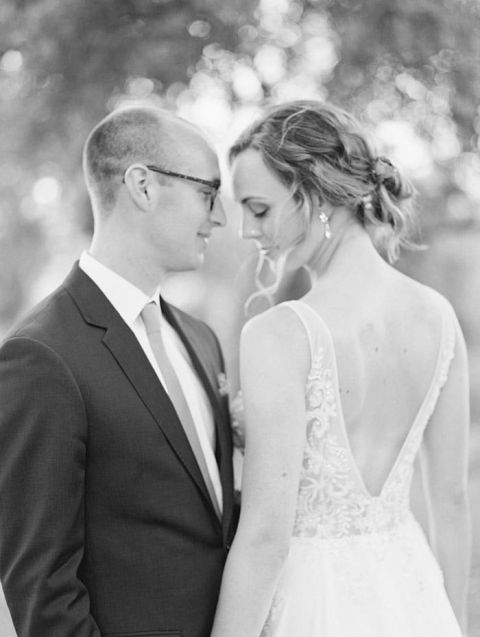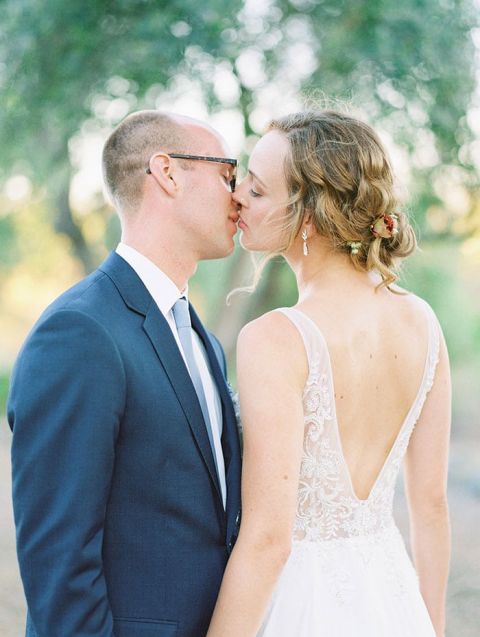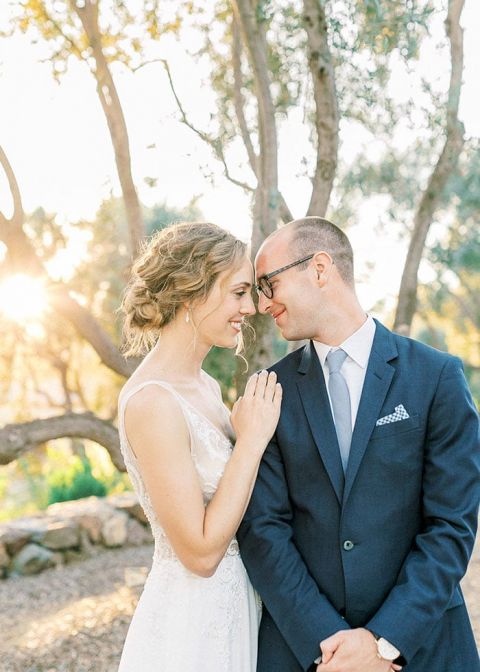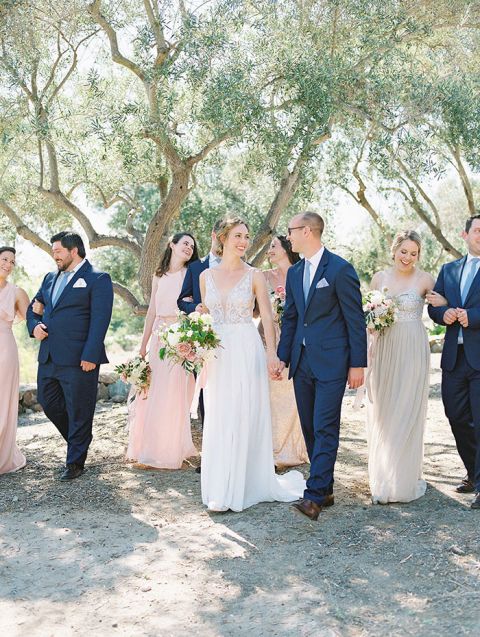 WEDDING VENDORS –
Photography: Mandy Ford Photography | Wedding Venue: Ranch House At Del Sur | Event Planning: Ivory and Grace Weddings | Floral Design: Honeysuckle Floral | Wedding Cake: VG Donut & Bakery |Wedding Dress: Casablanca | Bride's Shoes: Kaileep | Accessories: BHLDN | Engagement Ring: Brilliant Earth | Groom's Attire: The Black Tux | Groom's Watch: Shinola | Hair Styling and Makeup: Beauty Bespoken | Event Rentals: Adore Folklore | Catering: Bekkers Catering | Bar: Snake Oil Cocktail | Bnd: Holly Street Stompers | DJ: Dancing DJ Productions- Will Chitwood | Stationery Design: Minted | Calligraphy: Robert Pansacula | tinSubmitted via: Matchology
A 20's Wedding with Gatsby Vibes and Modern Touches