With airy glass walls and vintage doors framing an enchanting space, this stunning Houston wedding venue at The Oak Atelier is a magical place for an intimate wedding ceremony! This shoot by Kate Elizabeth Photography and LoveLee Experiences combines miniature white barn venue with powder blue and mauve flowers to create a floral fantasy micro wedding filled with dreamy details and stunning bridal style!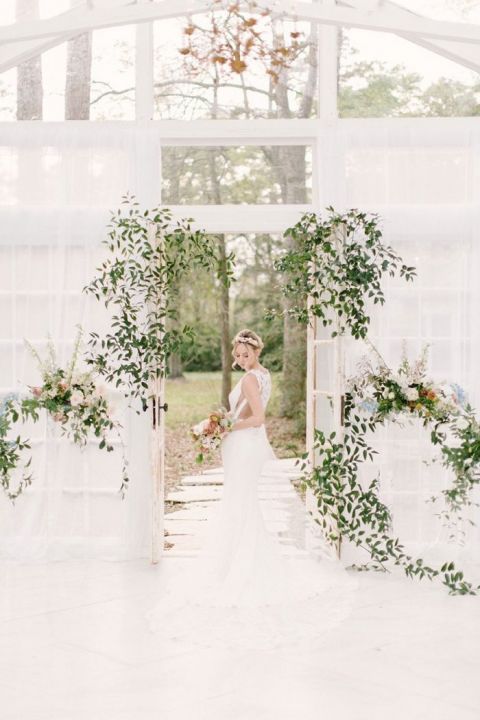 Vintage Door Ceremony Backdrop for a Greenhouse Wedding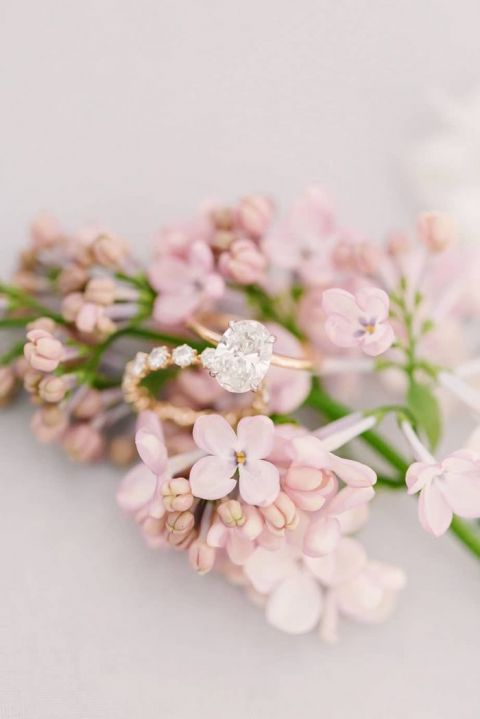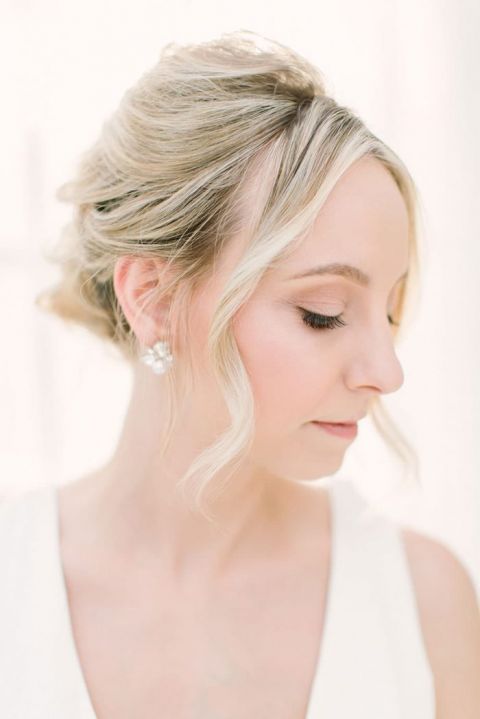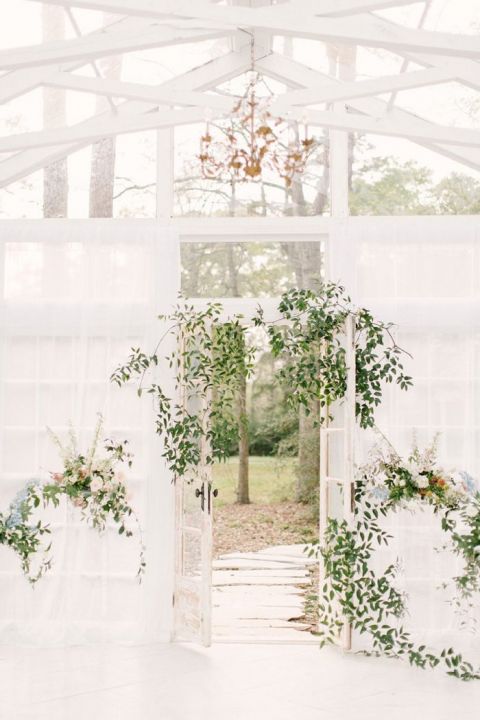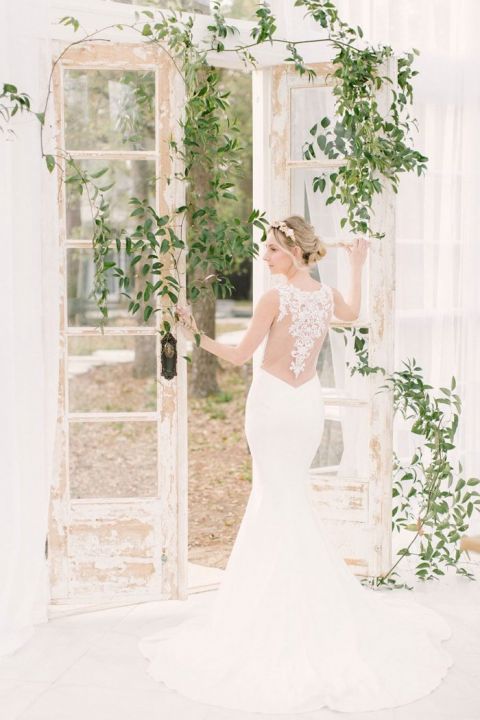 The vintage doors on this charming glasshouse venue, called The Willow at The Oak Atelier, created a stunning backdrop for the ceremony decor. The airy white venue was set for a floral fantasy, with climbing green vines and white drapery to create an open and airy place that felt like stepping into a dream!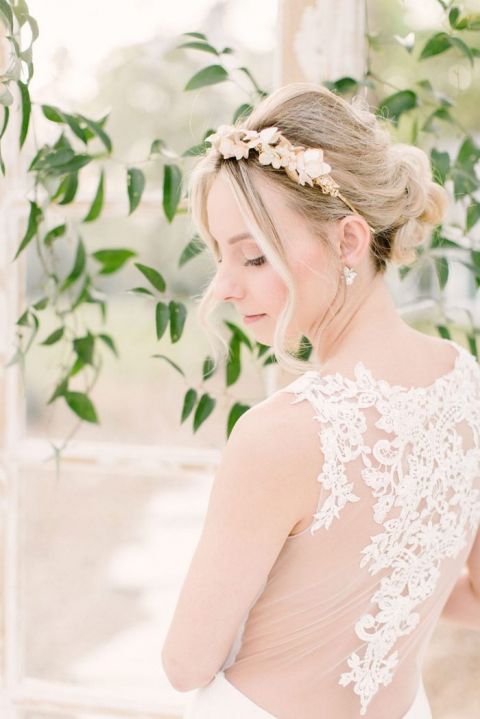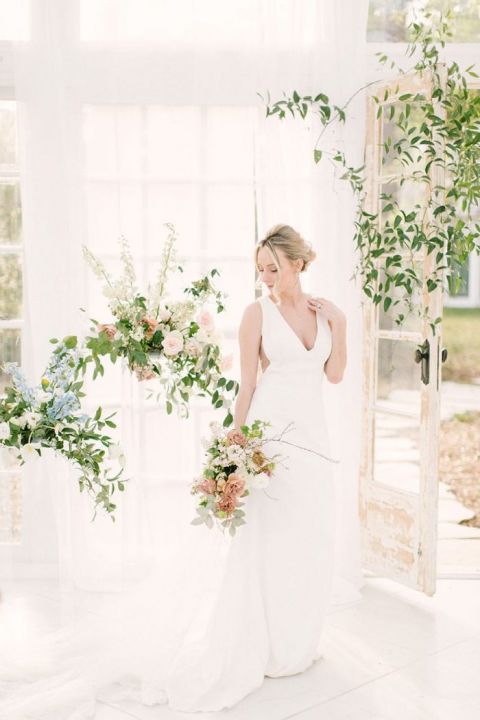 With the venue's vintage doors as the focal point, Blush Floral Co dressed the ceremony with clear acrylic stands to keep the openness of the space. The cappuccino roses and mauve flowers added a warm note to the vines and shades of cream and powder blue in the ceremony arrangements that would be repurposed into the reception decor! To add a personal touch, Model Paper Designs turned acrylic discs into Parisian-inspired escort cards with wallpaper floral details and tassels!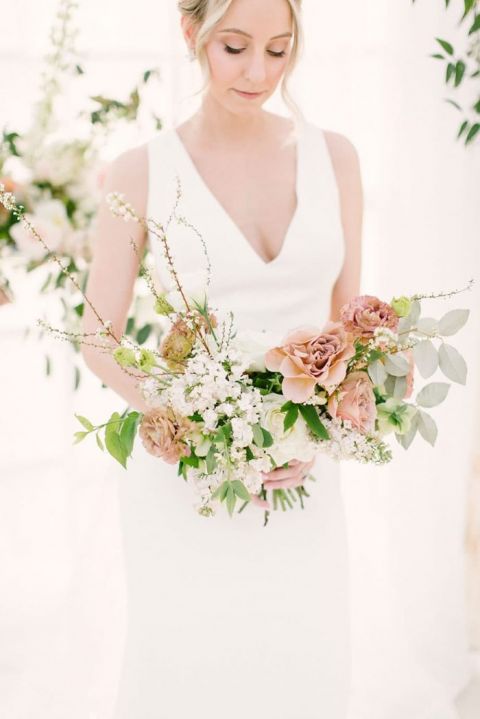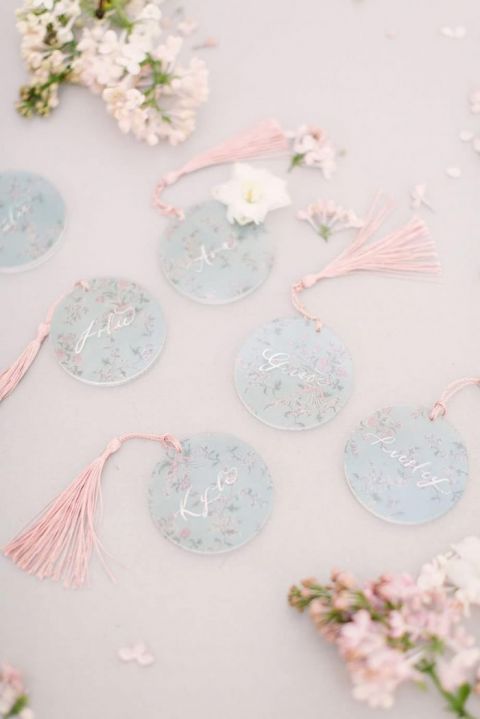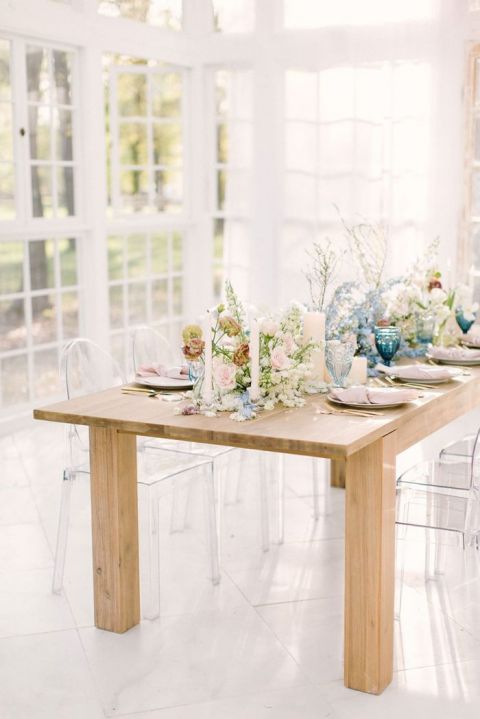 The blonde wood dining table added a farmhouse touch, while the clear ghost chairs allowed the space to feel wide open and bask in the natural light streaming through the vintage doors and glass panes.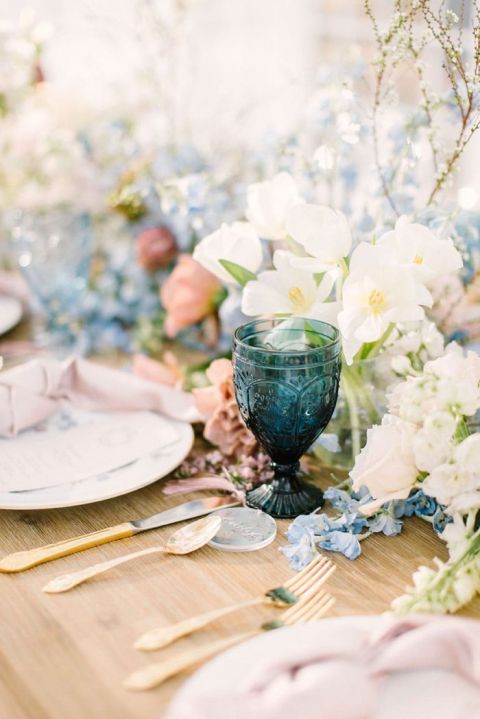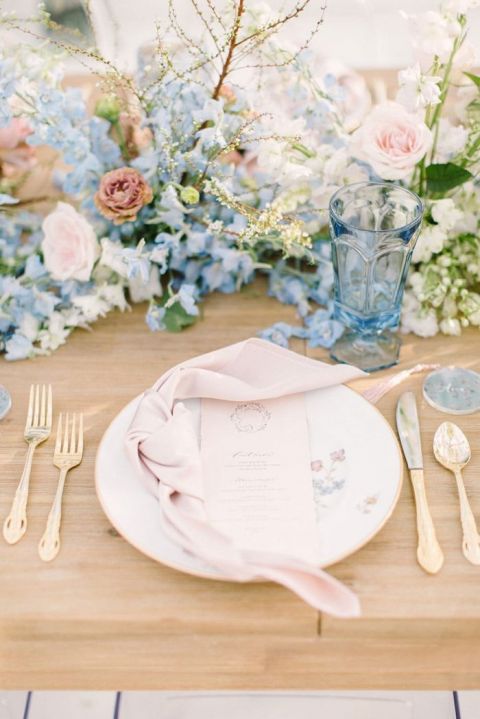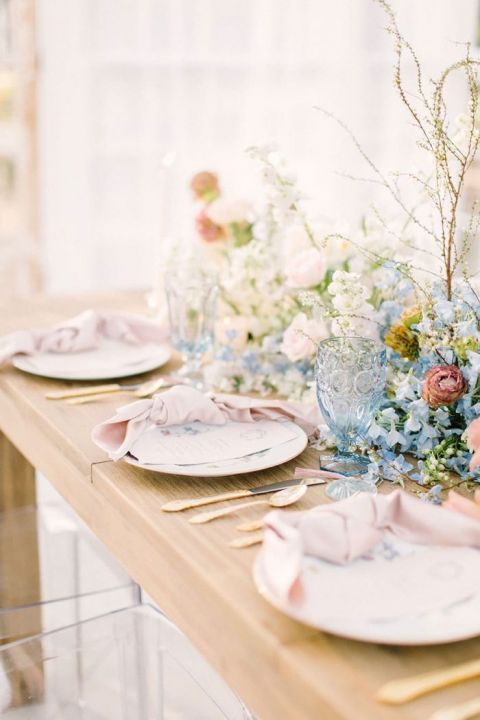 The long dining table was loaded with blue delphiniums, white blossoms, and mauve flowers to create a floral runner in the gorgeous signature colors of this floral fantasy shoot. Adding blue glass water goblets, blush silk napkins, and gold flatware helped finish the dreamy pastel color scheme.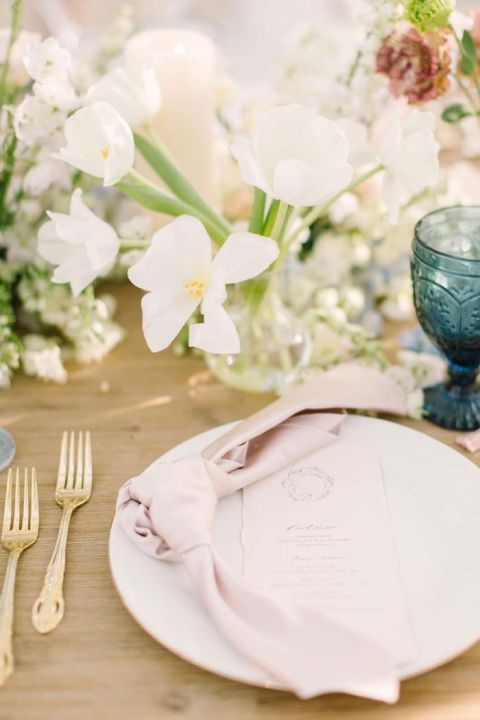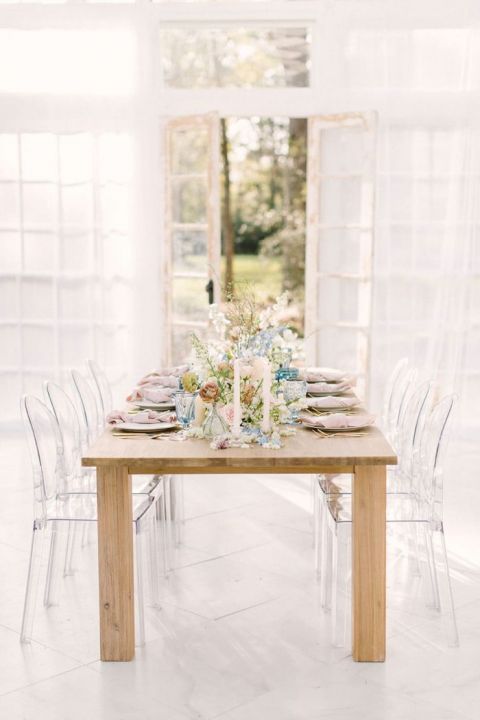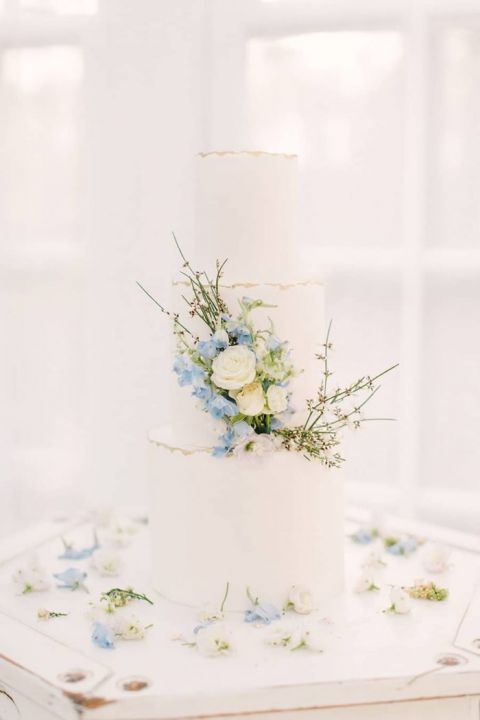 Eat Cake Be Merry dressed the white wedding cake with a gold deckled edge and fresh flower cake topper to create a garden cake design that complemented the ethereal look of the vintage door backdrop from the ceremony!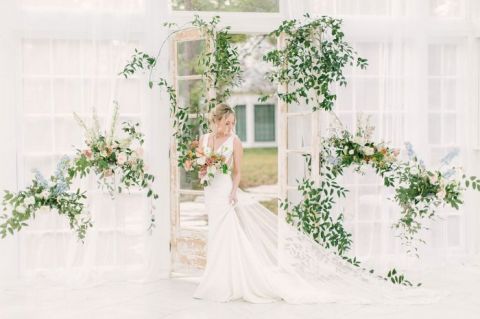 WEDDING VENDORS –
Photography: Kate Elizabeth Photography | Houston Wedding Venue: The Oak Atelier | Event Planning: LoveLee Experiences | Florist: Blush Floral Co | Wedding Cake: Eat Cake Be Merry | Wedding Dress: Belle Ame Bridal Houston | Headpiece: Erin Rhyne | Engagement Ring: Lindsey Leigh Jewelry | Hair Styling and Makeup: Angela Karr Hair and Makeup | Event Rentals: Oliver and Penelope Vintage Rental | Linen Rentals: EB Inc | Model: Sarah Johnson | Stationery: Model Paper Designs | Stationery: Model Paper De | Submitted via: Matchology