What do you do when you're from a small Texas town and dreaming of a glittery boho 'disco queen' wedding? When you're Madi, you get everyone on board with your vision! From sourcing local pampas grass from neighbors' yards, letting the bridesmaids choose individual dresses, and making her mom fall in love with a glittery disco ball dress with non-traditional style, she found a way to create the boho vibes of her dreams! Camera Shi's photos do gorgeous justice to the warm neutral colors and eclectic decor at Sunset Ranch Center with planner Taylor Bible Weddings and Mountain Laurel Floral helping make the magic happen!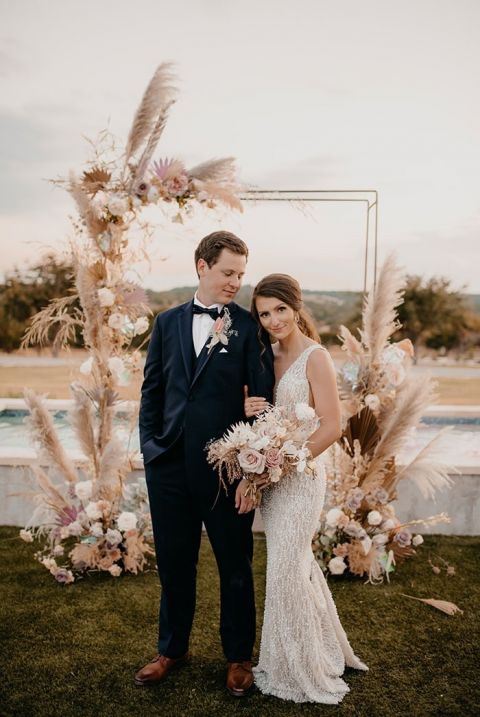 Glittery Boho Vibes with a Glam Wedding Dress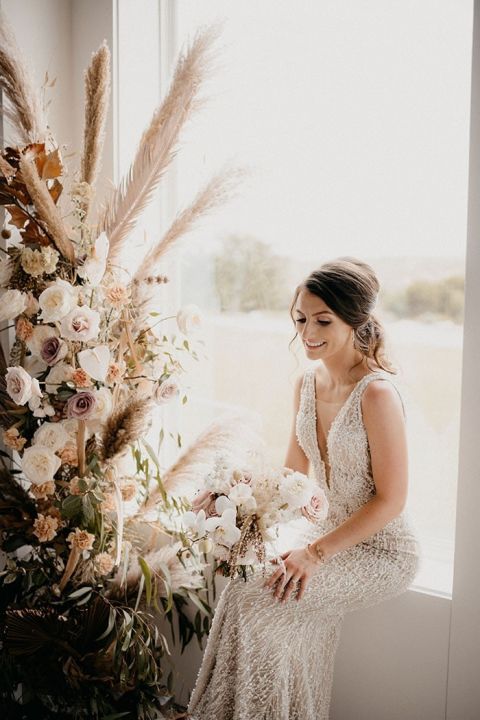 Hello to this gorgeous bride! Her dress is the best place to start – Madi spotted this 'disco ball' dress by  Wona Concept at The Blushing Bride Boutique in Frisco, Texas, and had that little 'OMG moment' every bride will recognize.
How she knew her wedding dress was The One –
Fun fact, I went dress shopping three separate times. Which, in my opinion, was not so fun. I wanted something completely different and off the wall! I knew I wanted a tight-fitting dressing with a plunging neck and back but was stuck between a clean crepe look and texture that was reminiscent of a disco ball. I love European bridal fashion and the haute couture feel of the designers.

I actually saw my dress on Instagram for a bridal shop in Frisco, and I immediately knew it was my dress! This is where I had to get creative. My sweet mother came with me every time I went to try on dresses, and as the great mother she is, every dress I tried on was her 'favorite' and 'the one.' We are talking fifty plus dresses here. She also had a hard time envisioning what I wanted. Her style is very traditional, and mine is…off the wall! So, I screenshotted about 8 random dresses off of the shop's Instagram and sent them to my mom along with THE DRESS and asked which ones she liked. She didn't like it. Shocker. This set my plan in action.

We made an appointment to try on dresses, and two of my very best friends in the entire planet were set to come. We started off at a different boutique where my mom loved every dress, and honestly, she was pretty sold on one I had tried that morning. After a quick lunch, we made our way to the boutique. Immediately, I pulled out their Instagram to show the consultant the dress I wanted to start with and grabbed two others for giggles.

Instantly after sliding it on, it was clear. This was it! My mom, my best pals, and I couldn't even contain ourselves over it. Then, the pearl cape came out, and we lost our minds all over again. At this point in time, I told my mom what had happened. She had seen the dress almost a month before I ever tried it on! 
Madi knew she didn't want a traditional look for her bridesmaids, and let them pick individual dresses in her color scheme of blue, lavender, and purple. Their dress picks – including a bridesmaid jumpsuit! – made their pictures a blast!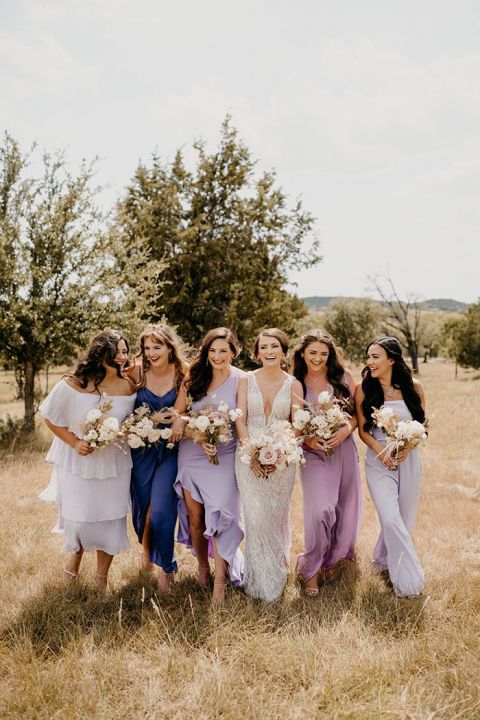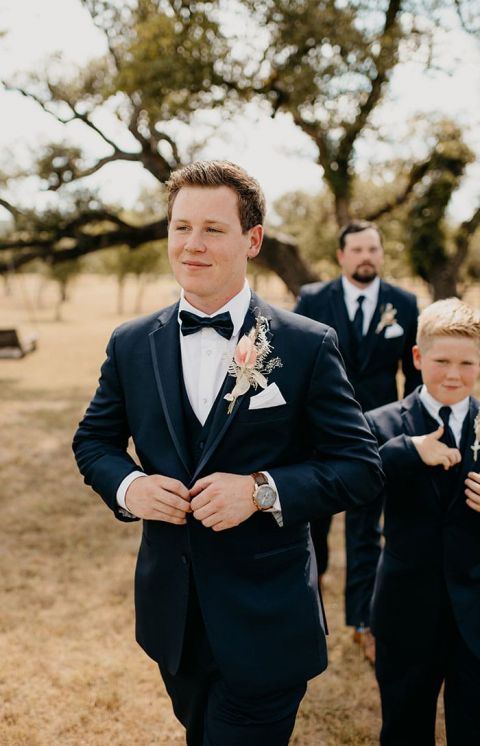 The couple shared an intimate 'First Touch' before the ceremony – they didn't see each other but having a moment to connect allowed them to share the intensity of the day in a special way!
It's not every day you marry someone you met in 6th grade! After years of friendship in middle school and beyond, the two became a couple their junior year of high school.
We started dating on January 9th, 2014 which holds a lot of significance to us both. Our favorite Bible verse is Joshua 1:9, so Joshua 1:9 + January 1/9. We dated for the rest of high school and all through college which was really just so fun!

The Bride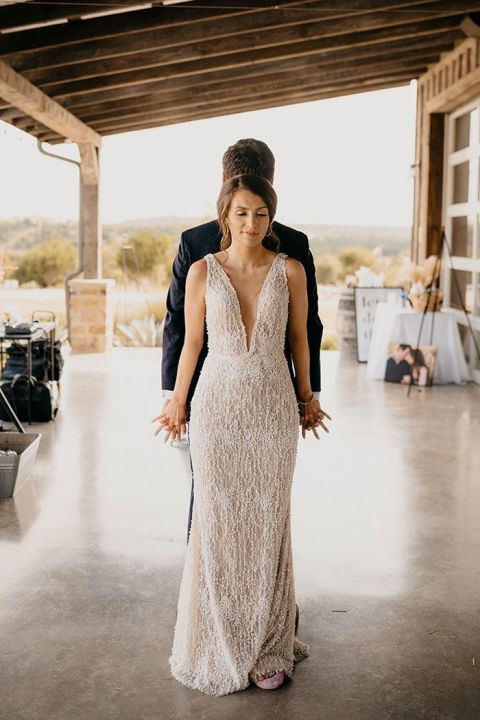 How he Proposed –
Jess proposed to me at the base of a frozen waterfall in Ruidoso. For someone who ruins every surprise, I missed it completely! Presumably, it was a dual family birthday trip. In fact, the night before he proposed, he had me design my dream ring on some website. Bold move. Lucky for him, I designed the exact ring he had custom made for me.

On the hike to said waterfall, I missed all the signs. Yes, even the LITERAL sign. I thought the photographers were nature photographers, and I couldn't understand why they were smiling and laughing when I tried to walk around them entirely and denied the flowers Jess was trying to give me. It wasn't until I saw the path lined with candles and photos from our relationship when I understood what was happening. Instant tears. He got down on one knee and pulled out the exact ring I had designed, and I couldn't say yes fast enough.
The couple were married in an outdoor ceremony at Sunset Ranch Center. Their pampas grass and dried flower ceremony altar reflected the bride's love of mixing texture, ethereal details, and the kind of glittery boho vibes you don't usually see in Texas weddings!
She spent months before the wedding knocking on neighbors doors and asking if she could harvest some of their pampas grass fronds, then drying them out at home. Mountain Laurel Floral combined them with preserved palm fronds and fresh flowers like roses and orchids to create a textural neutral ceremony arch that was a stunning focal point. Add in the bride's pearl cape and these ceremony photos are truly breathtaking!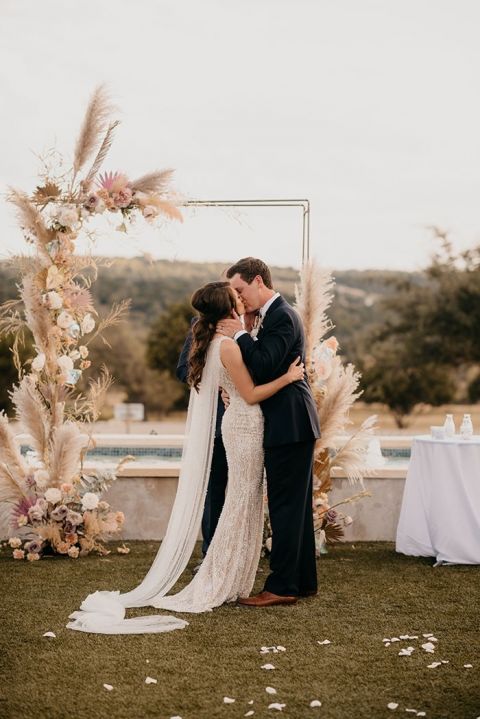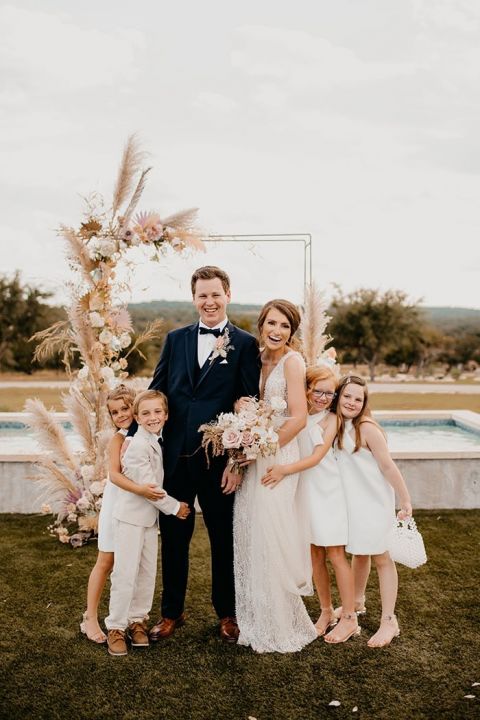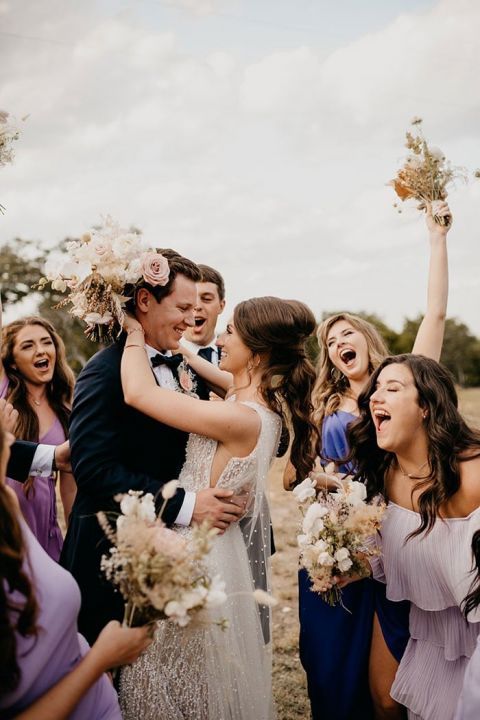 Time to celebrate! Anyone who has a disco dance party before their ceremony knows how to have a good time!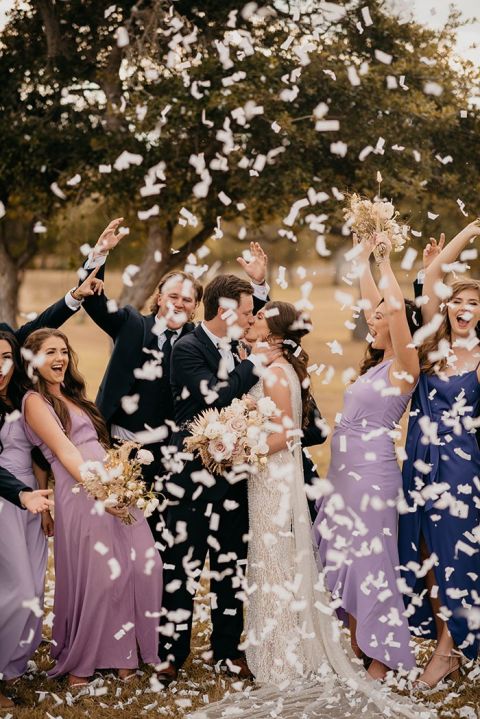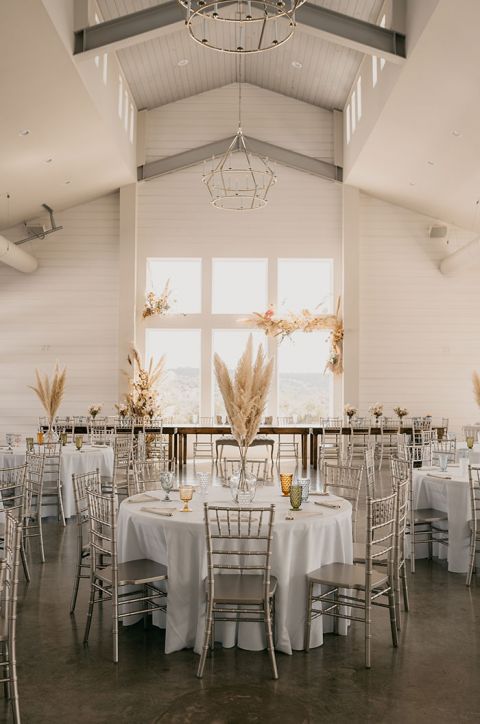 The white barn wedding reception blended rustic Texas style with Madi's glittery boho vibes. The arrangements of dried pampas grass made a statement in simple upcycled glass jars, surrounded by mismatched glassware the bride sourced herself.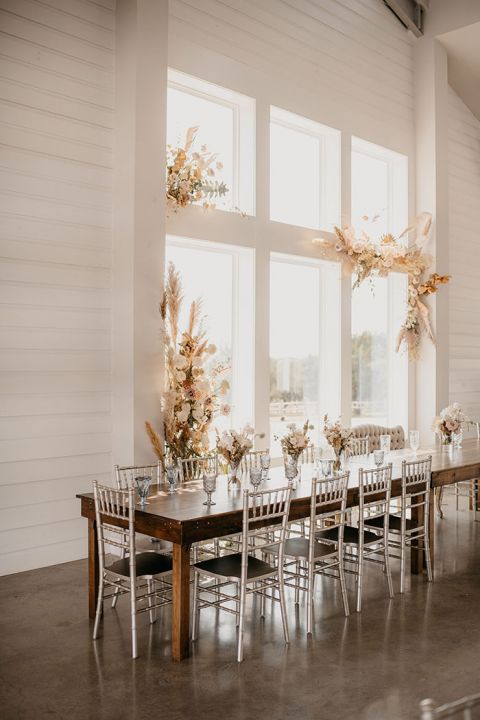 Floral and dried grass installations backed the rustic farm table for the bridal party and framed in the dramatic floor to ceiling windows in the event space.
Michelle's Patisserie created the Tres Leches cake with three tiers in bas relief textured buttercream – the delicious dessert fit the 'textural, neutral, and ethereal' design brief inspired by the bride's dress!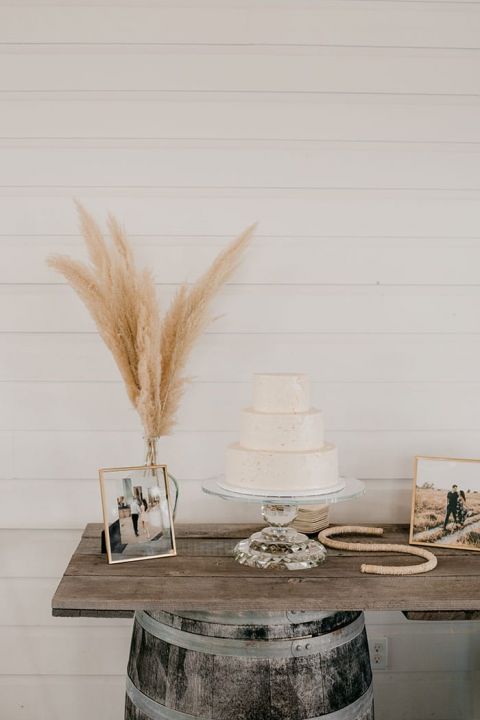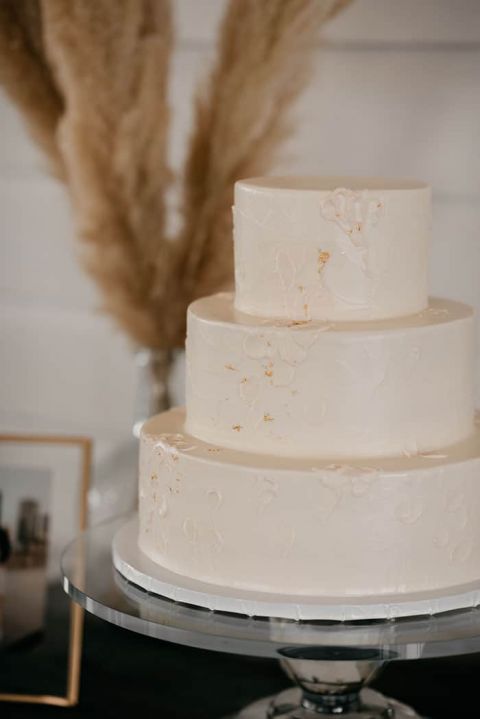 There's no missing the magic of this sunset photo session with the bride and groom! Their amazing ceremony altar got to make another appearance for these gorgeous golden hour portraits.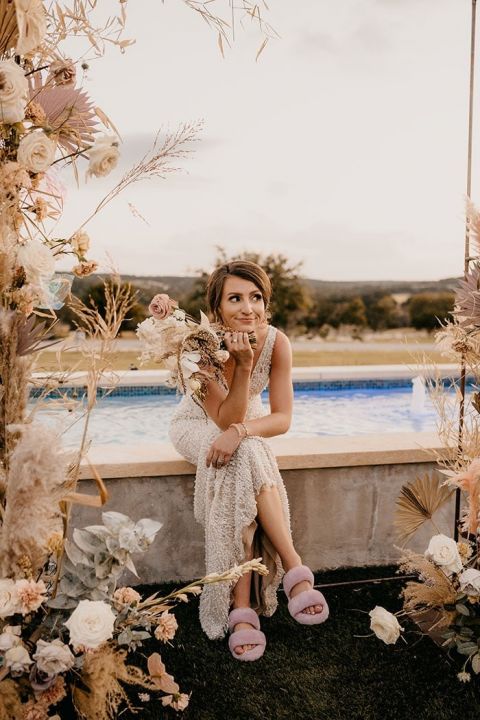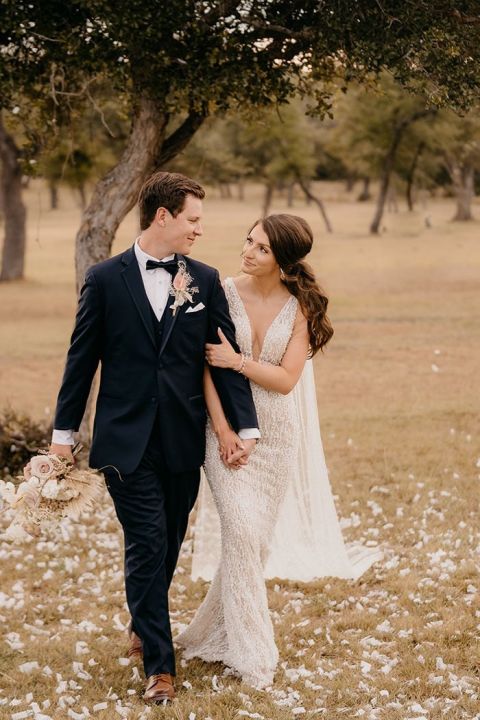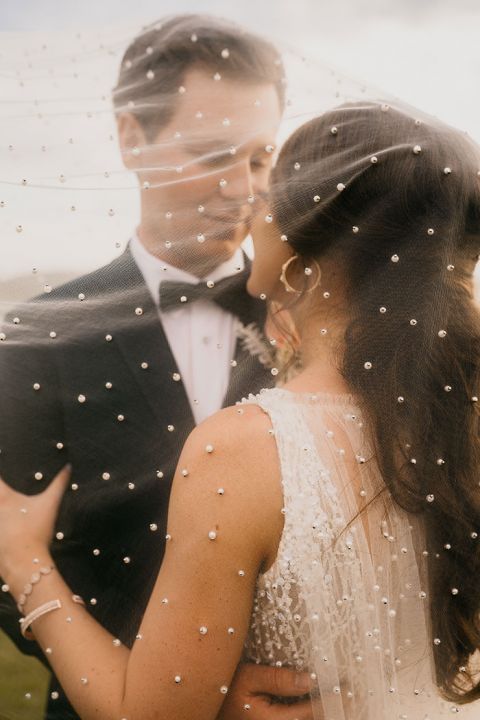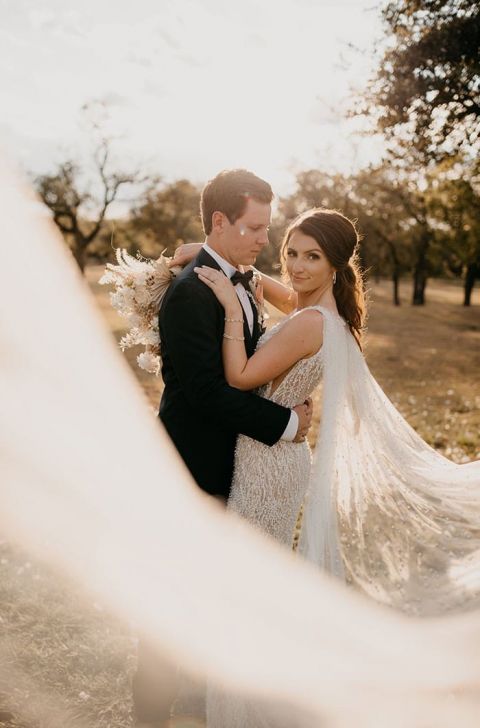 WEDDING VENDORS –
Photographer: Camera Shi | Venue: Sunset Ranch Center | Planner:  Taylor Bible Weddings | Videographer: Hereafter Films | Florist: Mountain Laurel Floral | Cake: Michelle's Patisserie | Wedding Dress: Wona Concept | Hair Styling and Makeup Artist: Blushd Beauty | Catering: Cartewheels Catering | DJ: Bryne Rock