I always like to start the New Year as I mean to go on, which is why I'm kicking off 2017 with this stunning desert elopement with sunset colors. The Paint Mines of Colorado served as an earthy backdrop for this gorgeous pair shot by Callie Hobbs Photography. The canyons and spires of the mines were leeched of color in the shadows, but their minerals were used to make pottery in shades of golden yellow, rose pink, snowy white, and mauve. Park Floral Design turned those sunset colors into a gorgeous bouquet to complement the bride's long sleeve lace wedding dress!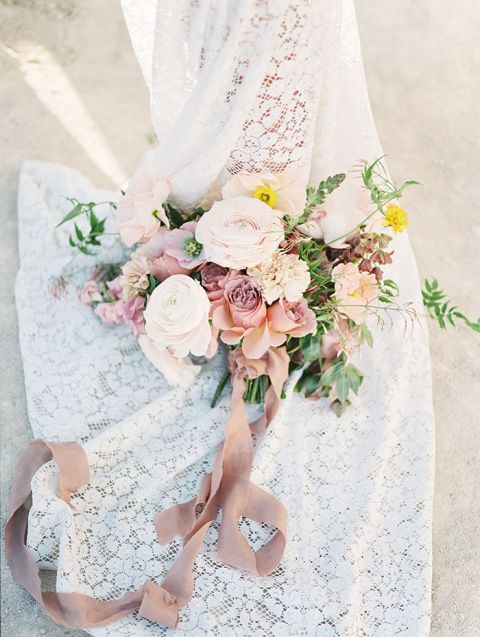 Sunset Colors for a Desert Elopement Shoot
The bohemian elegance of the Daalarna Couture wedding dress from Emma and Grace Bridal Studio added rich texture to the rugged landscape of the mines. The long sleeves and plunging back suited the relaxed atmosphere of the desert, while the bold lace pattern added romance. Alli B Makeup Artist created a rose gold bridal look to complement the earthy tones and add just a touch of glam. The groom's classic chalk stripe suit was paired with an open collar and organic boutonniere from Park Floral Design.
The natural flowers continued in the bride's bouquet, designed to capture the colors of the painted canyon when it comes to life. Peach poppies, burgundy roses, blush sweet peas and mauve boronia buds created a wash of vibrant colors that echoed the earthy tones harvested from the unassuming landscape.
PHOTO CREDITS – 
Sunset Colors for a Desert Elopement Shoot