This fine art shoot channels the same sense of serenity and beauty you would find in a painting by John Waterhouse and hanging on the wall of the National Gallery. A peach wedding dress, ethereal purple bouquet, and romantic vintage bride in fields of lavender turn into breathtaking hybrid portraits thanks to Simply Sweet Photography and Hanaki Floral Design at Full Bloom Lavender Farm in Langley, BC!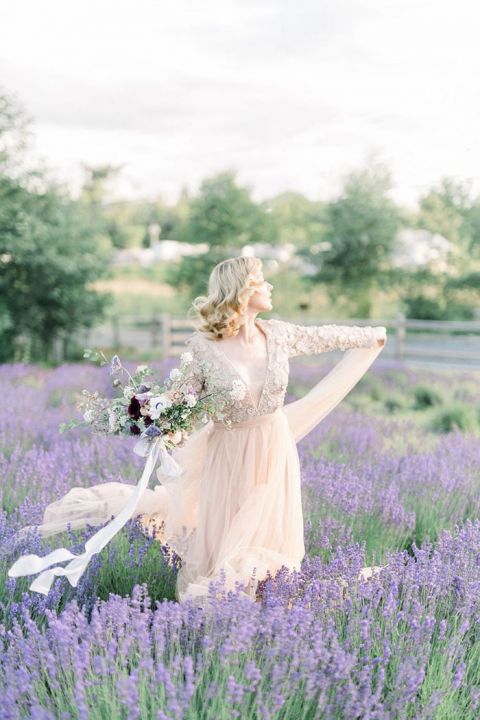 Full Bloom Lavender Farm lived up to its name with rows and rows of fresh and colorful lavender, filling the air with gentle perfume and the sound of happy bees. The light could not have been more perfect for this stunning fine art shoot, washing the flowers in golden sunshine and turning the bride's peach wedding dress into a dreamy fairy tale gown. This beautiful shoot feels like a perfect moment held in amber to be preserved in memories and on film.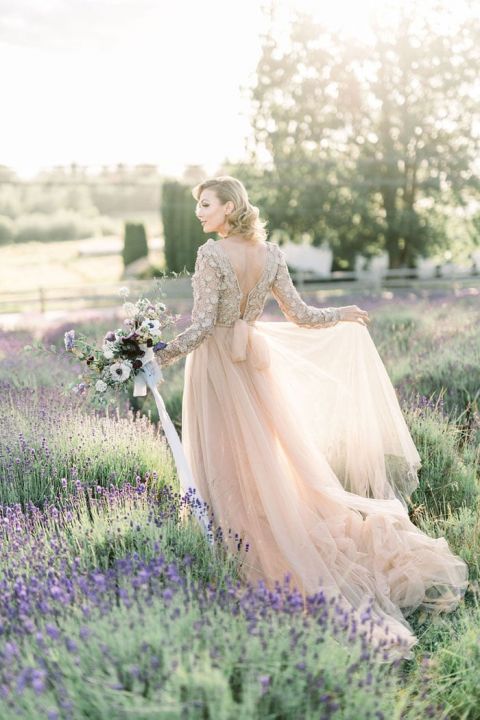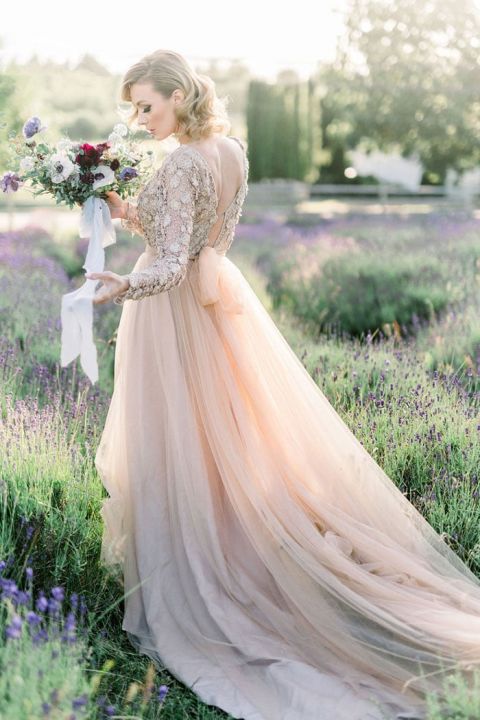 I've never seen a Shirley Amazing Grey poppy before, but now I'm obsessed! The ruffled petals on these flowers are a deep lavender gray that looks delicate and moody at the same time. Hanaki Floral Design made them the center of the bride's hand tied garden bouquet, accenting the unique color of the deep purple flowers with burgundy peonies and black and white anemone to add drama to the pastel peach wedding dress from Little Pink Dress Co!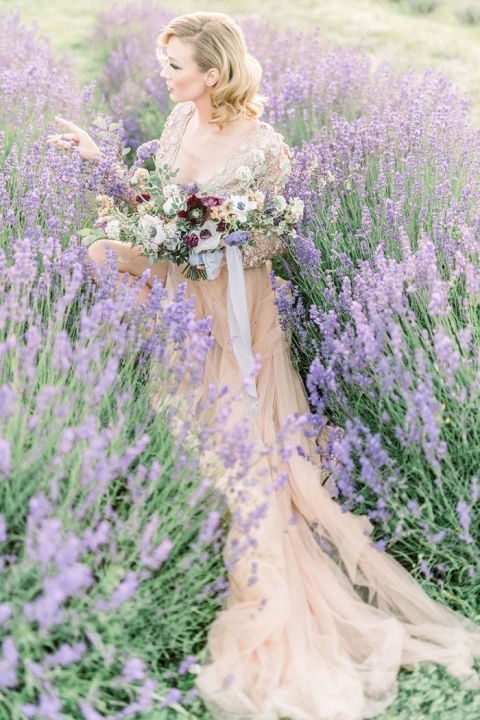 When the venue is as beautiful as this, there's no shortage of places to shoot! Anya Garskaia was the picture of pure joy in these portraits captured among the blooming rows of lavender, making a splash of pastel color in her peach wedding dress among the stalks of flowers.
Her long sleeve sheer wedding dress added a romantic, vintage vibe with beaded details on the plunge-neckline top and a flowing chiffon skirt that made for the most romantic wedding photos. Van City Hair by Lo drew inspiration from the style of the dress for for an Old Hollywood curled hairstyle, with a side part and sweet waves to show off the open back of the wedding dress. Makeup Artist Jasmine Hoffman played up the bride's eyes with smoky charcoal gray and a soft pink lip to balance the drama and sweetness to perfection!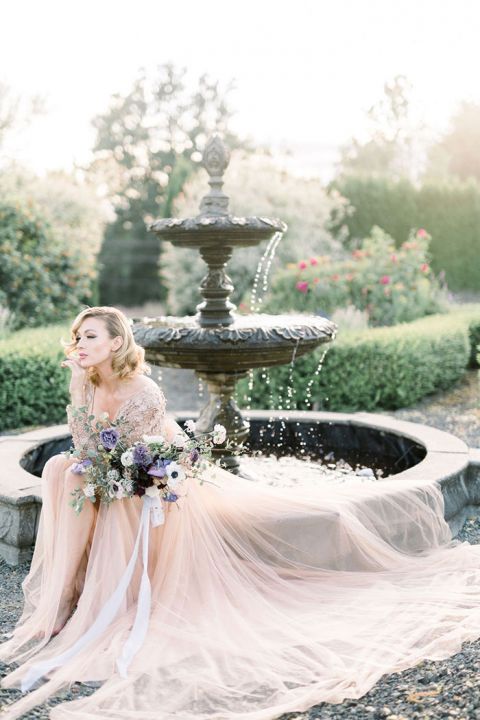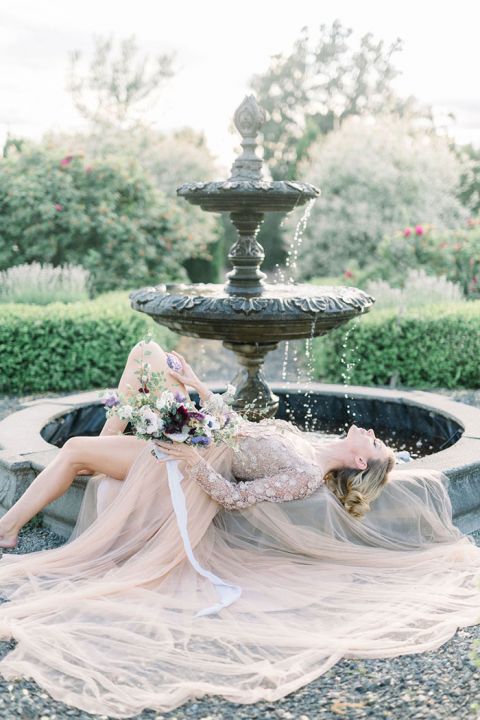 These dreamy wedding photos channeled Waterhouse and Millais paintings to add to the ethereal fine art effect of the bridal portrait session!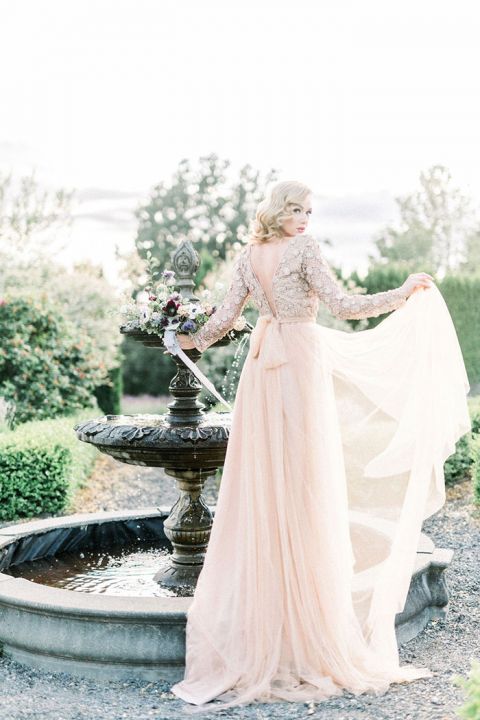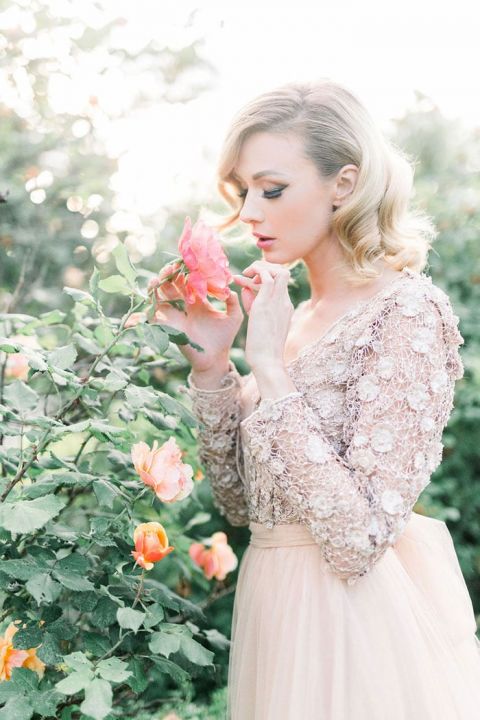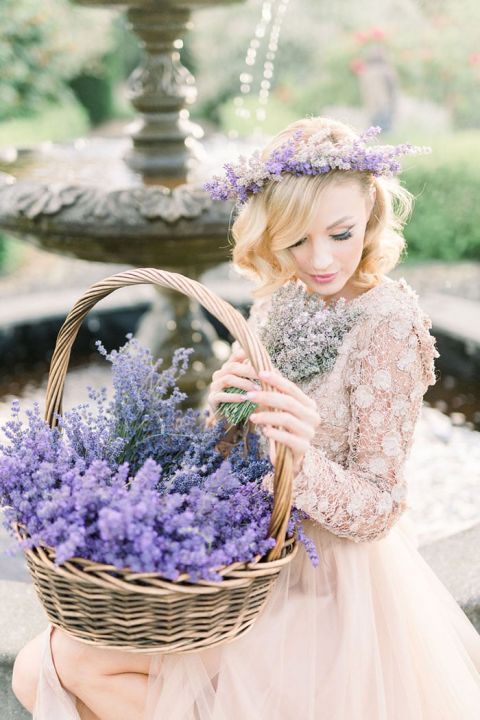 What lavender farm shoot would be complete without a flower crown! The florist picked lavender fresh from the fields and wove this lavender stalk flower crown for the bride's hair on the spot!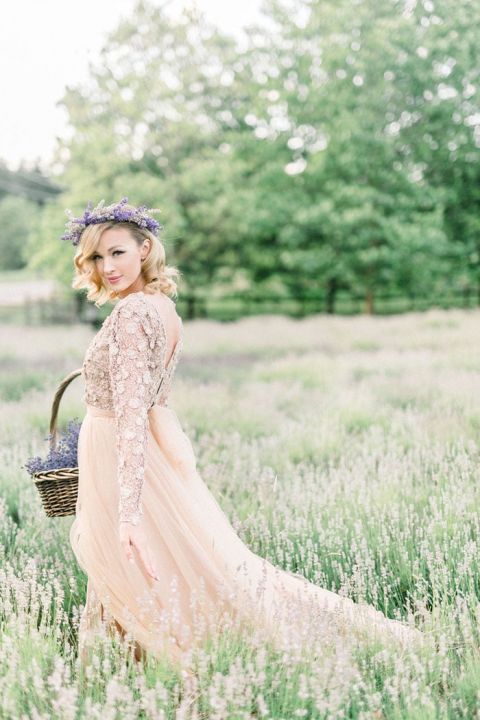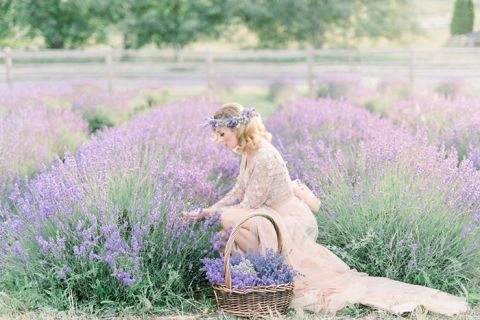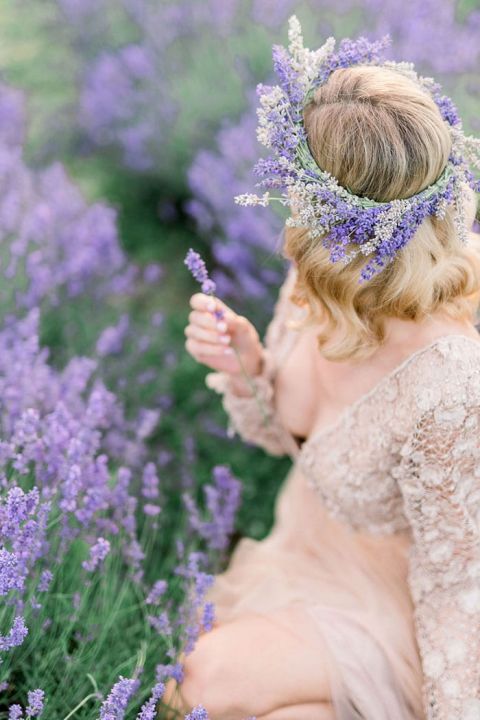 Does anyone else feel absolutely transported? These beautiful moments feel like they should be on canvas and hung in a museum!
WEDDING VENDORS –
Photography: Simply Sweet Photography 
Venue: Full Bloom Lavender Farm
Florist: Hanaki Floral Design
Wedding Dress: Little Pink Dress Co
Makeup Artist: Jasmine Hoffman
Hair Stylist: Van City Hair by Lo
Model: Anya Garskaia