Readers of my former Tumblr and followers of my Pinterest already know my deep and abiding love of lanterns for romantic wedding lighting! Couples planning may not realize the extent that well thought out lighting can set the scene for their wedding. A good lighting design can create an intimate reception, a glamorous atmosphere, or a fabulous dance party. Since I adore the romance of lanternlight, I wanted to share my favorite ways to incorporate lanterns into your wedding design!
The color palette in this photo says it all – a romantic, soft atmosphere, sinking into the gathering twilight. Vintage wrought iron lanterns filled with pillar candles set at key points throughout a reception can create the perfect transition from daytime festivities into dinner and dancing!
_____
Photography by Piteira Photography – via Le Magnifique 
Candles are a gorgeous addition to a floral laden tabletop, but lanterns are a gorgeous option for a floral-free event! Clusters of silver, copper, or brass lanterns surrounded by mercury glass votives cast romantic light over your dining tables while upping the glam factor. Sub in weathered wood or whitewashed lanterns to capture a rustic or nautical feel with the same effect.
_____
Photography by Binaryflips Photography – via Style Me Pretty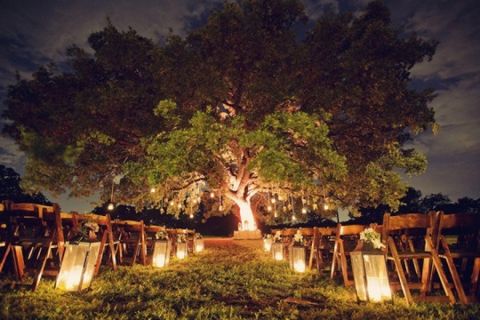 Nighttime ceremonies have come into fashion lately – and with shots like this it's easy to see why! If an evening "I Do" doesn't fit into your timeline, never fear. Indoor and shadowed ceremony locations are primed for playing with different lighting options. Before going too crazy with lanterns and hanging votives, ask your photographer to weigh in on the best ways to light your ceremony without causing harsh effects in your photos. Their expertise will ensure that you get the desired look and have gorgeous photos of your vows!
_____
Photography by Sarah Kate, Photographer – via Style Me Pretty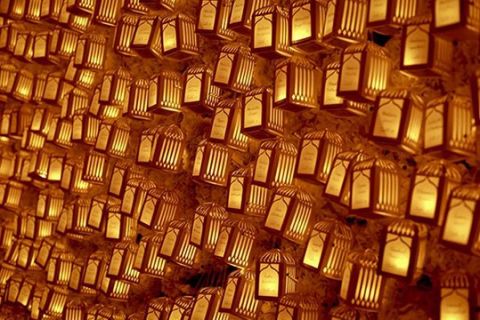 No one throws an event like event coordinators when they're planning for other event coordinators! These incredible escort cards were dreamed up by Todd Events for the Engage 2013 Conference. When you can wow the wedding and event industry's top names, you know you're doing something right! The wall of glowing vellum lanterns makes an incredible effect for guests entering a reception space – then illuminate the tables as each guest finds their seat.
_____
Photography by Engage photographers Elan Artists, Chellise Michael and Scott Clark Photography – via Bridal Bar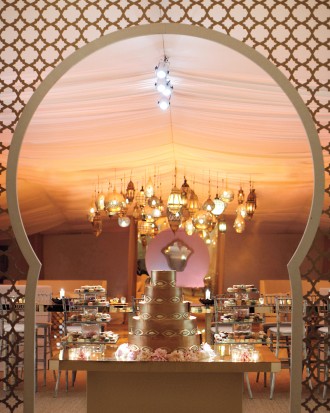 If you're the traditional sort, we've come at last to the typical use for lanterns at a wedding – actually lighting the space. If that's your goal, this cluster of Moroccan lanterns is both functional and a show stopper!
_____
Photography by Sasha Gulish – via Martha Stewart Weddings
We're back to the unorthodox uses for lanterns, which, to be perfectly honest, are my favorite! This dawn ceremony has been one of my favorites for years (although you would never catch me awake and camera ready for a vows at daybreak). The heavy mist postponed their ceremony for an hour, but gifted this couple some of the most incredible photos! Even if a break of dawn ceremony isn't your style (again – it's certainly not mine!), I adore these unconventional lanterns in place of the more expected bouquets for a bridal party!
_____
Photography by Tec Petaja – via Martha Stewart Weddings
I saved my favorite for last! Lantern releases have to be one of my favorite wedding trends from the past few years and I get unabashedly excited when I come across a good one. Not only are the photos jaw droppingly gorgeous, I adore the idea of offering good wishes for the couple up into the sky to celebrate their marriage!
As beautiful as wish lanterns are, I would be remiss as a coordinator if I didn't advise couples to check the regulations for lantern releases in their area to make sure they're following local laws and fire codes.
_____
Photography by Jordan Weiland – via Wedding Chicks