The biggest challenge as we adapt to COVID weddings and intimate celebrations has been finding a way to make them feel 'special'. This ethereal shoot by Carmen Santorelli Photography and Sisti&Co. channels the bride's inherent goddess style to capture that once-in-a-lifetime wedding day magic, even with the simplest of details. Their stunning collaboration with French destination planning team Travellur helps break down the magic of wedding memories into the most essential moments – a stunning setting, a magical gown, and the most heavenly light!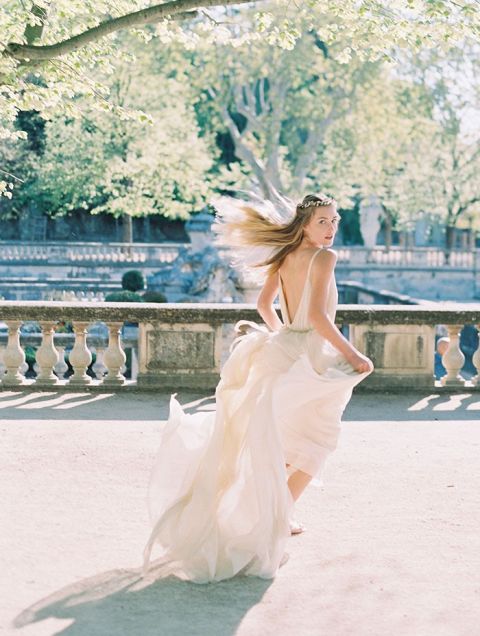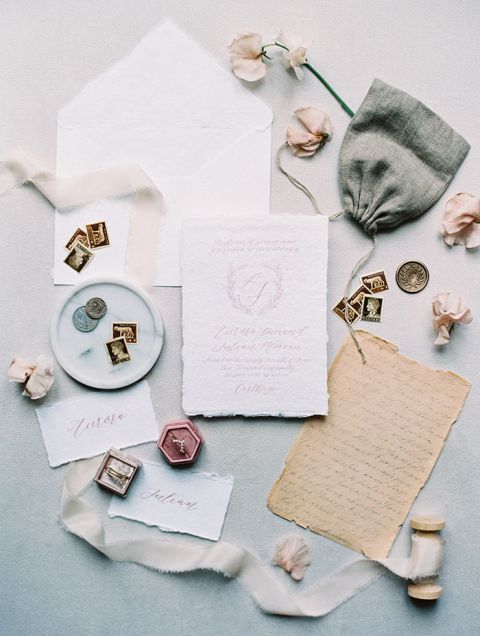 Whether you're inviting five guests or fifty, paper goods can add beautiful detail to your intimate celebration! This stunning suite by Lavender And Sea combines handmade paper, burgundy ink lettering, and a botanical crest to create a beautiful elopement announcement! Shades of mauve, gray, and blush created a delicate and romantic layered color scheme for this exquisite invitation suite.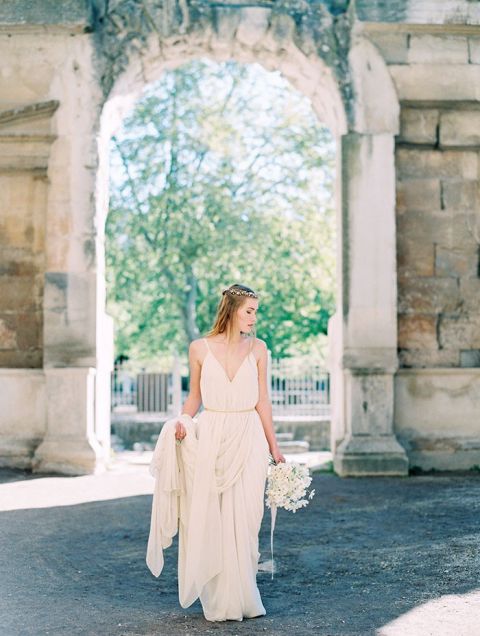 The Temple of Diana in Nimes, France, added a romantic backdrop to the bride's stunning goddess style! The surrounding gardens at jardins de la Fontaine were built to reflect the neo-classical style of the excavated temple, adding historical significance to these timeless portraits.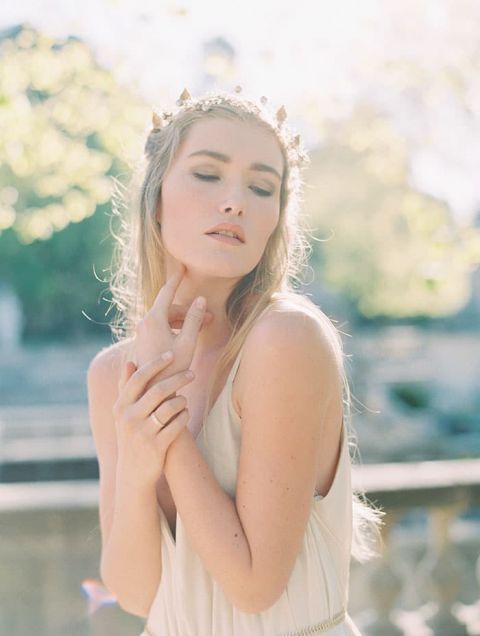 Diana and the nymphs would surely approve of the wedding dress by Carol Hannah, with a draped silhouette and thin gold belt that echoed Grecian style. The long chiffon skirt created a flowing silhouette, which Carmen Santorelli Photography and videographer MG Image made sure to capture in motion at every opportunity! A circlet headpiece allowed the bride to channel goddess style in every detail, with a Grecian-inspired halo design by Gibson Bespoke. While the dress felt in line with the minimalist focus of the day, the beautiful cut and subtle styling all spoke to the beauty of the moment and created a stunning memory on film.
Without guests to consider, there was plenty of time for portraits – offering the chance to indulge in intimate moments, the wealth of emotions on such a momentous day, lingering on the details of the bride's attire and accessories!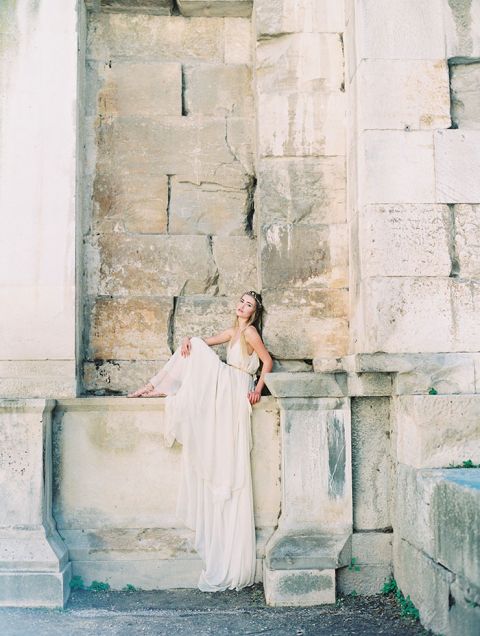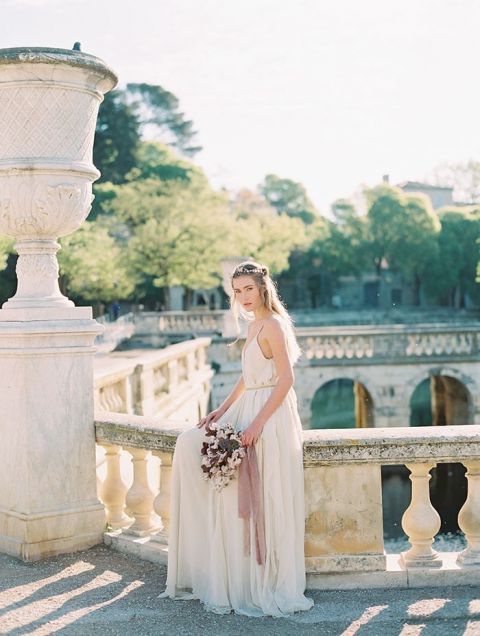 Planner and floral team Sisti&Co. made sure to source local flowers for the bride's bouquet – the deep purple of hellebores represented the beauty of the countryside and the timeliness of the season while honoring the land where they set their scene for this bridal shoot. The plum and mauve tones of the bride's bouquet, offset with silk ribbons, added rich purple notes to the golden stone of the temple and the bride's ivory wedding dress.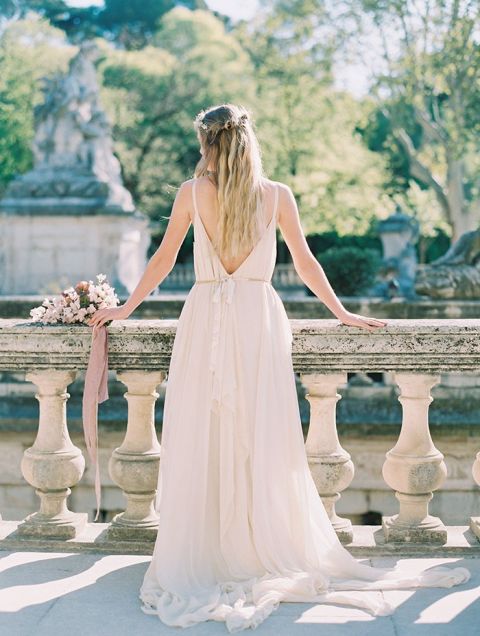 Travellur ensured that the French artisans of the region were represented in the shoot, with delicious local pastries and delicacies that could create an intimate wedding feast! Without the need for a formal dinner and lots of guests, they had the chance to indulge in favorite treats and savor local flavors – like these delicious meringue swirls!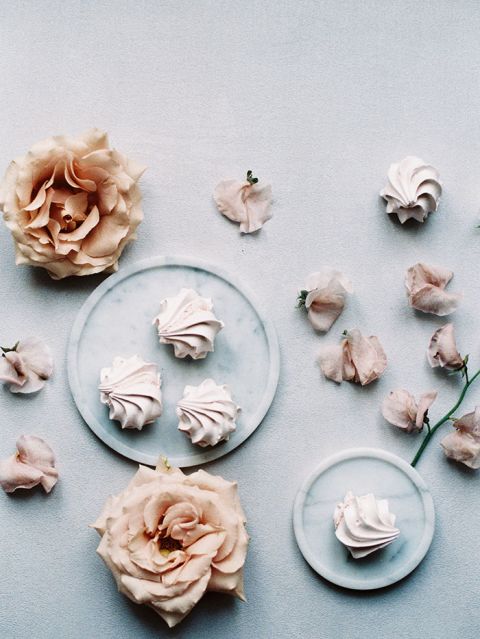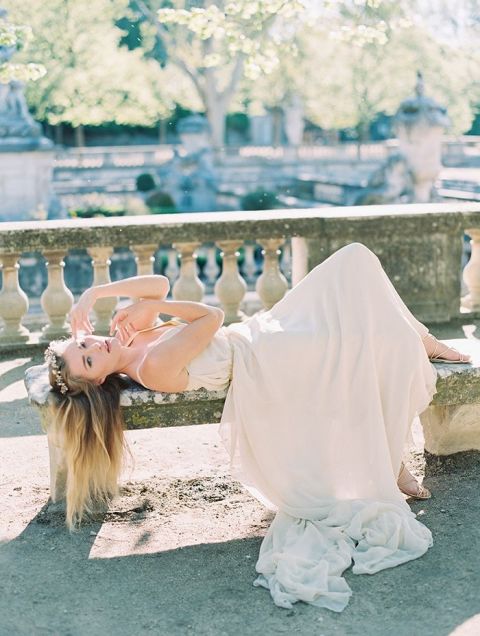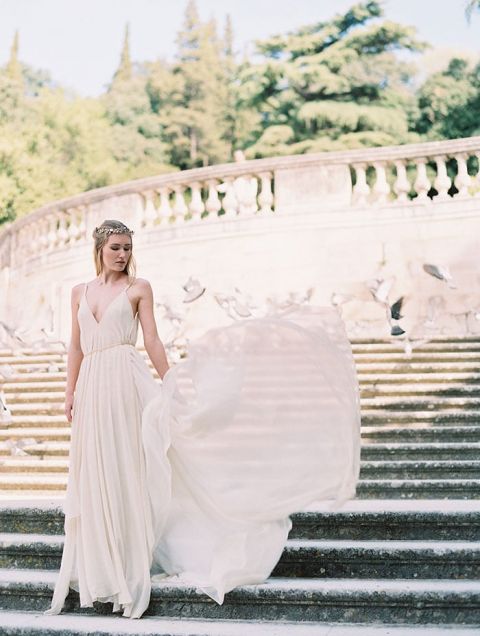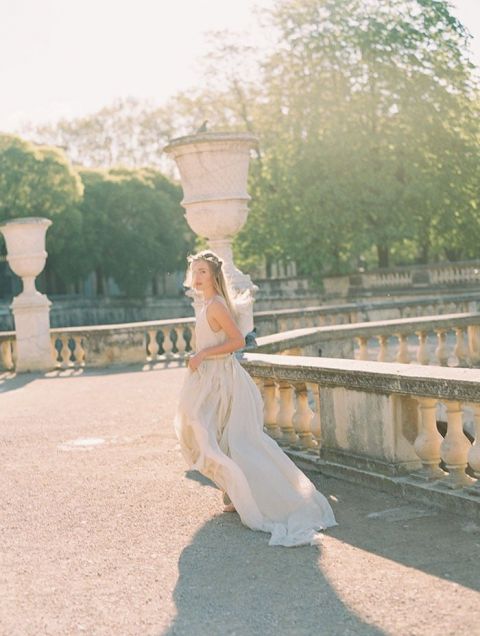 WEDDING VIDEO –
WEDDING VENDORS –
Photography: Carmen Santorelli Photography | Event Planning and Floral Design: Sisti&Co. | Videography: MG Image | Event Production: Travellur | Wedding Dress: Carol Hannah | Veil and Headpiece: Gibson Bespoke | Bride's Shoes: Schutz Shoes | Wedding Ring: Anna Beck | Ring Box: The Mrs Box | Ribbon: Tono & Co. | Ribbon: Hey Its Oh So Pretty | Stationery: Lavender And Sea | Model: Ocean Le Ny | Submitted via: Matchology