Vintage garden charm and an earthy desert combine to create a glamorous wedding in Las Vegas, thanks to a fresh color palette that channels golden rose romance at every turn! Madeleine Collins Photography and Storybook Weddings & Events were inspired by the earthy tropical gardens at JW Marriot Resort & Spa Las Vegas, using the backdrop of waterfalls and lush greenery to showcase a fresh color palette of yellow, amber, and ivory for this romantic wedding inspiration!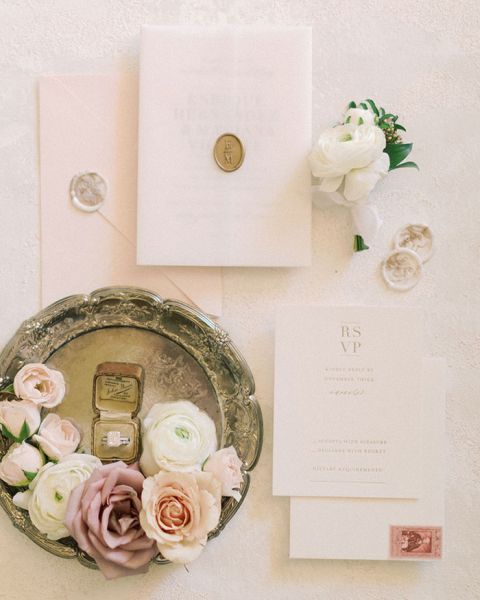 Madeleine Collins Photography and Storybook Weddings & Events demonstrated mastery over the flatlay with this amazing display of the blush, nude, and gold invitation suite by Cheer Up Press. The stationery was letterpress printed onto double-weight cotton cardstock with matte gold ink, wrapped with vellum and topped with a gold wax seal.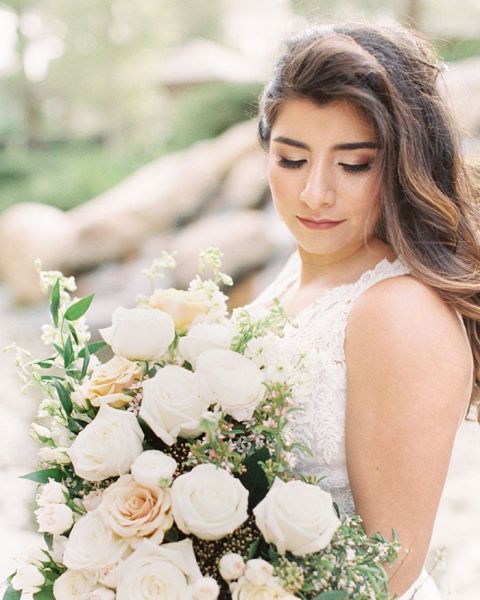 This talented team knew they wanted to bring focus on a fresh color palette for weddings, and kept the traditional blush to a minimum. Roots Flowers and Events chose to design their color palette around the Camel Rose! It offered the perfect amount of muted yellow with subtle hints of peach. The designed an extra large bridal bouquet and centerpieces with Camel Roses, White Playa Blanca Roses, Ranunculus, White Majolika Spray Roses, Eriosteman and more.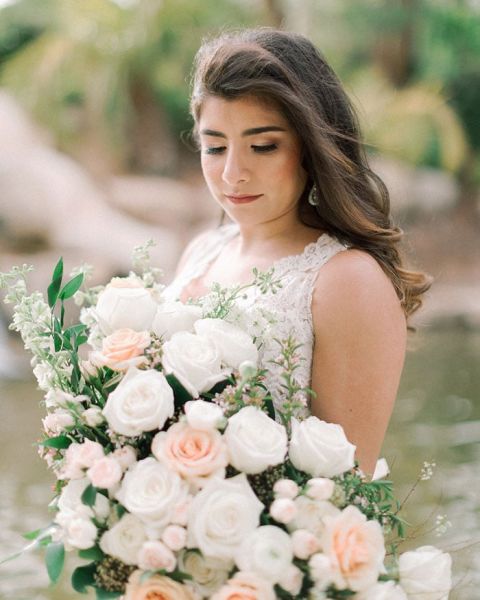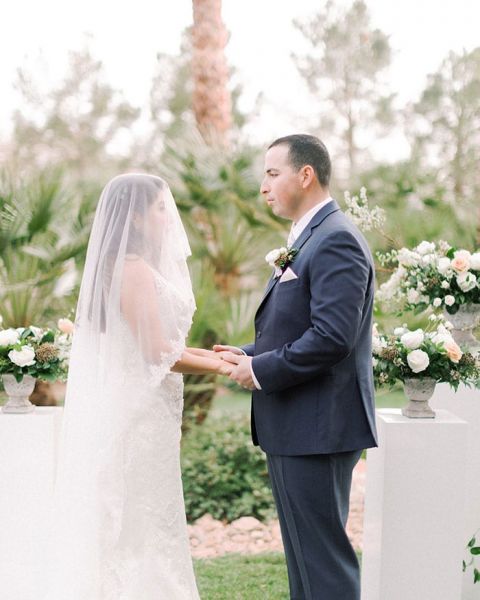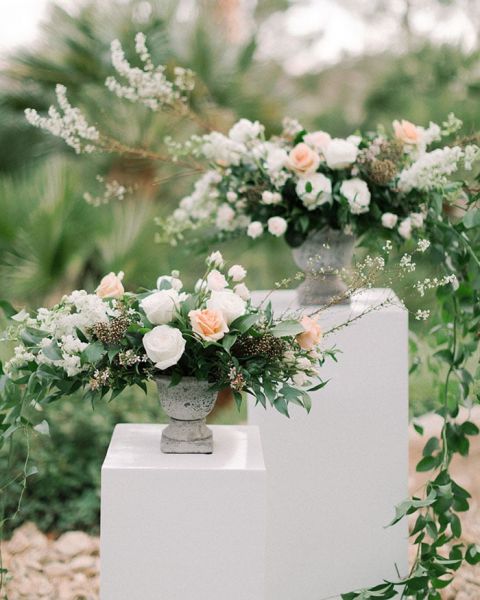 The ceremony and reception on the grounds of JW Marriot Resort & Spa Las Vegas created a lush oasis with a backdrop of rich greenery in the middle of the desert. The ceremony decor combined modern white pillars with vintage inspired flower arrangements in concrete vessels to keep the looks minimalist with a floral pop.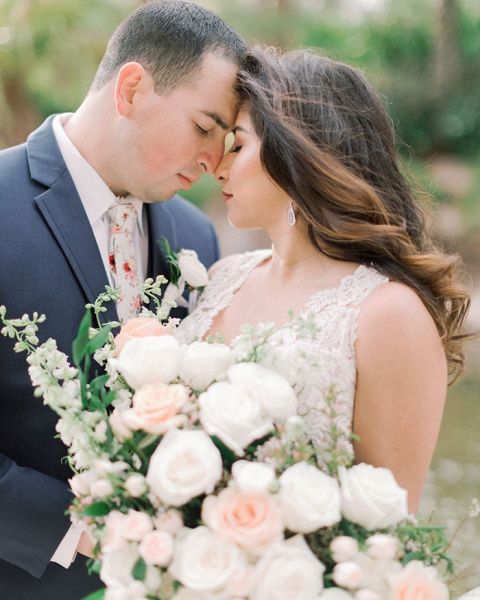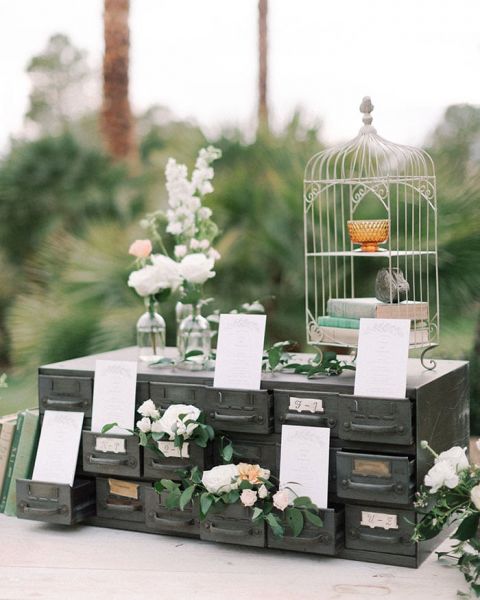 This vintage card catalogue from Dogwood Party Rentals made this book-lover's heart sing! Storybook Weddings & Events transformed it into a seating chart with guests' names and tables pressed onto index cards and filled the empty drawers with flowers!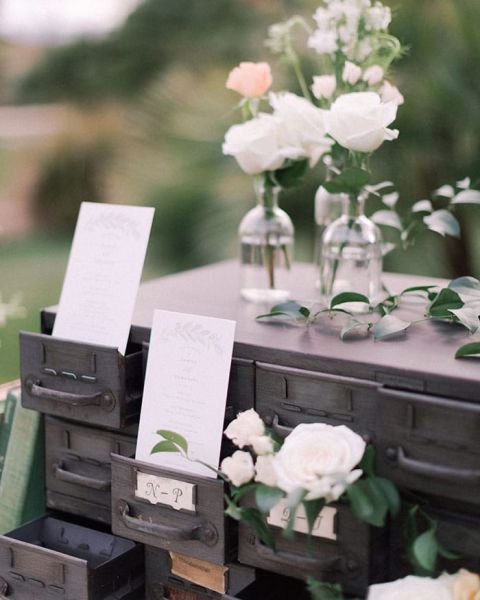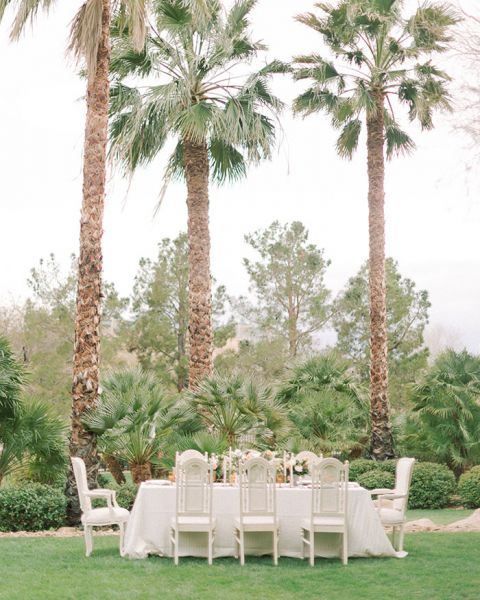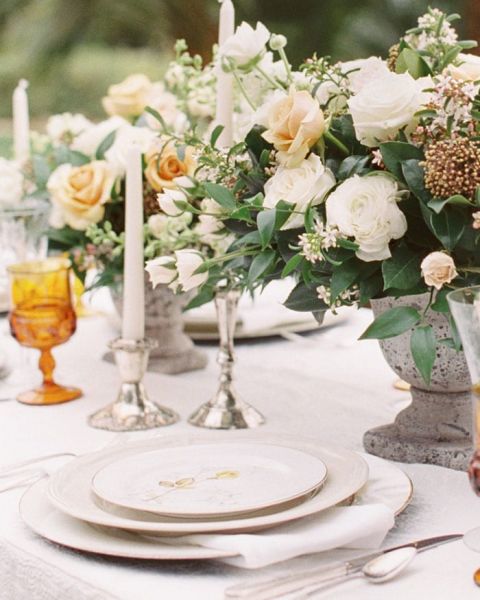 Dogwood Party Rentals dressed the reception area, combining a grand Kings table with white cane backed chairs for a vintage garden party feel. The place settiners were designed around the vintage yellow rose dessert dish that was the "je ne sais quoi" that tied this whole design and inspiration together. A textural white tablecloth from La Tavola Fine Linen became the canvas for vintage silverware and china with amber goblet glasses to add rich, warm color.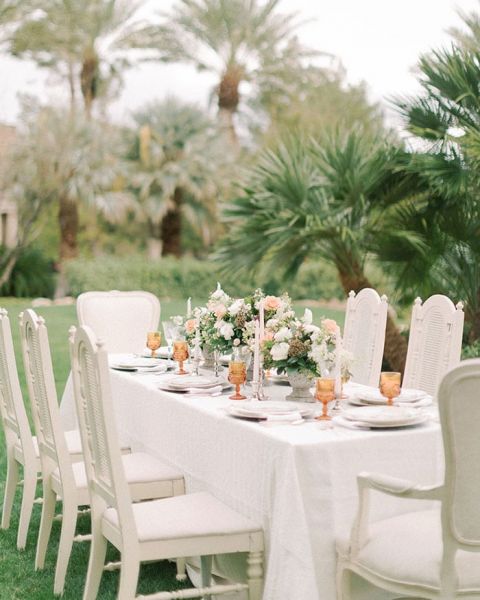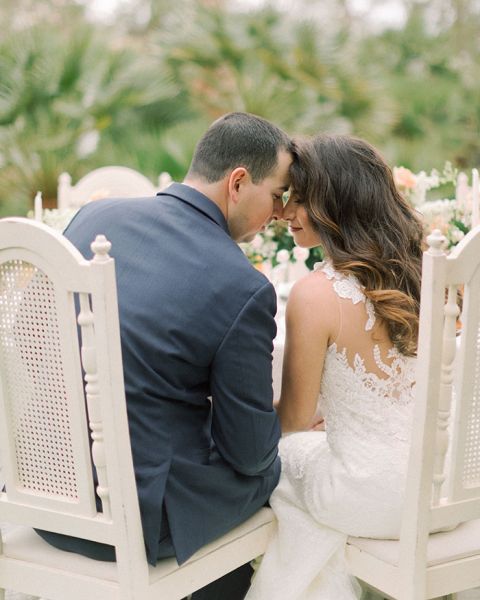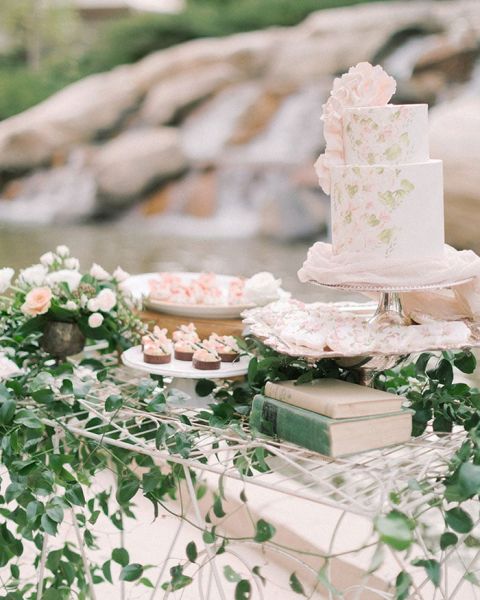 An antique cart turned into the most perfect dessert display, with vines and vintage books complementing the blush desserts dreamed up by Rolling in Dough. A painted floral cake and vintage scrollwork cookies added beautiful, personal details to the display, and strawberry cream tartlets were the perfect touch for summer!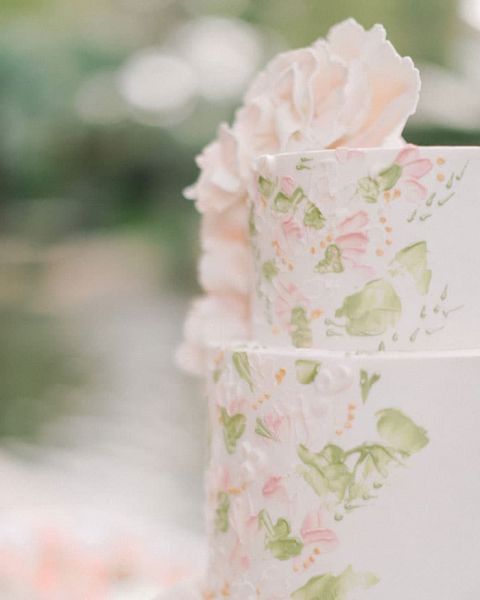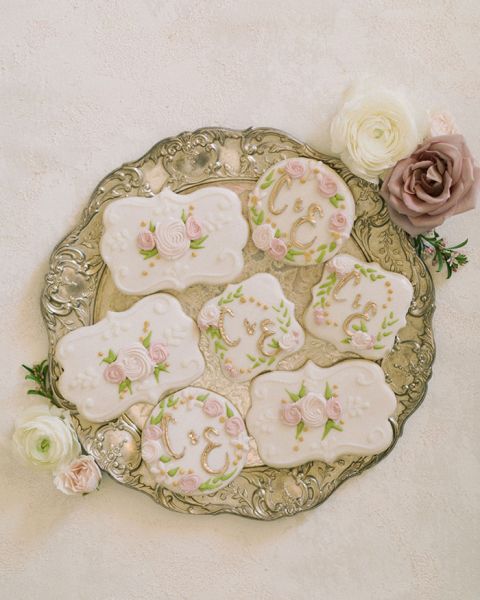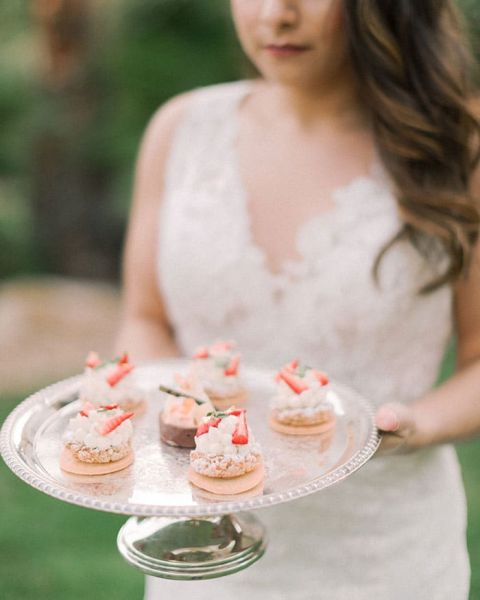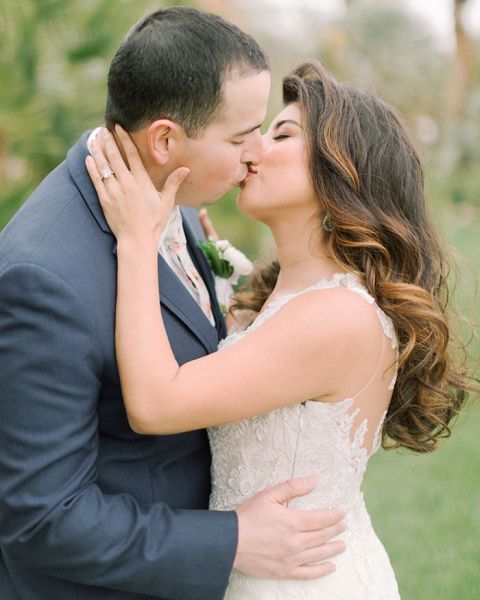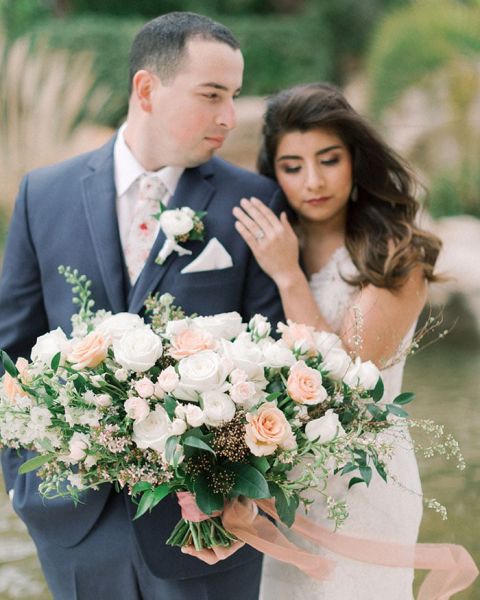 The couples' photo session with Madeleine Collins Photography at JW Marriot Resort & Spa Las Vegas took full advantage of the desert oasis setting. The lush gardens with greenery and waterfalls in every direction provided the perfect earthy venue to stay true to the organic roots of this shoot!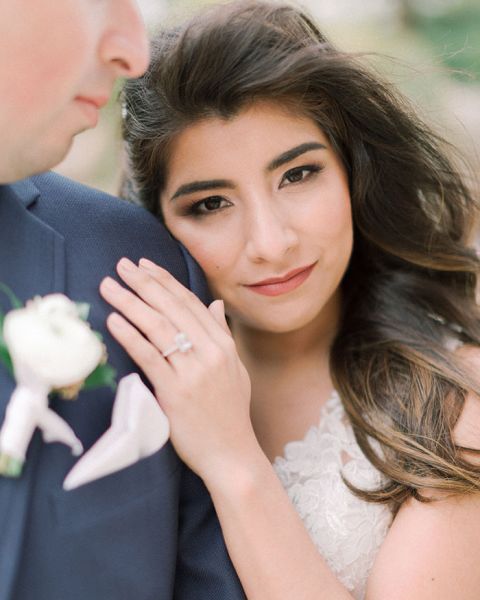 WEDDING VENDORS –
Photography: Madeleine Collins Photography | Ceremony and Reception Venue: JW Marriot Resort & Spa Las Vegas | Event Design and Planning: Storybook Weddings & Events | Floral Design: Roots Flowers and Events | Wedding Cake and Cookies: Rolling in Dough | Groom's Attire: Friar Tux | Hair Styling and Makeup: Make Up in the 702 | Event Rentals: Dogwood Party Rentals | Linen Rentals: La Tavola Fine Linen | Stationery: Cheer Up Press | Submitted via: Matchology
Golden Rose Romance for a Fresh Color Palette with Vintage Floral Details