Every element of this summer wedding on the Kiawah River was designed to delight the senses! Fine art photographer The Happy Bloom and planner Haley Kelly Events incorporated music notes, floral scents, artistic catering, and a painterly cake to create an incredible experience at every turn. The lavender palette, with notes of dusty rose and French blue, was chosen to evoke the artisanal beauty of Provence, with quintessentially Southern accents to blend that sense of artistic tranquility with the setting near Charleston! Fall under the floral spell with this lovely pastel shoot!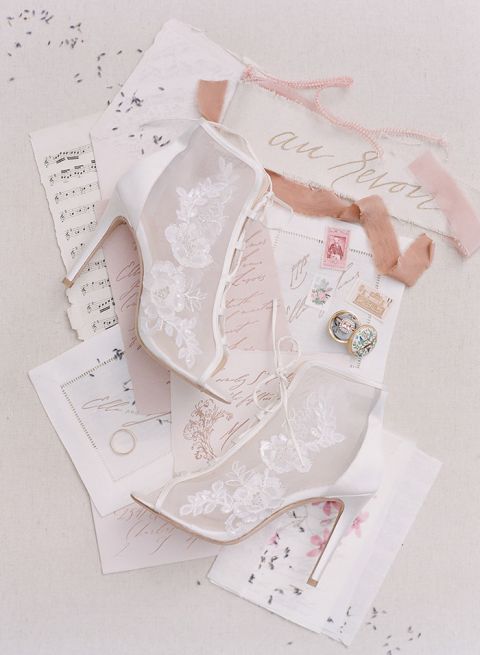 So many beautiful elements came together for this elegant invitation flatlay, from the bride's lace heeled Bella Belle Shoes boots, the dusty rose calligraphy stationery suite by Prairie & Sage, hand lettered send off signs, and custom linen cocktail napkins! Lace, linen, and handmade paper came together with a gorgeous palette and beautifully textured natural details.
 A Signature Welcome curated welcome baskets with dried lavender and local details to delight guests when they arrived!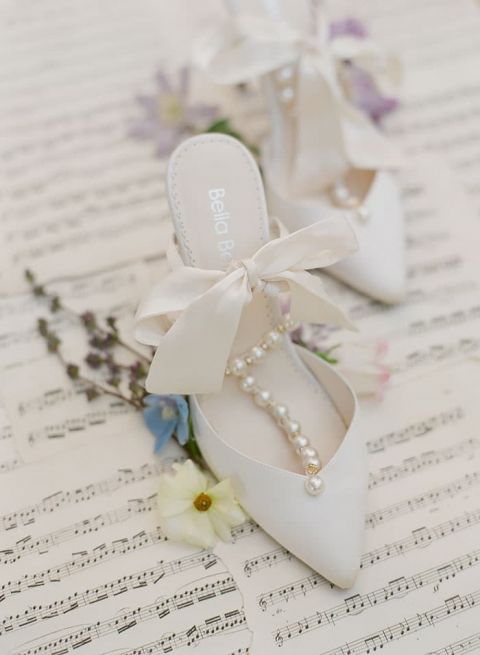 It doesn't get any more classic than pearls and bows! These Bella Belle Shoes were the quintessential Southern look!
The bride's Emily Kotarski wedding dress was an effortless combination of classic Southern elements and breezy summer style. The high neck and long lace sleeves felt traditionally elegant, while the delicate pattern and fluttering chiffon skirt kept the gown airy and light.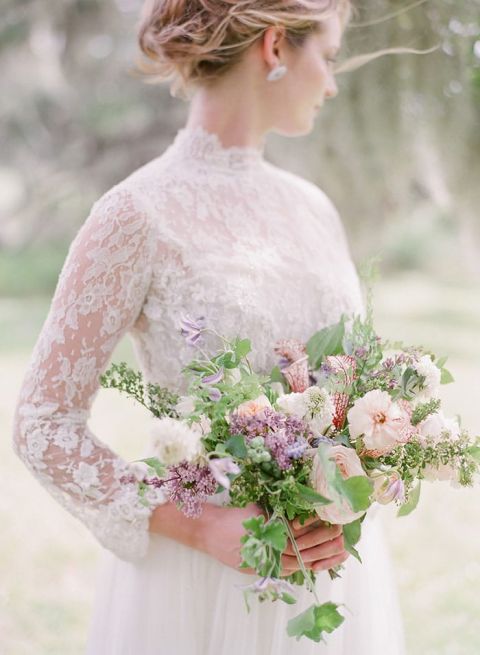 Hair and makeup artist Ash & Co created the bride's elegantly effortless updo with dreamy loose tendrils to frame her naturally luminous face.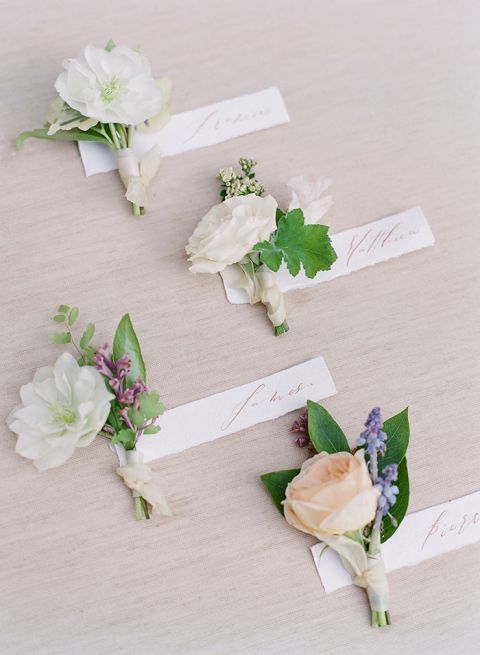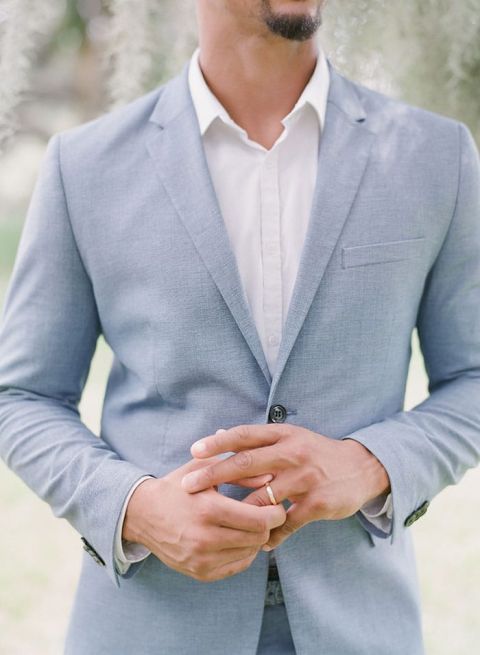 The groom's light blue linen suit from  M. Dumas & Sons looked cool and comfortable for a wedding on the river while staying formal and fashionable.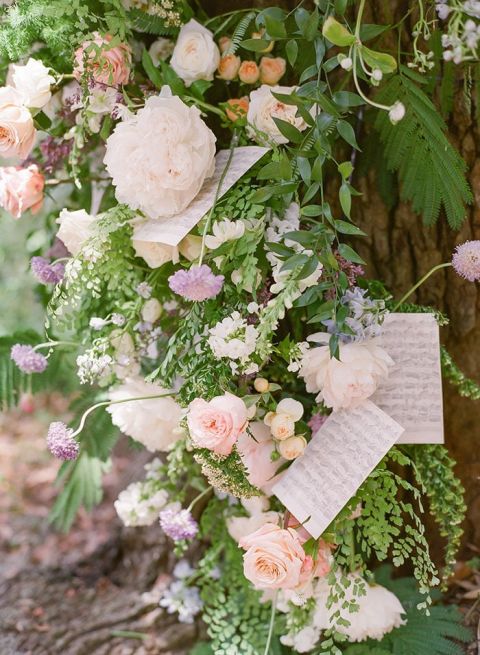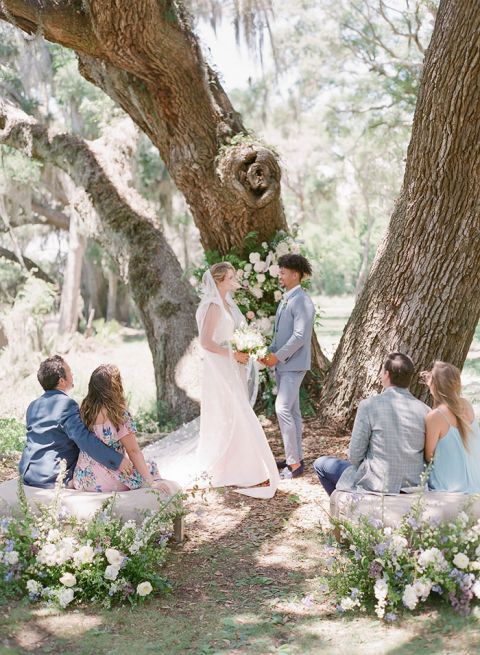 To create a romantic outdoor ceremony along the Kiawah River, Juniper & Jasmine drew inspiration from the great oaks growing on the Charleston Peninsula. They created a floral ceremony backdrop that looked as though it had grown on the tree like Spanish moss! The fresh ferns and blossoms were intertwined with hand lettered sheet music to add a nod to the lyrical inspiration behind this beautiful shoot!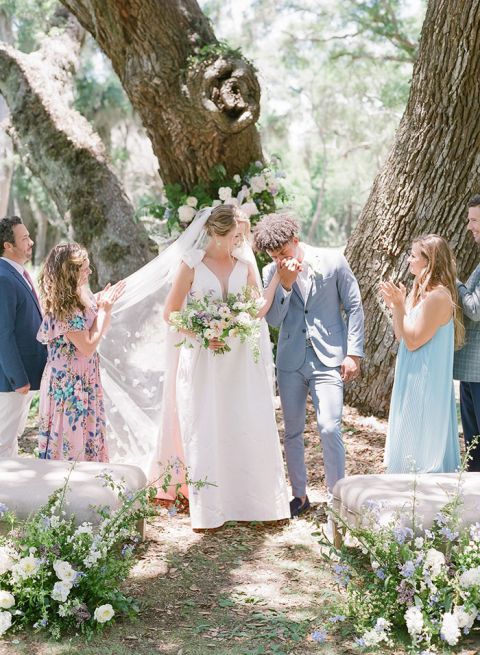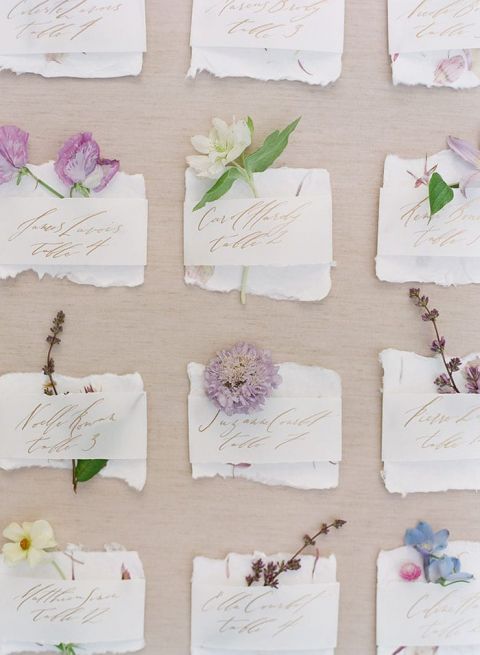 A fresh flower greeted each guest in their hand lettered place card on handmade paper filled with pressed wildflowers.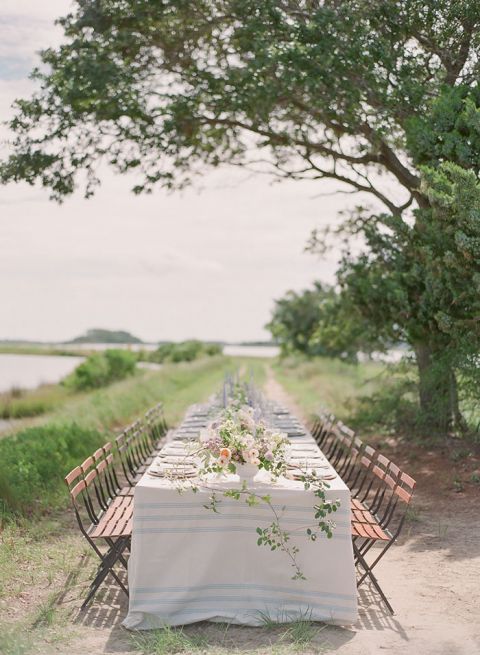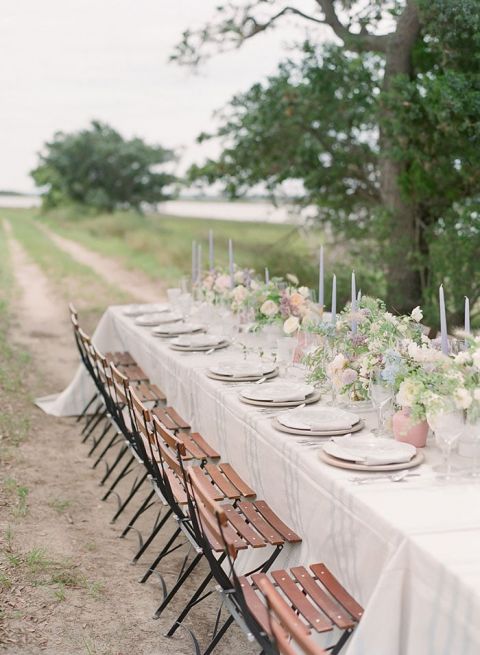 To offer guests the quintessential Southern experience, Haley Kelly Events set a long table under trees along the river bank. The airy table design combined white and blue stripes to evoke seersucker details, along with pale blue and lavender flowers and taper candles.
Summer roses and peonies were combined with lilacs, hellebore, love in a mist, and wildflowers to create the spring flower arrangements down the center of the long table. Flower print menus at each place setting added a romantic touch to the neutral linen napkins and white washed wood chargers.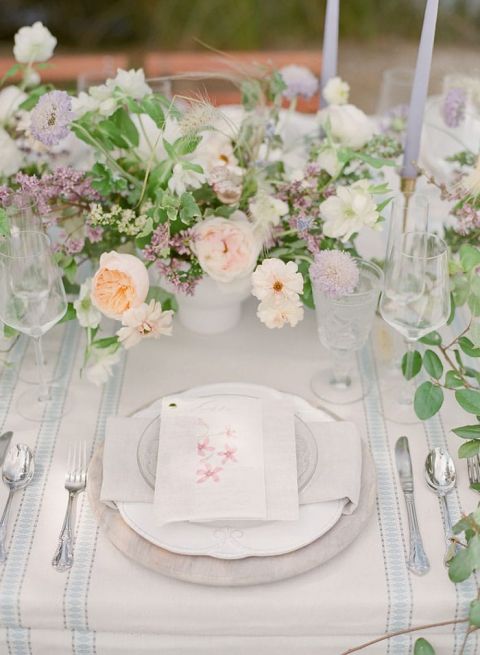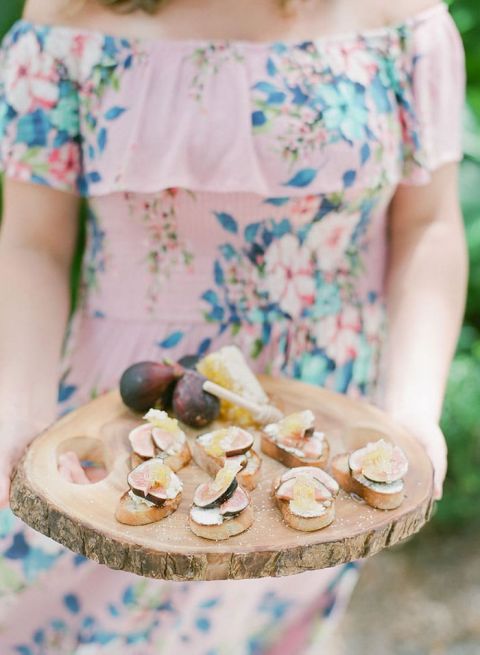 Harvest Catering created the hand passed hors d'oeuvres, including fig and brie bites with fresh honey, ceviche in oyster shells, and grilled pineapple skewers with fresh mozzarella!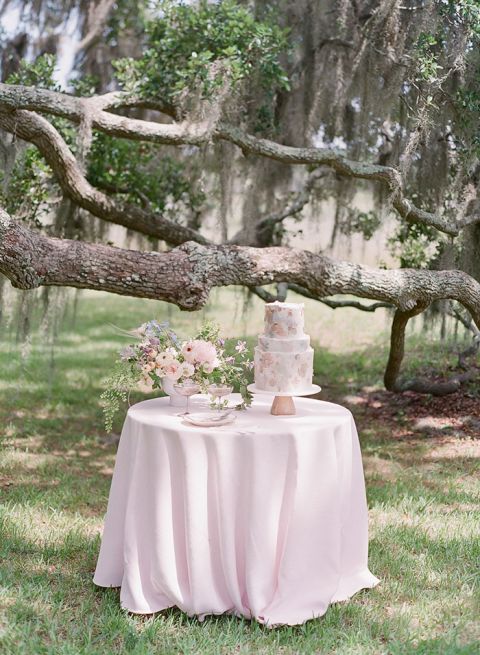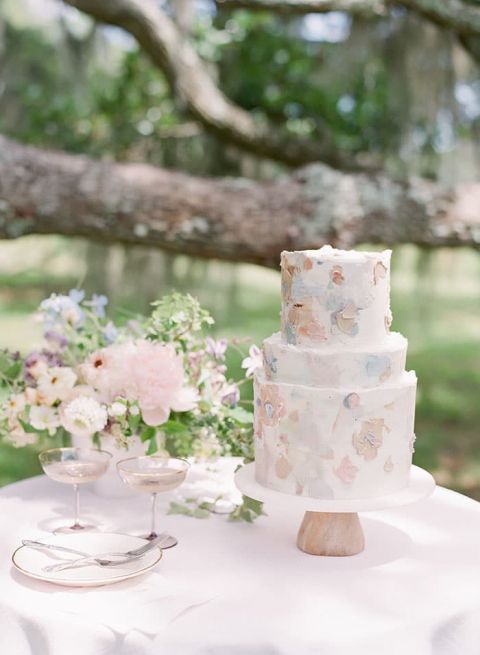 The talented Tessa Pinner not only created the painted wedding cake but stood in as the bride for this lovely inspiration! Watercolor shades of lilac, blue, and gold created the Klimt-like effect on the cake, filled with buttercream and fresh jam.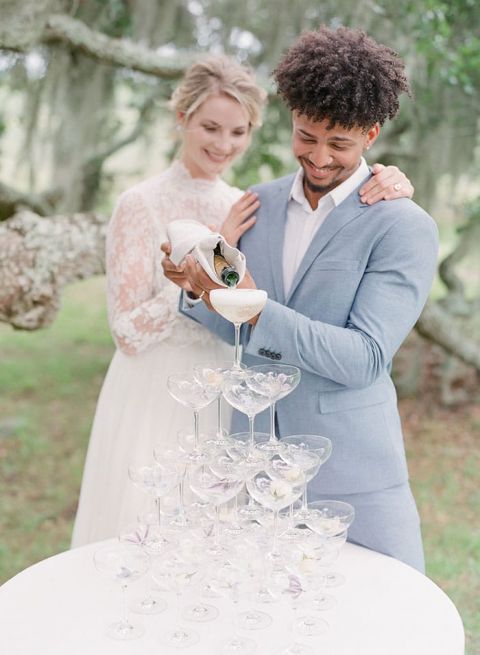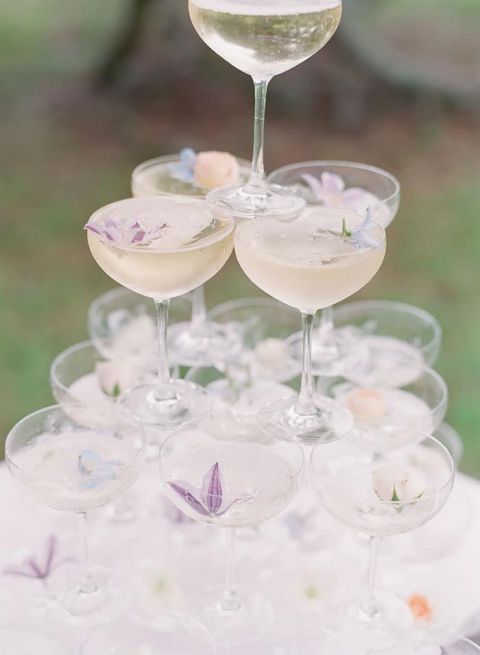 After cutting the cake, our lovely couple popped a bottle of bubbly and created a champagne tower – floating edible flowers complemented the romantic theme with splashes of fresh color.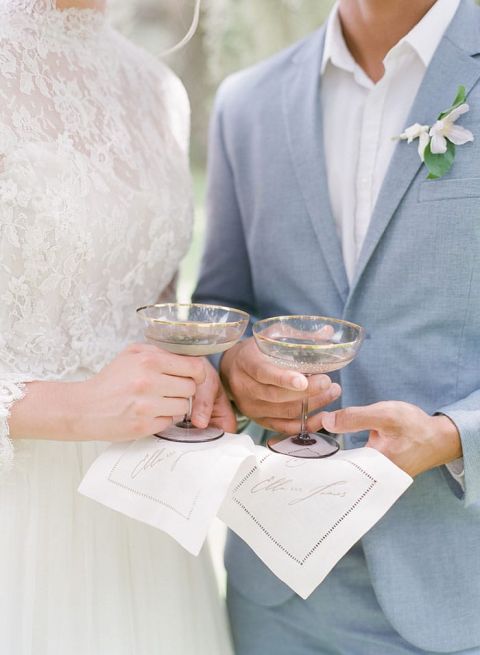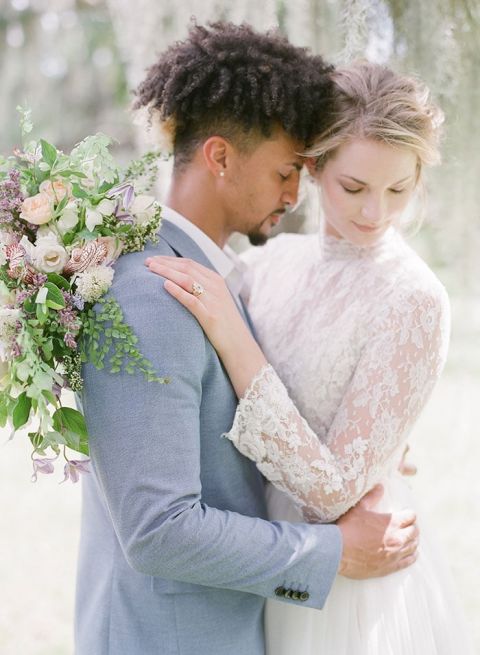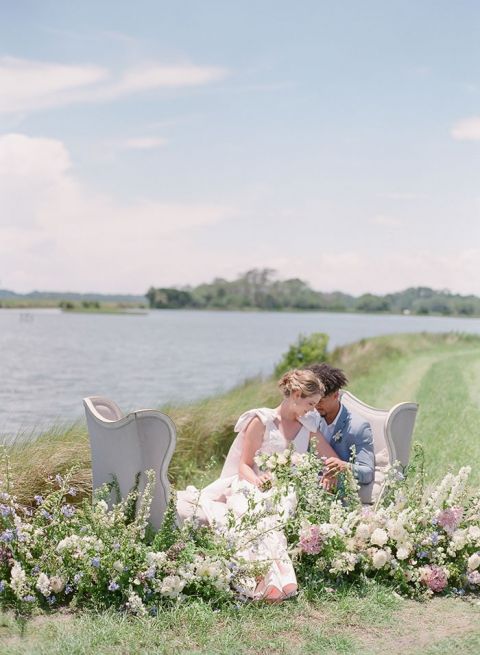 A vintage settee in a sea of flowers created the perfect portrait location for the couple, for film portraits by The Happy Bloom and their live event painting by Wed On Canvas!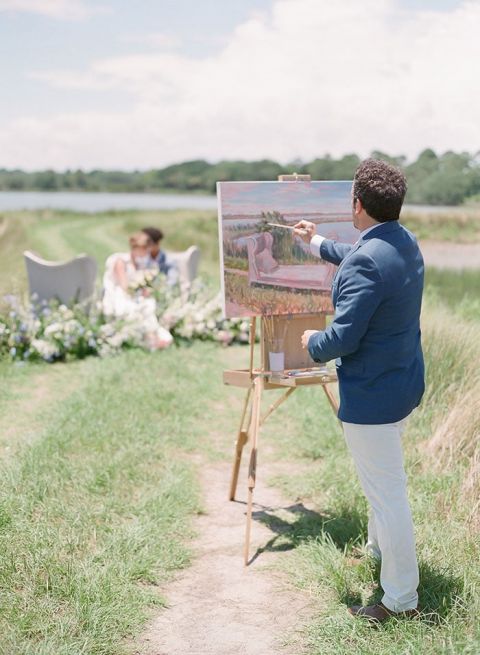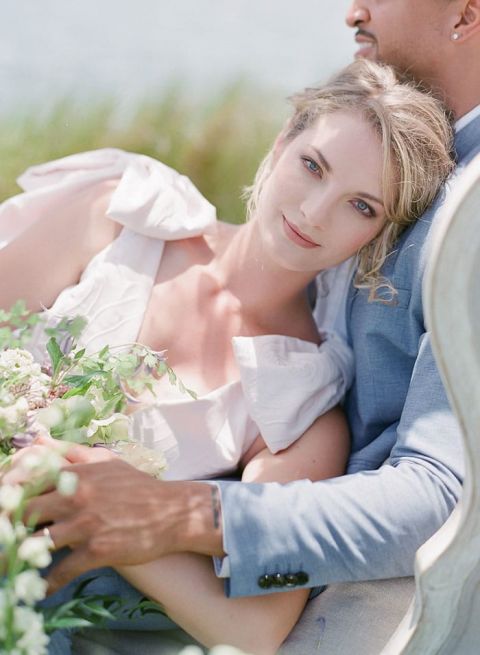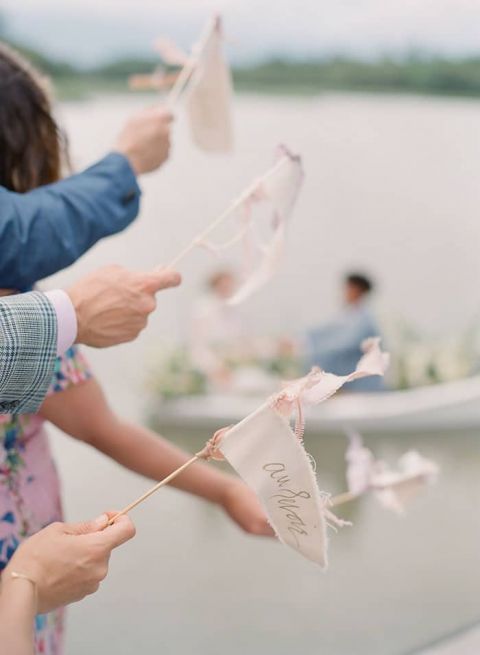 When the time came to say 'au revoir', the couple took to a rowboat filled with flowers, creating a Notebook moment! They took to the river surrounding by floating flowers for the most romantic wedding send off!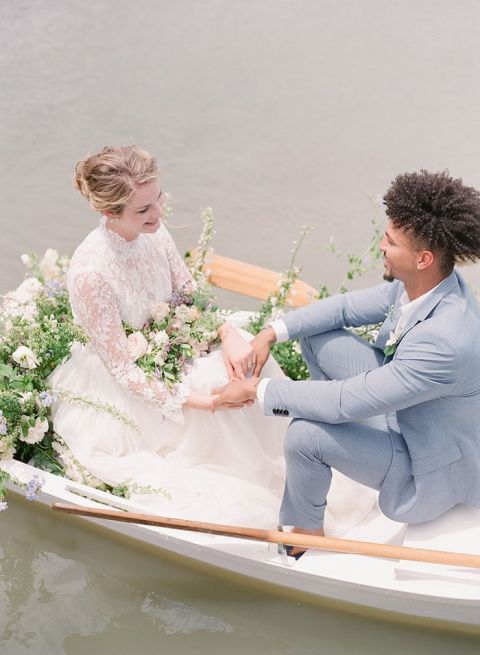 WEDDING VENDORS –
Photography: The Happy Bloom | Event Planning and Design: Haley Kelly Events | Wedding Venue: Kiawah River | Floral Design: Juniper & Jasmine | Wedding Cake: Tessa Pinner | Wedding Dress: Emily Kotarski | Bride's Shoes: Bella Belle Shoes Wedding Rings: Croghan's | Groom's Accessories: M. Dumas & Sons | Styling Assistance: Lindsey Nowak | Hair + Makeup Artist: Ash & Co | Event Rentals: Snyder Events and Eventworks
Linen Rentals: Curated Line | Catering: Harvest Catering | Live Painting: Wed On Canvas | Welcome Gift: A Signature Welcome | Stationery Design and Calligraphy: Prairie & Sage | Bride: Tessa Pinner | Groom: Corey Skinner | Film Lab: Richard Photo Lab
Floating Flowers for a Blue and Lavender Summer Wedding on the River