Hands up, who else is ready for fall? It is one of my favorite seasons for so many reasons, so I was thrilled at the chance to create a DIY fall wedding design with Michaels Weddings! Part of what I love the most are the flavors of autumn, so I wanted to incorporate those by creating a Hot Cider and Donut Bar that doubles as an Escort Card display! Greet guests with the scents and flavors of fall by kicking off Cocktail Hour with these adorable bottles of spiced cider, topped with a fresh apple cider donut – as a bonus, their sweet treat will also guide them to their seat with personalized place card flags!
Read on for the full step-by-step tutorial and some bonus free printables you can download to create your own Hot Cider Bar!
Compensation and Materials for this post were provided by Michaels Weddings – the concept and all designs are my own!
DIY Fall Wedding Hot Cider and Donut Bar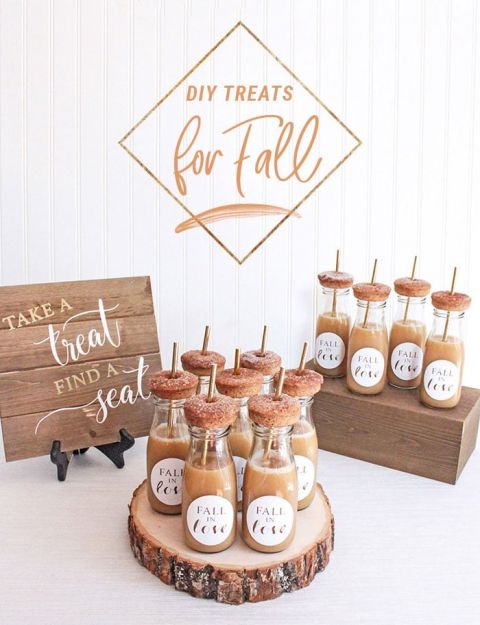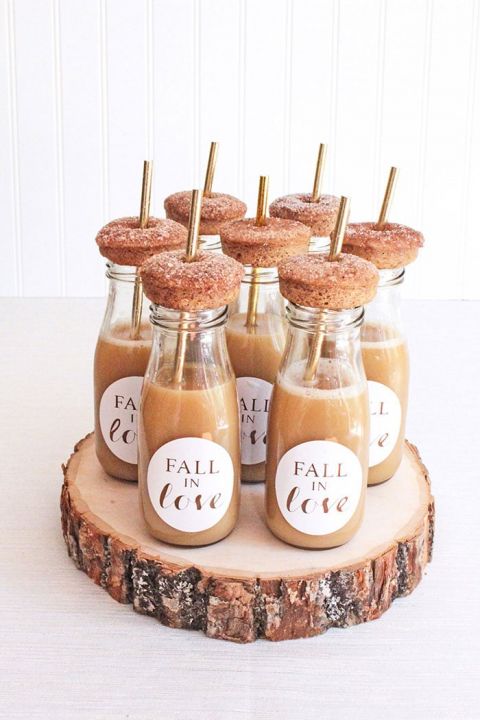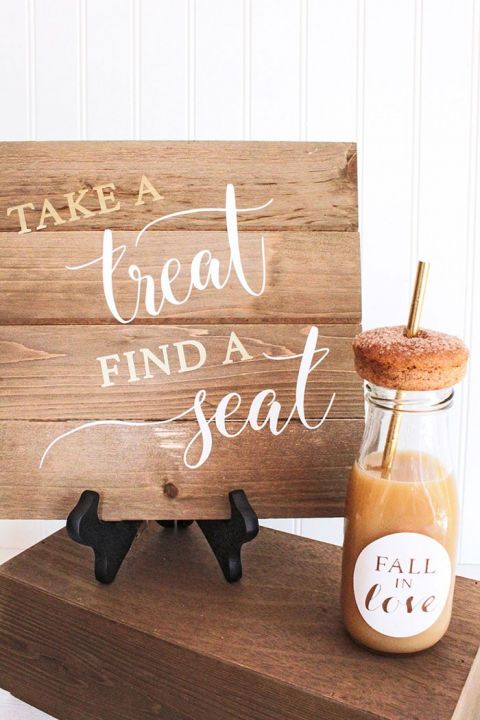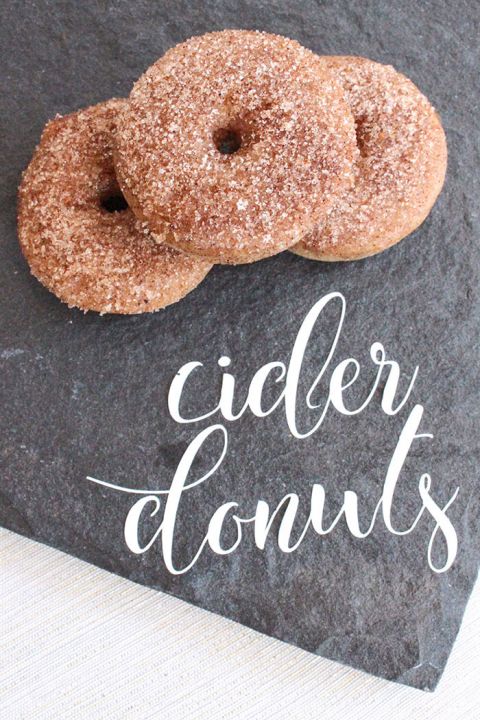 Fun little vinyl details made with the Cricut add a personal touch to store-bought decor for a DIY fall wedding!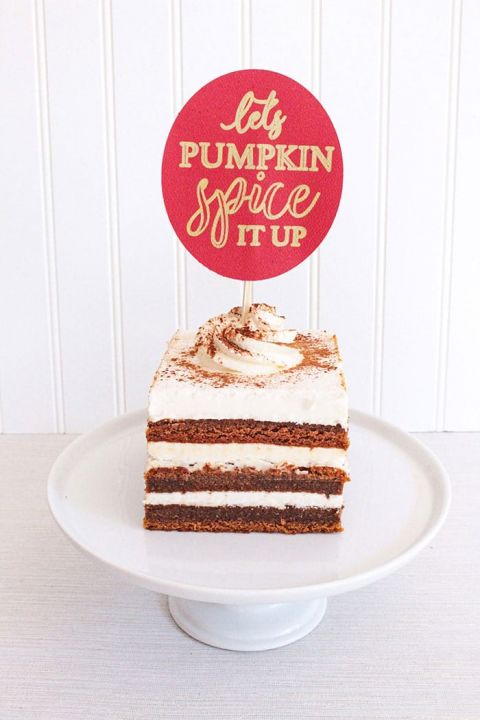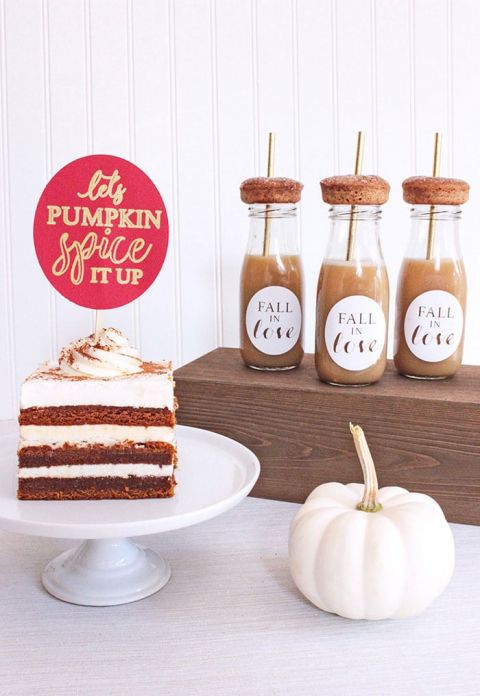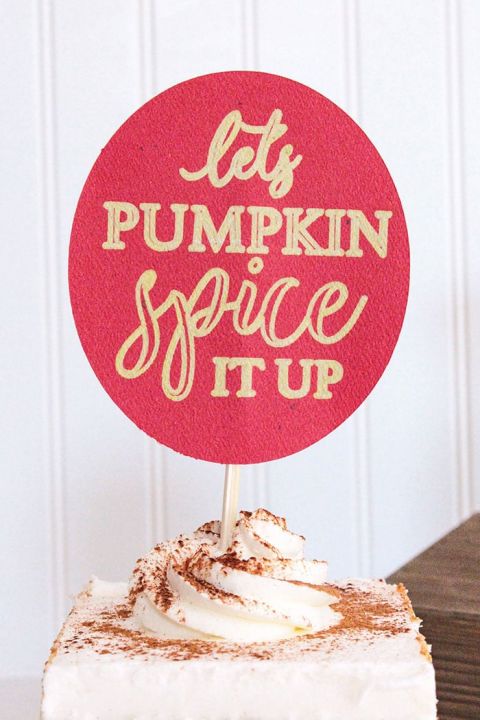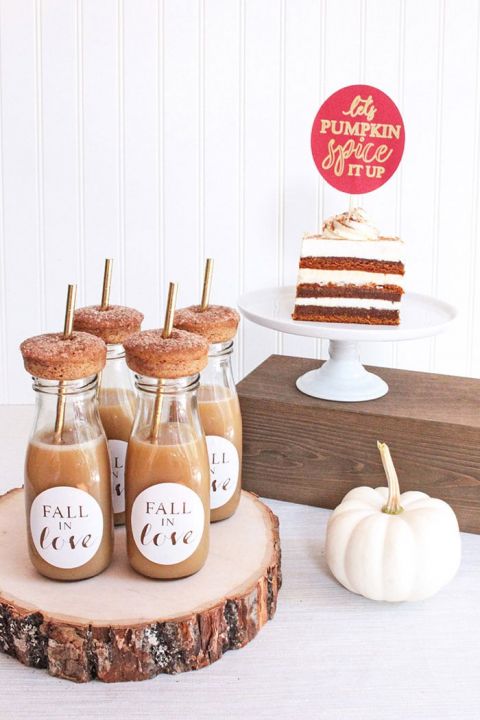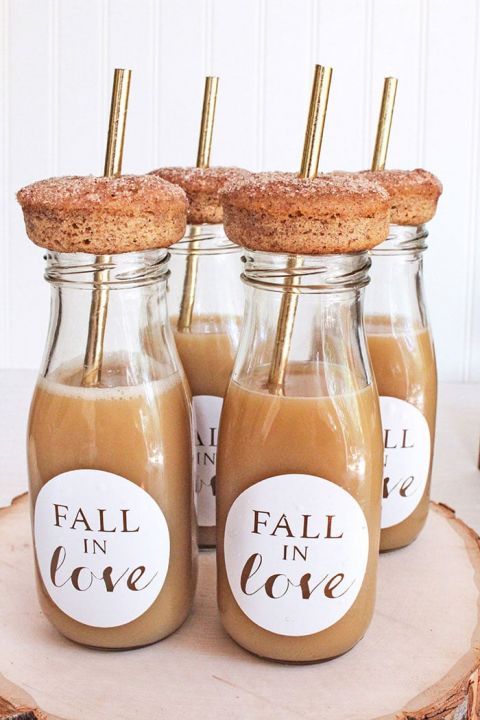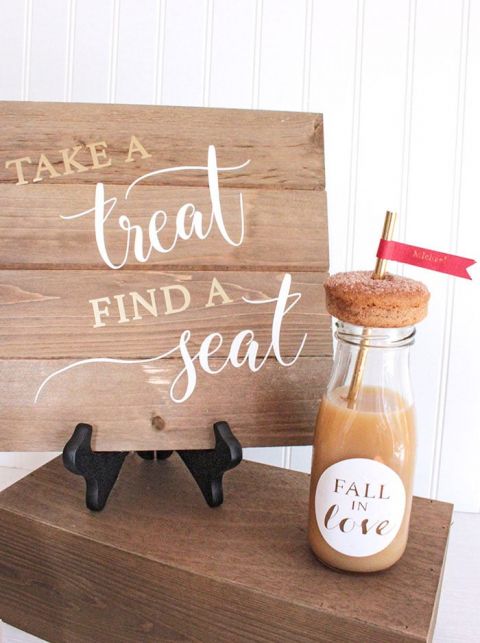 DIY this Hot Cider and Donut Bar for a Fall Wedding!
DIY MATERIALS – MILK BOTTLE FAVORS
DIY MATERIALS – ESCORT CARDS AND CAKE TOPPER
DOWNLOAD – (for personal use only)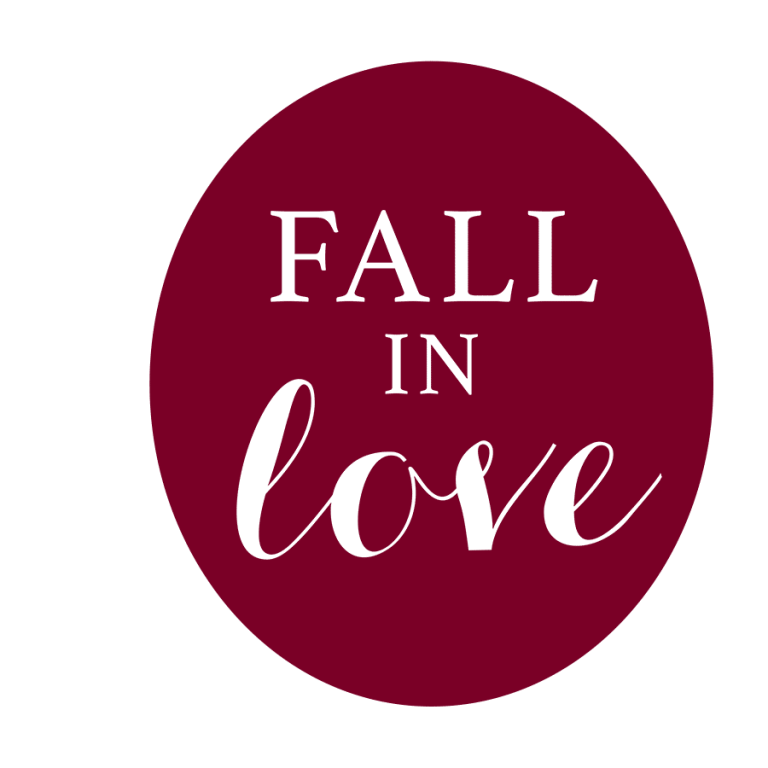 Downloadable Escort Card Label to Cut with Cricut
Layer 1 – Let's Pumpkin Spice It Up lettering
Cake Topper Template
DECOR –
SWEET TREATS –
I used a recipe for apple cider donuts from Sprinkle Some Sugar and they turned out amazing! Simmering cider and baking cinnamon spice made our house smell so perfectly autumnal. I cut the baking time down to 10 minutes for a mini donut pan, and it worked perfectly. The pumpkin spice cake was store bought as a last minute addition and I knew I wanted to do something to personalize it, so a DIY cake topper was the perfect finishing touch!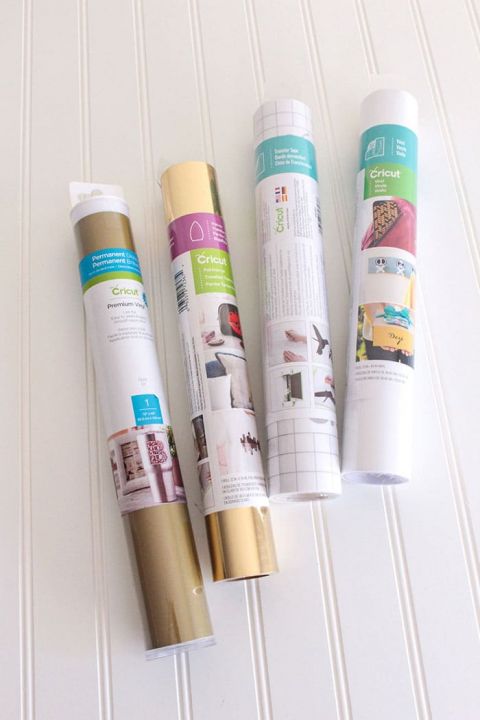 STEP BY STEP FOR THE CRICUT DESIGN SPACE –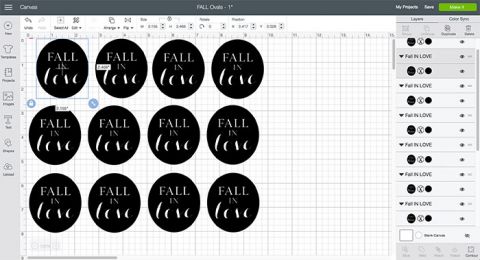 I uploaded my Fall In Love escort card decal into Cricut Design Space – I went through several ideas for this decal and came up with a clean design in the Parchment Vinyl to pop against the spiced cider. The knockout text made it eye catching and playful, perfect for fall wedding favors!
Upload the file as a .png to make sure the knockout text stays in place

Select Image Type – I went with Moderately Complex due to the script font

Save as a Cut Image

I adjusted the size to fit my Milk Bottles with the slight curve and copy/pasted the design to create enough for all my favors!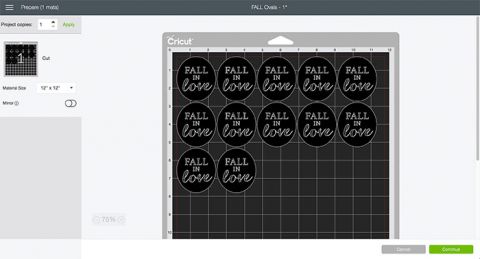 Select material as Vinyl and let Cricut walk you through the next steps of the cut!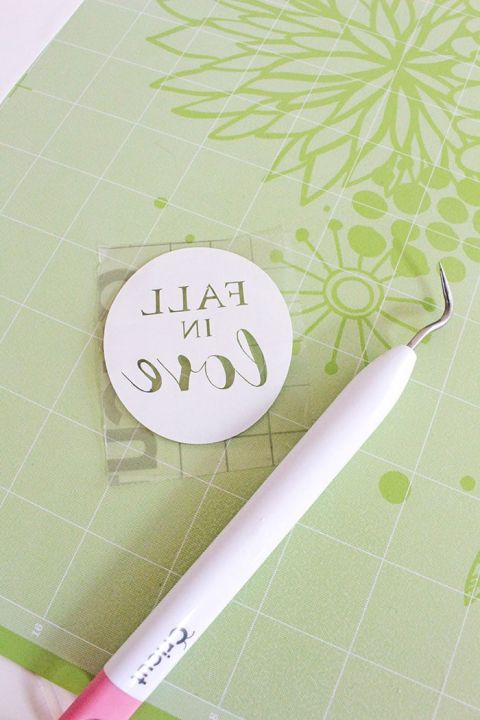 Using the

Weeding tool

, remove the letters from the oval

Cut a swatch of

Transfer Tape

and use the Scraping Tool to adhere it to the weeded oval design

Carefully set the Transfer Tape on the milk bottle – lightly place it to make sure you have your desired position before using the Scraping Tool to smooth it into place.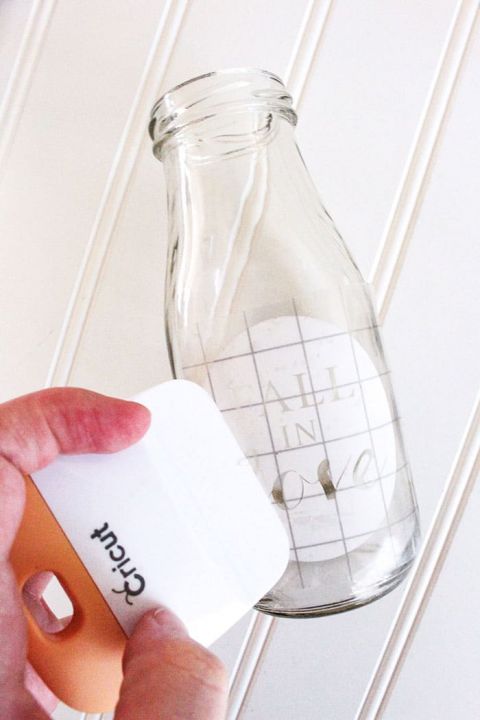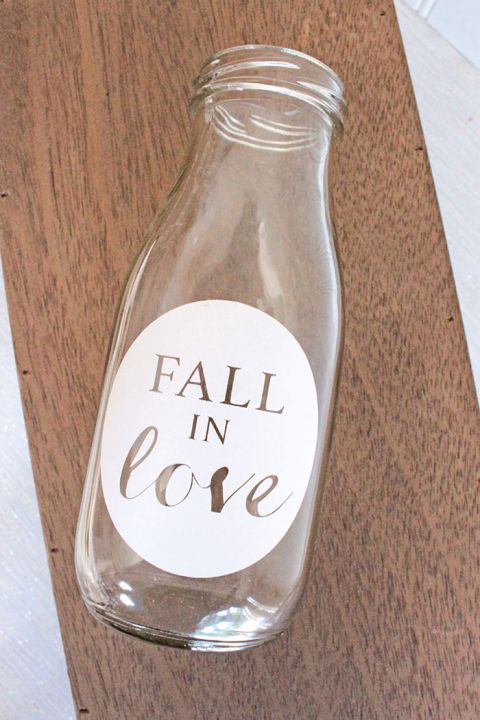 Gently peel the transfer tape away and voila! Complete as many bottles as you like, fill with cider, and top with a donut!
TURN YOUR APPLE CIDER FAVORS INTO ESCORT CARDS –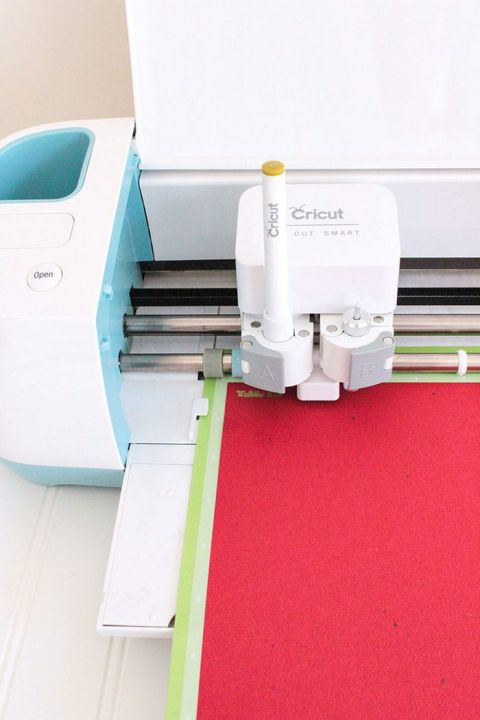 I love wedding decor that is versatile as well as adorable, so I wanted these favors to double as escort cards! Add this step of the DIY to create place setting flags that can wrap around the straws. When guests enter your reception, they'll 'Take a Treat, and Find Their Seat'!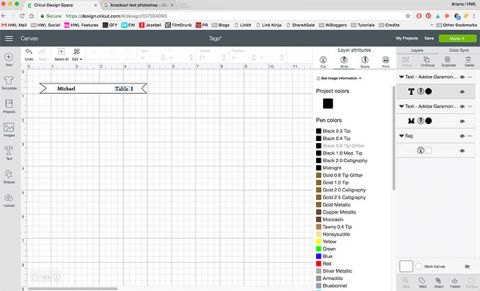 Using the steps for the Vinyl Decal above, add the Flag graphic to Cricut Design Space as a Simple Image and save as a Cut File

Place the flag into your Design Space and manually adjust the size

Select the Text option on the left side of the Cricut Sidebar and type out your seating arrangements with the guests' names on the left side and the table assignment on the right

Adjust the font in the Text editor at the top of Design Space – I kept it simple since I was lettering fairly small words and wanted them to stay legible. Adobe Garamond Pro felt classic and readable!

Set the Layer Attribute to Write instead of Cut and select your Pen Color – I used 0.8 Tip Glitter

Copy and paste the total number of tags (and a few extras for good measure) and fill in the rest of the names and tables

Once everyone's flag has been created, drag your cursor to select everything in Design Space and Attach them using the paperclip icon at the bottom of your layers panel on the right hand side – this step is crucial to making sure all of the names and tables stay in the right place!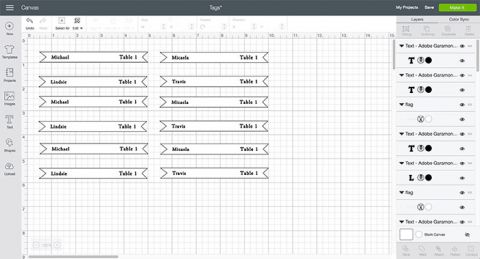 Since you have layers to Write and Print, Cricut shows 2 steps in the next screen

Lock in your Pen to the Cricut and set the Material to Cardstock

Follow the prompts to get a beautifully printed and cut set of place cards!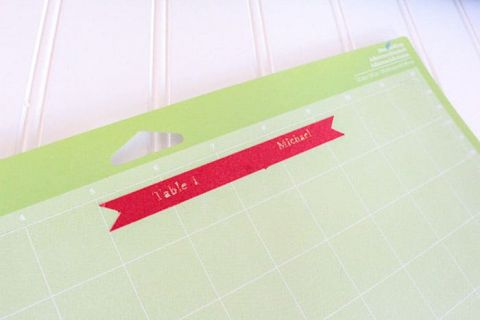 Use the

Spatula Tool

to gently remove the paper flags without tearing them

Wrap the flag around a

Gold Straw

and use

Glue Dots

to gently adhere the front and back and keep them in place!

I loved this technique so much, I kept the ball rolling and made a cute Cake Topper to 'Pumpkin Spice Things Up!' – read on to make your own!
Download the 'Let's Pumpkin Spice It Up' graphics at the top of this post

Upload the oval as a Simple Cut Image and the Lettering as a Moderately Complex Cut Image

Place them on your Design Space and adjust the size, placing the lettering over the oval to make sure you like the placement

Set your lettering as a Write layer attribute and the oval as a Cut layer, then Attach them to retain the placement

Load your pen – I used a Gold 1.0 Tip for this project

Once Cricut has worked its magic, gently spatula off the cake topper

I wanted to keep things simple for this, and used glittery gold

Washi Tape

to attach the card stock cake topper to a

bamboo skewer
DIY Fall Wedding Hot Cider and Donut Bar