I've spent the better part of twelve years as a wedding vendor of some kind or other – and the better part of this last year as a bride. From an event planner working directly with other event professionals, an event marketing manager promoting vendor's services, and a wedding blogger always checking credits and keywords, I've encountered a lot of wedding vendor websites. 
I used to approach them from a purely business perspective – what are the questions our business is constantly answering, and how can I make that information more accessible to our clients? How can I communicate better with prospective brides and grooms before they have to even ask me for this information? 
Since my fiancé and I got engaged in January 2020 (I know, we have great timing), I've had a different perspective for each wedding vendor website I come across – as an editor, and now as a bride and prospective wedding client.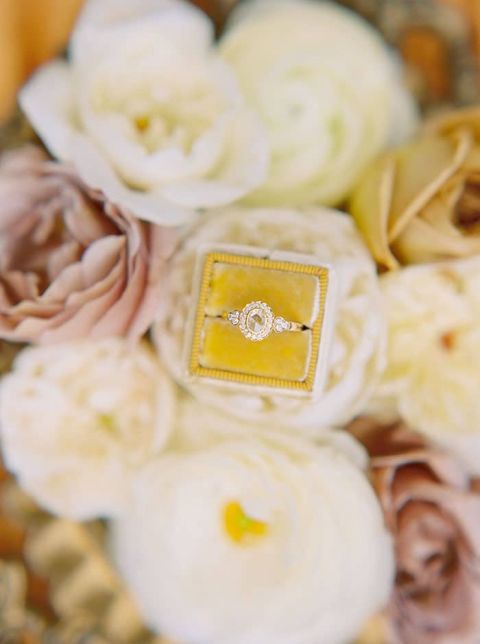 Not my ring, but a girl can dream! Sarahi Hadden Photography, Le Bloomerie, and Gem Breakfast seen in this historic garden wedding shoot!
Now I'm filled with different questions, looking for different information, and it's given me new perspective on how I approach looking at event professionals. I wanted to share the most common issues I come across that every pro should take an afternoon to fix on their site!
5 things every wedding vendor website should have (and most don't)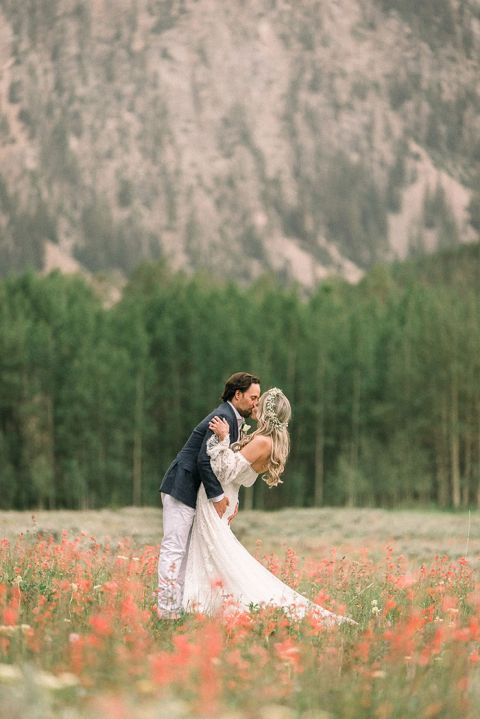 Jacie Marguerite shows us how it's done – her website lists her as a Colorado Fine Art Wedding Elopement Photographer, helping bride Emily find the perfect wedding pro for her Rocky Mountain Adventure Elopement!
What is your service area?
First of all, if you're missing location-based content, you're missing out on a huge part of your SEO. This includes opportunities to reach local clients searching for exactly the service and skills you have to offer – AKA your target audience. There are a few places this should be front and center on your website to increase your search engine optimization and your client experience.
I'm going to use a bridal salon in the California Bay Area as an example of how you should let couples know where you provide your services!
Your site tagline. This should be in your website settings for a quick and easy fix! If you're in Shopify, WordPress, Squarespace – you should easily be able to change this in a minute or two. For instance, our fictitious bridal boutique would have their Site Title set as their business name, and something like this as their tagline: San Francisco Bay Area Wedding Dress Salon and Bridal Accessories. You want a couple of terms that describe your area as well as what you have to offer to get those location keywords on your site! 
Your Contact page. Always, always, have your general location in your contact page! I can't tell you how many times I've gone hunting through a vendor's website so I can provide an area description in the blog post – I'm trying to boost visibility to couples in your local region by dropping breadcrumbs about their local wedding vendors in the post, but you want to make sure you come up in searches for your area before I do! Our fictional bridal boutique should have a paragraph on their Contact Us page saying something like, 'San Francisco Bay Area wedding dress salon and high-fashion bridal boutique located in the heart of downtown Campbell! We're an easy drive from Santa Cruz, Monterey, San Jose, Los Gatos, and the rest of the Silicon Valley! Take an afternoon to grab lunch after your appointment in picturesque Campbell or raise a glass of bubbly after you say Yes to the Dress'. Boom, there's a ton of location information in there so brides searching for 'Bay Area+wedding dress' in Google will be more likely to come across this page!
In your site footer. This is a quick and easy update that – like your site tagline – will be on every page of your site. This reiterates that your site is relevant for web searches for Bay Area wedding dress searches, increasing the chances you'll get a click and an appointment. Replace 'Bay Area' and 'Wedding dress' with your location and primary business keyword, and you're good to go!
This is still important for destination wedding vendor websites! If you have specific regions or countries that you serve – or bucket list locations that you'd like to serve – make sure you include those areas in these same website locations to help couples planning a destination wedding or adventure elopement know you're the right pro for them!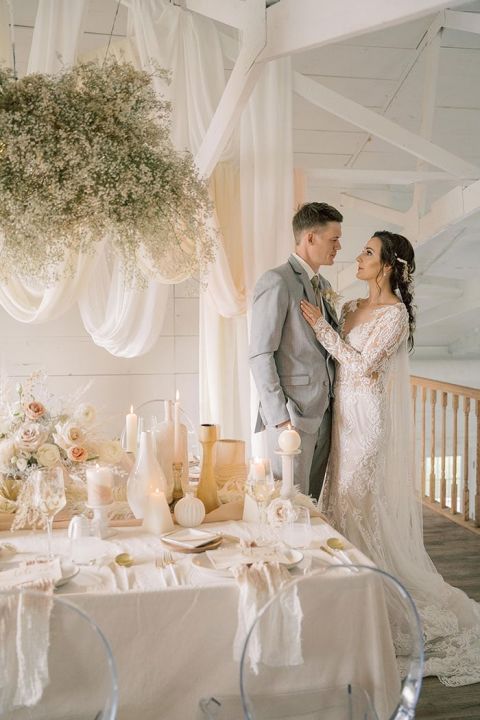 The masterminds behind this desert rose modern boho shoot both know how key it is to have their social media links easy to find on their website – made it so much easier for me to tag and follow them Shea Brianne Photography and Allie Rose Events!
2. Your social media links –
This is probably the most commonly excluded piece of information on wedding vendors' websites. I cannot tell you the number of times I've received a submission without social credits and had to go hunting for them. Here are the key places you should include your social media handles so couples can easily give you a follow (or bloggers can make sure they credit your work)!
In your main menu bar. I made sure my primary social media accounts were represented in my top menu. That way people wanting to peruse Hey Wedding Lady's latest Pins or Instagram posts can easily find where to follow me. This should be your priority location because it's consistent on every page, so they don't have to go hunting for your handles regardless of how they reached your site.
Your Contact Page. People seem to expect them here as well as in your menu bar. It doesn't hurt to include them here as well in addition to your site header. They shouldn't only be on one page, though – you risk people not clicking the right page and thus not following you.
A sidebar or bottom footer. Heck, I have social content in both! A latest stream of my Instagram posts can be found on the sidebar of my blog to catch a reader's eye as they scroll down a post, and a larger version to entice them as they hunt for more inspiration.
A side note. Make sure your social links open in a new tab! You don't want to A. increase your bounce rate by directing traffic away from your page, and B. risk a potential client clicking to Instagram and closing your page in the process. They're more likely to click on a notification or message, and then your page is gone. This is a small 1-minute fix that will have great benefits to your site!
A message for free site users – If you're using free wedding websites for vendors like Wix, they typically include social media icons in either the header or footer menu; HOWEVER – the default links are to Wix's social media. MAKE SURE YOU UPDATE THE LINKS! I have clicked through to the Wix Facebook and Instagram page more times than I can count when trying to verify a wedding vendor's social media handle.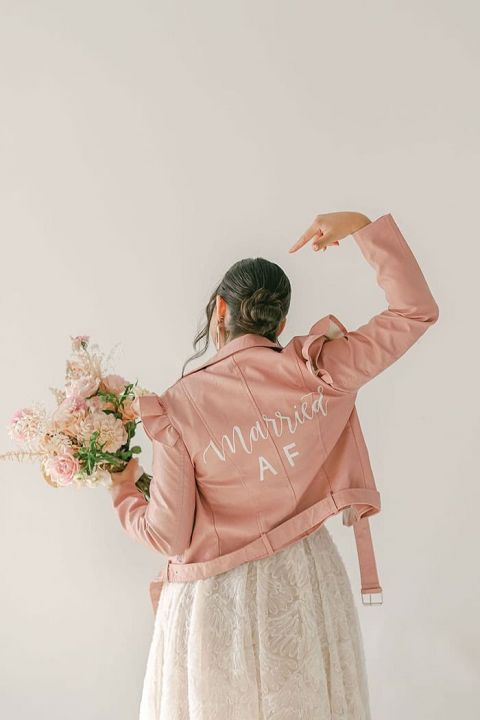 This fun and fabulous Palm Springs inspired wedding shoot by Lily Tapia Photography, Kiss & Say I Do Events, and this custom jacket by Signs of Our Lives is totally of-the-moment and perfect for a site refresh!
3. Examples of your most recent work and packages.
I know updating a website regularly can feel like a lot of work, especially when you have a business to run. Keeping your content updated regularly is one of the best ways to improve your search ranking, as well as showcase your most recent skills to your clients. The levels of development I have seen vendors achieve in just a year or two can be astronomical, and help you attract a wider range of clients. 
Not only is this a great way to keep your portfolio fresh, but it's essential to creating good SEO. Add new keywords to help you rank higher in search results, add blog posts to increase the relevant and searchable content on your site, update portfolio pages with your favorite images to attract your ideal client. This is a great project to outsource to a creative content manager to really get your work off the ground, or a weekly update to keep your site updated and Google pinged.
This is especially important if you have new COVID packages! You want to increase the keywords that your site ranks for now that more couples are using search terms like 'micro wedding', 'elopement', and similar. Offering mini-sessions for family portraits or adventure elopements? Do you have a micro wedding booking that couples should know about if they had to change plans last minute? What about last-minute openings and dates? Adding a new page for Specials or News is a great way to keep couples updated on how you've pivoted to accommodate for pandemic events – not only in terms of your safety policies and adherence to health guidelines, but also the new services you're offering get through ~all this~.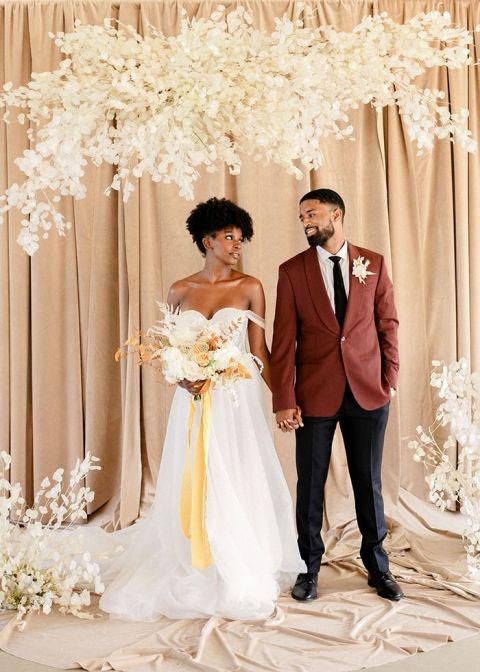 When couples fall in love with your work or vendors want to collaborate with you after seeing your work on a blog, like this minimalist yellow shoot from Pendo Photography and 36th Street Events, they might need another way to reach you than a contact form.
4. Your email address.
Yes, a Contact Me page is great – you can include custom questions, gather information about your clients and their event, and hopefully track inquiries as they come in. What if a wedding blog editor wants to contact you to ask about featuring your work or let you know a post has gone live with your credit? A photographer wants to collaborate on a shoot? Or a client has a question that doesn't fit your form? 
I can understand not wanting to type out your email address – it increases the likelihood of spam messages or unwanted email lists, but it's crucial that potential clients can reach you somehow, even if the form is down.
The solution – write out your email in a long form. For instance, my page lists my email address as: thelady (at) heyweddinglady.com. That way people with serious questions can contact me, but skimmers won't grab my email address with one swipe.
(But also – I hope you use my form if you want to submit your work to be featured on Hey Wedding Lady!)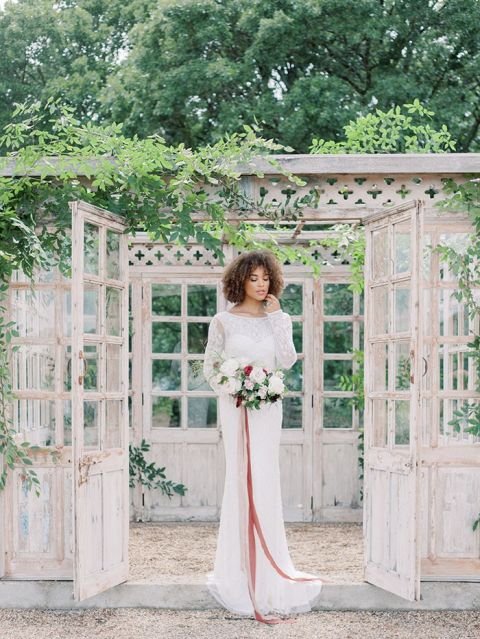 Faith Roper Photography and The White Sparrow created this dreamy Vintage Greenhouse Elopement!
5. Your Price Range.
This is just as important for retail stores, like bridal boutiques who carry dresses with an MSRP price point, as it is for vendors who provide a contracted service. I know it can feel like you're turning business away by publishing your prices, but it's important to communicate a range with prospective clients up front.
If you list a minimum booking amount, a few package options, or an estimated price range, you will be more likely to attract solid bookings that have budgeted for your skills and services. You don't have to get down to the decimal sign in your website pricing, but you will attract couples who are more likely to contract with you when they have an idea of what to expect up front.
I hope these tips help make your wedding vendor website more user and search friendly – two of the most important things to increasing your bookings even in this crazy market!
Read More: 5 Tips to Boost Wedding Bookings During Engagement Season