What's an engaged couple to do in quarantine except pull a full scale renovation to create the perfect venue for their backyard micro wedding? With COVID restrictions putting the strain on their Koi-themed wedding, Anne Marie and James decided to work together on a DIY home improvement project that transformed James' parents' backyard into the perfect location for their at home wedding! Their tiny guest list fit perfectly in the beautiful space, with a fish pond and fairy tale wedding flowers dreamed up by Bay Area florist Nicole Ha. Despite many friends and family scattered across the world, they were able to create the most memorable wedding photos with Studio Opia!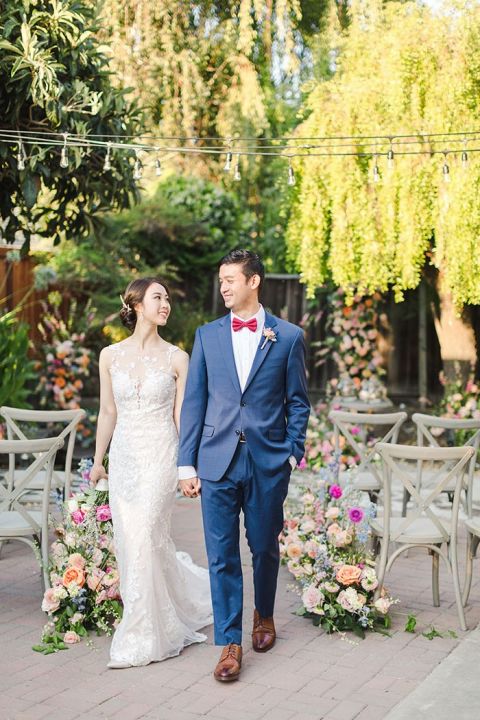 A backyard micro wedding with a Koi Pond Theme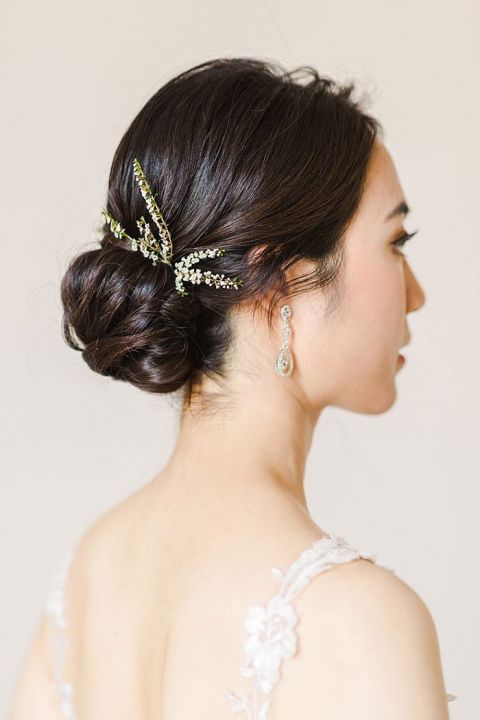 The couple originally met as classmates at the UCSF School of Dentistry and began dating in their first year. They soon became inseparable – studying, seeing patients, exercising, cooking, and traveling together.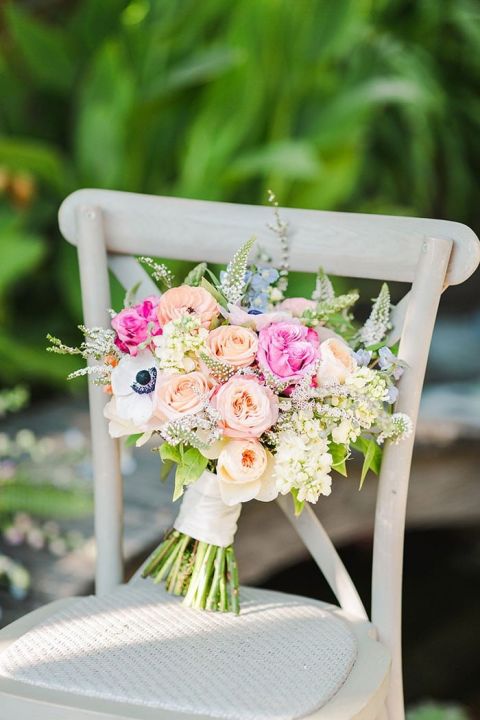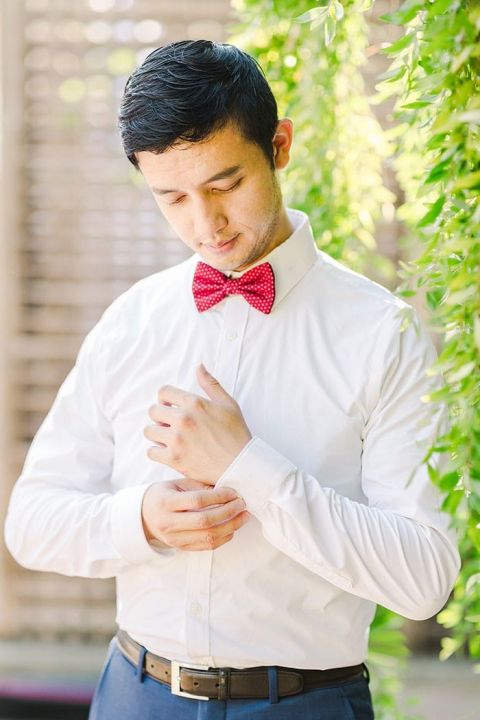 James took Anne Marie on a walk by Stow Lake in Golden Gate Park – with the excuse that they were celebrating their final year of dental school with a photo shoot. He waited until they were in a rowboat in the middle of the pond to ask her to marry him and she excitedly said yes!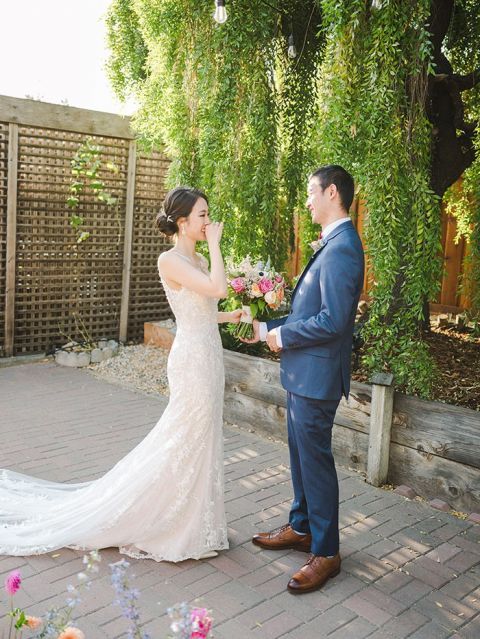 Their planning was put on pause when it became clear that COVID restrictions were increasing in the Bay Area and beyond. They had envisioned a Koi-themed wedding, to bring in the symbols of harmony, beauty, and grace they wanted to represent in their relationship and marriage. Their shared Chinese culture also considers koi fish as a symbol of courage and prosperity, making it an auspicious detail for their wedding style!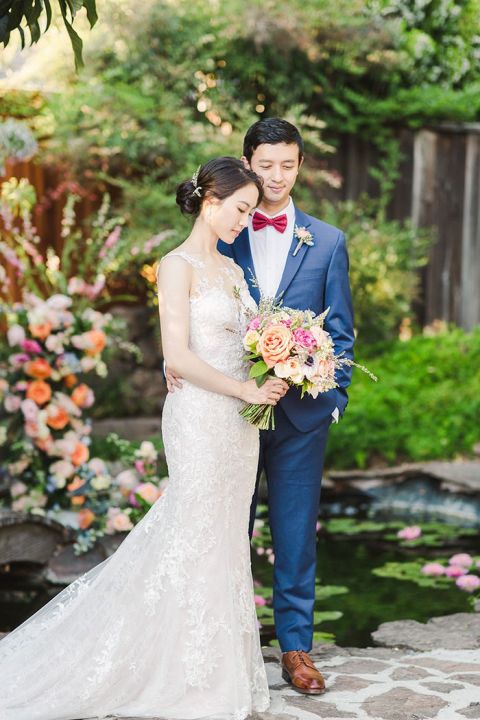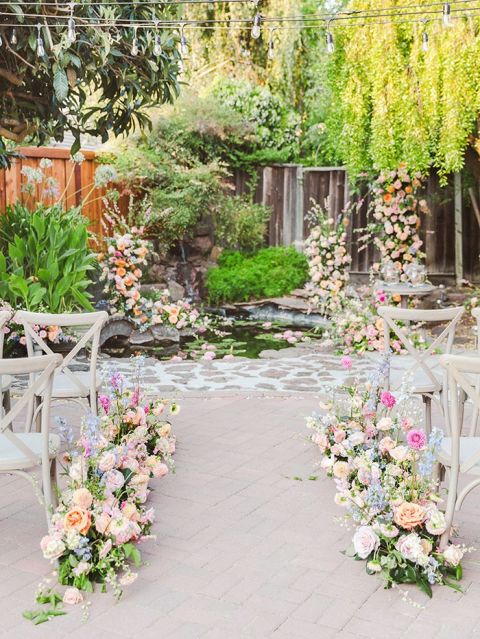 When it became clear they would need an alternative wedding plan, the couple turned to James' parents' yard in the Bay Area! They had a small fish pond that would set the scene for their koi-themed wedding, and could easily hold their backyard micro wedding guest list. The couple put their energy into renovating the yard to turn it into an amazing place to celebrate – and relax after the wedding! They spent their quarantine time weeding, trimming overgrown trees and bushes, repairing cracks in the floor, and renovating the pond to create the backdrop for their wedding ceremony! They put new meaning into a DIY wedding by working together to renovate their own venue.
See more ways to invest in an At Home Wedding!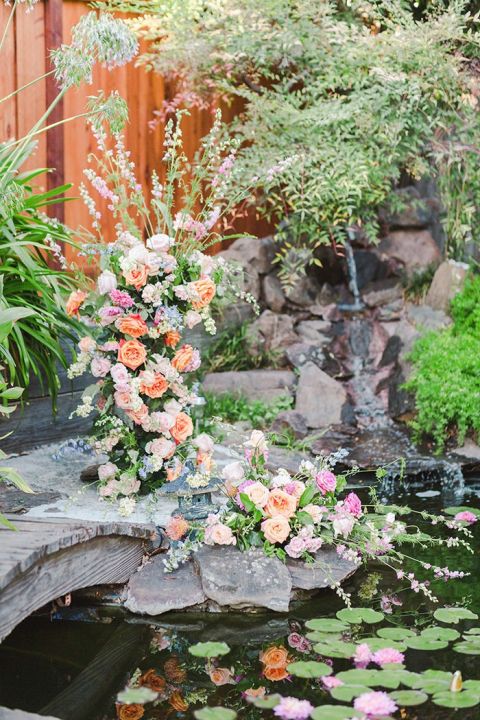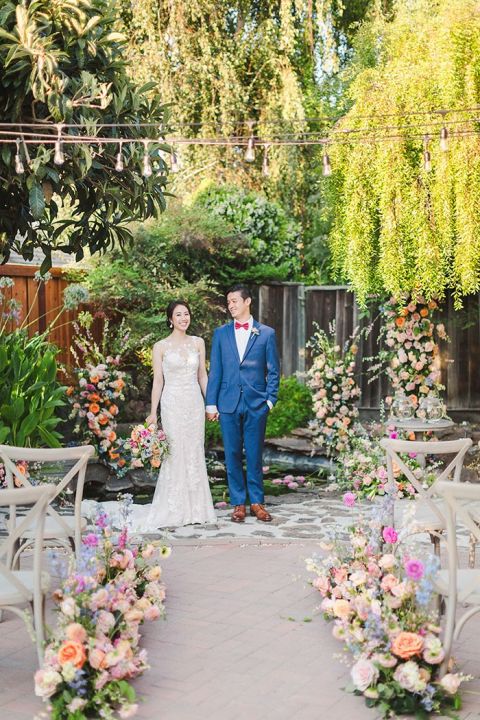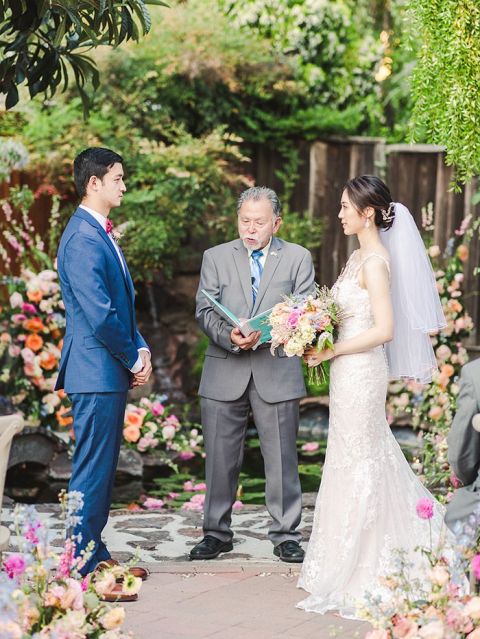 The couple created a unique wedding ceremony tradition – instead of lighting a candle, they decided to have a fish pouring ceremony! They sourced Japanese Koi fish and aquatic plants from a local aquarium store in Castro Valley to help support a small business and make sure they had the best pet care advice to keep the fish happy and cared for long after the ceremony. They would release them into their new pond environment as part of the wedding celebration!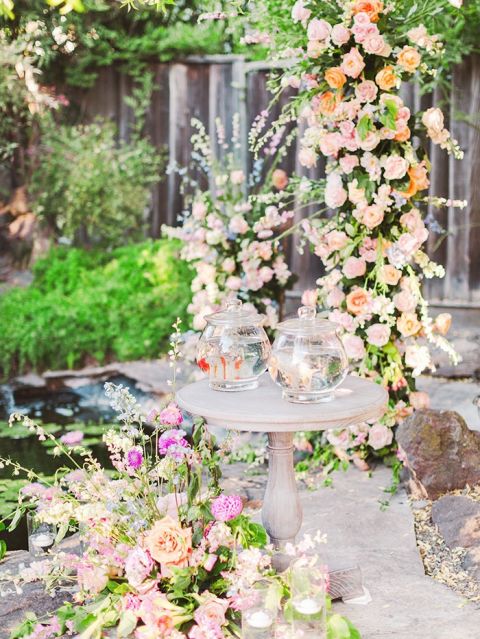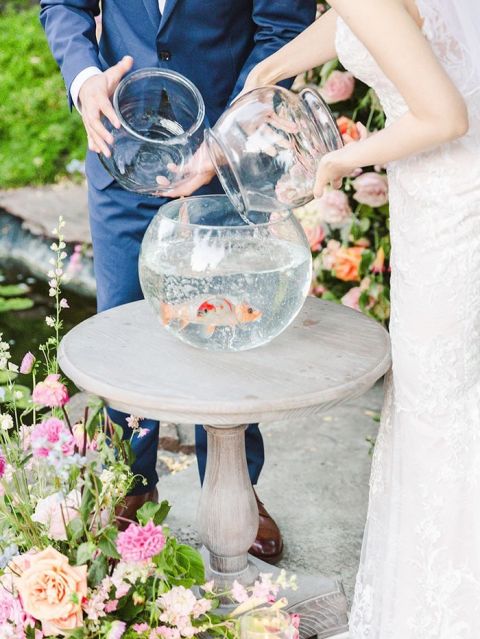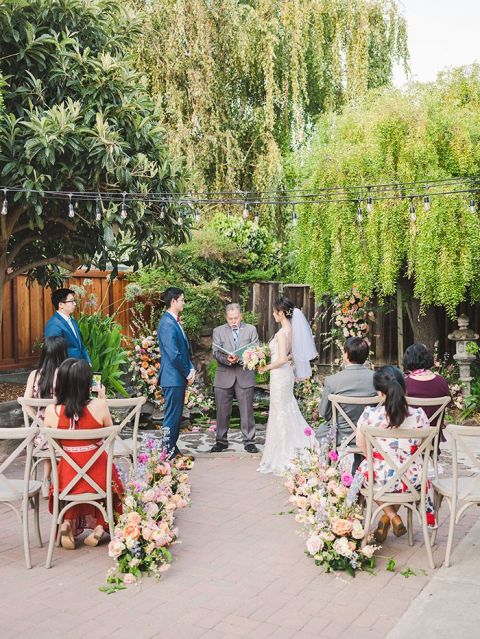 Among the other hardships of COVID lockdown, getting ready to move across the country for their jobs, and completely redoing the backyard for their wedding, the couple also had to factor in guests who couldn't safely travel and join them for the wedding.
Among the many difficulties in planning this wedding, the hardest was not being able to have most of their loved ones present, especially James' parents who were quarantined overseas in Taiwan and could not return to attend in person. Therefore, Anne Marie and James decided to Zoom their wedding so family and friends could remotely participate in their ceremony from the comfort and safety of their homes. With the help of the groom's siblings and the bride's maid-of-honor, the wedding was hosted with English and Mandarin translations and successfully live-streamed and recorded for the wedding guests. Despite the physical distance from loved ones, Anne Marie and James were able to feel the love and support of their friends and family as they commit to one another in marriage. It was a truly beautiful and unique wedding celebration, an unforgettable way for loved ones to send them off and start their new lives.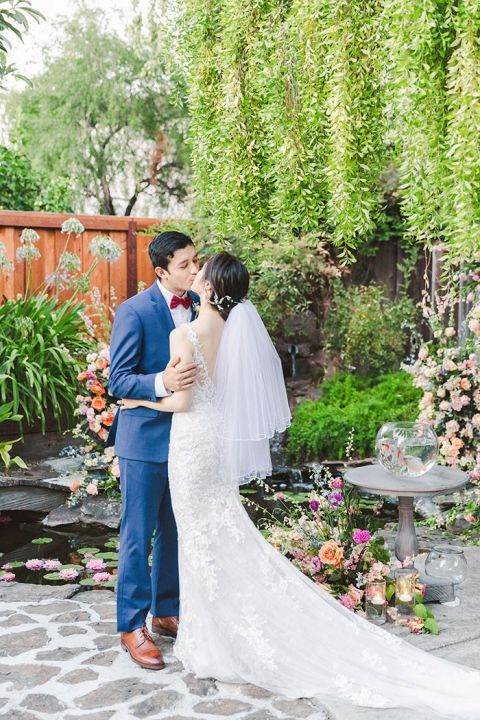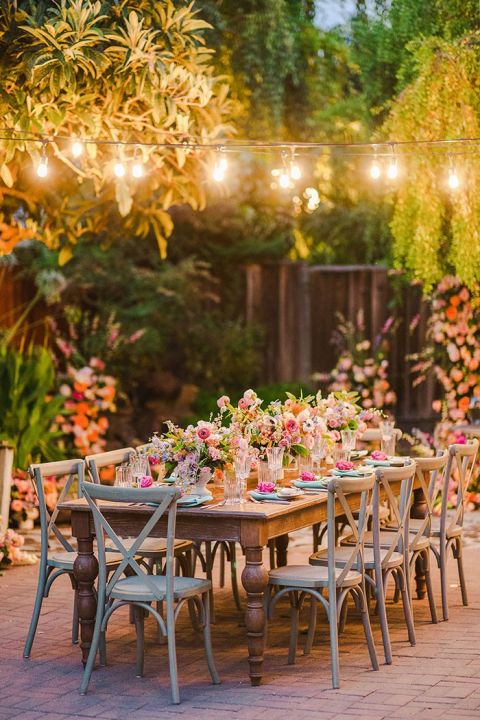 The bride and groom designed a backyard micro wedding reception that could comfortably and safely accommodate their party of ten. They embraced a French Country style, with a dark oak dining table and cane back chairs from Standard Party Rentals.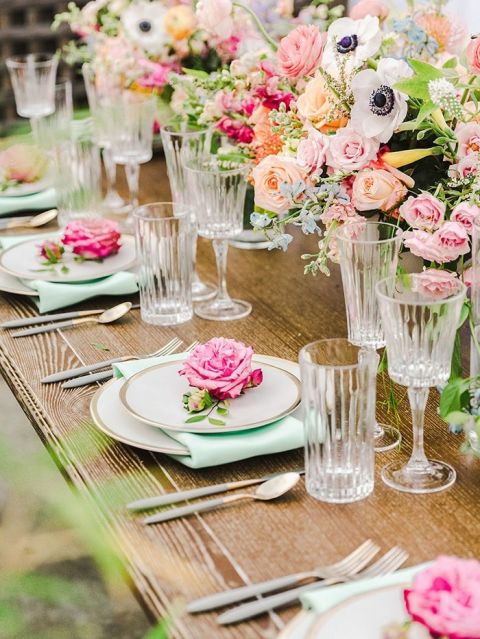 Nicole Ha created a beautiful pastel fairy tale color scheme for their wedding flowers, with an enormous pink garden flower on each gold-rimmed china plate, adding a romantic pop to their mint green napkins.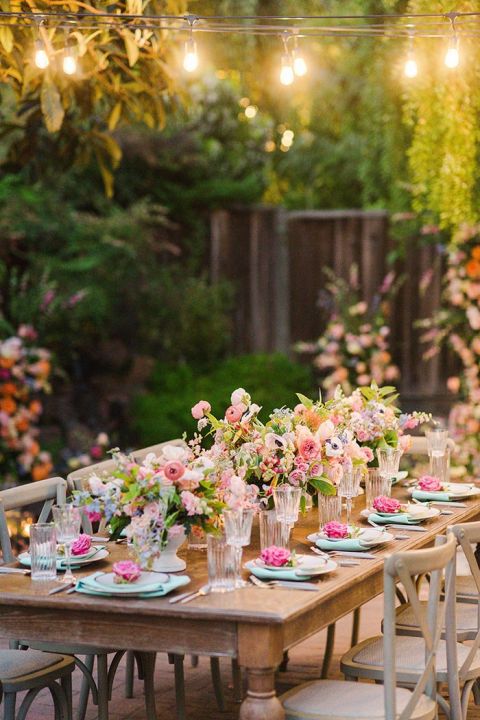 The full garden flower arrangements combined pink, peach, greenery, and touches of blue to match their free-standing ceremony arch and beautiful floral installations throughout the yard. Bistro lights overhead provided the perfect lighting for their backyard micro wedding dinner!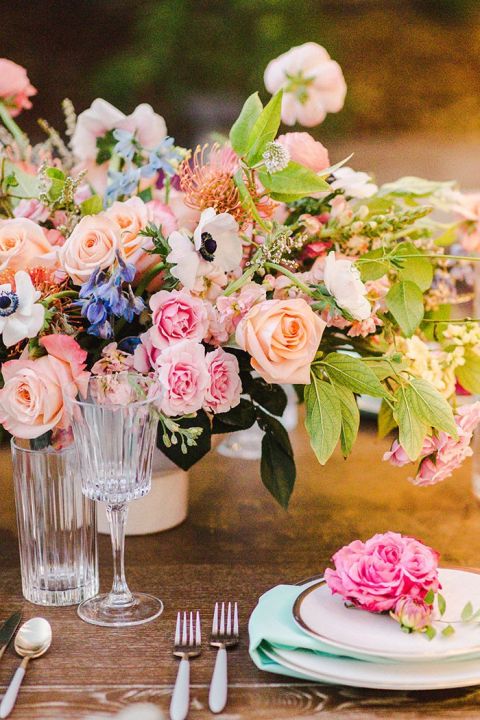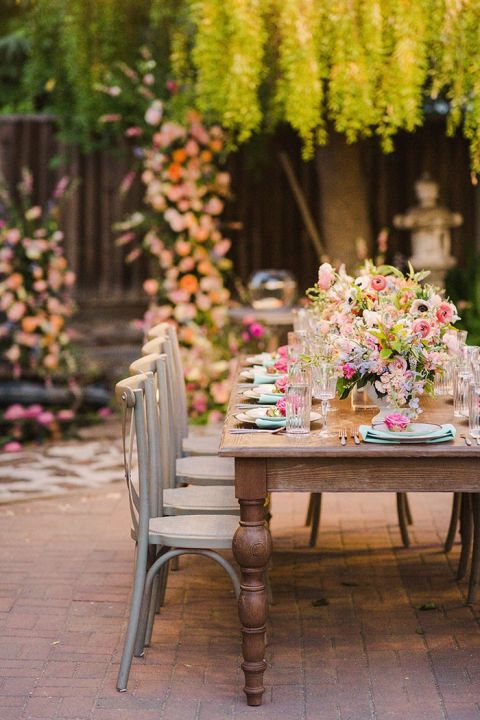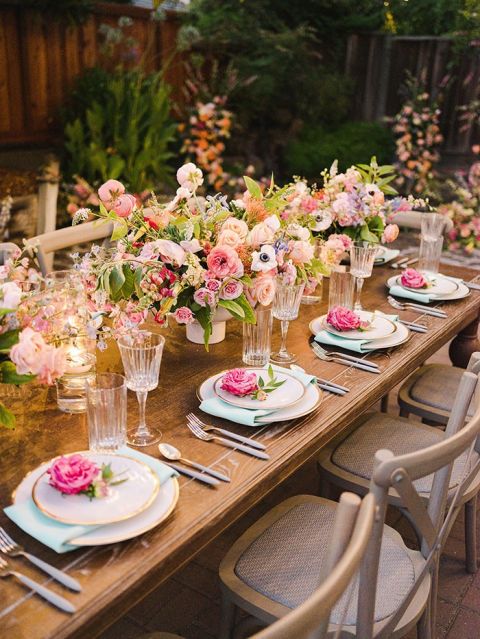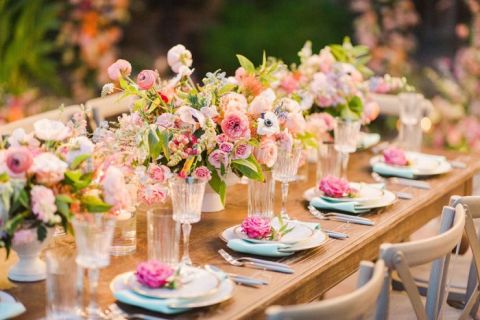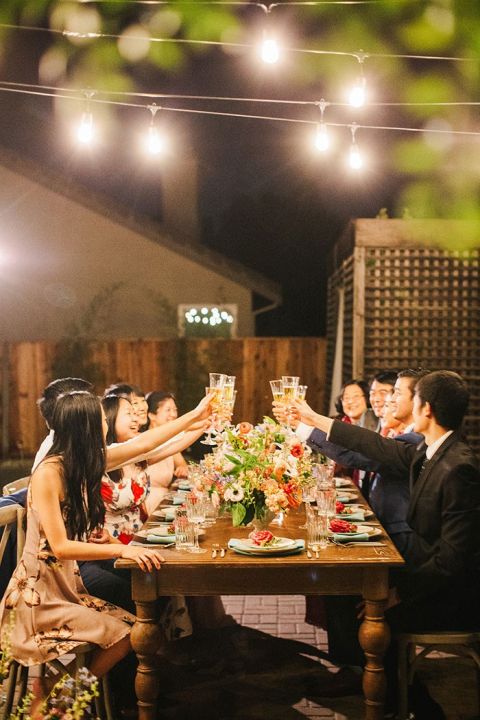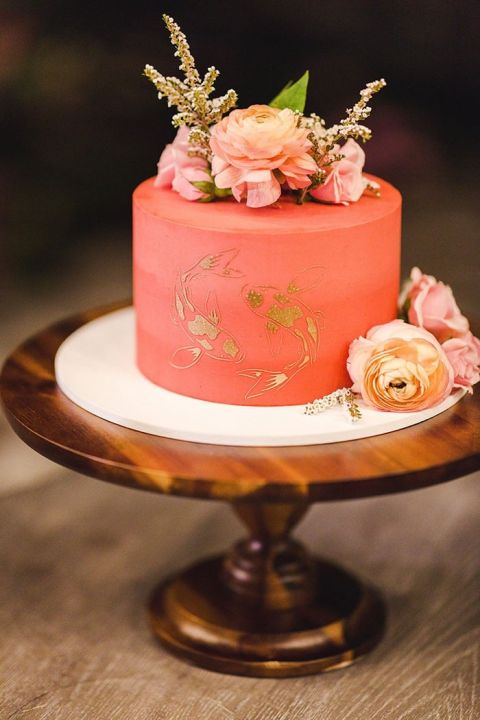 The couple turned to their favorite San Francisco bakery, Butter&, for their petite wedding cake. The coral and gold cake had a bas relief design of circling koi fish, representing their wedding theme and unity in a beautiful and delicious way! The couple repurposed the pedestal table from their fish bowl ceremony into their beautiful dessert display, with the flower pillars from their ceremony adding to the romantic willow pond backdrop.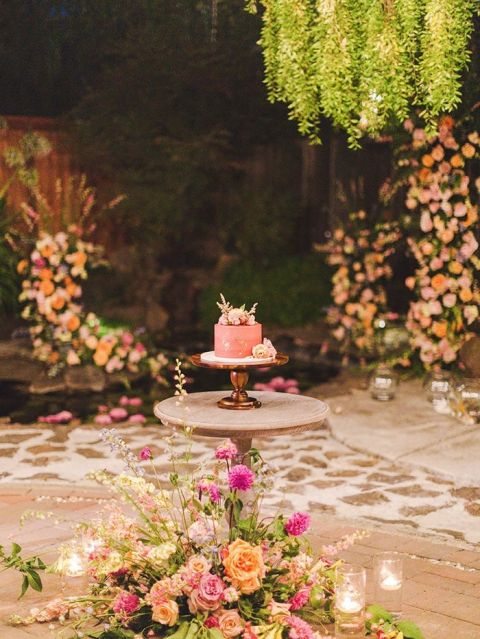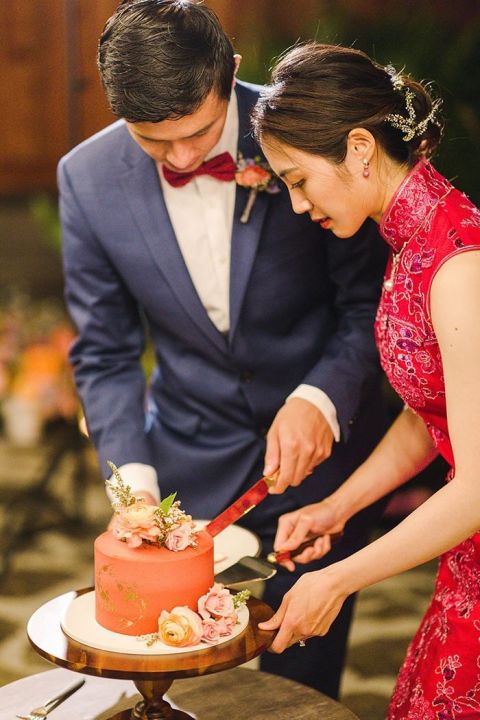 As a finale to their perfect intimate wedding, they introduced the fish to their new pond home!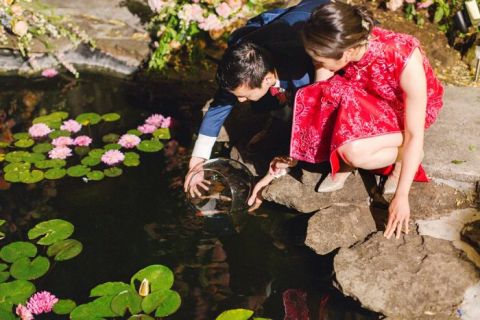 Micro Wedding Vendors –
Photography: Studio Opia | Florist: Nicole Ha | Makeup Artist: Joyce Zhou | Event Rentals: Standard Party Rentals | Cake: Butter&