What do you do when you're dreaming of shooting a disco wedding day filled with mirror balls and fabulous bright colors? If you're blkphoto+co, you don't wait for a married couple to share your vision, you set out to inspire them! With visions of glittering mirror balls and vivid pink and orange flowers in mind, she set about creating a styled wedding shoot that would combine the 70's disco trend that's taking everyone by storm with fabulously fun details to add a personal spin. With the help of Merrill Ashley Events to help her pull together all the pretty details of this colorful disco wedding day shoot, along with coordinating the many moving parts in what is basically a mini-event!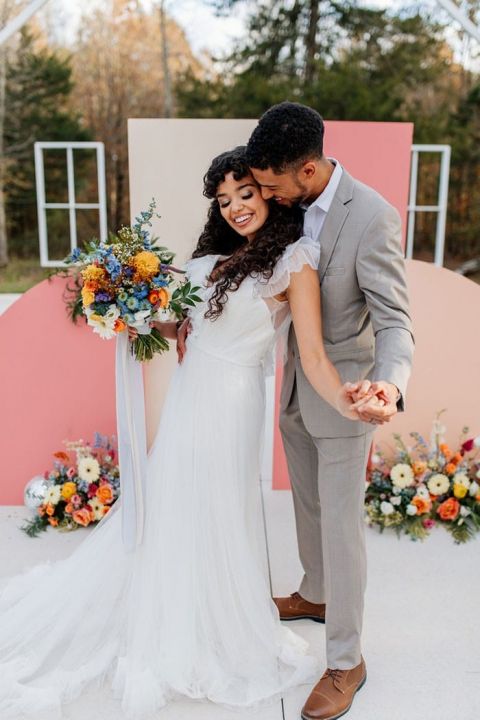 How Sweet is this Colorful Disco Wedding Day?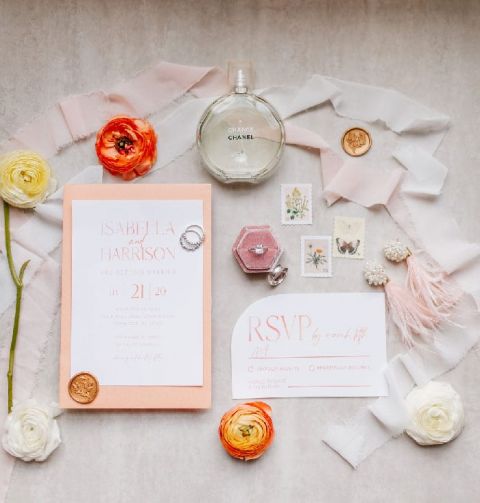 It started with bold color and a mirror ball. To create the perfect disco wedding day inspiration, this Georgia event crew pulled out all the stops for a playful palette, combining orange, yellow, pink, coral, and blue along with dazzling disco balls that added sparkle and shine. Local florists Arrangements by Rachel and P for PETUNIA grasped the vision for color meets dazzling disco balls, creating garlands of gorgeous flowers alongside mini versions of a dance floor mirror ball. The result is this fun design that combines chic wedding style with a playful heart! The retro inspired water color invitations added that perfect 1970's style with an updated vibe to set off the whole thing to perfection!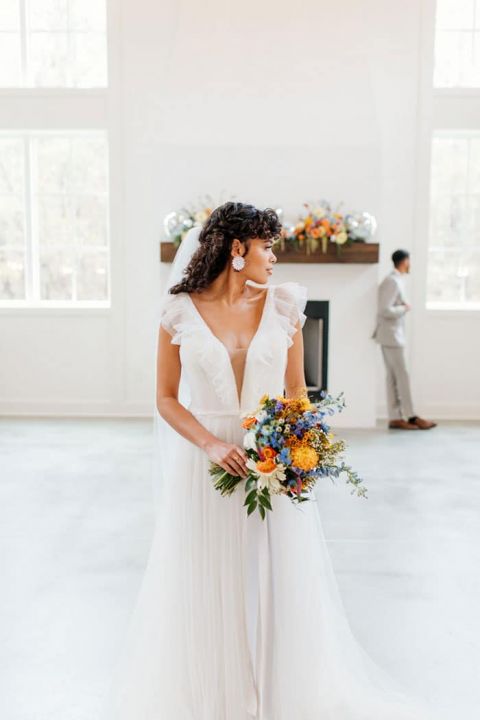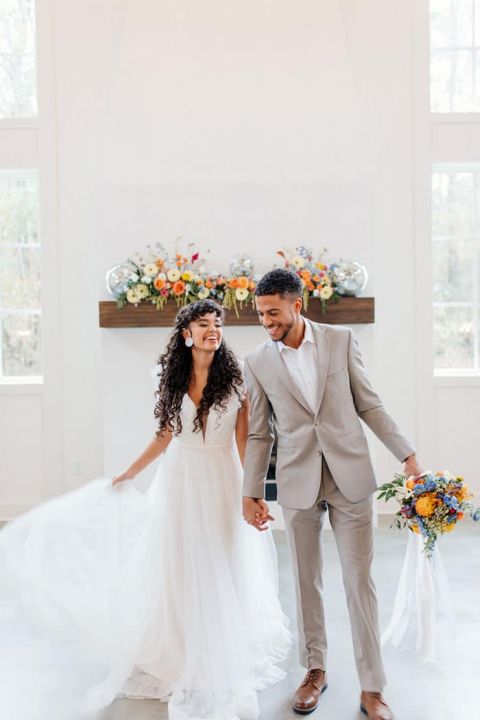 To give the bride's look the perfect playful vibe, the team turned to Atlanta bridal boutique, Victoria Grace. The ruffled sleeve dress with a plunging neckline and pleated tulle hem added a romantic 1970's style that was perfect for the bouquet of colorful wildflowers and stylish neutral attire for the groom!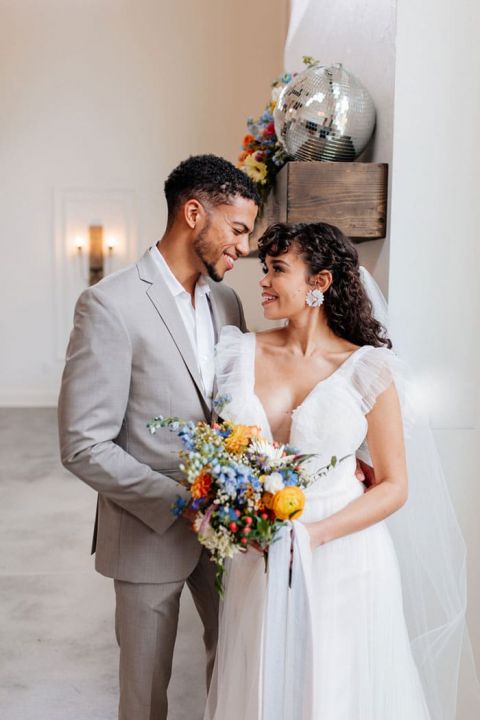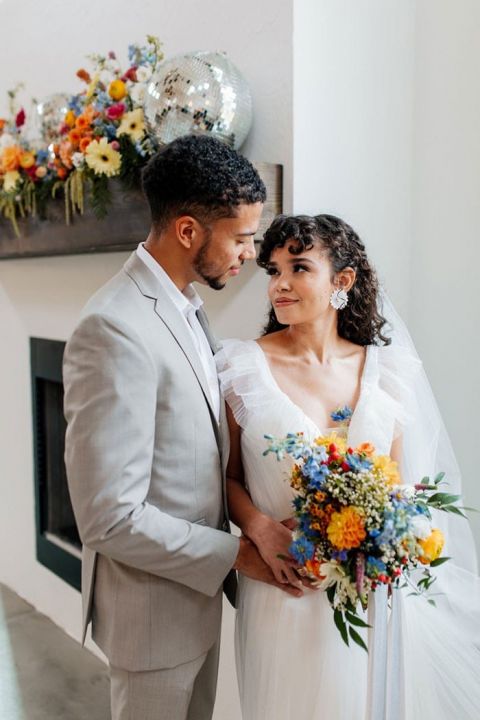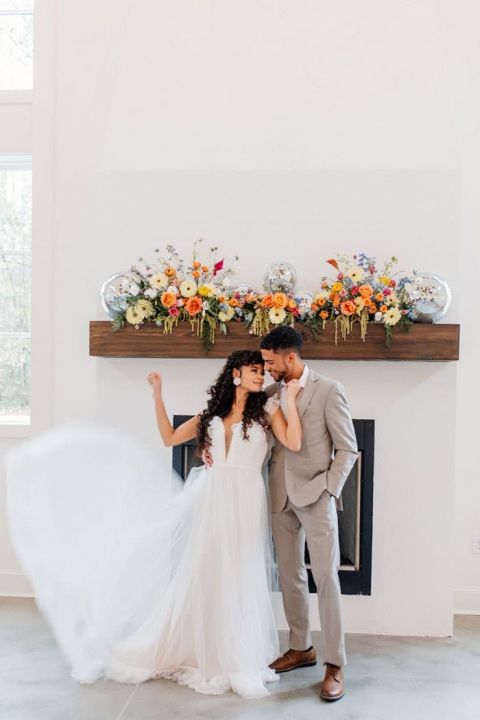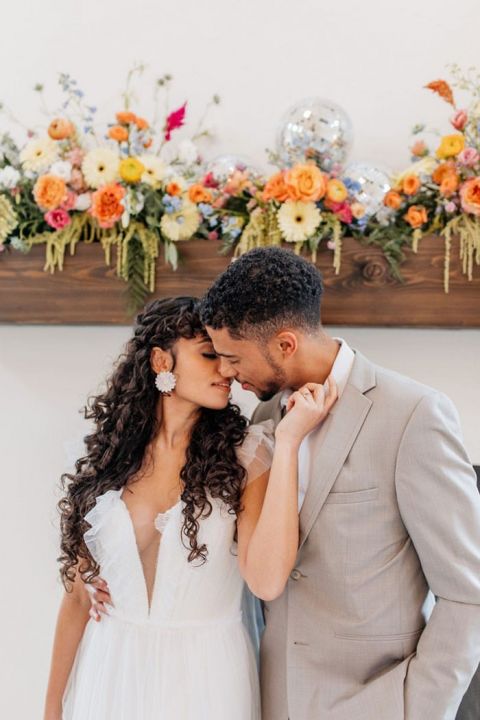 A cozy pedestal farm table made for the perfect intimate reception! The Prissy Plate Company decked the table with layered place settings and knot-tied napkins to add glamorous details to the wildflower runner that added color and charm.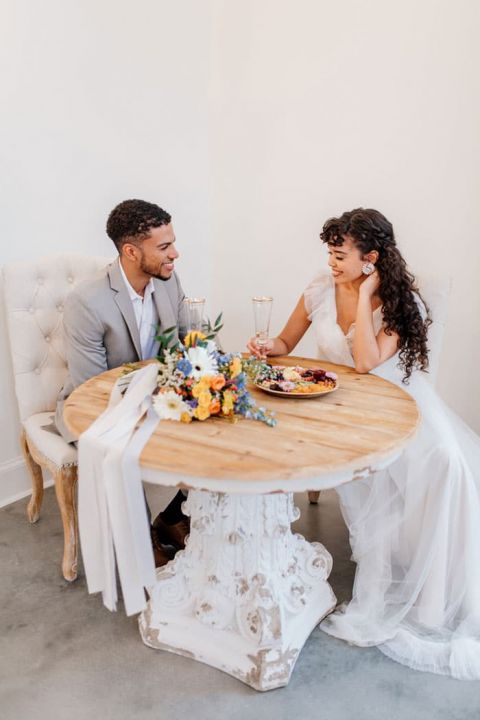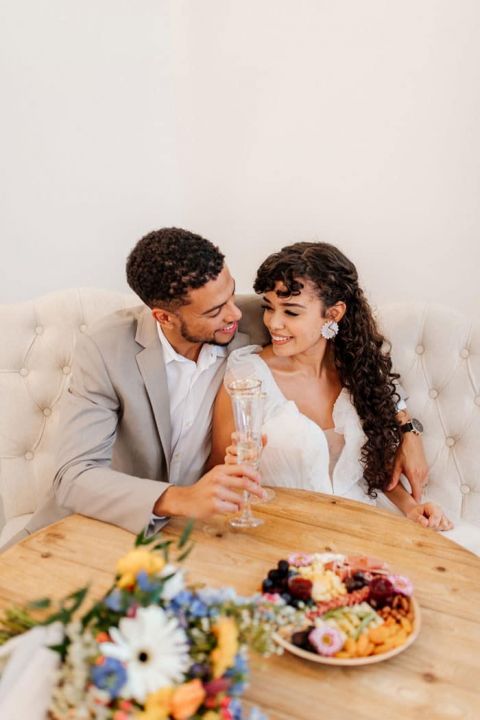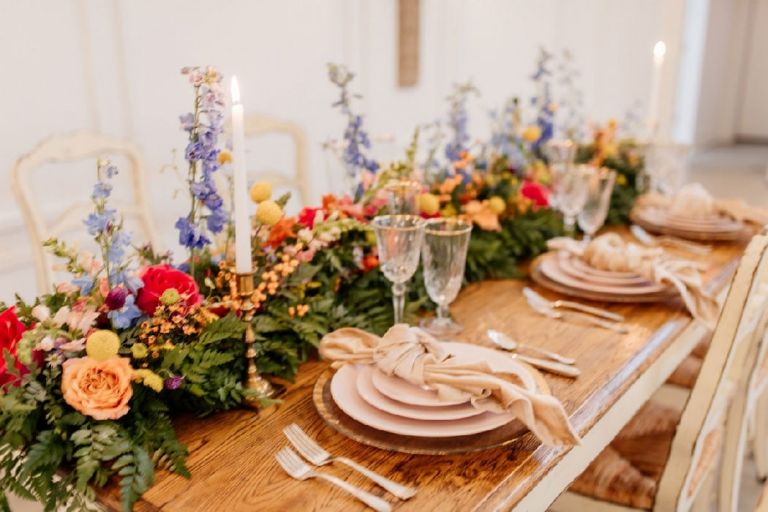 Get Fizzy ATL was on hand to serve drinks in their mobile cocktail bar! With a chic picket tile backsplash and tap system, they were prepared to offer retro cocktails in style. The citrus flavors of this specialty drink added a fun splash of color to the day, alongside a gorgeous blood orange garnish.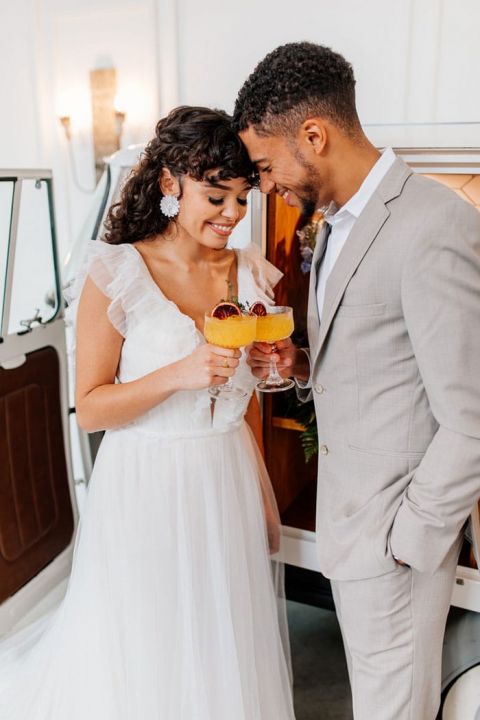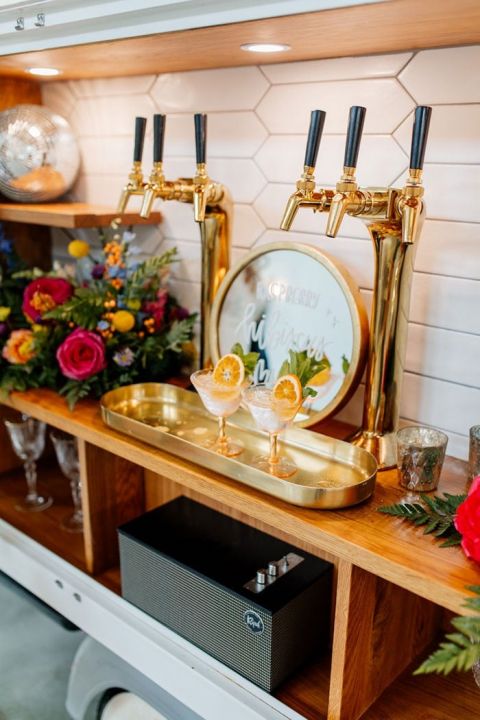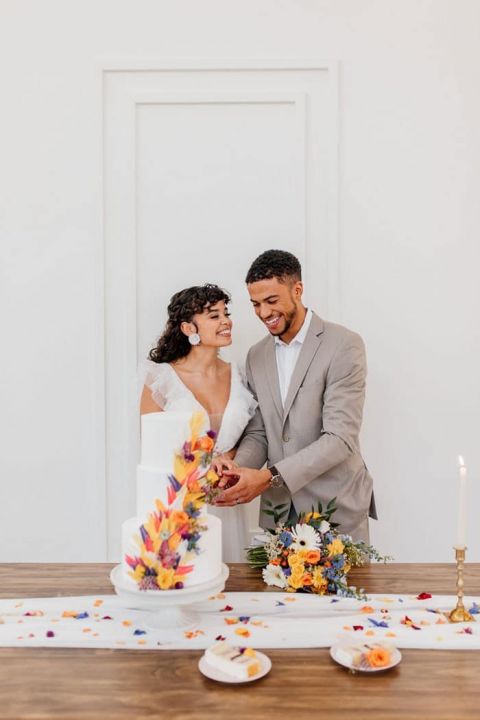 Local cake designer Zells Cottage Bakery heard that the goal was colorful meets fabulous and said, 'mission accomplished!' The tall white cake was adorned with brushstrokes of colored modeling chocolate, creating an artistic design that resembled an artist's palette in the best way.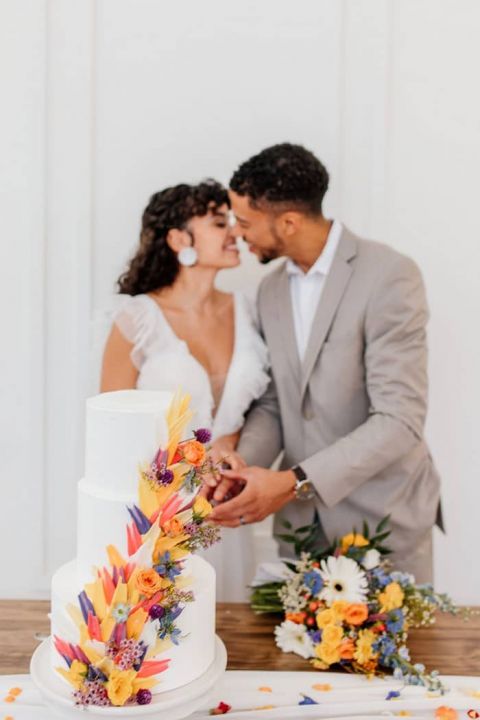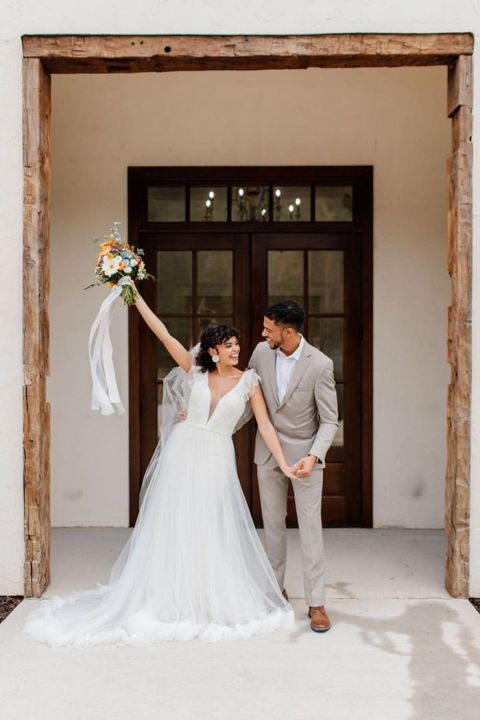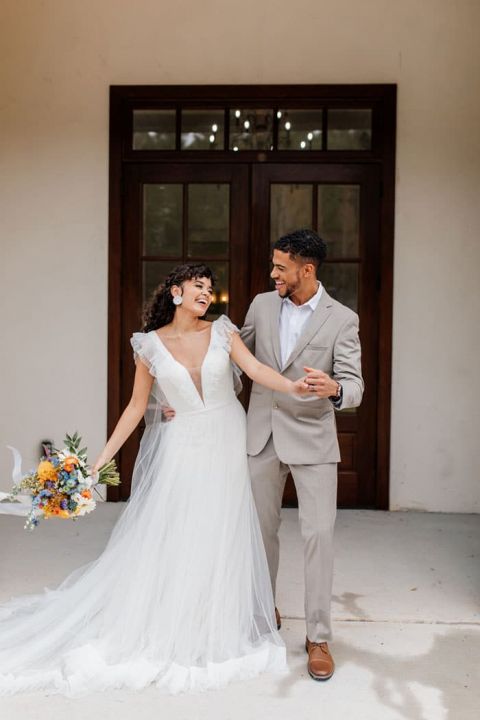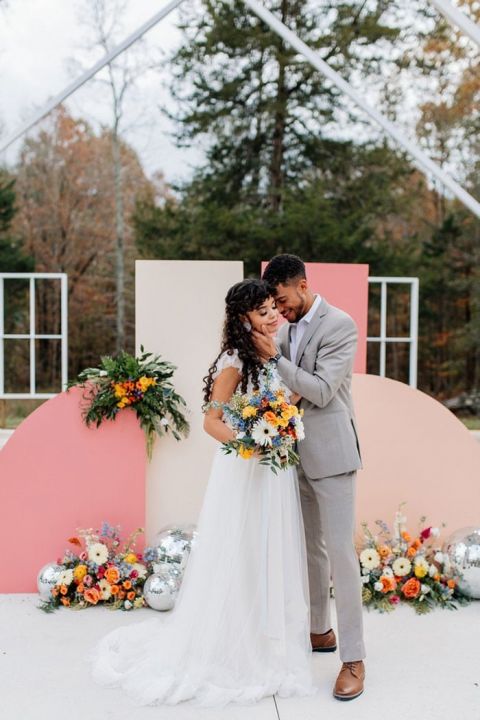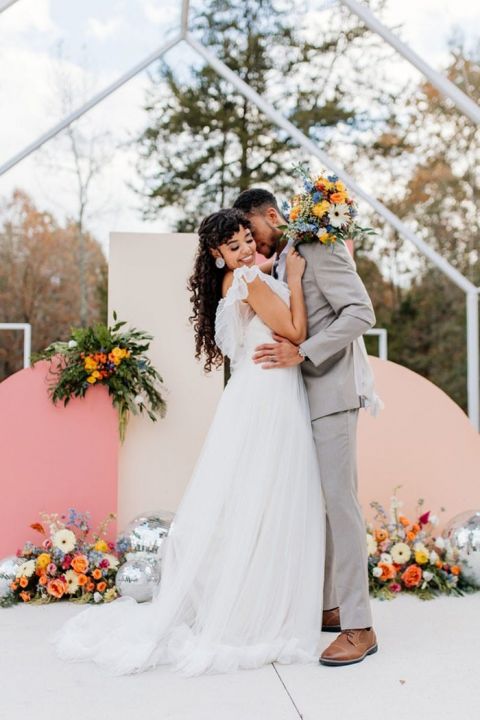 The open air chapel at Georgia wedding venue, White Fox Cottage, created a stunning place for this colorful ceremony backdrop! Arrangements of bright flowers in blue, orange, yellow, and pink nestled against large arched cutouts in peach and coral, alongside more glittery disco balls! The result was a stunning portrait session, filled with love and color!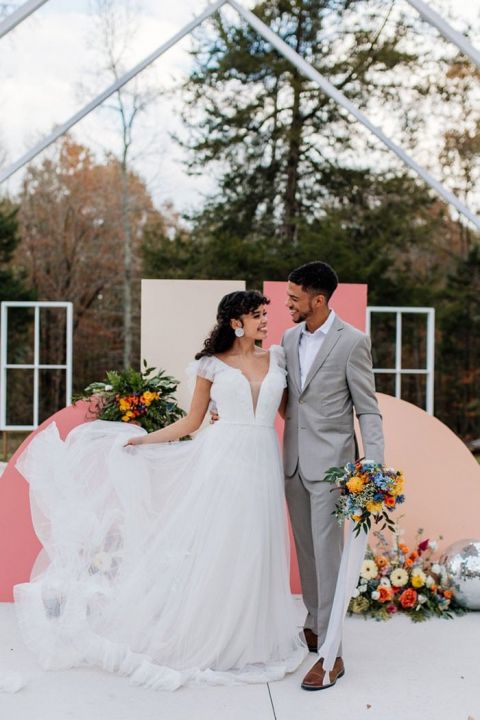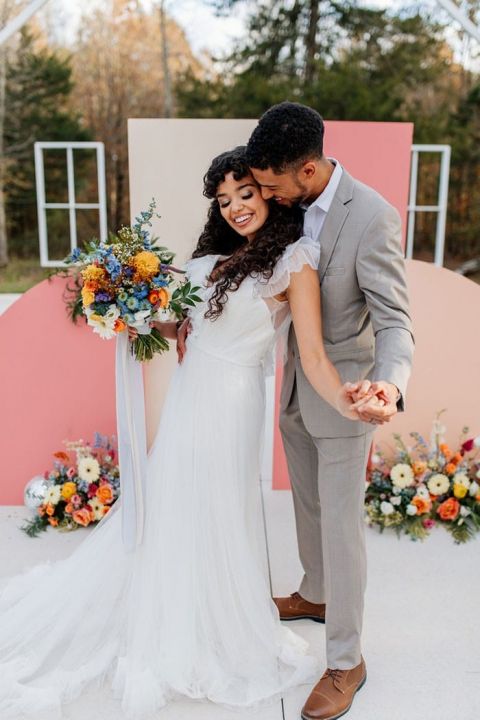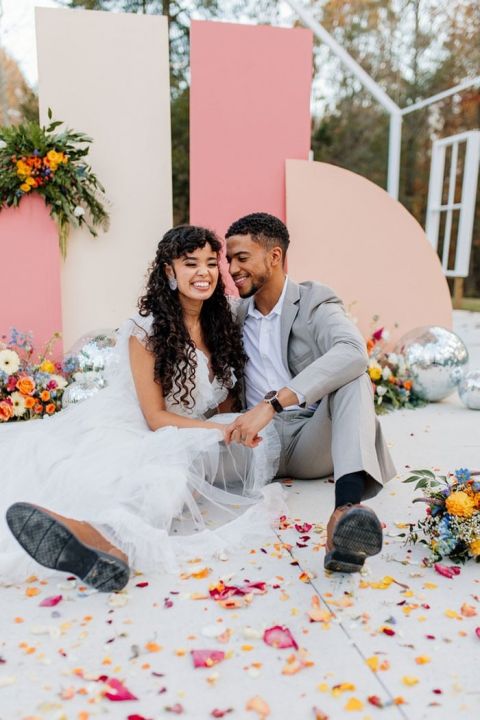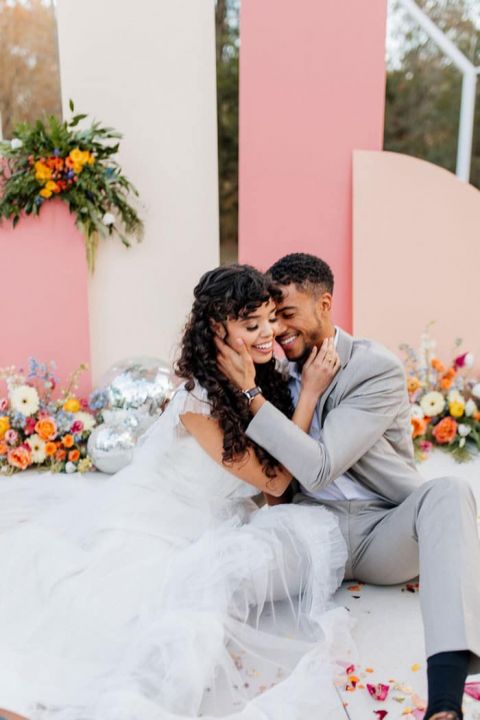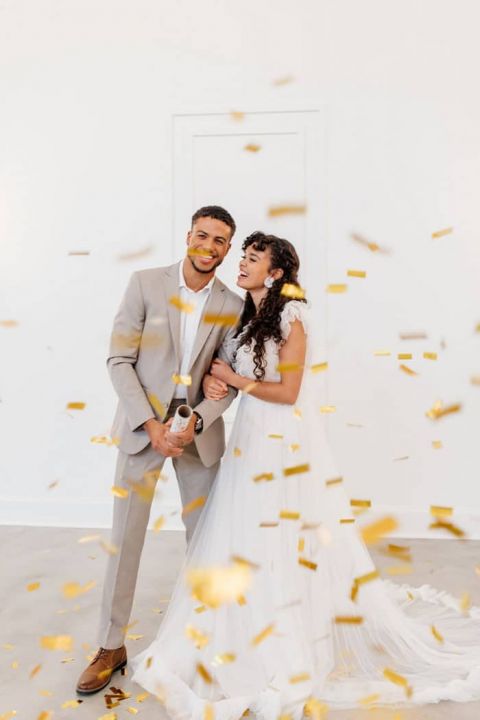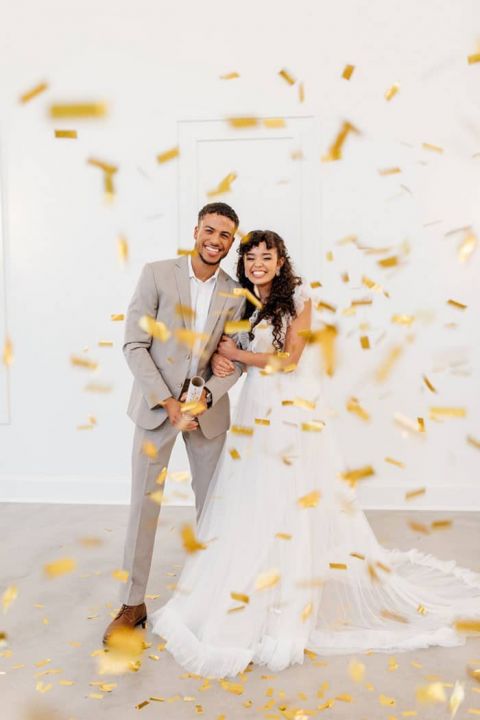 WEDDING VENDORS –
Photography and Design: blkphoto+co
Planning and Design: Merrill Ashley Events
Venue: White Fox Cottage
Florals: Arrangements by Rachel
Florals: P for PETUNIA
Tabletop Rentals: The Prissy Plate Company
Stationery and Custom Jacket: Silver Studded
Beverage Cart: Get Fizzy ATL
Cake: Zells Cottage Bakery
Charcuterie Board: Charcuterie Chick
Hair Stylist and Makeup Artist: Beauty Babes ATL
Wedding Dress and Tux: Victoria Grace
Jewelry: SJ Spence Designs
Models: Bianca Inyang + Marcus Inyang