I'm a huge fan of wedding traditions adapting with the times – a wedding should be personal and heartfelt! That said, as a coordinator, there are some traditions that are absolutely worth keeping. I'm running down my top three wedding traditions that will never be out of date – helpfully illustrated by a wonderful couple who got married this summer, Aaron and Beth!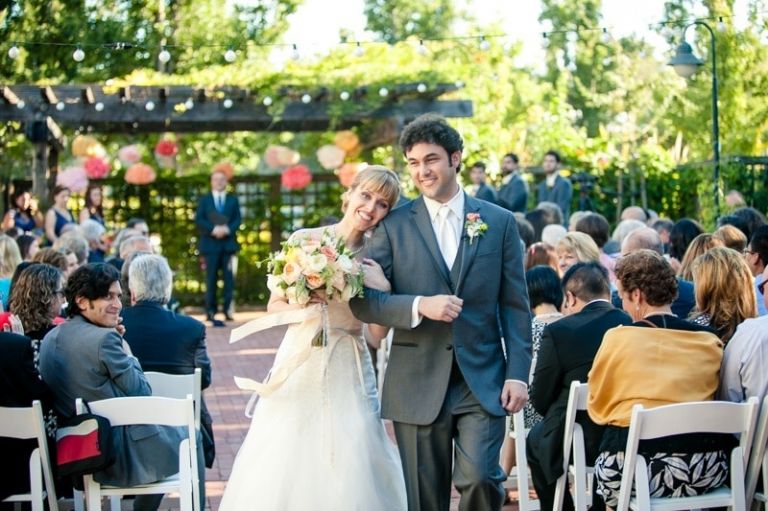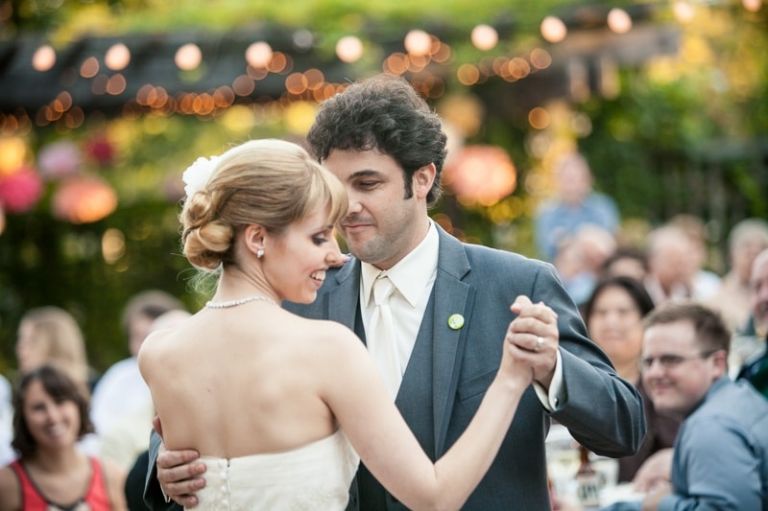 The DJ/Emcee
'iPod playlists' have become a popular replacement for a full service DJ, but any reputable planner or venue will always recommend the real thing. A good DJ doesn't just push play on a list of songs – they work closely with the event staff to keep the timeline running smoothly and the guests informed. I touch base with the DJ multiple times throughout the evening, to let them know when we're ready to announce seating for dinner, to coordinate the introduction of the bridal party, before each toast, the first dance, etc. A great DJ knows how to read the crowd – they know how to capture a crowd if delays have let the evening lag, or shift a good party into a great one!
Music was obviously key to Beth and Aaron so their top priority was a great DJ. I recommended one of my favorite companies to work with, and they hired their DJ from one of Sound in Motion's awesome crew. Ross Efaw was the perfect choice for this music loving couple – we kept the timeline on track as closely as we could to allow plenty of time for dancing. He kept the guests informed and entertained while I made sure photos didn't run over, ensured that the caterer was on schedule, and got everyone lined up for introductions.
Pro tips:
Your DJ is the voice of your reception so make sure their Emcee style suits your vision for your wedding! Ask to see videos of weddings they've DJ'ed to get a sense of their personality.
Offer up your 'must play' and 'no play' songs then step back and trust the DJ to run the night.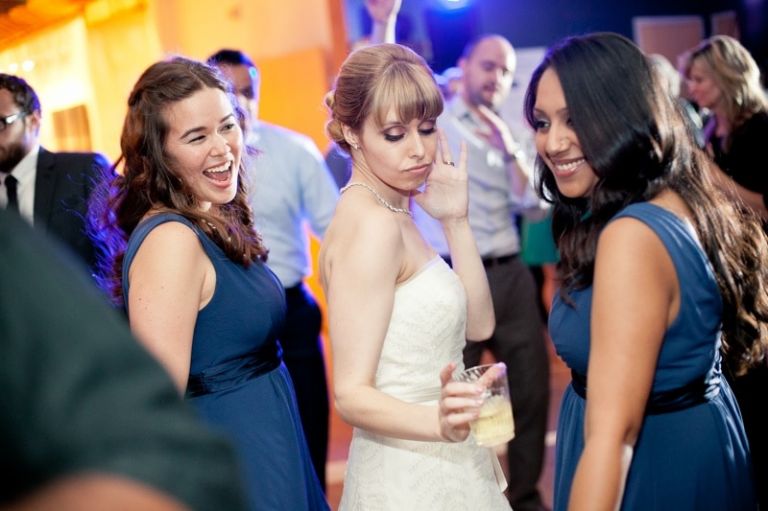 Assigned Seating
Seating arrangements are easily one of the most time consuming aspects of planning a wedding, and couples these days often decide to skip assigned seating in favor of letting guests sit where they choose. What may seem like a time-saving omission during the planning process loses its allure when it comes time to seat guests for dinner and no one knows where to go. Instead of assigning each guest to a seat, save time by grouping them at tables. A seating chart or escort cards at the entrance to your reception allows each guest to find their assigned table quickly, without eating into your timeline and pushing back dinner. Place cards at each seat are needed for a plated dinner if your guests RSVP for a specific entree – your caterer may require a meal indicator to ease service.
Beth and Aaron named each table after one of their favorite albums, in keeping with the music theme. I designed their seating chart in the same configuration as the tables at the reception, to help give guests an idea of where to find 'Thriller' among the closely set tables. Guests could also pick up an escort card with the name of their table and a photo of the corresponding album!
Pro tips:
List guests alphabetically by last name – not by table!
Make a chart large enough for groups of guests to find their table at the same time – or display two identical charts to make the seating process easier.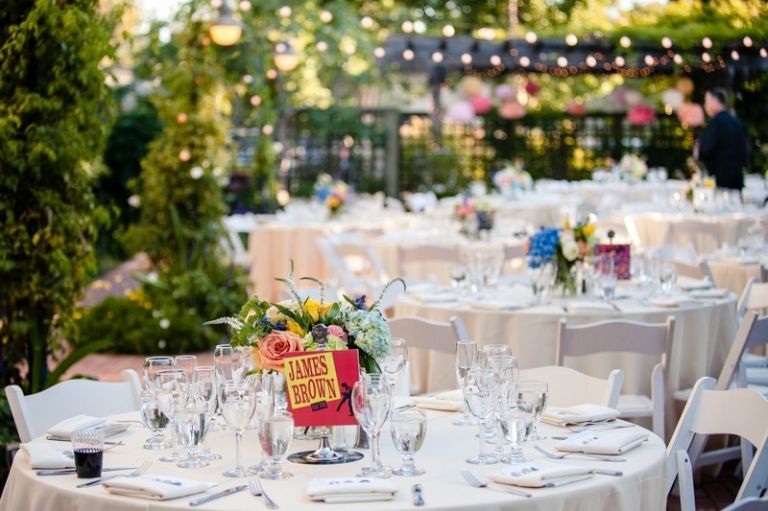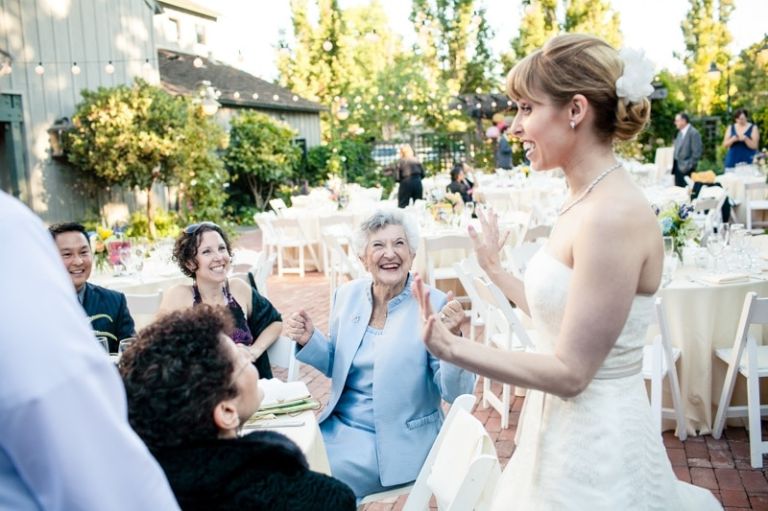 The Receiving Line
Now this one might get some arguments, but hear me out! Aaron approached me the day before the wedding and told me that he was concerned about getting quality time with all of the people who were traveling to attend the wedding. We had included table visits in their timeline, but he wanted to make sure he and Beth would have time to personally greet each of the guests, and he thought they should have a receiving line. My mind immediately jumped to my carefully crafted timeline and how to adjust around this last minute addition, not to mention the out-dated notion of a receiving line. He ultimately decided against it – their first look and pre-ceremony photos gave them plenty of time to attend cocktail hour and visit with guests then – but the conversation stuck with me after the wedding.
We think of receiving lines as such outdated conventions these days, but there is a lot of merit to them. They have largely been replaced by the couple visiting each table after dinner, chatting with clusters of guests and taking photos with everyone. It takes a good coordinator to keep table visits on track – you never want to tear a couple away from their guests, but every other table is waiting for the party to start. Visiting 10-20 tables at a relaxed pace can push a timeline back considerably and even a good DJ might struggle to recapture the crowd after a long lag. A receiving line shortly after the ceremony allows every guest to get face time with the couple – which is the reason they came, after all – but moves much more quickly.
Pro tips:
Work the receiving line into your timeline as guests transition out of the ceremony – you will keep to your schedule and have time for photos once all of the guests have said hello and shifted into cocktail hour.
Ask serving staff to circulate with drinks and hors d'oeurves to keep guests happy while they make their way through the line.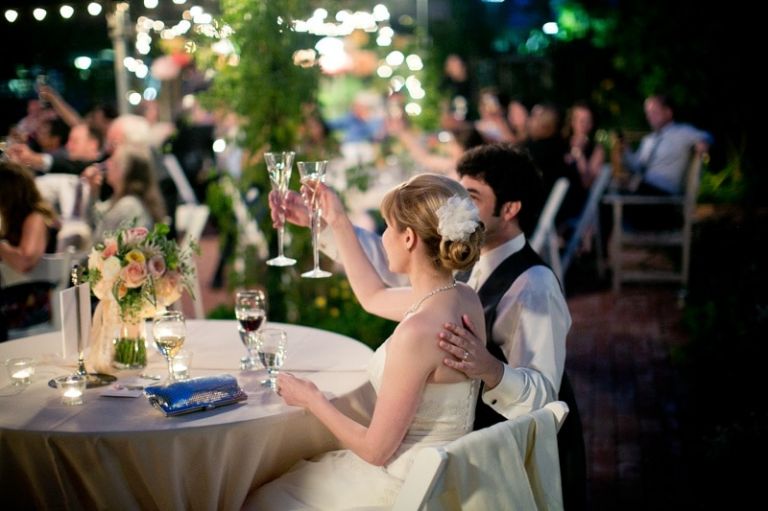 Photo Credits:
Photography by Sarah Dawson Photography | Coordination by Ariana of Hey Wedding Lady | Ceremony and Reception held at Los Altos History Museum | Florals by Lani Elizabeth | Ceremony Music by Natasha and Joyce, Aaron's Bandmates | Music by Ross Efaw of Sound in Motion | Catering by The Party Helpers | Party Rentals by Danny Thomas Party Rentals | Cake Design by Courtney Hunt, friend of the couple | Bride's Dress by Vera Wang for David's Bridal | Bridesmaids' Dresses by David's Bridal | Men's Suits by Men's Wearhouse | Photo Booth by Sound in Motion | Invitation Design by David's Bridal | Paper Goods and Favor Design by Ariana of Hey Wedding Lady