The way we celebrate has changed completely in the last year – some of us have hold on even harder to wedding traditions and the ideas we always cherished of our wedding day, and some of us have made the choice to shift our focus and priorities, creating new traditions born out of a difficult situation. This stunning intimate elopement shoot from Will Reid Photo and LoveLee Celebrations looks at the micro weddings and intimate celebrations that have become necessary without asking what have we lost, but rather, what do we want to hold onto?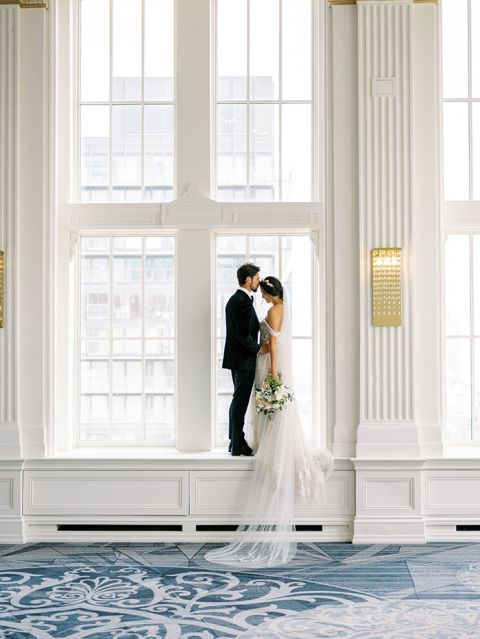 In 2021 We Choose the Wedding Moments Worth Holding Onto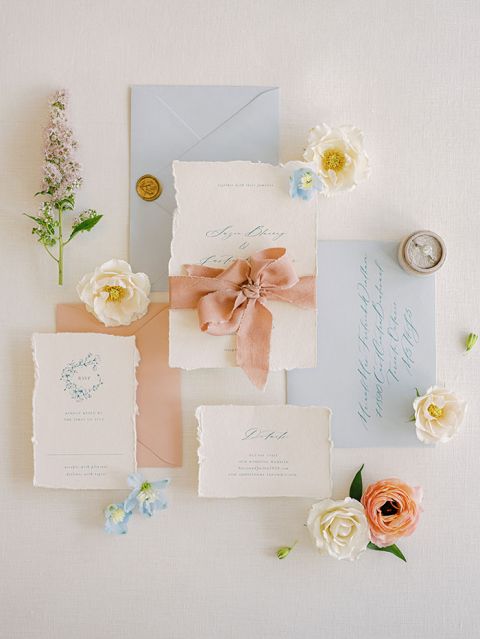 Their spin on a classic hotel wedding offers a chance to ask ourselves what wedding traditions we keep out of a sense of history, and which ones we can choose to let go. Each couple will answer those questions in a different way, with a different set of priorities – so let me know what rings true for you and your wedding celebration!
The Covid-19 pandemic has surely forced a majority of 2020 couples to rearrange their wedding plans in a big or small way. Although we understand every couple has their own unique stories and values, we know there are some couples who don't want to postpone another year and are looking to elope to officially seal the deal. This relaxed elopement shoot is an inspiration for those couples! This couple liked the option of starting the day off together rather than separately leaving nothing about this elopement to be too traditional.
Would you – spend the morning together?
Rather than spending the night before the wedding apart, this couple chose to fall asleep together and wake up together, spending the morning of their wedding as a couple as they prepared to take this step together.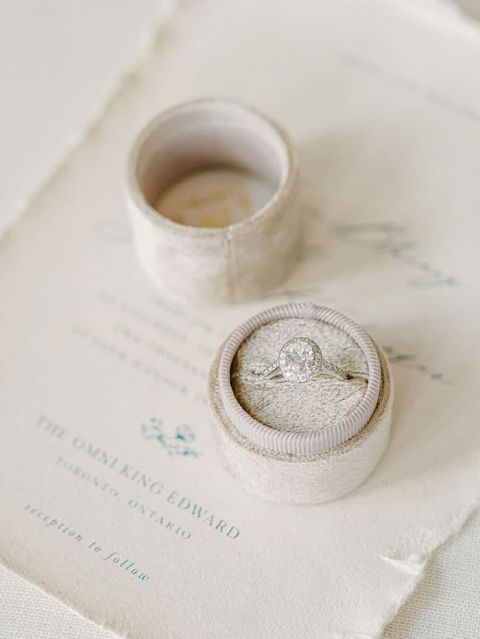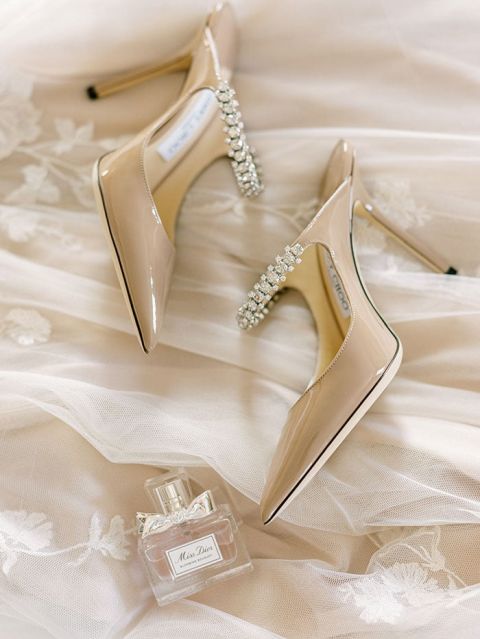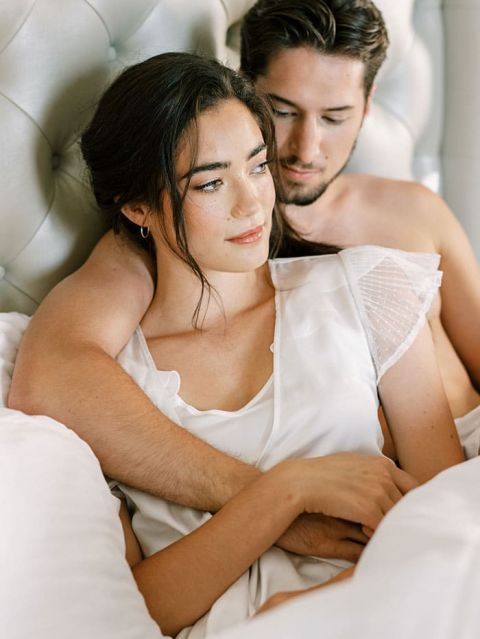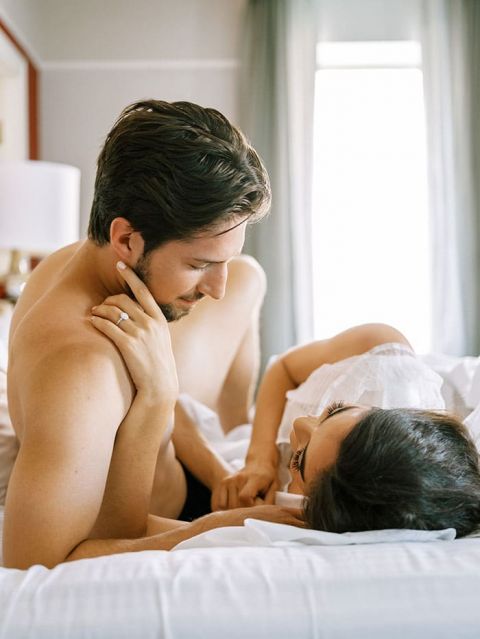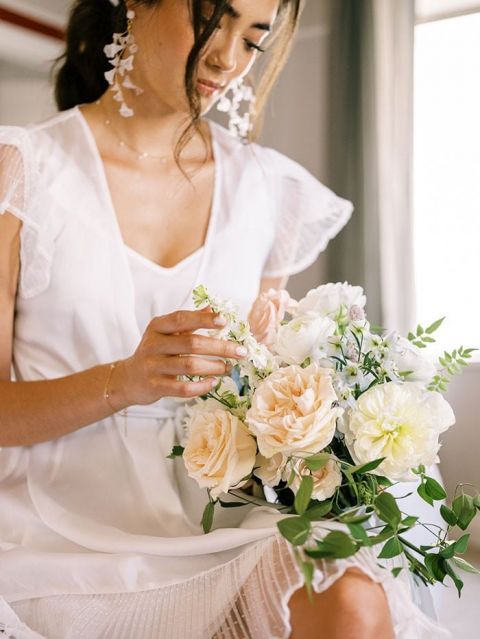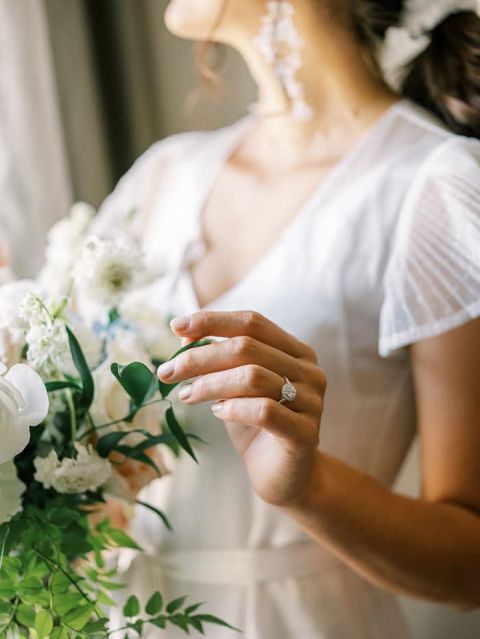 Suzie and Justin started their wedding day with a slow morning, sleeping in and staying in bed. Justin couldn't go a day without his morning coffee and his wedding day was no exception. Will Reid Photography captured their day of love and celebration at The Omni King Edward Hotel in Toronto. After morning cuddles, they helped each other get ready. A hair and makeup team arrived for Suzie where Judy Lim Makeup gave her a soft yet natural look and Unojo styled an effortless low bun.
Would You – Help Each Other Get Ready?
Instead of bridal attendants, friends or family, they chose to help each other get ready, symbolizing their partnership as she helped him tie his tie and he buttoned up her dress.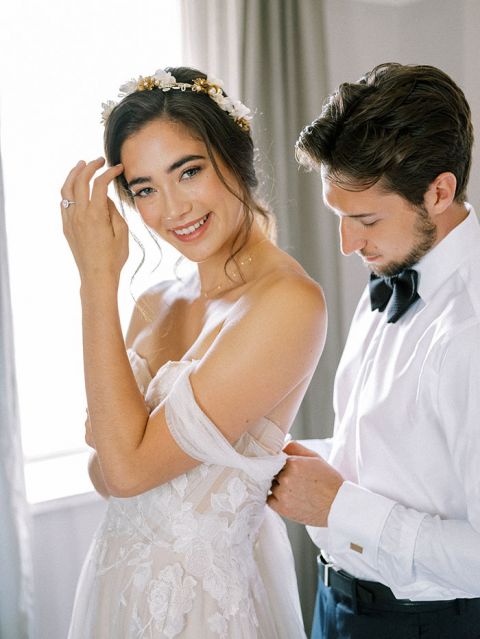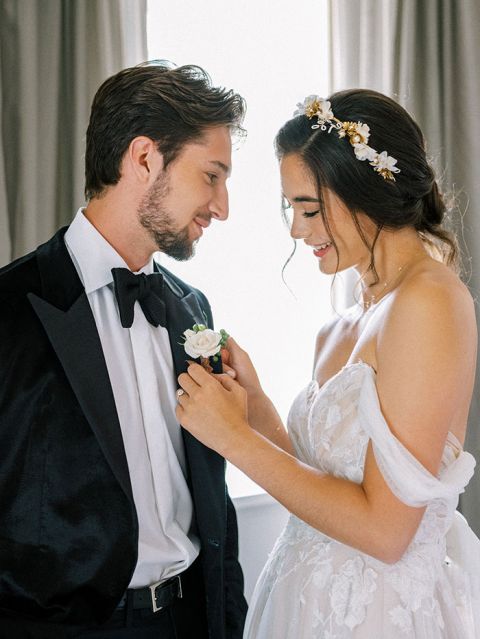 As Suzie removed her pleated tulle sleeved robe from By Catalfo, she stepped into the beautifully romantic "Maudie" gown by Willowby by Watters and paired them with a chic pair of Jimmy Choos. Our groom wore a customized black suit from Garrison Bespoke with a white pocket square.The bride added his boutonniere to complete his look.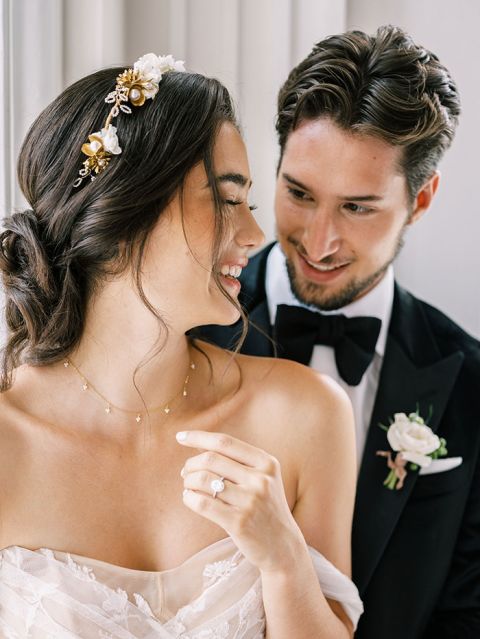 No matter how small your day might be in terms of guest count, it is still one of the biggest occasions in your life and worth the perfect attire! This stunning draped tulle and lace wedding dress felt absolutely momentous and added a dreamy romance to these fine art film photos!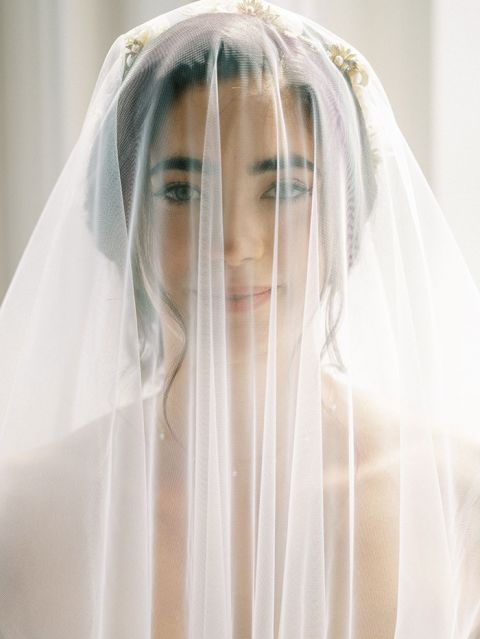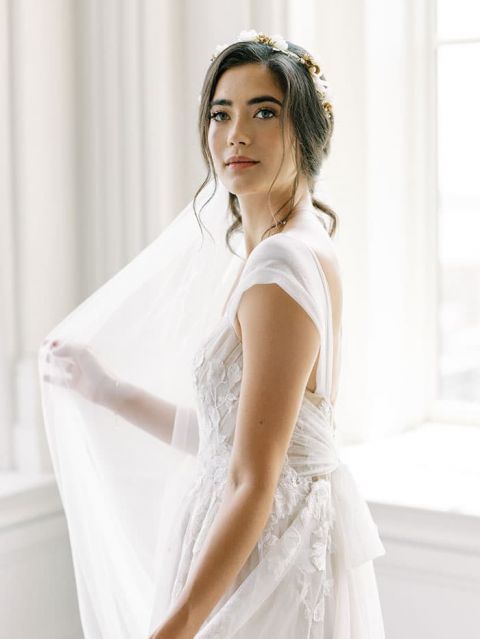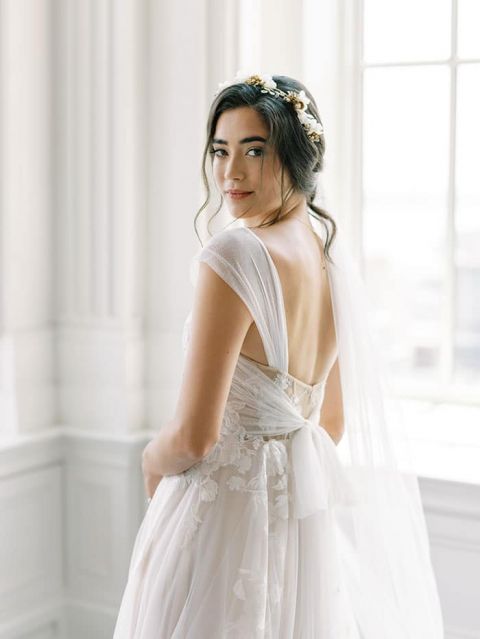 Would You – Have a First Look?
Many couples choose to see each other for the first time when they walk down the aisle, but a First Look has become more and more common as a way to connect and take in the moment in a more intimate setting. With no aisle for their hotel elopement, this couple chose to heighten the moment by turning to see the other in their finished wedding day look! The breathless anticipation of that First Look moment is not to be missed!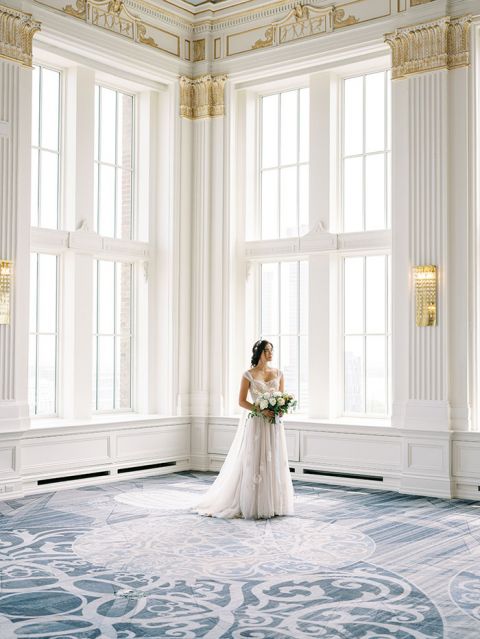 All dressed, they ventured out for their bridal portraits in the Crystal Ballroom. The room had 3 walls full of ceiling high windows which allowed for an abundance of natural light. Since nothing about this elopement was traditional, Suzie put on her veil for a first look moment for Justin. As they sat on the windowsills and took turns reading their personal vows to each other, there was a little touch of playful youth and it was exactly the casual feel they wanted for their wedding day. The immense emotions of joy, devotion and passion were easily seen throughout the day.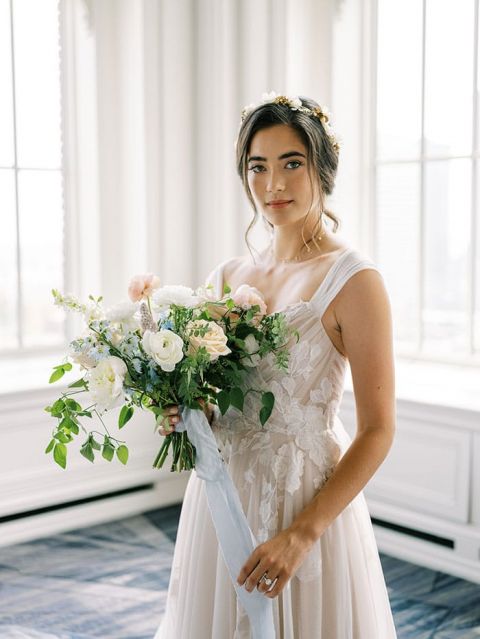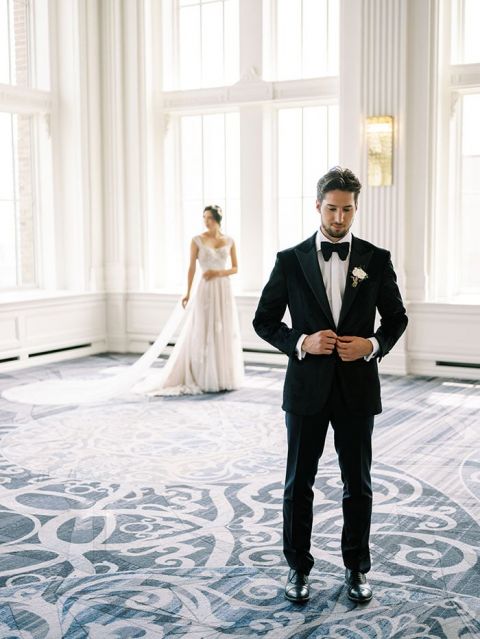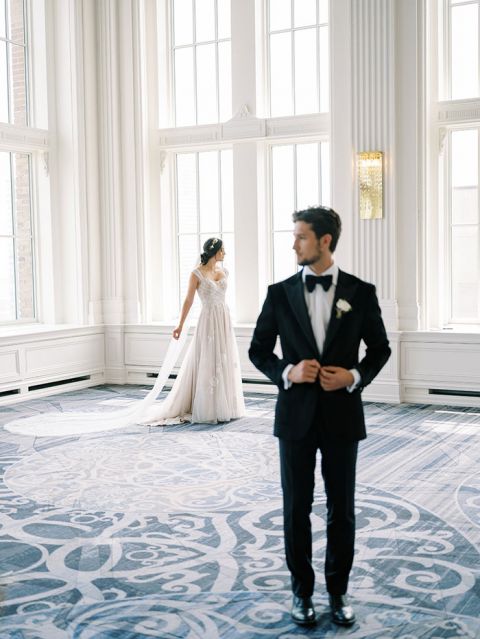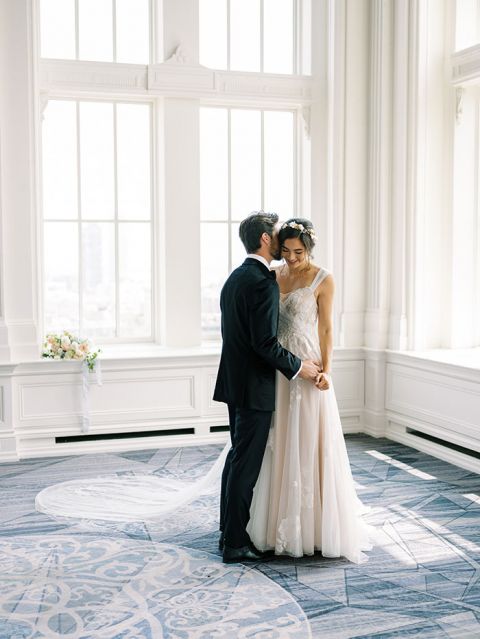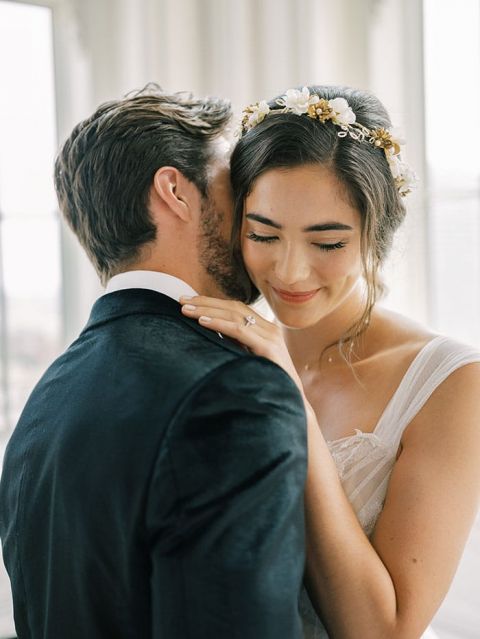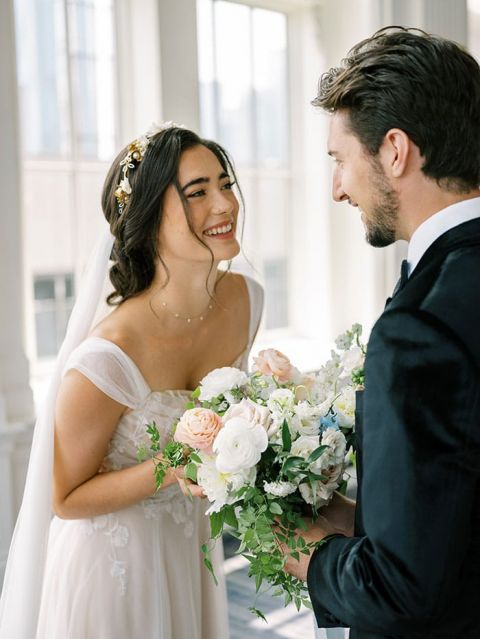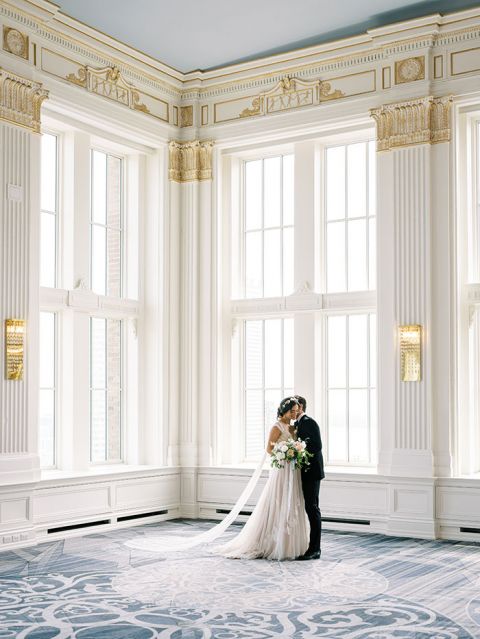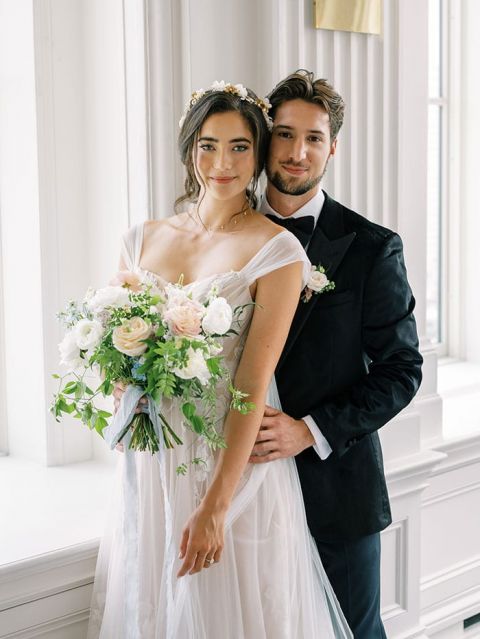 Would You – Have an Intimate Vow Exchange?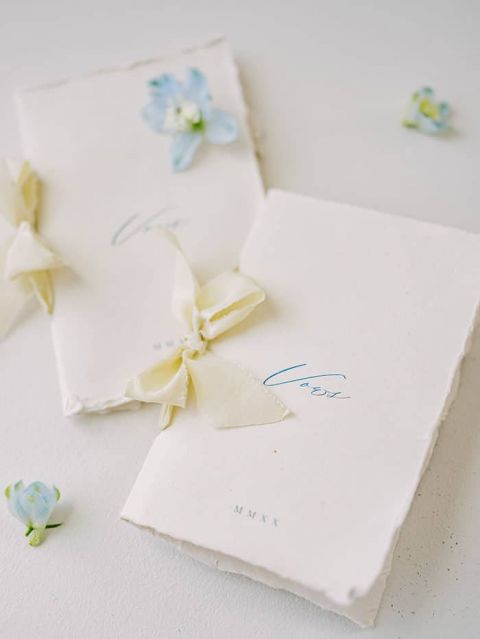 Other than the photography and styling team for witnesses, this couple had no one to distract them during a heartfelt and emotional vow exchange. Their handmade paper vow books become the most wonderful wedding keepsake!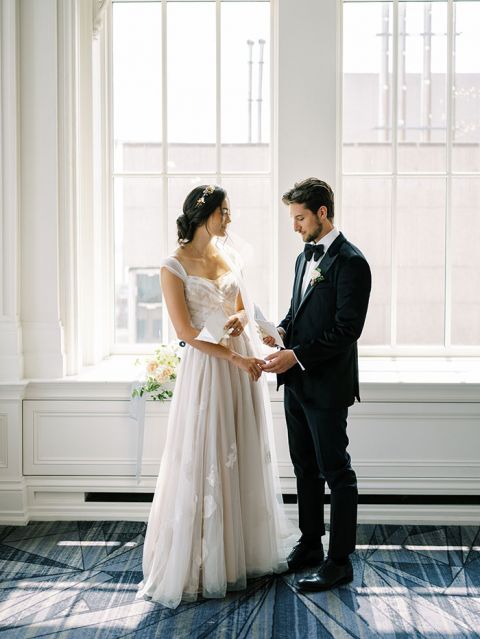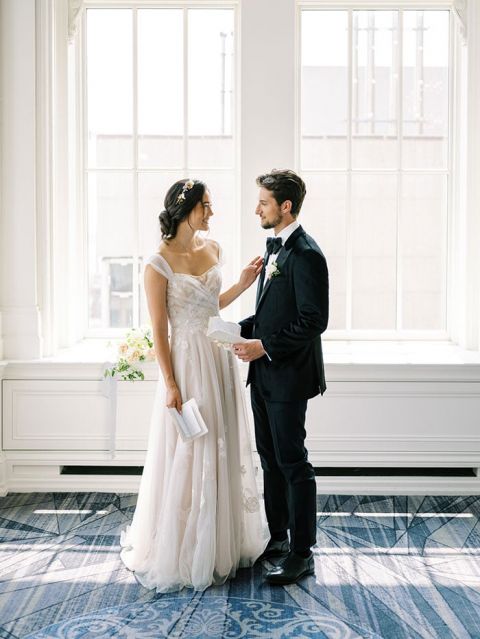 Would You – Have Dinner for Two?
The vows have been said, the rings exchanged – now it's time to celebrate! Dinner for two can add the perfect moment of gravitas to this special day, regardless of the rest of the party. The cozy Sweetheart Table added to the sheer romance of this moment out of time for the bride and groom!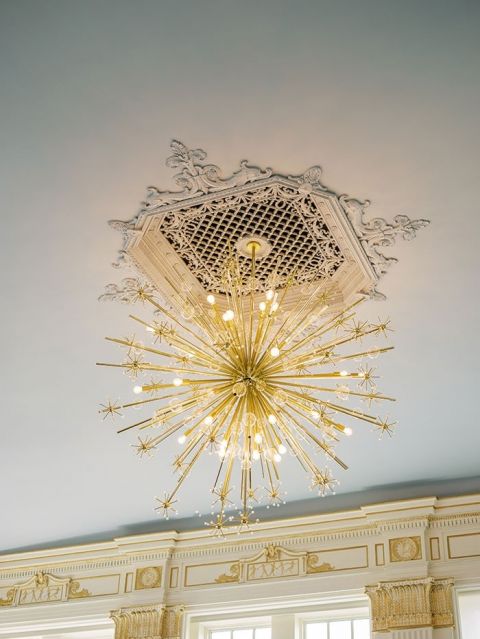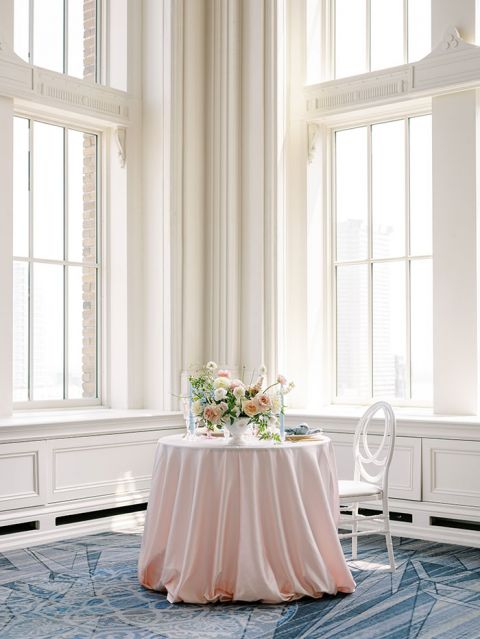 A table for two tucked in the corner of the room was set for the newlyweds. A burst of light pink and sky blue decorated the tablescape for the couple to enjoy an intimate private dinner. The florals were full of garden inspired flowers. Mum's Garden Floral Design used a variety of ranunculus, white larkspurs, dahlias, peonies, white scabiosas, majolica spray roses and light blue delphinium for the bouquet and centerpiece.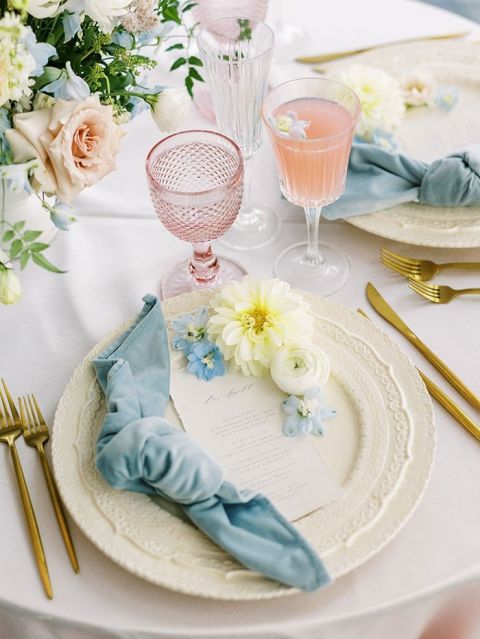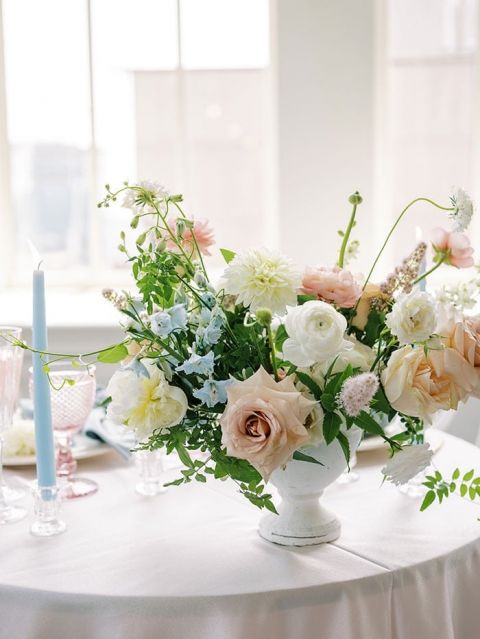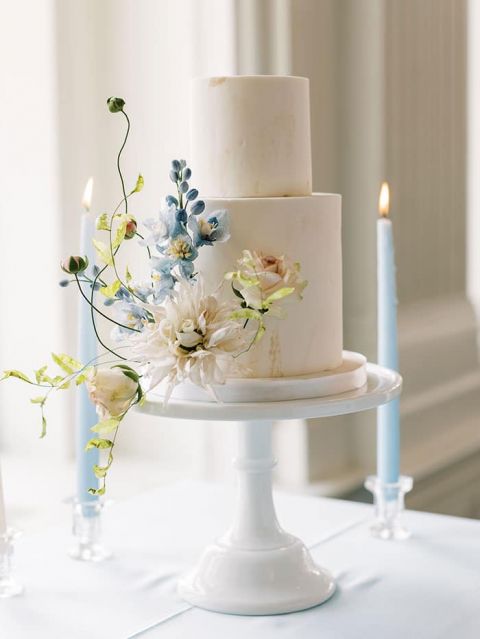 A party without cake is just a meeting! This gorgeous two-tier watercolor cake is perfect for two people – and breakfast the morning after!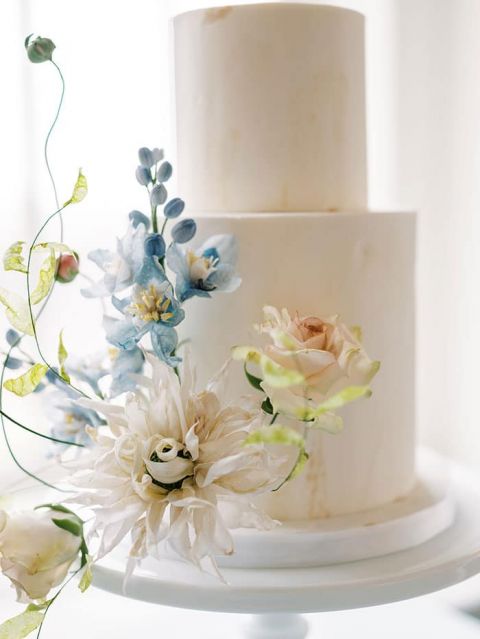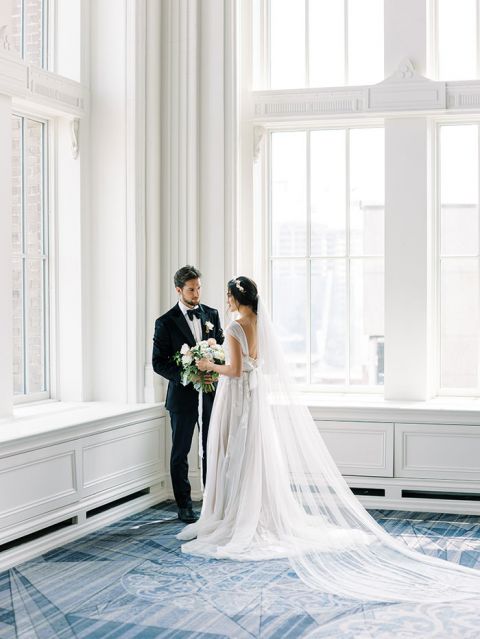 WEDDING VENDORS –
Photographer: Will Reid Photo | Planning and Design: LoveLee Celebrations | Hotel and Elopement Venue: The Omni King Edward | Florist: Mum's Garden Floral | Wedding Cake: Finespun Cakes & Pastries | Getting Ready Robe: By Catalfo | Wedding Dress: Willowby | Wedding Boutique: Felichia Bridal | Ring: Penwarden Jewellery | Bridal Accessories:  The Loved One | Groom's Suit: Garrison Bespoke | Hair Stylist: Unojo | Makeup Artist: Judy Lim Makeup | Tabletop Rentals: Table Tales | Chair Rentals: Detailz Event Rental | Linen Rentals: Event Rental Group | Stationery Design: StatueRue