It's no secret that I love garden weddings, but for today's inspiration I wanted to focus on the modern garden, deconstructed. To me, that meant the combination of some of my favorites from today's current wedding trends –  industrial settings, fresh greenery, and watercolors. The shifting hues of unfinished plaster makes for a gorgeous backdrop that clearly broadcasts and industrial setting, while picking up the romantic palette of pastel watercolors, making this unexpected pairing a harmonious one.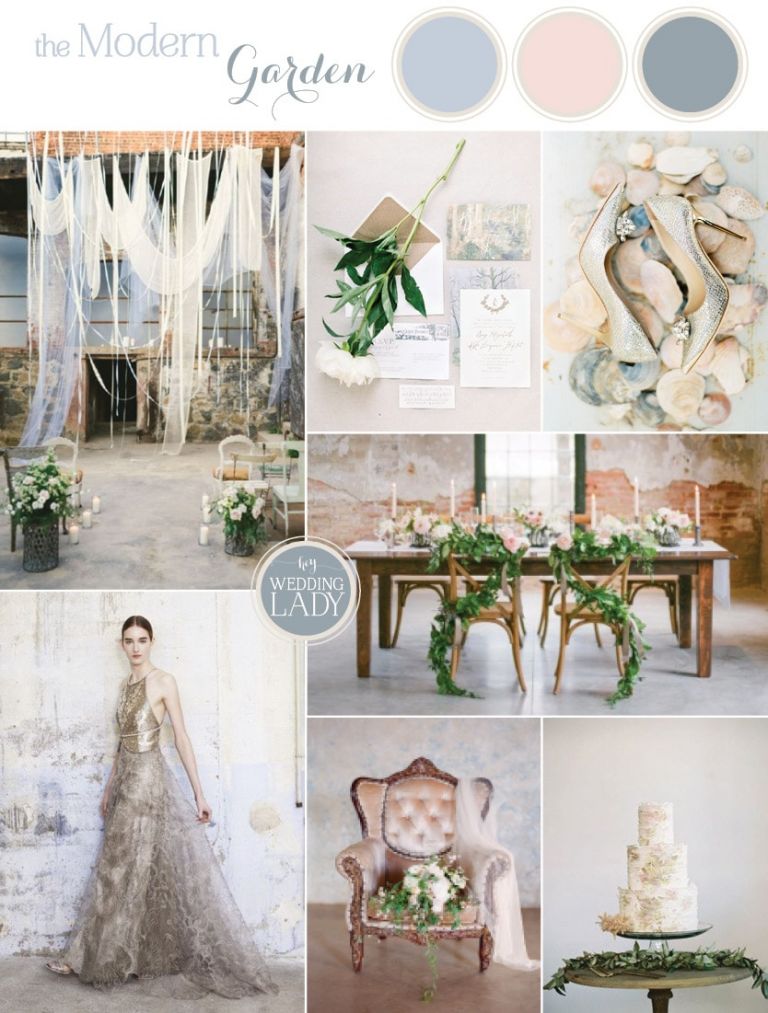 So then where does the garden element come in? There is such a lovely juxtaposition to seeing a wild profusion of romantic garden florals against the rough setting of plaster, brick, or stone.It also offers a counterpoint to increasing development and urban spread – as we see fewer and fewer gardens in the world, what better way to remember them than bringing their natural beauty indoors? Garlands of fresh green leaves and filmy drapery make for gorgeously feminine ways to dress up a less traditional venue like a brewery, warehouse, or loft, along with an ethereal palette of bleeding watercolor hues. Hints of silver or brushed nickel add even more depth to the texture of the walls, along with an upscale metallic feel. Dress up an unfinished space with swathes of chiffon over vintage tables set with simple white china, antique silver, and an abundance of pale garden blooms set amongst emerald leaves.
PHOTO GALLERY –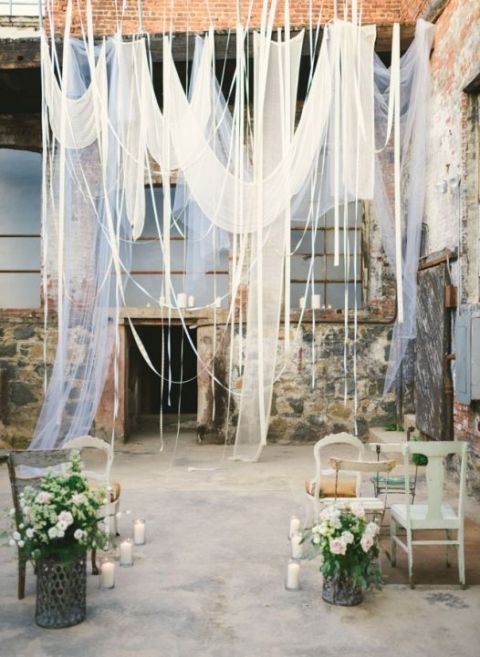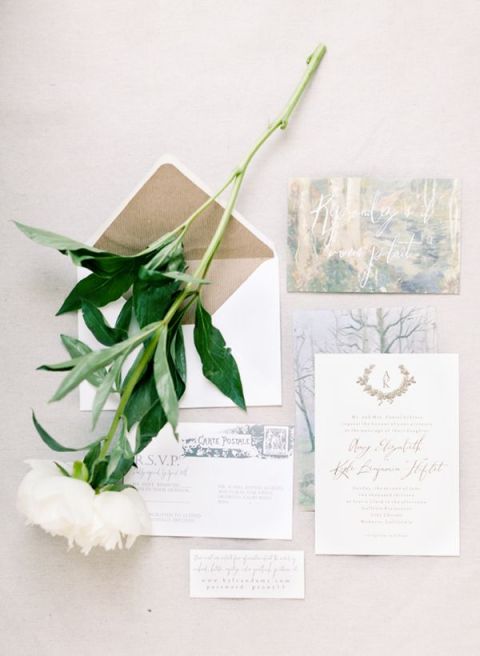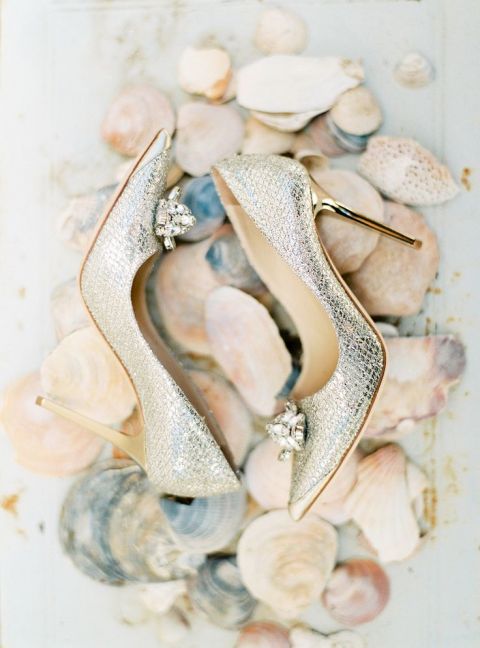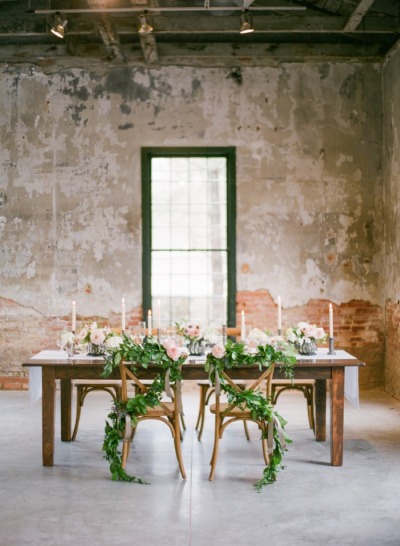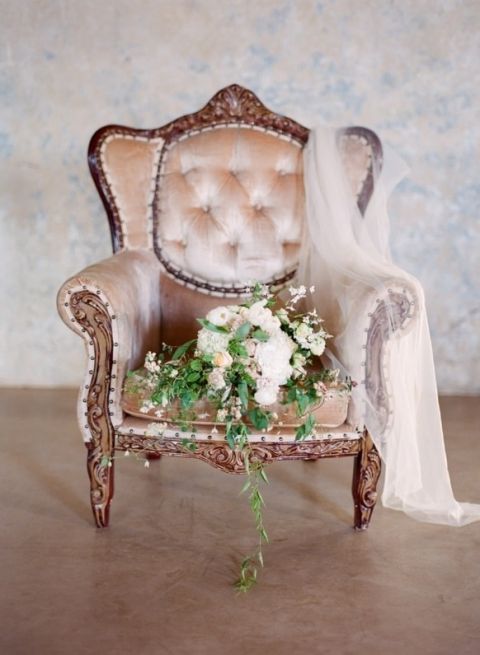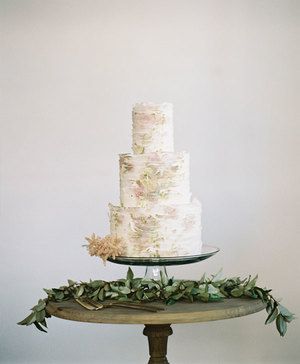 PHOTO CREDITS – 
Industrial Draped Ceremony Backdrop – Photography by Kate Ignatowski Photography via Green Wedding Shoes | Watercolor Wedding Invitation – Photography by Brumley & Wells Photography, Stationery designed by Bungalow Paper Co. via OnceWed | Silver Jimmy Choo Wedding Shoes – Photography by Branco Prata Photography | Gorgeous Greenery Loft Wedding – Photography by Marta Locklear Photography, Design by Eventi Planning via Style Me Pretty | Enchanted Silver Wedding Dress – Photography by Louise Enhörning Photograhy, Gown designed by Armani Privé | Overflowing Bouquet – Photography by Feather and Stone, Florals by Flowers in the Foyer via The Pretty Blog | Delicate Watercolor Wedding Cake – Photography by Eric Kelley Photography, Cake designed by Maggie Austin Cake via OnceWed
Want More?
INDUSTRIAL MODERN LOFT WEDDING SHOOT BY CARLA TEN EYCK
AMAS VERITAS – ENCHANTING WEDDING INSPIRATION