Bridal Market means lots of gorgeous new wedding dresses are hitting the runway this week, but I'm excited about all of the stunning gowns that are hitting stores this spring! One of my absolute favorite dresses from the Spring 2017 collection had to be the West wedding dress from Blush by Hayley Paige! Today's styling feature takes on this sleek and sexy nude sequin gown with a plunging back!
Styling the Hayley Paige Blush West Wedding Dress
This stunning fitted dress makes a statement with a swirling white matte sequin pattern over a subtle cashmere lining. The gorgeous design shimmers with every movement and the low back is perfectly on trend!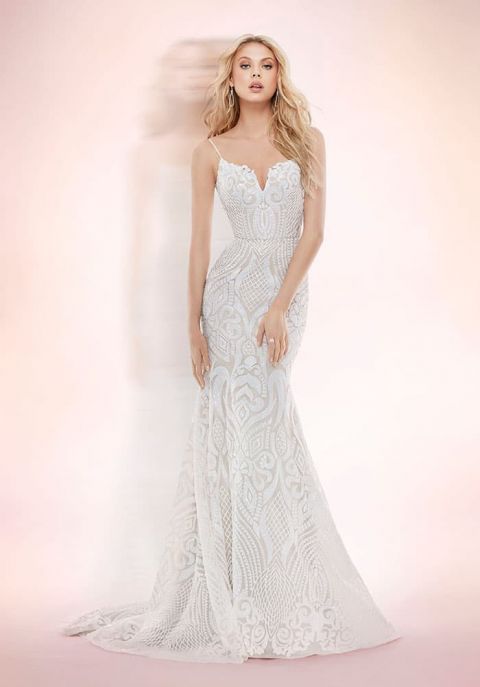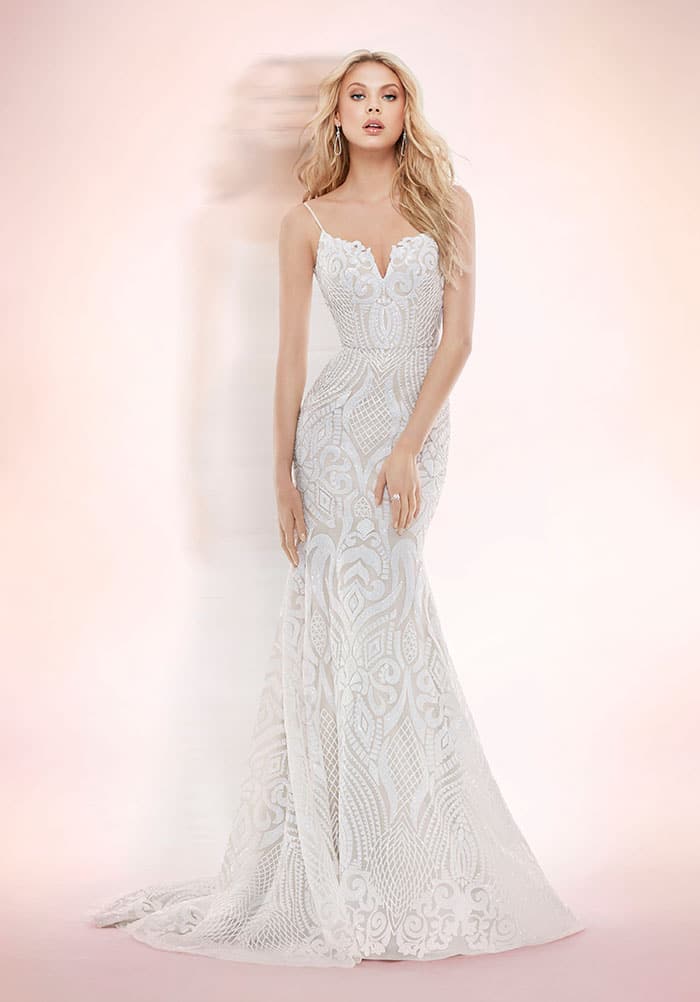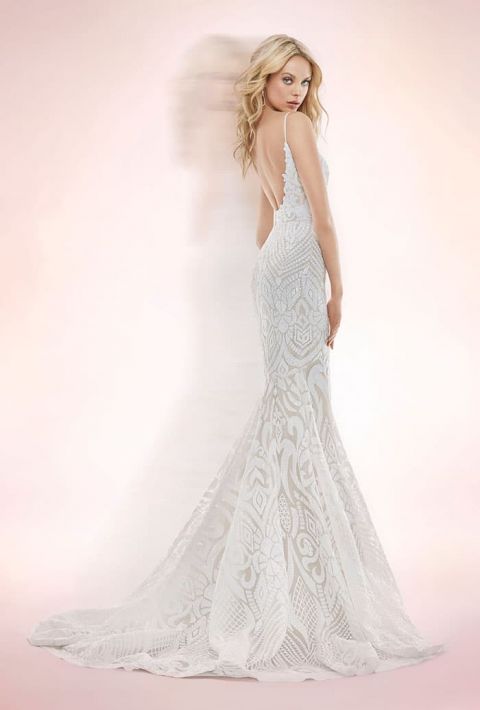 West Wedding Dress from Blush by Hayley Paige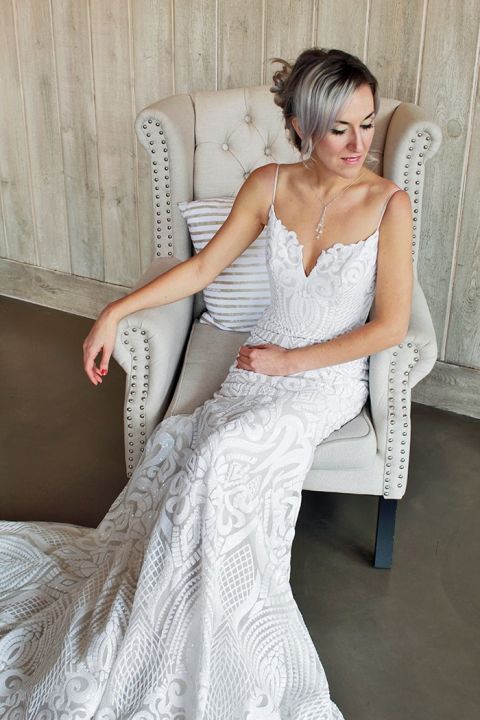 Photo by Hey Wedding Lady, Dress and Jewelry from Haute Bride
I had so much fun styling this dress for a bridal fashion shoot at Haute Bride that I knew I had to share it on the blog! The matte sequin pattern and subtle colored undertone paired perfectly with White Opal Swarovski crystals – a style that Hayley uses in her gowns often! The plunging neckline and low back was a perfect fit for a lariat – the modern necklace style has a gorgeously embellished pendant in the front and prisms hanging down the back, the perfect back to accent a low back wedding dress. Keep other jewelry minimal since the dress itself has so much detail – a pair of fun, chunky post earrings would be the perfect finishing touch!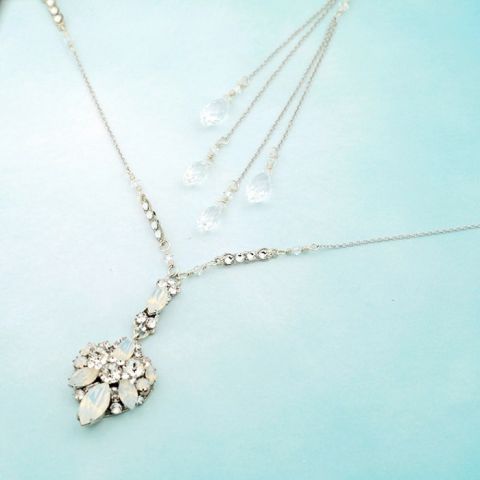 Swarovski Lariat Necklace and Back Jewelry from Haute Bride
This vibrant royal blue suit will pop against the subtle nude shimmer of the West dress, making for absolutely gorgeous photos! The rich color adds contrast to the tone on tone pattern of the wedding dress, without overwhelming the bride!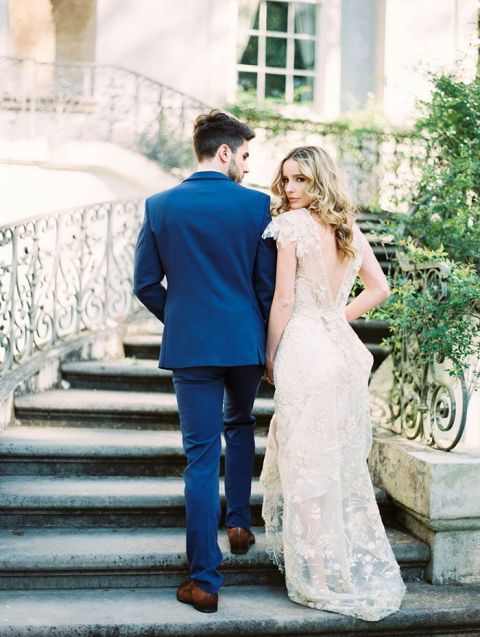 Photo by Sally Pinera Photography, Styling by Gossamer via OnceWed
When it comes to wedding day shoes, my motto is usually, the more sparkle the better! In this case, the dress itself is the focal point so nearly naked shoes are the way to go. A pair of gold shimmer ankle strap heels keep things simple and glam at the same time, while blush suede pumps add a clean look with jeweled stack heels match the dress's playful vibe!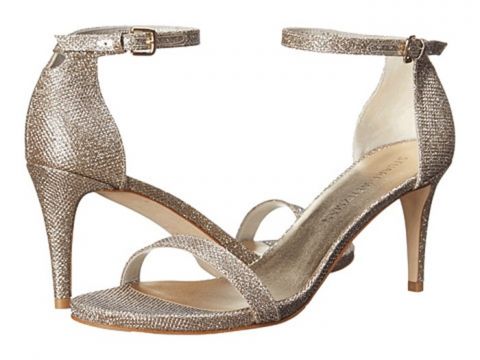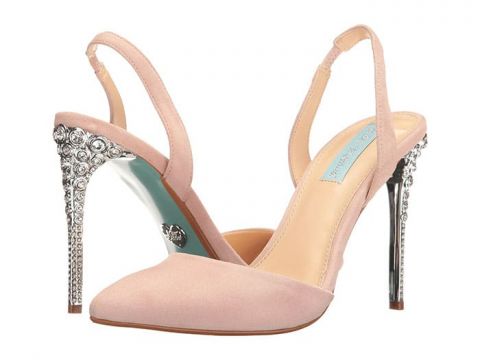 Blush Suede Bridal Shoes with Jeweled Heels
There are two ways to go when it comes to flowers with a nude dress – tone on tone or completely contrasting. I wanted to make sure the West dress stayed front and center, so I thought that a closely clustered bouquet in soft shades of blush, peach, and ivory would suit the delicate contrast in the dress without drawing too much attention. Bold flowers – protea, rose, and peony – add volume without overwhelming the rest of the styling!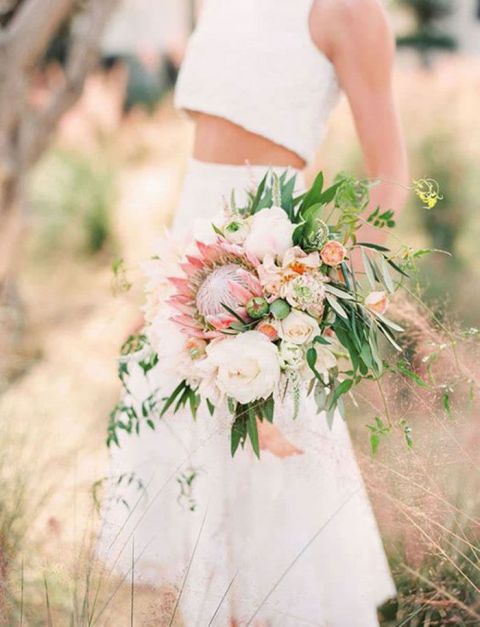 Photo by by Jodi and Kurt Photography, Event Design by Karson Butler Events, Floral Design by Noonan's Wine Country Designs
SoCal Chic Modern Ranch Wedding
With a soft and organic palette in place, the rest of the flowers will be a breeze! A slightly fun, bohemian vibe is a great way to play off the unique designs in the dress, not to mention make the glam sequins feel at home in even the most down to earth venue.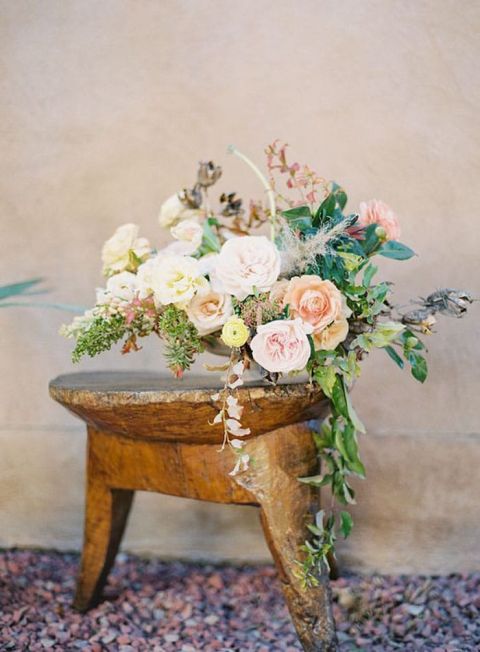 Photo by Kayla Barker Fine Art Photography, Floral Design by Bow & Arrows via OnceWed
The trickiest part of incorporating such a dramatic bridal look is pairing it with bridesmaid dresses! I rounded up three picks that I think will look stunning photographed with a bride wearing West! A nude lace slip dress echoes the cut and pattern of the dress itself, while the different fabric and lack of sparkle creates contrast.
The swirling Moroccan pattern on West is picked up in this laser cut lace dress with a crop top style blouse over a pleated chiffon skirt! This effortless bridesmaid style adds a fun visual e
Last but certainly not least – a neutral wrap dress adds a touch of simplicity that can be dressed up with the bridesmaids' bouquets. Chic, modern, and a little sexy – it's the perfect match!
Styling the Hayley Paige Blush West Wedding Dress
Haute Bride is a Hey Wedding Lady Partner. Hayley Paige is unaffiliated with Hey Wedding Lady – I just really like her dresses!