Take it from a wedding coordinator – when it comes to planning your dream wedding, the most important thing to consider is your guests' comfort! It's easy to get caught up in the quest for the perfect Pinterest wedding, but the key to planning a memorable event is to consider the people attending your wedding, rather than capturing your ideal photo op. Luckily there are so many ways to keep Nana and your college friends happy after their trek to your vineyard/brewery/museum reception AND ensure stunning, Pin-worthy photos to remember the day!
Favors they'll actually take!
There are hundreds of adorable favors out there to put your monogram on and put at each place setting, and hopefully you still like them when you have eighty left after the reception! I will always remember the sweet couple from the summer of 2012 who ordered 150 mini-flashlights with their names and wedding dates – they were such a cute nod to their camp themed wedding but my next challenge was figuring out what to do with approximately 115 mini flashlights that didn't work. Before you invest a chunk of your budget in hundreds of tiny favors, make sure that you won't mind having the bulk of them left after the wedding! Edible favors are a hit for that exact reason – someone will always be glad to eat the leftover candy bars or drink the champagne splits that get left behind! Budget savvy couples are doubling up their food and budget allocations by offering a late night snack or take home treat that can double as a favor – boxed tarts, slices of cake, or treats in stamped kraft paper bags make a lovely end to any reception, while donuts or cinnamon rolls make the perfect morning after snack. A favor bar where guests can assemble their own coffee blend or candy selections in personalized bags ensures that hundreds of pre-made favors aren't left on the reception tables, and saves a lot of planning time!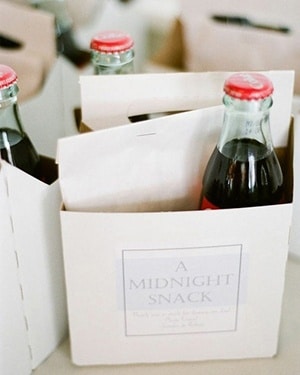 L: A Midnight Snack to Go | Joey + Jessica Photography via The Bridal Detective


Breakfast To Go Favors in Vintage Tins via Pie Wacket

The Perfect Seating Chart
I've touched on the importance of a great seating chart before and I'll say it again – a clear and easy to read seating chart is not only a great photo op (see: below examples) but is integral to keeping the reception running smoothly. A large, easy to read seating chart eases guests' arrival into the reception space, removing the bottleneck effect of 200+ guests all trying to find their table at once.
If your dream wedding Pinterest board includes a handcrafted 'We're All Family, There's No Seating Plan' sign, be prepared for a cute photo but a timeline nightmare as guests struggle to find enough open seats for each group. Seating for dinner happens during a crunch time for kitchen prep – lengthy delays can lead to entrees sitting out and food getting cold. Take it from a coordinator – assigning each guest to a table, if not to a seat, may take some extra time in the planning process but more than makes up for it on the day of!
Keep things thematic – a gilded mirror for a ballroom wedding, vintage glass doors for an outdoor reception – but make sure that guests can find their seats quickly to avoid cutting into dancing time! The key – list names alphabetically, not by table name!



Rustic Wood Escort Cards | Mandy Mayberry Photography via Ruffled

Colorful Seed Packet Escort Cards | Eden Day Photography via Wedding Chicks
Stationed Treats
A station welcoming guests to your ceremony serves a dual purpose – it is absolutely adorable, and it's a wonderful way to ease guests into the hospitality that you have in store for them. Since it's become more and more common to send the invitation with an earlier start time than planned, reward guests for their promptness with chilled water, lemonade, and iced tea. Drinks aren't the only way to greet your guests – sunscreen and parasols for an outdoor wedding, pashminas and cocoa in the winter. Keep alcoholic drinks for the cocktail hour – if you've ever had to herd guests away from the wine and champagne so you can start the ceremony on time, you'll understand why!


Sunscreen and Fans for an Outdoor Wedding! via Pinterest

Styled Cheese Display by All the Frills

Specialty Cocktails
There are thousands of themed or color coordinated cocktail Pins out there, and with good reason! Specialty cocktails aren't just an opportunity for a cute bar sign or striped straw (although those are definitely perks!), they serve the dual purpose of allowing bartenders to pre-mix drinks to be able to quickly serve the sudden influx of guests at the start of cocktail hour. Ask servers to circulate with trays of your drink of choice as guests enter the reception space to ease lines at the bar – and to make a great photo op. A drink that can be pre-mixed and poured quickly also gives the bartenders breathing room to add your picture-perfect garnishes! Picking a specialty drink or two expands your drink selection if your budget runs more to beer and wine than hard liquor – you can pre-select which beverages will be offered and avoid sticker shock from an open bar tab.

Blackberry Thyme Sparkler Cocktail via M. Gram



Family Style
Treat your guests like family – they've come all this way to celebrate with you, after all! Family style seating is not only one of the biggest wedding trends these days but it creates a welcoming and homey atmosphere for the people you've invited to share in your special day. Long tables offer a communal experience – and great photos!


Front Porch Family Style Wedding | Byron Loves Fawn Photography via Burnett's Boards



Romantic Draped Wedding Reception | Edyta Szyszlo Photography