Katie and Aaron looked no further than their venue to inspire their indigo and bougainvillea wedding day in Palm Springs! The Moroccan and Mediterranean styling of Korakia Pensione blended into their colorful bohemian desert wedding, creating a stunning design that looked right at home with the setting. Incredible photos by Jenna Bechtholt capture their beautiful love, their vibrant flowers, and the handcrafted details that went into making their wedding not only heartfelt but absolutely beautiful!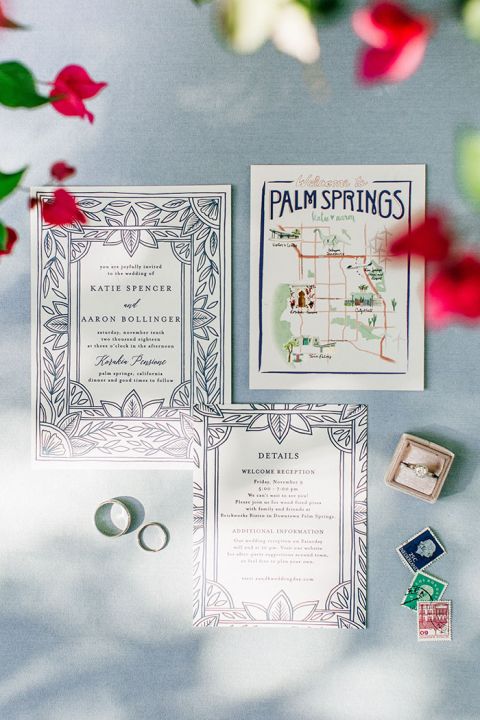 Lovely desert nouveau details on the couple's stationery welcomed guests to Palm Springs! The hand-drawn feeling of their invitations echoed the Mediterranean and Moroccan design influences at their stunning venue, Korakia Pensione. The artwork bore a beautiful resemblance to the hand carved wooden doors that would serve as their ceremony backdrop! The couple also worked with Striped Cat Studio on an illustrated map that spotlighted some of their favorite things to do in the area!
Beautiful bride Katie opted for lace on her wedding day! Her gorgeous Homebodii lace wrap robe was a stunning choice for her wedding morning photographs, before she stepped into her Calla Blanche L'amour wedding dress from Mary Me Bridal. The lace on her wedding dress featured a fan-shaped pattern over a taupe lining, a stunning choice to call back to design elements at the venue with a gorgeous bohemian touch for their colorful desert wedding!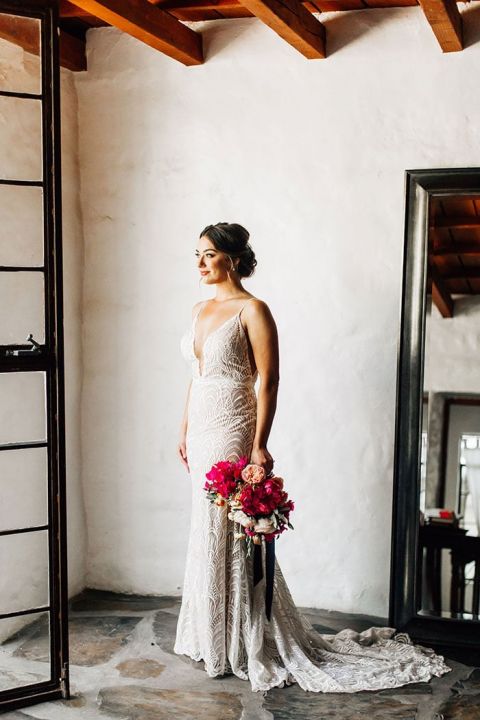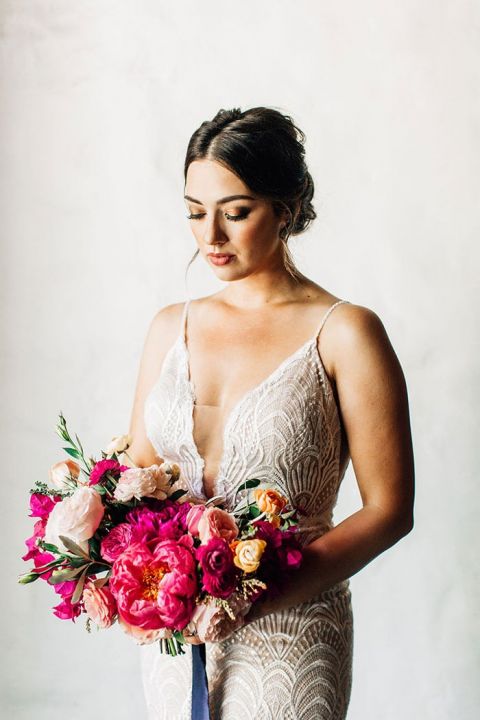 With colors of sun-kissed stucco, terra cotta, and Mediterranean wood forming the palette for their wedding day, Katie and Aaron opted to embrace the natural colors of the desert and add some vibrant colors! Their indigo and bougainvillea color scheme was a stunning choice to balance the rich neutrals of their surrounding, echoing the bold pink flowers that grew throughout Korakia Pensione and the striking desert sky.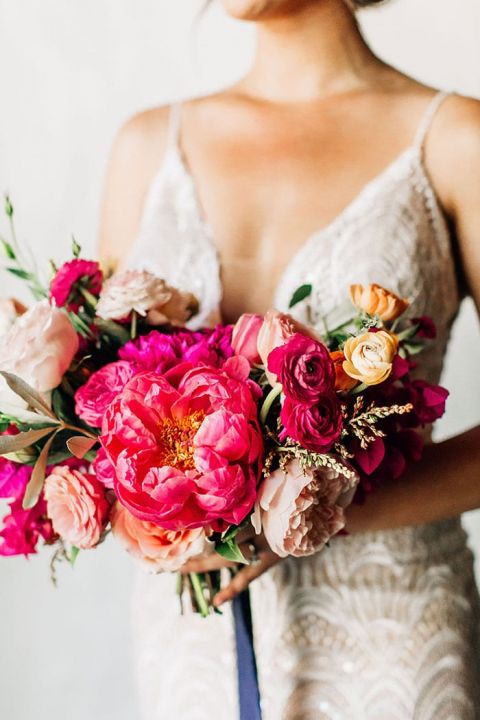 Their florist, The Love Sparrows, wholeheartedly embraced the color brief for the bride's bouquet, with bright pink peonies, ranunculus, and bougainvillea blossoms mixed with softer pink and peach flowers.
Katie's bridesmaids carried white bouquets and wore Jenny Yoo dresses in soft shades of blue to layer their color palette, with unifying indigo ribbons for all of the personal flowers!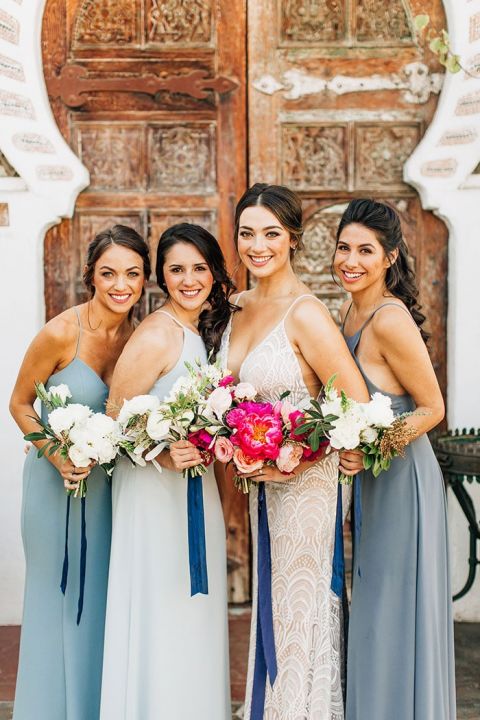 Aaron and his groomsmen picked up the blue in cobalt suits from Groom's Grotto with brown leather shoes that were perfect for the Mediterranean casitas! A splash of color from his bougainvillea boutonniere was the perfect way to finish off the bold blue suit!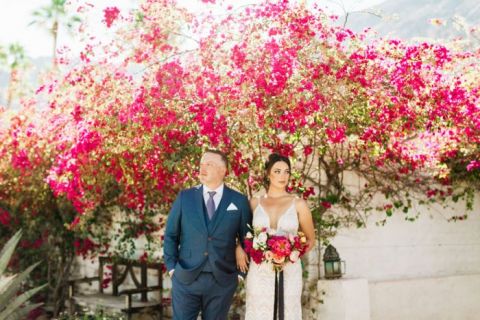 As soon as they got engaged, Aaron and Katie knew they wanted to keep the feeling of their wedding casual and inviting – Korakia Pensione was their one and only venue tour before they knew it was the one! It just so happened to be photographer Jenna Bechtholt's dream location to shoot a wedding, thanks to the 'bohemian fairytale' feeling of the casitas and villas clustered against the desert hills.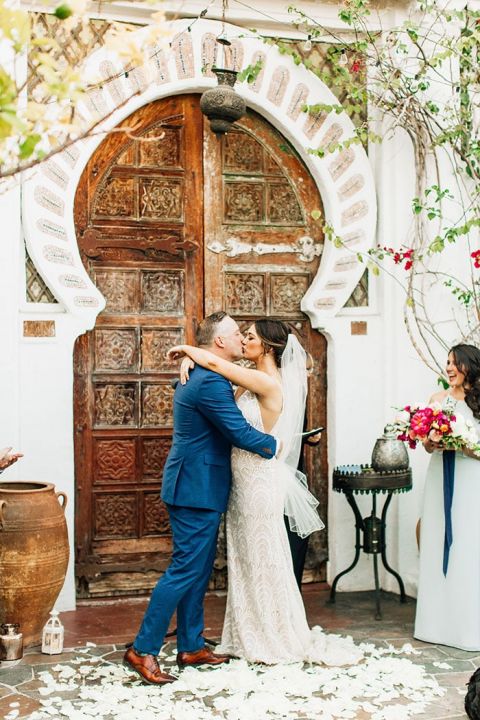 Aaron and Katie's pro tip for planning a stunning ceremony? Choose a naturally beautiful spot! Every inch of their venue provided a picture perfect backdrop, but the Moorish wooden double doors with intricate carved details stood out as the most beautiful ceremony location! Climbing vines and pierced bronze lanterns provided all the decor they needed for their stunning wedding ceremony.
The couple kept their ceremony personal, including a signature 'high five' for each other after they were declared husband and wife, a long standing habit between the couple that signified the deep, underlying friendship at the core of their love. They even high fived their bridal party and guests on their way back down the aisle!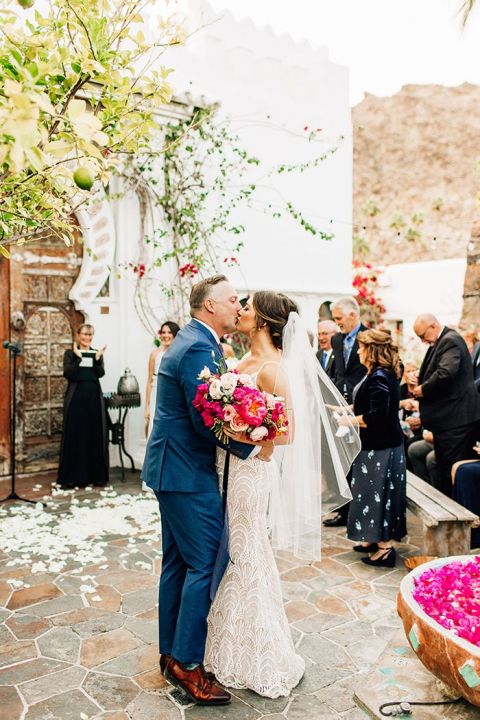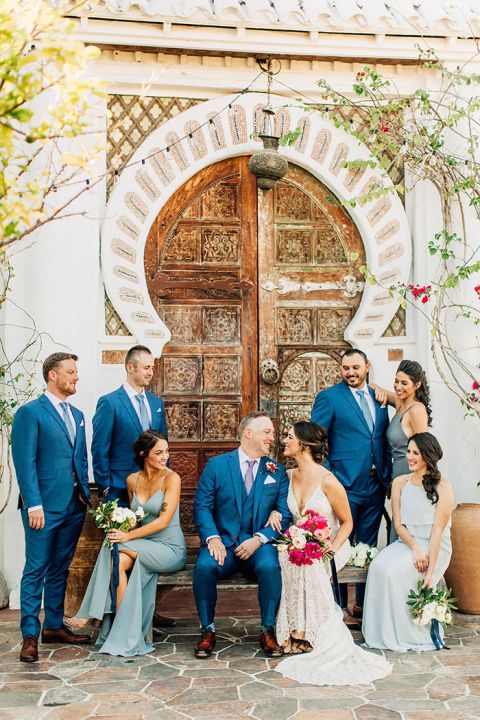 Their wedding party photos are what colorful bohemian desert wedding dreams are made of!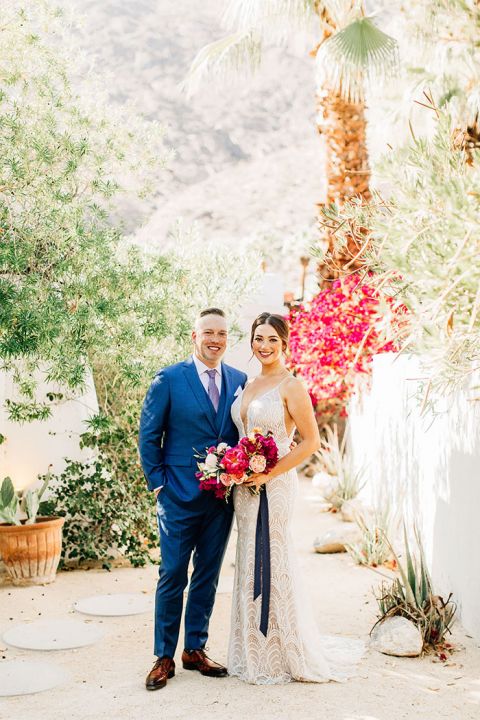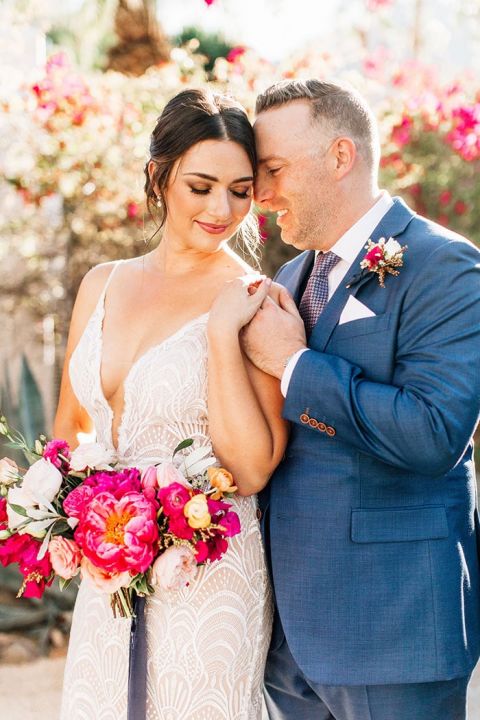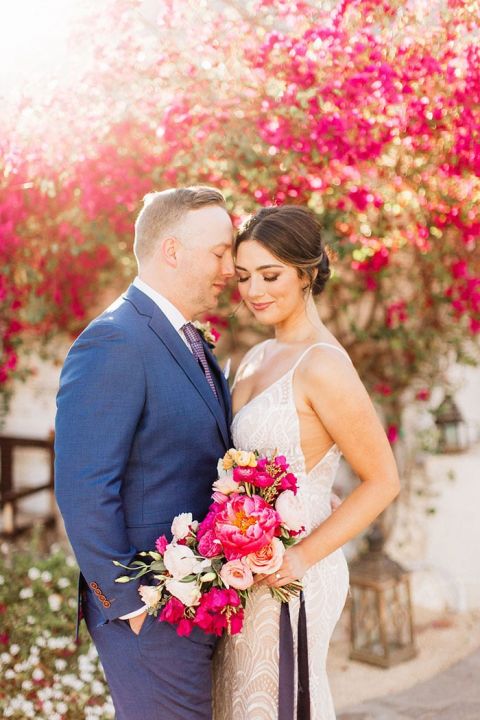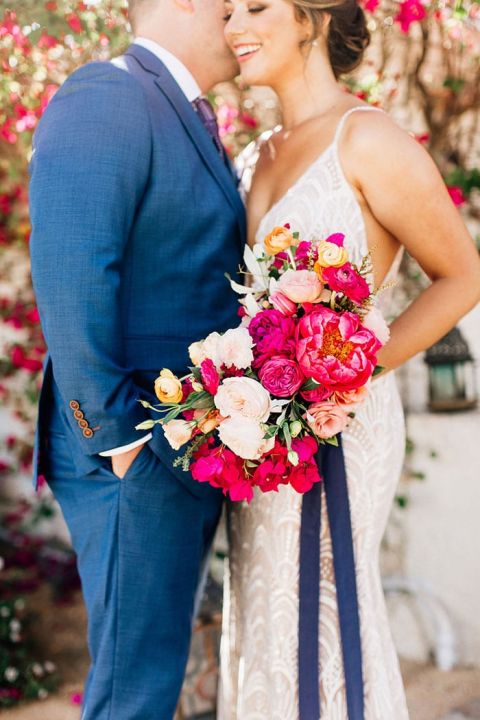 Just basking in this perfect union of color, tones, and golden sunlight…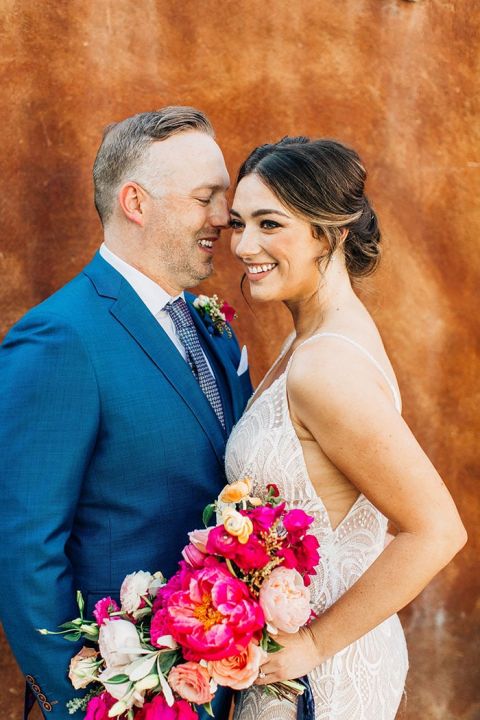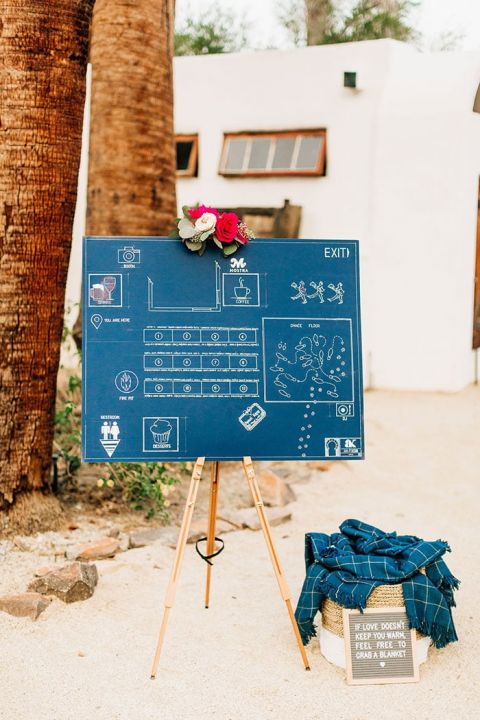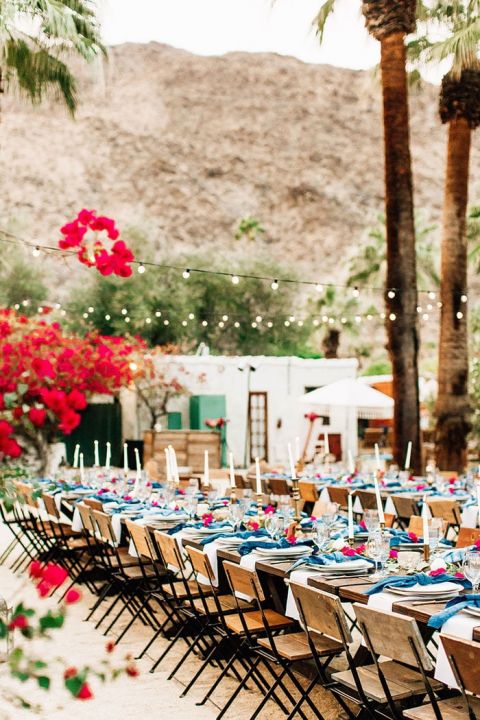 Katie added a handcrafted personal touch to the wedding reception with stunning indigo details! A member of her bridal party introduced her to shibori indigo dyed decor, and family and friends came together to help the bride DIY their beautiful linen details! Hand dyed cloth napkins and table runners added a bold blue to the rustic tables and chairs. The couple chose to let the distressed wood tabletops show, keeping the textures natural for an open air courtyard reception filled with succulents and desert mountain views. Confetti Skies and The Love Sparrows dressed the long reception tables with pedestal centerpieces of bright pink flowers in gold compote vases, and hand painted tile table numbers and seating cards!
Katie and Aaron's colorful bohemian desert wedding is a perfect example of working with the setting to make even minimal decor feel like the most elevated event design! Their wedding details were carefully chosen with the colors and textures of the reception courtyard in mind, working to accent the details already present in their space. Adding in rustic trestle tables and wooden slat chairs that echoed the palm trees and carved wooden doors of the villa tied in the surroundings, while their table decor of greener garlands and candlesticks was punctuated by indigo and bougainvillea details at each place setting. The result is a stunning sum of all of its parts, with pops of color accenting the desert oasis decor!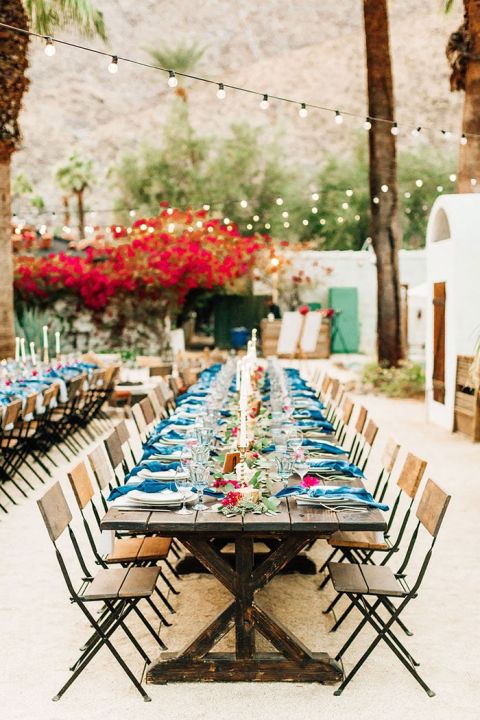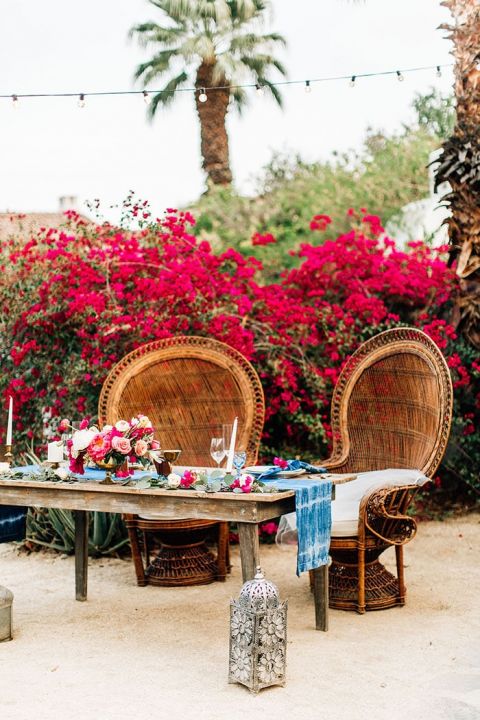 The couple sat at a Sweetheart Table with peacock chairs for a luxurious bohemian touch. Eucalyptus garlands and brass candlesticks added to the weathered and Old World textures of their wedding, bringing the details of the casitas into their wedding reception.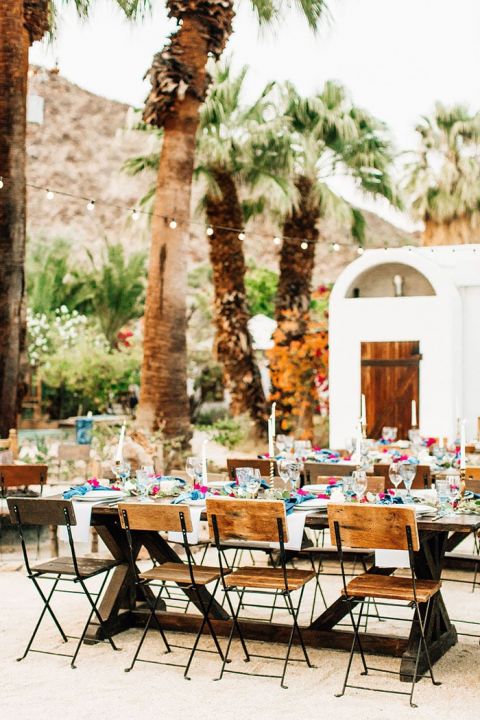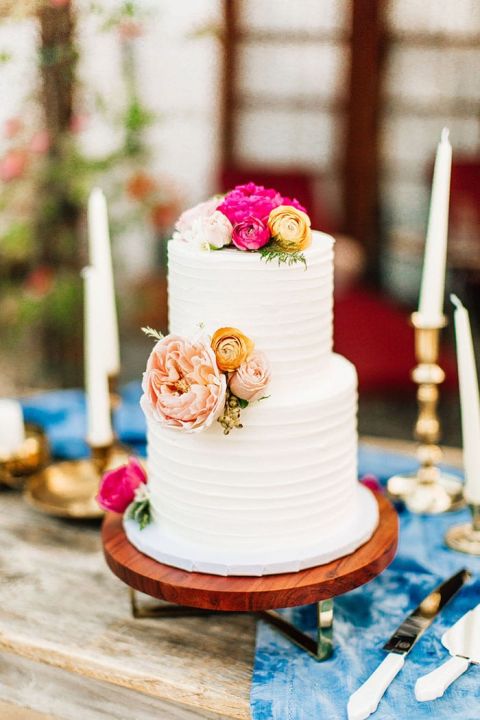 Their simple white buttercream wedding cake from Hapa Cupcakes was dressed fresh flowers to tie in to the vibrant palette, and surrounded by taper candles and a specially picked hand dyed table runner.  Jenna Bechtholt Photography rejoiced at the string lights overhead and luminous desert sky that let her shoot their candle lit wedding reception without a flash!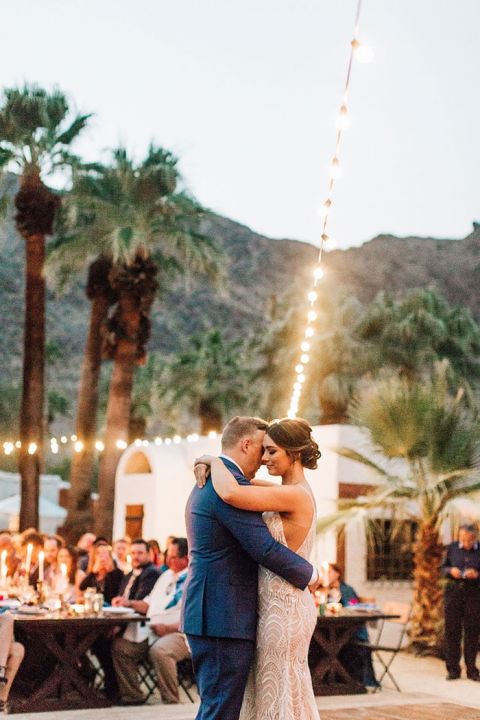 WEDDING VENDORS –
Photography: Jenna Bechtholt Photography | Wedding Venue: Korakia Pensione | Event Design and Planning: Confetti Skies | Florist: The Love Sparrows | Wedding Dress: Calla Blanche L'amour | Bridal Boutique: Mary Me Bridal | Bride's Shoes: Badgley Mischka | Bridesmaid Dresses: Jenny Yoo | Hair Styling and Makeup: Juna Beauty | Groom's Attire: Groom's Grotto | Stationery Design: Minted | Calligraphy: Pirouette Paper Company | Invitation Map: Striped Cat Studio | Wedding Cake: Hapa Cupcakes | Catering and Desserts: F10 Catering | Furniture Rentals: Signature Rentals | Specialty Rentals: Planks + Patina | Tabletop Rentals: Hostess Haven | Ceremony Officiant: Saral Burdette | Photo Booth: Union Booth | Videography: Iron & Fern | Bride's Getting Ready Robe: Homebodii | Getting Ready Attire: Plum Pretty Sugar | Vow Books: Blush Printables on Etsy
Indigo and Bougainvillea Palm Springs Wedding at a Moroccan Oasis