I'm an absolute sucker for details, and that goes double when it comes to modern gem wedding ideas! I love the idea of incorporating crystals, geodes, and geometric gems (might have something to do with being raised by a geologist) to encompass a clean and modern design, or hint at something chic and bohemian!
Modern Gemstones
Let's face it – you're a gem! I love incorporating geometric gemstones as part of a crisp, modern design, whether it's diamond shaped acrylic escort cards, a backdrop of gem shaped cutouts, or glittery cocktail stirrers. Gem details add a sense of whimsy to any decor, while still reading sophisticated and stylish.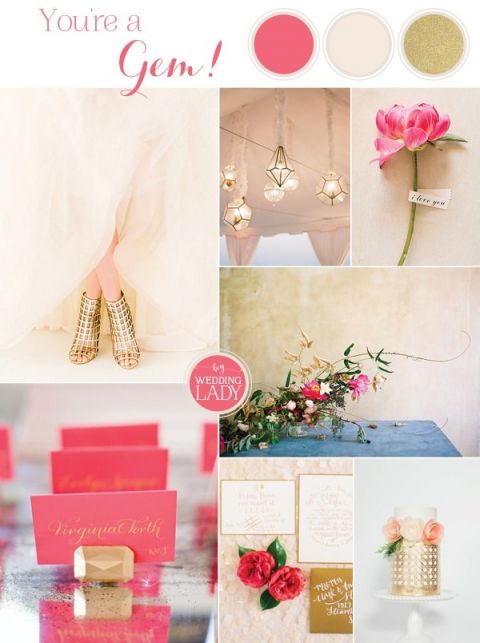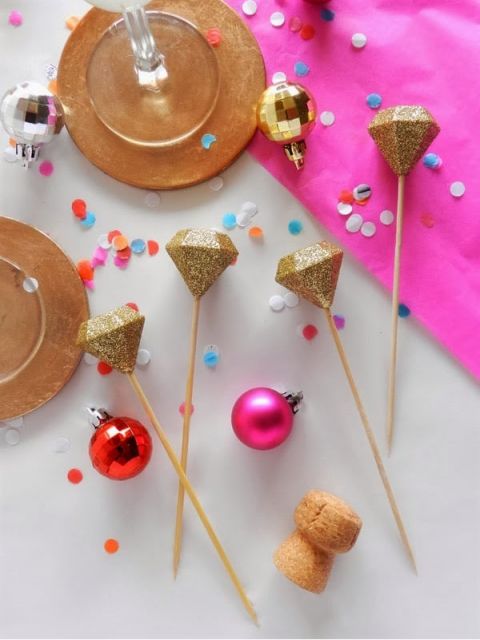 Gold Glitter Gem Cocktail Stirrers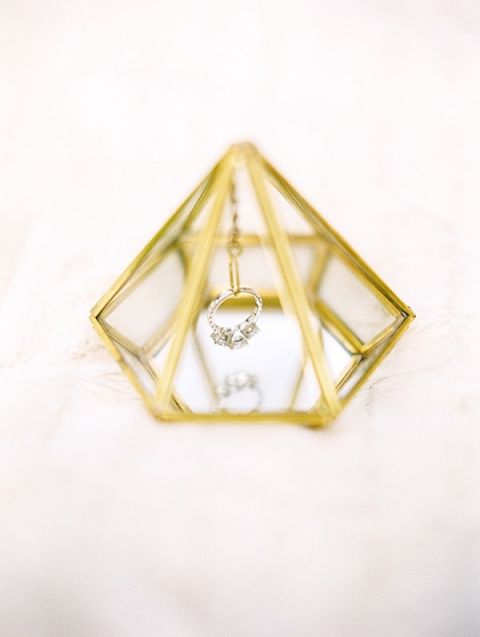 Gold Diamond Shaped Ring Holder
Photography and Styling by DANA FERNANDEZ PHOTOGRAPHY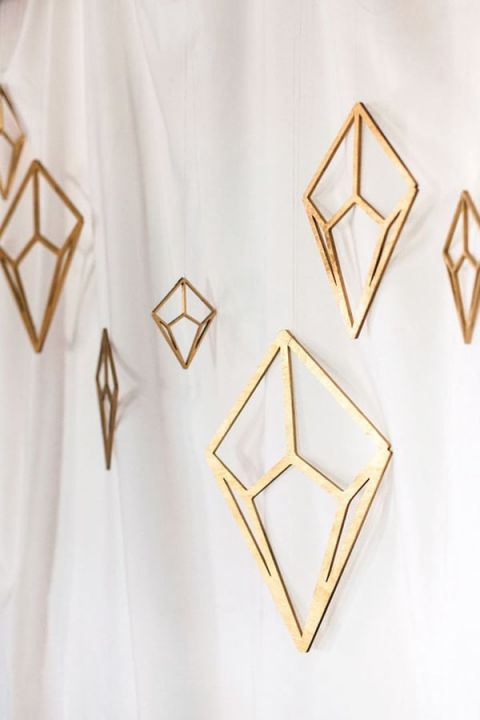 Modern Metallic Backdrop
Photography by Renee Nicole Design + Photography via Wedding Chicks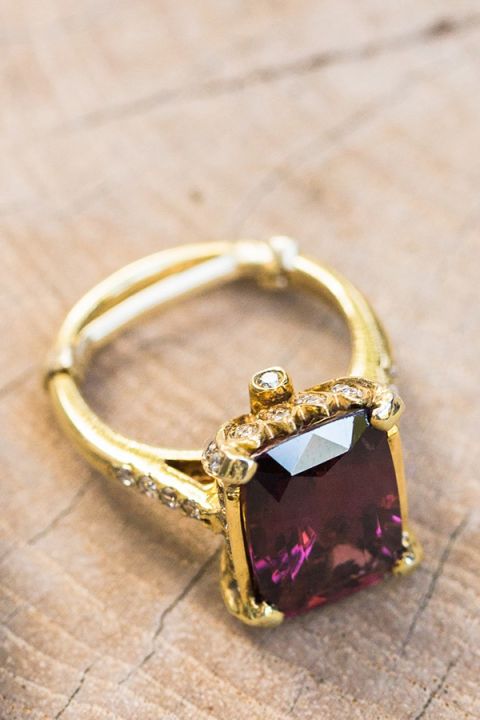 Gold and Amethyst Engagement Ring
Photography by CARLIE STATSKY PHOTOGRAPHY, Jewelry by FOURTANE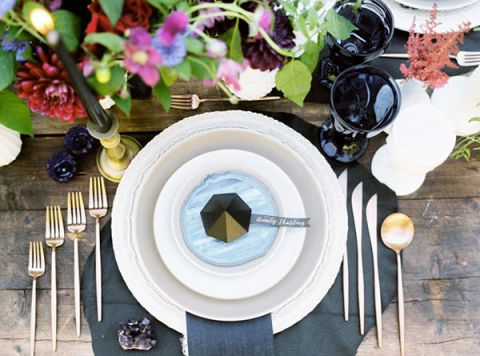 Stylish Black and Jewel Tone Place Setting
Photography by Braedon Photography, Design by Love & Splendor via Green Wedding Shoes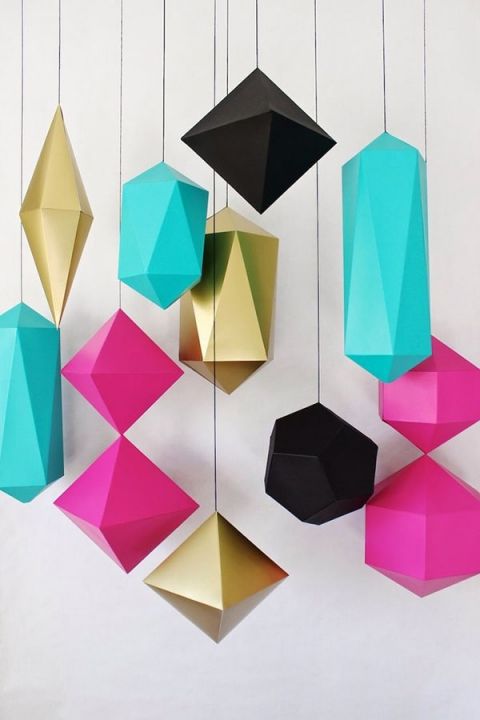 Gold, Coral, and Aqua Geometric Backdrop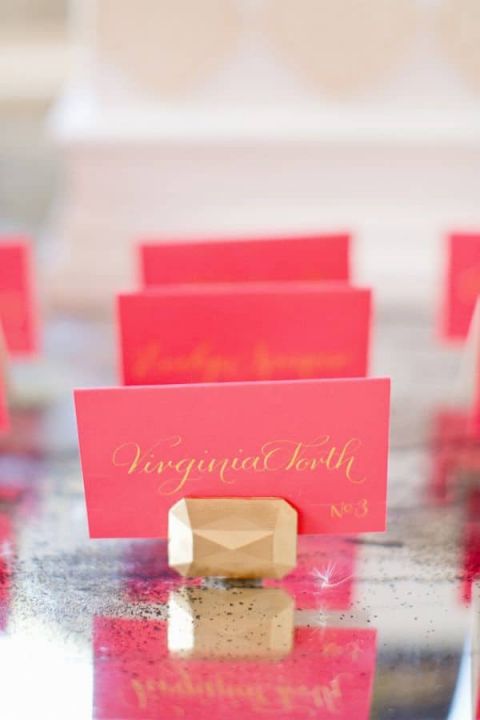 Photography by Harwell Photography, DIY by Lemiga Events via Ruffled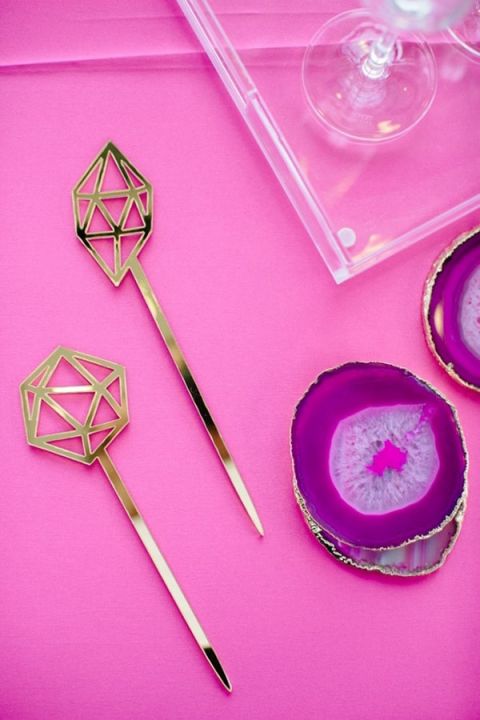 Gold Geometric Cocktail Stirrers
Photography by LAUREN CARNES PHOTOGRAPHY, Cocktail Stirrers by HOST & TOAST via Grey Likes Weddings
Raw Gems and Geodes
Raw gems carry a very different feel from their finished counterparts – rough edges add texture, while contributing to the edgy sophistication of the style. Richer, natural tones set the palette with earthy wedding hues while hints of gold tie in to the glamour of a gem themed wedding.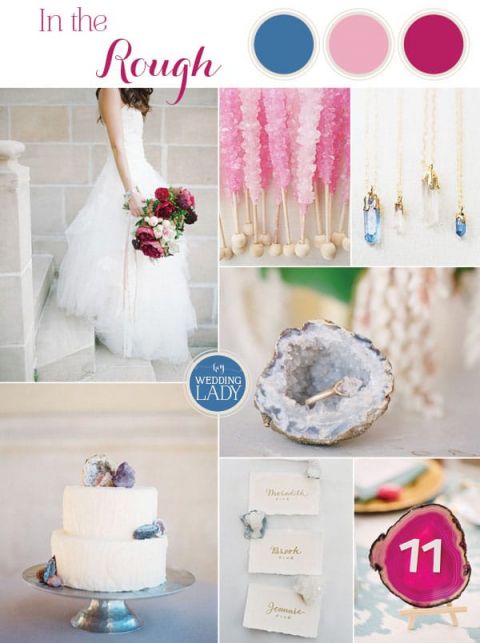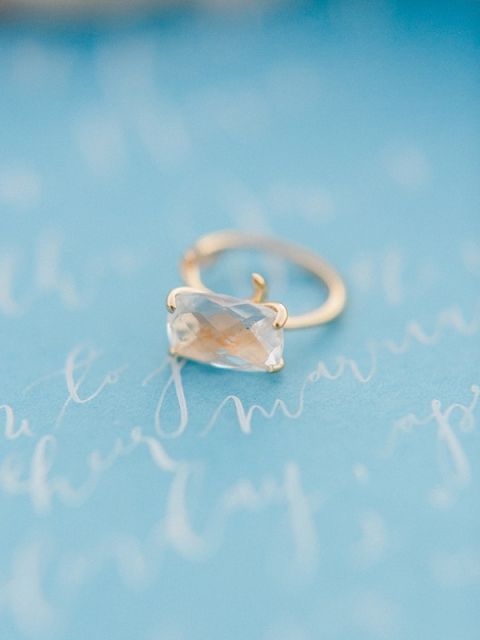 Photography by LUNA DE MARE PHOTOGRAPHY, Jewelry by PETALS & STONES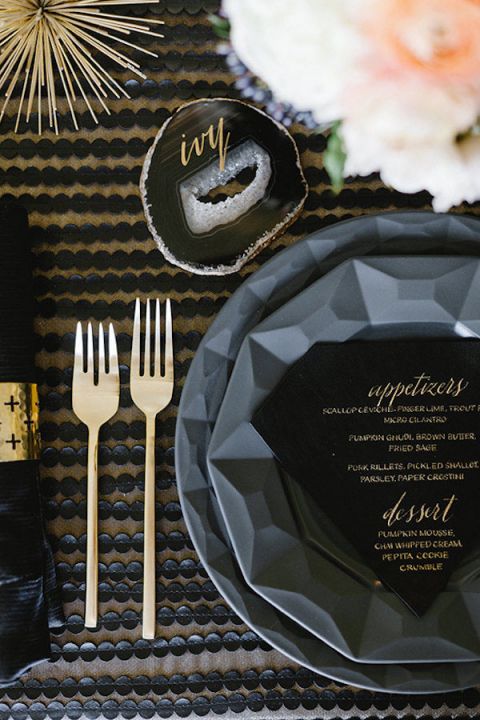 Gold Calligraphy Escort Card on a Crystal Geode
Photography by Erin Hearts Court via 100 Layer Cake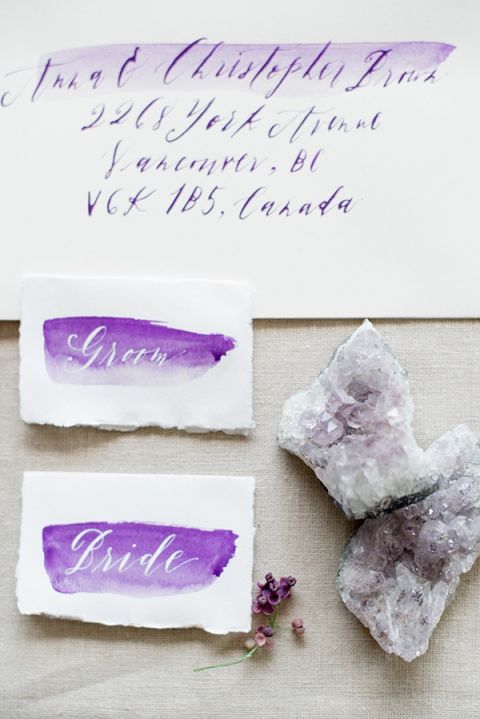 Amethyst and Watercolor Invitation
Photography by CHRISTIE GRAHAM, Engagement Ring from FOE AND DEAR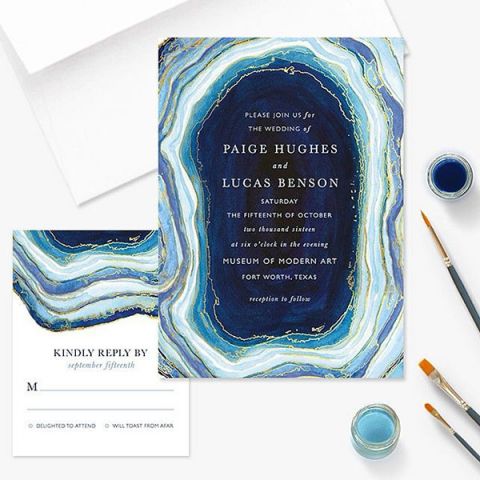 Gold and Agate Invitation Photography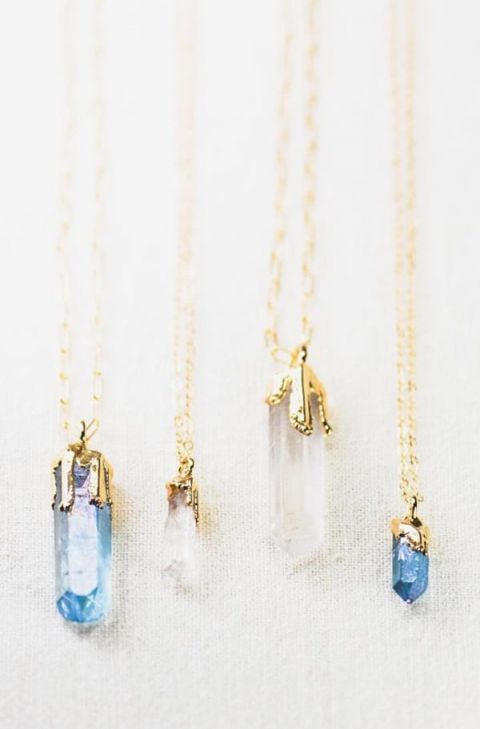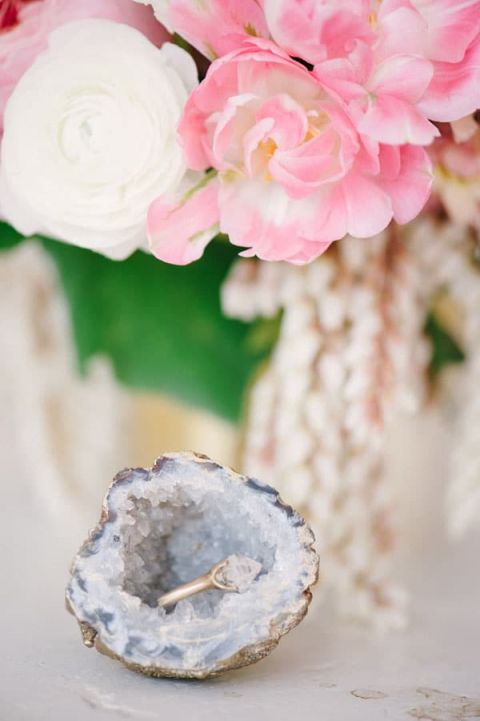 Geode and Crystal Engagement Ring
Photography by Blush Wedding Photography via Ruffled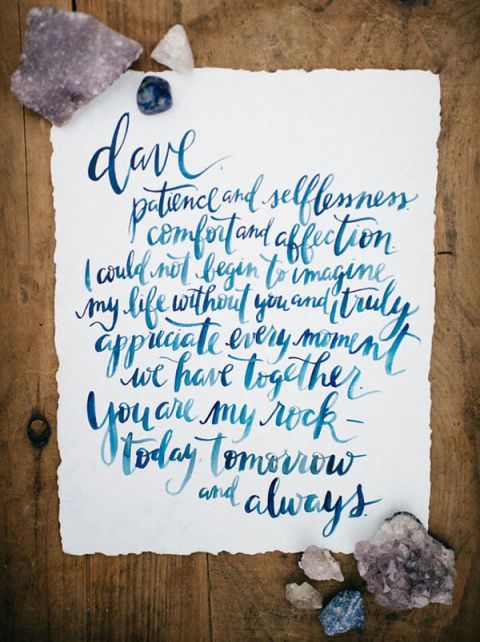 You Are My Rock Themed Wedding
Photography by Cambria Grace Photography, Calligraphy by Nicole Miyuki via Green Wedding Shoes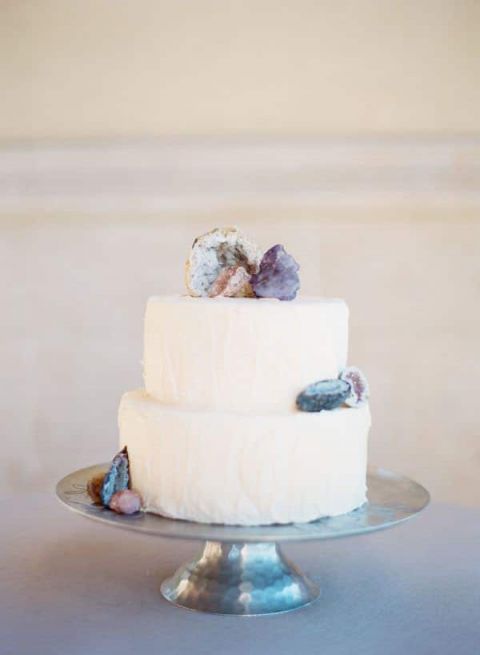 Photography by Taylor Lord via Ruffled