Fun meets fabulous in this fine art celebration, with no shortage of creative wedding ideas! Magical things happen when a wedding planner gets married, and Heather of All Set Events, Co. had the perfect mixture of style and over-the-top amazing details to create a uniquely memorable day! She married love Dustin at a private estate in Hillsborough, CA, treating guests to some of their favorite things including food trucks, craft cocktails, live music, art installations, color, sequins, and balloons! Check out their stunning wedding day with Hey Wedding Lady favorite Taralynn Lawton's fine art photos and video by Elysium, not to mention, the creative wedding details and moments that told their love story!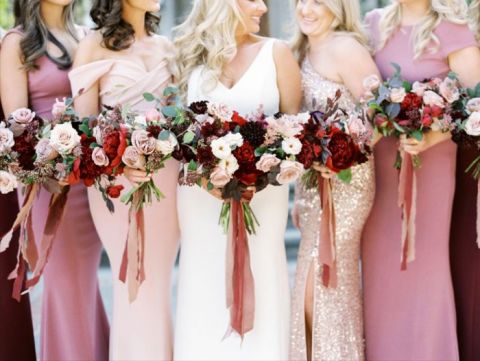 Creative Wedding Ideas from when a Planner Gets Married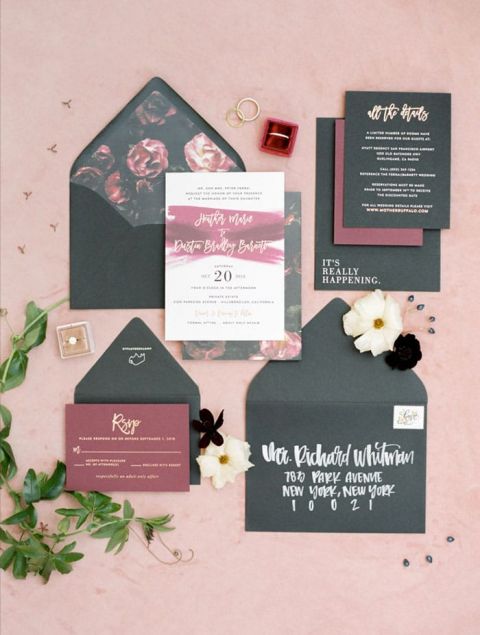 As the Founder & Creative Director of All Set Events, Co., this creative bride set out to tell her love story in the most gorgeous way! The groom picked their wedding date in October of 2019, setting them up for the perfect fall color scheme. Stationery designer Paper Tie Affair helped them set the tone with a moody black and merlot invitation suite that showcased their fun and fabulous style along with a custom rose paper by Imaginary Beast. This is just the tip of the iceberg for their creative wedding ideas – read on for more more styling tips from a pro!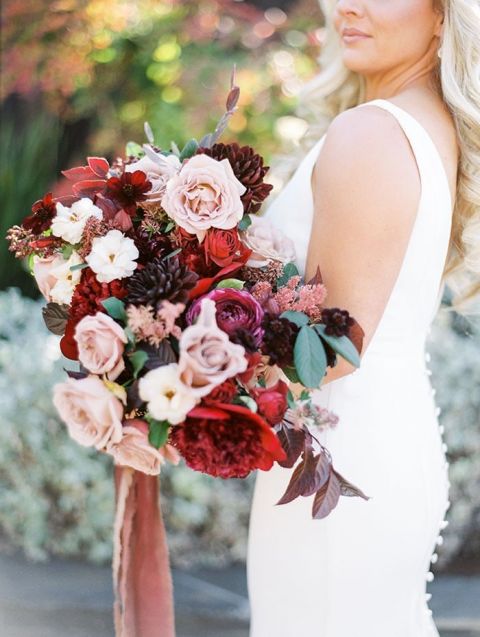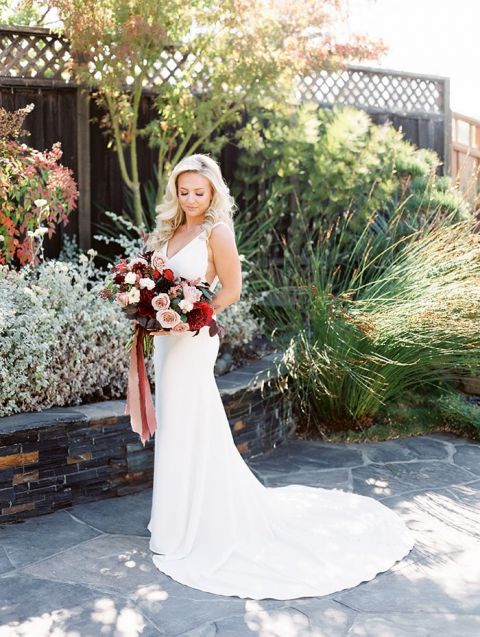 When it came time to choose her wedding day attire, Heather had a good idea of what would make her feel most like a bride! She knew that she wanted a simple silhouette for her dress, and she fell in love with the Belmont dress by designer Sarah Seven. She was sure it was THE ONE after trying it on, but went to the rest of her appointments with her mom and sister. Nothing else compared and after looking back at photos and videos of her dress try on – seeing the way her face lit up when she was in the gown – it was clear she had found it!
Planner Tip that Prim Event Studio shared – take photos AND videos of your dress options, this way you can watch back how it made you feel.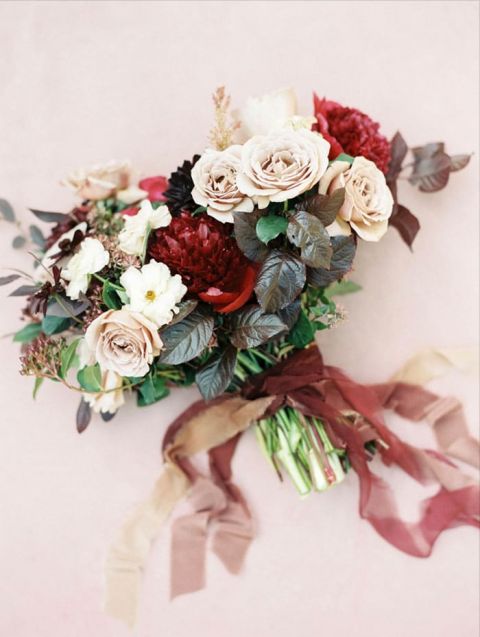 Fun and Fabulous Bridesmaid Style
With fall wedding date, Heather and Dustin knew they wanted to embrace the season as part of their wedding day decor! They chose rich colors to add warmth and vibrancy to their day. Heather's bridesmaids chose individual dresses from a selected color palette of blush, mauve, and rose gold sequins to create one of the most stunning bridal parties as part of their dedication to creative wedding ideas and unique style!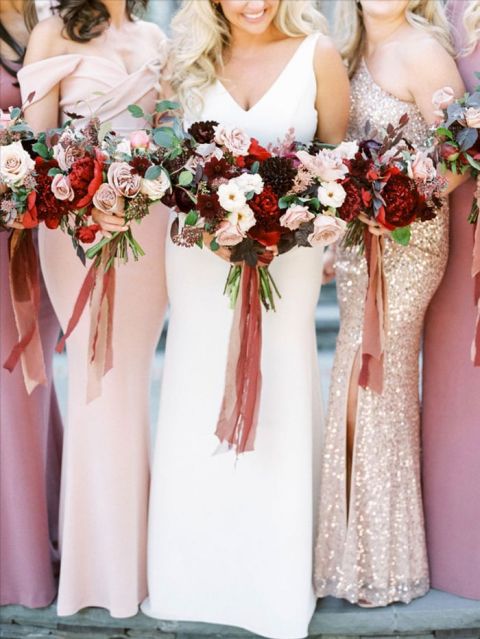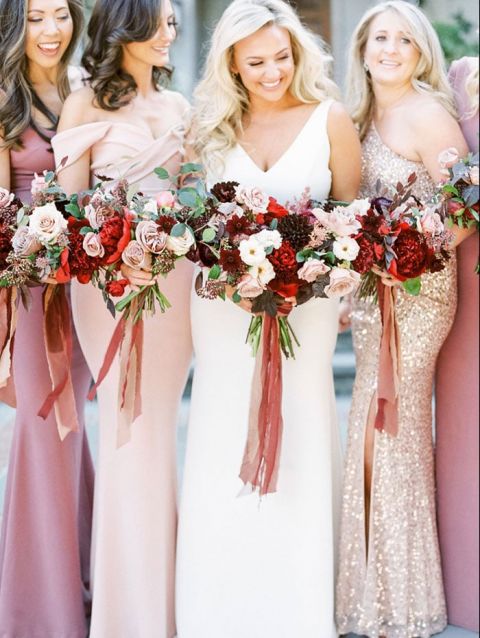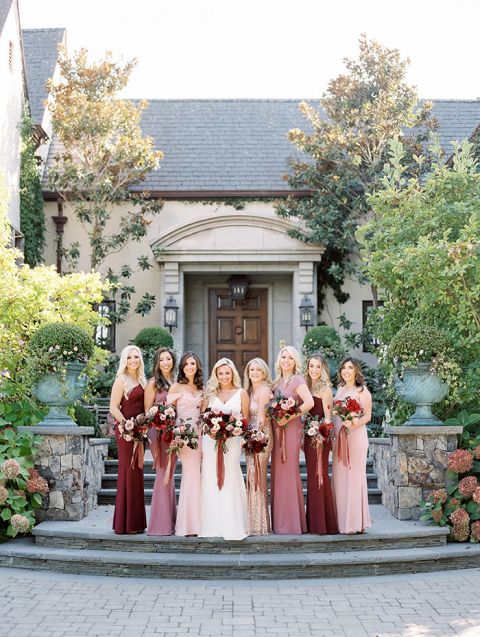 Floral Designer Michelle Lywood is truly an artist with flowers, and she turned their color palette into a jewel toned array of floral details! The bouquets included Crimson Charm peonies, latte roses, chocolate cosmos, privet berries, and fall foliage to complement the lush landscaping of the private estate where they held their wedding day.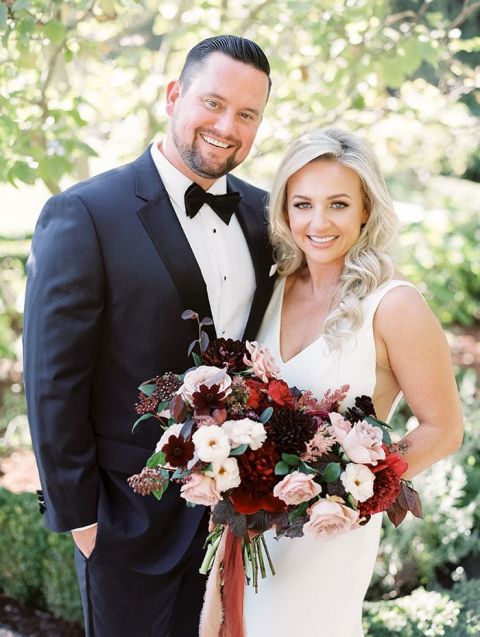 Planner Tip – if you employ a first look, I recommend adding some distance between you and your partner vs. the typical tap on the shoulder, turn around technique. This adds some drama to the moment, gives you both the opportunity to really take in the experience and mimics the traditional aisle walk. For me – it was the perfect hybrid.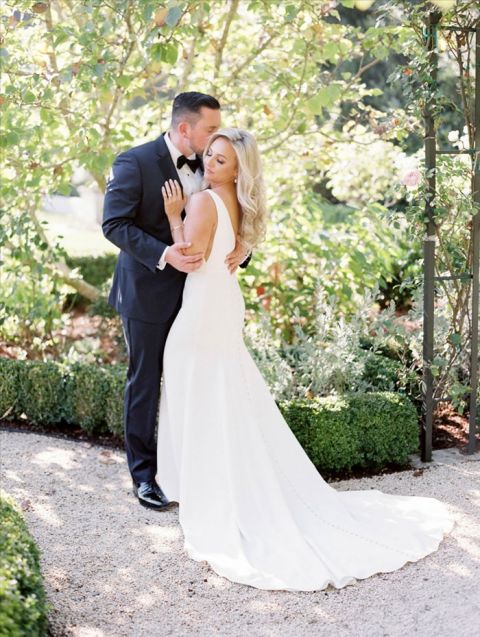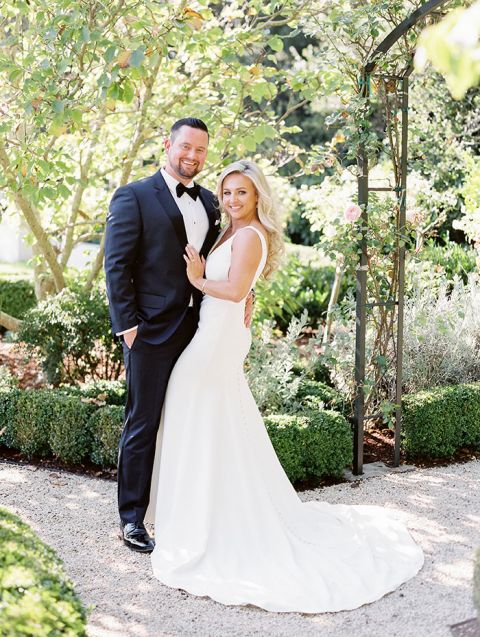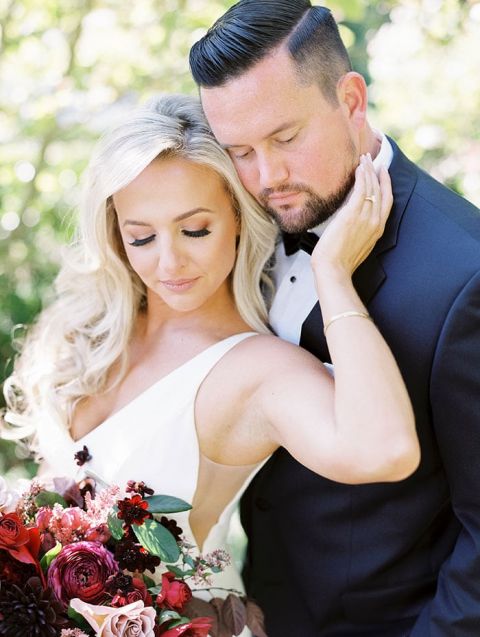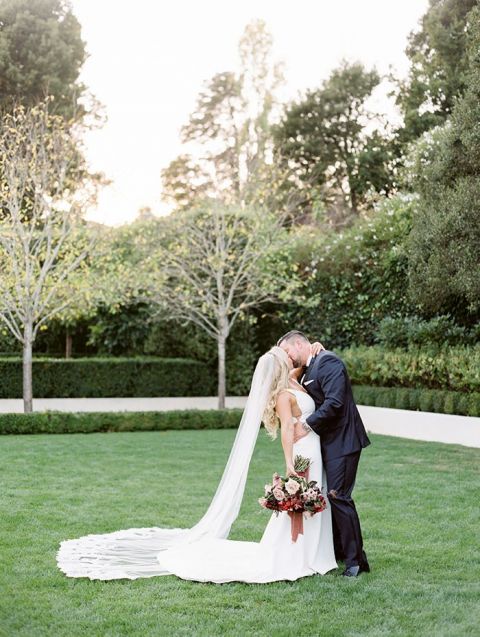 This gorgeous pair celebrated their love story with creative wedding ideas that wove their eight years together throughout the day! It all started on a night out in San Luis Obispo, where they ran into each other at Mother's Tavern. That chance encounter sparked an interest that flared into life years later after recognizing each other at Buffalo Pub. That spark stayed strong and they knew they'd found their forever love. They were engaged on dawn hike to the summit of Haleakala in Maui, and wanted to bring their shared favorite things into their wedding day.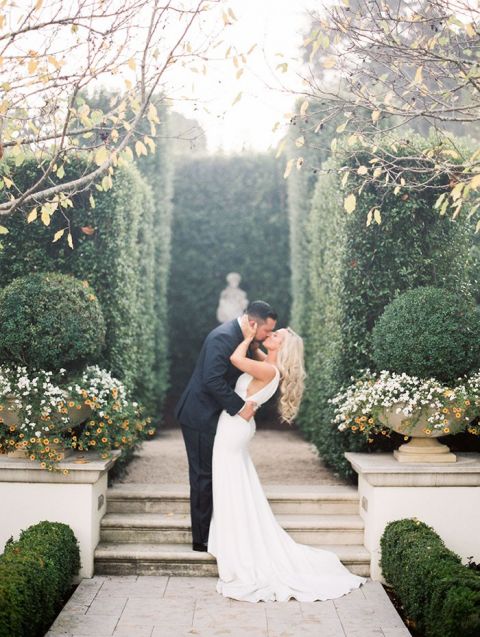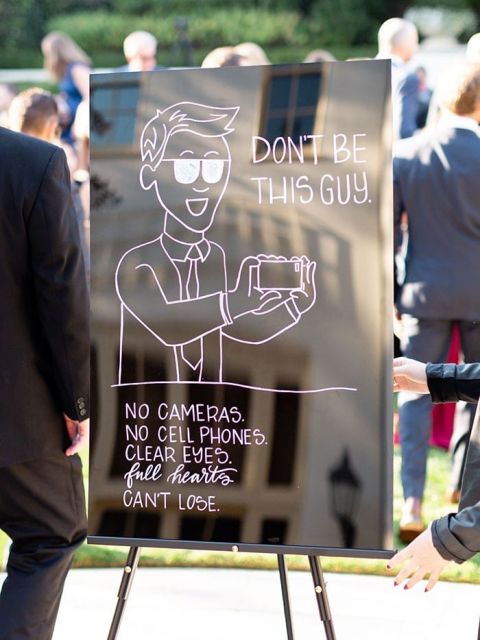 The couple kicked off their ceremony with a playful recounting of their first meeting(s), telling the story of how they crossed paths over the years in San Luis Obispo, culminating in a Meet Cute at Mother's Tavern and another several years later at Buffalo Pub. The 'Voice of God' told not only how they met, caught each others' eye, but also how they created their signature #MotherBuffalo design that made an appearance throughout their day! They used the logo as a unifying thread through their creative wedding ideas to tie it all together in style!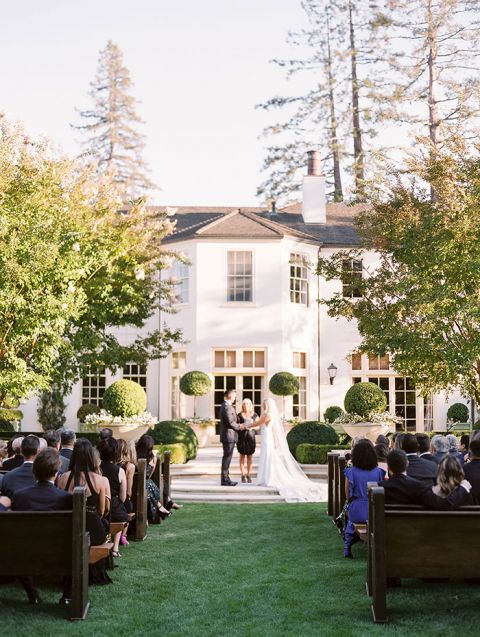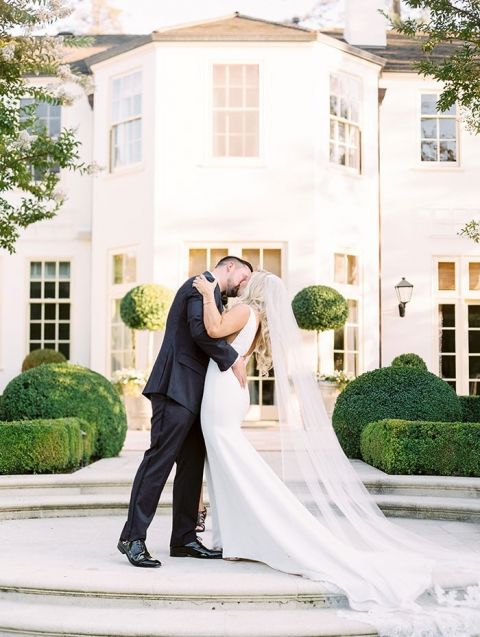 The couple gave their ceremony a traditional feel, contrasting the unique and playful style of the rest of their creative wedding details. To honor her Italian Catholic upbringing, Heather chose vintage church pews as ceremony seating.
The couple exchanged the same traditional vows that both of their parents had on their wedding days, with an Italian prayer read as part of the ceremony.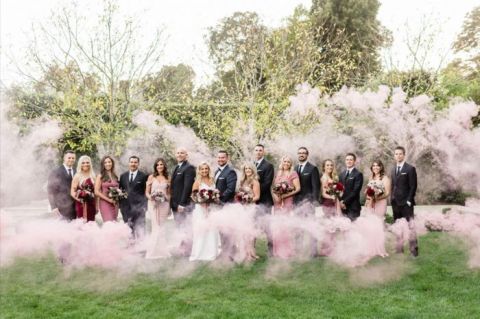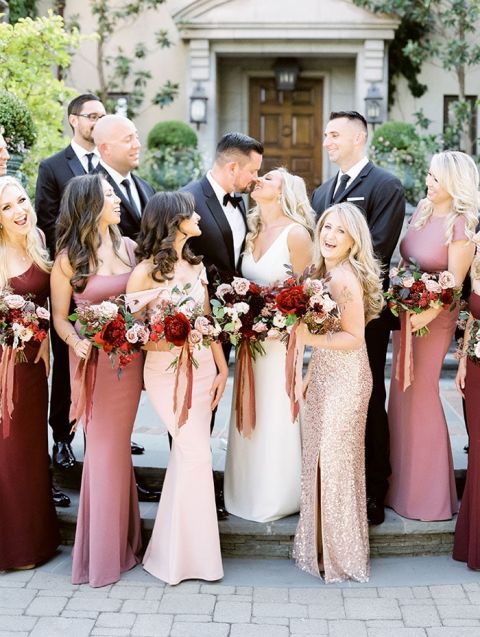 Creative Wedding Ideas for a Cocktail Reception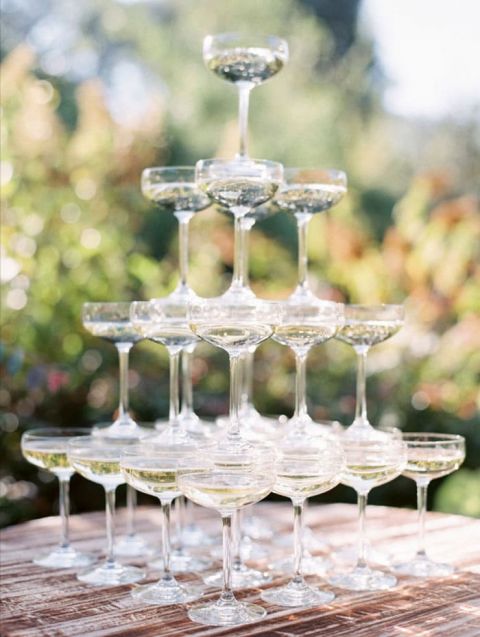 Ready to kick off the most unique reception? Heather was filled with creative wedding ideas when it came to realizing the party part of their day! As a professional planner in the creatively charged Bay Area wedding circuit, she had no shortage of collaborators to help pull off all of the details she envisioned for their day!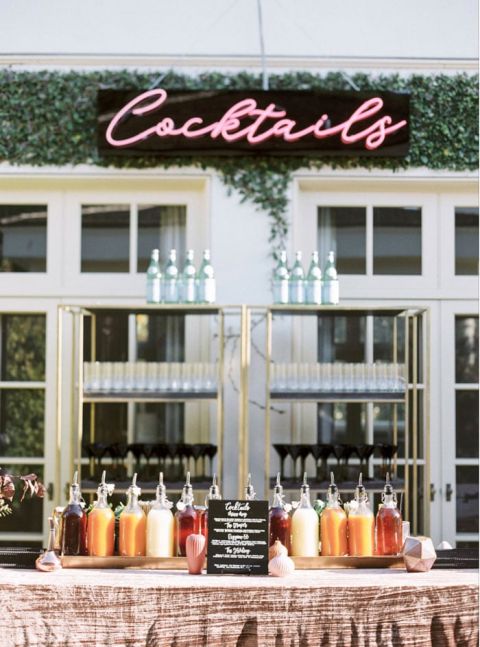 The couple chose cocktails from their favorite San Francisco Bar, Pacific Cocktail Haven and renamed them to add a personal touch! Foxtail Catering served beverages inspired by some of their favorite shows – the Draper included bourbon, demerara syrup, orange bitters, and a lemon twist; Riggins 33 combined gin, mint, cucumber, lime syrup, and soda water, while the cocktail named after their dog, Miss Daisy May, included blanco tequila, passion fruit, vanilla, lime, and habanero!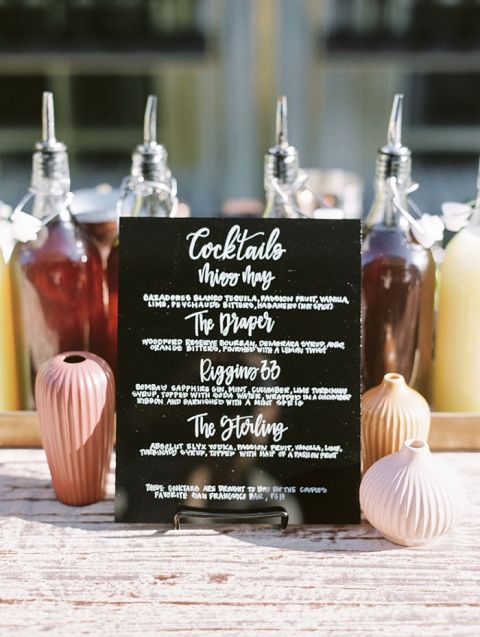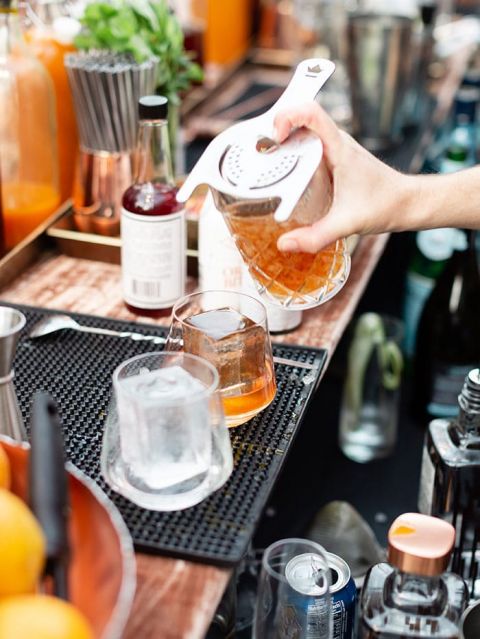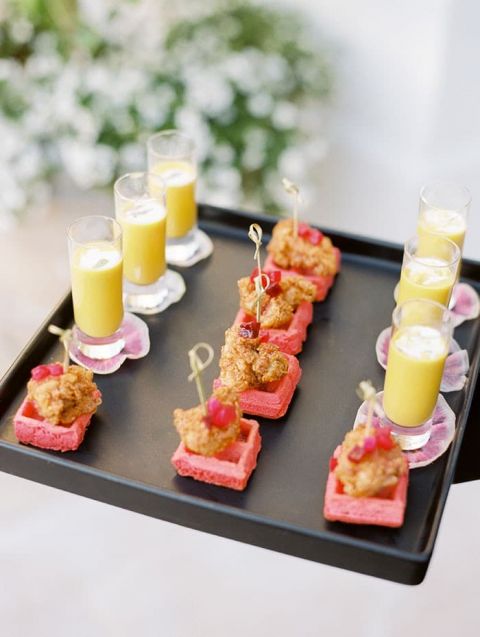 The couple eschewed a traditional seated dinner, choosing instead to stuff guests with an epic grazing table, creative passed apps, and food trucks serving their favorites! Pizza from Del Popolo, burgers from In-N-Out, donuts, and more signifying their night-out favorites.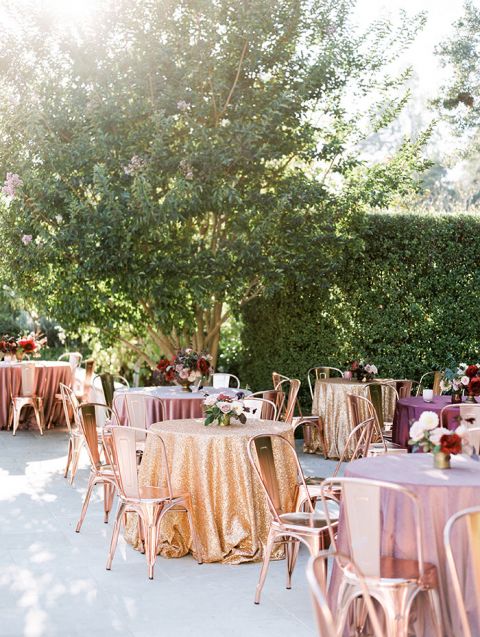 With an open-format reception and no assigned seating, the couple set cocktail tables through out the estate to provide places to sit, mingle, sip, and indulge in the variety of street food and snacks that they wanted to share with their guests. They set the small round tables with La Tavola Fine Linen tablecloths in berry, pink, and sparkling gold sequins, accenting them with industrial copper chairs and jewel toned arrangements in copper compote vessels.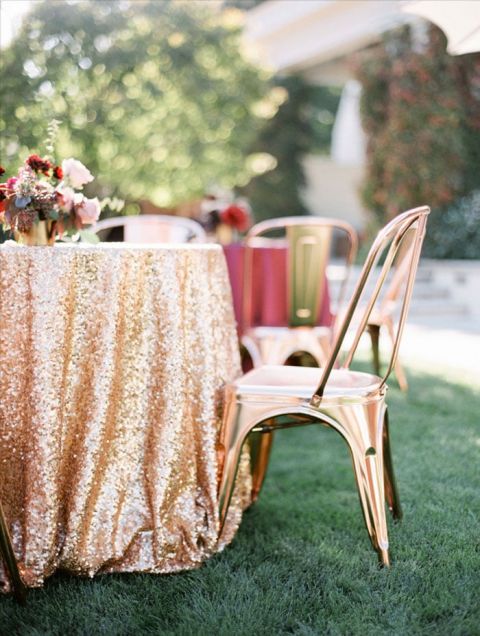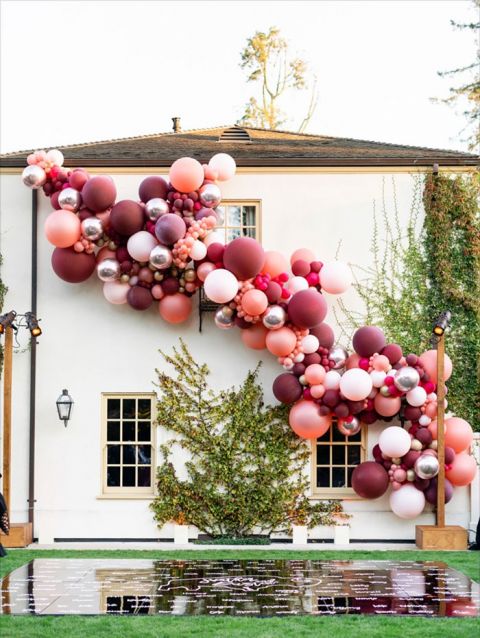 Without a traditional sit down dinner or the place cards that come with it, the couple wanted to find a name to include everyone in their 140 guest count in the day! They combined a seating chart and a memorial display in the custom dance floor adorned with their Mother Buffalo logo, which Robinson Creative decorated with every guest's name and the names of our beloved that have passed on. The dance floor and the elegant balloon arch by Zim Balloons created a stunning focal point to their celebration!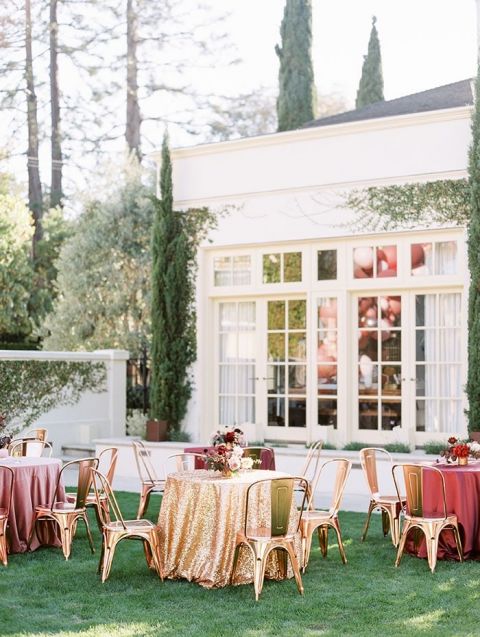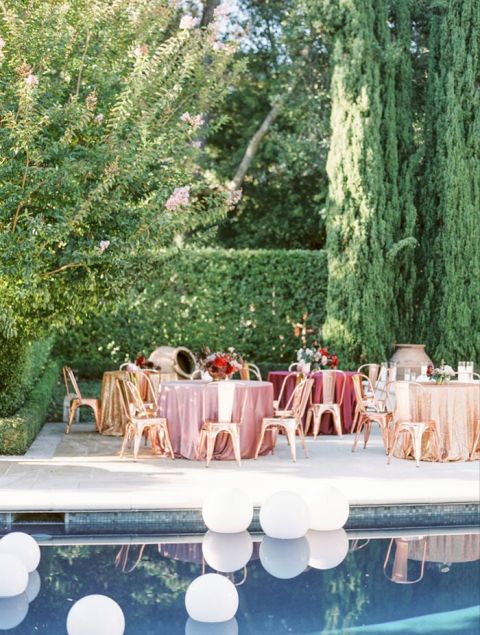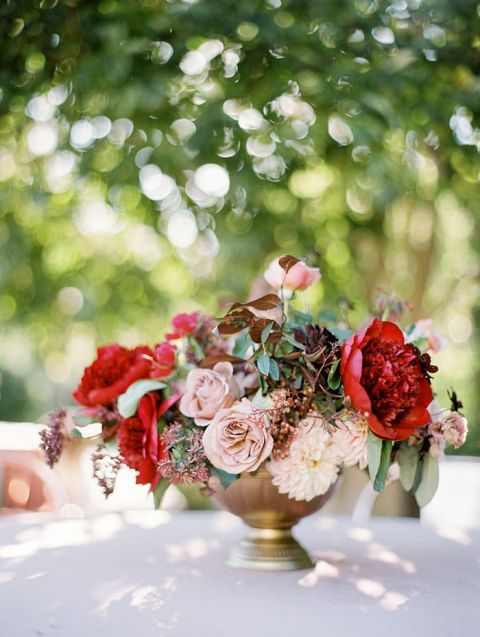 Music was another must-have for the couple, with a live guitarist, dueling DJs and a silent disco keeping guests partying throughout the evening!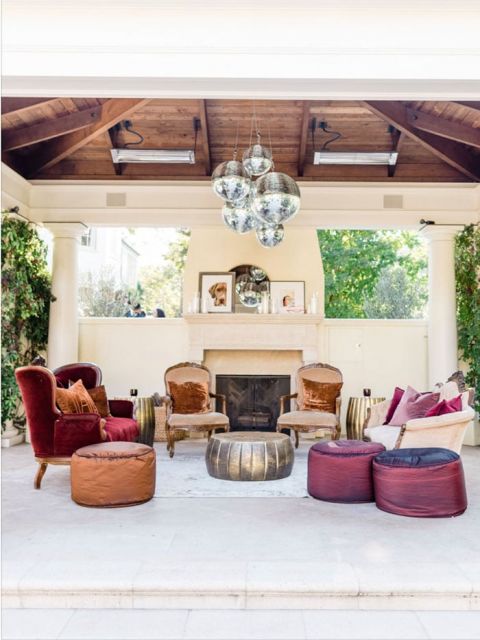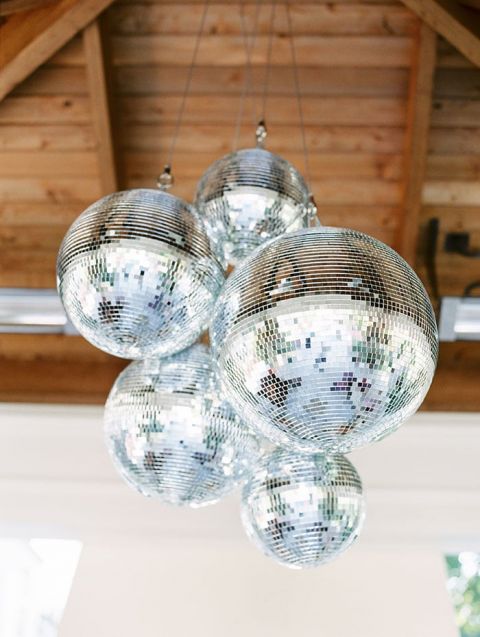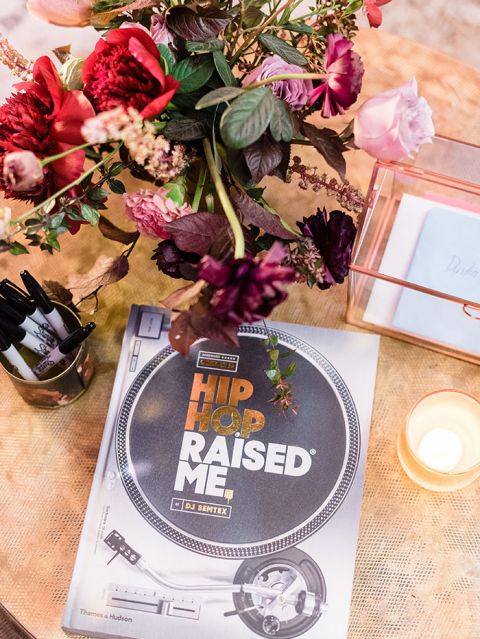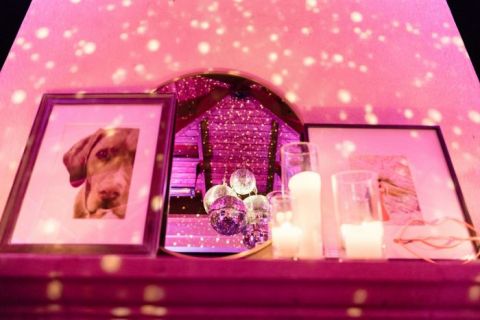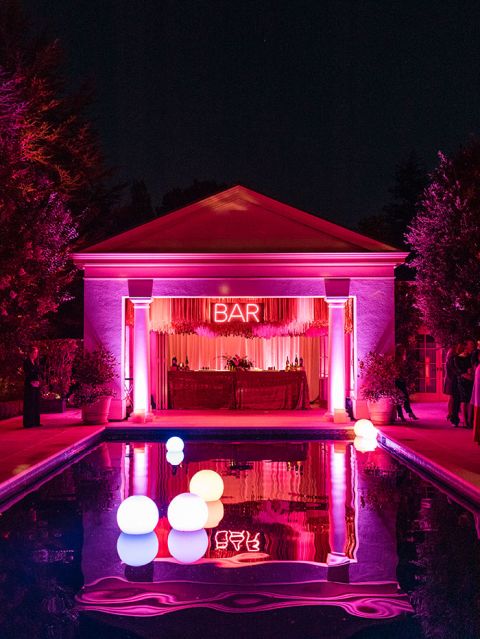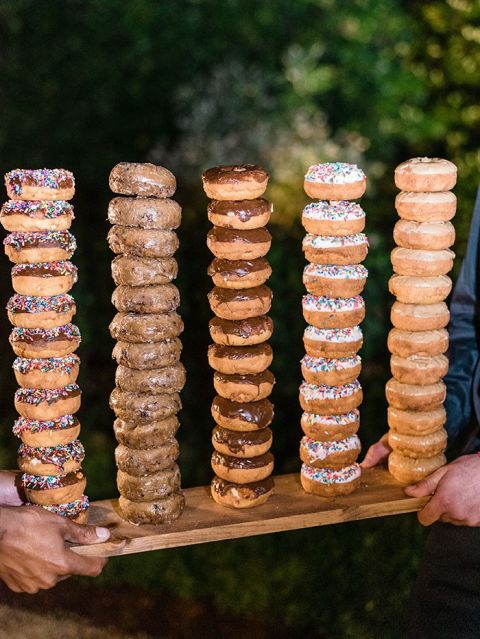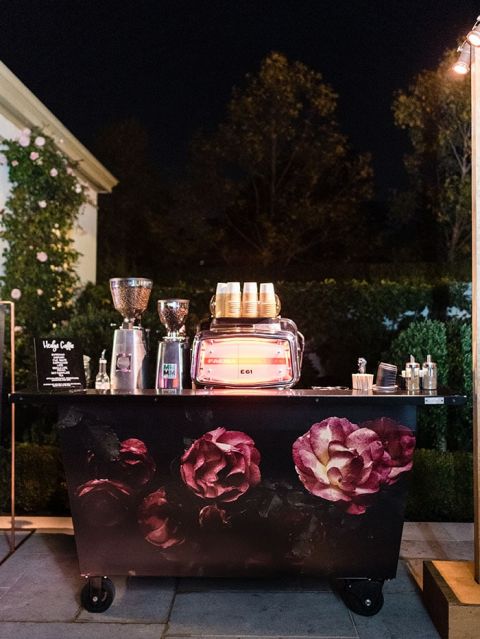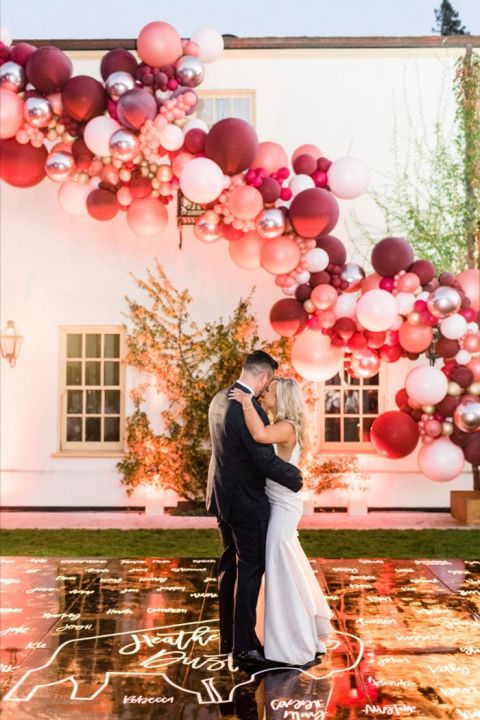 When it was time to kick off the dancing portion of their evening, the couple shared their First Dance to a special song –
Dustin picked the song because he said it's what he pictured as our first song for almost our  entire relationship. He said it was stuck in his head the entire weekend of our first date. I whole heartily agreed with the decision, but for a reason of my own. The first three and  a half years of our relationship was spent long distance. Dustin used to send me a  curated CD for my trips. The first song on the first CD he ever made me was "So High".  During our first dance, I cried like a baby – something I wasn't expecting to happen, but  the moment was so surreal. It felt like it was just us on our own little island, but I could  feel the love from 140 onlookers.
CREATIVE WEDDING PLANNING TIPS –
As a wedding planner and a bride, Heather of All Set Events, Co.  had the unique experience of putting her professional knowledge to work for her wedding day! Here are some of her tip tips for planning a creative wedding!
Where to Start Planning your Wedding –
I started the planning process for our wedding the same way I start the process when  planning for a client… the budget. Every event must start with the budget conversation.  Once we got that piece nailed down we were able to talk through our priorities for the  day and determined our "limits" in each budget category; Food & Beverage,  Entertainment, Attire, etc.
How they made wedding planning fun –
We had 11 months to plan our wedding – which was the  perfect amount of time for us. We kept ourselves on track and stress free by conquering  our "wedding chores" one weekend at a time and always paired it with some fun. For  example, when we went searching for Dustin's tux, we spent the first three hours of the  day shopping, then followed it up with delicious craft cocktails (something we love) at  our favorite bar Pacific Cocktail Haven. It's so important to keep the process fun! If it's  just about the singular day, you are missing out on making so many lovely memories  with your partner.  
How she got the groom involved in wedding plans –
As a professional Wedding and Event Planner, I instinctually took the lead on majority of  the wedding work, but I was adamant on making sure that Dustin was properly  represented and had a say in it all. Dustin picked our wedding date. Naturally he picked October, as he is an autumnal enthusiast (he has the underground hook up on  the PSL Latte year- round). I let the season dictate the wedding palette; rich warm hues  of merlot, mulberry, copper and soft pink to give it that feminine touch. This played out  so beautifully, especially in the florals. Michelle Lywood is a floral goddess. She mixed  together big blooms like peonies with small but mighty accents like privet berries and  chocolate cosmos. And of course, a ton of fall foliage for Dustin's delight. Texture was  the name of the game and she nailed it!  
WEDDING VIDEO –
WEDDING VENDORS –
Photography: Taralynn Lawton 
Videography: Elysium
Event Planning and Design: All Set Events, Co. 
Month of Coordinator: Prim Event Studio 
Venue: Private Home
Floral Design: Michelle Lywood 
Wedding Dress: Sarah Seven
Groom's Attire: theblacktux
Hair and Makeup: Bridal Muah, Makeup by Rubina
Event Rentals: Archive, Bright, Forever Vintage, La Tavola Fine Linen, Standard Party, Water Cottage
Balloon Arch Installation: Zim Balloons 
Custom Dance Floor: Barker Decor 
LED Signs: Ashley Smith Events 
Lighting: Got Light, Los Angeles Signs Tech 
Food Trucks and Catering: Del Popolo, Foxtail Catering, In-N-Out, Senor Sisig, The Chairman
Cake & Desserts: Sibby's Cupcakery
Ice Cream Cart: Humphry's Slocombe
Coffee Cart: Hedge 
Craft Cocktails: Foxtail Catering, Pacific Cocktail Haven 
DJs: Franco Fin & Jon, Sound Off 
Guitarist: David J Brunelle
Custom Rose Paper: Imaginary Beast
Invitations: Paper Tie Affair
Custom Calligraphy, Signage, and Dance Floor Artwork: Robinson Creative House 
Cocktail Napkins: For Your Party 
Valet: Peninsula Parking