Red roses are an enduring symbol of love that are nothing short of timeless – Diana Frohmueller Photography and Sylvia Hartmann Design wanted to take that classic wedding look and give it a totally unique spin in this creative bridal shoot! They styled stunning gowns from White & Night to add modern lace, nude underlays, and dramatic colors – even a dramatic black wedding dress! The irresistible combination of red roses and modern style come together to create totally unique and utterly chic inspiration for brides who want a little drama – and then some!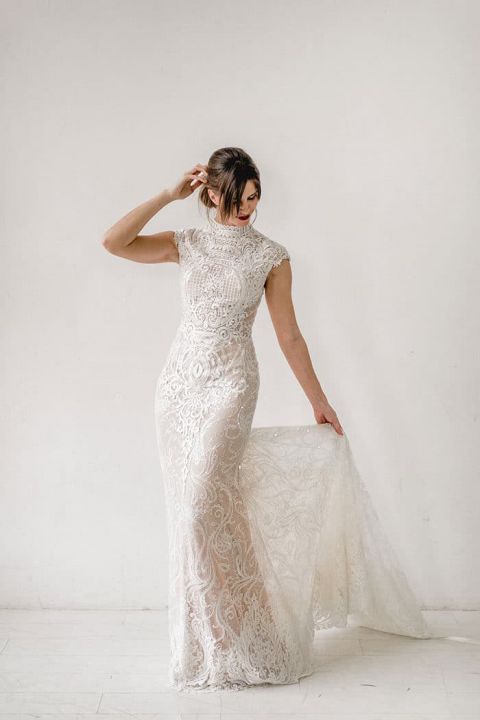 The nude underlay made the texural latticework lace of this stunning bridal gown come alive! A scatter of sequins and high neckline added to the unique style of the dress from White & Night.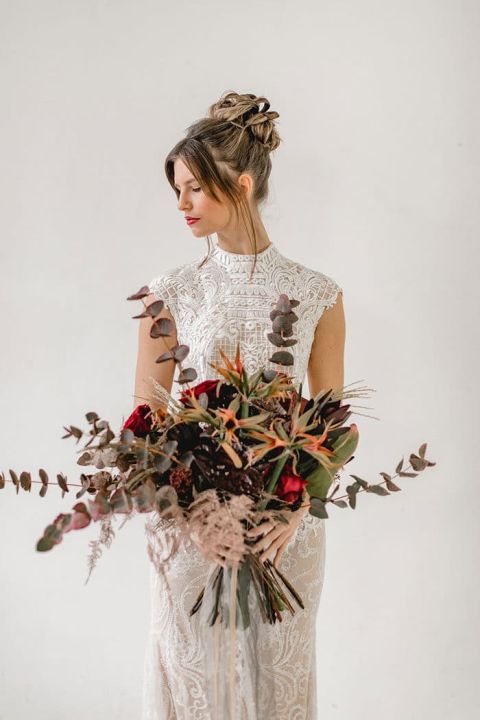 Sylvia Hartmann Design created a unique bouquet recipe combining Red Naomi roses, dried grasses, eucalyptus, anthurium, and amaryllis. She blended the textural flowers and plants together to add a neutral base for the bold red roses to shine!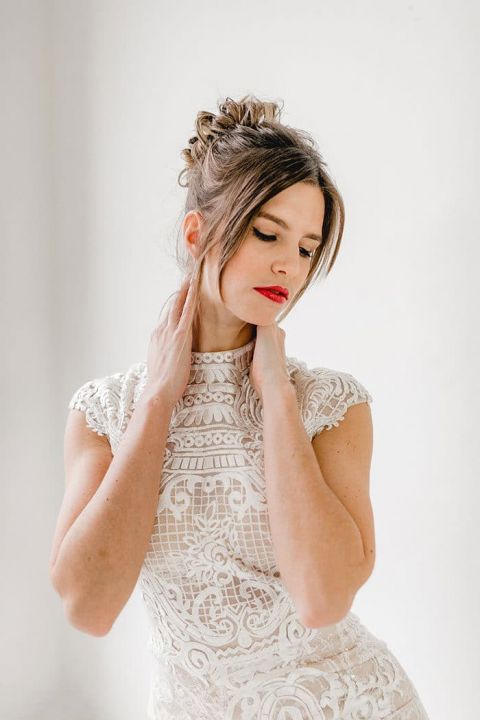 A bold red lip was a must, of course! Hair and makeup artist Rebekka Masterstylistin styled the bride's accent lip color with soft, natural makeup for even more contrast.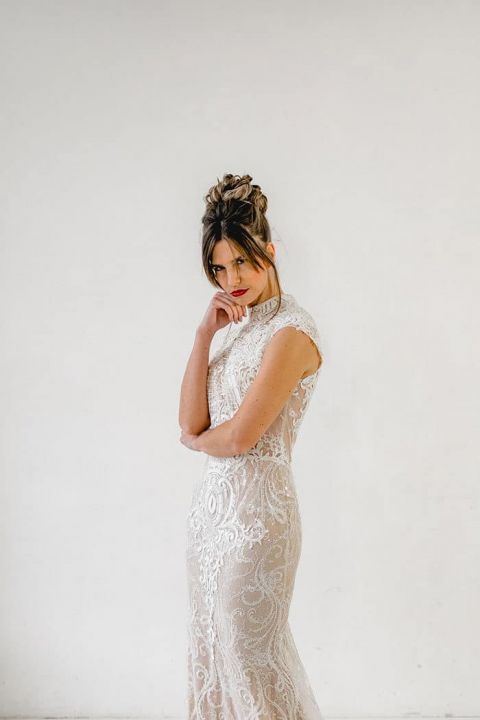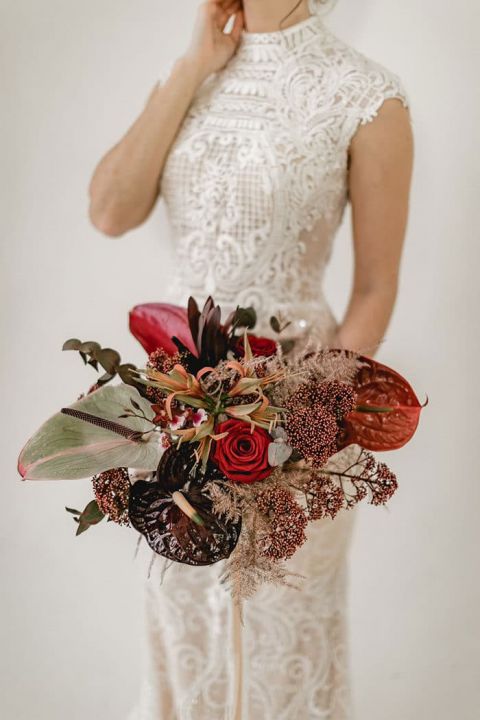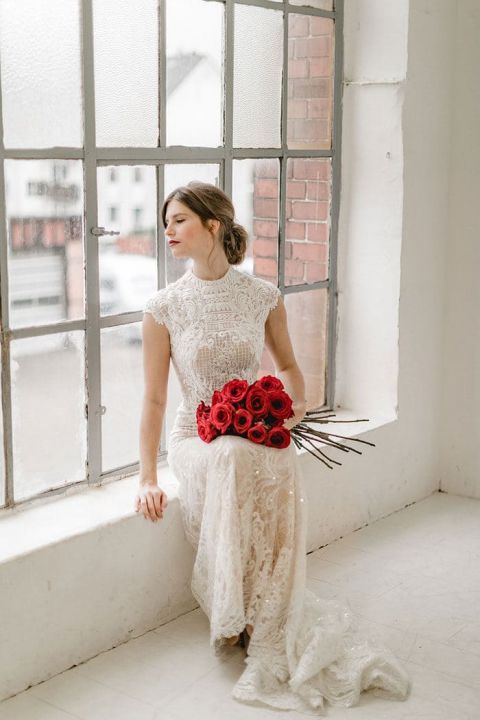 Red roses appeared in their most classic form, of course! A bouquet of long stemmed roses added a timeless touch.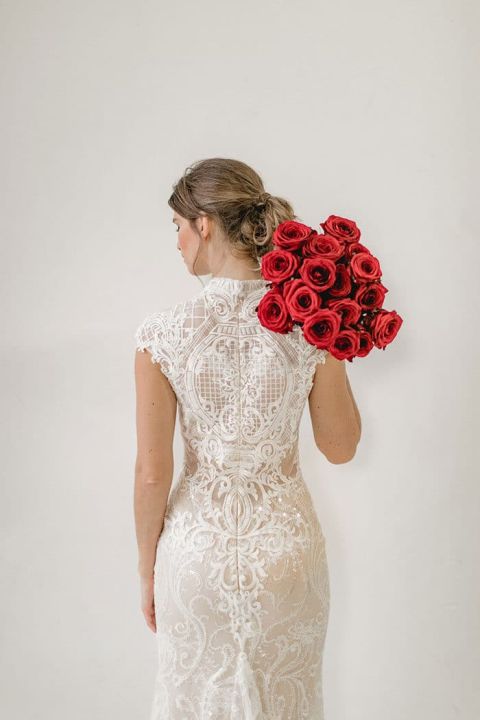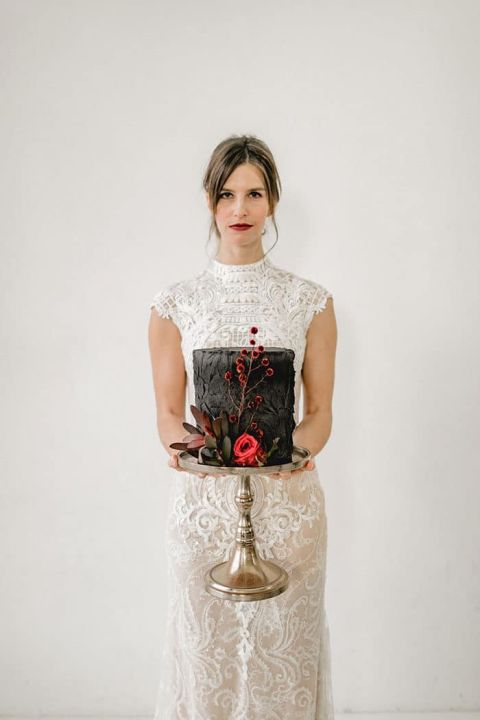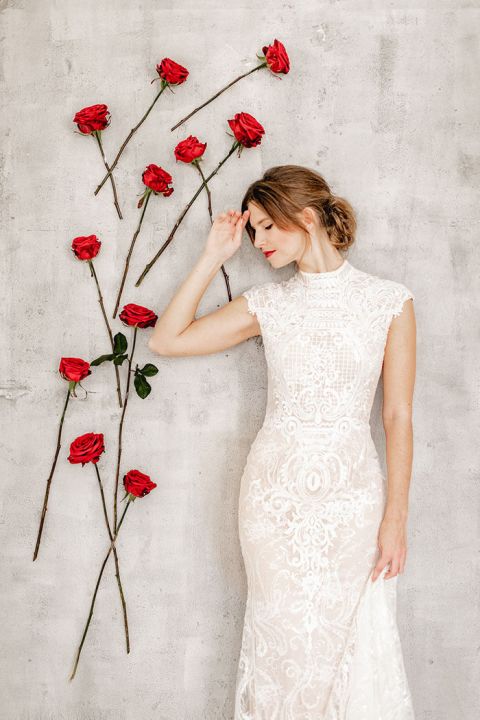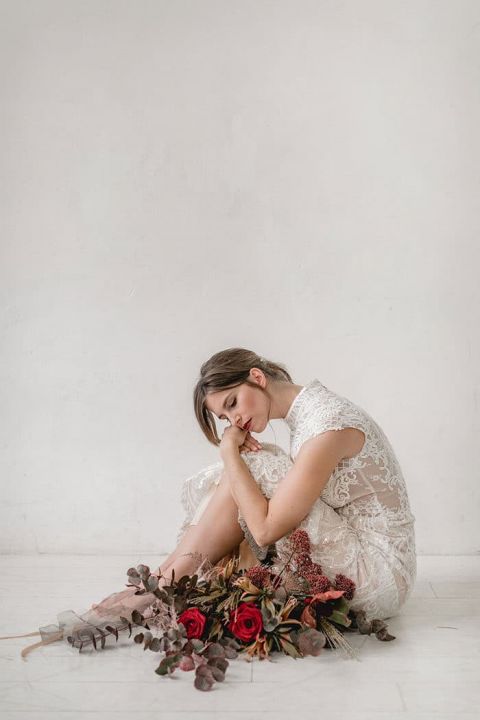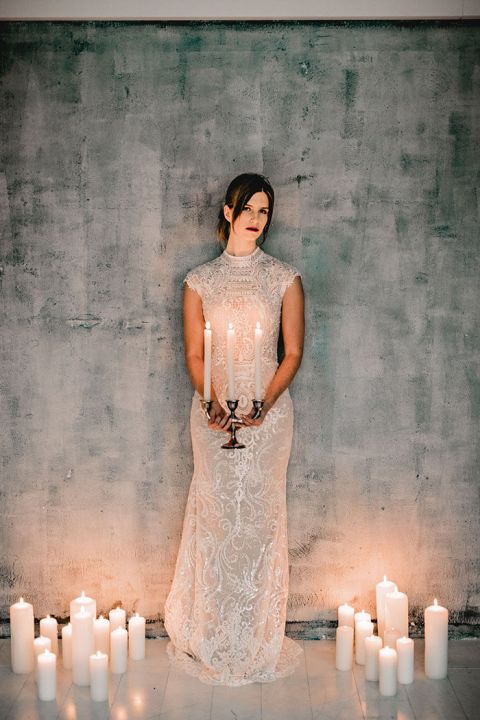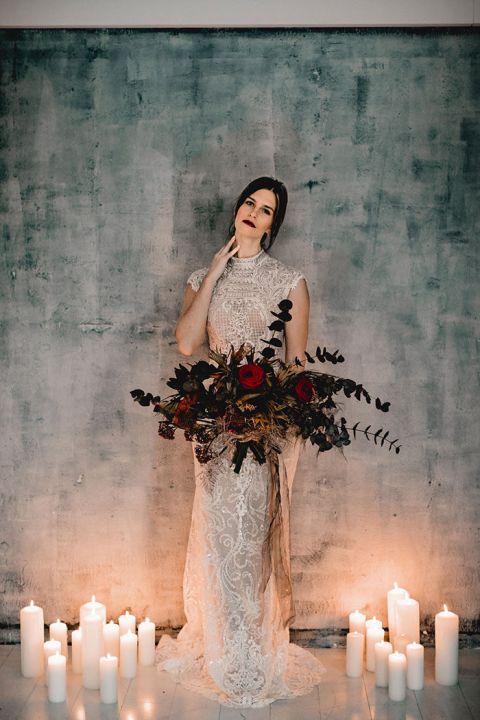 They created a moody ambiance with noting more than a textural backdrop and dozens of candles! These portraits from Diana Frohmueller Photography capture the drama of this shoot perfectly!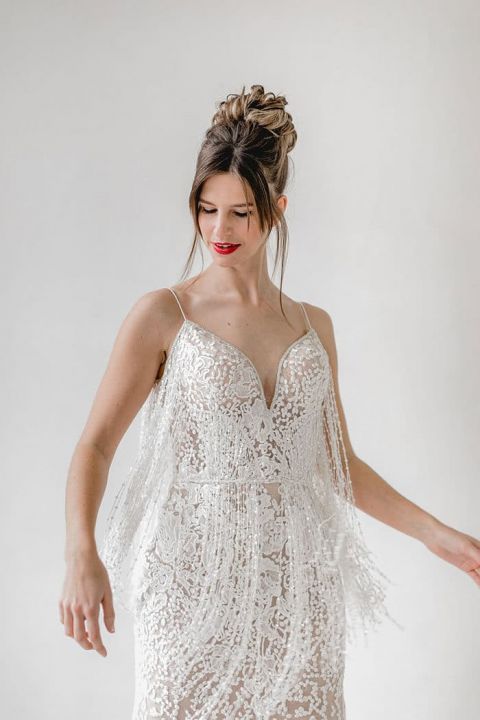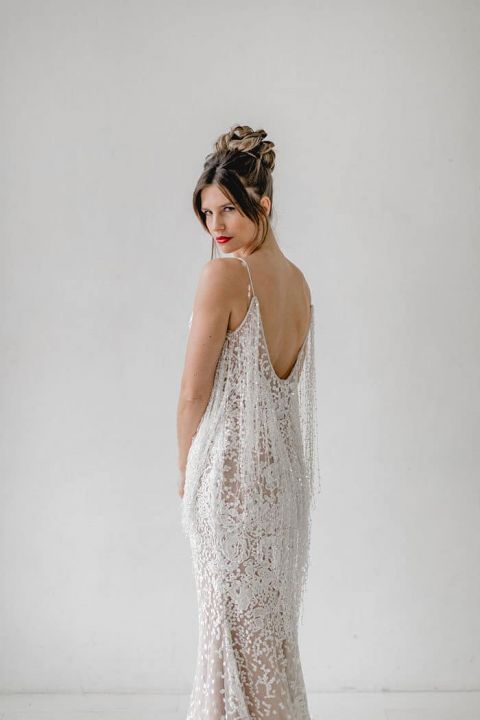 How fun is this fringe! The dress from White & Night added a playful touch with strands of beaded fringe that added a shimmy every time the bride moved!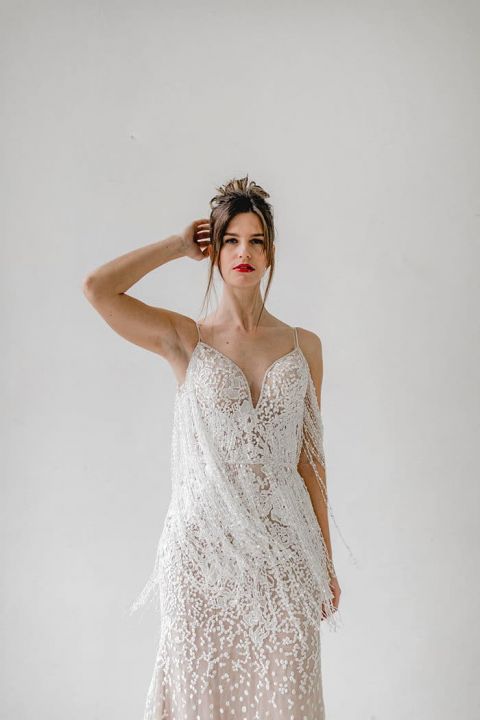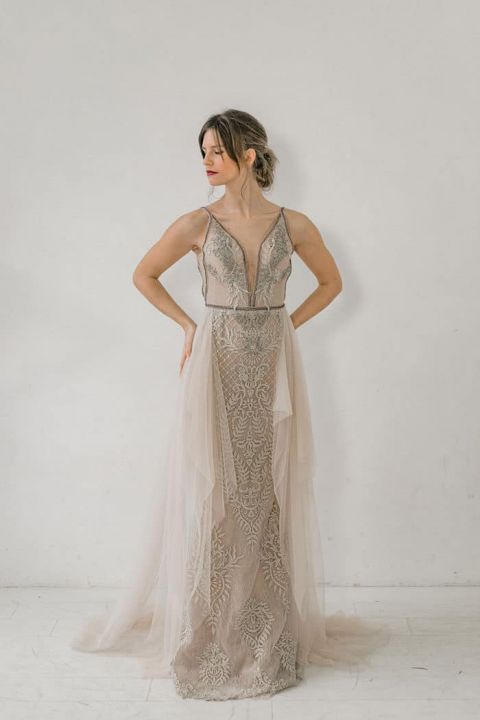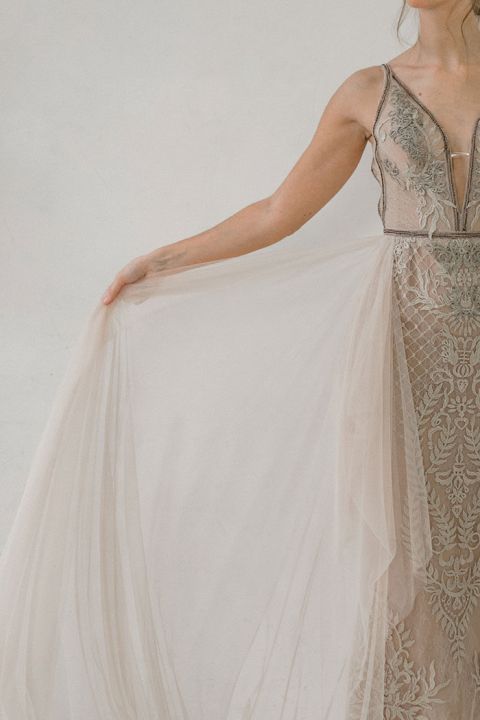 The nude lining and champagne lace on this beautifully textural gown is one of my favorites!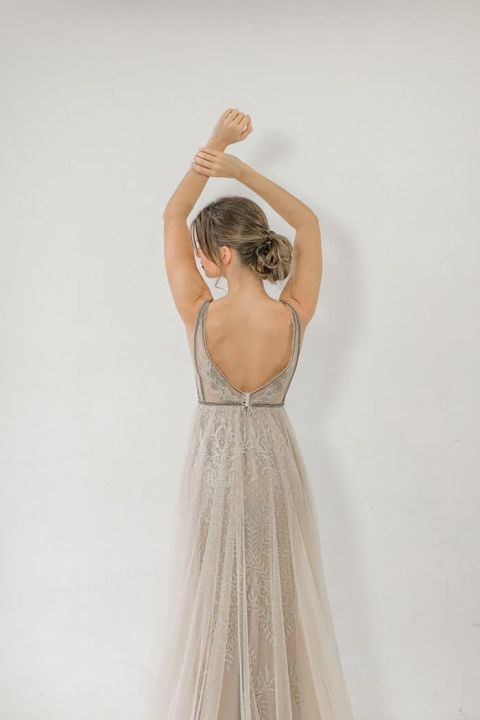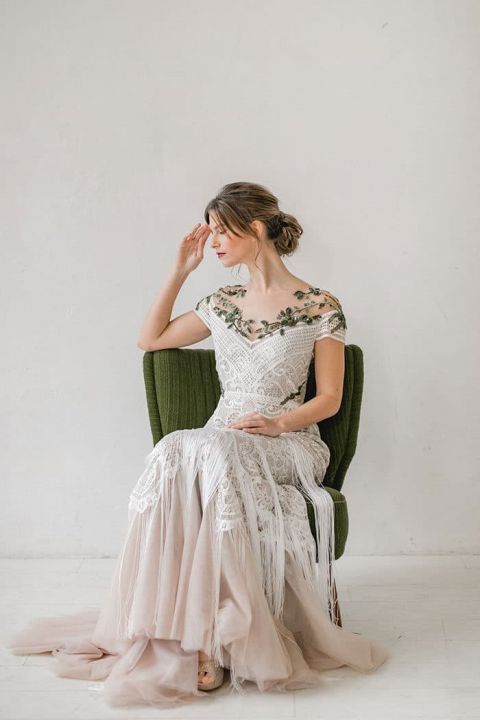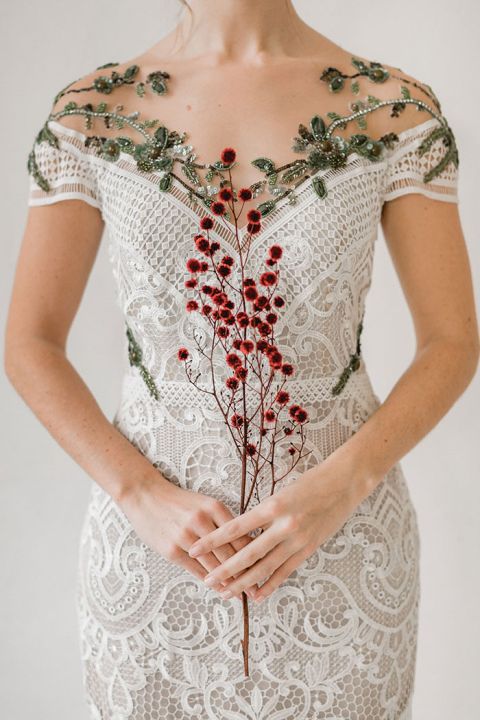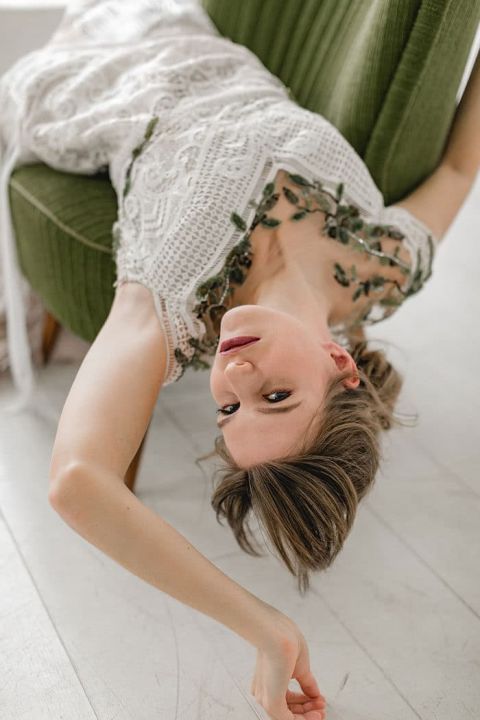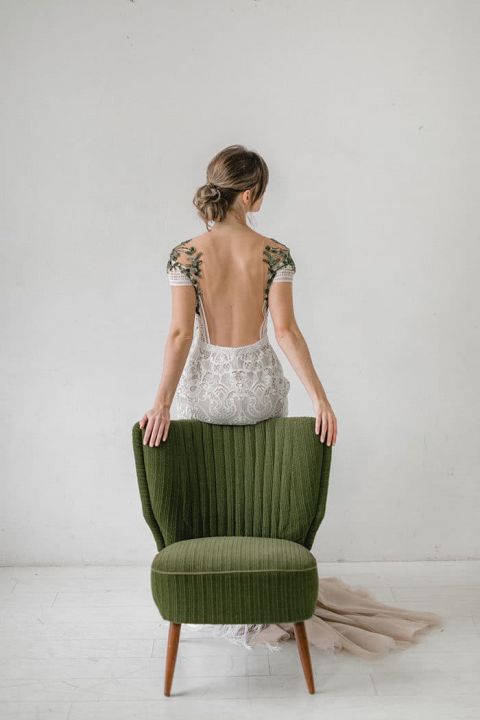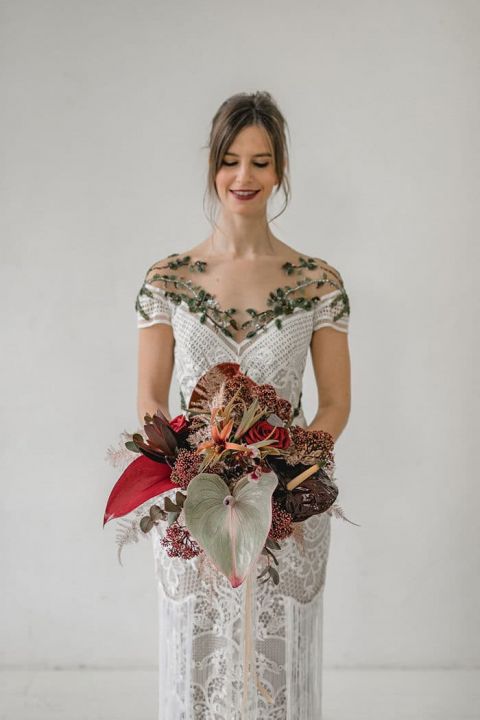 Green velvet leaves twining around the neckline of this incredibly detailed wedding dress made it a perfect complement to the dusty greens and rich reds of the bridal bouquet!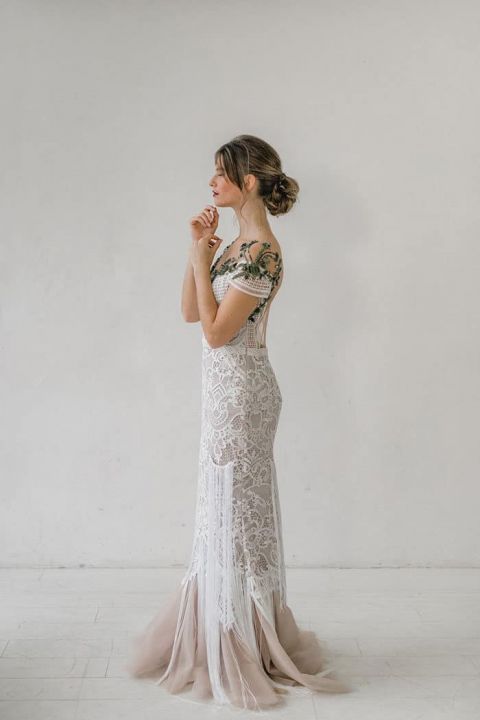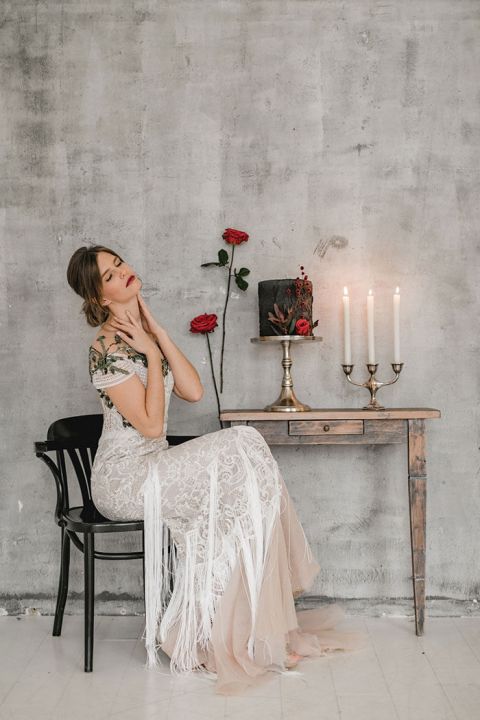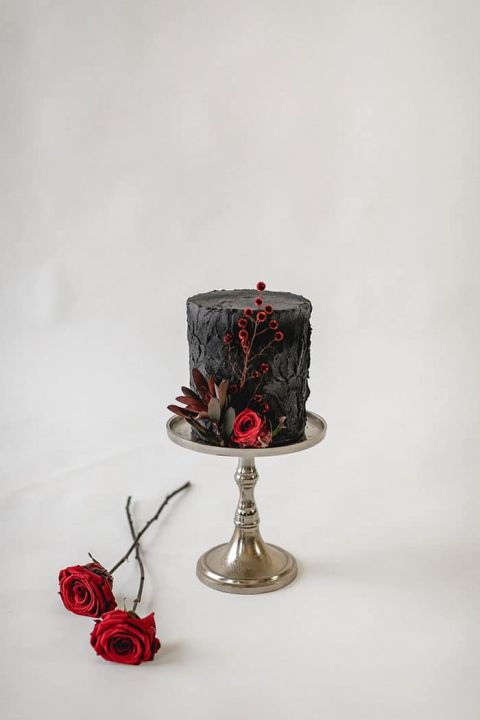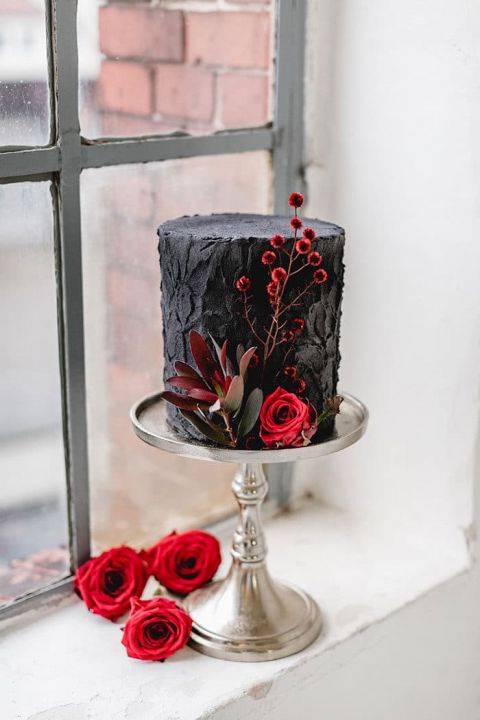 Cake designer Tortendesign by Tanja Kühn added just a hint of crimson red to the dramatic black cake! Dried flowers and spiky leaves complemented the unique texture of the simple statement cake, with a red rose for love!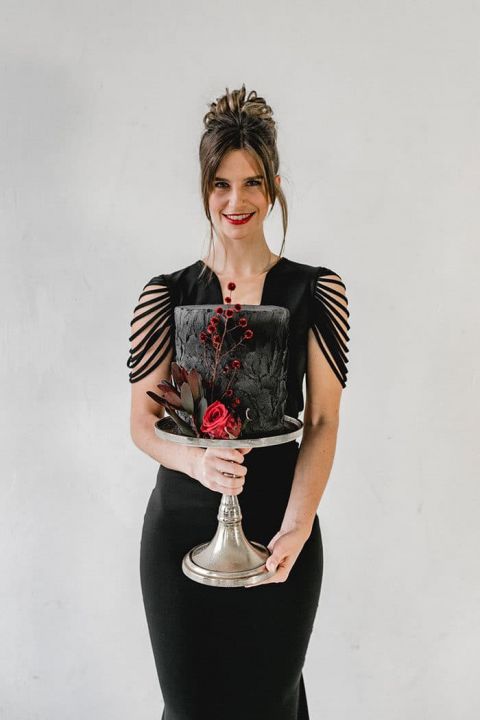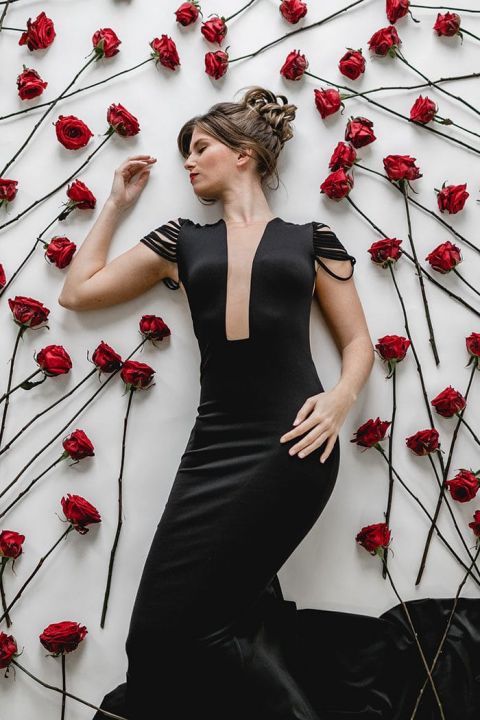 The moody factor went through the roof with this unique black gown! The dramatically draped back made for a stunning statement!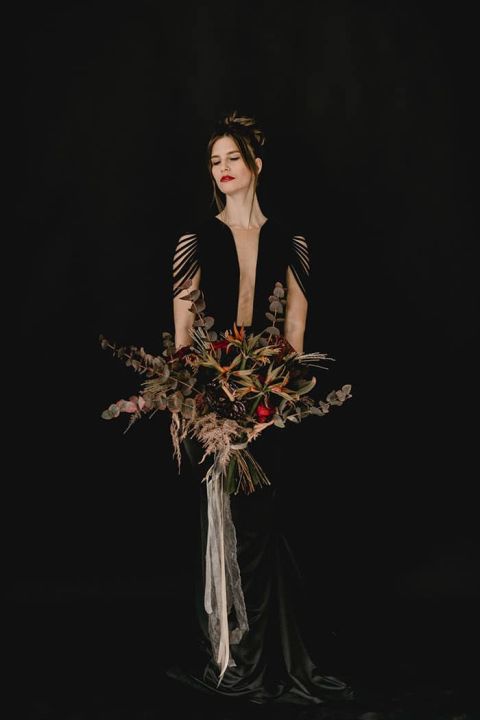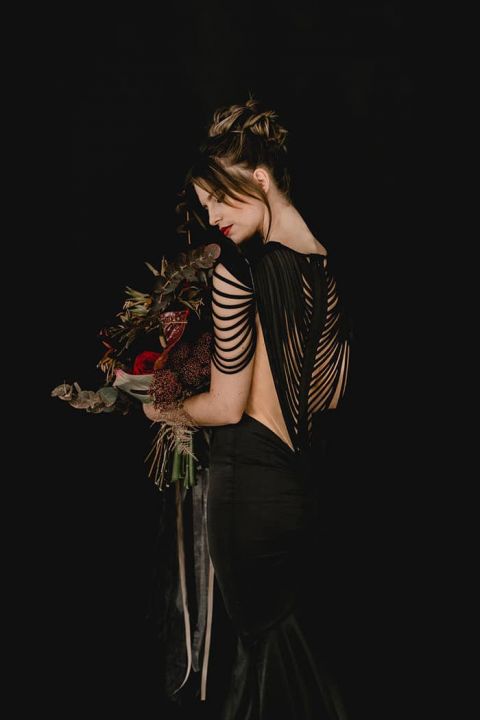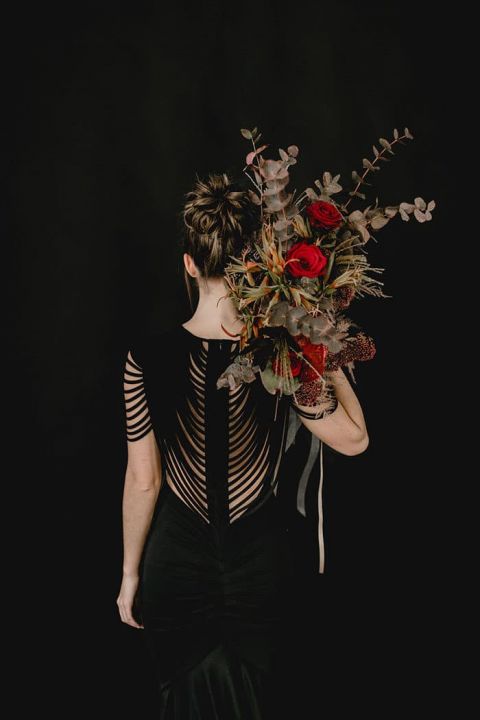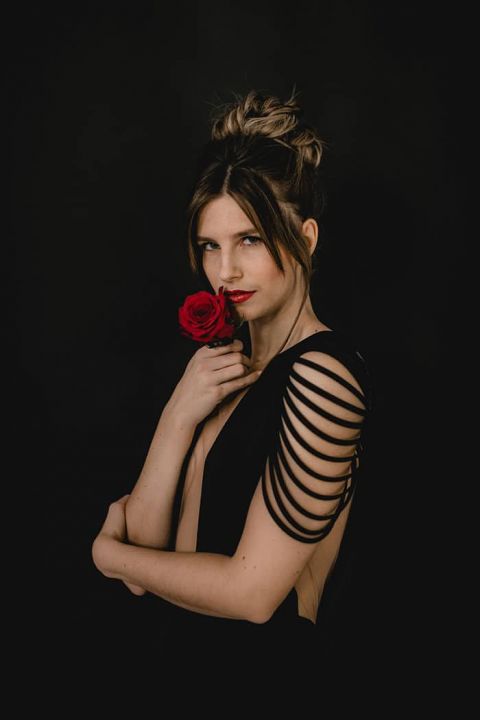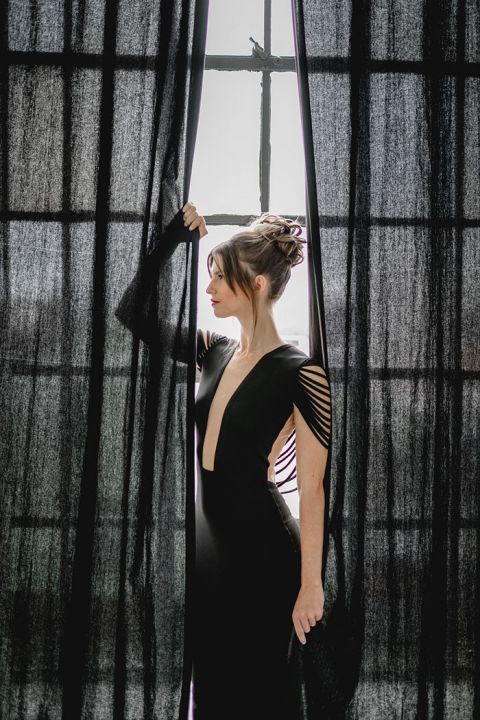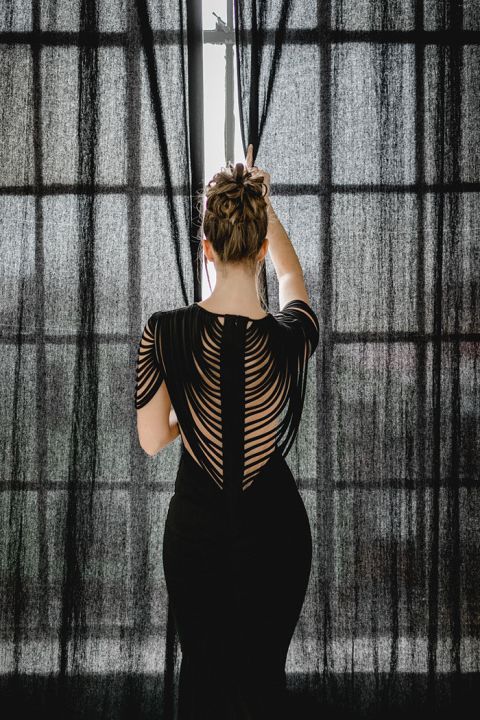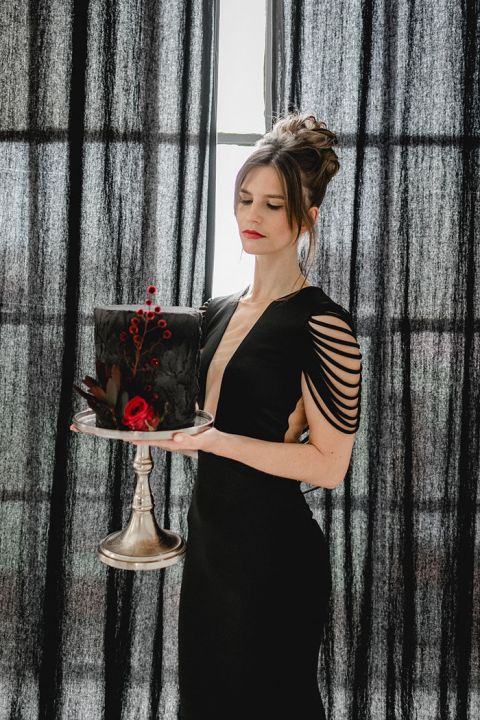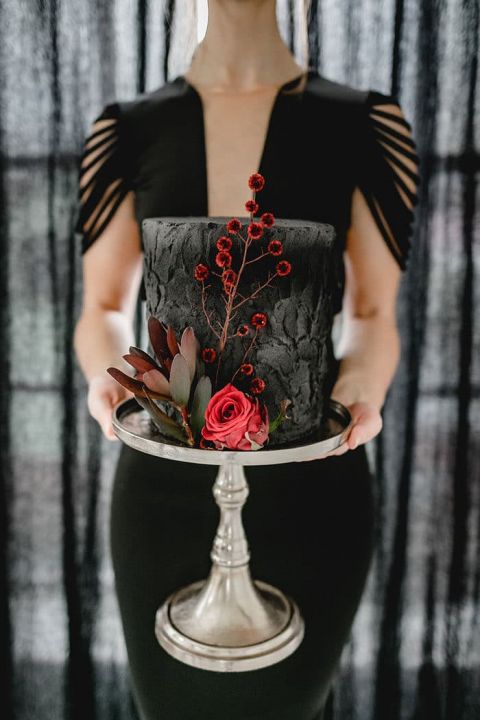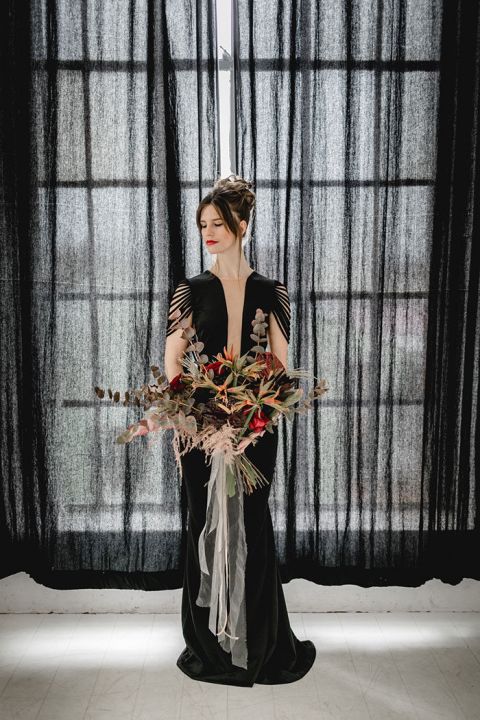 WEDDING VENDORS –
Photography and Event Planning by Diana Frohmueller Photography | Floral Design and Rentals by Sylvia Hartmann Design | Wedding Cake by Tortendesign by Tanja Kühn | Floral Preservation by Flowers Florismart Deutschland | Wedding Dresses from White & Night | Hair Styling and Makeup by Rebekka Masterstylistin | Submitted via Matchology
Bold Red Roses and Creative Bridal Style Come Together