What could be better than some bold and colorful fall wedding to fight off the doldrums of mid-November? Today's inspiration board takes a classic autumn palette of harvest colors in burgundy, burnt orange, and yellow, and gives it a modern punch with the addition of rich teal.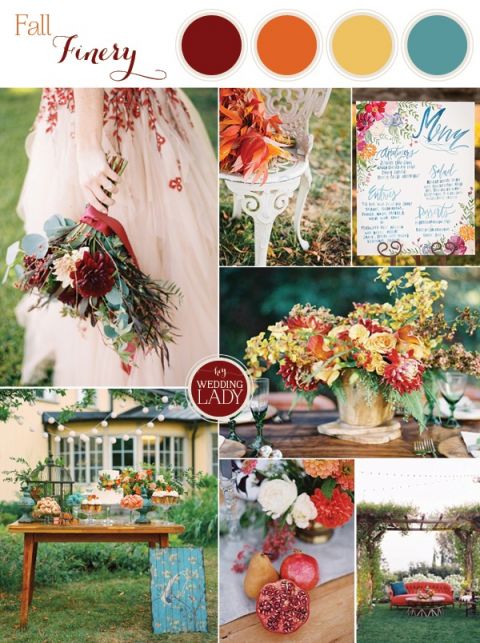 Such a colorful combination creates a playful mood, making this perfect for a relaxed backyard event! A backyard wedding doesn't have to mean casual style – a chiffon blush gown covered in hundreds of tiny floral appliques like falling petals makes for a gorgeous vibrant statement with a whimsical touch!
Those gorgeous bold colors work beautifully when it comes to decor – bundles of fiery autumn leaves, silver-green eucalyptus, and deep yellow cybidium orchids create a riot of color. Dahlias, calla lilies, roses, and marigolds add splashes of deeper hues to the bright background, with jewel-bright pomegranates and autumn pears. My favorite part of this design has to be the artistic details, like a watercolor and calligraphy menu in bright hues!
PHOTO GALLERY –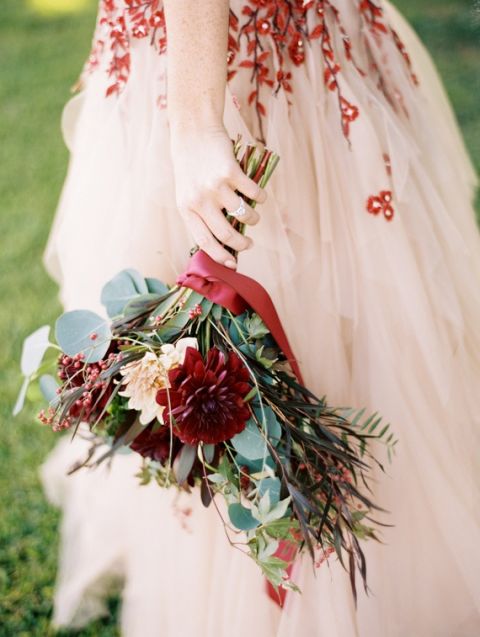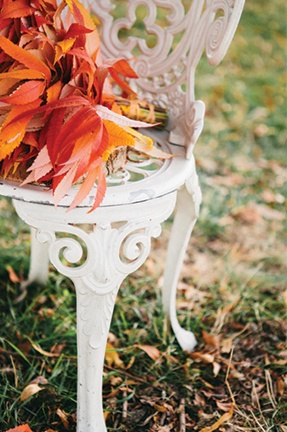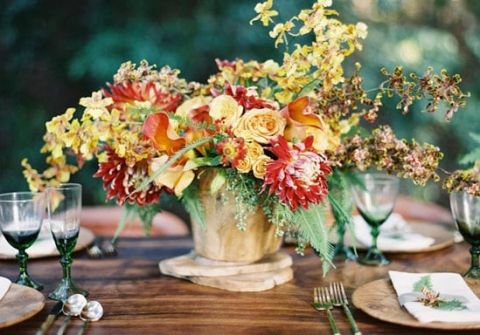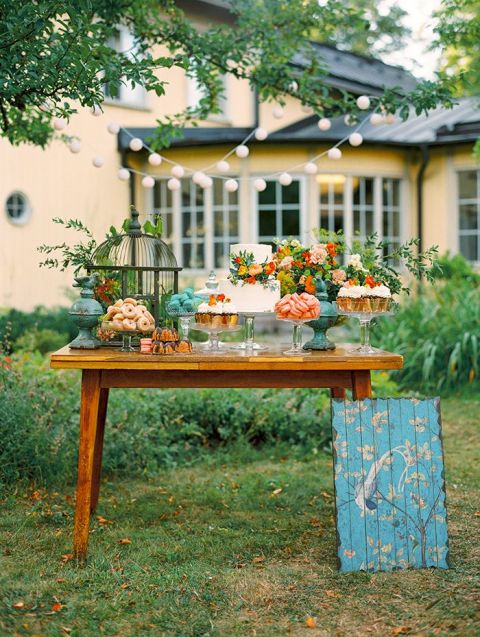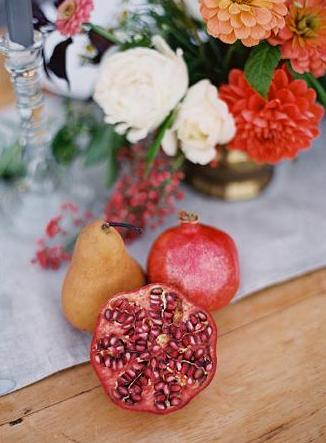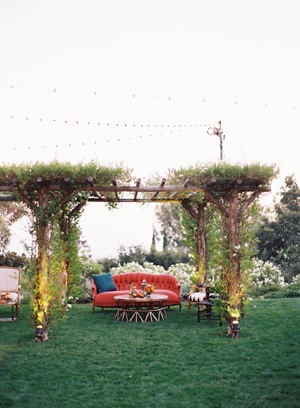 PHOTO CREDITS –
Red Floral Dress – Photography by Jeff Brummett Visuals, Floral Design by Ginger Roots Florals via Bold Colors and a Floral Wedding Dress for Fall | Fall Foliage – Photography by Bell Studio via Magnolia Rouge | Hand Painted Menu – Photography by Naomi Chokr Photography, Stationery by Shannon Kirsten Illustration via Occasions | Harvest Gold Centerpiece – Photography by Kurt Boomer Photography, Floral Design by Oak & The Owl via 100 Layer Cake | Colorful Dessert Display – Photography by 2Brides Photography, Desserts by Holy Sweet via 2Brides Blog | Pomegranate Table Decor – Photography by O'Malley Photographers via Seattle Bride Magazine | Colorful Lounge – Photography by Tec Petaja Photography, Located at San Ysidro Ranch via Once Wed